VoIP technology has been around since the '90s but the pandemic greatly accelerated its adoption due to the shift towards remote work and distance learning. Let's take a look at what VoIP phones are, what they cost, and the features they bring.
Jump to ↓
What is a VoIP Phone?
A VoIP phone is a device that makes calls using an internet connection instead of legacy telephone wires. This makes VoIP phones cheaper, agile, and more reliable thanks to their superior connectivity.
How VoIP Phones Work
Legacy phones used to function by being directly wired to an on-premise PBX (private branch exchange.) The large PBX machine would then handle routing to the appropriate extension. However, this was less efficient than IP telephony and lacked many features.
In contrast, VoIP phones process calls through the internet which means they can use Wi-Fi or be connected to the network through Ethernet cables.
Power over Ethernet (PoE) makes it possible for Ethernet cables to simultaneously transmit data and power VoIP phones using a single network cable, thus you won't need a traditional power adapter and other wiring to make your first call.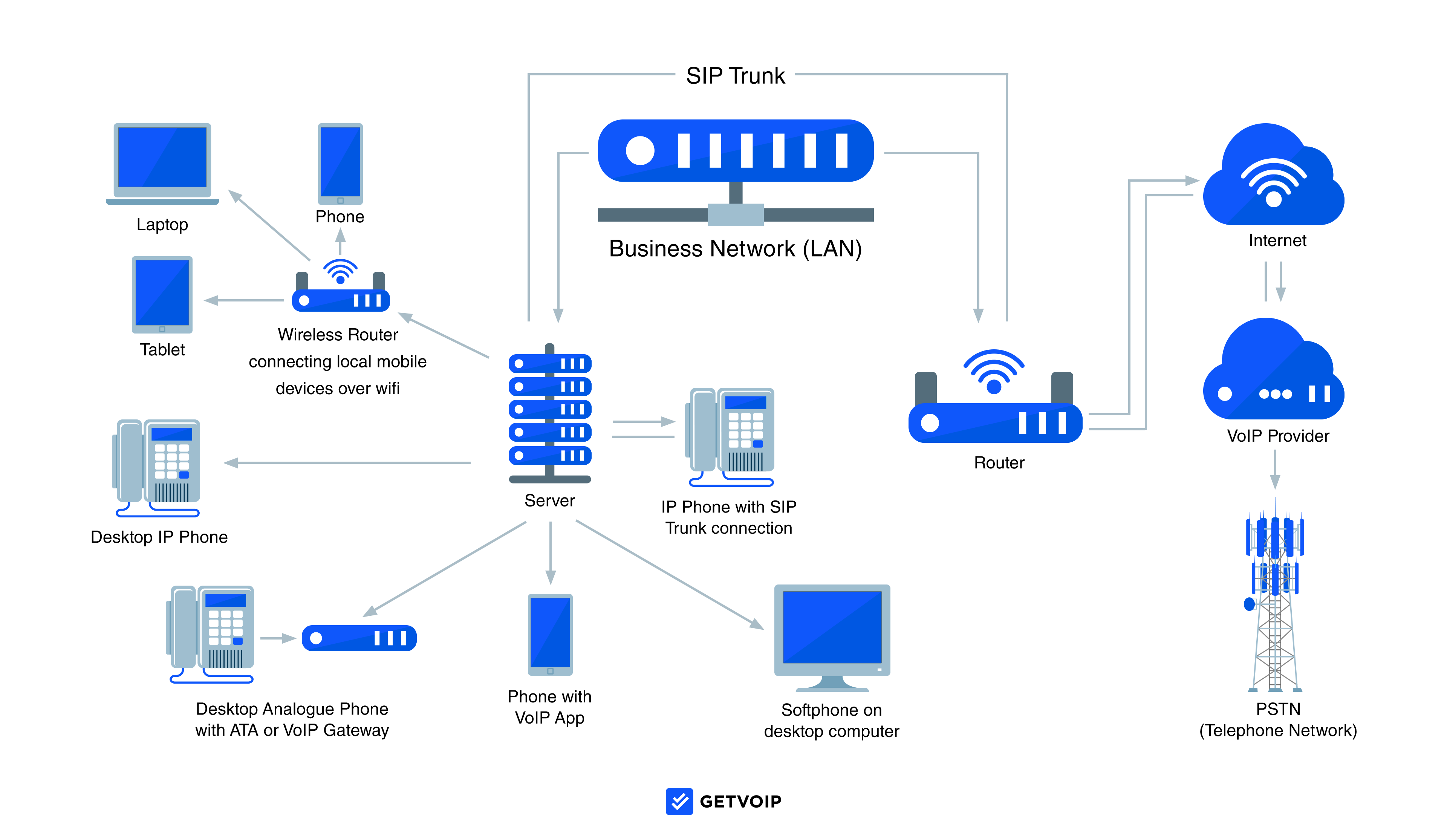 VoIP Phones vs Traditional Phone Systems
VoIP is a completely different technology from traditional phone systems.
VoIP phones offer cheaper rates than what you'd find with any telephone provider while having superior audio quality thanks to protocols that utilize internet connectivity. It's also a more reliable option since VoIP networks are monitored 24/7.
This means transmission signals can be rerouted in seconds in the event of power outages or natural disasters. Lastly, VoIP service offers you a seamless cross-platform experience whether you're using a handset on your desk or a mobile phone at home.
Types of VoIP Phones
Hard Phones
Hard phones such as desk phones are the first thing most people think about when they hear the term VoIP phones since they're the most common type. You'll often see these in offices and conference rooms — often accompanied by handsets or Bluetooth headsets.
Softphones
Softphones are virtual phones that rely on an app to function. These are often installed on either a computer or mobile devices like smartphones and tablets. They feature the same functionality as a hard phone but don't require any pricey equipment.
Benefits of a VoIP Phone System
Call Quality
VoIP phone service has far better quality than analog phones since it relies on your internet connection. Internet connectivity enables users to experience HD voice with unmatched clarity, especially when paired with a top-notch microphone.
Easily Scalable
While scaling up companies in the past would mean installing new physical phone lines in the office. VoIP systems can be scaled up by increasing the user count on your subscription and buying another handset. Those who use softphone solutions won't even have to pay for hardware.
Portability
Virtually every VoIP provider currently on the market includes mobile apps with their plan. This means employees will be able to get more done by working while on the go. Many platforms even let users switch from their desk phones to a smartphone without ending the call.
Safer
VoIP software comes with cutting-edge security protocols that ensure no one can eavesdrop on sensitive calls. Most solutions also have features like two-factor authentication and single-sign-on which keep unauthorized users out of your communications infrastructure.
Wider Reach
Companies that use VoIP are able to reach more markets without worrying about the high overseas calling rates you'd incur on landlines. Most providers offer unlimited phone calls across the US and Canada, and some specific plans like 8×8's X Series let you extend to over 48 countries.
Reduced Costs
Lastly, VoIP telephones are far cheaper to run than legacy PBX systems. This means that your company will be saving a lot of money even if you factor in the costs you'll incur while switching to a VoIP system. We'll delve deeper into the costs and savings down below.
VoIP Phone Features
While VoIP is known for its reliability and cheaper operation, the features that come with hard phones and softphones are just as notable. They can help your team be more productive and eliminate the need for pricey third-party software.
Advanced Call Management
Advanced call management lets you set rules that your phone system will use to automatically handle incoming calls. You can prioritize calls, block phone numbers, or choose when to put a call on hold depending on what your specific needs are.
Analytics Dashboard
Having an analytics dashboard can be one of the most efficient ways to monitor your company and see if your team is being productive throughout the day. You'll be able to look at metrics like average handle time, first call resolution, and the number of calls each agent completes.
These key performance indicators (KPIs) are often reported in real-time too which helps you make quick decisions that optimize your business. You can also use the data gathered through call analytics to create custom reports that serve as a tangible record of employee performance.
Auto-Attendant
An auto-attendant — sometimes called a digital or virtual receptionist — is a menu system that helps companies route inbound calls to the right destination automatically. Most providers offer an auto-attendant but some may be difficult to use or locked to higher subscription tiers.
Visual Voicemail
Visual voicemail lets you choose which message you want to listen to by going through the interface. This is a lot faster than the sequential system found on older phones. Furthermore, most VoIP platforms also automatically transcribe voicemails. Reading the transcripts can help you skip through messages that aren't important enough to listen to.
Call Recording
Call recording is another helpful feature that companies will get with almost every business phone system, whether using hard phones or softphones. Being able to review calls at a later date can help you recall key information that wasn't written down in the meeting notes.
Additionally, these recordings can be used to train new agents as they serve as a live example of what to do and what not to do. Recording-based training is particularly useful for customer support teams that have a high volume of new recruits.
Cloud Storage
With all the call recordings you'll be saving, it's important that you have a place to put all that data. Fortunately, the majority of VoIP platforms let you store your recordings on the cloud so you don't have to spend a small fortune on external hard drives.
Cloud storage capacity may be allocated on a plan-wide or per-user basis depending on which provider you're subscribed to. Many providers also let you purchase additional storage at cheaper rates than third-party storage solutions.
Team Collaboration
Team collaboration software is often viewed as a feature primarily found on desktop computers. However, many VoIP desk phones are able to dial into meetings without switching platforms which can make collaborating during projects a lot easier.
It's worth noting that an administrator may need to launch the meeting through a PC or pre-schedule it on the platform's calendar since not all desk phones let you create rooms. Features like whiteboards or polls won't work on non-touchscreen desk phones either.
Video Conferencing
Most VoIP phones, especially newer models, have USB ports that let you connect a webcam so you can enable video during conference calls. That said, the video quality you see will be limited by the resolution of your desk phone. The overall video conferencing experience may also be less streamlined than what you'd find on a browser or desktop app.
Hot Desking
Instead of having agents assigned to a specific desk in your call center, implementing a hot-desking policy allows them to use space and equipment as needed. Being able to work at different workstations each day can keep boredom at bay.
All call notes and saved recordings will still be available to them even if they're using a new desk phone which saves a lot of time. They can also transfer ongoing calls to their mobile device.
Live Takeover
As the name suggests, this feature lets you take over a call if the agent isn't able to resolve the ticket in a timely manner or the customer requests escalation. This can cut down on call handle times and improve customer satisfaction.
After all, the last thing you want is to have agents that take too long to escalate tickets. When coupled with real-time analytics, you'll be able to proactively step in when you spot a call that's taking too long.
IP Telephony Protocols
SIP Protocol
SIP or session initiation protocol can be used to create a session between two or more people. It can also alter the session during the call and conclude it once the call ends. The protocol is text-based and is very similar to HTTP protocol.
The text-based nature of this protocol makes it easier to troubleshoot plus it also has a request-response mechanism that further streamlines the diagnostic process. The data transmission is carried by the TCP or UDP on layer 5 of the OSI model.
H.323 Protocol
Similar to SIP, H.323 has the same functionality. The protocol handles the initiation, modification, and termination of VoIP sessions. It's a protocol from the ITU-T set of standards that facilitates both audio and video communication through computer networks.
Unlike SIP which is text-based, H.323 is a binary protocol that quite literally uses zeroes and ones to carry voice or video across the network. Sadly, H.323 is harder to scale than SIP since it uses monolithic architecture rather than modular.
RTP Protocol
As defined in RFC 1889, RTP protocol uses a standard packet format to transmit audio and video through the internet. This protocol has been widely adopted in entertainment and communication systems such as media streaming, video conferencing, and telephony.
Many web-based push-to-talk features such as those seen in Zoom and Discord also rely on RTP protocol. RTP protocol is used together with RTCP protocol which we'll talk about in the next section.
RTCP Protocol
RTCP is different from RTP but works in conjunction with it. RTP protocol is used to transmit the audio/video media while RTCP sends control packets to participants to provide feedback on the quality of service.
RTP originates from ports of even numbers but RTCP uses the port of the next odd number. Through this, it's able to send statistics like packet counts, jitter, octet, round-trip time, and other forms of key information.
SRTP Protocol
SRPT was published by IETF in 2004 as RFC 3711. It's one of the security protocols used for WebRTC technology. It's essentially an extended component that can add security elements to RTP protocol. These include message authentication, replay protection, and confidentiality.
It's mostly used for VoIP purposes and the encryption as well as authentication features that it brings to the table can reduce the risk of designated denial of service (DDoS) attacks. Sadly, SRTP is rarely used by most providers since traffic is unencrypted at the PSTN level.
SDP Protocol
SDP was also published by the IETF back in 1998 as RFC 4566. It sets the standard for defining parameters during exchanges — such as media streaming — between two points. The entire SDP protocol functions within SIP when used for most applications.
It can make declarations like what type of media the endpoint is supposed to receive, what port number is attending the media stream, which IP is going to receive the media stream, and which compression encoding the endpoint can receive.
VoIP Phone Comparison
While many companies have favored cloud-based solutions for their communication needs, there's still a need for VoIP phones for both office and home settings. We've compiled and compared some of the best models currently on the market.
| | | | | | | | | |
| --- | --- | --- | --- | --- | --- | --- | --- | --- |
| | Siemens Gigaset SL450A | Siemens Gigaset C570A | Polycom VVX 601 | Cisco 7841 | Ooma DP1-T | Yealink SIP-T58A | Siemens Gigaset DX800A | Cisco 8845 |
| Price | $270 | $180 | $199 | $88 | $90 | $220 | $295 | $165 |
| Display | 2.4-inch color display | 2.2-inch color display | 4.3-inch touchscreen | 3.5-inch grayscale display | 1.8-inch grayscale display | 7-inch color touchscreen | | Five-inch color display |
| Line Keys | 0 | 0 | 16 | 4 | 0 | 3 | 5 | 5 |
1. Siemens Gigaset SL450A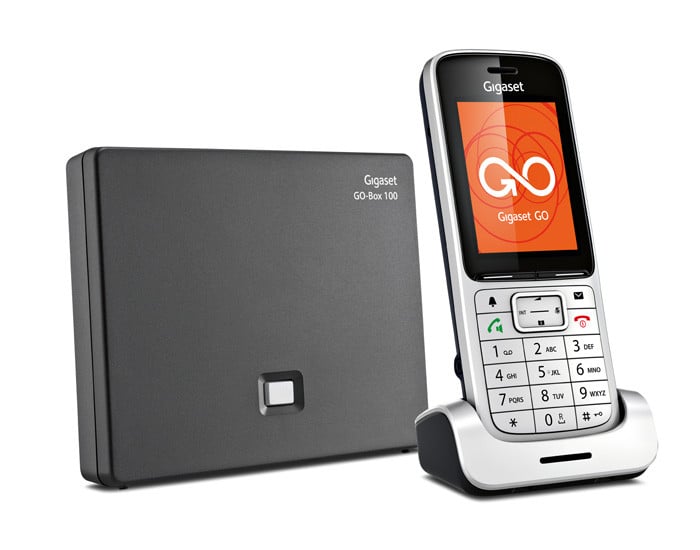 The SL450A from Siemens is one of the best cordless phones money can buy. It's far from being the cheapest model on the market but brings a lot of bang for your buck thanks to its excellent audio quality, 500-entry address book, and data synchronization with your PC.
Buying two handsets will cost you $270. That being said, you can get six units for $680 which brings the per-unit price a bit lower. Considering the handset is made from an aluminum frame, the durable materials make it well worth the extra cash.
2. Siemens Gigaset C570A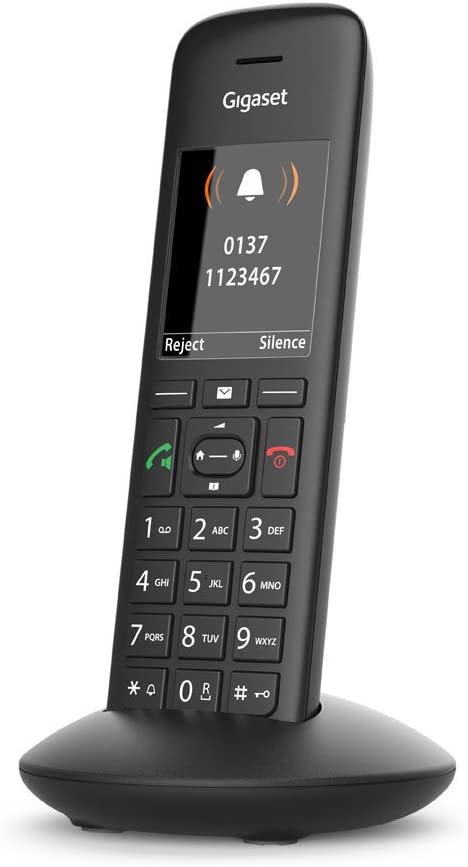 If you like the idea of having an address book on your cordless handset with hundreds of entries but don't want to pay too much then you should consider the C570A from Siemens. Its address book capacity is a bit lower at 200 entries but that's still a decent capacity to have.
It also has an LCD screen, HD sound thanks to its duplex loudspeaker, and blacklist that helps you block spam callers. A pair of handsets will run you $180 but ordering six only costs $340 so you'd essentially get four discounted handsets and two completely free.
3. Polycom VVX 601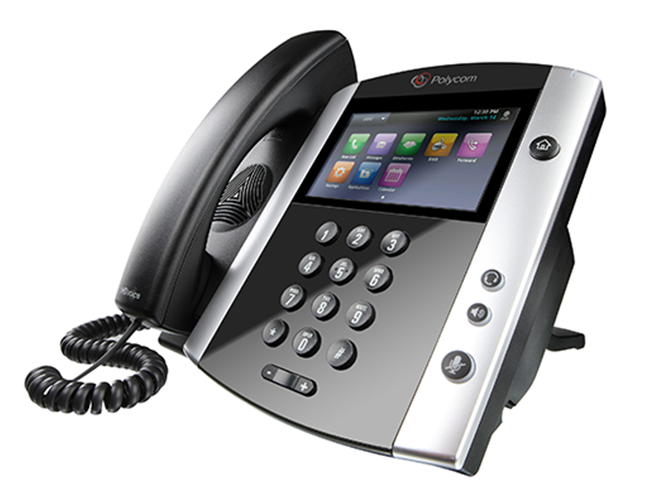 The VVX series from Polycom is one of the most popular choices around the globe for both small businesses and large enterprises, and many VoIP providers support this hardware on their plans. The 601 has 16 line keys, four soft keys, and a 4.3-inch color touchscreen that modernizes the user experience.
It also has local three-way audio conferencing and dual USB 2.0 ports. Prices start at $199 making it one of the more expensive VoIP desk phones currently available, but its order volumes speak for themselves in terms of the model's utility value.
4. Cisco 7841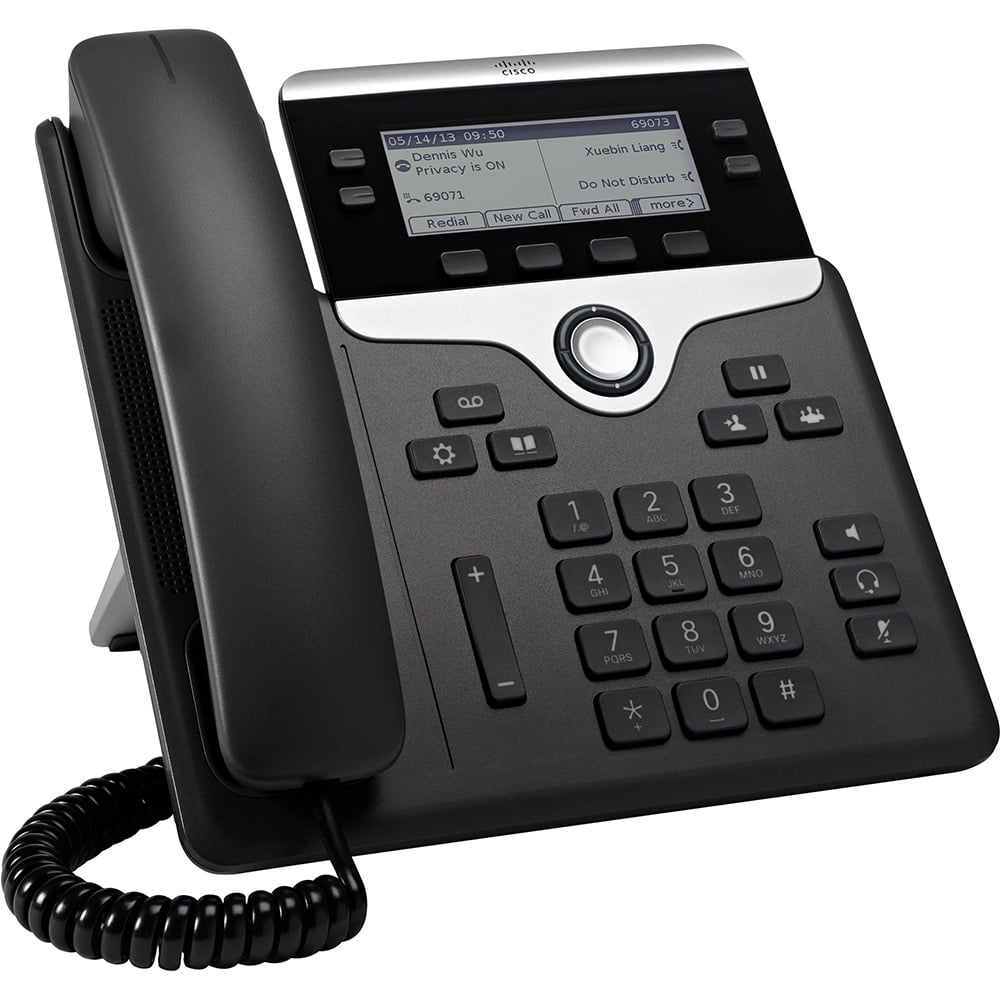 The 7841 from Cisco only costs $88 which makes it the best value you can get in a desk phone. Its hi-res grayscale display may not be as attractive as the color touchscreen on the VVX 601, but it gets the job done.
It also has four line keys and a full-range speakerphone. It works with both on-premise and hosted solutions with wide support from the largest VoIP providers. Overall, beyond the display and number of line keys, you're not sacrificing a lot when buying this budget model.
5. Ooma DP1-T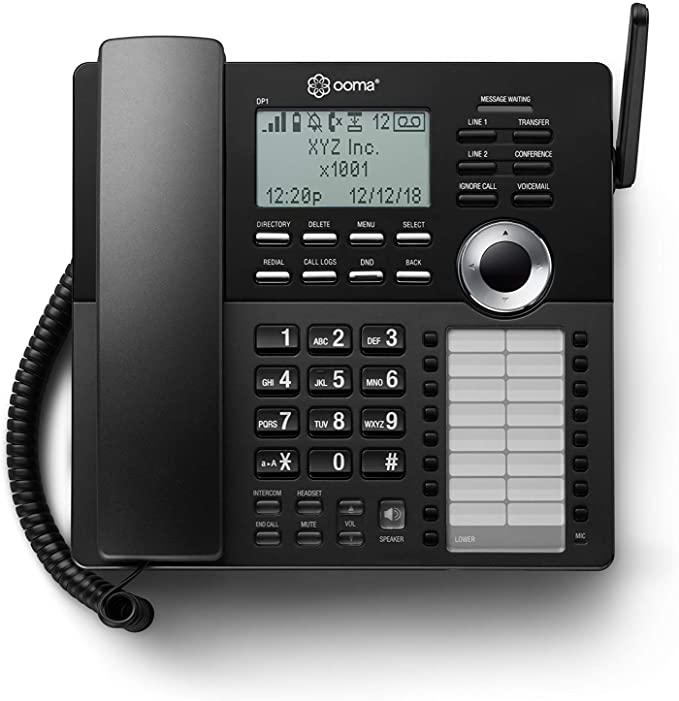 The DP1-T from Ooma has quickly become a fan favorite for WFH employees since the pandemic started. It's a wireless model with 32 programmable speed dials and a do not disturb mode that can help restore your work-life balance.
It also has physical buttons for holding, transfers, and conferencing as well as an integrated speakerphone. The main drawback is that you'll have to pay $99 for an Ooma Telo on top of the $90 for the desk phone but that subscription comes with unlimited nationwide calling perks.
6. Yealink SIP-T58A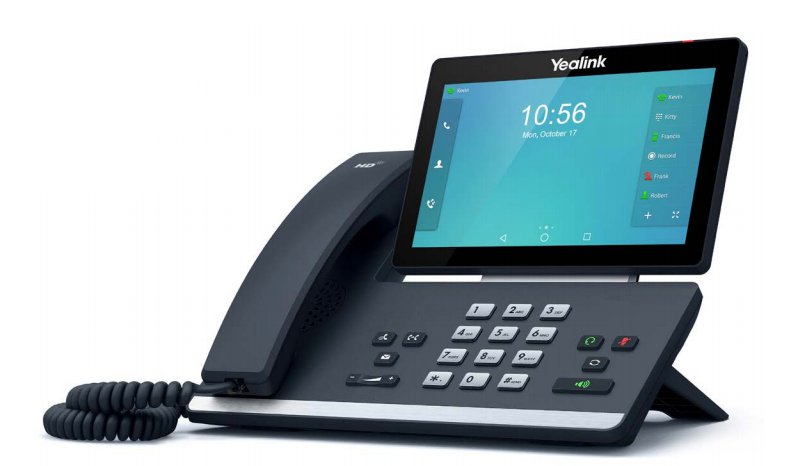 If you're a fan of bells and whistles then the SIP-T58A from Yealink is a great choice. It may be a bit overkill for most applications, but it has a seven-inch adjustable touchscreen, 27 one-touch DSS keys, and five-party audio conferencing.
You can also access your email, calendar, and web browser through the handset which is ideal if you're on a VoIP plan with team collaboration features. It's quite pricey at $220 but definitely a versatile handset to have.
7. Siemens Gigaset DX800A
The Siemens Gigaset DX800A feels more like a command center than a run-of-the-mill desk phone. It can work for both ISDN and VoIP systems and can store up to 1,000 entries in its contact book which can then be synced with your PC.
It can also manage up to four calls simultaneously and has a 3.5-inch color display that makes it easier to interact with the various features available. It's also a DECT-compatible base station that lets you register up to six cordless handsets. Is it worth $295? You decide.
8. Cisco 8845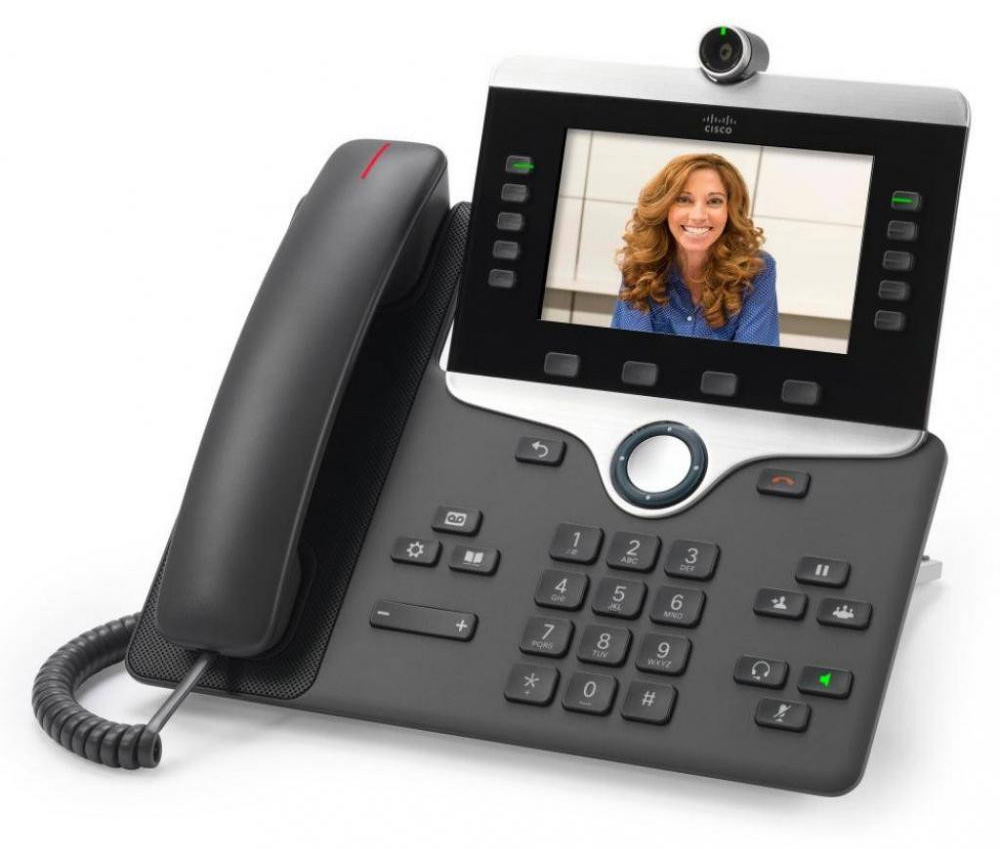 Cheaping out on VoIP handsets seems like a good idea until you realize it's a nightmare to attend video conferences with them. The Cisco 8845 positions itself as the ultimate video conferencing handset with its built-in camera, five-inch display, and 720p resolution.
The sound is exceptional and this handset works on VoIP as well as ISDN systems much like the DX800A. The five programmable line keys, fixed-function keys for apps, physical mute key, and Bluetooth support all make the $165 price tag seem like a bargain for a conference phone.
Cost of Switching to an VoIP Phone
The cost of switching to a VoIP phones primarily centers around acquiring the hardware (except in cases where you use softphones) and finding the right subscription from a provider that meets your business needs.
Many desk phones cost $50 but higher-end models tend to cost $100-$200 dollars. Companies that will only get a handful of desk phones should consider buying one of the newer models since the extra price will be justified by the functionality.
Conversely, those who want to deploy desk phones throughout their entire business should choose a more affordable model to keep the overall implementation cost low. Moving onto software, the price can vary depending on which provider you go for.
The average VoIP plan will cost $20 to $30 per month for each user, but you could easily pay double that amount if you need plenty of features. That said, many top providers will reduce the per-user cost if you need dozens or hundreds of licenses.
VoIP Phone System Savings
While buying new desk phones, headsets, and potentially paying for employee training may seem like an overwhelming expense, it's worth noting that the investment will pay for itself in the long run.
There are sizable cost savings to be made by switching from a legacy PBX system over to a VoIP solution. First of all, calling rates internationally will be much cheaper — with many providers even offering unlimited calls to the United States and Canada.
This is also true for toll-free numbers as certain plans come with monthly allowances that let your customers consume a set amount of minutes without you being charged for the calls. You'll also save on maintenance costs since desk phones are more robust than PBX units.
If you choose a plan that comes with an auto-attendant (which is very common with most providers) then you could potentially eliminate the cost of a receptionist entirely or at least lower the number of receptionists you'll need to hire.
Finally, you'll also end up saving on software costs since the top providers in the industry offer UCaaS plans that consolidate business operations beyond calling. This includes video conferencing, team collaboration, and cloud storage that you'd otherwise have to pay extra for.
Conclusion
As you can see, VoIP is undoubtedly one of the most innovative and impactful technological advancements to hit the business world. It helps companies run faster, cheaper, and more efficiently than ever before.