A business phone system automates routine business processes, increases team productivity, and dramatically lowers operating and communications costs.
JustCall is a VoIP phone and call center software known for its ease of use, sales and lead management features, and support automation capabilities.
In this JustCall review, we'll highlight JustCall top features, available pricing and plans, user experience, and alternatives to JustCall.
VoIP services starting at
$10/mo
Quick links:
What is JustCall?
JustCall is a small business phone system leveraging voice and SMS automation, Conversational Intelligence, and campaign management tools to improve the customer experience and optimize sales and support processes.
The platform is user-friendly, competitively priced, and integrates with over 100 popular third-party helpdesk and Customer Relationship Management (CRM) software.
With local business phone numbers in 70+ countries, real-time call center activity monitoring, and desktop and mobile apps, JustCall is ideal for both remote and blended teams.
JustCall Pricing
JustCall offers two bundled plans and one custom quote-based plan.
Unlike its competitors, JustCall does not charge a setup fee.
Monthly and annual pricing plans are available, with annual payment offering a 20% savings. Users can purchase additional phone numbers from $6/line/month.
While JustCall offers unlimited local inbound minutes on all plans, it's decidedly less transparent when it comes to SMS and outbound call rates.
After searching the fine print on the pricing page, we found JustCall charges:
 $0.0086/inbound SMS and $0.008625/outbound SMS (local SMS only, bulk discounts available)
$0.0138/minute for outbound local/toll-free calls
JustCall Standard Plan: $24/user/month
The Standard Plan has a two-user minimum and costs $24/user/month when paid annually or $30/user/month when paid monthly.
One local phone number is included, and all local inbound minutes are free. Outbound calling is charged per minute, but auto-dialing modes are not included in the Standard Plan.
While basic call tracking/call logs are available, the Standard Plan doesn't offer real-time call monitoring, call whisper, or call barge.
It provides only basic SMS/MMS messaging, not automated SMS bots, bulk SMS campaigns, or automated SMS capabilities. Another downside is the lack of phone support–Standard users only have access to email and chat JustCall customer support. While the Standard Plan integrates with 100+ third-party tools, it lacks APIs and the all-important Salesforce integration.
While the Premium Plan is double the price, it's well worth the upgrade given the Standard Plan's lack of real-time analytics, automation, and advanced SMS communication.
The JustCall Standard Plan is really only the right fit for new or small inbound call centers with under 10 agents needing a basic business phone system, not omnichannel communication or advanced automation.
The Standard Plan includes:
One local phone number with unlimited inbound local calling
Click-to-dial
Desktop and mobile applications for Android or Apple iOS
Call recording
Call forwarding
Call notes and ratings
SMS/MMS Message Inbox
Basic IVR auto attendant and ACD
Business hour settings
Appointment Scheduler
Email and chat support
100+ third-party integrations
JustCall Premium Plan: $48/user/month 
The Premium Plan has a two-user minimum and costs $48/user/month when paid annually or $60/user/month when paid monthly.
It includes everything in the Standard Plan, but expands to add outbound auto dialers, real-time call monitoring, post-call surveys, and advanced integrations and APIs.
The Premium Plan offers the most value for money, and is ideal for outbound or blended virtual call centers focused on sales and support automation across voice and SMS. It's also a good fit for teams that plan to continue using existing third-party tools within their office phone system.
Still, the Premium Plan only offers key features like call and voicemail transcription, AI-Powered Agent Coaching, and Group Texting as paid add-ons (pricing is unlisted.)
The Premium Plan includes:
Real-time call monitoring, call whisper, call barge
Sales and predictive dialers
Automated customer callbacks
Post-call surveys
Multi-level IVR
Custom workflows
Bulk SMS campaigns, SMS bots, and SMS automation/triggers
API and Webhook Access, Salesforce integration, advanced CRM/SaaS integrations
Priority JustCall Support and a Dedicated Account Manager
JustCall Custom Plan: Quote-based
The Custom Plan, which has a 10-user minimum, is ideal for medium-sized call/contact centers needing unlimited outbound calling, priority support, and access to JustCall's complete AI Conversation Intelligence Suite.
Custom users are focused on workforce optimization and plan to use AI insights from customer interactions to identify trends, evaluate support team quality and agent performance, and improve sales strategies.
Custom Plans include:
Call Sentiment Analysis
Agent Coaching and Call Scoring
Agent Assist
99.99% SLA uptime guarantee
Personalized onboarding
Dedicated Account Manager and Dedicated Technical Support
Custom analytics and reporting
SSO (Single Sign-On)
Top JustCall Features 
Below, we've outlined the best JustCall features, organized according to voice calling, business text messaging, Conversational AI, analytics and reporting, and additional automated functionalities.
Business Phone System Features
JustCall offers local, toll-free, and international phone numbers alongside 3-digit agent extensions, shared numbers, and number porting. Users can make/receive calls on desktop and mobile devices via the softphone interface with click-to-call.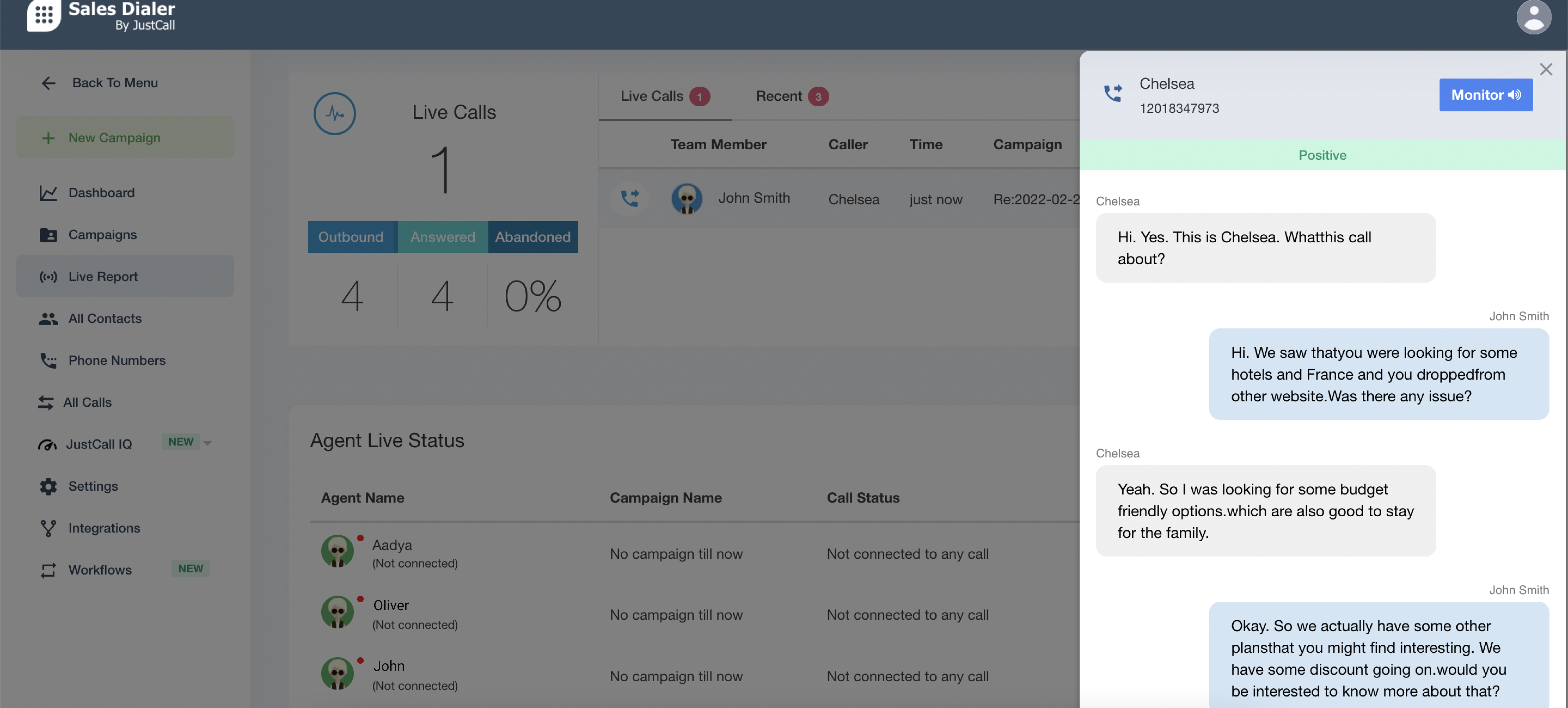 In addition to standard call management features like caller ID, call recording, call forwarding, voicemail transcription, voicemail-to-email, and standard/warm call transfer, JustCall's virtual call center solution includes advanced capabilities like:
Outbound Auto Dialer: Outbound Automated (Dynamic), Power, and Predictive dialing modes with voicemail drop, CRM integration and syncing, call notes, agent call scripts, campaign list management and tagging, post-call ratings, custom outbound Caller ID, Call Dispositions, custom Sales Dialer fields
Call Routing Strategies: Skills-based, Round Robin, Language-based, Most Idle, List-based, Relationship-based, Time-based, and Intelligent call routing plus concurrent calling, simultaneous ringing, custom business hours, and ring groups
Multi-Level Interactive Voice Response (IVR): Custom greetings/music, automated callbacks, call menu editing, business hour rules, Automatic Call Distribution (ACD)
Call Monitoring: Real-time call monitoring, call whisper, call recording
SMS/MMS Messaging and Automation
JustCall offers a variety of live two-way and automated outbound SMS/MMS capabilities for communication with local and international customers.
In addition to standard business texting, JustCall also lets customers and agents connect via WhatsApp.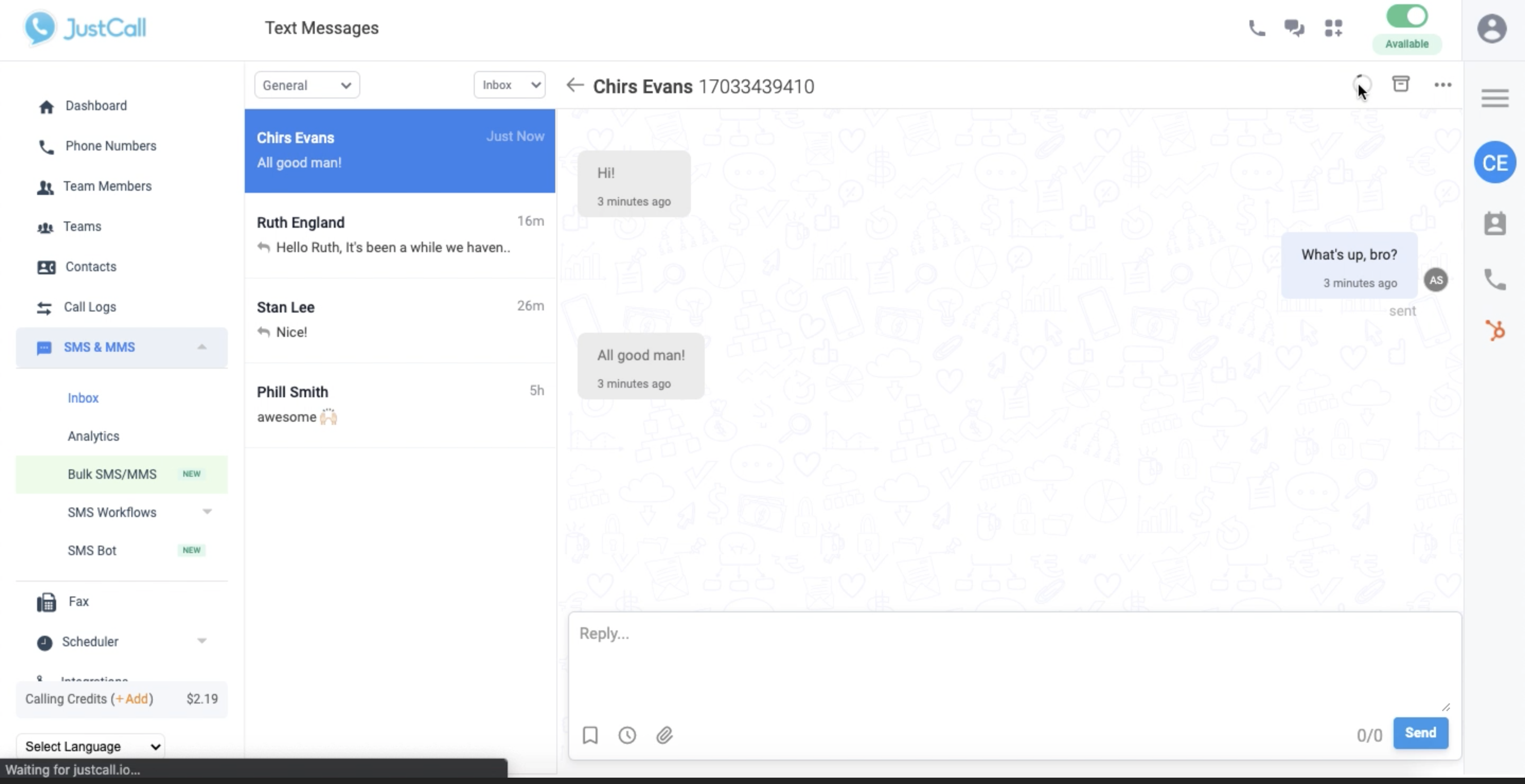 All text messages are stored within the Agent SMS Inbox, which can be filtered by standard SMS/MMS, bulk texts, SMS workflows, and SMS bots. Within the Inbox, agents can mark individual and multiple conversations as read/unread, use the message search bar, archive/delete/restore messages, view typing indicators, access group messaging, and respond to texts directly within the desktop (or mobile) interface.
Bulk SMS and MMS messaging lets agents create, schedule, send, and monitor automated mass text marketing campaigns, as well as: 
Create or upload custom SMS campaign lists
Create or access SMS templates
Segment markets for custom offers
Set SMS disposition codes
Set up drip campaigns
Send out automated appointment reminders/order confirmations
Share links and media in messages (up to five attachments or 5MB file limit)
Edit active campaigns
View integrated SMS analytics via HubSpot, Slack, Zapier, etc.
JustCall also offers an intelligent SMS bot that automatically replies to customer queries using machine learning and Natural Language Understanding.
Additional SMS messaging capabilities include: 
Quick Action Sidebar: shows basic and CRM-integrated customer data and provides softphone access
Saved Reply: Canned SMS responses with personalization options for agents to copy-paste (custom or template-based, searchable/filterable saved SMS response library, SMS signatures, out-of-office messages, saved MMS, etc.)
Conversation Tagging: Organize texts according to tags, color-code tags, access and edit tag library, filter SMS by tags
Conversation Intelligence 
JustCall Conversation Intelligence tool, JustCall iQ, is a suite of AI-powered features designed to ensure industry compliance, improve agent performance, and offer real-time insight into current call center activity.
According to the JustCall website, adding Conversation Intelligence functionality to business phone systems lowers Average Handle Time (AHT) by 25%, boosts CSAT scores by over 30%, and improves First Contact Resolution (FCR) rates by 24%.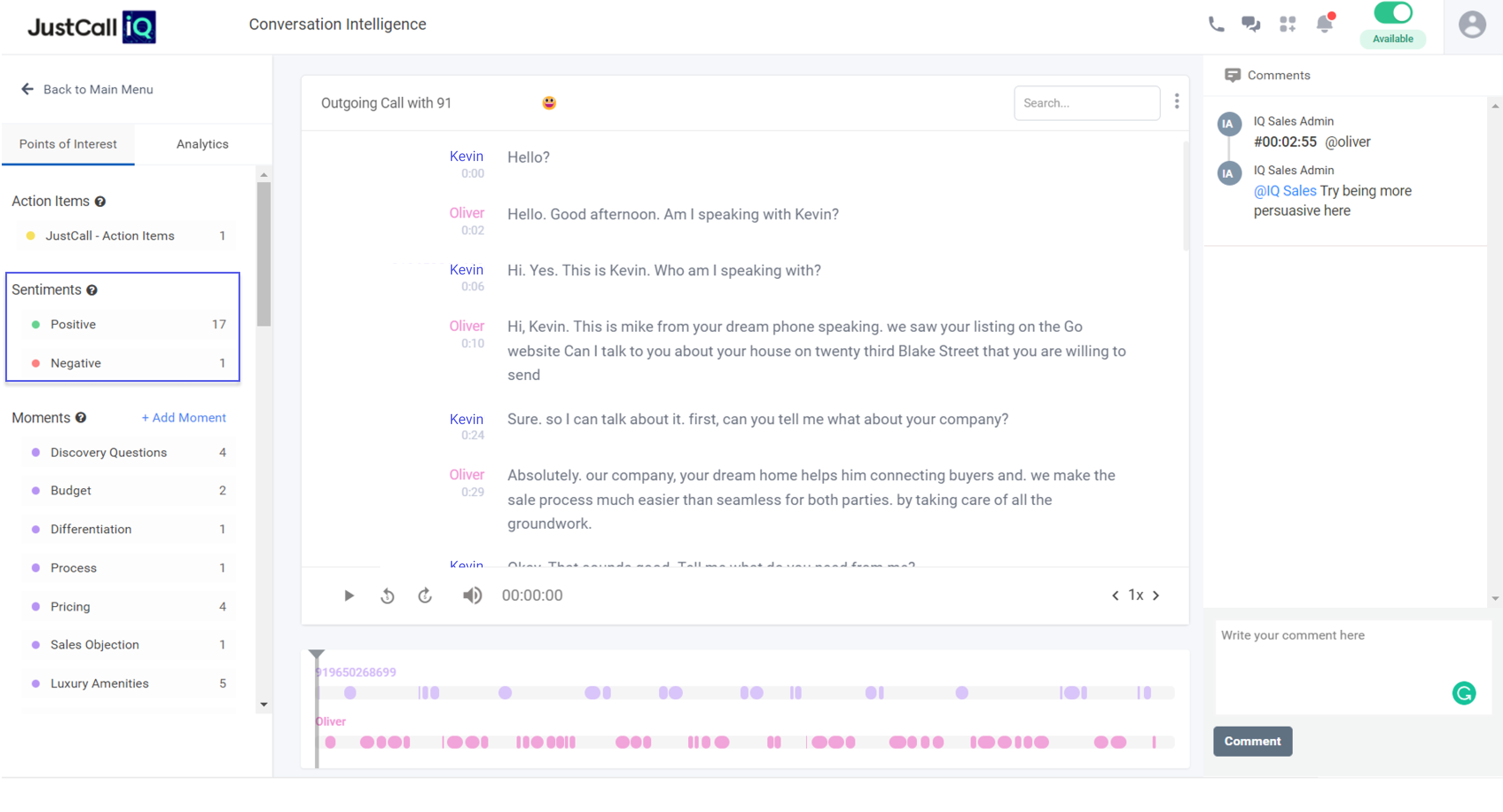 One of the top JustCall iQ features is advanced Call Transcript Analysis. Admins and managers can review past call transcripts to monitor agent performance, addd notes, comments, suggestions, and tag users to ensure future review.
Moment Analysis automatically reviews 100% of call transcriptions, identifying key call moments, conversation highlights, and the specific topics discussed.
Sentiment Analysis uses machine learning, Natural Language Understanding (NLU), and Speech Analytics to evaluate the customer's overall mood (positive or negative) throughout the call. This feature also defines the exact moments when customer sentiment changed, making it much easier to understand what is and is not working within current sales and support processes.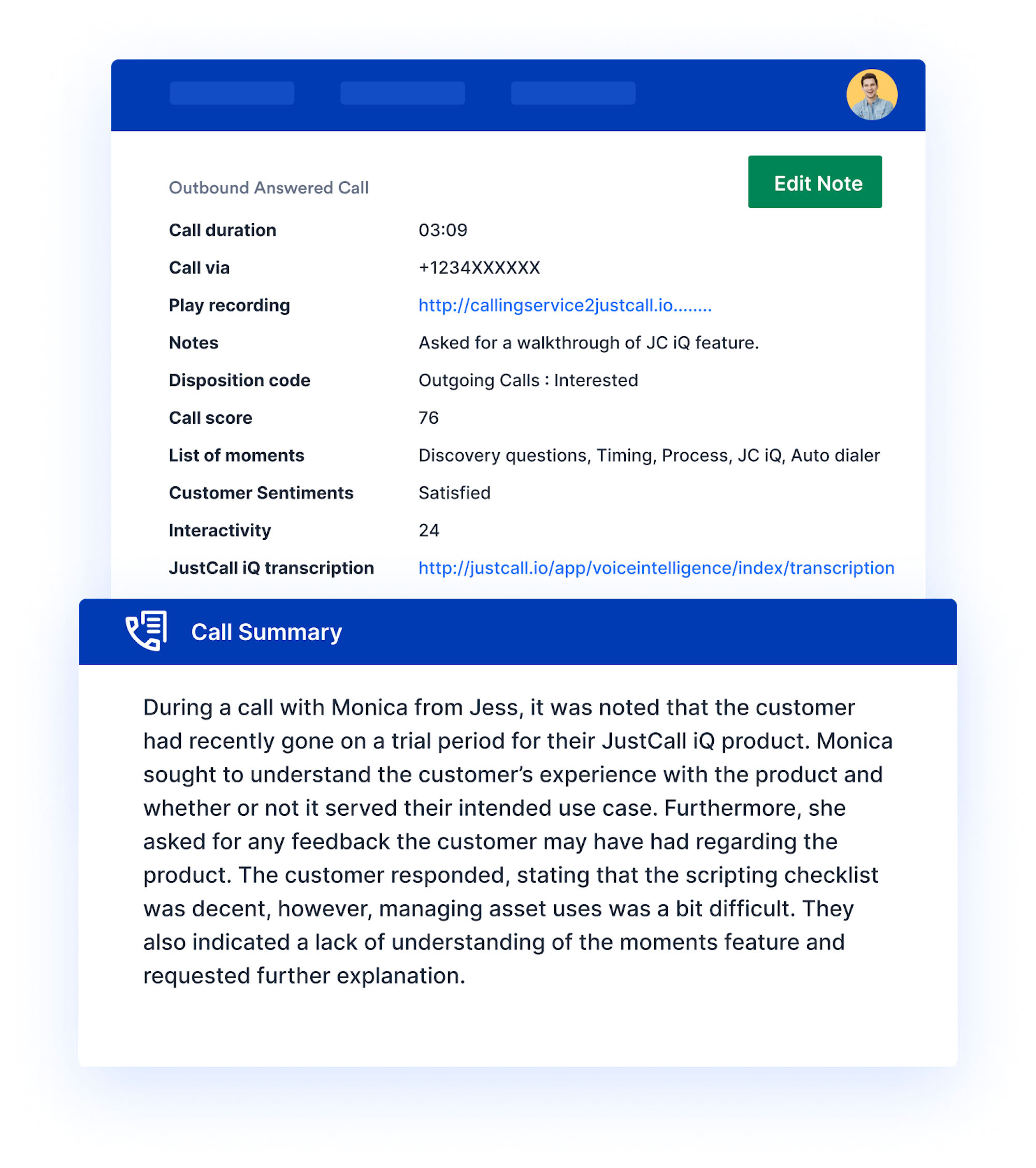 Additional JustCall iQ capabilities include:
Call Summary: Automatically creates a written post-call summary and syncs to integrated CRM platforms. Call summaries also include call duration, access to call recordings/transcripts, call score, customer sentiment, Key Moments, notes, disposition codes, and more
Call Scoring: Holistic, AI-powered sales and support call scoring according to multiple factors like customer sentiment and satisfaction, agent etiquette, adherence to performance guidelines (called "Recommended Brand Processes"), and agent communication skills (Talk-listen ratio, dead air time, de-escalation, filler words, empathy, etc.)
Agent Assist with Real-time Alerts: Uses Natural Language Processing and Speech Recognition to provide in-conversation next-best-action suggestions to agents by pulling up integrated or stored call scripts and canned responses. Real-time SLA notifications let admins offer custom in-call coaching via chat messaging without forcing the agent to end the call
Appointment Scheduler
The JustCall Appointment Scheduler tool provides each agent with a personal calendar that can be added to the company website, shared via link, or synced with existing calendar tools like Google Calendar.
This way, customers can view all available appointment slots, select the best option for their schedule, and receive an appointment confirmation via email. The Scheduler tool also includes a click-to-call website button for instant customer-agent communication.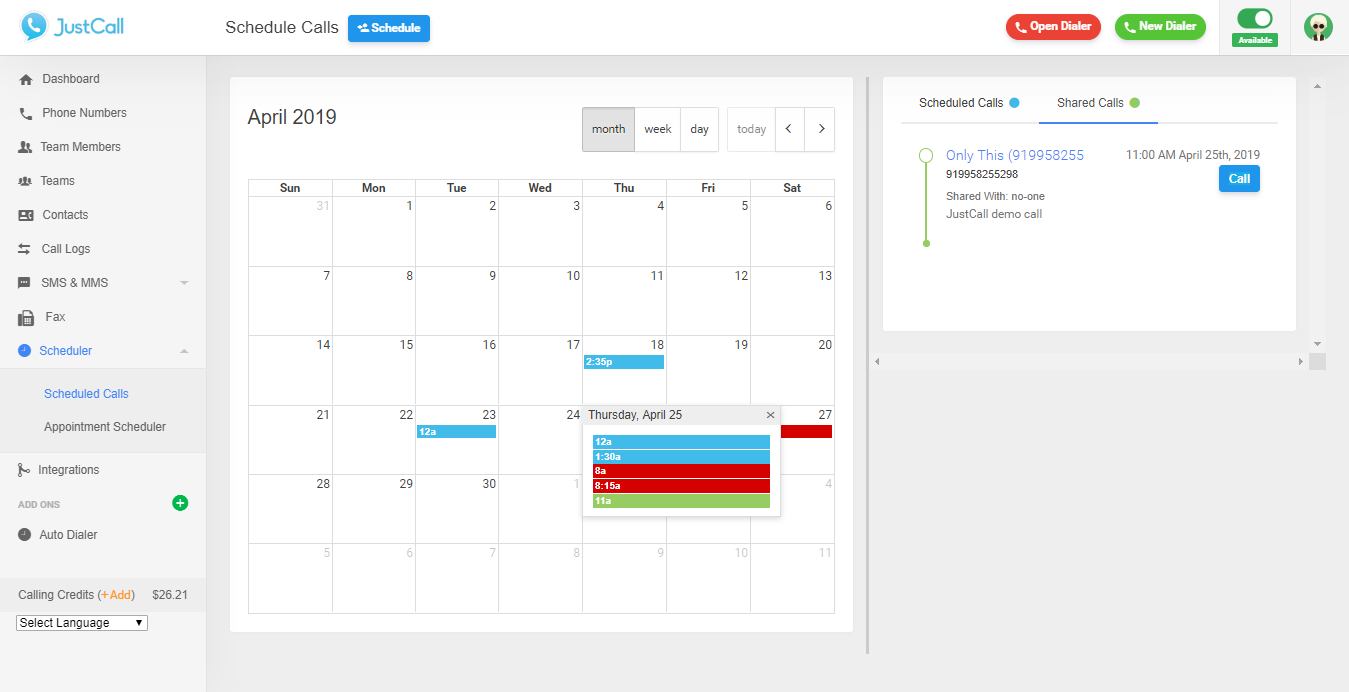 When customers schedule future calls and appointments, they can add contact information and notes for additional context. Users can make individual calendars public or private, customize available appointment types and duration, add working hours, share their calendars with teammates, and more.
In addition to individual agent calendars, JustCall provides department-wide or custom calendar groups for callers that don't need to speak with a specific agent.
Analytics and Post-Call Surveys
JustCall offers real-time and historical call center analytics in addition to standard call monitoring and recording tools.
These interactive reports are stored in the Call Analytics dashboard, which lets admins filter analytics by date range, agent, team, call outcome, and more. Users can choose from pre-made reporting templates or create custom reports, all of which can be downloaded and shared.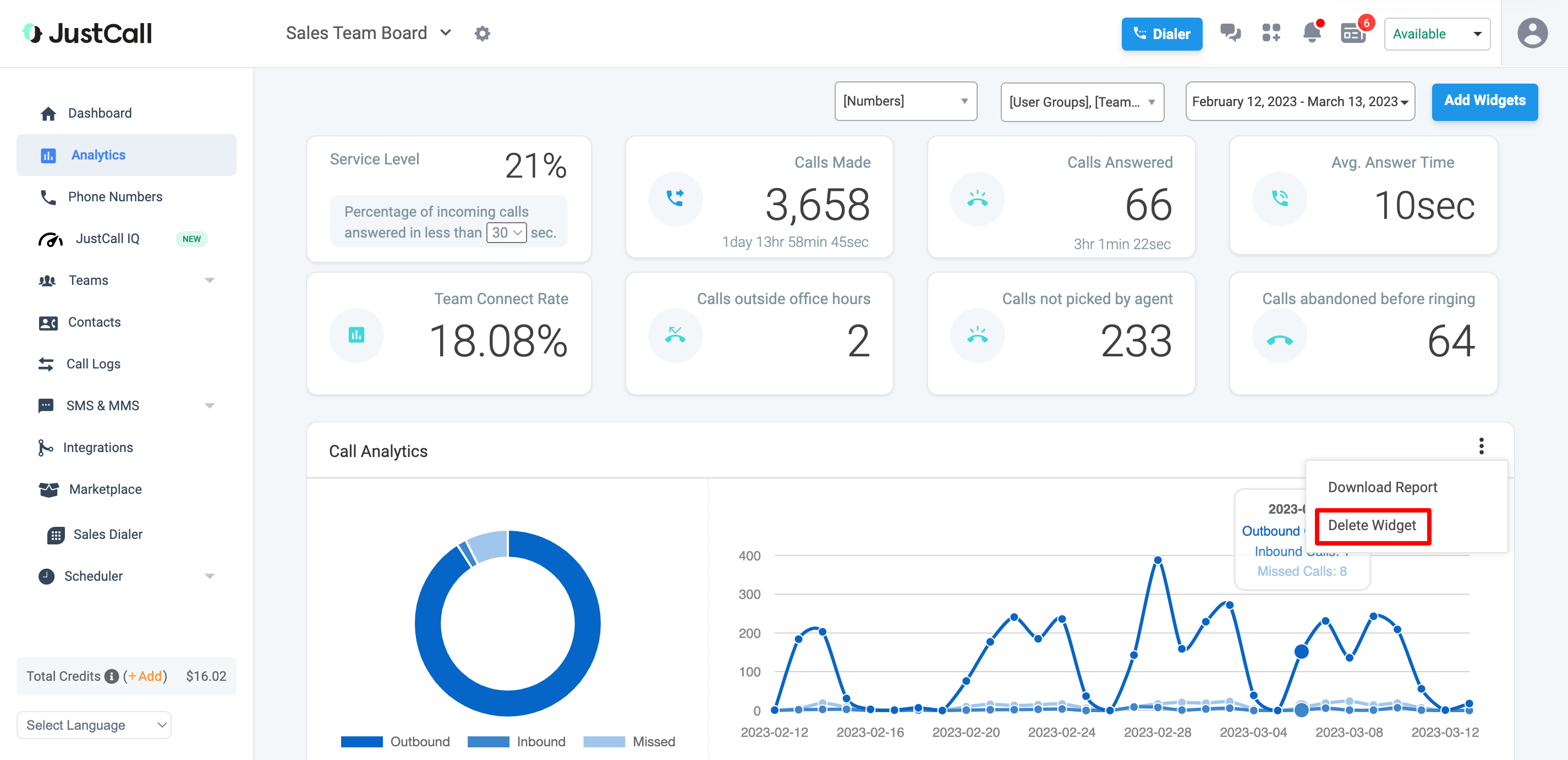 JustCall call metrics and KPIs include:
Average call volume
Number of missed calls
Current call queues
SMS analytics
Average call duration
Average speed of answer
Call Abandonment rate
Call outcomes
Coaching analytics
Voicemail analytics
Call direction
The Post-Call Survey tool automatically transfers callers to a voice-based survey that lets customers rate calls on a scale of 1-5.
JustCall Integrations
In addition to custom APIs, JustCall integrates with essential third-party business applications like: 
Salesforce
HubSpot
Zoom
Google Calendar and Google Meet
Microsoft Outlook
InfusionSoft
Zapier
Zoho CRM
Pipedrive
Zendesk
Freshdesk
Slack
Intercom
Agile CRM
JustCall User Experience
The below pros and cons outline the average JustCall user experience according to current user reviews, available features, pricing options, and more.
| | |
| --- | --- |
| JustCall Pros | JustCall Cons |
| Intuitive, uncrowded interface with a high ease of use | Lack of scalability compared to other providers–especially since the Premium Plan is nearly double the price of the Standard Plan |
| High-level outbound sales features including bulk SMS, multiple dialer modes, post-call ratings, and lead list management | Not a genuine "omnichannel" contact center tool as advertised (only offers native voice calling and SMS) |
| Advanced call routing strategies available on the Standard plan | APIs and essential CRM integrations are limited to Standard Plans and above |
| Conversation Intelligence capabilities provide in-call agent assist, real-time SLA alerts, sentiment analysis, and more | 99.99% guaranteed SLA uptime is only available on Custom Plans |
The Best JustCall Alternatives
The below table outlines additional call center software and VoIP phone system providers that are excellent alternatives to JustCall.
Provider
Pricing
Top Features
Best For
RingCentral MVP
3 plans from $20-$35+/user/month
– RingCentral Video Pro

– Enhanced Business SMS

– Advanced analytics portal

Remote teams looking for a scalable call center software with team collaboration and UCaaS features
Nextiva
3 plans from $18.95-$32.95+/user/month
– Native CRM tools

– Live speech coaching

– Automated post-call summary

Medium Sized businesses with a high daily call volume and team members across multiple locations
Dialpad
3 plans from $15-$25+user/month
– Live Call Sentiment Analysis

– Voice Recognition

– Real-time Agent Assist

Newer companies or startups that prioritize low-cost virtual telephony options.
Aircall
3 plans from $30-$50+/user/month
– Shared Call Inbox

– Customer Insight Cards

– Advanced call routing and call handling strategies

SMBs needing a basic, affordable inbound call center software for in-house teams
GoTo Connect
2 plans from $24-$29+/user/month, add-ons available
– Unlimited Auto Attendants

– Automated routing

– Dial Plan Editor

Small to midsize companies that need a phone system offering superior video communications
FAQs
Below, we've answered the top JustCall FAQs.
JustCall offers three pricing plans: Standard, Premium, and Enterprise. They range from as low as $25.00 per month per user up to $50.00 per month per user, with the enterprise plan offering business-specific rates.

Businesses of all sizes who have a need for VoIP services use JustCall, and it is particularly useful for remote teams or just singular remote departments such as Customer Service.

No, JustCall does not offer a free plan, but the standard plan starts at only $25.00 per user per month.