When researching the right business phone system for your needs, it's important to consider each aspect of any given platform in great detail. There is a litany of different products available on the market, and sometimes a high-level comparison just doesn't provide the nuanced information that's necessary for making such an important decision. 
JustCall is just one of these options. In this review, we will discuss JustCall's pricing, plans, and the many VoIP features you get at each level.
Jump to ↓
What is JustCall?
JustCall is a cloud-based phone system designed for businesses of all sizes that was created to assist with the call and SMS needs of sales teams for conversational commerce, customer support departments, and remote employees. 
The primary allure to JustCall is the ability to provide a local phone number for up to 58 different countries, allowing the user to communicate with customers, team members, and clients directly via the platform on either the desktop app, web app, or mobile. While some might prefer support and sales via chat and messaging, cold calling is still effective and will only benefit from having a local phone number to call from.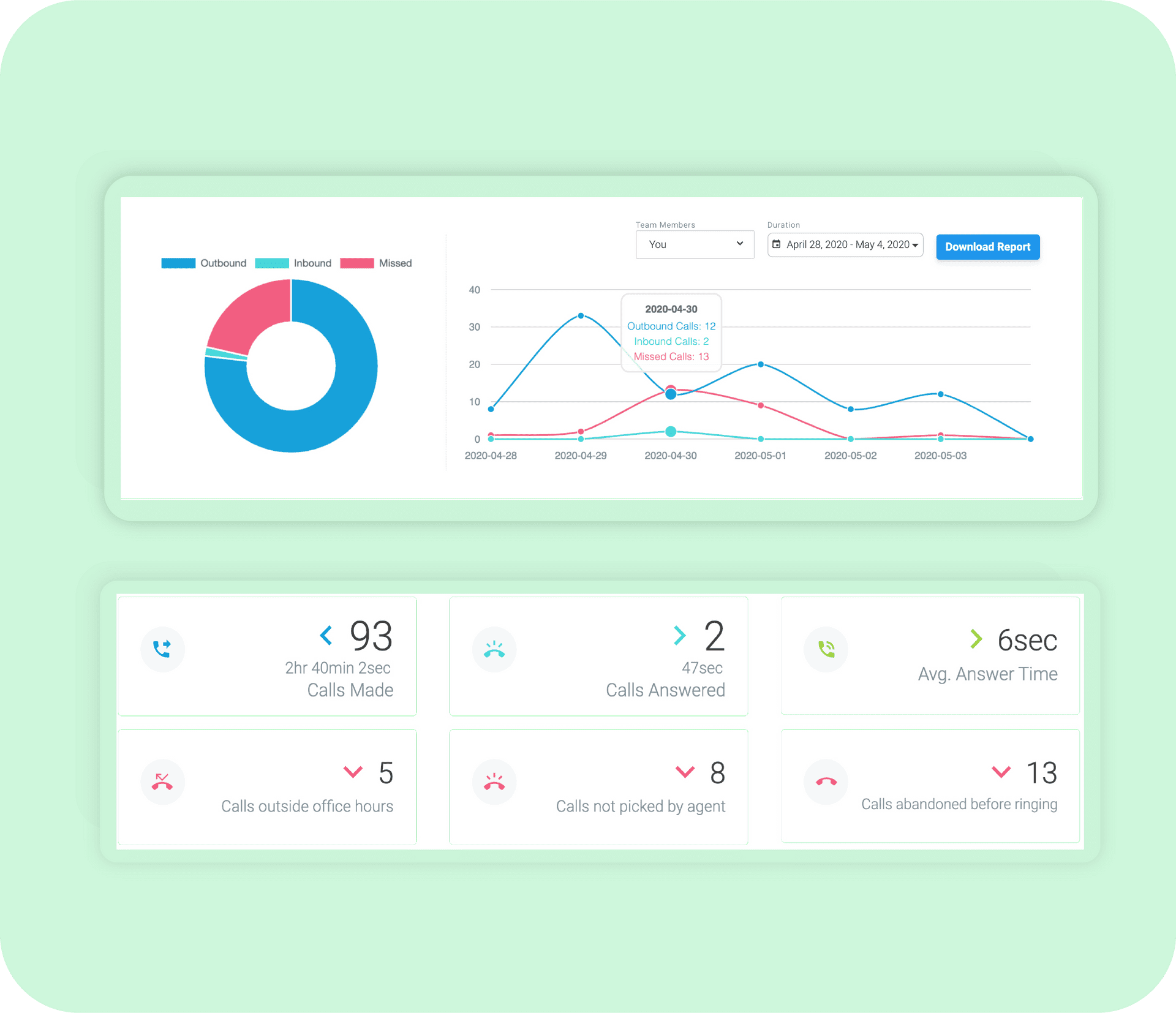 JustCall Features
JustCall carries many of the same features as competing cloud-based VoIP platforms, such as contact sharing and CRM integration, but it also boasts a few features unique to the software. The most notable features that JustCall includes are:
Complete phone system

Virtual phone number

Team management functions

Call forwarding/routing

Call transfer and call merging

Text messages

Bulk text message campaigns

Call monitoring

Call scheduling

Conference calls

Call notes/tagging

Call queue

Custom greetings in multiple languages

Third-party integration

Custom call distribution rules

Appointment scheduling

Calendar sharing internally and externally
JustCall Pricing Plans
The different pricing tiers of JustCall's services apply to different business needs. There are only three plans, but most often you will see advocates of the most expensive plans since they include more features. Some of those features, however, are just fluff that won't necessarily bring any additional benefit if your company has no need for them. 
Let's break down the various plans, the features of the plans, and how they might apply to your business's needs.

Standard Plan
The standard plan is the most accommodating plan for businesses with a smaller team, and those who foresee growth in their business model as time goes on. Starting at $25.00/month per team member, or $275/year per team member, the standard plan allows you to grow your services alongside your company as you add team members. This caps out at 50 team members, at which point you are advised to move to a higher tier plan to gain additional benefits and operate at a better cost to value ratio.
In addition, JustCall supports team growth with incentives in their pricing. Once your team roster using JustCall has grown to 15 or more members, JustCall offers a 10% discount on their price per member. 
The features included with the Standard Plan are as follows:
IVR (Phone Tree/Call Menu)
Appointment Scheduler (Upto 3 Calendars)
Premium Pricing Plan
If you're a larger business, or you've outgrown the standard plan with a team of JustCall users that exceeds 50, then the Premium Pricing Plan is likely where you want to be. Not only will your team receive priority support from the JustCall team, but you get a compendium of features that will improve efficiency and collaborative capacity within your organization. 
The Premium plan is simplified in its pricing with a flat $50.00/user per month pricing plan. While this is double the cost per user, the features and level of support granted at this tier are well worth the cost. 
The key features that will add a ton of value to your business are the bulk SMS campaigns and the auto dialer, allowing for a lot of autonomous functionality in your day-to-day work cycle. The Bulk SMS campaigns are particularly useful for sales teams as they will reduce the spammy nature of SMS marketing and increase the speed and efficiency at which your sales team can provide marketing material to customers and clients that retain a high readability and conversion rate. The auto dialer allows teams to pull and automatically dial numbers in their contacts which helps to reduce idle time, reduce customer waits, prevent misdials and call drops, and it will streamline internal sales processes as customers are passed to other agents.
The features of the premium plan are as follows:
All Features of Standard

Auto Dialer

SMS Bots

Salesforce Integration

API & Webhook Access

Call Monitoring

Call Barging

Call Whispering

Bulk SMS Campaigns

SMS Automation & Triggers

Advanced Integrations

Custom Workflows

Post Call Surveys

Training & Onboarding

Priority Support

Pay Per Minute Calling
Enterprise Pricing Plan
The Enterprise Pricing Plan is tailored to businesses of a very large size, and for businesses who require more attention from a customer service and account management standpoint. While it may not provide a large number of additional features from Premium, the key aspect is the service. With Enterprise, you not only get priority support on all of your channels, but you get a dedicated account manager that will be able to assist with any issues or integrations you might need help with. It also offers the convenience of bundling the calling and SMS rates, simplifying the costs of call and text marketing and support for your teams. 
Enterprise pricing is set on a per-client basis, so it will depend on your organization and business needs. To get a quote and work through the pricing outline, you or a member of your team will need to speak with the JustCall sales team directly.
The additional features of Enterprise are as follows: 
Standard + Premium features

Dedicated account manager

Priority Support on all channels

Bundled Calling+SMS rates
Additional Costs – Call and SMS Rates
As mentioned in the price tiers above, call and SMS charges are billed separately from the recurring monthly/annually accrued costs. Since this is not clearly laid out in those plans, many ask the question: how much does it cost to call or send SMS messages on JustCall?
As with any phone or VoIP service, call rates are dependent on location as different countries charge different rates for the same services. Another factor is how the calls are fielded, as sending and receiving calls on mobile phones or landlines cost $0.015 per minute whereas calls sent or received on JustCall apps cost only $0.01 per minute.
SMS messages are charged differently, as they vary based on the length of the message sent, the country of origin and receipt, and any special characters used such as emojis or gifs. Messages are charged at $0.008625 per message segment, with each segment being 160 characters. 
These additional costs create an additional incentive to go with the Enterprise plan for larger businesses, as your costs can quickly add up when sending bulk marketing campaigns via SMS. For further details on these additional charges, refer to the Call and SMS Rates Overview on JustCall's website
JustCall Mobile App Experience
Another excellent feature of JustCall that accommodates remote workers and entire remote teams is their mobile app. The app allows users to operate within their JustCall workspace and any integrated CRM platforms on the go, making it easier than ever for your sales and service teams to work remotely while still retaining their operational capacity.
There are, however, some nuanced takes on just how effective the app itself is. Let's break it down.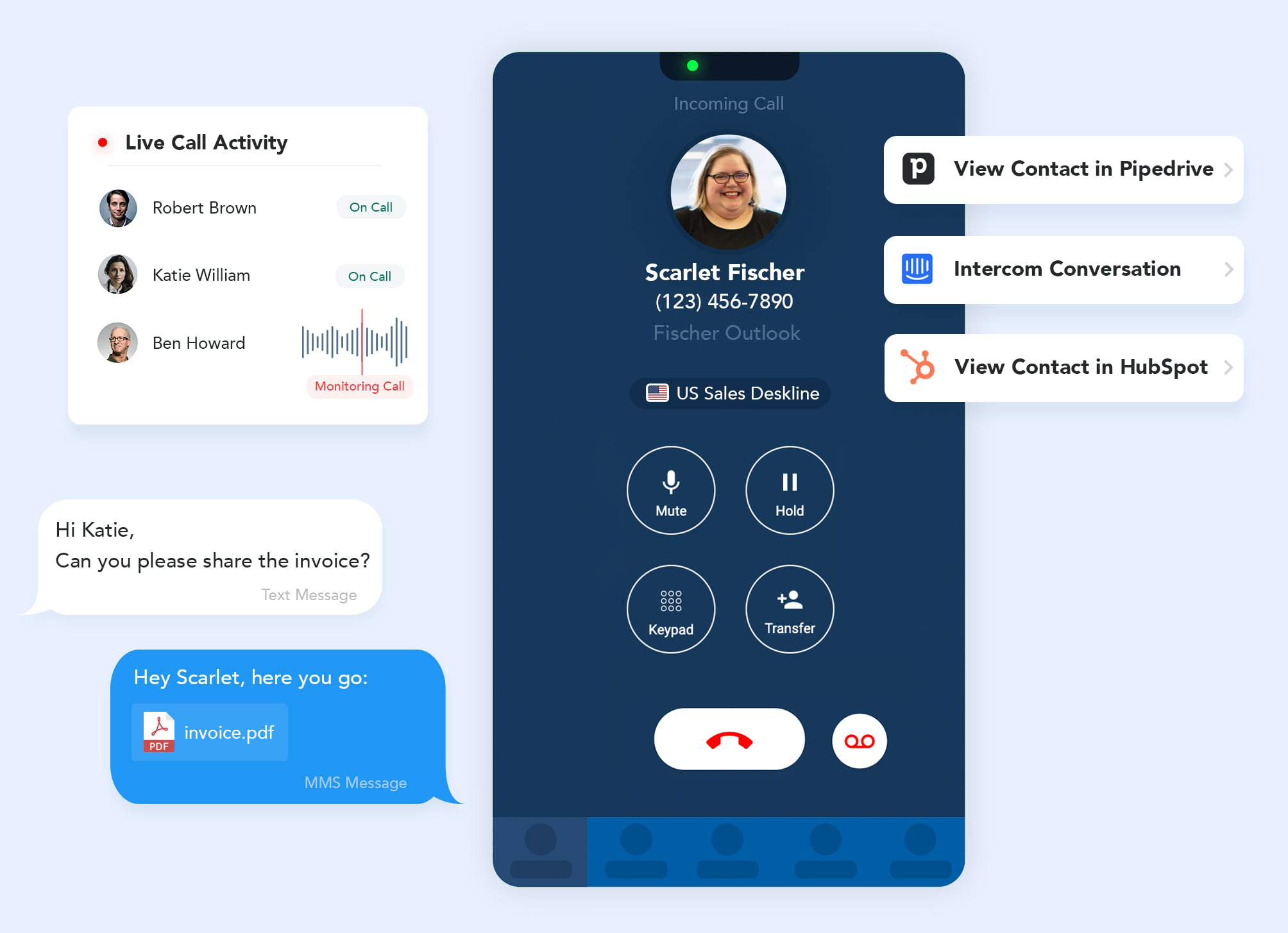 What we like:
The app is easy to start up and integrates seamlessly with other work tools such as Slack. It allows users to make calls and send text messages through the app, making it easy to switch between platforms when working on a case or call.
One of the most notable and unique features that JustCall offers is the ability to set up custom SMS bots for bulk and individual SMS campaigns. This automates a lot of the marketing and customer service workflow, freeing up time for those team members and bolstering the bottom line.
What we dislike:
There is still a bit to be desired with the mobile app as it relates to features. Users report issues with getting SMS message notifications to push consistently, which can be a pitfall if you are focusing on other cases or projects simultaneously. 
There are also some areas that could use upgrades, such as a more intuitive user interface that makes locating your SMS, voicemail, and other calls easier, and improved audio that maintains its quality when service wavers a bit. Users have reported dropped calls and low-quality audio on the end of the call recipient, making for a poor call experience for both parties.
User reviews:
Beyond areas where the app falls short, there are quite a few reported bugs with the app that needs to be addressed. Users often report usability bugs such as call features being "grayed" out preventing their use, inability to log in to the platform at times, and inability to receive callbacks when using iOS on supported devices. 
These bugs directly affect the usability of the app, but from the reviews on app stores, we can see that developers regularly respond and open cases related to any commonly reported issues. This gives further credence to the support and development teams at JustCall and adds a silver lining to the "ugly" aspects of the app.
JustCall Integrations
Integrating JustCall with your CRM or contact management software and other necessary tools for your business is an immensely important aspect of efficiently using the platform. There are some pros and cons to how JustCall integrates with these systems, so let's dive in.
What we like:
JustCall integrates with just about every major CRM software. This makes it easy for teams to get started with JustCall, which can be crucial for remote teams that heavily rely on customer data. 
Integrating with CRMs effectively allows better call tracking and client management for small teams since many smaller teams still rely on personal devices that aren't necessarily controlled by the organization. This means that the ease of integration allows small businesses to continue to save on device and hardware costs while still maintaining full functionality of their CRM on those devices.
What we dislike:
As far as integrations, the bad side of JustCall mostly resides in certain data not transferring to the software from your CRM such as a contact list or call history log. Support has been effective in resolving these issues for other users, but it can be a jarring entry into the platform to have to do additional work to recover your company and client data.
Unfortunately, certain lesser-known CRM platforms are not yet compatible with JustCall, but that changes regularly as the development team creates further compatibility. For instance, two years ago JustCall was reported as non-compatible with the CRM platform HelpScout, but has since been corrected. Before purchasing JustCall, check to be sure that your preferred CRM will work and allow for seamless integration.
Another unfortunate issue reported with certain CRM platforms is a laggy interface causing delays in service and operational capacity.
How JustCall Compares to Competitors?
In comparison to JustCall, certain platforms may provide features that are more accommodating to your business's needs. Certain platforms like RingCentral, Dialpad, and Nextiva tend to have higher overall ratings and a more established platform, since they are some of the "gold standard" platforms in VoIP, but they come at a higher price.
JustCall »
RingCentral MVP »

Dialpad »

 
Nextiva »
Price

Standard Plan –  Starting at $25/user per month

Essentials Plan –  Starting at $19.99/user per month

Standard Plan –  Starting at $15.00/month

Essential Plan –  Starting at $23.95/user per month

Free Trial?

N/A

15-day trial

14-day trial

7-day trial

User Count at Lowest Tier

2-1000+

1-20

1-1000+

Unlimited

Call Recording

Standard and above

Standard and above

Pro and above

Enterprise and above

Top Features

Call and SMS analytics

Appointment Scheduler

70 available countries for local phone numbers

Quality of service reports

Business or toll-free numbers

Team messaging and document sharing

Custom routing

Automatic spam detection

Voicemail transcription

AI Support

Unlimited voice and video calling

Auto-attendant and toll-free numbers

24/7 Customer support

Caller AI

NextOS CRM

Best for

Small businesses with a high call volume in countries outside of the call center

Businesses with projected growth

Medium-sized businesses with larger call center teams that experience high call volume

Small businesses with small contact centers seeking to automate certain tasks

Small teams with remote workers

Small teams with a need for a team meeting video conferencing

Businesses looking to utilize AI

Salesforce Integration

Standard

Premium

Pro

Pro

Most Popular Plan

Standard

Essentials

Pro

Enterprise

More info
JustCall Pricing
Ringcentral Pricing
Dialpad Pricing
Nextiva Pricing
Overall, JustCall is an excellent all-around cloud phone system for small businesses, and it's an easy option for medium to large-sized businesses, but always be sure to thoroughly evaluate your specific needs when determining what works best for your business.
How to Choose the Right Provider For Your Business
For starters, evaluate your current team and compare that with your projected growth within your business plan looking 5+ years down the road. If you foresee a great deal of growth in a short period of time, it may be worth starting with the premium plan to start off with the additional features added by that tier. 
Some smaller and medium-sized businesses might need features like SMS bots, auto dialers, bulk SMS campaigns, and post-call surveys to improve their team efficiency and marketing reach. Medium to large-sized businesses might only need local phone numbers and a basic VoIP service for their call center, making the standard plan adequate for their needs indefinitely while using other call center software to fill any potential gaps. 
Choosing the right plan is not a catch-all process, and requires a nuanced view into what your business needs are for your customer service and marketing departments. Hopefully, reading into the details of the price tiers and the pros/cons of features and integrations will assist you in making the right decision, but it can always be helpful to just reach out to the sales team at JustCall to have someone talk you through how the integration and operational process will play out.
Frequently Asked Questions
JustCall offers three pricing plans: Standard, Premium, and Enterprise. They range from as low as $25.00 per month per user up to $50.00 per month per user, with the enterprise plan offering business-specific rates.

Businesses of all sizes who have a need for VoIP services use JustCall, and it is particularly useful for remote teams or just singular remote departments such as Customer Service.

No, JustCall does not offer a free plan, but the standard plan starts at only $25.00 per user per month.