Social media is no longer just a tool to like a friend's vacation photos, post major life updates, or have not-so-friendly debates in the comments section.
Now, it's evolved into not just a purely "social" network, but also a shopping and customer service one. 
While many consumers discover new brands on social media, even more use it as a customer service channel. Today, 90% of shoppers say they've used social media to reach out about customer service issues.  
Is your business providing the level of social media customer service experience your clients expect — and what exactly are they expecting from the social support experience? Which business communication tools boost social media customer service without draining valuable resources away from other channels? 
Table of Contents
What Is Social Media Customer Service?
Social media customer service is the act of providing automated and live customer service and support via popular social media platforms like Facebook, Twitter, Instagram, and more.
Offering social media customer service means your customers can contact your company directly from their own social media profiles when they have a question or problem. These interactions can happen publicly (a post on a Facebook wall, an Instagram comment, a tag in a Twitter post) or privately in direct messages. 
Customers often opt for reaching out via social for ease and expediency, to avoid a lengthy IVR phone menu, to be directed to specific support links in direct messages, to publicly hold your business to account/express their frustration, or just because they prefer it over other channels. 
But if you already offer phone support and website chat, email support, and/or have your own customer service portal, why do you need to add social media to the mix?
Importance of Social Media as a Customer Service Channel
The average person spends roughly 145 minutes on social media every day — about a 60% increase since 2012. 
Social media is also one of the most popular ways to conduct brand research, even ahead of reading consumer reviews, browsing Q&A websites and online forums, and using live chat on a brand's website. 
Businesses already know potential shoppers are combing through their brand's social media accounts to learn more about their products/services, get updates on sales and restocks, and see which influencers are on board. 
But what do they often overlook? 
The importance of social media customer service, clearly illustrated by the below statistics: 
⅓ of customers say they would rather seek out customer support over social media as opposed to telephone or email 

Nearly 70% of consumers rely on Twitter and Facebook for issue resolution

Solving a customer issue on social media is up to 12 times cheaper than solving it by telephone 

Twitter customer service interactions increased by 250% within the past 2 years 

Social media customer service interactions will increase by over 20% by the end of 2021

30% of consumers will purchase from a competitor if the original company didn't respond to their social media message 
Sources: Letter.ly, GWI Social Media 2021 Report, Social Media Today, V12, Brandwatch
Social Media Customer Service Best Practices
Below, we outline best practices for social media customer service. 
Identify Your Customers' Preferred Platforms
Instead of offering social media customer service on every type of social media platform available, focus on the ones your customers are actually using. 
This allows you to better allocate your agents, ensures you don't overlook comments, tags, and messages, and makes it easier for customers to find you. 
If you're unsure where your customers are when it comes to social media, send out a customer survey or create accounts on multiple platforms and see where you get the most interaction (you can later delete less active platform accounts.)  
Create An Account Solely For Customer Service 
Businesses today use social media for marketing, connecting with customers, interacting with influencers, brand-building, listing products for sale…the list goes on. 
That's why it's so essential to create a separate social media account specifically for customer service inquiries. You don't want customer needs and questions to get buried in your ads, likes, and shares. 
Instead, have an account that is dedicated solely to customer service — and make sure to feature the handle in your "main" social media accounts profiles and descriptions. 
For an example of what works, check out the below image of IKEA's US-based support Twitter page. 
UPDATE: IKEA Woodbridge will reopen today (10/12/21) with regular store hours. Thanks for your patience!

— IKEA USA (@IKEAUSA) October 12, 2021
Provide Fast Answers With Chatbots and Canned Responses
With 60% of customers expecting a response to a social media customer service query within an hour of posting, and close to 50% expecting a response time within 24 hours, it's clear expediency is key to quality providing social support and a strong overall customer experience. 
But in reality, the possibility of having an available representative to respond to, like, and message every single commenter across multiple social media accounts is low. 
The solution?
Automated chatbots with canned (pre-written) responses to common queries on social media. 
First of all, these chatbots let customers know their message has actually been received. Plus, often entirely resolve the issue without the need to involve a live agent, meeting customer expectations without running your team ragged. 
Check out Dyson's canned response to a customer's Facebook message.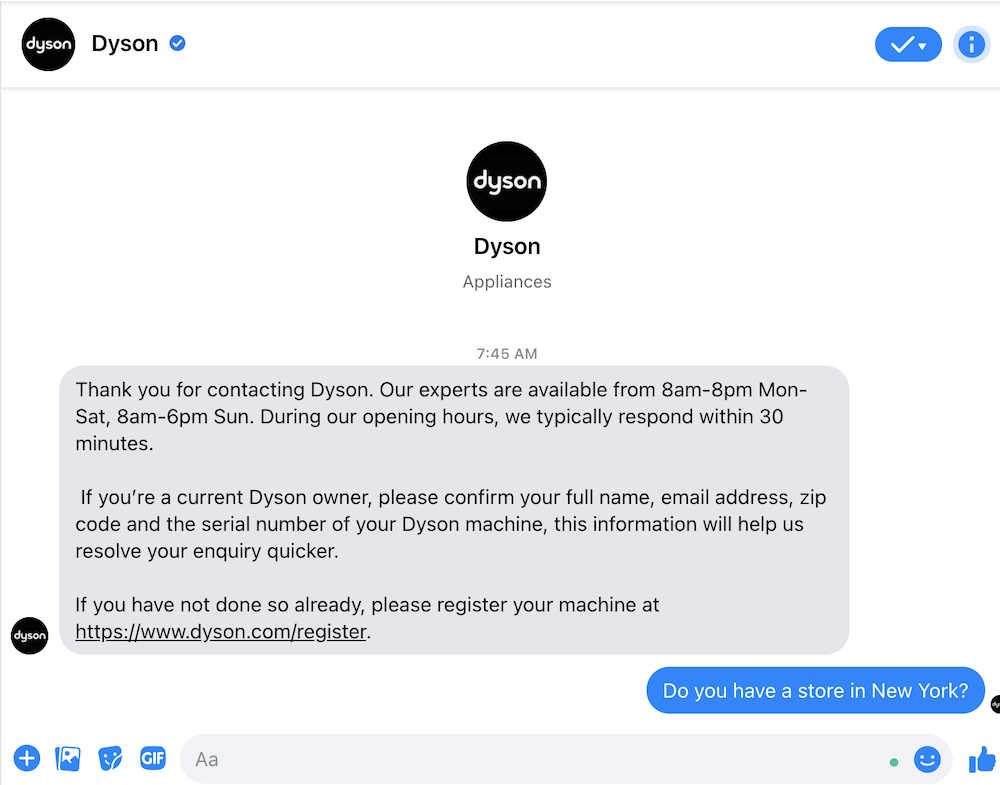 Give Proactive Customer Support
Providing proactive social media customer service is a great way to prevent service reps from getting overwhelmed and avoid client frustration. 
In the above example, detergent giant The Laundress' Instagram post explains what each product does, the fabrics to use it on, and in the caption, provides information on the problems these products solve. 
This way, customers don't need to message reps to know which product to buy for what purpose.
This graphic, also from The Laundress, explains how to use two of their best-selling products together and separately. Plus, if you look in the caption, there's a discount code for 20% off. 
Offer Additional Support Options
While social media is an important customer service channel, it should never be your only one. 
When messaging with customers on any social media platform, make sure to alter them to other ways they can contact customer service. For example, automated replies or signatures should include additional information like: 
Support/customer service hours 

Customer service phone numbers

Links to your business's website or online knowledge base

Customer service email addresses

An option to choose between

chatbot vs live chat

(ex: "Type 'AGENT' to speak to a live representative.'")
Examples of Great Social Media Customer Service
The below examples perfectly illustrate what great social media customer service looks like. 
Warby Parker
If you're near a Warby Parker, feel free to stop by— we'd be happy to help. If you aren't, we'd recommend visiting a local doctor. We can reimburse you up to $50 within 30 days of the receipt if they charge a fee for the adjustment.

— Warby Parker Help (@WarbyParkerHelp) August 9, 2021
In this exchange between a Warby Parker customer and customer service representative, a customer tagged the company on Twitter because she needed her glasses repaired.
What Worked: 
Warby Parker's response was effective because: 
It provided the customer with multiple solutions

It offered advice that would benefit the customer over the company by suggesting a third-party solution (the eye doctor) 

It proactively included information about Warby Parker reimbursements

The customer posted the tweet at 9:00 PM, the company responded the next morning at 6:00 AM
Apple Support
This Twitter exchange between a customer and the Apple Support account shows a customer asking for support for an unnamed Apple product.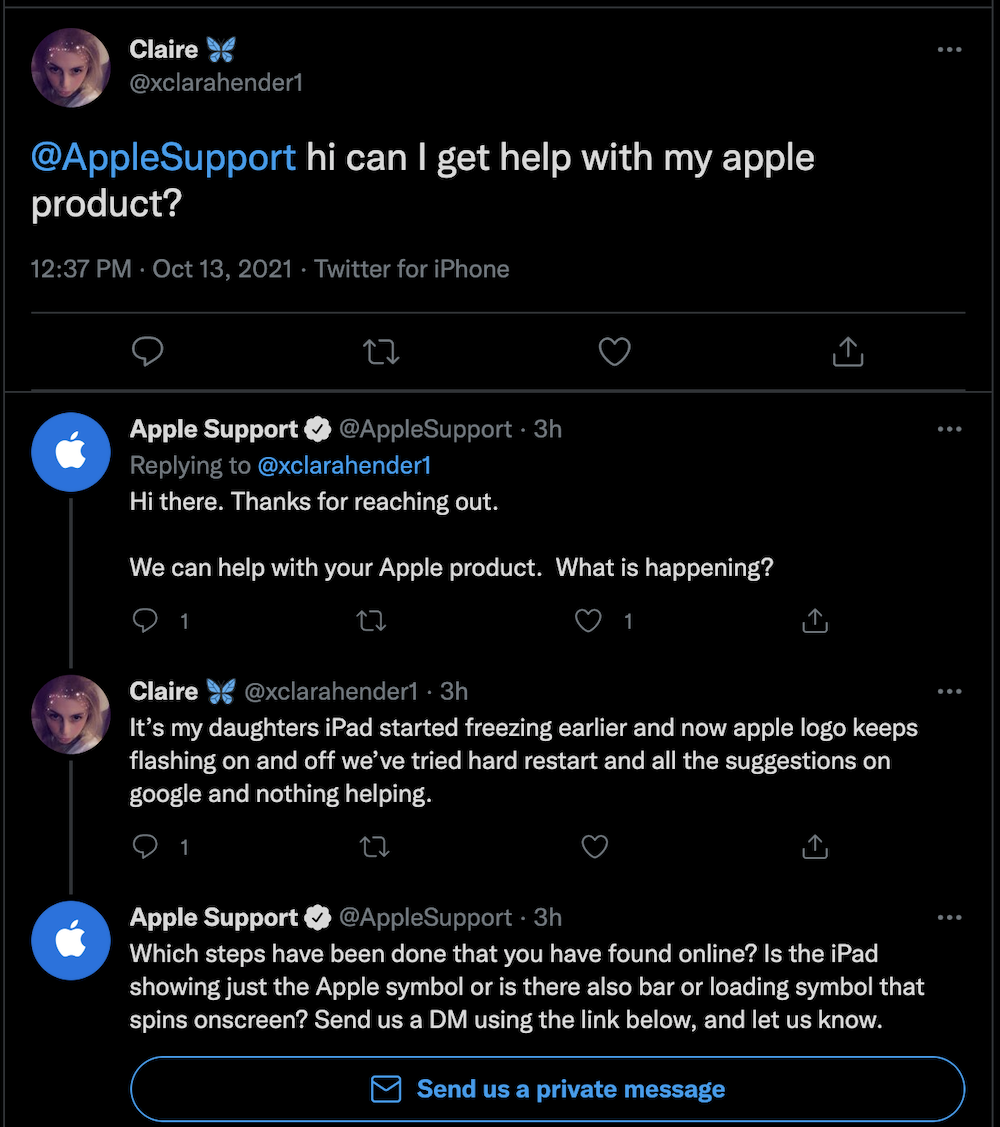 What Worked: 
Thanked the customer for reaching out

Asked for specificity (determined which product the customer needed help with)

Responded promptly, the same day

Asked what steps the customer has already tried to resolve the issue

Asked for more clarification about the specific issue and gave two possible problems for the customer choose from

Embedded a link for the customer to directly message the support team 
Skims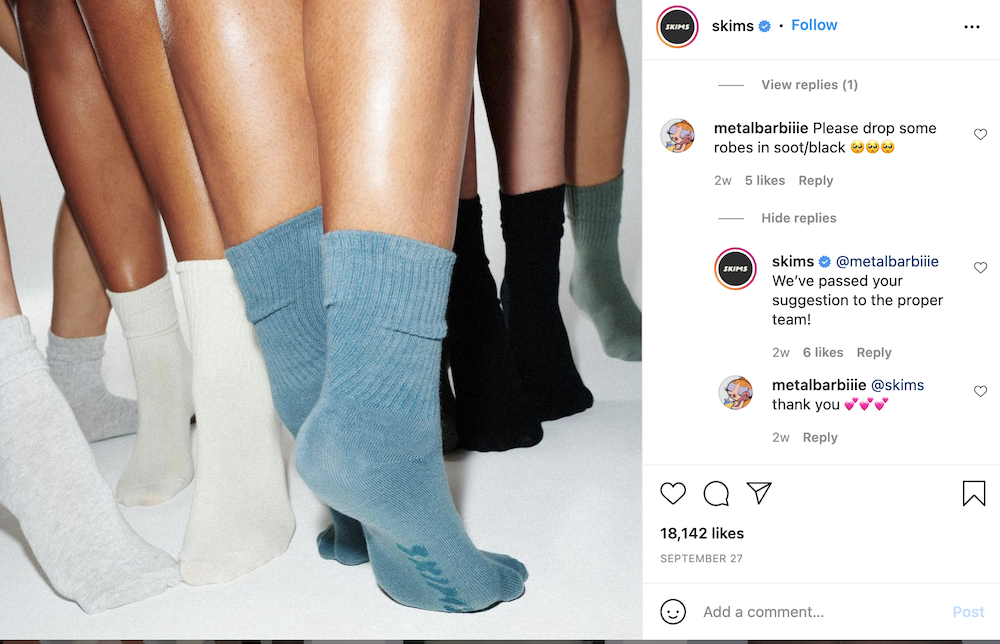 This Instagram exchange between SKIMS and a customer eager for a new product shows the impact of social listening and collecting customer feedback. 
What Worked: 
The company publicly responded to customer feedback

The company escalated the customer's request to the proper channels 

The company learned more about what customers want

The company responded to a comment that they weren't even directly tagged in, meaning a team member is reading all account comments 

The company responded on the same day the comment was made
Walmart
This Facebook Messenger exchange between a customer and Walmart shows the role of automated chatbots in social media customer service.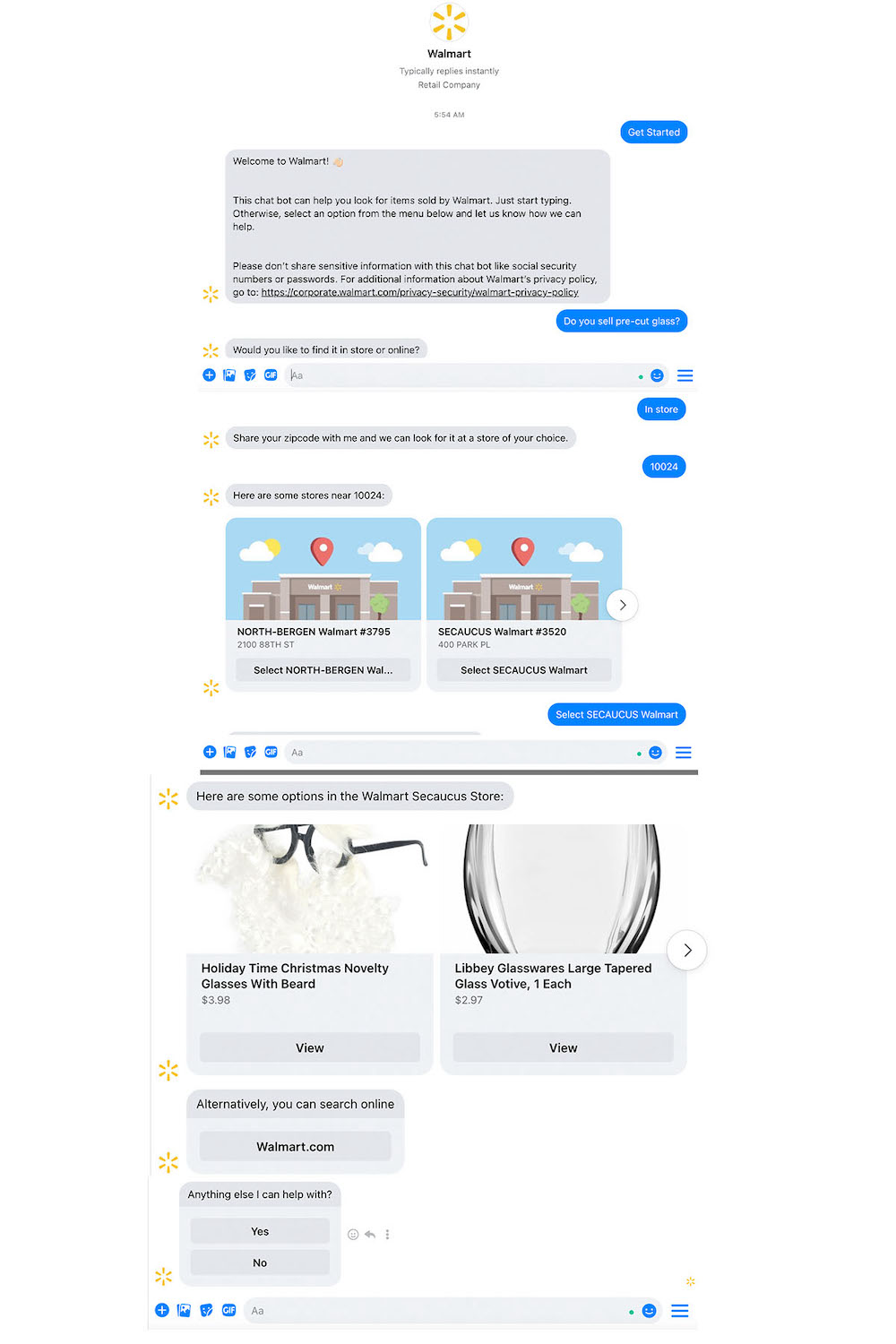 What Worked: 
An estimated reply wait time was provided 

The chatbot gave clear instructions and a privacy recommendation to the customer

The chatbot asked if the customer wanted to find their item in-store or online

The chatbot found nearby stores and displayed multiple options

The chatbot showed several product options

An alternative search method was provided (Walmart website)

The chatbot ensured the interaction was complete by asking if the customer needed additional help
Tools to Manage Customer Requests on Social Media
Social media management software offers cross-platform omnichannel customer service features as well as those that improve overall social engagement, simplify post scheduling, and provide insights into customer behavior on social media. 
For the purposes of this article, we'll be focusing on the customer service social media management features the providers below offer. 
Key features to look for in social media customer service tools include:
Multi-platform compatibility so you can access and manage accounts across several social media platforms (Twitter, Facebook, etc.) at once

A streamlined message inbox that unifies all customer messages across social platforms into a single agent inbox

CRM software

integration for access to more detailed customer information (account value, order history, contact information, etc.) 

Third-party business communication/collaboration software integrations (Slack, Zoom, EverNote, etc.) 

Automated chatbots/responses with machine learning

Messaging filtering, tagging, routing, etc. 

Internal wikis and agent scripts

Messaging analytics and review
Sprout Social
Sprout Social is a social media management platform focused on social listening, customer care, engagement, analytics, and overall engagement. Here, we'll focus mainly on the tool's social media customer service features.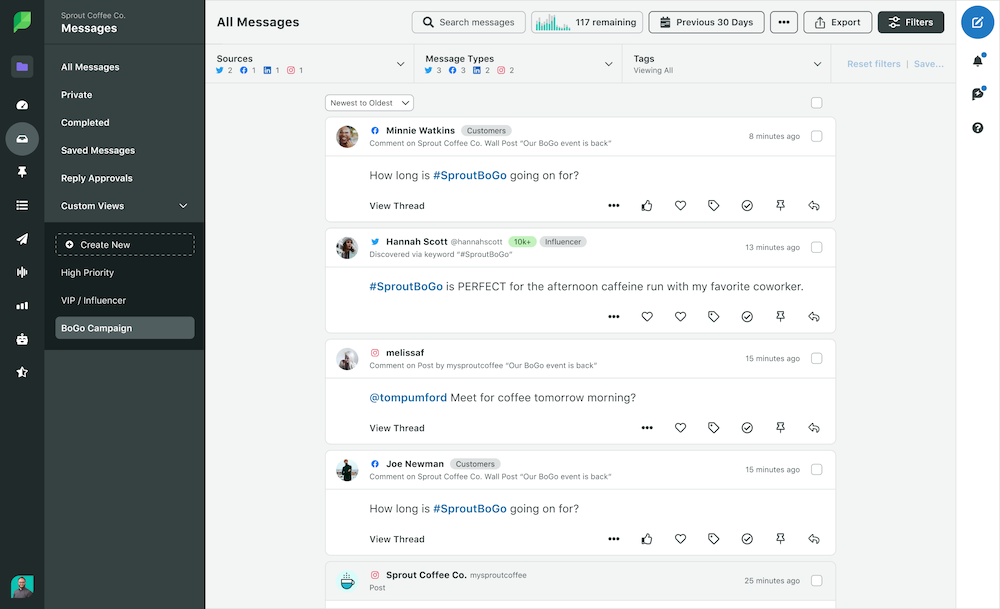 The Smart Inbox feature (shown above) streamlines all platform inboxes into one dashboard for simpler, more organized response management, while Message Spike alerts send out notifications when there's a sudden increase in direct message volume. 
Sprout Social features also include: 
Social CRM to cross-platform access contact/order/conversation histories and internal notes for more personalized customer care

Bot Builder for automated chatbot responses 

Message Tagging to sort messages according to issue, product, workflow, objective, and more

Agent message delegation/task assignment 

Online review management tools

Brand relevant conversation tracking
Platform integrations include Instagram, Facebook, Twitter, LinkedIn, YouTube, Pinterest, Reddit, Shopify, Glassdoor, and more. Sprout Social also integrates with key third-party tools like Slack, HubSpot, Canva, Google Analytics, and Salesforce among others. 
Pricing and Plans
The below image outlines Sprout Social pricing and plans. Note that Sprout Social also offers a 30-day free trial.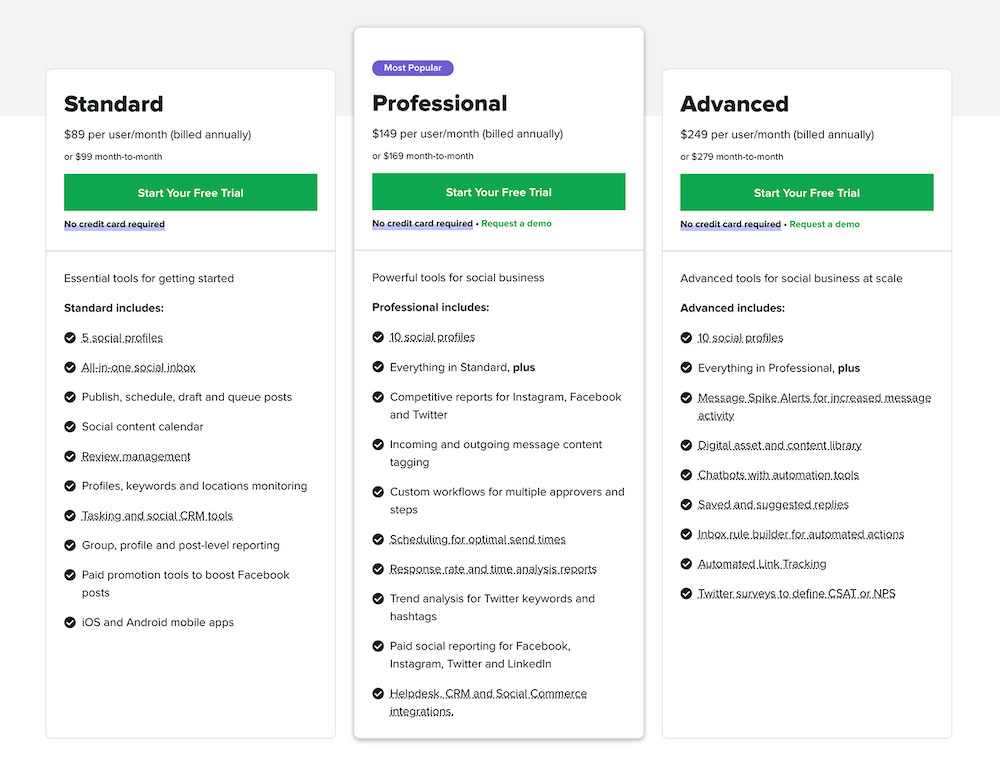 Best For
Sprout Social is best for businesses with a higher than average number of social platforms, moderate to high daily message volumes, and view social media as one of their top customer service channels. 
HootSuite
HootSuite is a social media customer care and management platform compatible with over 20 social media platforms including Facebook, Twitter, Instagram, LinkedIn, YouTube, and Pinterest. 
Its monitoring feature allows users not only to monitor industry trends/conversations, but also track and receive alerts about brand mentions, view post performance, and share posts with teammates in a single click. 
In addition to pre-scripted save replies, HootSuite also uses machine learning to improve automated responses to common customer queries. One of the most unique features is that admins/managers can set agent responses to messages to "pending approval," meaning that they'll review and OK any message that goes out to a customer. This is especially useful when training new employees. 
Below, take a look at the unified social media inbox: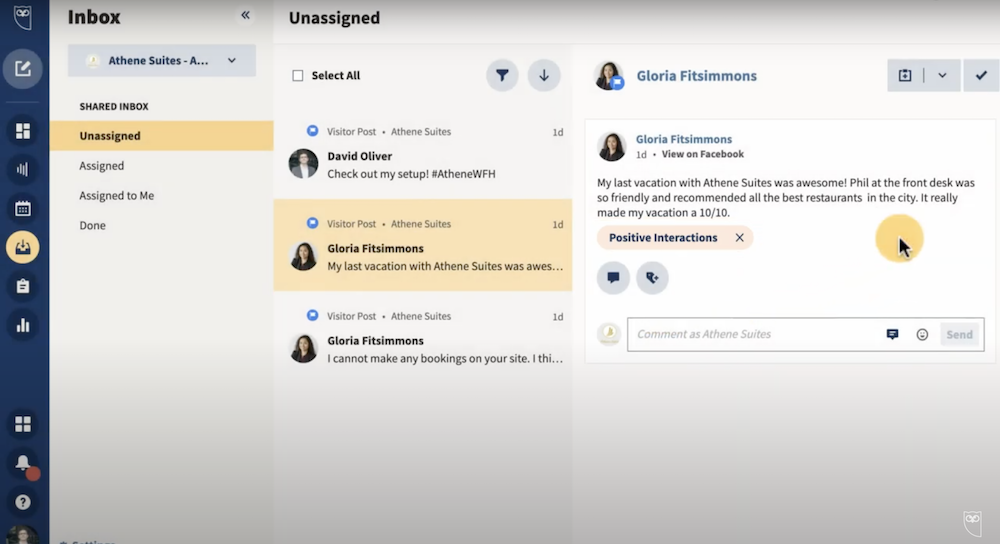 HootSuite's Sparkcentral tool is an omnichannel communication dashboard that unites social media messages and mention streams with live chat, SMS, email, and other communication channels in one place. 
Additional integrations include Google My Business, Adobe Suite, HubSpot, Shopify, Canva, Airtable, and more.  
Other HootSuite features include:
Admin ability to assign specific messages to specific reps, and rep ability to assign messages to other reps

Bulk dismiss messages that don't require a response/action

Filter out messages that require an action/response 

Mobile App for Apple and Android with dark mode, content schedule management, agent inbox management/assignment, and more

Review tracking

Automated team assignments and automated message tagging
Pricing and Plans
The below image outlines HootSuite pricing and plans. Note that in addition to a free 30-day trial, HootSuite also offers a free unlimited plan with up to 2 social accounts, 1 user, and 5 scheduled messages.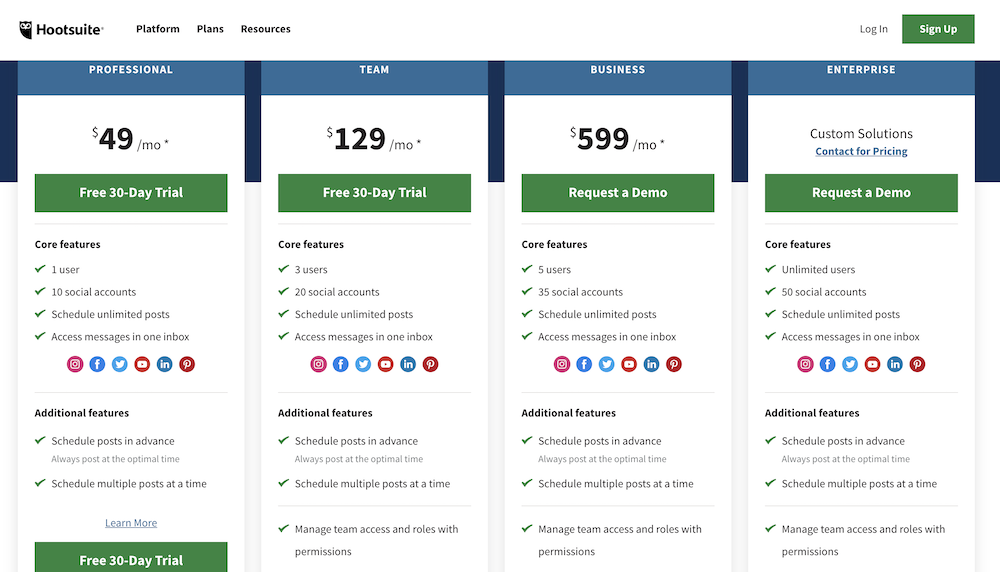 Best For
HootSuite is best for businesses of any size that need an omnichannel communications tool that offers extensive social media channel capabilities not often seen with other UCaaS providers, business owners/managers who want to be able to approve messages before they're sent to clients, and may need to dismiss larger volumes of messages daily. 
Zoho Social
Zoho Social is a social media management and marketing solution designed to best work with other software in the Zoho universe. 
It includes a customizable listening dashboard for proactive customer service, which automatically tracks and notifies users of new reviews, brand keywords, and tags/mentions. 
For those who want to avoid excessive notifications, Zoho Social also has a social Livestream feature. The Livestream is a dedicated tab that shows you all social interactions and engagements with your company in real-time. This doesn't just make it easier to respond quickly, but it also provides information on the customer — like if they've previously interacted with your brand. Users can also automatically add accounts that appear in the Livestream to their CRM tool.
The image below shows the Livestream in action.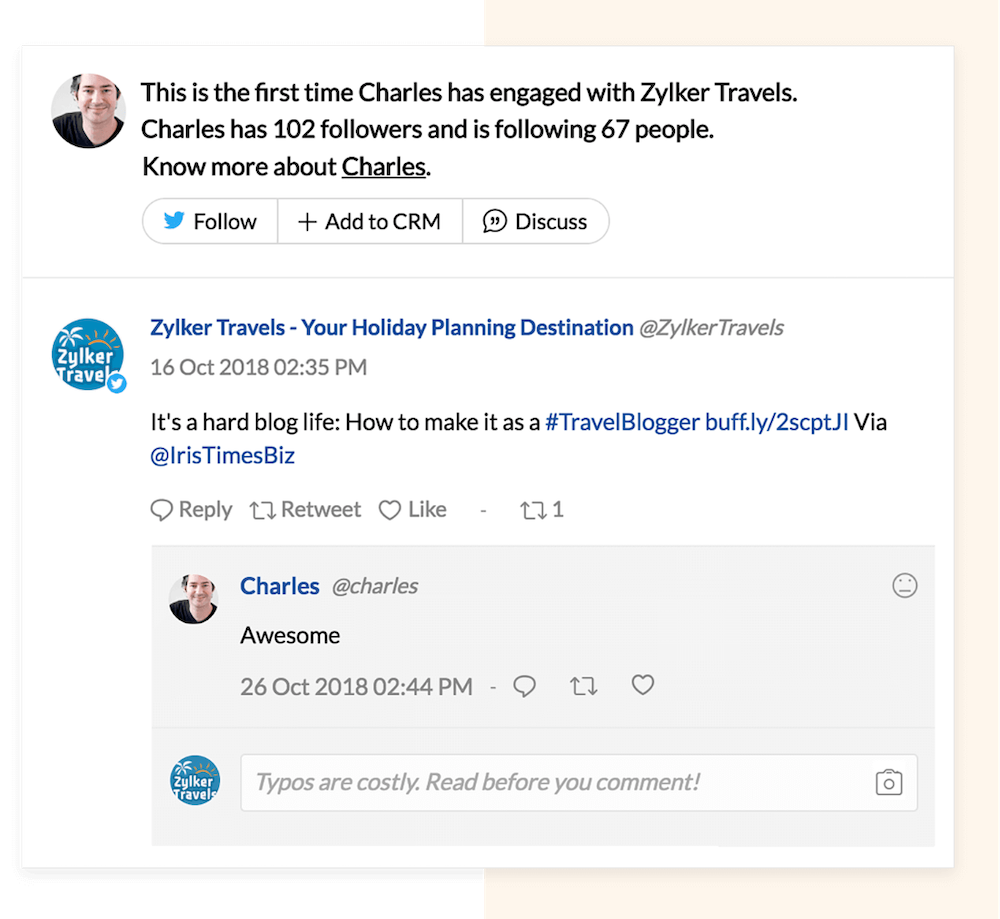 Additional features include: 
Inline Direct Messaging with media attachments available 

Unified Message Inbox notifications across social platforms 

Create instant support tickets in Zoho CRM from inbox messages

Contact directory that lets users filter by priority social network

Apple and Android mobile app

Works with Facebook pages and groups, Twitter, Instagram, LinkedIn, YouTube, and Google My Business

Custom team member permissions and roles for social responses 
Pricing and Plans
The below image outlines Zoho Social pricing and plans. Note ZohoSocial provides a free 15-day trial.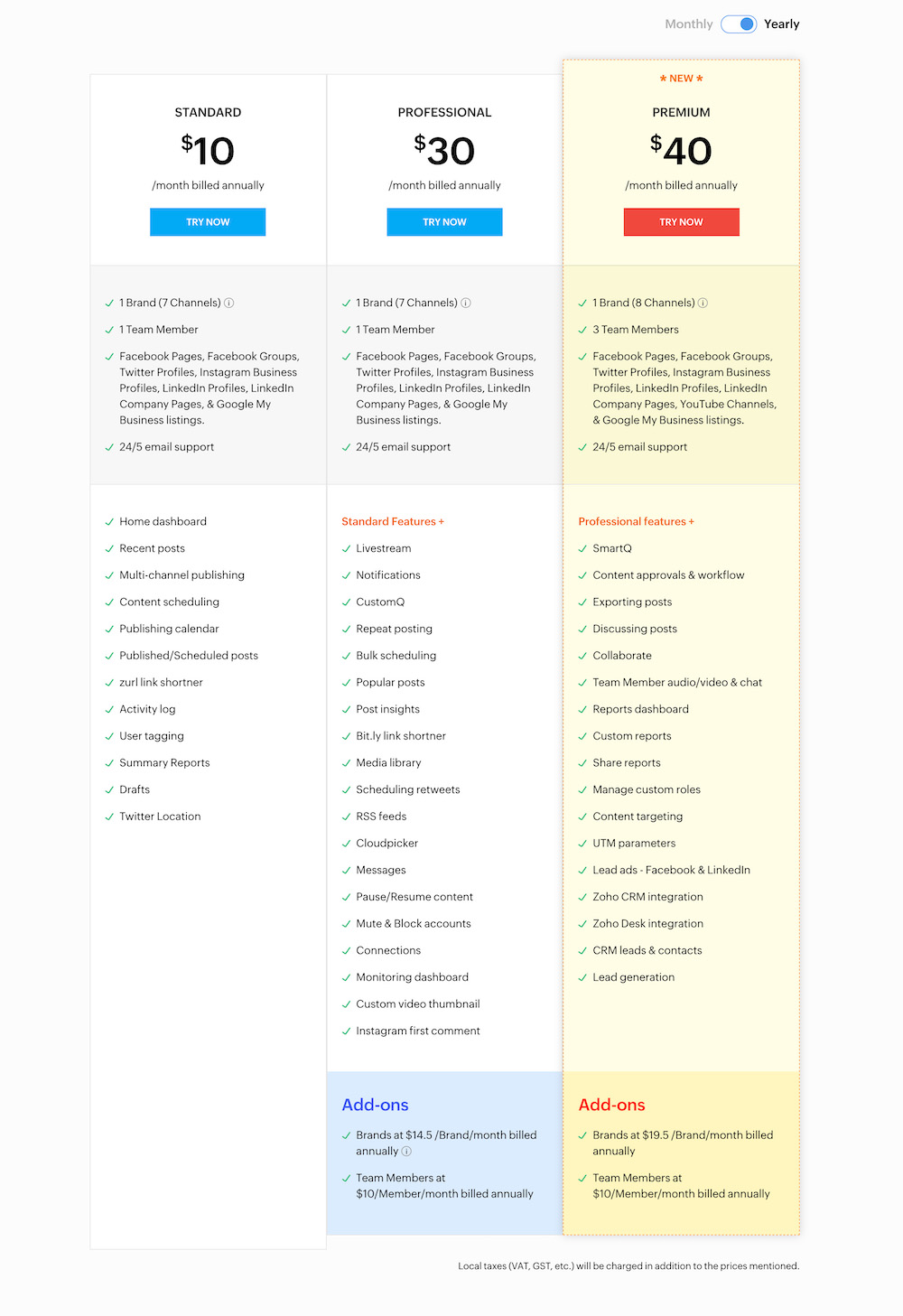 Best For
Zoho Social is best for current small business Zoho universe users  (Zoho Dsk, Zoho CRM, etc.) that need to improve and expand their social media customer service and outreach while continuing to focus on existing support channels. For example, users will want to be able to create support tickets and action items in Zoho Desk directly from social media inboxes.
Conversocial 
Conversocial is a social customer service and digital engagement platform that focuses on strengthening relationships with existing customers/leads through detailed, cross-platform conversation analysis. 
It offers customizable and pre-templated analytics and insights dashboard with data on number of inbound/outbound messages, handled vs. unhandled messages, average interaction time, and more over set time periods.
Conversocial's CX Bots offer automated responses and use AI and RAN (Random Access Navigation) to avoid sending every customer down a similar, unhelpful action path and instead relying on information collected from the customer to provide personalized automated assistance. The CX bots also determine when and what type of conversations need to be sent to a live agent. 
The image below shows how Conversocial makes it easy for bots to pass conversations to live agents instantly.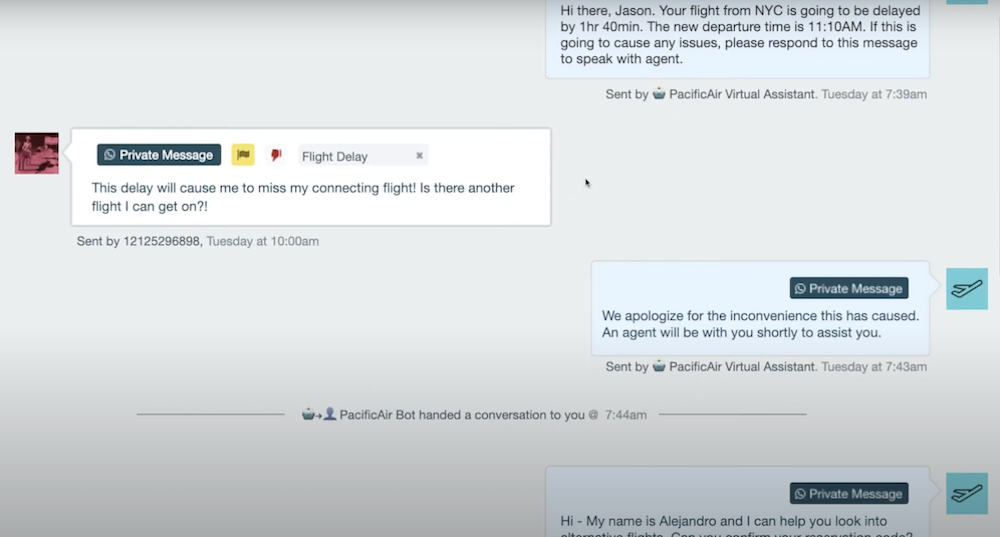 Additional features include: 
Facebook, Apple Business Chat, Google Business Messaging, WhatsApp, Instagram, Twitter, and Google Play channel integration

Rules-based message routing based on message content, customer identity, and priority 

In-channel case resolution with asynchronous and real-time updates 

Agent Workspace cross-platform messaging inbox

More personal notifications with conversation-based triggers

Bi-directional (humans and bots) conversation handoffs 

Tag and sort conversations 
Pricing and Plans
As of this writing, Conversocial pricing is entirely quote-based and requires users to complete a form to receive a cost estimate. 
Best For
Conversocial is best for small to midsize teams that don't communicate on a high number of social platforms, but provide a highly personalized balance of automated and human social media customer service on the few platforms they do use. It's also right for businesses that want to access detailed social media service analytics to better optimize agents, identify trends and common issues, and understand customers on a deeper level. 
Costly Social Media Mistakes To Avoid 
We've all seen what happens when someone fires off a public statement from a business social media account that they didn't exactly think through. 
But there's much more than the obvious insensitive or uninformed tweet to watch out for when it comes to social media customer service and communication. The mistakes to avoid listed below can have just as much of a negative impact as a case of digital foot-in-mouth disease. 
Don't: Ignore A Bad Comment From An Angry Customer
Given that nearly 50% of consumers say they've called out a company on social media over a customer service issue, chances are good that one day, an unhappy customer will tag you in a not-so-kindly-worded complaint. 
Resist the temptation to block the customer, delete the negative comment, or fail to respond to it both publicly and privately. 
Why? 
Because close to 90% of shoppers say they're much less likely to do business with a company that has unanswered social media customer complaints. 
Instead, follow this action plan: 
Apologize for the inconvenience and validate their frustration

Ask them to send you more information in a private message (Order number, date of order, specific issue, etc.)

Give the customer choices (Refund or resend the product, cancel the order or keep it, work with another employee or end the relationship, etc.)

Resolve the issue as quickly as possible, working across multiple support channels if needed

Offer an incentive to keep doing business with your company (Discount off next order, partial refund, etc.) 

Publicly post an update on your social media accounts about the issue being resolved
Don't: Forget To Follow Up
Following up with customers after a question, issue, or complaint is just as important on social media as it is on all other channels. 
Even a quick, automated social media chat message 24-48 hours after your last contact with the customer will do the trick. Following up makes the customer feel valued, can convince them to make a purchase or give your business another chance, and ensures their issue is completely resolved.  
Don't: Fail To Ask For Customer Feedback
Whenever you make an outbound customer service call, chances are good that you're occasionally asked to remain on the line to complete a brief customer survey once your interaction with the representative is finished. 
Make sure your business does the same on social media by automatically sending out a brief customer survey in the messaging inbox post-interaction. This survey should include both open-ended and rankings-based questions and statements. 
Surveys often ask customers to: 
Rank their level of satisfaction with the support they received

Rank their level of satisfaction with the timeline of the support 

Rank their likelihood to contact support via social media again 

Rank the agent's ability to answer their question

State what they think should be improved about social media support 

State what social media platforms they use 
Don't: Overload On Social Platforms
With so many social media platforms available these days, it's tempting to create customer service accounts on as many as possible. 
But doing so doesn't really make your brand more reachable to customers. Instead, it makes it more likely that customers will be overlooked and/or that reps will spend half of their time checking and updating all your social profiles and not actually helping clients. 
Choose no more than three social platforms to be active on (Facebook, Twitter, and Instagram are a solid trio.) 
Don't: Fail to Institute A Social Media Policy for Employees
Part of providing quality customer service means ensuring your team members remain respectful of your customers both during and after work hours. 
Having a social media policy in place protects both agent and customer privacy as well as your business's reputation. It also helps team members stay on the same page about acceptable usage policies, what they can and can't post about the workplace/company as a whole, and even the kind of language and terminology they should use when speaking to customers. 
A strong, but fair, social media policy should outline: 
Who does and does not have permission to post from company accounts

What approvals, if any, need to be given before publicly posting on a company social media account

Company social media expectations for employees

If/when employees must add a disclaimer that their personal posts don't represent those of the company

Regulations regarding sharing private company or client information on social media

Consequences for illegal, threatening, or harassing posts/messages to customers 

Consequences for using company social media accounts for personal use 
Additional Customer Service Channels
In addition to social media customer service, you'll also want to provide additional channels for customers to connect with agents. 
Popular customer service channels include audio calling, website live chat messaging, email, video conferencing, SMS texting, and more. These can all be applied to customer service and conversational commerce as a whole, providing direct communication between your business and the customer.
Omnichannel contact center and UCaaS software from providers like Twilio Flex, Five9, 8×8, and Talkdesk make it easy to provide customer service with real-time conversation synching across multiple communication channels. 
In addition to providing your customers with even more options, these tools give agents working in social media customer service insight into past conversations with agents so they can provide the best possible assistance. 
Social Media Customer Service FAQs
Below, we've answered some of the most common questions about social media customer service. 
The simplest way to handle social media customer service is through a social media chatbot. These tools provide instant, automated results and responses based on customer inquiries. 
Representatives can also reply directly in their CRM software interface, without having to login to business social media account applications separately. Users can set alerts and notifications when they receive an inbound customer message, and omnichannel communication ensures that all previous messages are displayed. 
Having an easily-accessible company wiki (internal knowledge base) and even pre-made scripts also speeds the resolution process along.
The best way to talk to customers on social media is to be as personal and as prompt as possible. 
For example, personalization features will automatically add the customer's name to canned responses, pull up and refer to past orders, and even provide notes on previous customer-agent interactions for smoother communication. 
If possible, aim to resolve these issues in a private direct messaging thread as opposed to publicly commenting. (If a customer has left a scathing remark on a company social media platform, your best bet is to publicly apologize and publicly direct them to privately message your brand.) 
Social media is good for customer service because, above all, it's what consumers want. Shoppers today often favor reaching out on a social media platform over telephone, email, or even live chat. 

Plus, tools like automated chatbots provide the instantaneous responses customers today expect. 
By identifying key words and phrases, social media messaging chatbots and auto responses can provide relevant, actionable advice like links to resource articles, account balance updates, shipping information, and more. This leaves agents free to handle more complex customer service queries on other channels.