As of this writing, over 75% of consumers say that it takes too long to reach a live agent. Call center solutions like Five9 offer a predictive dialer, advanced call routing features, and agent workflow management tools that have the capability to completely transform your business and keep your customers happy. In this article, we're going to cover everything there is to know about Five9 pricing and plans, and whether or not it's a good fit for your needs.
What is Five9?

Five9 is a cloud contact center software designed to improve customer experience and sales through all-channel communication, CRM integrations, and an AI-based workflow.
According to the company's website, its CCaaS platform increases the talk time per hour of sales and customer service and sales departments by an average of 300%.
Ideal for incoming, outbound, and blended contact centers, this provider's customers include Siemens, DoorDash, Teladoc, lululemon, and over 2,000 large enterprises and small businesses across a variety of industries.
The platform eliminates the need for an on-premise system and integrates with other essential business tools, allowing agents and supervisors alike to operate within a single interface.
Services, features, and products from this provider fall into the below categories:
Inbound Contact Systems
Outbound Call Systems
Blended Call Systems
Global Voice
Multichannel Communication
Workforce Optimization
Analytics and Reporting
Integrations
Five9 Pricing Breakdown Plans:
Like most software in this niche, Five9's pricing model and plans aren't publicly available on their website, and is quote dependent per each users specific needs.
As opposed to a one-size-fits-all approach or communication packages to choose from. Generally Five9 pricing is tier-based on the number of users, as well as the specific products and features required, starting at $100/mo/agent for their inbound, outbound, or blended calling software. Five9 pricing can go up to $175/mo/agent on their enterprise level, full-featured solution. Here is a breakdown of some of the most popular plans, with a two year commitment:
| | | |
| --- | --- | --- |
| Inbound Calling | Outbound Calling | Blended Calling |
| As low as $100/mo/user | As low as $100/mo/user | As low as $100/mo/user |
| ACD | Automatic Dialers | ACD |
| CTI | CTI | Automatic Dialers |
| Hosted IVR Systems | Reporting & Analytics | CTI |
| Reporting & Analytics | Omnichannel | Hosted IVR Systems |
| Omnichannel | Social | Speech Recognition IVR |
| Integrations | Live Chat | Integrations |
| System Status Monitoring | Integrations | Call Quality Assurance Monitoring & Analytics |
| 99.999% Uptime Guarantee | System Status Monitoring | 99.999% Uptime Guarantee |
| Call Quality Assurance Monitoring & Analytics | 99.999% Uptime Guarantee | System Status Monitoring |
| | Call Quality Assurance Monitoring & Analytics | Reporting & Analytics |
| | | Omnichannel |
I was able to retrieve the Five9 pricing above by calling their sales department, and obtaining a sales quote for a 20 user telemarketing company.
Five9 allows managers and supervisors to assign different features and permissions to specific users, meaning that pricing depends on the number of agents that require specific functionalities. Agents that do not have certain permissions can transfer calls to those that due, allowing users to keep costs down and providing good value for money.
Though contracts are flexible, the majority of pricing options require an annual commitment, with very few month-to-month options available.
Interested parties should contact the provider directly for a quote.
Inbound Voice Contact Center Features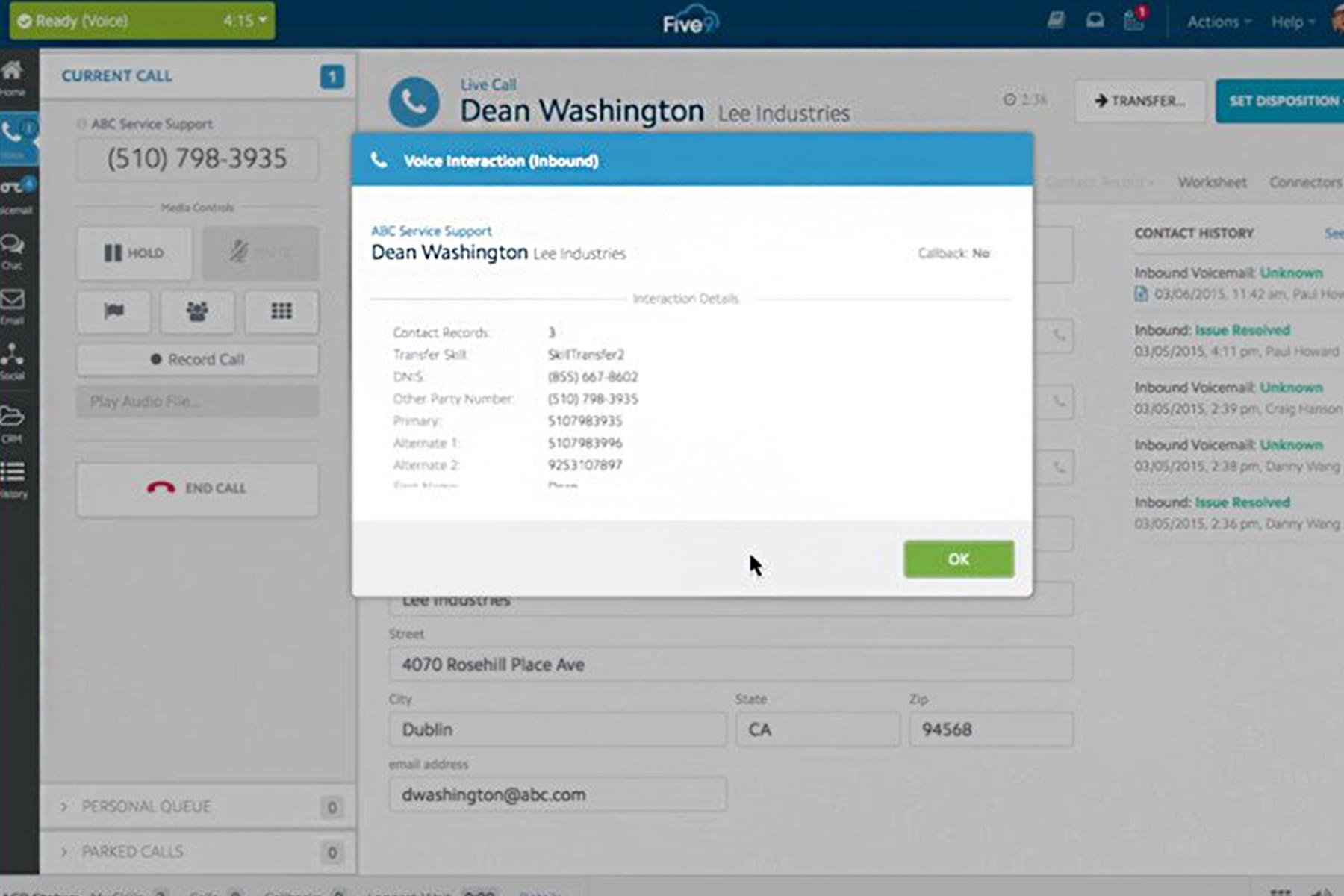 When a current customer or lead calls into your company, you want to ensure they speak with the person who is the most qualified to help them. You also want to prevent the customer from having to repeat their problem every time they speak to a new representative.
But what happens if a client contacts customer support through a variety of channels to get updates on the issue at hand?
Screen Pops
When an agent gets an incoming call, the Genius™ Intelligent Omnichannel Automatic Call Distributor (ACD) System gathers all customer history — regardless of the channel these interactions took place on —  and creates "Screen Pops."
These CTI Pops contain information about customer order history, current customer support tickets, notes from other agents, client location, and more.
Plus, Five9 integrates with CRM software, providing agents with even more specific customer data.
IVR Capabilities
Customers with more basic issues can take advantage of speech-enabled hosted IVR (interactive voice response) on standard desk phones or use visual IVR on mobile devices for self-service.
If customers need to speak with a representative but don't want to wait on hold, call scheduling, estimated wait times, and the number of callers in front of them in the queue provides incoming callers with better options.
They can opt to receive an automatic web callback when the right agent is free, schedule a callback at a time that works best for their schedule, or leave a voicemail.
A recent study by the Aberdeen Group found that cloud-based call system tools like Five9 increase first customer contact resolution rates by 70%.
Additional Incoming Call Center Features
The incoming call system provides additional call routing and IVR features like:
Call Recording
Skills-based routing
Priority routing
Time-of-day routing
Voicemail routing
IVR scheduling
IVR speech recognition
Post-call customer care surveys
Agent call scripting, drag-and-drop script building tools
Real-time reporting
Toll-free numbers
Incoming call whisper
Softphone capabilities
Outbound Call Center Features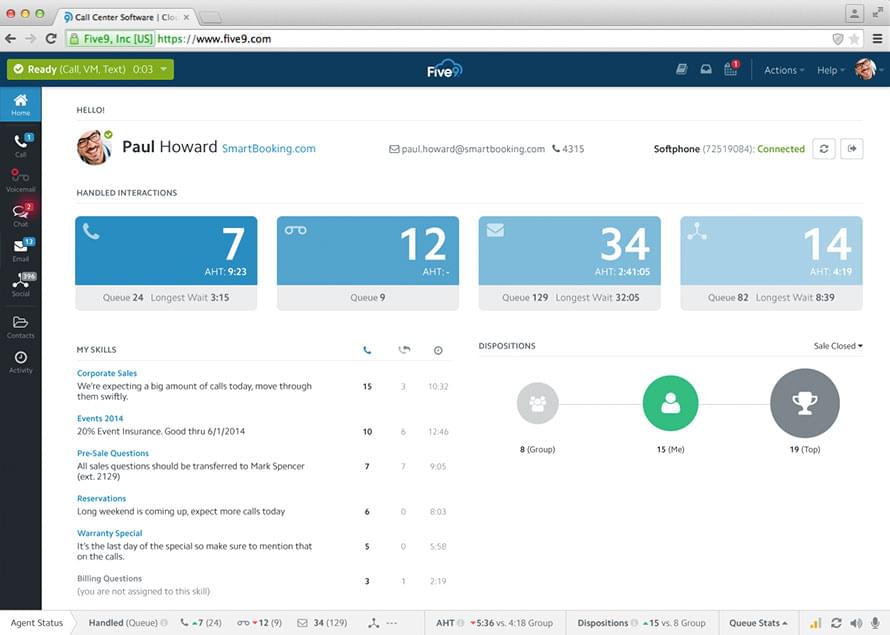 If inbound calls focus mainly on customer service, then outgoing telephone calls are all about sales.
The right calling features increase the average number of daily outgoing phone calls, saves agents' time, and help your company increase sales revenue as a result.
Predictive Dialing
The predictive dial feature uses an algorithm to estimate when agents will be available based on current call rates, call lengths, and more. Then, it automatically adjusts its outgoing telephone calling rate accordingly.
Predictive calling allows agents to avoid losing time on busy signals, disconnected numbers, or unanswered calls, ensuring instead that they connect with a caller from their specific list that is ready to talk.
Data on the provider's website shows that the average agent increased their hourly talk time from 15 minutes to 48 minutes.
Power Dialing
Especially if you've paid for an expensive lead list, you want to see a high ROI as soon as possible.
While Five9's CRM integrations and predictive calling features can help, agents still lose valuable time physically putting in the numbers.
The Power Dialer eliminates that issue, instead automatically calling the numbers on a lead list. It also initiates the auto dialer feature for the next number as soon as an agent becomes available.
Progressive Dialing
While predictive dialing bases outgoing calls on a predetermined ratio, progressive calling connects agents to prospects only when they have picked up the line.
As soon as an agent indicates they are available to speak with a lead, the progressive dialer autodials the numbers on a list. This increases productivity while ensuring that, when a lead answers a call, they are automatically connected to a representative.
Preview Dialing
While Screen Pops show incoming callers' customer history, a preview dialer provides agents with contact records for outgoing phone calls.
This allows agents to be as prepared as possible for an upcoming sales call.
TCPA Compliance
The Telephone Consumer Protection Act (TCPA) created by the FTC and FTC places restrictions and regulations on robocalls, autodialing, and Do Not Call lists.
The software's Manual Touch Mode ensures TCPA compliance by requiring agents to manually initiate a call from a separate server.
By working with third-party legal counselors and TCPA experts, Five9 ensures DNC compliance and FCC regulations will not hinder your agents' productivity or put your business at risk.
Always ensure you're familiar with call recording laws in your state to avoid regulatory complications.
Additional Outbound Calling Features
Additional outgoing call solution features include:
Vertical calling mode
Local caller ID
Timezone call rules
Voice recording
Call quality monitoring
List penetration dial tool
Automatic voicemail
Outgoing phone call priority
Disposition timers
FTP data importing
Blended Cloud Contact Center Solution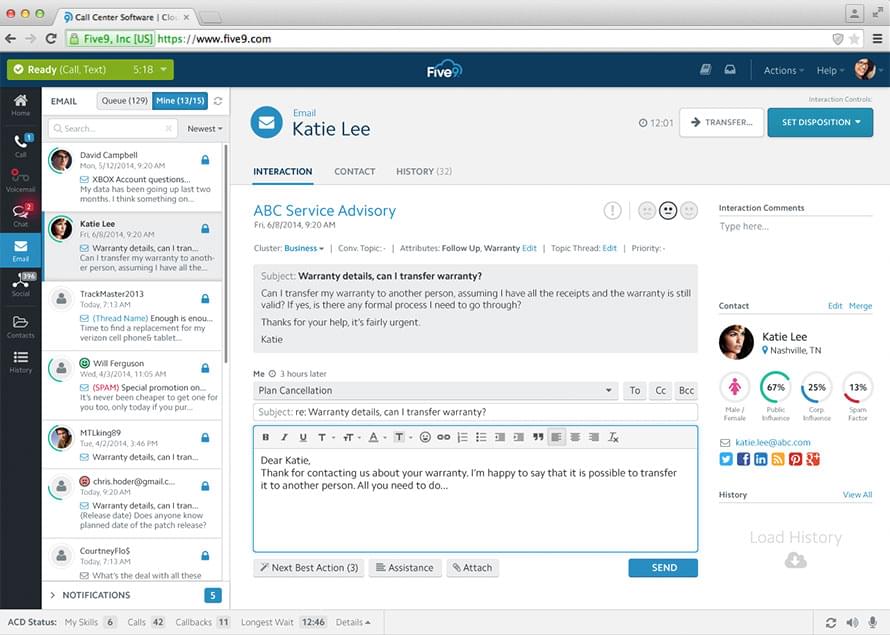 The blended calling solution meets all your business needs by offering unified inbound and outgoing communications.
Agents can switch between incoming and outgoing phone calls at any time, without having to switch interfaces or log in and out of multiple systems.
The Active Blending feature assigns incoming calls to outbound agents when there is a sudden increase in incoming calls and vice versa. This means more talk time, more sales, and better customer service.
Admins can set customer calling and answering rules to get the most out of blended calling capabilities. The Blended contact center offers all the features of the incoming and outgoing calling systems outlined above.
Global Voice
Global enterprises know that 24/7 availability across all channels is essential for both customer satisfaction and increased sales.
Enter Global Voice, which uses regional points of presence to provide customers from anywhere in the world with high-quality audio and fast connections to a live agent.
Global Voice is ideal for companies with an international reach that frequently make and receive long-distance calls. Best of all, Global Voice is easily scalable.
Digital-First Omnichannel Communication Center

Recent studies show that roughly 90% of consumers expect companies to provide communication across multiple channels.
The all-channel contact center, Digital Engagement, integrates with its voice tools to allow customers to communicate with agents via:
Email
Voice
SMS text messaging
Online chat
Video calling
Social media messaging apps
Over the course of a single interaction, customers are able to communicate with agents over the channel and device of their choosing, whether sending a Facebook message on a mobile device or scheduling a video call from their desktop computer.
No matter which channel an agent communicates on, all past customer interactions are automatically psyched, allowing the conversation to pick up right where it left off.
Omnichannel communication improves customer service and provides more in-depth customer journey mapping. This way, managers can better plan future campaigns, product launches, and more.
Additional features include:
Live and cross-channel interface
Skills-based cross-channel routing
Cross-channel interactions
ACD/cherry-picked routing
Concurrent messaging sessions
Customer forms
Email routing to CRM software
Natural Language Processing engine
Automated messages across multiple channels
Text-to-speech messaging
Message session transferring
Multiple touchpoint email responses
Workforce Optimization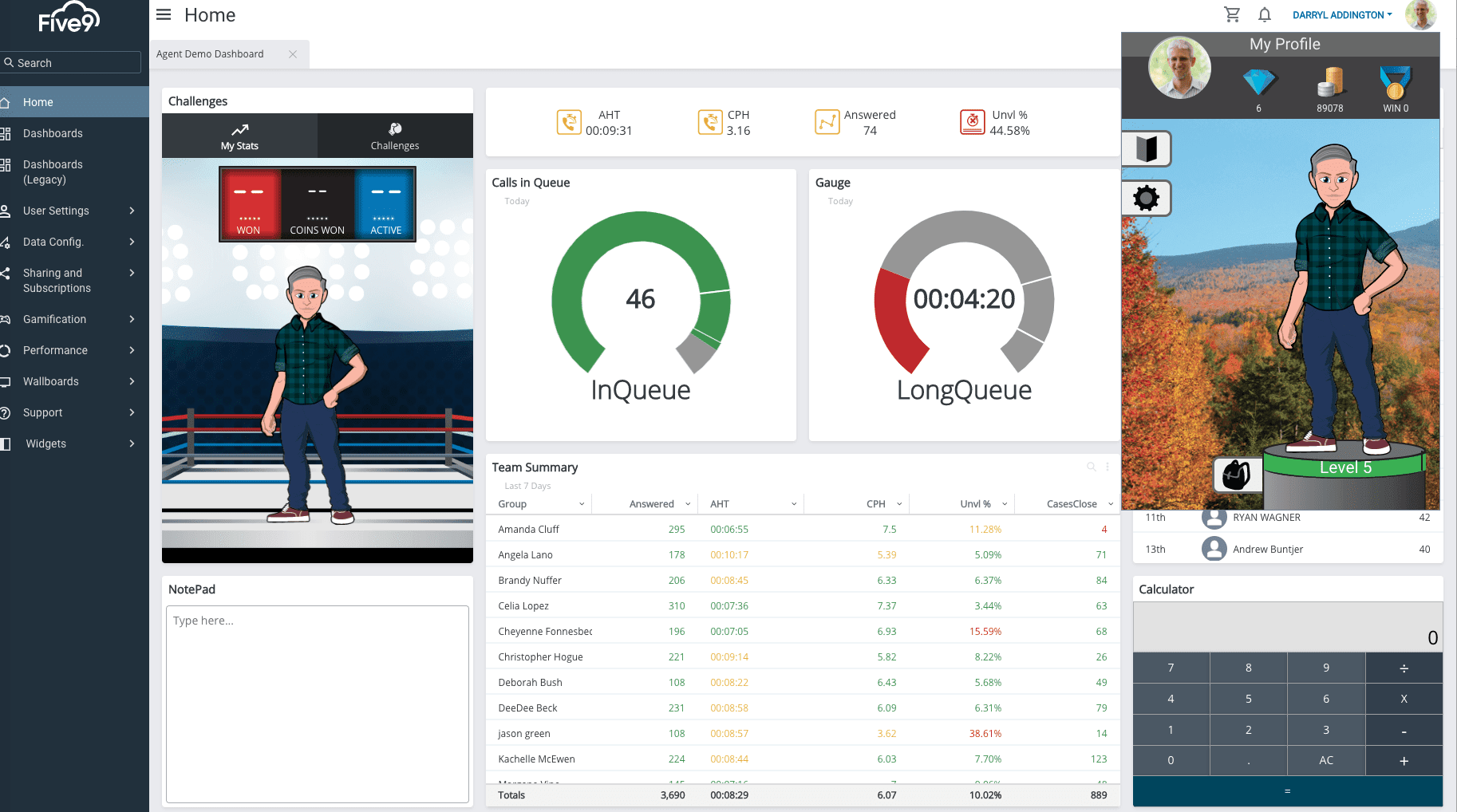 Workforce Optimization (WFO) streamlines contact management within the Five9 interface while partnering with external vendors like Verint, Calabrio, and Authority Software to provide a high level of customization.
By focusing on workflow management, quality management, and gamification, WFO makes forecasting, live call monitoring, and agent training much easier.
Workforce Management
Workforce Management is designed to improve call center efficiency by identifying current and future contact volume trends, ensuring that there are always enough available agents to respond to calls during busier times.
By creating agent schedules based on employee headcount and call volume, companies can decrease overtime hours, lower call abandonment rates, and ensure that agents with the required skill levels are available for priority clients.
Five9 automatically adjust agent schedules and allows managers to monitor schedule adherence in real-time.
Additional workforce management features include:
Six forecasting methods
Agent preference scheduling models
Multi-skill forecasting
Live agent shift bidding
Cost of schedule analysis
Event and vacation management tools
Agent reports/analytics
"What if" forecasting scenarios
Quality Management
The Quality Management System allows for the monitoring and review of recordings of phone, chat, email, and more customer interactions stored within the cloud contact center.
By importing these recordings and relevant metadata into the interface, managers have the capability to search for specific interactions, score them, and send them to upper management for additional review.
Managers can also scan for agents who need assistance in real-time, see live agent activity on multiple screens, and create unlimited evaluation forms. Agents will have the opportunity to see and respond to these evaluations, allowing for better communication and faster resolution of problems.
Additional features include:
Real-time privacy controls
Encryption
Screen recordings
Scalable recording storage
Customizable dashboards
Agent coaching packages
Analytics on call flow, customer feedback, speech, screen content, and more
Gamification
Call centers have one of the highest employee turnover rates in the United States — between 30-45% when compared with an average of 15% for all other industries.
The Gamification tool identifies and creates a reward system for positive agent work habits and greater employee personalization at work.
Employees can choose from rewards in the provider's Marketplace, which offers digital and experience-based rewards like concert tickets and gift certificates. Agents can compete against each other to improve team collaboration and increase motivation.
Call Center Metrics
The Performance Dashboard offers reporting and analytics features that make it easier to identify and track both historical and live important KPIs.
Filter by agent, client, specific time period, campaign, call time, and much more. Then, turn valuable data into graphs, charts, or customized reports to send to upper management.
Available metrics include:
Call logs
ACD queues
Omnichannel performance
Customer feedback
Integrations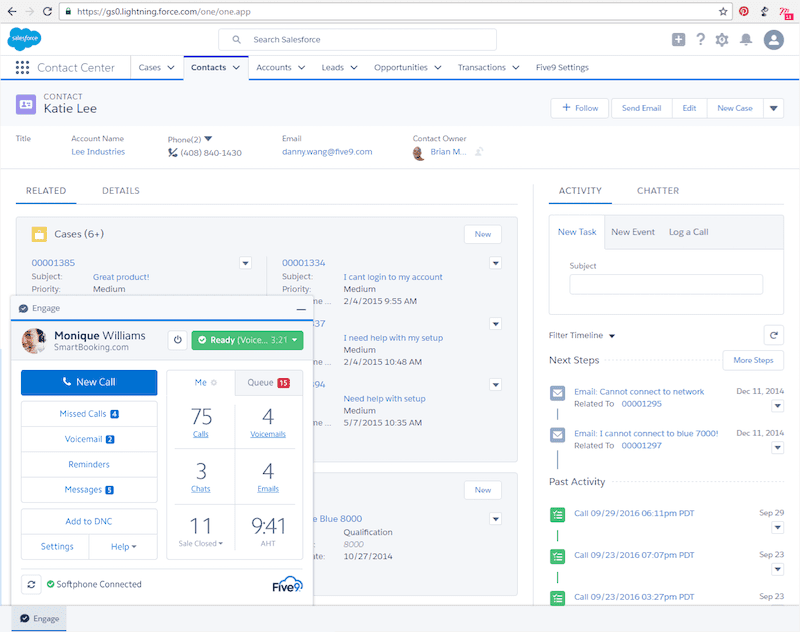 Though Five9 does not have a native CRM tool, integrations allow users to condense CRM and team collaboration tools into a singular platform.
Cloud APIs allow for further customization and advanced integrations specifically designed to suit the needs of a company.
In addition to integration with external software, this provider also allows for cross-platform automation. Admins can set specific no-code automation triggers for recurring, one-time, or event-based actions.
Top integrations include:
Salesforce
Netsuite Oracle
Microsoft 365
Zendesk
Zoho
Zoom
ServiceNow
ValidSoft
Tethr
Streem
Fuze
Five9 User Experience
Of all the CCaaS provider user feedback we've read, Five9 reviews seem to have the most overall satisfied customers. There are frequent mentions of the ease of onboarding, the high-quality audio, and the thoroughness of the reporting capabilities.
Especially for enterprise-level businesses, it's hard to find a better option than Five9.
That being said, there are some downsides, such as the lack of pricing transparency.
The below pros and cons have been compiled from numerous user reviews.
Pros
Superior user training and customer support
Intuitive, high ease of use
Offers increased employee flexibility
Helps to optimize call center queues for better call list management
Ideal for remote or outsourced workers
Customizable dashboards
Highly customizable reports
Makes it easy to switch from another service
Scalability
Cons
Few integrations
Unclear pricing structure
Notifications in center of screen interrupt workflow
Consistent simultaneous multichannel communication causes crashes
Difficult to block numbers
CRM automation challenging
Top Use Cases
Though the majority of this provider's clients are telemarketing sales or customer service call centers, the flexibility of the software means it does have a wider variety of use cases than one might expect.
Collections agencies use the software to contact debtors to improve their overall debt recovery rates, while newer and smaller businesses use the software to outsource customer service.
Healthcare professionals also use the software to improve telehealth services. Patients can use the Interactive Voice Response self-service tool to request test results, schedule or change appointments, or pay bills. Doctors can send automated appointment reminders to patients via email or text message.
Most importantly, because Five9 provides HIPAA compliant video calling, telehealth appointments allow medical professionals to connect with patients anywhere, anytime.
Especially given the rise in remote work due to the COVID-19 crisis, these products can help businesses of all sizes better monitor employee performance, customer journey, and more from anywhere with Internet access.
Top Five9 Alternatives
Though Five9 provides robust and user-friendly call center software, it's always a good idea to compare it to other top providers before making a final decision.
Top alternatives include:
Our post on the top Five9 alternatives breaks down their features, pricing and plans, user experience, and more.