Recent research on remote work benefits shows that 80% of job applicants wouldn't accept an offer at a company or small business that did not provide some level of flexibility.
In fact, job searches for positions offering the ability to work remotely at least some of the time have increased by over 30% in the last few years.
Team collaboration software like Monday.com and Asana connects employees working across opposite schedules. Features like task assignment and management, central file storage, real-time notifications, and integrations with other collaboration tools like Trello or Github improve internal communication and speed up project timelines.
But which project management tool wins the Monday vs Asana battle?
The below head-to-head comparison of Monday.com vs Asana evaluates which tool has better individual features and which one is better as a whole.
What Should You Look For in a Project Management Tool?
In order to better evaluate Monday vs Asana, you need to know the essential features to look for in project management software.
Task and Board Views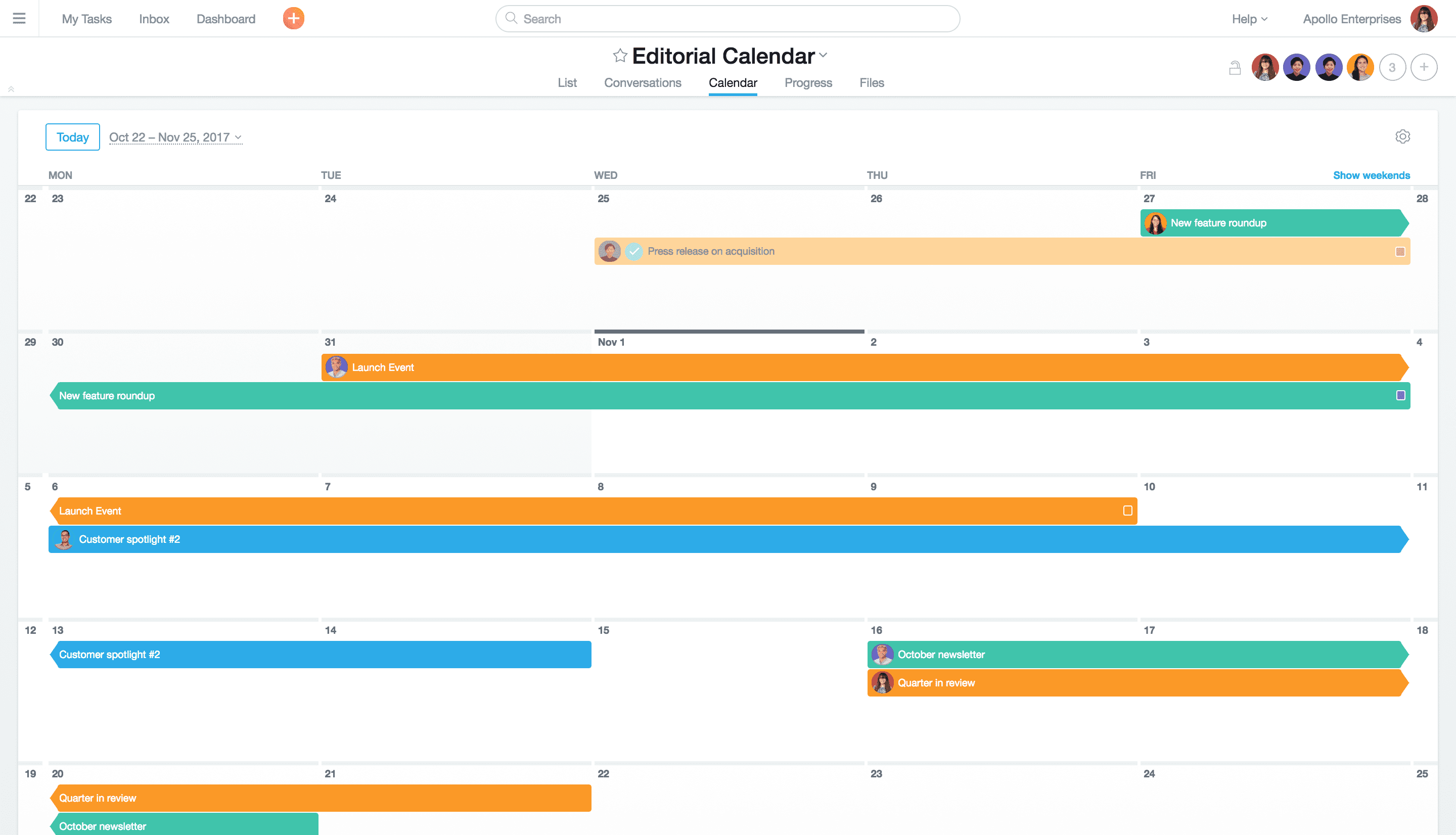 Board and task views allow users to select the way in which they'd like to see their current tasks, projects, and upcoming deadlines.
Popular views include:
Checklist/to-do list format
Kanban board View
Gantt Chart/timeline view
Calendar View
Map/location view
Task Management and Task Update Features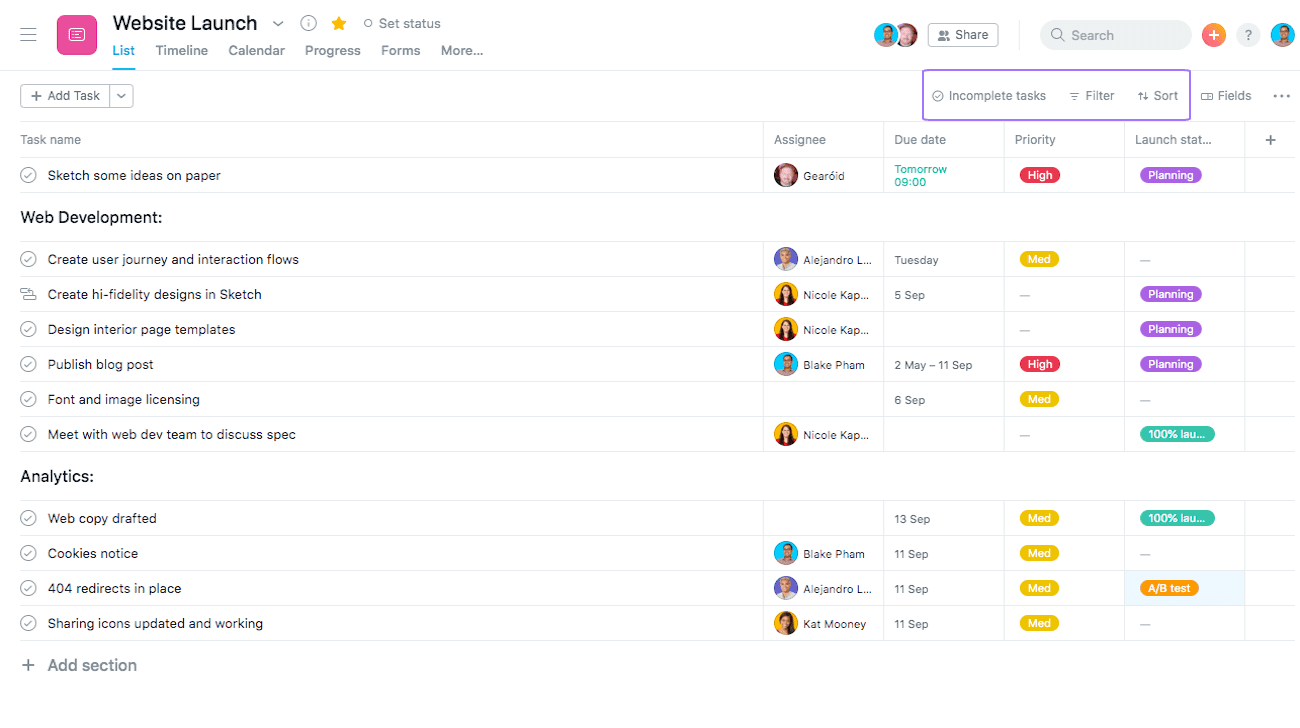 Both project managers and team members need real-time updates regarding the assignment and status of both individual tasks and team-wide projects.
Important task management features to look for when evaluating Monday vs Asana include:
Assigning task due dates
Assigning subtasks
Setting task dependencies
Assigning multiple users to one task
Task tagging
Prioritizing tasks
Approving tasks
Task time tracking
Status update features should include the ability to mark a task as "in progress," "complete," "stuck," or "waiting."
These updates help team leaders to identify bottlenecks, adjust deadlines, evaluate employee productivity, and even rebalance workloads.
Team Communication Tools
Project management software needs to provide native team communication tools or integrate with popular communication platforms like Zoom or Zoom alternatives.
Communication features to look for when evaluating Asana vs Monday include:
Chat messaging
Public and private conversation boards
Ability to comment on tasks
Ability to tag team members
Ability to share projects with guests
File Sharing and Editing
In order to prevent team members from having to constantly send and receive files via email, project management tools should offer in-app file sharing and editing.
They should also provide a central location for all files relating to a specific format (sometimes referred to as a "file view.")
The software also needs to allow employees to upload and edit numerous file types like Adobe PDF, JPEG, documents, and spreadsheets.
Software Integration
Finally, workflow management tools must integrate with the team communication software or free online collaboration tools your team is already using.
Popular software integrations include:
Web conferencing/video calling software
Webinar platforms
Chat messaging tools like top Slack alternatives
Marketing tools
File creation/sharing apps
Email platforms
Ecommerce platforms
Comparing Monday vs Asana Features
In order to better evaluate Monday vs Asana, you need a head-to-head Monday.com vs Asana comparison of how essential features stack up against one another.
Board View Formats
Boards are where users create and assign tasks, upload files, send notes, and decide whether or not to make boards sharable or entirely private. Each user can set their view preference and can toggle between different views and board formats in Monday vs Asana.
What are Monday.com Boards?
Monday.com boards are virtual bulletin boards where users can leave announcements, share files, and assign tasks. One of the biggest advantages of Monday.com is the number of user-friendly board/view formats it offers, as well as the level of board customization that's possible.
Monday's standard interface is its Kanban Board view, which serves as a series of virtual sticky notes.
Monday.com also includes a company-wide Kanban board where anyone can post an announcement.
Additional Monday.com board views are:
Gantt chart
Weekly, monthly, daily calendar view
File view
Checklist view
Data view showing pie charts, percentages, bar graphs
Location view
Monday.com also includes column views, where users can specify:
Project due dates
Task status
Numeric data for resource management
Keyword tags
Task rating
Team assignment
World clock column (shows team members timezones)
The below video offers a helpful way to get a better feel for the different view formats Monday.com offers.
What Views Does Asana Offer?
Asana doesn't offer as many board views as Monday.com does, meaning it offers a cleaner user interface but sacrifices customization options.
Its default format is its checklist view, but it offers four additional views.
Asana's board view options are:
Kanban view
Gantt chart
Calendar View
Task progress view
Asana also offers a company-wide board, as well as sharable and private boards. It also lets users filter tasks according to due date or assignee. The below video provides a visual comparison of Asana's board types.
Both Monday and Asana provide pre-made board/project templates, and both have an app-wide search bar that makes it easy for users to find specific projects and tasks. However. Monday.com offers more board formats than Asana does, as well as more control over who can and cannot view specific boards.
Winner: Monday.com
Task Management Features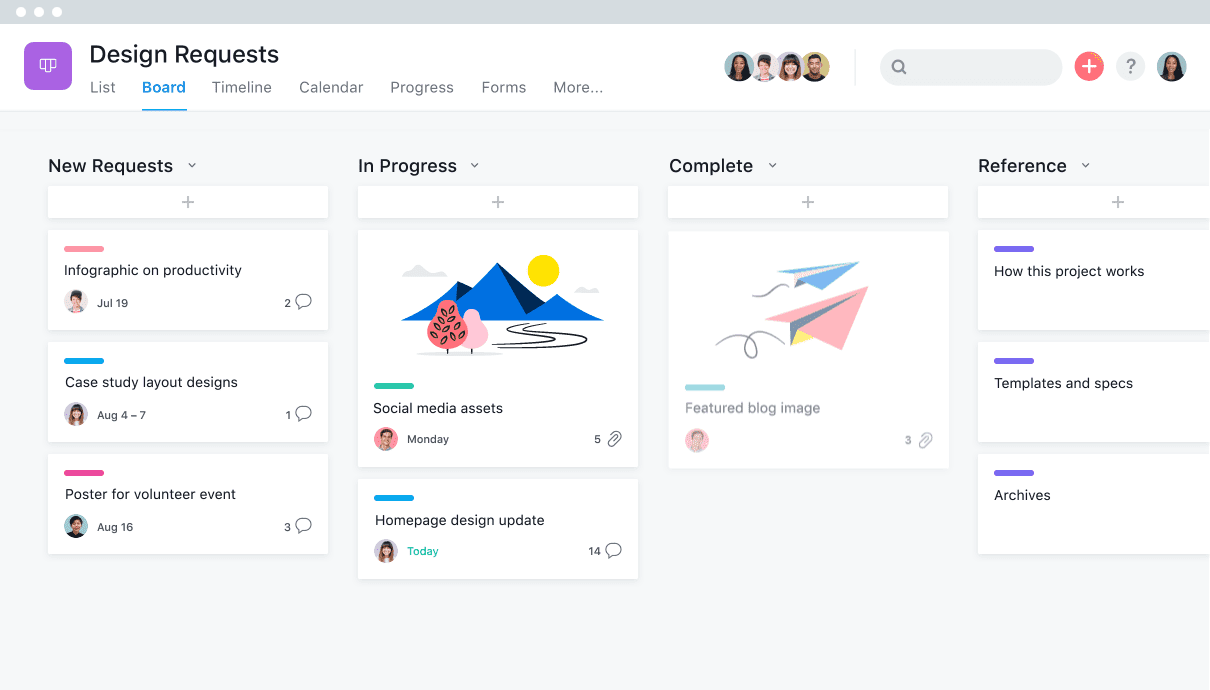 Asana offers numerous task management features that Monday.com does not.
While it allows for task dependencies, prioritization, and subtask creation, it also offers a "Task Milestone" feature. This feature helps to break down long-term projects into several different "goals" along the way, making it easy to plan projects that will take several months to complete. Individual tasks can be created under a milestone, just as they would under a singular project.
Asana's Portfolio tool lets project managers see the number of tasks and project progress of individual team members. This prevents employee burnout and speeds up project timelines. Asana also allows for comment-only workflows, task automation, and task approval features.
Monday.com includes task dependencies, task prioritization, subtask creation, and recurring tasks. It also allows users to set task "urgency" levels.
The biggest advantage that its task management features have over Asana, however, is that multiple users can be assigned to one task in Monday.com. In Asana, only one user can be assigned a specific task, though there is no limit to the number of team members that can be involved in a project.
Even with this advantage, Asana still has better task management features, especially when it comes to which of these features are accessible on free or more affordable plans.
Winner: Asana
Team Collaboration and Communication Features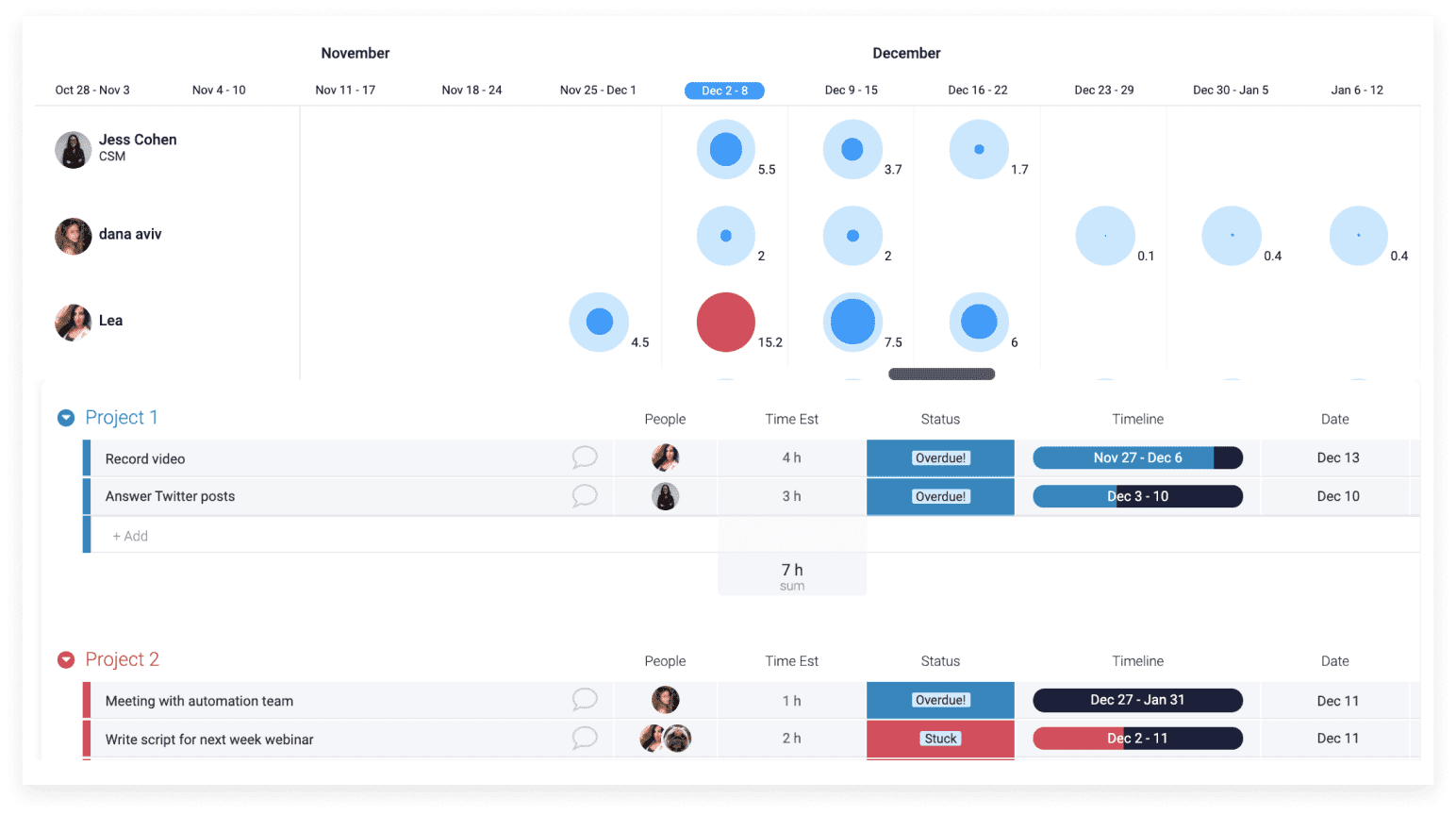 While neither Asana nor Monday.com offer native chat tools, they provide other ways to quickly communicate and collaborate with team members.
Monday.com's top team collaboration features include:
Live activity feed
Public discussion boards
Polling tools
Team surveys
Color-coding system
Automated reminder emails
Automated notifications
Time tracking tool
Task comments
Form creation tool
Guest collaboration
Asana's team collaboration and communication features include:
Team conversation boards
Task comments
Automated Notifications
Project description section
"Like" button for comments
Guest collaboration
"Follow" feature for tasks
Hidden team creation
While Monday.com and Asana offer many of the same team communication and collaboration features, Monday.com is slightly better in that it offers the ability to color-code tasks and take team-wide polls/surveys.
Winner: Monday.com
Can you Share and Edit Files in Monday.com and Asana?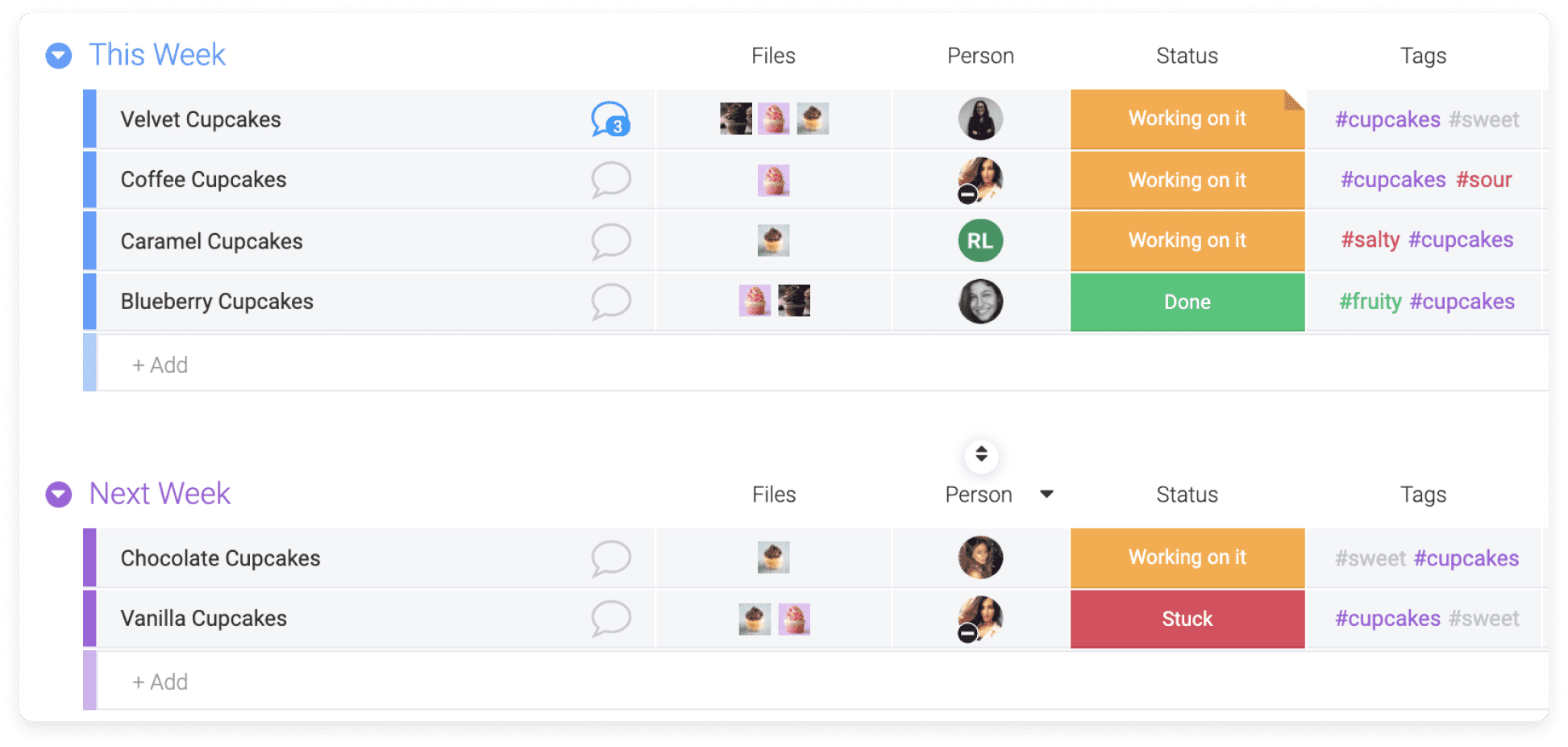 Monday.com allows for real-time, in-app file uploading, sharing, and editing.
It's also possible to store files directly in Monday.com and pin them to specific tasks and project boards. Anyone with access to that board will be able to share and edit the files, and edits are synced automatically. Monday.com supports a wide variety of file types, including images, videos, and documents.
Frankly, Asana's file sharing system pales in comparison to Monday's. There is no native way to share files in Asana, so users must integrate Dropbox or Google Drive to be able to access, edit, and share files.
Winner: Monday.com
Monday.com vs Asana Software Integrations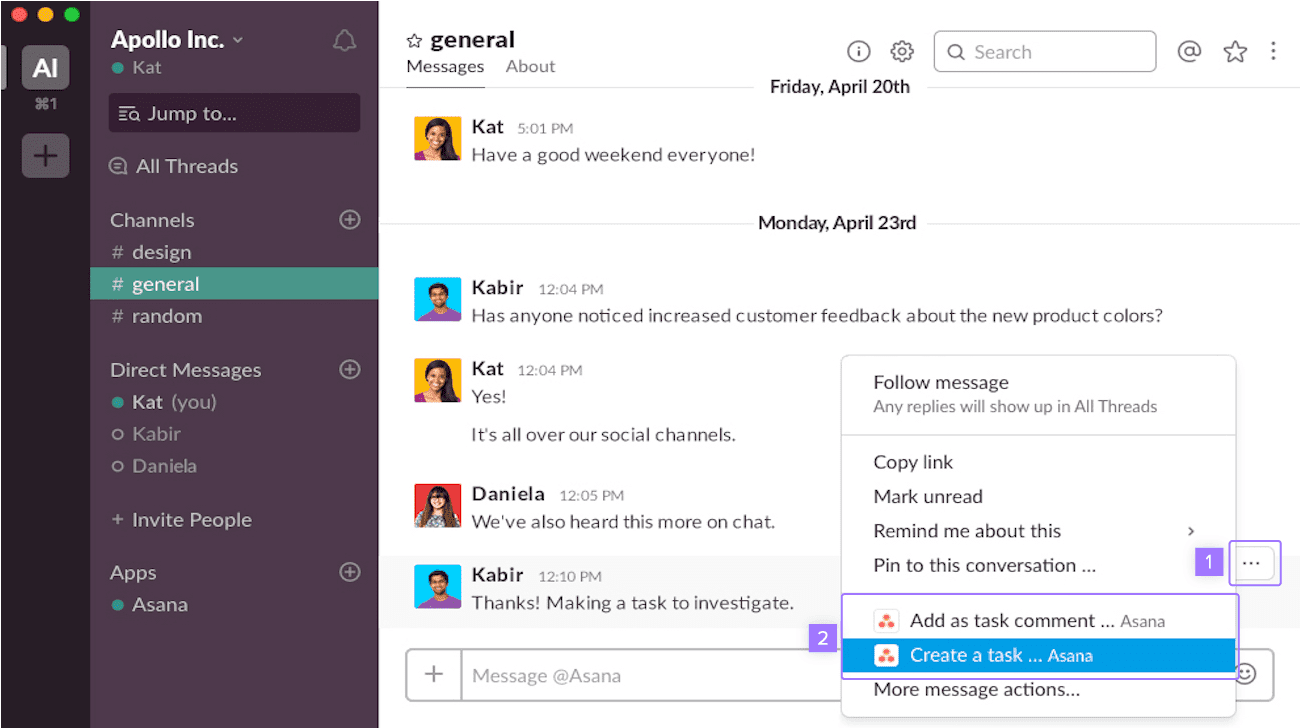 Monday.com and Asana both offer a similarly robust number of integrations. The real difference between the two is how accessible those integrations are.
Monday.com does not allow for any app integrations on its paid Basic plan and offers a tiered number of app integrations with its more expensive paid plans.
While Asana's free Basic plan and affordable Premium plan limit the number and kinds of app integrations users can access, they don't eliminate integrations as an option altogether.
Asana also has a dedicated app directory, while as of this writing, Monday.com does not. Both tools also have API customization options, but Monday.com's API is still in beta. Therefore, large or small teams relying heavily on niche apps in addition to essential team communication tools should select Asana.
Both Monday.com and Asana integrate with:
G Suite
Office 365
Salesforce
Jira
Zoom
Mailchimp
Microsoft Teams
Dropbox
Google Calendar
Google Drive
Gmail
Outlook
Zapier
Based on the cost of integration access and the fact that Monday.com doesn't yet have an App directory or a fully operational API, Asana is the clear winner here.
Winner: Asana
User Experience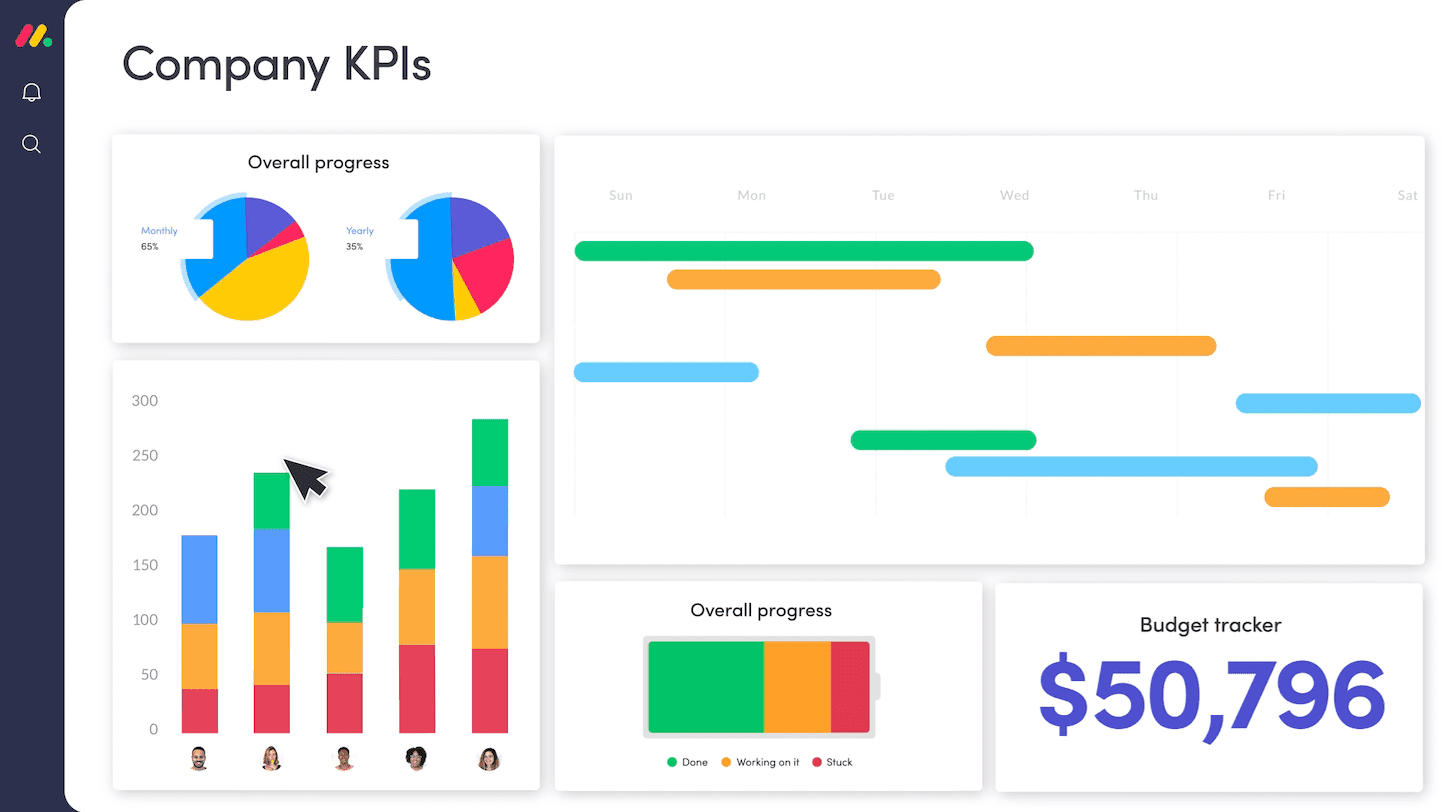 User reviews of Asana describe its interface as intuitive and uncrowded and often refer to its ease of use.
Reviews of Asana also frequently mention that they like being able to add notes and comments on tasks/subtasks as opposed to having to privately message or email the assignee. Asana's "to-do" list format seems to be the most popular view among users, followed closely by its calendar view. Users also say that daily project notifications and emailed daily task list outlines help them to stay on track.
The most consistent complaint about Asana is that users can't assign multiple people to one task. Users also want Asana's exporting features and file storage system to be improved. Many also find the structure of Asana pricing and plans confusing.
Monday.com users most often praise the tool for eliminating the need to use multiple applications and collaboration platforms to get things done. They also say they benefit from the ability to color-code their tasks and projects, and that the level of customization Monday.com provides is unparalleled.
Monday.com users also say they receive quick assistance from the customer phone support team, and that they rarely experience any downtime or problems loading Monday.com. Monday also provides numerous video tutorials clearly explaining how to use their software.
However, Monday.com users don't like the fact that it doesn't offer a free version, and most are dissatisfied with the most affordable Basic plan. They also frequently mention that an over-crowded interface and limited automation capabilities can cause confusion and frustration.
Winner: Asana
Mobile Apps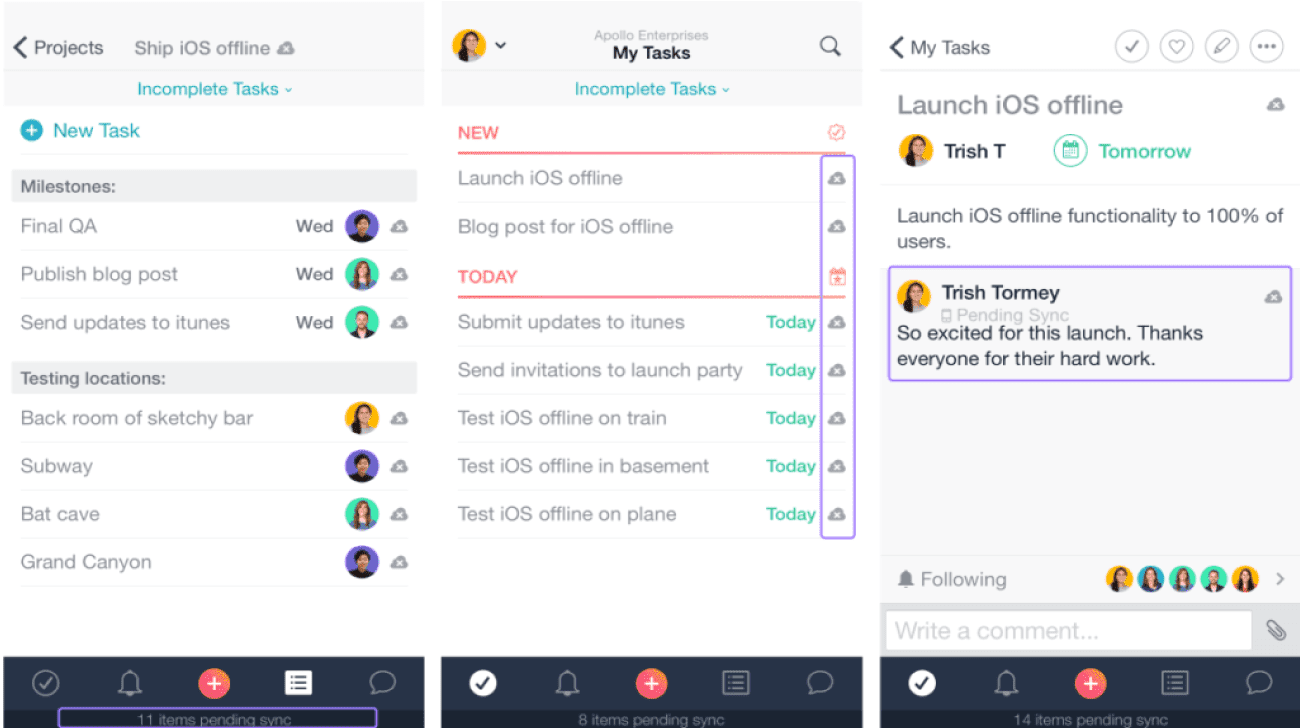 Both Monday.com and Asana offer Apple iOS and Android compatible mobile apps.
Asana's mobile app includes:
Real-time push notification
Task creation/assignment
Task prioritization
Task commenting
Task approval
Asana's mobile app does not provide strong document accessibility and editing options and doesn't offer the same number of view options that its desktop version does.
Monday.com's mobile app includes:
Board subscriptions
Customizable real-time push notifications
Board creation
Task status updates
Integration with free screen sharing apps
Checklist view
User tags/mentions
Real-time data syncing
Task ratings
Though like the desktop version, Monday.com's mobile app can get over-crowded, it offers a better replica of the desktop version than Asana's mobile app.
Winner: Monday.com
Monday.com vs Asana Pricing and Plans
While comparing Monday vs Asana costs shouldn't be the only factor in your decision, the below pricing comparison table and information about free plans will help you to decide which option provides the best value.
Does Asana Have a Free Version?
Asana's biggest advantage over Monday.com is that it offers its Basic Plan to users for free. The Basic plan, unlike many other free versions of team management software, doesn't skimp on essential features.
It also offers a 30-day free trial of its Premium Plan, whereas other tools' trials last only one or two weeks.
Note, however, that annual billing is the only way to pay for Asana — there is no monthly payment option.
Is There a Free Version of Monday.com?
While Monday.com offers a 14-day free trial, as of this writing, there is no free version of Monday.com.
For many companies, this lack of a free version and relatively short free trial period are the biggest deterrents to using Monday vs Asana.
However, Monday.com pricing is a bit more flexible than Asana's as it gives users the chance to choose between monthly or annual billing, with annual billing saving companies 18%.
Monday vs Asana Pricing Tiers
Asana offers four plans in total: Basic, Premium, Business, and Enterprise.
The paid plans require the purchase of users in blocks of 5 under total of 30 users, and in blocks of 10 at 31 users and above.
Monday.com also offers four plans: Basic, Standard, Pro, and Enterprise and is priced in user blocks ranging from 5 to 200+.
Features
Monday.com Basic Plan
Monday.com Standard Plan
Monday.com Pro Plan
Monday.com Enterprise Plan
Asana Basic Plan
Asana Premium Plan
Asana Business Plan
Asana Enterprise Plan
Cost
$8/month

$39/year

$10/month

$49/year

$16/month

$79/year

Contact Monday.com for pricing
Free
$10.99 user/month
$24.99 user/month
Contact Asana for pricing
Number of Users
Select Blocks from 5-200+
Select Blocks from 5-200+
Select Blocks from 5-200+
Select Blocks from 5-200+
Up to 15 users
Unlimited, buy in blocks of 5 users under 30, blocks of 10 users above 30
Unlimited, buy in blocks of 5 users under 30, blocks of 10 users above 30
Unlimited, buy in blocks of 5 users
Guest Access
Cannot share boards with guests
Can share boards with 4 guests
Unlimited board sharing
Unlimited board sharing
No guests
Unlimited free guests
Unlimited free guests
Unlimited free guests
Board Views
Kanban View
Timeline, calendar, chart, and map views
Timeline, calendar, chart, and map views
Timeline, calendar, chart, and map views
List, calendar, and board views
List, calendar, board, and timeline views, custom fields, create private projects
List, calendar, board, workload, and timeline views, custom fields, create private projects
List, calendar, board, workload, and timeline views, custom fields, create private projects
Integrations
X
250 monthly integrations
25,000 monthly integrations
250,000 monthly integrations
Basic app integration
Basic app integration
Advanced app integration
Advanced app integration, block native integrations
Storage Space
5GB storage
50GB storage
Unlimited storage
Unlimited storage
App Integration Required
App Integration Required
App Integration Required
App Integration Required
Task Dependencies
✓
✓
✓
✓
X
✓
✓
✓
Subtask Creation
✓
✓
✓
✓
✓
✓
✓
✓
Assign Multiple Users to One Task
✓
✓
✓
✓
X
X
X
X
Native Time Tracking Tool
X
X
✓
✓
X
X
X
X
Pre-made Project Templates
✓
✓
✓
✓
✓
✓
✓
✓
HIPAA Compliance
X
X
X
✓
X
X
X
X
Single Sign-On
X
X
X
✓
X
✓
✓
✓
Which is Better: Monday.com or Asana?
Asana is our pick for the winner of the Monday vs Asana showdown for project managers who are looking for a project management tool primarily to connect remote team members that work on different schedules.
While Monday.com offers a high level of customization and numerous view options, it's a better fit for in-house teams trying to keep track of a large number of simultaneous, highly-detailed projects that require a high amount of external collaboration.
Asana is a straightforward project management tool that is more focused on ensuring that individual team members complete the tasks assigned to them so that the project can move forward. Team collaboration still happens in Asana, but only after individual team members have finished their assignments.
Curious to see how Asana stacks up against other project management tools before you make your final decision?
Our head-to-head comparison of Basecamp vs Asana investigates how well Asana's features can hold their own against one of the first workflow management platforms ever created.