Picking the best VoIP phone can be tricky with all the options that are currently on the market. When the latest estimates showing business VoIP systems heading for $194.5 billion in annual revenue by 2024, it's not hard to see why so many models are coming out.
Picking the right phone model to match your VoIP service comes down to determining the feature set you require.
Here are our picks for some of the best VoIP phones: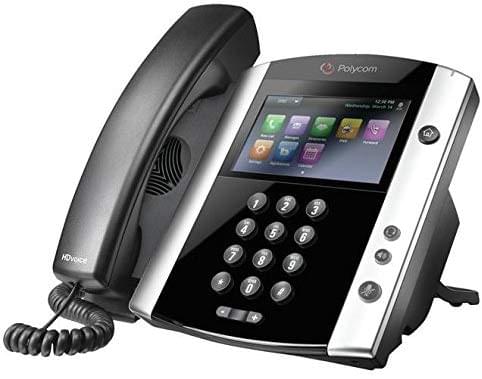 The Polycom VVX 600 is one of the most robust and versatile business VoIP phones that we've laid our eyes on. It can support a whopping 16 lines and provides HD audio.
Featuring a colorful 4.3-inch touchscreen that makes navigation easy. You get more than just the typical LCD display with caller ID showing you just a phone number.
Data and media sharing has never been simpler since this phone has two USB 2.0 ports. It supports a 10/100/1000 connection and has two Ethernet ports. The phone is also Bluetooth 2.1-compatible.
You won't have to worry about missing calls because the VVX 600 has voicemail support and a do not disturb mode. Furthermore, the RJ-9 port provides compatibility with most headsets. The phone itself is also very ergonomic to use.
Connection Type: Wired
Best for: Those with high call volumes and thus need equally numerous lines
Technical Specs:
16 lines
HD audio
4.3-inch touchscreen
Two USB 2.0 ports
Bluetooth 2.1
Voicemail
Do not disturb mode
RJ-9 port
Ergonomic
| | |
| --- | --- |
| Pros | Cons |
| Integrates with Google calendar and other apps | May be expensive for smaller companies |
| Doesn't require much maintenance | |
| Large touchscreen display | |
As you might've guessed from the name, the Polycom VVX 601 is an upgrade from the first desk phone that we covered in this article — and with it comes an upgraded price point. Much like its predecessor, it has up to 16 line appearances.
It has advanced features starting with HD audio across all paths (handset, headset, and speaker) with a frequency of up to 14KHz. You can use an external USB camera for all video conferencing purposes, and the model even supports video playback making it easy to review all the notes from a meeting.
Seeing as this is an upgrade and rather than a downgrade, the phone is Bluetooth-compatible and features two USB 2.0 ports, making it easy to connect external accessories. Lastly, the phone contains a full browser and works with Skype for Business making it very versatile.
Connection Type: Wired
Best for: Companies with frequent video calls and the need for clear audio.
Technical specs:
16 lines
HD audio
USB camera compatibility
Video conferencing
Video playback
Bluetooth compatibility
Two USB 2.0 ports
Full browser
Skype for Business compatibility
| | |
| --- | --- |
| Pros | Cons |
| Compatible with noise-canceling headphones | Smaller display due to the compact form factor |
| Small footprint, taking up less desk space | |
| Certified compatibility with Skype | |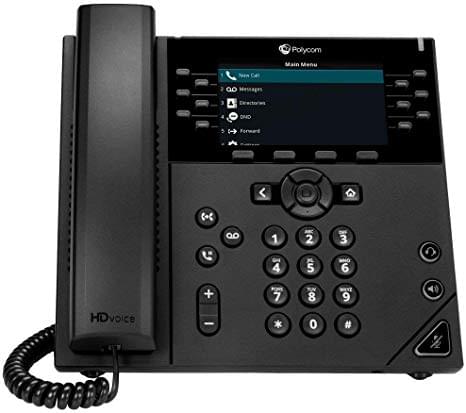 If the 16 line capacity of the past two models was overkill for your needs then you might prefer the VVX 450 model that Polycom provides. It has 12 lines, two USB ports, and supports a 10/1000/1000 Ethernet connection.
It also has a full-duplex speakerphone for conferencing calling and an RJ-9 port so that your workers can use call center headsets with the unit. Furthermore, this model supports three-way conferencing which can really come in handy for small teams who need to stay coordinated.
The 4.3-inch color display has a resolution of 480×272 which is blurrier than what the Cisco 8861 provides, but that won't be a problem for everyone. Lastly, the phone is wall-mountable and all the necessary brackets are included in the package.
Connection Type: Wired
Best for: Smaller teams that need to keep all their members in the loop during projects
Technical specs:
12 lines
Two USB ports
Full-duplex speakerphone
RJ-9 port
Three-way local conferencing
4.3-inch color display
Wall-mountable
| | |
| --- | --- |
| Pros | Cons |
| Crystal clear audio with the proprietary Polycom® HD Voice™ technology | Lower resolution display |
| Polycom® Acoustic Fence™ cancels out echoes and external noises | |
| Ergonomic design for superior comfort | |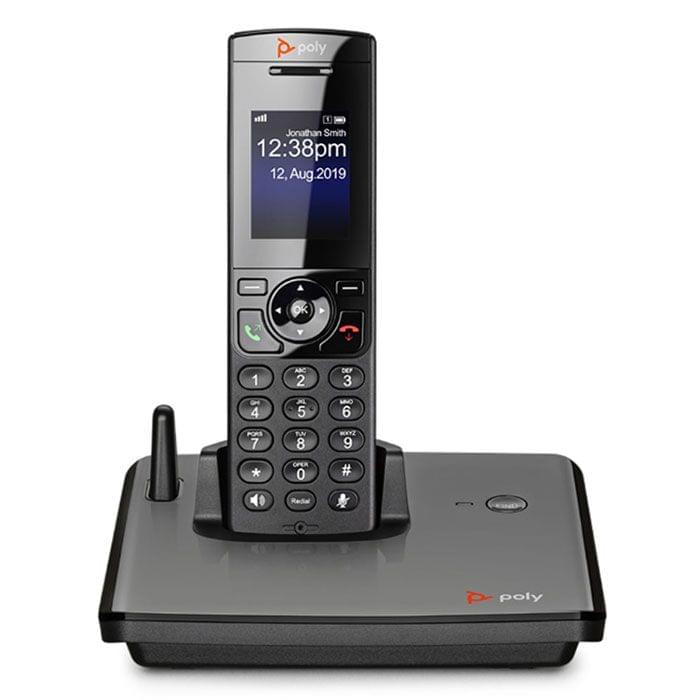 If the past two models on our list have turned you into a Polycom fan but you're looking for a wireless VoIP phone then go for the VVX D230. Each base can support 10 handsets, eight lines, has a full-duplex speakerphone, a two-inch backlit color display, and is wall-mountable.
When fully charged, you get 10 hours of talk time and 100 hours of standby time so you don't have to worry about your battery dying. Furthermore, the phone has three-way conference bridge calling capabilities, one-touch speed dial, and call forwarding.
When indoors, you can get over 150 feet away from the base without calls dropping or a loss in call quality. The low-delay audio packet transmission coupled with the background noise suppression and acoustic echo cancelation ensures every conversation has flawless voice quality.
Connection Type: Wireless
Best for: Those who take calls while moving around the office
Technical specs:
10 handsets per base
Eight lines
Full-duplex speakerphone
Two-inch backlit color display
Wall-mountable
10 hours of talk time (on a full charge)
100 hours of standby charge capacity
Three-way local conferencing
One-touch speed dial
Call forwarding
Indoor range of over 150 feet
Low-delay audio packet transmission
Background noise suppression
Acoustic echo cancellation
| | |
| --- | --- |
| Pros | Cons |
| Extensive range (50m indoors and 300m outdoors) lets employees take calls while away from their desks | Smaller display in comparison to the wired Polycom models |
| G.722 audio ensures every call is clear as day | |
| The 100-hour standby time keeps the phone charged for days on end if you don't take too many calls | |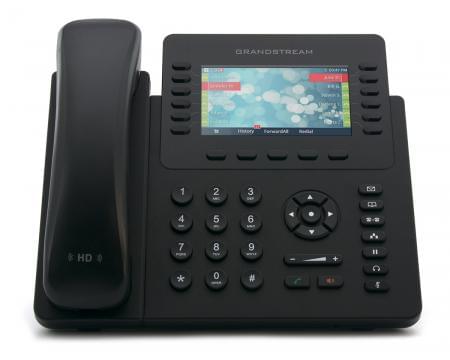 This unit from Grandstream is about half the price of Polycom's VVX 600. It too has a touchscreen measuring in at 4.4 inches. The issue lies with the 480×272 resolution as it isn't really high enough to make images on the touchscreen appear sharp to the human eye.
Much like some of the previous phones, it is Bluetooth compatible and sports an RJ-9 headset port. However, it only contains one USB port rather than the two found with the VVX series. That's pretty fair though seeing as this phone sells at a lower price and still supports HD audio.
If you like programmable keys then you'll love this Linux-based phone since it has 44 soft keys that are fully programmable. You can even get an extension module for it that adds an additional 160 keys.
Common soft key actions include transferring, conference mode, parking calls, redialing, directory access, and speed dial. There aren't many other conference phones at this price point.
Connection Type: Wired
Best for: Executives who need a programmable phone with conferencing capabilities
Technical specs:
4.4-inch touchscreen
Bluetooth compatibility
RJ-9 port
USB port
HD audio
44 programmable keys
Supports programmable key extension module
Five-way conference support
12 lines
| | |
| --- | --- |
| Pros | Cons |
| The bright display makes it easy to navigate the phone menu | There's a noticeable level of lag when using the touchscreen, but all the keystrokes still register even if they aren't immediately displayed |
| There's about 75 ms of added latency but this is a result of the high-quality audio so it's a worthwhile tradeoff | |
| Affordable price for the value it provides | |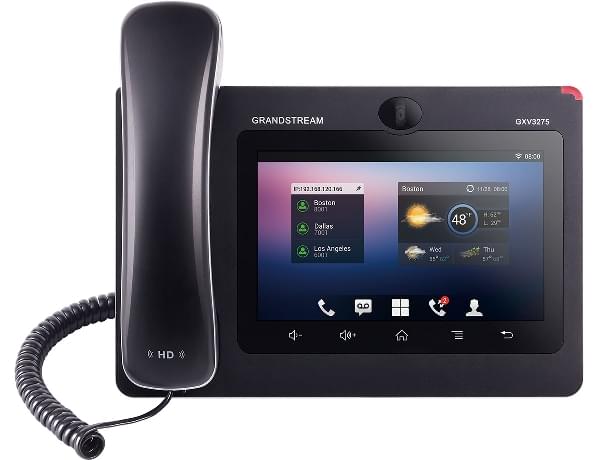 This Grandstream phone is twice the price of the GXP2170 but it's well worth the cost. First of all, it runs on Android 4.2 rather than Linux meaning that it can use various mobile apps available on the Google Play store.
The seven-inch touchscreen has a rather impressive resolution of 1024×600 providing unparalleled clarity. The 1 MP integrated camera allows you to make video calls but also protects your privacy with a built-in shutter that you can use to block the lens when using this meeting solution.
If you're a fan of headsets then fear not since this model supports them through the Plantronics port. It also supports Bluetooth, USB, SD, and HDMI connections. Lastly, it has six lines which, while not a lot, should be sufficient for the average person's needs.
Connection Type: Wired
Best for: Those who want to use Android apps on their VoIP phone
Technical specs:
Android 4.2
HD audio
Seven-inch touchscreen (1024×600 resolution)
1 MP camera with privacy shutter
Plantronics port
Bluetooth, USB, SD, and HDMI compatibility
| | |
| --- | --- |
| Pros | Cons |
| The SD port allows you to expand the storage space of the phone by up to 1 TB | The user interface isn't very intuitive as some key functions are under two menus |
| Can easily integrate with Google Voice and is also compatible with other SIP services | |
| Audio quality remains clear even during video calls | |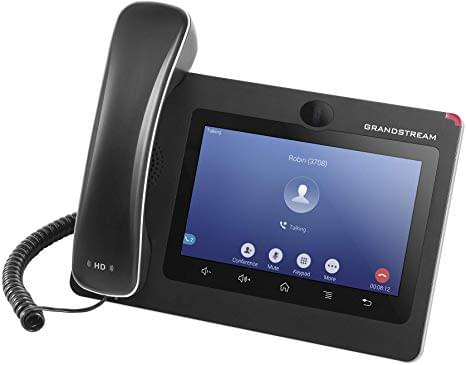 The GXV3370 is one of the top tier models that Grandstream has to offer. While it's pricier than the other models on this list, it does have the features and performance to back up the hefty cost. It can support up to 16 lines, has HD audio, and is Bluetooth-compatible.
This model also contains an HD camera but the resolution isn't specified by the manufacturer. Due to the price, this VoIP phone has become a rather niche choice — often being used for close team collaboration and thus need the conferencing features.
Much like the GXV3275, this model runs on Android meaning that the interface is intuitive and very akin to a smartphone. However, if all you're after is the 16-line capacity then you'd be better off going for the Polycom VVX 600 since it's cheaper.
Connection Type: Wired
Best for: Those with video calling as their primary need
Technical specs:
16 lines
HD audio
Bluetooth compatibility
HD camera
Android 7.0
| | |
| --- | --- |
| Pros | Cons |
| Android 7 compatibility provides functionality similar to a tablet |  No notification pop-ups when using Skype for Business |
| Uses two-factor authentication, USB keys, and even Bluetooth keys for flexible security options | |
| The 2 GB RAM and 1.3 GHz quad processor provide smooth performance | |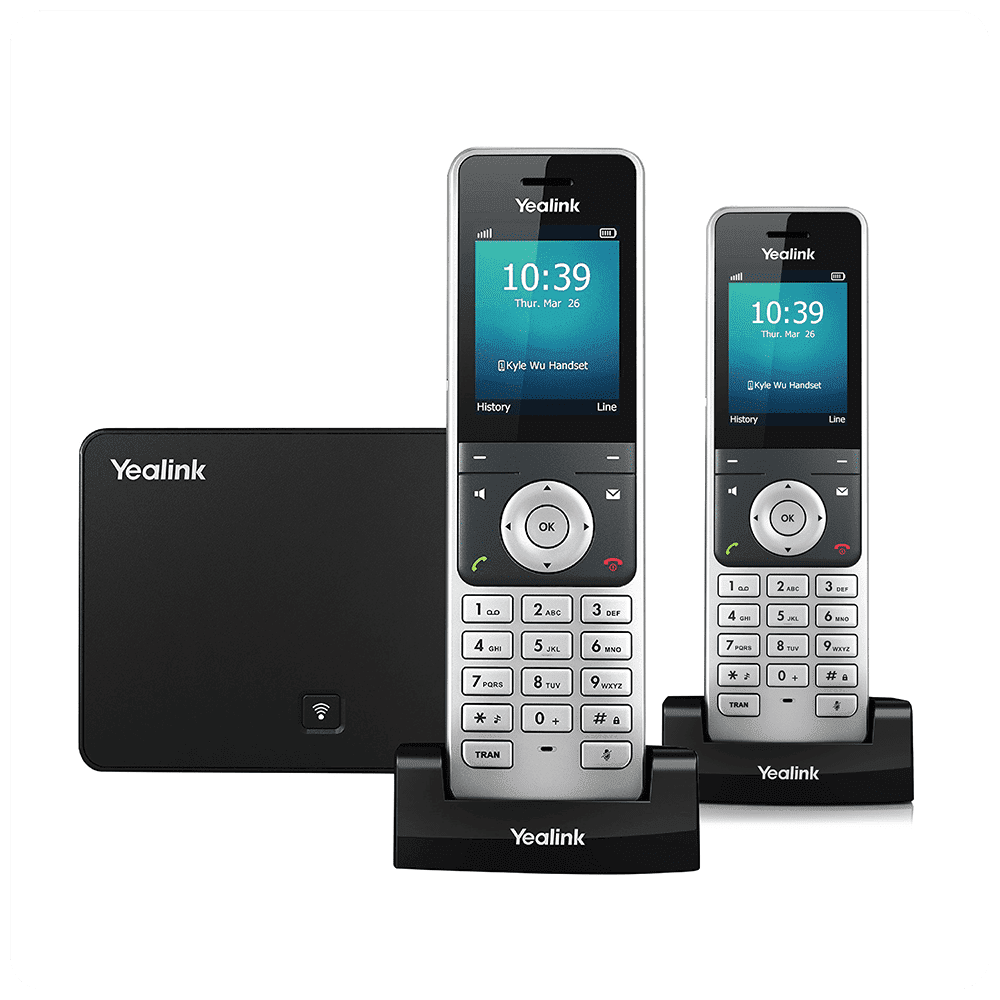 While the wireless phone market is dominated by Siemens, Yealink will be the one making appearances in this section due to its diverse array of models and sharp focus on high-quality performance.
What impressed us most about this phone is the fact that its battery seemed to be made out of voodoo rather than lithium since you can get two hours of call time after charging for only 10 minutes. If you're the type of person who's always in a rush then this is a lifesaver.
After charging the battery completely, you can get a whopping 30 hours of call time. It can also support eight simultaneous calls and three-way transferring. The HD audio and 2.4-inch color screen are just icing on the cake.
Connection Type: Wireless
Best for: Those who don't have the time to wait around for their wireless VoIP phone to recharge
Technical specs:
Dark magic-powered battery
30-hour charge capacity
Supports up to eight calls at once
Three-way transferring
HD audio
2.4-inch color screen
| | |
| --- | --- |
| Pros | Cons |
| The battery outperforms most competitors with 30 hours of call time, ensuring that your phone doesn't die during an important close | The base only upgrades the firmware of one handset at a time (taking around 15-20 per handset) |
| You can easily transfer calls from one handset to another or even create a group conversation | |
| When multiple handsets are linked to a base, incoming calls will ring on all handsets and you can use any of them to answer | |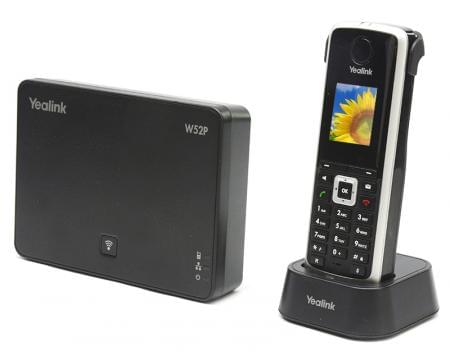 Another great model from Yealink is the W52P. This unit manages to offer most of the key features that you'd want to see on a VoIP phone. It has an intercom, call-forwarding capabilities, and hands-free HD audio.
The 1.8-inch color screen, while smaller than that of the W60P, is very clear regardless of what angle you're viewing it from. Each base also supports up to four handsets making it easy to scale up despite the low entry cost.
Models from other manufacturers may be more feature-packed, but the VoIP phones from Yealink are always reliable options that help companies integrate a business VoIP phone service into their daily operations without breaking the bank.
Connection Type: Wireless
Best for: Companies who need a scalable option with a low initial investment
Technical specs:
Intercom
Call forwarding
Hands-free HD audio
1.8-inch color screen
Up to four handsets per base
| | |
| --- | --- |
| Pros | Cons |
| When inside concrete buildings, you can take calls while 100 to 150 ft away from the base. | Calls will receive static once you get 50 to 75 ft away from the base and will increase as you get further |
| The 2.5 mm jack lets you use virtually any headset, even the cheap ones | |
| Most VoIP phone systems immediately recognize and program the phone | |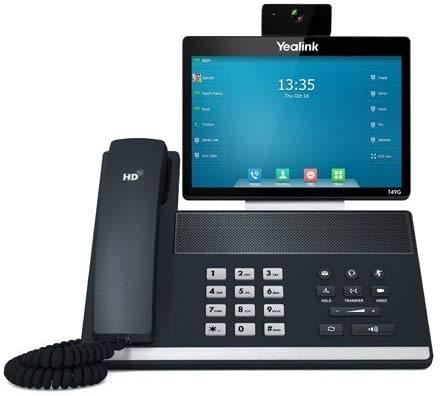 If you like what Yealink has to offer but prefer wired phones then the VP-T49G will be a perfect choice for your needs. It's often tagged as their flagship model due to the high price and premium features.
Its 2 MP camera supports the full HD experience with a resolution of 1080p, while the H.264 compression ensures that the high-quality video runs smoothly. This model also has USB 2.0 ports, 2.4 GHz Wi-Fi, and Bluetooth 4.0 offering maximum versatility.
It even has an HDMI port that lets you sync video calls from your desktop phone to your desktop monitor. Both the display and the camera can be easily adjusted to the right height and angle. You'll also find that the design is quite ergonomic. Due to the price, this model is generally reserved for C-level offices.
Connection Type: Wired
Best for: Those who want a top-shelf wired phone from Yealink
Technical specs:
2 MP 1080p HD camera
H.264 compression
USB 2.0 ports
2.4 GHz Wi-Fi support
Bluetooth 4.0
HDMI port
Ergonomic and easily-adjustable design
| | |
| --- | --- |
| Pros | Cons |
| Linking phones together (up to 10) can serve as a substitute for VoIP when used for internal calls | The expensive price point makes it inaccessible to smaller businesses |
| The entire phone is compact enough to be brought in a suitcase during business trips | |
| Navigation is easy due to the 29 programmable DSS keys | |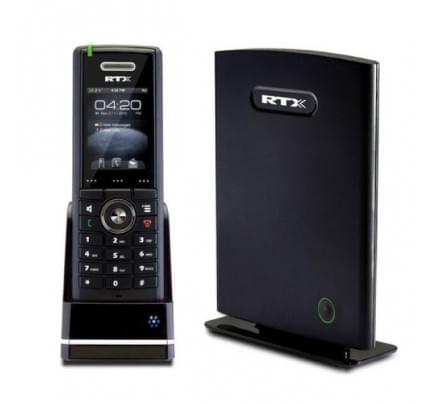 We'll be the first to admit that this particular model is rather costly, but it makes up for its high price with the versatility that it provides. This DECT phone is perfect for call centers since you can link as many as 40 bases. That would give you 200 connected users — which is ideal for support teams.
Headset connectivity is also supported meaning that your customer service representatives won't need to use their hands while talking to customers and resolving tickets. It's also compatible with repeaters, ensuring a perfect connection 24/7.
The two-inch color display makes using this model a breeze, even for new employees who may not be familiar with other cordless phones. The HD audio is the final cherry on top. It won't come cheap, but the RTX8660 will pay off in the long run.
Connection Type: Wireless
Best for: Call centers, support departments, or sales teams with a linked business phone system
Technical specs:
Up to 40 bases can be linked
A capacity of 200 connected users
Headset support
Repeater compatibility
Two-inch color screen
HD audio
| | |
| --- | --- |
| Pros | Cons |
| The outdoor range of 300m makes it easy to take calls even when far away from the base. | The 3.5 mm jack isn't as versatile as its 2.5 mm counterparts |
| You can use up to 120 repeaters | |
| No DECT manager is required to use the RTX 8660 | |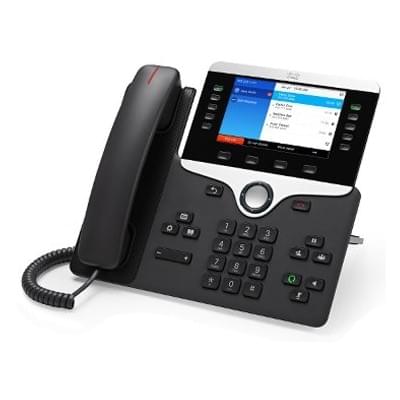 The 8861 is one of the most reliable IP phones that Cisco provides with premium functionality. Its five-inch display brings high-performance with a resolution of 800×480. That may not seem like a lot, but when your screen is that small it appears very sharp.
The screen also uses a backlit WVGA display, making the color superior to that of lower-end models. This particular unit features support for a 10/100/1000 Ethernet switch. There are five line keys in total, four of which are programmable.
As you'd expect with most phones in this price range, the 8861 features Bluetooth compatibility. Lastly, the full-duplex speakerphone provides crisp audio during conference calls and the entire unit is easily wall-mountable.
Connection Type: Wired
Best for: Companies looking for high-end performance ready to accommodate the cost
Technical specs:
Five-inch color screen
800×480 screen resolution
WVGA backlit display
Five line keys (four programmable)
Bluetooth compatibility
Full-duplex speakerphone
| | |
| --- | --- |
| Pros | Cons |
| VPN-compatible (with some tweaking) | Requires the Cisco call manager system to function |
| The Cisco EnergyWise lowers the power consumption of the phone when it's not in use | |
| Works with Bluetooth headsets | |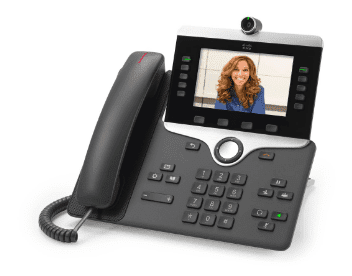 If you like the versatility of the 8861 model but need a more cost-effective option then the 8845 may be the right pick. We've included it before in a rundown of the top Cisco business VoIP phones. It has wideband audio to ensure that every call is clear, a high-resolution five-inch color display for easy navigation, and features five programmable keys.
Its video is just as clear as the audio since it supports 720p HD using H.264 compression. The phone is also compatible with various wired (RJ-9 port) and Bluetooth headsets making it easy to use third-party peripherals with this model.
Much like 8861, the 8845 can be wall-mounted and Cisco even provides an optional kit that you can add to your order. Finally, Cisco Expressway makes it easy for remote workers to sign in without a VPN client.
Connection Type: Wired
Best for: Companies with remote teams that need seamless communication
Technical specs:
Wideband audio
Five-inch color display
Five programmable keys
720p HD video
H.264 compression
RJ-9 port
Bluetooth compatibility
Cisco Expressway remote sign in
| | |
| --- | --- |
| Pros | Cons |
| Has integrated hold-music functionality | The camera angle isn't adjustable |
| 1280 x 720 camera resolution provides clear video quality | |
| Digital duplex speakerphone makes hands-free conversations easy | |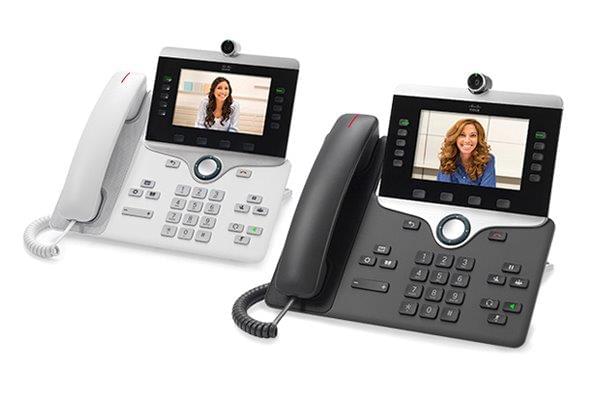 You may be discerning whether you should go for the HD voice and video conferencing capabilities of the 8845 or the connective versatility of the 8861. Well, if money isn't a problem, why not get both by picking the 8865?
Its compatibility is far more modular than that of the 8845 with support for Wi-Fi and any hardwire connections that work with the 8861. You'll also get the 720p video that made the 8845 so popular along with Bluetooth capabilities.
In addition, this model has two USB ports and supports a 10/100/100 switch. To close things off, its five-inch widescreen display features 24-bit VGA color, making the color quality feel more like a desktop computer than a VoIP phone.
Connection Type: Wired
Best for: Companies who want to combine the best features that Cisco provides
Technical specs:
Wi-Fi support
Compatible with 8861 hardwire connections
720p HD video
Bluetooth compatibility
Two USB ports
Five-inch VGA color display
| | |
| --- | --- |
| Pros | Cons |
| USB ports can charge Bluetooth headphones as you use them | Not compatible with all CIP providers (though Cisco CUCM, CME, and Cisco Spark work fine) |
| Localized language support includes right-to-left text functionality | |
| 800×480 widescreen is backlit to reduce glare | |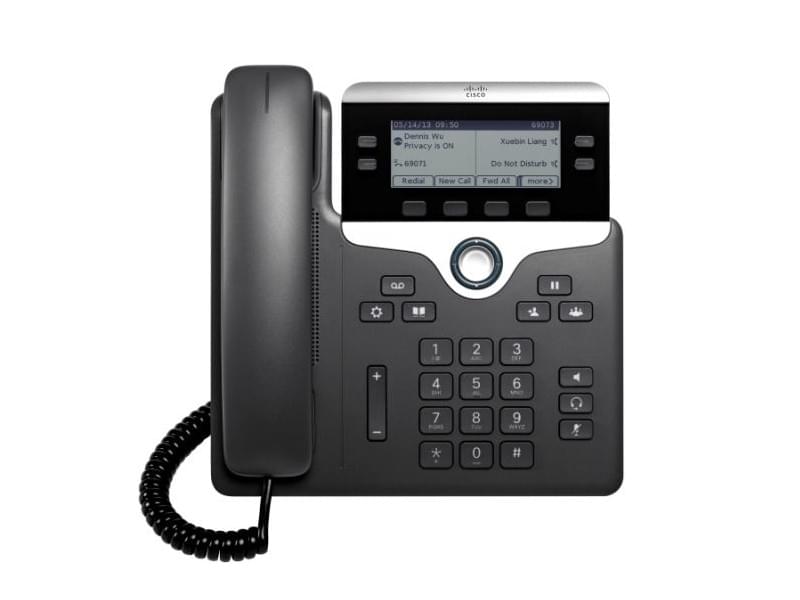 Rest assured Cisco does provide more affordable models such as the 7841 which is less than half the cost of their 8865 unit. It can handle as many as four lines at once, and even more if you get a dedicated line panel.
It's also the only model in the 7800 series that supports a 10/100/1000 switch, making it a popular choice in its price range. While the screen doesn't have color, it does feature a white backlight to prevent glare.
Much like the other models in its series, mobile remote access is fully supported. Similar to the previous Cisco phones covered in this article, it has four programmable keys and can easily be mounted to the wall.
Connection Type: Wired
Best for: Companies that don't need overly complex interfaces and want an affordable Cisco model
Technical specs:
Can handle four lines at once
Anti-glare backlit colorless display
Mobile remote access
Four programmable keys
Wall-mountable
| | |
| --- | --- |
| Pros | Cons |
| Cisco Expressway lets remote workers sign in without a VPN | Comes with older firmware so updating is advised |
| There's a distinctive ring that will tell you if a call is on-network or off-network | |
| Headsets are automatically detected so you won't need to manually configure them | |
The Right Phone Will Take Your Business Beyond 2020
The list of reasons to switch to VoIP is constantly growing. Internet calls are cheaper, conferencing is easier, and you have an overall better experience. When considering the benefits of cloud PBX or setting up new SIP accounts, you need phones to meet your total unified communications needs. Thankfully there are low-cost phone solutions that meet your business needs, from a home office to an enterprise.
Coordinating your IP phone choice with the best business phone service provider will ensure you make the most of every feature you invest in.
Disclosure – The GetVoIP team writes about stuff we hope you'll like and strives to offer the best recommendations we can. Our team has affiliate partnerships and may collect a referral commission from your purchase based on our recommendations. This does not influence the content we publish, but only supports our honest efforts to offer you the best and most transparent information. All recommendations are based on our independent research and hands-on experience.