Polycom, who is now a part of the Plantronics family, has just announced their latest update to their extensive line of IP Desk Phones. Dubbed the VVX x50 series, the endpoint giant continues to evolve one of their most popular product portfolios.
Striking a balance between affordability and functionality, the VVX x50 series hits that sweet spot while managing to deliver on the quality and experience we've come to expect from a name like Polycom, and even Plantronics.
The New VVX x50 Series
So with this newest update, Polycom has specifically focused four models within their VVX series, ending with a "50" designation. These devices, the VVX 150, VVX 250, VVX 350 and VVX 450 Business IP Phones, represent the balance between industry leading quality while remaining cost effective and accessible for teams of all sizes.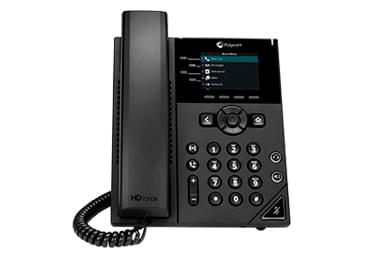 These phones contain both Polycom HD Voice and Polycom Acoustic Fence technology to provide a crystal clear calling experience, while preventing background noise from creeping its way into the call. Now, at this point, these features have become fairly standard — especially coming from Polycom.
But beyond the promise of high quality audio, Polycom has introduced a few other features into their VVX x50 series:
Modern, color LCD displays
Overall modern and ergonomically devices
Easy and quick deployment options, partnering with popular service providers like 8×8
Both USB and Gig-e ports
In their announcement, Polycom went on to explain even further that "all four phones support the industry's broadest set of Open SIP software features and integrate with over 60 call control platforms worldwide."
In fact, the popular Business VoIP provider 8×8 specifically is partnered with Polycom to offer these new phones to their customers and clients starting today.
Tarun Loomba, executive vice president, Product and Solutions Management at Plantronics said that "the new, sleek design delivers a great customer experience with premier audio quality at the right price for partners and customers.
These new phones were not only improved for end users, but providers as well, as Tarun further explains.
"By using the same unified communications (UC) software as in previous VVX phones, Service Providers, like 8×8, have a simpler and shorter certification process to get to market, and we are seeing this already."
A New Method For Provisioning
In addition to the introduction of the new VVX x50 Series, Polycom has introduced what they are calling the "Polycom Device Management Service for Service Providers (PDMS-SP)." Now that's a mouthful, but simply put, the PDMS-SP enables service providers to "streamline and simplify" provisioning, management and troubleshooting of different devices.
In fact, the PDMS-SP enables service providers to directly integrate these capabilities within their own dashboards and business processes. Simply put, "this cloud service enables service providers to include Polycom audio device management and analytics into their customer portal experience."
The PDMS-SP will allow service providers to shrink down and simplify the "audio device lifecycle management process" by leveraging "Polycom's cloud service to manage, monitor and measure the growing complexity of audio devices in an organization."
In addition, Polycom also announced they will soon be releasing an API for service providers to completely customize the functionality, services and analytics they would like to include in their own customer portals.
The Bottom
Following the closure of their acquisition by Plantronics just a few short months ago, it is very interesting to follow Polycom in their latest announcements. From the look of it, it seems as if business is continuing as usual, and Polycom is dedicated to delivering on the quality that their reputation and name is known for.
I would enjoy the opportunity to go hands on with these devices, in order to provide an in-depth look into the usability and functionality offered. At the end of the day, Polycom continues to remain a leading endpoint provider for a reason, and we will continue to closely follow any updates and announcements that come in the near future.