As the SaaS industry continues to grow, it should come as no surprise that more and more options are being developed for the rapidly multiplying user base. For video conferencing with screen sharing and team collaboration tools, businesses are turning to GoToMeeting from LogMeIn as a top solution.
Everything from the pricing, features, and customer support of the solution will be covered so that you can make an informed decision on whether or not it's the right web conferencing solution for your business.
GoToMeeting Pricing and Plans
As with any value comparison, you should be factoring in the price of the solution so that you can weigh it against the features provided. Below is a table that clearly outlines all the GoToMeeting plan prices and their respective participant caps.
| | | | |
| --- | --- | --- | --- |
| Plan | Professional | Business | Enterprise |
| Price (billed monthly) | $14/organizer/month | $19/organizer/month | Custom |
| Price (billed annually) | $12/organizer/month | $16/organizer/month | Custom |
| Max participants | 150 | 250 | 3,000 |
It's worth noting that you could end up paying more than the prices listed above if you go for one of the add-ons offered by GoToMeeting. Toll-free numbers & the Call Me feature will cost an additional $5/month for each organizer while GoToWebinar Lite is priced at a flat $20/month.
There's a 14-day free plan for small businesses looking to try GoToMeeting features out. Measuring the pros and cons may require some hands-on experience with personal meeting rooms, setting up a video conference, and exploring how to integrate their address book with the active directory feature. Thankfully, GoToMeeting is compatible with a range of business VoIP software, VoIP phone service, plug-ins, and productivity solutions.
Basic GoToMeeting Features
These are the key features that you'll get regardless of which GoToMeeting plan you end up subscribing to. It covers most of the basic needs that a company may have when looking for an online meeting solution.
HD Video
Screen Sharing
Web Audio
Dial-in Conference Line
Unlimited Meetings
No Meeting Time Limits
Business Messaging
Personal Meeting Room
Mobile Apps
Commuter Mode
Siri Voice Commands
SSL Encryption
AES-256 Bit Encryption
SOC2-Certified Data Centers
HIPAA-Compliant
Risk-Based Authentication
Toll-Free Numbers

(Add-On)

Call Me

(Add-On)

Dial Out
24/7 Customer Care
Single Sign-On
Admin Center
Active Directory Connector
Meeting Diagnostic Reports
Downloadable Admin Reports
Advanced Webinar Features
Room Equipment by GoToRoom
Live Demo
GoToMeeting Business Plan Advanced Features
If the standard features aren't enough for you then you might be interested in some of the added functionality that you get when subscribed to the business plan. Below are the extra features that you get when upgrading.
| | | | |
| --- | --- | --- | --- |
| Unlimited Cloud Recording | Transcription | Slide to PDF | Smart Assistant |
| Note-Taking & Drawing Tools | Keyboard & Mouse Sharing | Meeting Lock | Mobile Cloud Recording |
| Slack Meeting Launcher | Office 365 Plugin | Google Calendar Plugin | Salesforce Integration |
GoToMeeting Enterprise Plan Features
Those who go for the enterprise plan will be treated to four exclusive perks that are reserved for top-tier GoToMeeting customers. Here's a brief overview of each of them so that you can decide if they're worth the extra cost.
InRoom Link (H.323 & SIP)
This premium feature lets you connect to your existing H.323-enabled video conferencing solution — providing seamless cross-compatibility. It will even instantly sync up with all the microphones and webcams in your conference room.
Customer Success Manager
Enterprise users have their customer success manager that will help their employees adopt the platform and get familiarized with all the features. Having your dedicated contact at GoToMeeting also makes it a whole lot easier to set everything up.
Onboarding, Training, and Review Tools
Those who subscribe to the enterprise plan will also receive custom onboarding and training for all users which makes the learning curve less steep. GoToTraining has myriad features to create standardized training materials for onboarding remote and on-premise teams. Additionally, quarterly business reviews will be provided.
Volume Pricing Plans
Companies that go for the enterprise plan will be charged based on the size of their business. The per-user cost will drop as you scale up the total number of people who'll be using the platform. This makes the solution more cost-effective for large companies to host as many attendees as needed.
The Most Unique GoToMeeting Features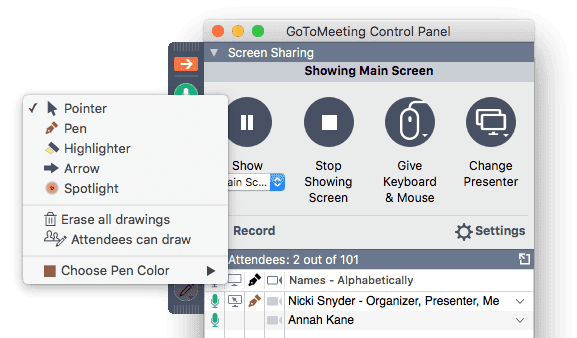 There are far too many features included in GoToMeeting for us to cover all of them, so we're going to focus on the ones that are most unique and useful. If you want a more comprehensive overview of GoToMeeting's features then check out their site.
Siri Integration
The iOS app lets you join meetings using Siri. All you need to do is say "join my next scheduled GoToMeeting" and it will automatically connect you to the meeting with the nearest schedule. With AI in communications and businesses becoming a key development to improve productivity, this saves time and helps you easily connect while on the go.
You can set the trigger phrase to anything you want such as "jump into the next meeting" or "join the next meeting." It's worth noting you'll have to sync the app to your calendar and enable the Siri feature beforehand but, after that, it's good to go.
Call Me
Why bother dialing in with access codes when you can have GoToMeeting's VoIP phone service give your phone a call. Just share your phone number on GoToMeeting, wait for the app to call you, and then you're in the meeting as soon as you answer.
You can even save your number on GoToMeeting so that it automatically calls you whenever a meeting starts. Like the previous feature, this makes it easier for employees to connect while on the move since they don't have to look up access codes just to join the meeting.
Dial Out
The call connect system even goes both ways. Instead of sending an invite link or access code, you can add up to five participants to your meeting by calling them through GoToMeeting. Once they pick up, they'll be added to the session immediately.
Unlike Call Me, this is a base feature rather than an add-on meaning you won't incur any additional costs by using it. This is perfect for smaller teams who generally don't have more than five people in a single meeting anyway.
Commuter Mode
Sticking with the motile experience theme, GoToMeeting also has a commuter mode that, when enabled, makes some handy changes to the app. First of all, the default interface is swapped to a more commuter-friendly version.
You'll also be able to reduce data consumption by 90% when using commuter mode which will ensure that you don't run into any issues even if your phone is on a limited plan. This feature is available for both Android and iOS versions of the GoToMeeting app.
Risk-Based Authentication
GoToMeeting uses a risk-based authentication system to make sure that no third parties with malicious intent make their way into your account. If it notices any suspicious behavior then it won't let the user login.
One such example of suspicious behavior is an unauthorized device that tries to log in from a faraway location. On that note, you may want to register your phone as an authorized device before taking a business trip to ensure that you can log in without any hassle.
Meeting Lock
There will always be meetings where C-level executives assemble to discuss plans for the company, what pressing issues it may be facing, and other sensitive information. The last thing you want is anyone eavesdropping on such a conversation.
Fortunately, GoToMeeting lets you enable the Meeting Lock feature to keep confidential conversations secure. When enabled, participants will need to wait in the queue until you let them into the meeting — ensuring that everything on the agenda stays secure.
HIPAA-Compliant Encryption
The privacy and security of patient information should be of utmost importance. Doctors and other medical professionals will be glad to know that GoToMeeting is HIPAA compliant since its end-to-end encryption ensures that no leaks will occur.
This facilitates the safe exchange of critical documents between medical professionals without the risk of any third-parties getting access to the data. Lastly, GoToMeeting doesn't distribute the patient data through its networks, only the keyboard and mouse input.
Unlimited Cloud Recording
Those with a business plan or higher will get access to unlimited cloud call recording data. It might seem like an added expense since the pro plan is slightly more expensive, but you'll also reduce costs as you won't have to pay for cloud storage on Drive or Dropbox just to save recordings.
This also makes it easy to share and review the information exchanged during past meetings so that collaborators don't have to go over the same subject multiple times. As a bonus, the recording feature is available on the mobile app and not limited to the desktop version.
Meeting Transcription
Speaking of cost-reducing features, users on the business and enterprise plans will also have access to the transcription tool. All meetings are automatically transcribed meaning you won't have to spend as much time pausing to take notes.
This ensures a faster and more efficient pace during your meetings. Third-party transcription services can cost $0.50 for every minute of audio and it'll be a few days before you get the transcript back. Why pay additional costs when you can have an instant transcript for free.
Multilingual Support
GoToMeeting supports a total of six languages: English, Spanish, Chinese, French, Italian, and German. The multilingual nature of the solution ensures that remote contractors won't run into too many issues even if they're new to the platform.
This is an important feature for any software to have since an increasing number of companies are outsourcing tasks to VAs, writers, and developers in other countries. The menu and text update instantly once the language has been switched which makes for a speedy transition.
GoToMeeting Third-Party Software Integrations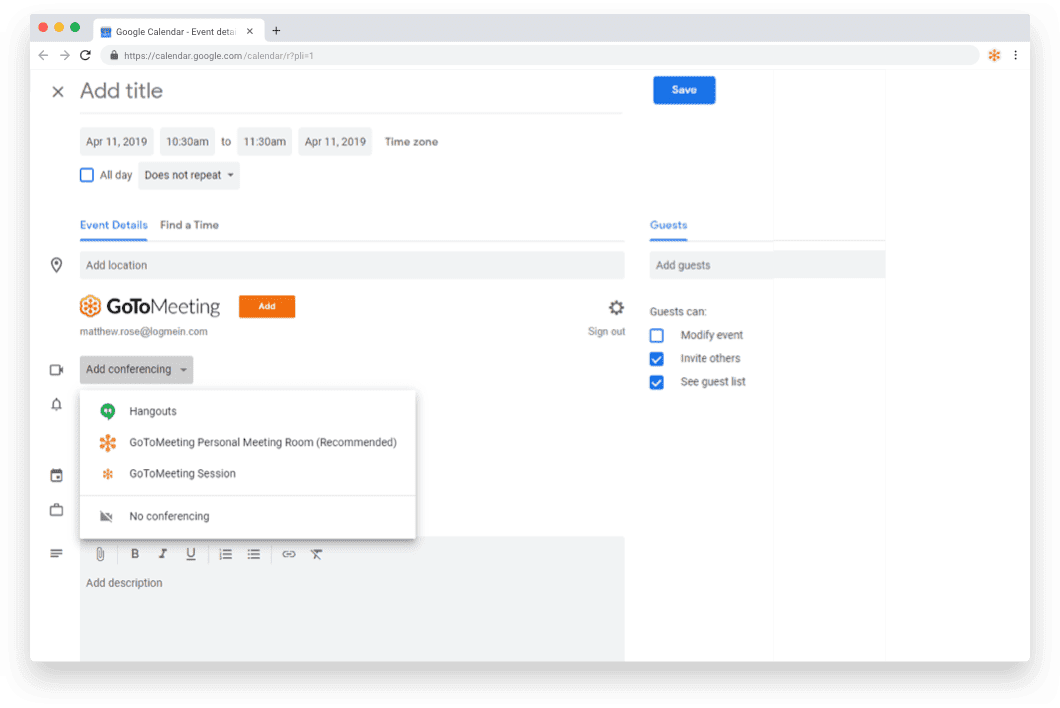 GoToMeeting supports integrations for business and enterprise subscribers. This will provide a smoother user experience since you can use third-party software as naturally as you would if it were a core component of GoToMeeting.
Slack
Integrating your Slack workspace with GoToMeeting will make it far easier for your team members to join in on sessions. Even you, the host, will reap the benefits of integrated convenience since you can launch meetings directly from your Slack channels.
This is far more efficient than logging onto your GoToMeeting account, manually starting a meeting, then sharing the join information with other members. With over half a million teams and 12 million daily active users, the importance of Slack integration cannot be overstated.
Google Calendar
Staying on the topic of reach, Google Calendar has half a billion installs on the Play Store alone. This is why it should come as no surprise that GoToMeeting also has a Google Calendar integration for you and your co-organizers to use.
All the key functions such as starting, editing, scheduling, and viewing meetings can be done through Google Calendar — which saves you time since you won't have to log in to both accounts just to get everything set up. It also ensures that you're able to integrate with Microsoft Outlook or Mac native solutions.
Salesforce
CRM software integration has become a growing trend in the SaaS industry since it's relatively easy to do and provides so much added value. The integration makes it easier for sales teams to have GoToMeeting video calls with any prospects without even having to leave the Salesforce tab.
You can also record sales calls, allowing for efficient split-testing of different closing and objection scripts. Finally, the screen sharing function of GoToMeeting makes it easier for sales representatives to display the value proposition of your company. With drawing tools, mouse sharing, and simultaneous webcam support, you can ensure that your collaboration tool improves team interaction and customer experience with every screen share.
GoToMeeting Support Features
Alongside pricing and features, support is one of the most important things that you should be looking at when deciding which software to use for your company. GoToMeeting has three main mediums of support: knowledgebase, live chat, and phone support.
Knowledgebase
You'll find an extensive range of instructional material on the GoToMeeting knowledgebase. Step-by-step tutorials, feature guides, and educational videos will help you overcome any obstacle that you may encounter while using the platform.
The forums are also quite active meaning that you can get help from fellow users or review previously asked questions that line up with your problem. This makes it easier to self-solve whenever hitting a snag rather than relying on support representatives every single time.
Live Chat
Users that are subscribed to any of the three plans will have 24/7 access to a technical support representative that can help them should they run into any issues. The website also has a chatbot named Mary that can help you connect to a meeting or get in touch with the sales team.
Sadly, the company doesn't provide live chat access to non-users which can make it difficult for potential subscribers to find answers to their questions before signing up. That said, they can always request a demo from the sales team via their online form or hotline: (1-800-514-1317)
Phone Support
GoToMeeting does provide phone support. They have toll-free and long-distance lines for most countries making it easy to give them a conference call regardless of where you are. Below are the hotlines for the United States, Canada, and the United Kingdom.
| | | | |
| --- | --- | --- | --- |
| Country | United States | Canada | United Kingdom |
| Toll-Free | +1 (833) 851-8340 | +1 (833) 851-8340 | 0 (800) 031-4760 |
| Long-Distance | +1 (805) 617-7080 | +1 (805) 617-7080 | +44 (20) 7851-8400 |
GoToMeeting Conferencing Fits SMBs and Enterprises
The tiered pricing system ensures that there's a suitable package for companies of all sizes. Unlike some other solutions, GoToMeeting has included all the key features in every plan so that even users with the cheapest subscription will get the full benefit of the software.
GoToMeeting's business plan isn't that much more expensive than the professional plan (especially when billed annually) which keeps it accessible to SMBs. The add-on features are also both affordable and useful.
Any problems that sprout up can be quickly nipped at the bud through the wide range of support options. That's why GoToMeeting is a company that we often list among the top web conferencing solutions on the market.