While we hope to never have to contact a company's customer service and technical support lines, sometimes it's just inevitable. We all have our fair share of horror stories – waiting on hold for an hour, a business hiding its contact information, or just flat out ignored support requests. Bad customer service is out there, and it can be made even worse when half the trouble is just trying to have your voice heard. While some companies do it wrong, thankfully there are a lot that do it right. Especially when it comes to your Hosted PBX or Business VoIP provider.
As we've most certainly seen, in our hold Business VoIP provider hold time trial, some are more responsive than others. While not number one on our list, RingCentral held their own in the middle of the pack. For the benefit of its users, RingCentral doesn't rely on just phone support – in fact they have a pretty extensive list of communication channels, from phone to web chat to social media accounts.
With so many methods of customer contact out there, we decided to put together a comprehensive list of RingCentral customer service channels not only so subscribers can find what they need, but other businesses can take a look at a solid template of how to do customer service the right way.
RingCentral Customer Care Center
Of course, a business would hope their service never goes down, and changes needed to be made could be done simply through an online portal. But sometimes, you might just have to suck it up and call in the reinforcements. With RingCentral, users can get way more than just a phone number to call when things go bad – RingCentral even hosts their own Customer Care Center, a section of their website dedicated to helping customers reach the support they need.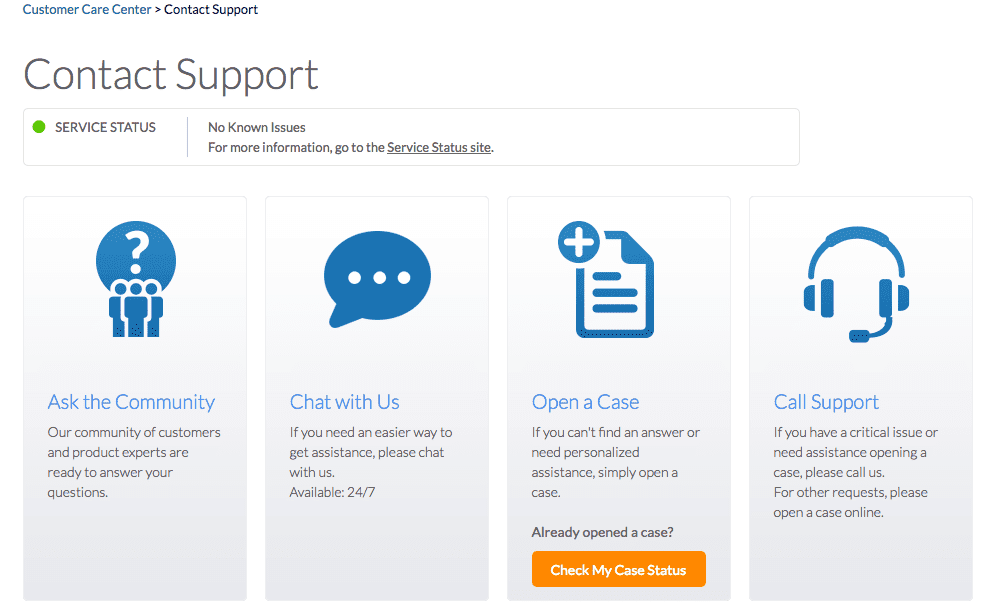 As the first stop in the RingCentral customer service tour, the Customer Care Center acts as the gateway to the immediate methods of contacting support. From here, users can:
Check Service Status – Before even taking the steps to get in touch with support lines, RingCentral offers an incredibly useful piece of information right atop of the page – the network's Service Status. Here users can see reports of any known issues, or access the Service Status site directly for more in depth information. A good tool to diagnose if a problem is specific to your office, or the entire service network.
Ask the Community – Take a look at what other users had to say, any problems they may have submitted, or even post your own. Those familiar with other online forums will recognize the Community section as a powerful resource for the DIY bunch. If you have an odd, or specific issue, chances are other users either experienced it, or may have the knowledge to help your team come to a solution.
Chat with Us – If you are in a hurry, and just need to grab someone as soon as possible without waiting on hold or talking on the phone, RingCentral offers an online webchat. Available 24/7, chat support can be utilized at any time of course, for the simple sake of convenience. It may not be texting, but it sure is the next best thing.
Open a Case – Probably the most direct route to take, from here users can simply submit their issues and open a case directly online. Specifically, for users that cannot find an answer online or need personalized assistance, opening a case allows you to submit your issue and continue with your day until a response arrives. A solid alternative to email support, this opens a ticket in their customer service center right away and can help ensure a prompt response.
Call Support – Of course, the age-old phone support still exists. RingCentral includes a useful, handy link right here in the Customer Care Center for those users that would prefer to pick up the phone, and speak to a live agent on the other end. Sometimes a conversation is the best way to communicate an issue, and speaking to a live person can feel like a much more pleasant experience than a faceless chat.
Ask the Community
So, you decided to take the matter into your own hands, and either before or after contacting official support would rather hear what the community has to say. This is a great approach for those more familiar with the workings of their service and office network. Sometimes an issue can be so minor it isn't worth getting on the phone or starting a web chat, or is so specific and odd other resources are just too limited.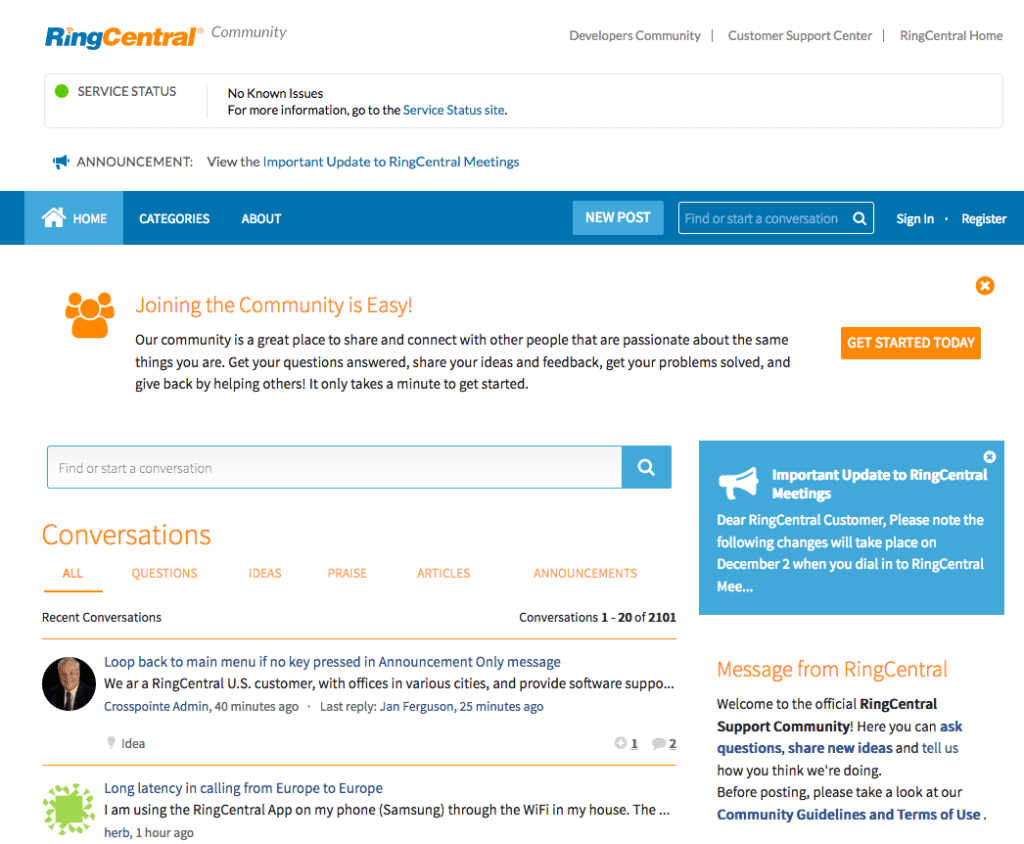 Between the database of opened and solved questions and issues from other users, and the ability to submit your own post – the community section is an incredible resource. RingCentral also allows users to submit their own ideas, so users can share ideas for missing features or requests, and facilitate a discussion. You might be able to find out a feature you thought was missing does in fact exist!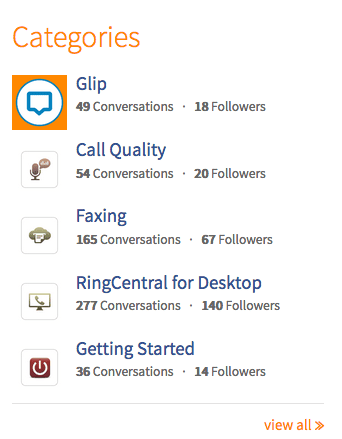 The layout of RingCentral's Ask the Community is a bit different from a standard web forum, but is still broken down in a way that makes it easy to navigate and access. Users can filter through the different conversations noted above, All, Questions, Ideas or Praise. Users can also search the database, or access different categories including Glip, Call Quality, Faxing, RingCentral for Desktop or a simple Getting Started section. With over 7,000 conversations and almost 13,000 members the RingCentral Community is alive and well.
Old Fashioned Phone Support
Thankfully, for those less inclined to take the problem into their own hands, or just want to hear the voice of another human on the other end – phone support still exists. RingCentral still offers phone support, of course, and breaks it down with a list of phone numbers to contact. To keep things simple, we decided to put that list together:
United States Support (Inside US): 1888-898-4591
United States Support (Outside US): 1-925-301-8209
Canada Support (Inside Can): 800-591-6543
Canada Support (Outside Can): 1-647-933-2820
United Kingdom Support (Inside UK): 0800 014 8091
United Kingdom Support (Outside UK): +44 203 514 900
RingCentral makes it possible to call your countries' support line, even if you're not in that country. This is really useful for a business with international offices, or teams that travel around the globe quite often.
It is important to include; RingCentral 24/7 phone support is available for Office customers with 2 or more users on their plan. Otherwise, phone support hours for Professional and Office customers with 1 user are limited to: Monday – Friday: 8am to 9pm EST.
RingCentral Social Media
For those desperate times when nothing else seems to be working, contact a business through social media can at least help call attention and hopefully have your issues redirected to the proper support channel. Sometimes it takes a couple of tweets, or a direct message or even a comment on their Facebook post to grab a company's attention. In this case, RingCentral has a pretty wide presence around the web, with a good number of social media accounts to choose from.
Other Web Resources
For those times that you may not want to get in touch with support, or sit around waiting for the community to respond, RingCentral still has you covered. With a sizable list of online resources, from a Youtube channel to their popular blog, or even an entire FAQ wiki with guides a knowledgebase, and a learning center – most problems probably have an answer out there somewhere.
These resources would also be helpful for anyone less familiar with RingCentral pricing, the RingCentral system or their network looking to gain some more knowledge on how everything works. Some blog posts will also offer information on how to take full advantage of the tools you do have at your disposal, and might shed some light on an issue you didn't even know you were having, or how to really take advantage of your solution. With so many options available, RingCentral customer service is a great example of how to establish a solid footprint and make it as easy as possible for a customer or client to get the help they need, as soon as they need it.