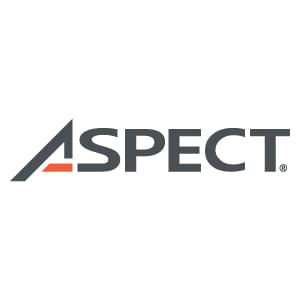 Aspect
With their roots all the way back to 1972, Aspect Software knows what it takes to build and support...
Provider Overview
With their roots all the way back to 1972, Aspect Software knows what it takes to build and support the best call center possible. Aspect has been around long enough to watch customer service and support grow from an afterthought, into the crucial business pillar it is today.
With the ability to provide a hosted,  cloud, on-premise, or a hybrid solution, Aspect Software can outfit even the most complex enterprise contact center. Aspect has worked to build a completely integrated system for both agents and clients to provide an omnichannel experience across voice, email, SMS, IM, social media and even video support.
Aspect Pricing and Services 
Cloud Solutions:
Aspect Via – a complete customer engagement platform
Aspect Via Workforce Management
Inbound Call Center Solution
Automatic call distributor (ACD)
Multi- channel support (voice, email, web chat, IM, SMS, social media)
Online chat on web and in mobile apps
Experience continuity
CRM integration
Customer Self-Service
Modern IVR
Context Continuity
Call intent prediction
Mobile IVR – visual IVR and Text2IVR
In queue self-service and call back
Speech recognition
Natural language understanding (NLU)
Chatbots
Transfer to live assistance
Customer Outreach
Proactive outbound campaigns
Predictive dialer
Auto dialer
Workforce Management
Forecasting and scheduling
Quality monitoring
Performance management
E-Learning
Recording
Surveys
Coaching
Speech analytics
Desktop analytics
Agent self-service scheduling
Back office optimization
Editor's Bottom Line of Aspect
With a strong focus on the enterprise market, Aspect Software provides some of the most powerful solutions for seamless omni-channel contact center with flexible deployment options:cloud, on-premise, hosted or hybrid.
With Aspect, businesses provide access to the channels customers now expect, including web chat, IM, SMS, voice, but also in-app and web based voice or video support.
Going one step further, Aspect offers outbound solutions to equip a contact center with the necessary tools to handle massive outreach campaigns. Through the combination of a predictive dialer, proactive campaign management and an in-depth customer experience platform, contact centers can manage and boost their agent productivity and efficiency, to improve their bottom line.
To complete the entire solution and round off the platform, Aspect provides powerful workforce optimization features, including forecasting and scheduling (for up to thousands of agents), quality monitoring,  performance management tools, call recording, after call surveys, and agent coaching, as well as speech and desktop analytics.
At the end of the day, if your business is searching for an all-in-one provider that can offer an integrated omni-channel contact center, Aspect Software should be high on the list of consideration for any enterprise.
Share Your
Feedback
What Do You Think of Aspect?