German manufacturer snom has released two new additions to its already impressive IP fleet, in the ONE Mini IP PBX and snom 710 IP Desktop Phone. The former, is a complete telephony system hosting up to 20 extensions, while the latter is a dynamic, all-around business VoIP phone with a high quality, sleek design.
snom ONE Mini IP PBX
Engineered for small businesses and home offices, the snom ONE mini stands as a compact, powerful on-premise IP-PBX. In addition to holding up to 20 extensions, it also has support for snom IP desktop and wireless phones. A few among it's many highlights is PSTN termination in conjunction with SIP-based PSTN gateways, or function through service providers that provide SIP Trunks over the Internet. It also possesses abilities such as automatic device setup and emulated shared line appearance.
Specs of the snom ONE Mini IP PBX: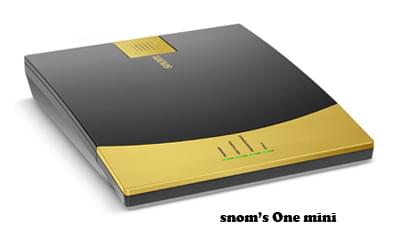 Full Featured IP-PBX
Low power consumption
No moving parts
20 Extensions
Cell Phone Integration
PSTN connectivity through SIP Trunks
IPv6 Ready
The snom ONE mini IP-PBX retails for $539.00 and is available now from various retailers and wholesalers. 
snom 710 IP Desktop Phone
The newest installment in the snom 7xx series, the snom 710 offers the leading edge in IP communications solutions for small to large businesses
"The snom 710 rounds out the snom 7xx series as an affordable, entry-level business phone perfectly suited for day-to-day usability, but with exceptional design, performance and advanced IP communications features, making it a standout compared to other phones in its class," said snom technology, Inc. Chief Operating Officer Mike Storella. "Any budget-conscious business will find the snom 710 a perfect blend of performance and value."
The snom 710 series VoIP telephone utilizes snom's fifth generation Session Initiation Protocol (SIP) firmware, which allows interoperability with a wide variety of SIP-based IP PBXs and softswitches used in small and large office environments worldwide.
Specs of the snom 710 IP Phone include: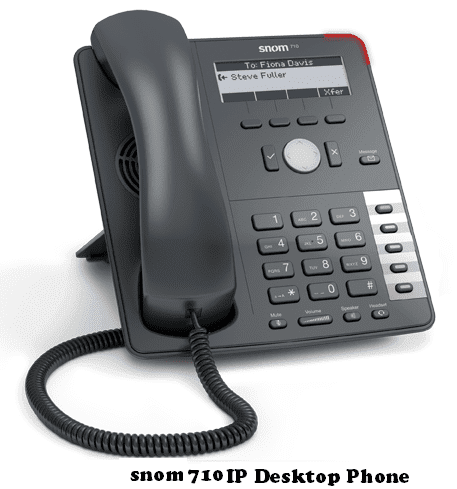 Four-line B/W display
4 SIP identities
4 context-sensitive function keys
5 freely programmable function keys with LEDs
Hands-free operation
Power over Ethernet (PoE)
VLAN
The snom IP 710 is very affordable considering all its features, at a modest $199.00.
Related Articles:
– Can You Have a Virtual PBX For Just One Person? Benefits of IP PBX for Small Businesses
– Advantages of SIP Trunking
– Competitive SOHO VoIP Solutions Great for Consumers