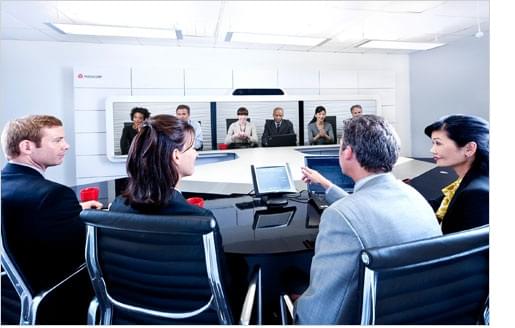 Today, Polycom, Inc. announced an update to its popular, award winning mobile video software, RealPresence Mobile. As a global leader in Unified Communications (UC), Polycom has continued to shine by expanding vertical markets like healthcare, education, manufacturing plants, and positively impacting other real-world settings and applications. Polycom's RealPresence Mobile Platform boosts scalability 100 percent to support up to 10,000 devices simultaneously, making it easier for IT administrators to seamlessly manage video collaboration networks.
"With the explosive growth of mobile workforces and the increasing trend toward employees bringing their own devices into the workplace, Polycom and our partners are continually expanding the reach of secure video collaboration to support all devices, operating systems, protocols, and networks," said Sudhakar Ramakrisha, President of Products and Services, Polycom. "No other company is delivering innovative video collaboration experiences on mobile devices like Polycom."
RealPresence Mobile 1.3 also includes an innovative camera control feature to remotely control cameras on the other end of a video meeting. This allows users to zoom in, pan, or tilt the camera to fully explore the subject or environment. With this expansion, customers will be able to extend and optimize video collaborations to easily connect with any other standards-based video environment. The possibilities are endless, including conference rooms, desktops, laptops, mobile devices, theatres, and other platforms, virtually anywhere in the world.
The software is available for the HTC One S, HTC One X, HTC Jetstream tablet , as well as the new Apple iPad. In the last 12 months, smartphone growth has gone up 34 percent, with tablet adoption up 400 percent. Polycom is uniquely addressing this proliferation, with highly secure mobile video solutions across multiple tablets and smartphones. The resulting outcome is cost-effective support for face-to-face communications from anywhere, with Polycom aggressively meeting the growing demands of the market.  RealPresence seamlessly interoperates with a broad range of applications, protocols, call control systems, and end points. In reality, customers may communicate to multiple parties, even addressing an entire conference room using only a tablet.
Orlando Health, a provider of health care services in central Florida, puts RealPresence mobile in front of it's neurology clinicians to improve the quality of life for the practitioners, and most of all, connect doctors with patients in real-time. Polycom's press release provides intricate detail on how RealPresence is living by it's name to provide the most intuitive, highest quality video for remote patient care, securely and efficiently.
"Stroke treatment is intense and complicated," said Carlos Carrasco, corporate director of business development and innovation at Orlando Health. "Timeliness is critical, and many factors must be taken into consideration before a treatment such as the tPA protocol can be administered. Treatment decisions must be made fast and those decisions can have enormous implications for patient outcomes. Use of Polycom video collaboration has helped physicians access video conferencing to make clinical assessments more rapidly, in turn helping to accelerate 'door to needle' treatment timelines. That precious time can change a person's life forever."
​RealPresence Mobile 1.3 will be available as a free download before July 27 in the Apple AppStore & Google Play