For those that missed Polycom's appearance at the NASDAQ about a month ago to ring the opening bell, they revealed future plans pertaining to the development and release of CloudAxis Suite. The web-based platform promises revolutionize the way customers make a high-quality video calls. Notably, the conferencing solution links consumers up whether on Skype, Facebook or FaceTime with a click of a button on their iPad tablet or Android phone. The video conferencing industry has previously been struggling with interoperability, collaboration and cloud adoption. Polycom is looking to eliminate this by creating ubiquitous collaboration by being a platform that connects all "disparate video islands".
As exhibited in the video, Polycom's RealPresence CloudAxis Suite collects presence information from all participants who are actively online from the host's social and video apps and then imports those contacts into a global directory.  The host can then drag and drop participants into a videoconference.  Once the host starts the call, the invited participants receive a hyperlink in the chat window of their social or video application and, in one click, are immediately placed into a Polycom  enterprise-grade video collaboration session via their browser.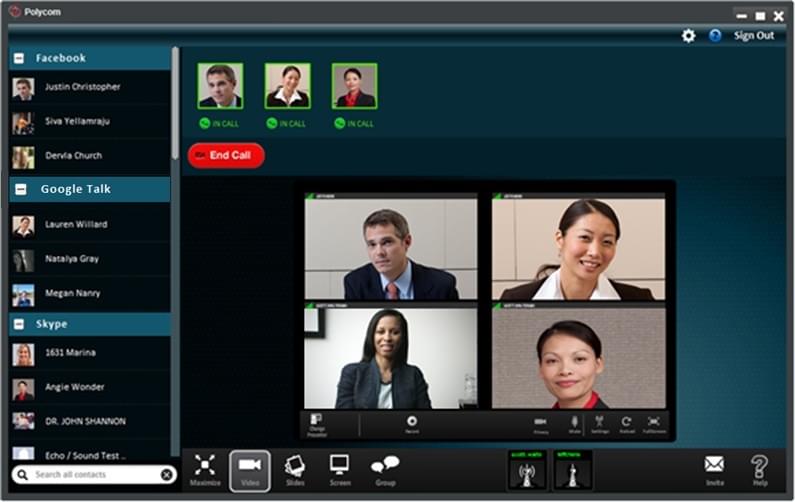 Key Features of Polycom CloudAxis Suite:
Intuitive browser-based user interface makes video collaboration easy
Global Directory includes Skype, Facebook, Google Talk and other UC application contacts
Invite anyone/anywhere to join your B2B and B2C video call with consistent high quality and security
Simply drag and drop participants into a virtual meeting
Automatically sends meeting invites via IM or email to participants
Share content with all participants and quickly collaborate with mobile, desktop, and room system users
Source: Polycom, Inc.
Related News Articles:
– Polycom Capital Program Creates Flexible Financing for Businesses
– Polycom and Distance Learning in International Bloom
– Polycom Introduces Touch Screen VVX 600