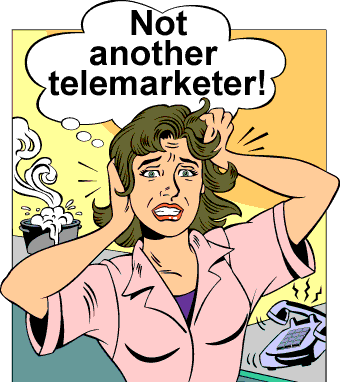 Today, Tuesday, May 21, 2013 marks the final day Indiana residents will be able to add their phone numbers to the state's "Do Not Call" list. The state's newest list aims to greatly reduce the number of unsolicited marketing calls and text messages. As such, users are able to register their residential, cellular, VoIP, and/or prepaid phones both online at indianaconsumer.com, and by phone at (888)834-9969.
The problem of telemarketing calls is nothing new; however, with newer technologies the problem has definitely escalated. While many VoIP companies enact block lists, blacklists, etc., there are still many plagued by scourge of telemarketers and scams. While there have been some motions to create more proactive solutions, Do Not Call Lists have proven to be effective. That being said, Indiana's latest list comes in response to a number of residents' complaints. Since the beginning of the year, Indiana's Attorney General's office has received and recorded upwards of 5,000 complaints from residents who received telemarketing calls from a live operator or prerecorded message. That being said, most of these calls were schemes devised to collect consumers' personal information or their funds.
In addition to reducing the number of telemarketing calls, the Do Not Call list looks to better inform residents as well. Attorney General Greg Zoeller states, "Illegitimate businesses and scammers skirt the law by trying to deceive consumers with phone sales pitches. That's why if you are on the Do Not Call list and receive a sales call or text message you can count on it being a scam."
Currently, the FCC offers a nationwide registry, the National Do Not Call Registry, which allows consumers to register their residential and wireless telephone numbers; however, it does not block all unwanted calls—i.e. calls from organizations one has established a business relationship with; calls that have prior written permission; calls which are not commercial or don't include unsolicited advertisements; and calls by or on behalf of tax-exempt non-profit organizations. While Indiana's No Call List defines similar functionality, there are also some companies that are exempt—i.e. charitable organizations (whose calls are made by volunteers or employees), newspapers (employees make phone calls), licensed insurance agents, and real estate agents. Additionally, unlike the FCC's registry, Indiana's list doesn't even allow companies that have business relationships to make sales calls unless the consumer has provided permission. While some may welcome this strictness, Indiana's No Call List rules are singular to state residents only. Inversely, the FCC's list is designed for nationwide use; therefore, it is able to cover both interstate and intrastate telemarketing calls. Indiana's Do Not Call List can be used in addition to the National directory.
Related Articles:
– FCC Chairman Calls for Gigabit Ethernet in 50 States by 2015
– California Senate Bill Prohibits Any State Level VoIP Regulation