New York City's semi-annual celebration of the culinary arts, better known as Restaurant Week, officially kicked off yesterday, July 22nd, and runs through to August 16th. That means that for a little less than a month some of the best NYC dining spots offer their menus at a fraction of their usual pricing. Sounds good, right? Each year, the culinary carnival includes a number of locations spread all across the city. While all locations are listed on the web, it can still prove challenging to find said places. As such, the prospect of attending any number of these locations can seem somewhat harrowing. Sure, the average NYC resident may know their way around the city, but what about those less familiar? To some, NYC can seem an impossible labyrinth; therefore, events such as this may seem intimidating as it's easy to get lost. Well, don't fret or fray, there's a new way to get places.
No, I'm not talking about subways or buses. I'm talking about Google's latest Maps application update on both Android and iPhone platforms. While some may see this update as the company's latest tinkering, Google's most recent update expands the Maps platform in a big way, offering a variety of new and extended functions and features. As always, the app runs off of a Wi-Fi or 4G/3G connection to determine your location. Typically, the app would work to navigate you to an endpoint based on that location; however, now it does far more. Amidst this update are three major additions: Explore, Enhanced Navigation, and Reviews & Offers. Though these amenities may not sound all that impressive, they make finding one's location much easier.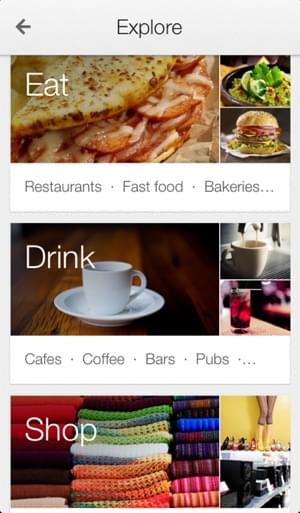 For example, the Explore feature allows users to visually browse new destinations without even having to type. Instead, users tap the search box where they'll see cards with different categories—i.e. places to eat, drink, sleep, and shop. Again, by accessing your location, the Explore feature helps users branch out to find specific locations as well as new places they may have missed or even overlooked. This is perfect for live events like Restaurant Week. The list of included restaurants can be found on the web. From here, users can see which locations they're closest to. Additionally, they can still use the app to find specific addresses. Furthermore, the Explore feature can augment spontaneity, too. Say you're out and about the city and looking for somewhere to eat. The Explore feature accesses what's closest to you and guides you there.
In regards to the Enhanced Navigation feature, the Maps app goes even further now. Previously the app detailed current traffic conditions. While this is still available, there are also two new features available. "You can now see reports of problems on the road that you can tap to see incident details. While on the road, Google Maps will also alert you if a better route becomes available and reroute you to your destination faster."
The city is always packed out, but during certain times (rush hour) and events (Restaurant Week, Comic Con, etc.), it can be almost impenetrable. This app extension can help you maneuver around as much as you need to. For example, say you have 8pm reservations, but you're stuck in traffic en route. The app feature can help lead you around traffic to get to your reservation on time. As such, this is perfect for both those familiar and unfamiliar with the city at large.
Last but not least is the new Reviews & Offers feature. This feature offers users other people's (friends and patrons) five star review rating system for various different locations—i.e. bars, restaurants, cafes, etc. In addition to this user based rating system, app users can also access expert opinions through lists and reviews curated by ZAGAT, a restaurant guide/ratings and review website. With this, users can view content specifically tailored. For example, there is "The Ultimate Guide to NYC Restaurant Week" list, which breaks down the event through various categories—i.e. "Top Restaurant Week Choices," "Best By Neighborhood," "Celebs Classics and Stylish Scenes," and many more.
UPDATE: Zagat reviews are currently available in Austin, Boston, Chicago, London, Los Angeles, New York, Philadelphia, San Francisco, and Washington DC. Though Google claims that reviews will soon be available in 50+ areas soon, it's not that comforting, especially considering that these reviews were available in more locations prior to this update.
Aside from these new features, Google has also expanded upon their Street View function—which, as the name suggests, gives users a street view of their destination, as well as much more. The app is also able to give views inside locations; therefore, users can get a feel for the location before arriving. This is great for special events as users can get a vibe for the atmosphere, dress code, etc. before arriving. More specifically, this is again great for events just like Restaurant Week.
With an expansive list of participating eateries, it can be hard to narrow your choices. The street view can help you browse inside and preview approximately 50% of participating restaurants, making your choice all the easier. While the app is available on all supported devices, the functionalities are specialized for tablet usage.
When it comes down to it, NYC is massive, thus so are the events spread across the city. It can be intimidating for many to venture to new locations and restaurants; however, it doesn't have to be. There are a number of restaurant and direction apps available; however, one should note that Google's Maps apps has a variety of features, all of which are well suited for helping you with and past your Restaurant Week experience. The Google Maps application update is available for all Android devices running Ice Cream Sandwich and Jelly Bean OS and all Apple devices supporting iOS6+.
Related Articles:
– Facebook vs. Google: Will Facebook's New 'Home' App Hurt Google?
– What Does Google's White Space Project Mean For You?