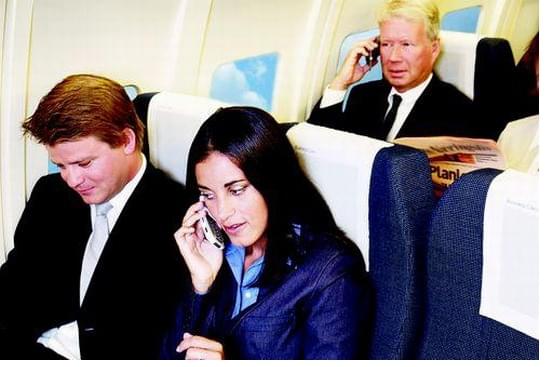 Making calls in-flight is still a major concern for most airline companies. The in-flight calling issue has created some buzz due to last month's incident on a Delta Air Lines flight.
Talmon Marco, the founder and CEO of Viber app which allows users to make VoIP calls, was en-route from New Orleans to New York when he made a VoIP call to his associate using his own app. He was approached by one of the flight attendants and asked to turn off his phone.
Marco turned off his phone and told the flight attendant that he placed his phone into flight mode and the call was made via VoIP. Since the plane offered Wi-Fi, it should have been okay for him to make a VoIP call. However, the flight attendant disagreed citing that the FAA prohibits in-flight calls. Marco stated, "She said this was a flight safety issue. That makes absolutely no sense because there's no difference between using Skype, Viber or watching a movie on YouTube."
Actually, there is no FAA restriction on VoIP calls but FAA recognized the fact that airlines prohibits VoIP calls because the airlines are "simply responding to the overwhelming majority of their customers, who prefer silent communications to the public nature of Voice-over-Internet-Protocol (VoIP) calls."
Meanwhile, British airline Virgin Atlantic offers in-flight calls to passengers flying from London to New York. Only six people are permitted to at once due to bandwidth and passengers still need to turn off their phones during take-off and landing.
Currently, the service is offered to the airline's A330 from London to New York. By the end of 2012, Virgin Atlantic would offer the service to at least 20 planes.
"Many people will have experienced that moment when you're about to take off on a 10-hour flight and you need to send an important message to the office, or even reminding a family member to feed the cat," Virgin Atlantic's chief operating officer Steve Griffiths said in the firm's press release. In the US, the FCC prohibits the use of mobile phones in a plane. So when the plane approaches the US airspace, the Virgin Atlantic passengers would not be allowed to make phone calls. So far, Virgin Atlantic is the first British airline that allows passengers to make in-flight calls. While, the Dubai-based airline Emirates is the first airline to allow such service.
Even though in-flight calling isn't yet a standard in the airline industry, it is just a matter of time wherein phone calls, VoIP services, and internet surfing will become a standard and easily available option on nearly most planes.