Today, Fonality announced availability of the anticipated third addition to the Fonality 5 Innovation Series in Fonaility Screen Share. With it, users may share documents or their desktop in real-time, creating an impromptu meeting place environment from virtually anywhere. The cloud-based tool will be generally available and is the perfect complement to businesses who often make use of sales demos, presentations, team collaboration, and more. Additionally, the feature eliminates the need for businesses to waste money on third-party software and solutions.
"Fonality delivers innovative features and solutions that help small businesses enhance productivity, communicate more efficiently and reduce costs," said Rick Bushell, Chief Technology Officer. "Fonality Screen Share brings another dimension to the communications experience our clients have with their customers and coworkers. This productivity-enhancing service provides a secure and easy way to collaborate and share information, without having to pay a premium for complicated stand-alone alternatives in the market."
Fonality Screen Share is fully integrated with the Fonality phone system, as well as Fonality Heads Up Display (HUD) and Fonality Web Client.  Users may launch Fonality Screen Share from the unified dashboard, and begin to share and interact on the go, recording audio if desired through integration with their Fonality phone system. Employee productivity and mobility are also improved through the new feature, allowing businesses to stay connected and able to collaborate at an advanced level.
"We have been using Fonality Screen Share to demo applications for potential customers and it's very easy to use," said Kevin Smith, President at eSmithIT, an IT and managed service provider for small businesses. "It's an extremely intuitive tool and a great way to transition a simple call into a collaborative meeting. Fonality Screen Share accelerates our sales process and helps close deals more quickly. It's also really great to have integrated into our Fonality HUD application because now we just have to click one button to start sharing."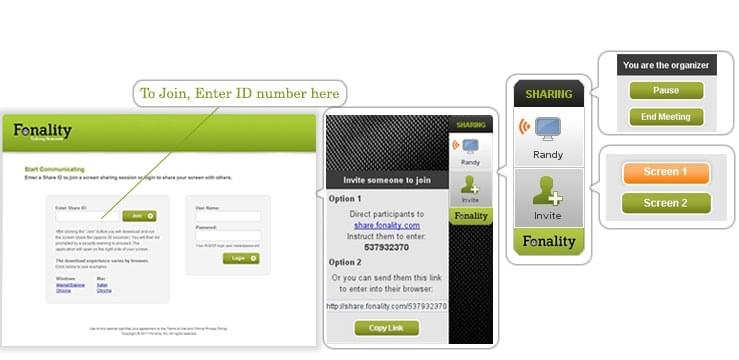 Fonality Screen Share is available for a 30-day free trial.  When combined with Fonality HUD and Fonality Web Client, Fonality Screen Share features include:
One-click to create a desktop sharing experience
Invite external guests using meeting IDs or meeting links
Invite internal guests automatically using Fonality chat
Secure streaming session
Switch presenters on-the-fly
Remote admin control over participants
Share keyboard and mouse controls
Unlimited number of meeting sessions
Up to 20 participants per meeting
Source: Fonality Release
Related News Articles:
– Fonality Reviews
– Former ShoreTel Cloud VP Assumes New Role at Fonality
– Fonality Testing New Web Client
– Fonality Expanding Roster of Retailers: Focusing on E-Commerce