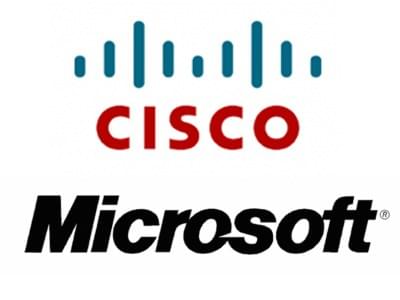 Nowadays, it seems Cisco is always on the move; however, with very public acquisitions, lawsuits, and employee layoffs, the company may not always have the brightest light shining on it. Now, it seems this may be changing. Despite various legal issues and public disputes, Cisco now looks to get back on track with the help of Microsoft. That being said, Cisco has announced an extension of its data center product line, which will utilize Microsoft's Cloud OS to create a variety of solutions hinged on both Cisco's Data Center and Microsoft's Fast Track infrastructures. In doing so, both providers stand to gain much.
Separate from one another, both Cisco and Microsoft have a lot to offer, but together their offerings can be a bit dense. Now, with this joint effort, users will benefit from condensed data center environments, which ultimately allow for easier management and improved operability. Integration is the ultimate aim of this joint effort. While both companies will likely benefit from this, users stand to gain the most, particularly Microsoft users. With this joining, Microsoft users will now have access to Cisco's Unified Computing System of servers, which combine networking, virtualization, and storage access into a single architecture. This is where both companies look to simplify management. In giving users better insight  to the workings of Cisco's Unified Data Center in relation with Windows Server and software, users are likely to gain better control over the platforms.
Cisco is going to great lengths to allow users to utilize their solutions along with other infrastructures. In doing so, the manufacturer will support Microsoft's Windows Server 2012 and its various softwares to allow users to better integrate their data center networks with their physical networks and cloud computing platforms. For example, Cisco will integrate UCS VM-FEX to bring VM to larger awareness. Additionally, Cisco states that "With UCS VM-FEX administrators can treat the physical and virtual elements of their networks as a single infrastructure for provisioning, configuration, management, monitoring, and troubleshooting." Aside from this, the manufacturer plans to integrate other capabilities to allow for more holistic integration—i.e. UCS Management Pack for 2012 SP1 Operations Manager, UCS UI Extension Add-in for System Center 2012 SP1, and more.
As stated above, Cisco has been involved in a number of acquisitions (amongst other things) as of late. While this is merely a joint offering, it does raise a faint question of both companies' future involvement with one another. Furthermore, this is not the first time the two companies have worked this closely, as a similar integration package was developed with Windows Server 8 less than 2 years ago. While a merger/acquisition seems highly unlikely on both fronts, past efforts at least humor the idea.
Related Articles:
– Router-Fight Weirdness: Cisco vs. West Virginia
– SimpleSignal Launches Microsoft Lync Integration