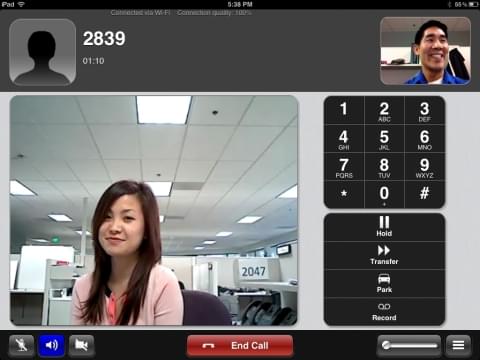 At the 2012 ITEXPO, in Austin, TX, leading business VoIP provider 8×8, Inc. announced new offerings for mobile PBX on Android and iOS devices. The new upgrade will be available immediately for iOS devices, and will be available for Android devices in the fourth quarter, 2012.
The platform, known as Virtual Office Mobile 4.0, takes the same benefits and feature set of 8×8's cloud-based Virtual Office Suite, and puts those features on a touch-screen GUI that is based around the small screen. Virtual Office Mobile 4.0 is designed specifically to take advantage of Apple's new Retina display and Android's similar high-resolution displays.
Virtual Office Mobile 4.0 is optimized for the unpredictable nature of Wi-Fi and 3G/4G/LTE hotspots. New audio codecs offer better compression algorythms to make the most out of even a spotty wireless connection. Users will also be able to test call quality before even connecting with the other party, saving both callers time and attention. Users will be able to record calls on the fly, keeping their hands free to hold the devices they are using. The devices will be connected to the user's extension, minimizing phone tag and maximizing availability.
8×8 Virtual Office Mobile 4.0 will allow users to access a number of PBX features and take advantage of Unified Communications and Collaborations tools on the go. Users will be able to see the status of co-workers, if they are on the phone, or in a meeting, virtual or otherwise; users will be able view incoming faxes; voicemails are in a scrollable list that is easy to see and makes it easy to delete old voicemails; calls can be parked virtually, then picked up on a desk phone.
Source: 8×8 Press Release
Related Articles:
– 8×8 Exhibit Takes Center Stage at ITExpo
– 8×8's Huw Rees Keynote on UC Adoption at ITExpo 2012
– 8×8 Secures Another New Contact/Call Center Patent