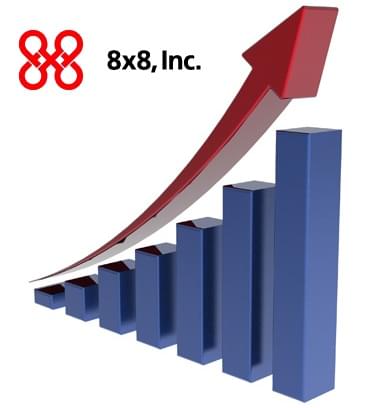 8×8, Inc., (NYSE:EGHT) announced its financial opening today for the first quarter of Q1 fiscal 2013, ending June 30, 2012. Ranked #1 hosted IP telephony and unified communications provider by Frost and Sullivan, the business VoIP provider has garnered a reputation for technological excellence and outstanding reliability, backed by a commitment to exceptional customer service. Highlights of the first quarter of 2013 as compared to last year in the same period of time are as follows:
1st Quarter of Fiscal Year
8×8, Inc., (​2012)
8×8, Inc., (​2011)
Total Revenue for Quarter
$25.3 million [

⇧

36%]
$18.5 million
Revenue from Business VoIP Customers

 $24.1 million [

⇧

46%]

$16.4 million

GAAP Net Income
$8.6 million [$0.12 per diluted share]
$1.9 million [$0.03 per diluted share]
Non-GAAP Income
$3.4 million [$0.05 per diluted share]
$1.9 million [$0.03 per diluted share]
Total Number of New Business Customers

29, 913 (

⇧

 

1,242)
28,671
Average Monthly Revenue Per Business Customer 

$250

$200

Average Number of Services Subscribed to Per Business Customer

10.1

8.4
Business Customer Churn

1.7%

2.1%

Total Cash at End of Quarter

$38.2 million

$18.9 million
Chairman & CEO of 8×8, Inc., Bryan Martin, commented on 8×8's success by adding, ""8×8's first quarter of fiscal 2013 was marked by some noteworthy accomplishments, including announcements of several mid-market customers, the monetization of a family of legacy patents and the achievement of a revenue milestone. We are now at an annual run rate of over $100 million. Additionally, we were very pleased to be ranked the number one hosted IP telephone and unified communications services provider by industry researvch firm Frost & Sullivan in its recently published report."
Martin, along with Director of Corporate Communications, Joan Citelli, and Dan Weinrich, Chief Financial Officer, also had forward-looking statements in an Earnings Conference Call yesterday. With a market share of 7.9%, Bryan Martin called 8×8 the "clear leader" in communications services for business, He continued by commenting on FCC data (noting an 8% adoption rate of telephony across businesses of all sizes) published in June, which implies more than 90% of the U.S. business market could be converted to cloud-based business communications services. This window of opportunity was one Martin embraced, commending the capability of 8×8's services to "empower these businesses to spend less time and money managing resources while elevating the business conversations between people and groups on any device from any network and from any location." Martin closed his statement by promising updates on 8×8's progress as the migration of businesses around the world to IP communications continues to proliferate.
The stage was then turned over to Dan Weinrich, Chief Financial Officer, who mentioned "aggressively" working to bring on new outbound calling vendors to reduce their overall direct costs for termination. Looking ahead, Weinrich expressed the hope of growing service margins to 80% over time. 8×8 will be relocating their headquarters from Sunnyvale to San Jose in August. The San Jose facility will be double the size, increasing operating expenses by approximately $1.2 from current real estate expense in Sunnyvale.
8×8, Inc, are continuing to secure their foothold in the industry by addressing issues such as customer churn rate (a.k.a. customer turnover, defection, etc) by emphasizing continued dedication to resolving customer issues "as quickly as possible" — 8×8, Inc., mentioned this facet as something that "always has room for improvement". The growing rate of demand for quality business VoIP is one Bryan Martin called "extremely attractive and easy to deliver for us", noting the vast number of locations they look to deliver their quality solutions for the remainder of the year and beyond.
For those seeking further and comprehensive details, 8×8 will be holding their annual meeting of shareholders July 24 at the company's HQ in Sunnyvale at 2 PM, PST. They will also be gracing the 15th Annual Oppenheimer Technology, Internet & Communications Conference in Boston, Massachussetts, on August 14th to deliver a presentation.
Source: MarketWatch
​See Also:
–8×8 Website Overview: Leading the Pack!
–8×8, Inc., Signing Up for the Phone Experience
–8×8, Inc. Announces Record Financial Earnings For Full-Fiscal Year 2012