Toll Free calling is one of the many tools for business that VoIP puts firmly in the reach of small and medium sized businesses. It begs the question, why pay extra for incoming calls at all? Receiving toll free calls are cheaper than ever with VoIP, and some business VoIP providers include free toll free minutes or have unlimited toll free extensions. Toll Free numbers can make even a one-man operation be on a level playing field with the largest corporations.
Some services are location-specific, like pool cleaning, or auto mechanics. Other services and products are not, like online tech support, or retail chains. Some businesses can benefit from not appearing limited to one geographic area. With VoIP, you can have multiple numbers, so you can have one foot in both doors. Home offices can benefit even more. Your 800 number can be set like any other number to find me/follow me to any phone.
VoIP subscribers can set their outgoing caller ID to have that 800 number. The 800 number is technically a virtual number that forwards to your phone, since 800 numbers cannot make outgoing calls. It used to be that you needed an expensive PBX system to set an outgoing caller ID, but with hosted PBX, as long as the toll free number is registered with your account, it can be set as your outgoing caller ID. Business VoIP providers either provide their own toll free numbers, or you can purchase a toll free number from a third party and port it over.
With literal "800" numbers being filled, the FCC has opened up new toll free numbers, 855, 866, 877, and 888. This opens up new possibilities for numbers, and vanity numbers. A vanity toll free number is a toll free number that spells out a word with the digits, so 8**- 436-8646 would be 8** Get-VoIP. Although the most obvious numbers are taken right away, it opens up new possibilities, especially if you are clever or have a unique business name.
Having a toll free number, whether it's a straight number or a vanity number, lends an air of prestige to small companies. When you combine that with the many other fortune 500 features of VoIP, like Auto-Attendant, and Music on Hold, it gives you a confidence in your small business that you can compete with the big boys.
How to Get a Toll Free Number
There are a number of providers that offer toll-free 800 numbers to businesses.  Any provider worth considering should come with high quality VoIP calling, instantaneous setup of the toll free number and texting.  Beyond those basics, the best provider for your business will depend on a number of factors, including your budget and what features you need.  Here's a breakdown of our favorite providers for toll free numbers!
1. RingCentral
RingCentral, a top leader in UCaaS, allows you to choose a toll free number with the 800 number prefix as well as 888, 877, 866, 855, and 844

Alternatively, if you already have a toll-free number from a different provider, you can import that number directly to RingCentral and keep your number while benefitting from RingCentral service.  Minute bundles range from 1,000 to 100,000.
What We Like: Businesses of all sizes will benefit from RingCentral's high-quality VoIP phone services. With features such as faxing, conferencing, screen sharing, and call logs, RingCentral offers businesses the tools they need to ensure toll-free numbers are not just easy to acquire, but also fit into an already-existing business strategy optimized for unified communications.
What's Lacking: Transparent pricing for minute bundles make it difficult to determine how much it would actually cost for their services, which could ultimately determine whether or not their service is right for a startup.
2. FreedomVoice
FreedomVoice is a veteran in the toll-free number industry, having been around since 1996. Their services come with a virtual attendant and a free mobile app. What's impressive about their website is that they take instant service seriously.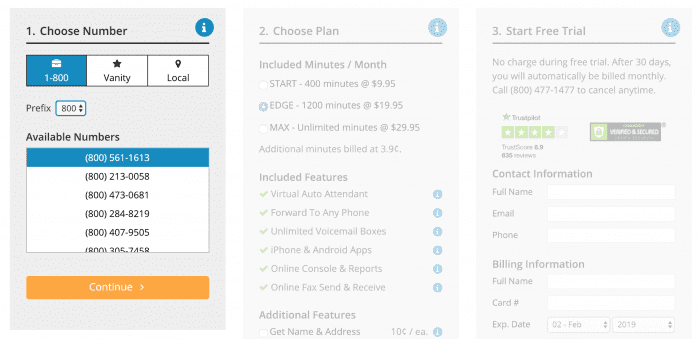 When you view their pricing, you're instantly brought to a simple page that outlines whether you want a local number, vanity number, or 800, 888, 877, 866, 855, 844, 833 number. When you're done with that, you pick the plan you want, which is minute-based. They also give you the option to get additional features such as "Get Name & Address," call recording, and random hold music.
What We Like: Ease of use in signing up is a top priority for this established company. They clearly outline three easy steps that anyone, regardless of experience, can follow. Their prices are very affordable, which make them a great option for startups and SMBs. The Mobile apps are especially useful for startups and side hustles where teams are on the move.
What's Lacking: Desk phones and softphones with CloudNumber plan make it hard for small businesses who want the complete package at an affordable price. An upgrade is required unless they already have the tools they need at their disposal.
3. Grasshopper
Grasshopper is the first toll-free number provider we're looking at that's actually built around making it easier for companies to acquire a business number. Their service is truly instant and allows businesses to look up potentially-available numbers right from their homepage.

Their service comes with multiple lines, the ability to text from a toll-free number, call forwarding, voicemail transcription, and no need to acquire any new hardware so you can use your cellphone if that's your preferred method of communication. Grasshopper partners with Jive to give users the ability to make calls from their desktop as well. According to their website Grasshopper has 877, 888, 866, and 855 toll-free numbers, and a limited supply of true 800 numbers. They also offer the new 833 prefix that makes it easier to choose a new toll-free or vanity number.
What We Like: Unlimited minutes for every available plan. Their standard price plan might not be affordable to startups, but they offer unlimited minutes, regardless of what plan you choose, which helps to alleviate the higher cost.
What's Lacking: No auto-attendant makes it harder for callers to find the right department or agent to speak to. If a company is looking to optimize the user experience, and they rely heavily on toll-free numbers, auto-assistants can really help.
4. MightyCall
MightyCall isn't dedicated to toll-free 800 numbers like Grasshopper, but they offer just as powerful of a solution. They're a business VoIP provider like Vonage and RingCentral, however, the first thing you do when you sign up for their service, as stated on their website, is to choose a toll-free number. This ensures your business has a dedicated, professional number for your leads and customers to reach.

Because they're a VoIP provider, their toll-free numbers come with the features found in a typical business VoIP solution, such as call forwarding to any device, call recording, VIP/blacklisting, call routing, and a mobile app to make/receive calls on-the-go. There's no hardware needed and users can port an existing number for free. To sign up instantly, all you have to do is click their sign up button, put in your location, select a plan, and choose how you're going to pay.
What We Like: Quality VoIP phone system features such as unlimited calling, call queues, visual call flow configuration, mobility, and call forwarding on any device make it easy for startups who want both high-quality toll-free number and VoIP services in one neat, affordable package.
What's Lacking: No pay-as-you-go option leaves startups in a tough spot regarding whether or not they should upgrade from the most basic plan to their standard plan.
5. 800.com
800.com, as a dedicated toll-free number service provider, might be a great choice for a small business or startup that needs a professional phone service right away.  Their entire platform, like Grasshopper, is built around setting businesses up with toll-free 800 numbers. Again, all you have to do is go right to their homepage and you'll find a search bar to see if the number you want is available. Underneath, they offer some options that you can purchase right away to make the process even faster.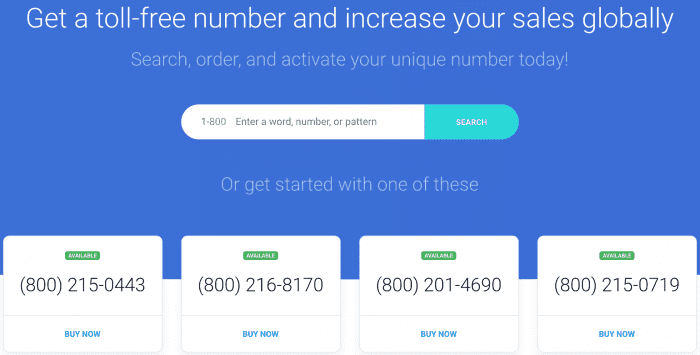 Many of the features offered by 800.com can be found on some of the best cloud phone systems' features lists.  For example, call forwarding, number parking, vanity numbers, an auto-attendant menu, and number porting. 800, 888, 877, 866, 855, 844, and 833 numbers are all available, giving users a wide variety of options to choose from, ensuring they can get the number they want instantly.
What We Like: 800.com has a very user-friendly website designed specifically for selling toll-free 800 numbers instantly. As you see in the picture above, they emphasize instant service by offering multiple available numbers and make it easy for businesses to make a purchase. Their middle plan is pricy, making their service a better option for small businesses. However, number parking allows businesses to only pay for when they use the service.
What's Lacking: No call recording or auto attendant. Prices are fairly high and there are cheaper options with more features out there.
6. CallHippo
CallHippo makes getting a toll-free 800 number instantly very easy by outlining how the user would go about getting one directly on their homepage. When you first visit their website, you see every step before you actually do it — from picking the country you're located in to choosing a monthly or yearly subscription. Users can pick from up to twenty countries around the world as well.

Multiple users can use the same toll-free number as well, making it easy for small businesses and startups to use CallHippo. CallHippo markets themselves on being accessible and it shows, from their transparent signup process to their calls-to-action on their website. They say, "Sign up now and start making and receiving calls in 3 minutes." Without this transparency, their CTAs would seem unrealistic, but for those who want a toll-free 800 number right now, CallHippo is a great option.
What We Like: Startups and small businesses with tight budgets. Businesses that either work in different countries or have customers overseas will benefit from the fact that numbers can be bought from 50-plus countries. Cheap prices and the ability to add multiple users make CallHippo an ideal choice for businesses with tight budgets.
What's Lacking: No call blocking or blacklisting makes it harder to filter out calls from spam numbers, which constantly seem to make their presence known.
7. Kall8
Kall8 allows visitors to their website to search for vanity numbers before they sign up.  You can also choose from a wide variety of 800 numbers that help the visitor go straight to checkout faster.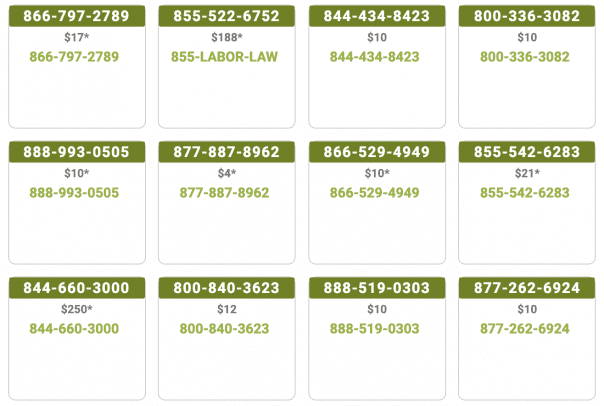 They're also a pay-as-you-go service, ensuring your company only pays for what it's using. That way, there's no pressure to commit to a plan that's way more or way less than you need. One feature that stands out with Kall8 is their online management, which allows users to keep track of certain call metrics and call history.
What We Like: Pay-as-you-go service; great for startups and businesses that don't want to lock themselves into a contract.
What's Lacking: No desktop or mobile app makes it hard for businesses who already implement VoIP phone solutions to use a toll-free number from Kall8 seamlessly. Pay-as-you-go can also add up quickly when scaling.
8. Phone.com
Phone.com allows businesses to work with any kind of device, such as softphones, traditional phones, mobile phones, and ring-ready IP phones. Their service also comes with HD talk and voice to ensure sound quality is professional and your business continues to give off a professional vibe regardless of size and how established you are.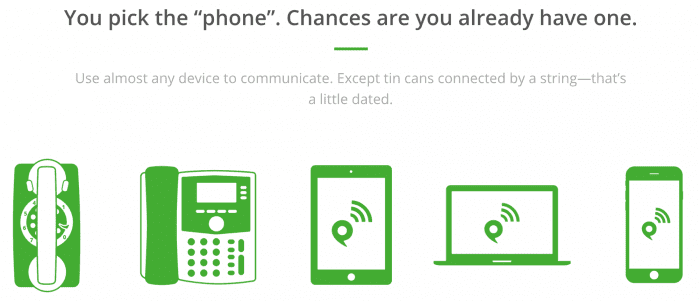 Phone.com includes features such as video conferencing and group messaging, which can be beneficial to anyone who's looking to optimize their business' omnichannel marketing/sales strategy.
What We Like: Sound and video quality for phones and video conferences help optimize the user experience. Their service works best for any company who's looking to implement omni-channel into their business strategy; however, their prices are extremely affordable, making them a great option for startups.
What's Lacking: No auto-attendant makes it difficult to optimize the customer experience because callers will have no idea who to speak to. Toll-free numbers are meant to give off a more-professional vibe. With that in mind, it's safe to say customers will expect your service to direct them to the right agent quickly with minimal hold times.
9. GoDaddy
GoDaddy has a service called SmartLine, which, again, is another instant way for businesses to acquire a toll-free 800 number. They interestingly lay out the price of their plans first, which we'd assume is an attempt at being as transparent as possible. As you scroll down, you learn more about how the service works, how your business can look more professional with a toll-free number, and how your business doesn't have to rely on any hardware to use their service.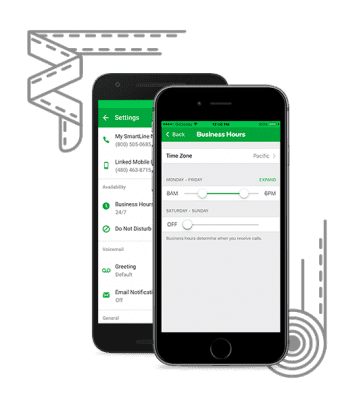 If you can spare five minutes, that's all it takes for your business to have its new toll-free number up and running with SmartLine. You simply pick a number and connect that number with their app, which is available on Android and Apple phones. According to their website, users can "make calls through the SmartLine app and your toll-free number shows on caller ID. This keeps your personal number private and trains customers to use your toll-free number instead."
What We Like: Mobility-driven and already-established businesses will benefit the most from GoDaddy's toll-free number service. Their app is user-friendly and allows businesses on-the-go to take calls wherever they are. They also don't have to ask customers to call their personal number, which could lead to issues between your work and personal life.
What's Lacking: GoDaddy is a bare-bones service that offers customers very little features that are standard with other providers. If all you're looking for is another source of 800 numbers, GoDaddy is a good choice, but be aware that you're paying the same amount as other providers for a lot less. This wouldn't be the best option for startups.
Price and Feature Comparison
| | | | | | | | | | | | |
| --- | --- | --- | --- | --- | --- | --- | --- | --- | --- | --- | --- |
| Provider | Price (Most popular/Standard Plan) | Call Forwarding | Call Blocking | Call Recording | VoIP Phone Services | Vanity Numbers | Auto-Attendant | Call Routing | Desktop/Mobile Apps | Texting | Shared Lines |
| | $34.99/user/month | Yes | Yes | Yes | Yes | Yes | Yes | Yes | Yes | Yes | Yes |
| | $19.95 | Yes | Yes | Yes | Yes | Yes | Yes | Yes, smart number routing | Yes | Yes | Yes, unlimited users |
| | $44/month, billed annually | Yes | No | No | Yes | Yes | No | Yes | Yes | Yes | No |
| | $49.99/month | Yes | Yes | Yes | Yes | Yes | Yes | Yes | Yes | Yes | No |
| | $49/month | Yes | Yes | No | No | Yes | Yes | Yes | No | Yes | No |
| | $15/month | Yes | No | Yes | Yes | Yes | Yes | Yes | Yes | Yes | Yes |
| | Pay-As-You-Go, starting at 6.9 cents/minute | Yes | Yes | Yes | Yes | Yes | No | No | No | Yes | No |
| | $19.99/month, $14.99/annually | Yes | Yes | Yes | Yes | Yes | No | Yes | Yes | Yes | Yes |
| | $19.99/month | No | No | No | No | No | No | No | Yes | Yes | Yes |
Businesses of all sizes benefit from toll-free numbers, but small businesses and startups, in particular, tend to benefit the most. Toll-free numbers and vanity numbers are used by marketing teams to make a business stand out and show leads how to contact them at the same time.
If increasing the number of calls your business receives is your goal, toll-free numbers are a great way to do so.
Additional Reading
The 8 Most Popular Business Phone Plans with Unlimited Calling, Text and Fax
Toll Free Number Roundup Comparison
9 Ways Your Business Can Get a Toll-Free 800 Number Instantly