SIP trunking allows companies to use a telephone PBX for sending and receiving calls over the Internet instead of the standard Public Switched Telephone Network (PSTN). Installing SIP trunking modifies a Private Branch Exchange (PBX) box so it gains VoIP capabilities. However, SIP can handle more than just voice calls, including text messages, images, and video calls, making it suitable as a step into a company investing in unified communications.
With 70% of customers saying that companies with connected processes are essential to winning their business, investing in SIP trunking solutions can't be ignored. That's why we've put together a guide for SIP trunking explained as part of modern business phone systems.
Jump to ↓
What is SIP Trunking?
Session Initiation Protocol (SIP) is a technology standard for performing multimedia communication sessions over IP (Internet Protocol) networks. SIP and VoIP are sometimes used interchangeably but they aren't the same thing. VoIP – Voice Over Internet Protocol – is a blanket term used to cover any voice calls taking place over the Internet. Voice over IP uses protocol technologies to achieve this and SIP is one protocol that enables VoIP.
Before SIP options became popular, voice calls were made with telephones over the Public Switched Telephone Network (PSTN), a network of copper phone lines. Again, SIP sends its signals over the Internet and SIP trunking works with a SIP-enabled PBX, eliminating the need for traditional telephone lines or the need to know what is PRI and its role in your network.
Whereas the term "trunk" traditionally refers to a physical line when discussing the copper line business phone system, SIP trunks are virtual phone lines that may occupy a certain amount of bandwidth on a data line. SIP relies on a packet switch network where calls are split into digital packets that are transmitted over the Internet. SIP trunks support SIP channels and a SIP channel is equal to one incoming or outgoing call.
SIP trunks can host an unlimited number of channels – whatever your business has the bandwidth for. Fortunately, they are sold in small unit quantities such as two SIP trunk lines at a time, which makes the implementation very flexible in terms of installation and ongoing cost compared to traditional phone providers which sell bundles of 23 lines.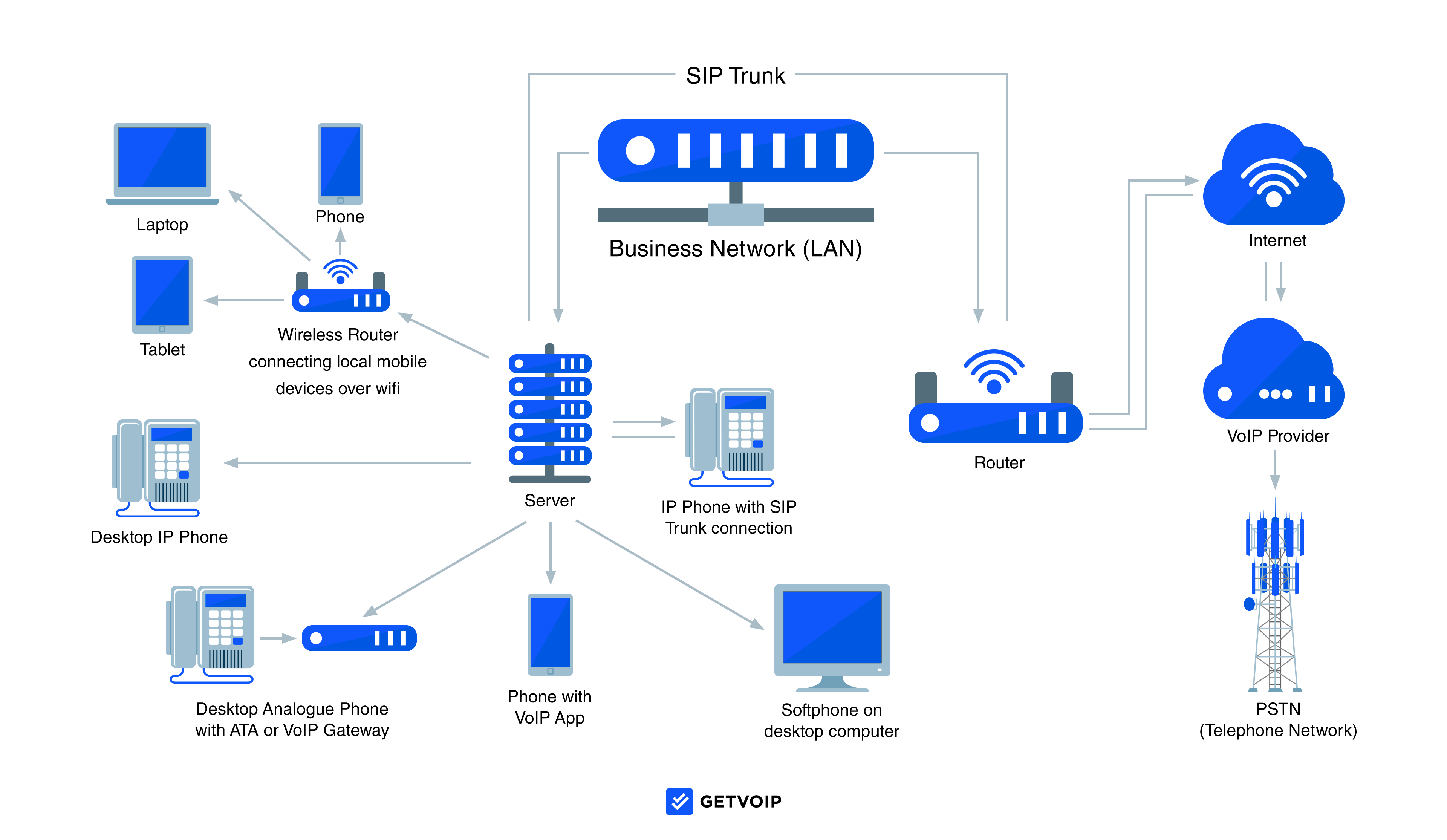 What are the Benefits of SIP Trunking?
One of the key benefits of SIP trunking is that the conventional public-switched telephone network is no longer required, thus eliminating standard per-minute fees and related charges from phone companies. VoIP is understood to be less expensive and SIP is a protocol that enables multimedia communication, making it attractive among businesses of all sizes who are pivoting away from the more expensive standard telephone networks.
SIP trunking helps reduce the cost of business communications while improving scalability, not least because SIP trunk lines (which are virtual and not physical connections) can be added gradually in units of one or two lines for instance, while traditional phone lines are sold in bundles of 23 because that's how many channels come in PRI wiring (23 voice channels that support 23 concurrent calls, and one data channel to support features like caller ID).
Using a unique SIP URI, phones can connect.
Along with being cheaper and easier to scale, SIP trunking may help reduce charges from toll-free and long-distance phone calls as they're being placed over the Internet and not on the wired phone network where those sorts of fees typically apply. Likewise, businesses can consolidate billing by having their data and voice services on a single IP network instead of being separate.

SIP trunking requires a secure, reliable Internet connection and a VoIP or PBX phone system that is SIP-compatible. The PBX can be an older analog model or newer virtual PBX but it must be IP/SIP compatible (may require an interface card known as a "gateway"). As a service, SIP trunking allows companies who have an on-premise PBX to gain cloud benefits. This option provides a blend of both worlds while simultaneously reducing costs and supporting future growth.
The Role of Codecs in SIP Trunking
There are standards for communication dictated via ISDN to ensure that data is properly sent and received by any internet telephony service provider. When communicating over SIP, codecs on your device convert the audio and/or video signals into compressed digital packets that can be sent over the Internet via a SIP client. Codecs vary by compression, such as:
G.711 – The same codec used by the PSTN network and provides great voice quality but also uses more bandwidth at 128kb/s for a call or 64kb/s for each direction.
G.729 – requires less bandwidth (8kb/s per direction) and while it has serviceable call quality, this is not the same fidelity as you'd get on the higher bitrate codec. 
Although SIP trunks will boost the number of data requirements from your ISP, cost savings come via reducing or eliminating your business phone bill. As a service, SIP trunking is offered by many networks, VoIP and hosted PBX providers who you may already be working with.
SIP trunking happens at the IP-PBX which is connected to a company's internal network and ultimately to the Internet through a service provider who will have access to the PSTN if necessary, so you can make calls to any number from anywhere. Many organizations already use VoIP phones on their local network, so this would be a natural step forward for them.
How SIP Trunking Works for Your Business
As your business grows and requires additional phone lines, your company will no longer have to add one phone number per line and will have more flexible pricing options that make SIP trunking both more scalable and more affordable than plain old telephone systems.
Here are some of the many benefits that a company can look forward to when adopting SIP versus standard phone lines:
Reduces costs
Unlimited local and long-distance calls to most of North America are often bundled in with the monthly fee.
Better rates regardless, particularly for international calls (huge savings here – 75% cheaper on SIP isn't unheard of).
Free calls between offices on the same VoIP system. Again, even bigger if you have offices located in multiple countries.
SIP providers allow you to purchase channels on-demand, adding new lines and numbers only as necessary.
It can be implemented over the cloud via WAN and as part of a unified communications (UC) platform.
Flexibility
PRI telephone access is sold in increments of 23 channels, which may lead to subscriptions with a far greater number of channels than a business requires.
PRI may take as long as a month to provision and install lines whereas SIP trunking can enable new channels in minutes or hours with no on-premise visit.
Enables hybrid phone systems such as SIP trunking embedded alongside traditional phone service.
Reliability
SIP trunks rely on broadband connections rather than on managed PSTN infrastructure so SIP trunking providers can enter geographic regions where they don't own and control the infrastructure.SIP trunking may offer failover to mobile phones in case of loss of office data connectivity.
Ideal for companies with multiple sites and remote workers.
Data redundancy improves with SIP trunking and VoIP.
Even More Benefits to SIP Trunking
It can be integrated with multi-media communications services for unified communication capabilities like video, instant messaging, conferencing, and presence.
Typically includes access to an admin portal for easy management.
May have a mobile-first design or at the very least include mobile features.
Likely has business continuity features.
How Does SIP Trunking Work Better Than PRIs?
For comparison, plain old PRI phone connections running over the PSTN network can only handle voice calls but also has a few benefits that revolve around the quality of service and dependability.
Here are some considerations for why you may want to keep your PRI-based setup: PRI doesn't rely on data bandwidth to make voice calls, which may be significant to you if a high bandwidth connection isn't available at your location.
PRI lines have high-quality audio while running on dedicated lines. While ISPs generally have great uptime, your business may find itself beholden to an Internet outage that prevents SIP calls.
PRI systems can also be made more redundant via the addition of a second PRI circuit for failover.
Less need for network security such as firewalls, which become more desirable with a solution such as SIP trunking.
But again, PRI is expensive to implement or upgrade, slow to scale or modify, and results in a costly phone bill every month that could be consolidated into your data connection. It's also worth noting that PRI solutions may require lengthy contracts and as we've mentioned already, you're stuck buying bundles of 23 lines instead of however many your company needs.
Further Considerations for SIP Trunking
SIP trunking doesn't require an extensive amount of equipment and you don't need to be a network engineer to deploy SIP at your business. That said, you do require three components: an Internet Telephone Service Provider (ITSP), a SIP-compatible PBX (may be analog or digital), and a SIP gateway or enterprise border element which controls the network between the ITSP and PBX.
It's also worth investing in a premium business-grade router with quality of service (QoS) features that can prioritize SIP or VoIP calls. Router traffic can be configured so that it places less of an emphasis on unimportant operations such as downloading a large file, which doesn't require as much of an uninterrupted real-time stream of data as holding a voice or video call.
The best SIP solutions offer voice quality that is on par with traditional landlines, but you may need to do some comparisons before you settle on a provider. Similarly, there are also varying degrees of quality when it comes to Internet Service Providers. Only Tier-1 carriers are connected directly to the backbone of the Internet for enabling the best possible call quality and reliability.
Depending on who you consult it's said that businesses require around 80Kb/s per line when making calls over the Internet and this may add up quickly if you require dozens of lines. Fiber optic and cable lines are your best bet but note that your upload speed may not be as fast as your quoted download rate and upload is required for outgoing data.
For the best call quality, you'll need a network backbone with minimal latency, low packet loss, and little jitter. It's also suggested that businesses only need enough SIP channels to handle the number of simultaneous calls that are required at once. So if an organization has 100 phone extensions, but only 20 people are on the phone at any given time, then only 20 SIP trunks are necessary to support standard call volume.
Take advantage of the many companies that offer a trial period for SIP trunking services to make sure their features work as advertised and more importantly, that their network can handle the number of calls you may have during the highest loads. It would be smart for instance to stress test the 100-line network by actually making it handle 100 calls. This is often when problems appear.
Best SIP Trunking Providers
Starts at $0.0065/min to send calls with regular numbers and $0.0025/min to receive them
Outbound Calling in 195 countries + Inbound in 70+
Direct, Tier 1 Carriers Connections Globally
Pay-as-you go Pricing – No Minimum Commitment
Tailored on a case-by-case basis
Fully Compliant Voice & SMS in 65+ High-Value Markets
Instant Global Coverage via a Single SIP Connection
One Contract, Flexible Pricing & Scaling Discounts
Starts at $0.0070/min to send and $0.0045/min to receive calls using local numbers
Instant Provisioning and Pay-as-you-go Pricing
Redundant Tier 1 Carrier Connections
Get Voice and SMS on The Same Phone Number
It starts as low as $9.97/mo for a plan metered at $0.0081/min – no contracts or setup fees.
One of the Highest User Reviews & Ratings
Nationwide coverage, Instant Number Provisioning
Geo-Redundant Servers, Automatic Failover
Standard pricing for metered trunks is $14.95 + $0.80 per min. Unlimited trunks are $24.95.
Unlimited Nationwide Calling
Keep Your Existing PBX System
Easy Setup – No Contracts
Does Your Business Need SIP Trunking?
Between the low upfront investment and potential ROI, SIP trunking has been popular among businesses as a useful transitional technology. It allows companies to begin benefiting from newer communication services while continuing to employ some of their older telecommunication infrastructure, such as PBX boxes.
Companies wondering "what is SIP trunking going to save us?" are in for a pleasant surprise.
According to statistics released in 2018 by Eastern Management Group, the number of North American businesses using SIP trunking amounts to 70%, while that figure jumps to 82% for Western Europe and somewhere in between those two for LATAM and APAC. That same report suggested that the SIP trunking market was valued at more than $14 billion in revenue, which was expected to reach $22 billion by 2024, or a growth of 25%.
Best use cases for implementing SIP trunking may include a more cost-effective system, especially when considering long-distance and outbound international calls, scaling small business communications by adding and removing lines, or a need for hosted, multi-channel cloud communications or unified communications.
Check out our guide to phone systems to make sure you're pairing your SIP solution with the perfect hardware.