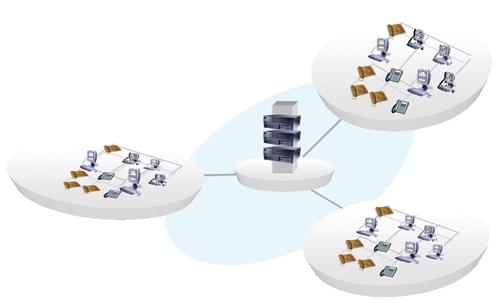 PBX is an acronym that stands for Private Branch Exchange. It refers to the telephone system's hardware where an incoming call is transferred, forwarded, or otherwise rerouted to another extension. Also, this service links the internal phones and connects them to the wider world. Previously, this hardware has been seen as bulky, resulting in awkward office storage; however, with current advances in technology, this hardware no longer needs a place on site. This shedding of dependence has led to the birth of the hosted PBX service.
The hosted PBX service is the same standard call routing service without the technicalities and on site hardware. Therefore, instead of hosting the service with hardware yourself, it is being done by another party. This slight change can make all the difference in terms of cost, service benefits, and system accessibility. In a hosted service, the system is managed externally, typically by a phone provider, while the standard PBX services are managed and delivered through the internet. Therefore, the process is simplified as the customer is longer involved with the technical hardware of these services and systems. Subsequently, the service becomes this: a customer places a call through the hosted PBX service. The call is then moved to their business location. Once the call reaches the business site, it is processed through their hardware, and then sent to the assigned phone extension(s).
As a result, the hosted PBX service offers a number of benefits, on top of the benefits already inherent in standard PBX services. Features such as routing calls, holds, transfers, multi-contacts from a single business number, call waiting, and call holding music are but a few examples. Additionally, features such as incoming call management, faxes, voicemail, conferences, call records, and automations come
standard with the service. While these features are present among standard services, hosted PBX services further expands upon them.
With a hosted PBX service, customers are still able to reap the benefits of the standard services without having to deal with the bulky technical hardware. In addition to the standard features listed above, there are a number of benefits to having another party host. For example, being that the service is hosted, there are no expensive costs for hardware. Also, since there is no purchase of hardware, there is no cost for hardware upgrades. As a result, the hosted PBX system is more affordable, and subsequently more readily available to small businesses and new clients.
The hosted PBX service allows for its customers to alleviate the stress of technicalities and hardware. In place of on-site handling, phone providers readily offer this service to customers, making for much smoother services.
Related:
– Hosted, Managed, and on-Premise PBX
– What is a Hybrid PBX Phone System?
– What is Cloud Hosted PBX?