In the past, business communications were tied to vast amounts of hardware; you needed an on-premise private branch exchange (PBX), servers, and you needed copper wiring and phones to receive calls. Now, with the advent of business VoIP and cloud telephony subscriptions, connecting with clients and colleagues is convenient and easy, and does not require any hardware or software. 
What is a Cloud-Based Phone System?
A cloud-based phone system is a phone system that uses Voice over IP and cloud-based PBX servers to connect your call over the internet.  
This brings with it several critical advantages. First, you won't require a dedicated IT team to manage a virtual server; the provider's teams manage the PBX solution, which includes upgrades, repairs, and maintenance. 
In addition, cloud phone systems are also device-agnostic.
To make calls, you'd use IP phones and/or softphones via the service providers' mobile app. Funnily enough, you don't actually require a traditional desk phone to use, which opens up possibilities for businesses with few IP phones and many computers.
All data going through a cloud system is stored there. This means that call recordings and voicemails are accessible anywhere. This is convenient for businesses with remote workforces, and having this kind of functionality is important in a post-COVID world. For example, with a cloud phone system, you can make changes to how your service works and how much service you'll need simply by logging into the control panel.
How Exactly Does a Cloud Phone System Work?
Cloud or virtual phone systems are powered entirely by voice over internet protocol. In a way, a system like this uses a very similar method to traditional phones for transmitting voice messages. PSTN landline phones convert audio into electrical signals that are sent over copper wires to the recipient. Rather than change audio signals into pure electricity, the systems break down the audio into data packets using codecs that are transmitted over the internet.
Phones on one of these systems differ significantly from traditional phones. A VoIP phone, rather than use an RJ11 traditional phone wire, actually uses an Ethernet cable to transmit directly through the internet. Internally, these phones are also often much more complex than traditional phones. VoIP phones are more like small computers than analog devices. 
Since cloud systems aren't limited to a specific location, an entire company with globally disparate offices can connect under the same service. Many providers allow for free extension calling within the same network, which is useful for collaboration.
Service Reliability and Uptime Guarantee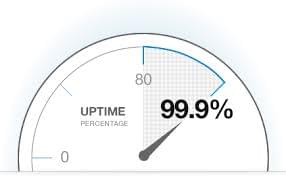 Most providers guarantee that you have communications continuity. This is because most providers have uptime service level agreements (SLAs) that guarantee a certain percentage of service availability. 
For example, most providers guarantee at least 99% uptime, but it's possible to find providers with 99.999% uptime guarantees as well. Don't see much of a difference? Here's a breakdown of how much an uptime guarantee matters:
99% Uptime: Per year, having service that is available 99% of the time could result in up to three full days without service for your business phone system.

99.9% Uptime: With a 99.9% uptime SLA, your provider guarantees service availability for all but about nine hours per year.

99.999% Uptime: With the legendary "five nines" guarantee, your SLA covers all but five minutes of downtime per year. This is VERY reliable, and several providers offer it.
So, how does your provider deliver on their uptime guarantees? One of the chief reasons that these services are able to provide reliability is through georedundancy. Providers like RingCentral, Mitel, and others have multiple global data centers that act as exchanges for your calls. When one goes down in one region, another will pick up the slack until repairs can be implemented or the crisis has ended. Additional systems that switch connections to cellular when the internet is lost help businesses continue to communicate.
Cloud-Based Phone Systems vs. Traditional Phone Systems
A cloud VoIP solution brings with it a unique experience that differs significantly from traditional PSTN landlines. But how does this system measure up against one of these older business communications systems? Let's take a look:
Traditional PSTN Phone System

Cloud Phone System

Hardware Requirements

Installed copper lines, phones, private branch exchange (PBX)

VoIP endpoints (phones, computers, smart devices), modems, routers

Scaling

This requires purchasing new licenses, lines and phones from the telecom carrier.

When you need new lines, adding them is easy through a modern provider. Typically, there's an "add line" section in the control panel.

Long Distance

Even long-distance requires extra charges thanks to the maintenance requirements of PSTN lines.

Most providers include unlimited calling in the U.S. and Canada. International long distance generally is also much cheaper.

Emergency Services

For PSTN, 911 services have been available for more than 50 years. Dispatchers send responders to the registered location of the phone line.

E911 services send responders to the location registered to the account via the provider's portal. Not every provider has emergency services.

Faxing

Traditional faxing converts scanned documents into an electric signal that's transmitted via phone lines.

Cloud-based faxing sends faxes over data networks.

Online fax is secure

, and there are fewer quality issues compared to traditional faxing.

Call Forwarding

Call forwarding typically comes as an extra feature for PSTN lines.

Many providers have this feature, and many take it to the next level with features like remote call forwarding.

Call Routing

Most call routing on PSTN is hardware-based.

VoIP providers make it a point to include call routing in most service plans. At base, you'll receive an auto-attendant, and some providers include IVRs with advanced routing features.

Sound Quality

PSTN is limited to voice band audio in an analog format. As a result, sound fidelity varies greatly based on several factors.

VoIP is less of a mixed bag. Sound quality is primarily affected by the internet connection, but factors like packet loss can also reduce fidelity.
Cloud-Based Phone System Features
So, why would a business need to implement a cloud communications system? There are several reasons that this technology is becoming more popular, but one of the main reasons that many businesses use this type of service is that it offers so many features. 
Some of the advanced features that you will find on a virtual phone system include:
International Calling
With a traditional phone system, making international calls requires you to pay extra charges based on the distance of the call. These long-distance fees are often added when a call is made outside of your local area, which includes other countries. With a virtual system, this type of call is much less expensive to make. In fact, some providers even have free international calling, which is ideal for businesses with offices or agents located outside of the United States who are looking for cost-saving solutions.
Forwarding Calls
This allows customers to contact a business using a single phone number, and then be forwarded to the department that they need with ease. Remote call forwarding also allows a company to forward calls to an office in another location or a cellular device using a VoIP control panel.  
You will be able to program incoming calls to ring at multiple locations so that agents can pick calls up when they are out of the office or on the go. Some providers call the ability to make call transfers to any phone Find Me/ Follow Me, Ring Anywhere, or Never Miss a Call.
Auto Attendants
An auto attendant is a valuable tool that businesses use to send callers to the right department before the call is connected to an agent. It will gather valuable information about the purpose of the call and determine the best place to send it. This navigation is designed to ensure that wait times are minimized, and agents spend less time transferring calls manually. In addition to transferring phone calls, these systems can be used for greeting customers or providing them with general information.
Instant Messaging
This text-based form of communication is essential for businesses to communicate with customers, but it's also an important method to contact co-workers. With a virtual systems, agents will be able to communicate and receive texts on their cell phones as well as on their desktop computers. This adds a touchpoint for customers to use that they may be more comfortable with using. It also will leave a reference that can be used in the future by customer support to refer back to the conversation at a later point.
Voice-to-Email
Voice-to-email is a tool that allows agents to use voicemail transcription and send their communication as an audio file through an email. The file does not need to be listened to through a voice mailbox. It can be accessed on several devices, like a desktop computer, a mobile phone, or a tablet. It will also be accessible until it is deleted.
Collaboration Tools
Cloud phone providers often include collaboration tools in their phone packages. These tools allow coworkers to share files via screen sharing and bring efficiency to the team when everyone is not in the same room. Audio and video conferencing is also a feature that many providers offer to bring teams together when working remotely is required. 
If a provider does not have a video conferencing option and you need it to collaborate with your team, there are several free video conferencing options that you can consider using. However, most will at least provide an audio conferencing option that will be useful.
CRM Integrations
Another vital feature to consider is CRM VoIP integration. Having the right integration options will allow agents to pull up information that is linked to a specific customer in real-time, which means that customer contact can be more personalized. 
Depending on what your company does, integrations like Salesforce, Zendesk, Microsoft Dynamics, and others can increase the team's efficiency. File sharing and calendar syncing is also a beneficial integration to consider so that collaborating tasks are more streamlined. Before you settle on a solution for your business, make sure that the provider has access to the integrations that are most commonly used by your business.
Pros and Cons of Cloud-Based Phone Systems
With this type of system, there are several benefits that you will be able to experience. A virtual PBX system will offer the following advantages when used by your business. Here's a quick glimpse of the pros and cons. Afterward, we'll break each down into a small section.
Pros

Cons

Scalability

Flexibility

Number Availability

Dependency on the Internet

911 Calling May be Limited

VoIP Security Vulnerabilities
Scalability
Businesses, even small businesses, experience periods of growth and shrinkage regularly, which is why the scalability of cloud systems is so advantageous. For example, you may know that during the Christmas season, you receive 200% more calls because of heightened product sales. For this reason, you need to hire more agents to answer phones. It's easy to scale up your calling capacity by merely calling your provider with this type of system. This may mean that you'll spend more on calling for that month, but when things return to normal, you can scale back again. 
This scaling affects dialing capacity, features, and extensions, and changes made by the provider go into effect in mere minutes. Compare this to traditional phone solutions where scaling requires more equipment, and you can see how this is a much more convenient option.
Flexibility
In a world where remote work is becoming the norm, businesses with at-home workers need to have a flexible communications system. Through cloud telephony, those forced to work from home have all of the tools they need to stay connected. For example, you can still route your calls to the receptionist staying at home. He or she merely uses their work computer to receive calls, and routing them to other remote workers is done with a few keystrokes.
This is also useful for workers who are just out in the field. All of the major providers have mobile apps that work for both Google Android and Apple iOS mobile devices. With features like remote call forwarding, they receive calls just like they were in the office. This is done via their personal device, but calls received on their professional cloud lines are kept separate so that voicemails, address books, and incoming business calls are partitioned to promote work/life balance.
Number Availability
Do you prefer to have your customers in distant markets reach you via a local number? Virtual numbers allow this, which not only saves your customers on long-distance fees but also gives the impression that you are local to the caller.
With virtual numbers, you can also create the appearance of a national presence by providing customers with toll-free 800 numbers to reach your brand. You can get a new virtual number from most providers in minutes.
Even though these phone systems have several benefits for a business, there are some drawbacks to be aware of. Some of the drawbacks to consider include:
Dependency on the Internet
If the connection is weak or goes down, then the entire phone system will go down as well. In most cases, providers offer a service level agreement of 99.99% or more, but that does not account for internet uptime. If you have an unreliable ISP, then you may need an upgrade to make sure that calls are no longer interrupted.
911 Calling Support May be Limited
First, not every provider has folded in support for E911 – you'll have to opt in to receive emergency service support. Secondly, since VoIP is so flexible, it's possible that telephone location information will be out-of-date. This will greatly affect the responsiveness of emergency services. For this reason, you'll need to be sure that the saved information for your devices is updated and is 100% accurate. 
Also, before committing to a provider, make sure to confirm whether or not E911 is available and what you need to do to activate it. Some providers, like RingCentral, will not allow you to use their service without first loading in location and business information into the E911 section of their control panel.
VoIP Security Vulnerabilities
When talking about VoIP security, there are always vulnerabilities that you will need to address. Since this is an internet-based service, the entire system could be susceptible to things like malware, hacking, and DDoS attacks, so you will need to take some steps to make sure that your network is secure. Check with your provider to see what security measures they have in place, but also have firewalls in place to keep unwanted users out of the system, and perform system updates frequently.
Cloud-Based Phone Systems are Becoming Essential
There's a reason why 68% of businesses have adopted cloud features. These systems are often cheaper and easier to manage. On average, cloud services save businesses anywhere between 30 and 50% compared to traditional phone packages. This makes this technology especially essential for SMBs that are trying to save money while remaining competitive.
Additionally, there is a multitude of pricing options available on the market. For example, while some may prefer a provider that has a blanket pricing structure for calls, some smaller businesses with reduced calling needs may want a pay-as-you-go provider. Fortunately, these are both readily available for those looking for a communications system. 
 Interested in a cloud phone system but don't know where to start? Begin by checking out our comprehensive reviews of the top cloud-hosted PBX providers.