Toll-free numbers boost your company's recognition and make your business appear more legitimate than when using a personal or standard business telephone number.
Many VoIP providers include a variety of local, international, vanity, and toll-free numbers with their business phone service plan.
Let's take a look at how toll-free numbers work, their benefits, which providers offer the best plans, and how to get a toll-free number for your business.
Compare toll-free numbers from
top providers
Jump to ↓
What is a Toll-Free Number?
A toll-free number is a business phone number beginning with a distinct three-digit code that customers can dial for free from anywhere in the world. The most common toll-free codes are 800, 888, 877, 866, 855, 844, and 833. The company that owns the toll-free number pays for all minutes and calls, while the caller pays nothing.
Companies use toll-free numbers to encourage customers to call for various use cases: customer service, to facilitate purchases, or to provide more information about a company.
How Does a Toll-Free Number Work?
Callers can dial toll-free numbers from anywhere in the world, on any device: mobile, landline, or internet-based VoIP. The toll-free number's owner pays for the call, with no expense for the caller even if it's a long-distance call from Canada or anywhere in the world.
(Note that the caller would be charged for a toll-free call if their mobile or VoIP service plan does not offer unlimited minutes.)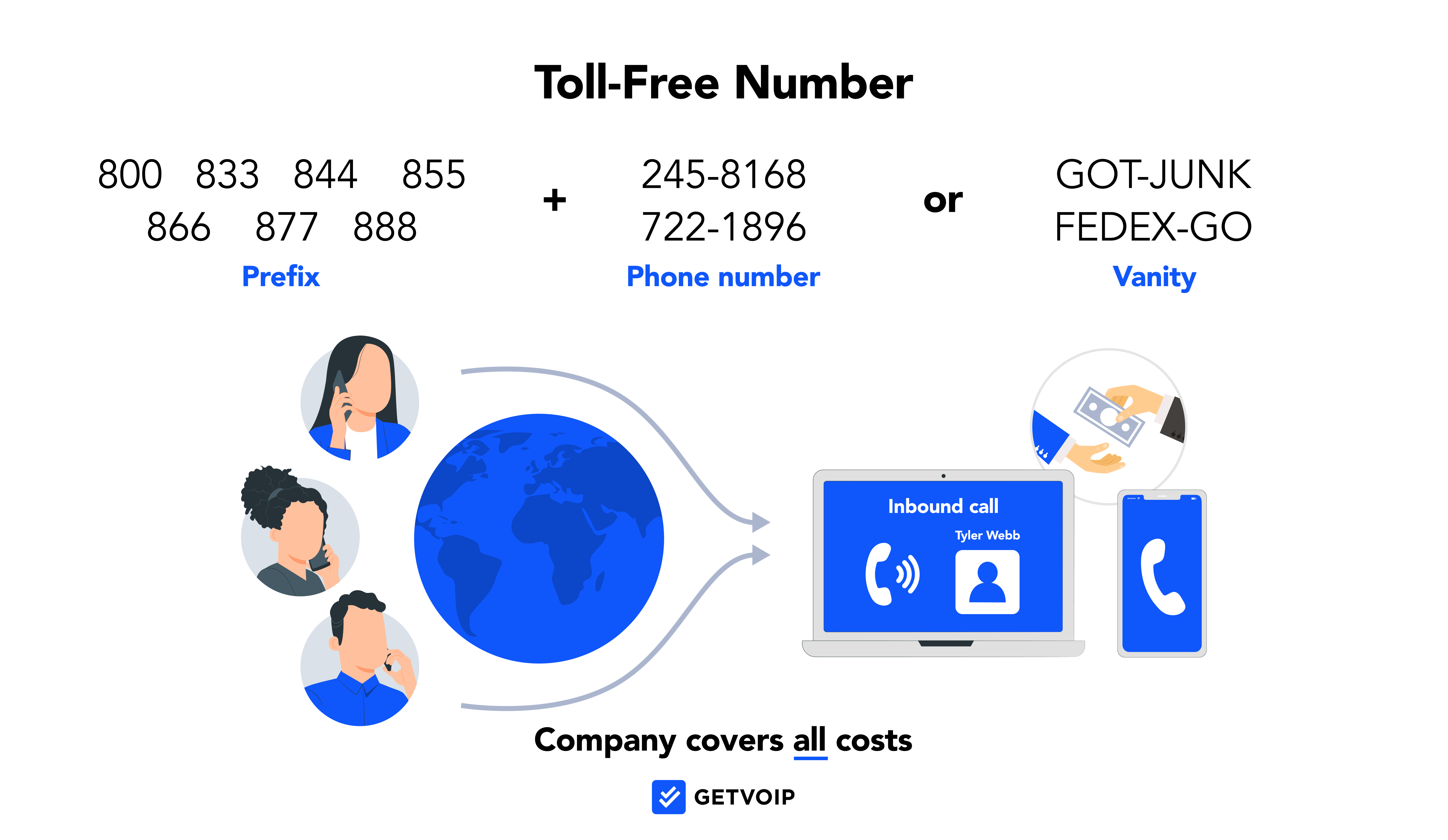 Customers can also send SMS texts to toll-free numbers if the toll-free numbers have been enabled to send and receive messages. Many toll-free service providers offer advanced calling features like call recording, IVR, call routing, call forwarding, and call queuing.
Benefits of Toll-Free Numbers
Here are the top benefits of using toll-free numbers for your business:
Added Legitimacy
Smaller businesses and startups benefit from the added legitimacy of using an 800 number, rather than a local number.
The professional tone of a toll-free prefix helps SMBs look as established as larger competitors and makes clients feel as though these small businesses have all the same resources that enterprise companies do.
Easy to Remember
Toll-free and vanity numbers are easy for customers to remember. For many people, the words "toll-free numbers" bring to mind jingles and memorized numbers from catchy commercials.
They stick in your head — and they'll stick in your customers' heads, too. Toll-free telephone numbers are easily recognized and remembered, which means that the next time a customer needs the services you offer, they'll call the number they know: yours.
Increased Branding
Toll-free numbers, particularly vanity numbers, are also great for branding. The most obvious example of a business marketing their vanity number is 1-800-FLOWERS.
Everyone knows what they sell based on the name, and everyone knows what number to call if they're interested in buying flowers. You're killing two birds with one stone by streamlining the customer journey and making it more user-friendly.
Free for Customers
Toll-free numbers encourage customers to call because they know it won't cost them anything.
This makes toll-free numbers a great option for actionable requests, like calling for more information or placing an order. Leads and customers who are on the fence about your product or service will feel more inclined to reach out to you since there's no financial risk.
How to Get a Toll-Free Number
Here's the general process for a business to get a toll-free number:
1. Decide on the toll-free number type and prefix
2. Contact your RespOrg to claim the toll-free number
3. Subscribe to the number from your provider
4. Use the number for calling or texting
5. Return the number when you no longer need it
Step 1: Decide on a Toll-Free Number Type and Prefix
When your business wants a toll-free number, you must first decide on the toll-free number's type and prefix. You may want a custom vanity number that spells your company's name or a relevant keyword.
Further, you may prefer the popular "800" prefix or may opt instead for one of the newer alternatives: 888, 877, 866, 855, 844, or 833.
While 800 codes are the most familiar, they've been around for a long time, and many of the most popular 800 vanity and toll-free numbers have already been assigned. The alternative prefixes have wider availability and may end up offering a more memorable and fitting toll-free number.
Step 2: Contact Your RespOrg to Claim the Toll-Free Number 
Companies seeking a toll-free number must subscribe to it through an approved RespOrg. A Resporg, or "Responsible Organization", is a company authorized to index numbers in the toll-free database and subscribe them to businesses. Most mobile, VoIP, and landline service providers are RespOrgs.
Contact your phone service provider to inquire about their RespOrg status and request your desired number. If they are an authorized RespOrg, you can either submit them a request for the desired number or select the number from their "Toll-Free Numbers" page. If your service provider is not a RespOrg, visit www.somos.com/find-a-toll-free-number for help finding a RespOrg and toll-free number.
Step 3: Subscribe to The Toll-Free Number from Your Provider
Once you've confirmed that your phone service provider is a RespOrg, it's time to subscribe to the number so you can begin using it.
With a VoIP phone system, selecting a toll-free DID number is easy: In the Admin dashboard, navigate to the User List, then Phone Numbers, Add Number, and finally Toll-Free Number or Vanity. The menu will display available options, or you can search for the particular number you want. Once you select a phone number, it's added to your account's monthly subscription and you're ready to assign it to a user.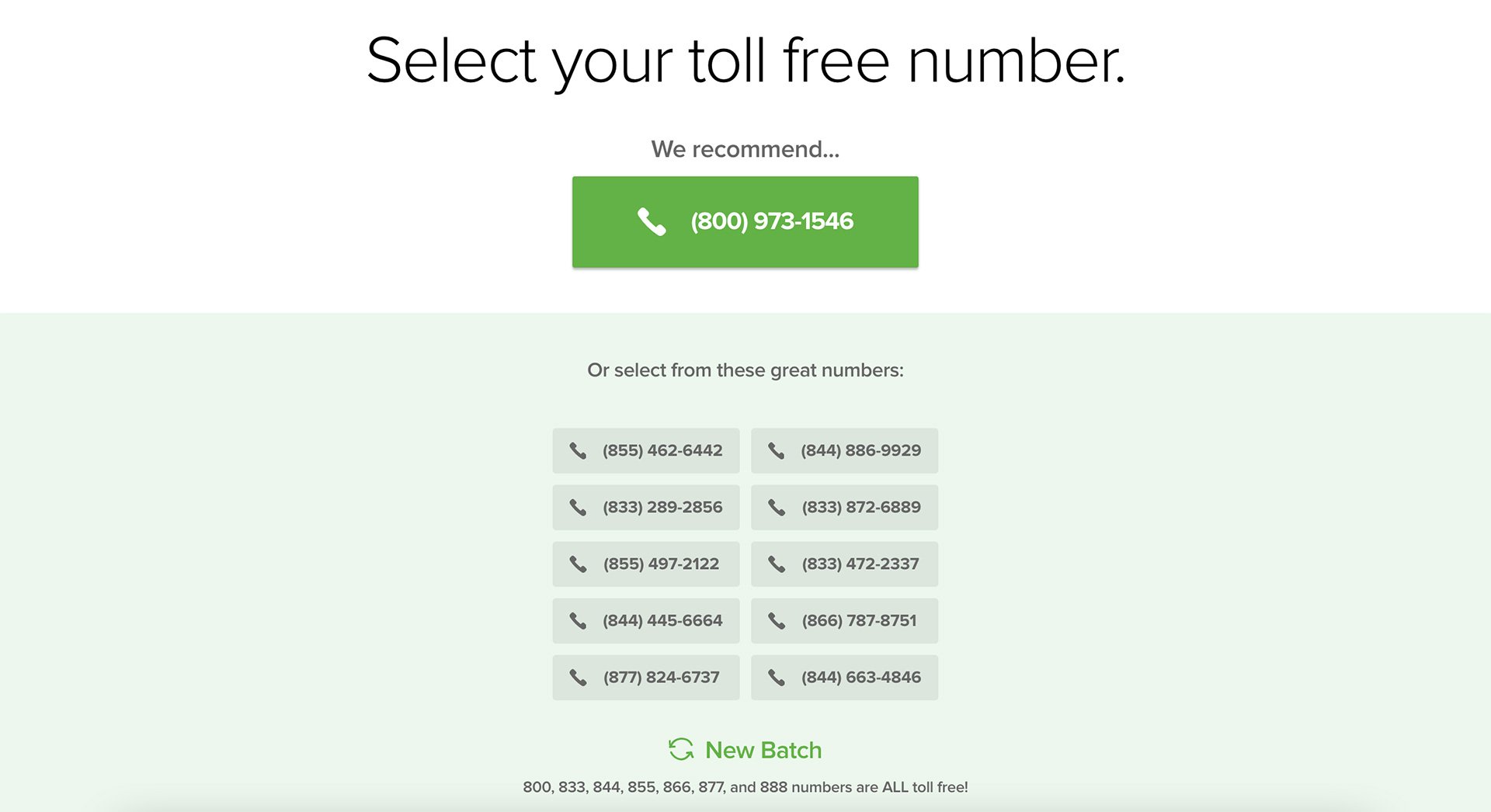 With a mobile or landline phone system, contact your provider to subscribe to the toll-free number: They may have an online menu to choose the number you want, or you may need to speak with a live representative to select and subscribe to a number.
Step 4: Use the Number for Calling and Texting
Once your provider has assigned you the toll-free number, you can immediately use it to make and receive calls. If it's text-enabled, you can also send and receive SMS texts. Set up the toll-free number to the same business functions you would with a regular number: voicemail, IVR, call forwarding, and more.
With a VoIP phone system, you can switch between virtual phone numbers on any internet-connected device, calling and texting from a mobile or computer. Call center and UCaaS agents can switch between other DID numbers and the toll-free number within one app, with advanced toll-free features like auto attendants, call queues, ACD, and intricate routing systems.
Mobile providers may need to send you a new SIM chip or device, while landline phone systems may require you to connect the new number by cable.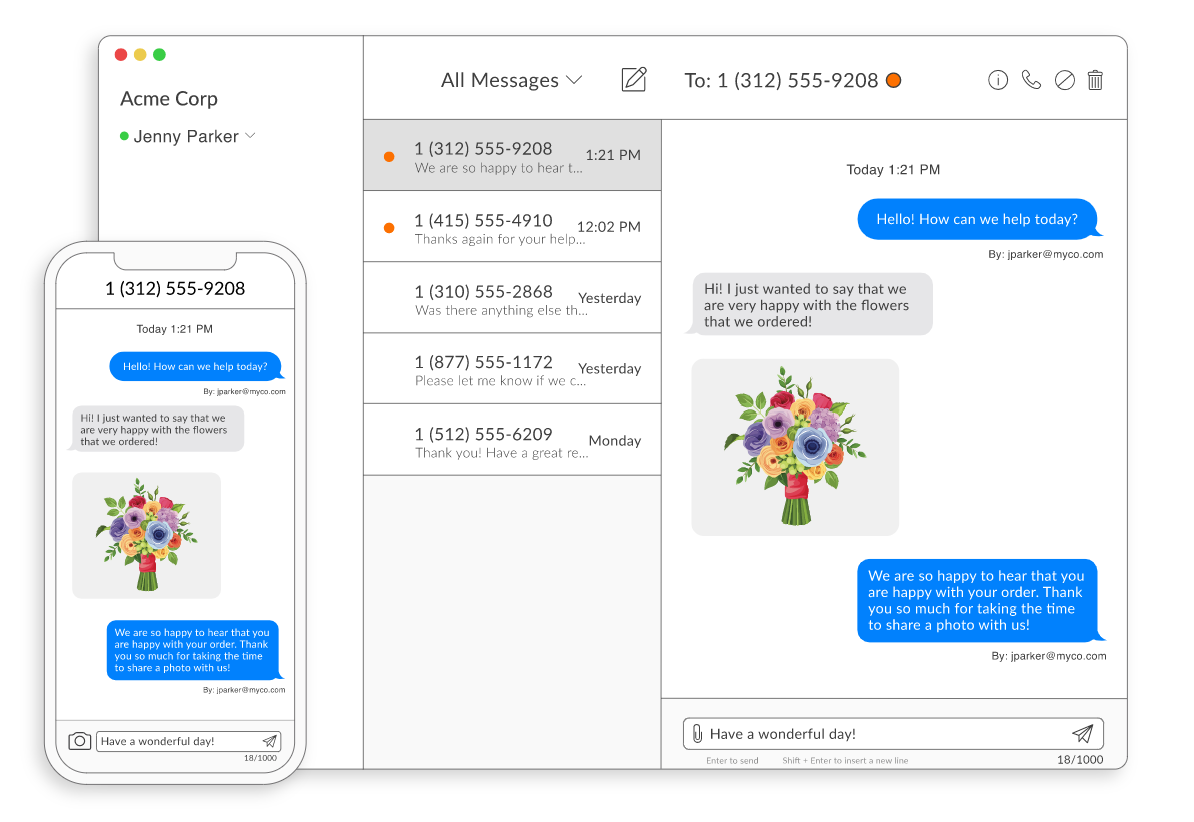 Step 5: Return the Toll-Free Number When You Don't Need It
Once subscribed to the toll-free number, it's yours. Use it for as long as you want–even decades.
If the time comes when you no longer need or want the VoIP number, notify your provider or cancel the subscription via the online portal. Your RespOrg will indicate the change in the toll-free database, and the number can be recycled for future users.
How Are Toll-Free Numbers Assigned?
The FCC distributes toll-free and vanity numbers to RespOrgs on a first-come-first-serve basis, to prevent companies from hoarding vanity numbers before they plan on using them.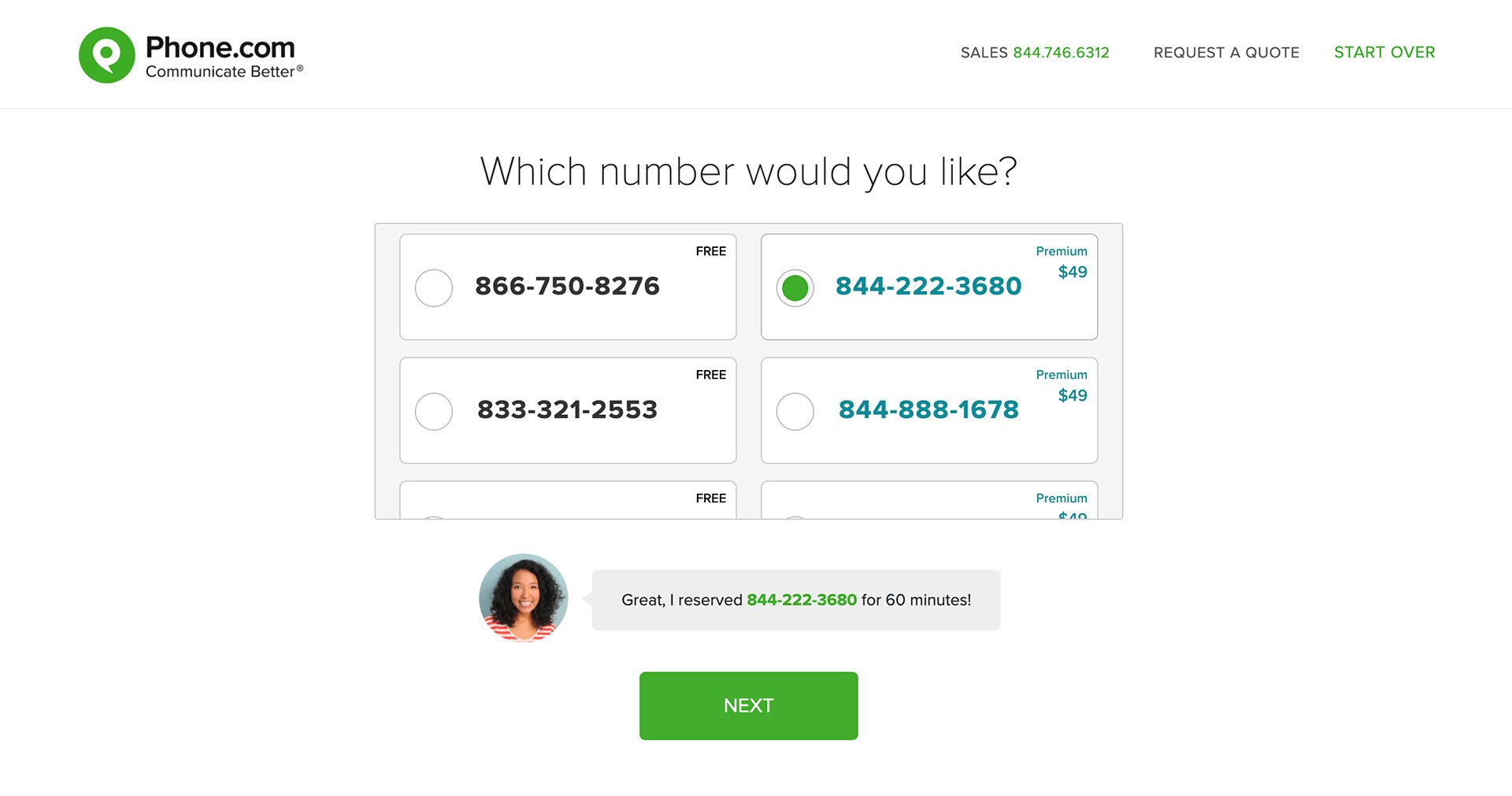 To ensure your toll-free number is approved, keep in mind the following tips:
Consider the new 833 toll-free prefix, and others toll-free codes like 888, 877, 866, 855, 844
Don't limit yourself to vanity numbers
Don't limit yourself to a true 800 number
Try alternate spellings of an already-taken vanity number
Use keywords your website ranks for
Use the pre-made suggestions some providers offer you
If your desired vanity number is too long, use an "overdial"–a number over 7 digits, such as 1-877-KARS-4-KIDS
Types of Toll-Free Numbers
All toll-free numbers share the same fundamental qualities: they begin with a toll-free prefix and incur charges for the owner, rather than the customer or caller. However, there are a few different types of toll-free numbers with slight variations. The types of toll-free numbers listed below overlap substantially in functionality.
Here are the primary types of toll-free numbers:
Standard Toll-Free Numbers
Vanity Numbers
Local Toll-Free Numbers
International Toll-Free Numbers
Virtual Toll-Free Numbers
Standard Toll-Free Numbers
The term "standard toll-free number" refers to any toll-free number that's not a vanity number. All the toll-free prefixes are standard toll-free numbers: 800, 888, 866, 855,844, and 833.
This means that aside from vanity numbers, all the "types" of toll-free numbers listed below are standard toll-free numbers. Standard toll-free numbers can be dialed from anywhere in the world, provided intentional callers dial the appropriate country code initially.
Vanity Numbers
A vanity number is a custom phone number that spells out a particular word or phrase. Typically used for branding and marketing, vanity numbers allow you to integrate relevant alphanumerics into your toll-free number.
Just like other toll-free numbers, vanity numbers can be dialed from anywhere in the world.
Popular vanity toll-free numbers:
1-877-KARS-4-KIDS
1-800-DOG-POOP
1-877-CASH-NOW
1-877-GOT-JUNK
Local Toll-Free Numbers
A local toll-free number is one that only provides toll-free service domestically, not for international calls. Callers within the same country can call local toll-free numbers at no cost. On the other hand, international callers who dial the local toll-free phone number will have to pay for the call just as they would when calling a regular international phone number.
International Toll-Free Numbers
International toll-free numbers are those that accept inbound calls from anywhere in the world and cover the full expense–including the increased costs associated with long-distance calling. Those calling an international toll-free number from another country are still required to dial the number's country code, such as "1" for North America or "86" for China.
A Universal International Freephone Number (UIFN) is a type of international toll-free number that uses "800" as the country code. Every user in the world can dial the same UIFN toll-free number, using the universal "800" country code rather than the country code for the company that owns the number. However, only 144 carriers and 67 countries participate in the UIFN program.
Virtual Toll-Free Numbers
Virtual toll-free numbers are those associated with a cloud phone system rather than linked by landline to a physical location. Like most virtual phone numbers, virtual toll-free numbers are usually part of a cloud-based VoIP phone system. Many VoIP service providers–like RingCentral and Dialpad–are RespOrgs who distribute and manage toll-free numbers for their subscribers.
Users make and receive calls–and many other features– using softphone functionality through a mobile or desktop app, often integrated with a call center (CCaaS) or unified communications (UCaaS) platform.
Cost of Toll-Free Numbers
While the exact costs of a toll-free number vary depending on your phone system and provider, a toll-free number generally costs between $10 and $20 monthly per user, per number.
VoIP phone systems require minimal hardware and setup, so adding toll-free numbers to a VoIP phone system is usually cheaper than adding a toll-free number to a landline system.
Here are the costs associated with adding and maintaining a VoIP phone number:
Subscription fee: Like with any phone number, you must pay your phone service provider a monthly subscription fee for all registered phone numbers. Most VoIP providers offer toll-free numbers as an add-on that can range between $5 and $20 per number–depending on the number's location and degree of customization.
Usage costs: A toll-free number requires that the owner covers all phone-service charges each call incurs. This can also sometimes include long-distance costs. While this cost is built into the monthly subscription for VoIP, it can be more costly on a landline phone system.
Setup costs: While virtual phone systems typically involve no setup, adding toll-free to a landline phone system may require you to add new phone jacks and purchase a new phone. This can cost several hundred dollars, depending on your phone system.
Who Should Use Toll-Free Numbers? 
While anyone can easily get and benefit from a toll-free business number, smaller businesses and startups looking to establish themselves and increase their credibility will find them especially helpful.
Toll-free numbers are also an effective marketing tool and offer customers and leads fast, memorable ways to connect with your company.
Remember, 1-800-FLOWERS believed in the power of toll-free numbers so much, they made them an integral part of their business model. They saw instant success, and even if you don't quite reach the same level they did,  you'll be surprised to see the positive impact toll-free numbers have on your business.
Overview of Top Toll-Free Number Providers
Use the table below to compare pricing and features of top toll-free telephone number providers.
Provider
Pricing
Key Features
Best For
RingCentral

3 plans from $20-$35 monthly per user
Toll-free add-on: $14.99 monthly per number
Vanity adds a $30 one-time fee

Each plan includes a local or toll-free number
Auto attendant
Call queues

Companies that want a toll-free number and collaborative features

Dialpad

3 plans from $15 to $25 monthly per user
Toll-free add-ons starting at $15 monthly per user

Call queueing
Team chat and file sharing
Collaborative video meetings

Small teams that want a collaborative UCaaS platform plus toll-free numbers

Grasshopper

3 plans from $28 to $80 monthly per user
Plans include from 1 to 5 phone numbers, with unlimited shared users and extensions

Texting
Voicemail transcription
Simultaneous call handling

Companies seeking basic call functionality only, whose users can share a handful of phone numbers

MightyCall

2 plans from $15 to $150 monthly per user, each including 2 toll-free or local numbers
$7.50 for each additional phone number

Call queues
Performance reports
Multi-level IVR

Companies seeking IVR and call queues with voice and text only–no other communication channels
800.com

3 paid plans from $25 to $127 monthly per user
Plans include from 1 to unlimited minutes, and 1 to 5 toll-free numbers:

Call recording
SMS texting
Analytics

Those seeking toll-free numbers only–no local numbers–with analytics
CallHippo

4 paid plans from free to $40 monthly per user

Number sharing between multiple users
Call recording
Power dialer

Affordable call-center software for outbound sales

Phone.com

3 plans from $11.99 to $23.99 monthly per user
$4.99 monthly for each additional toll-free number, with volume discounts

Texting
Voicemail transcription
Video conferencing with whiteboard

Companies seeking calling, SMS, and video conferencing–without team chat

FreedomVoice

3 plans from $9.95 monthly for 400 minutes to $29.95 monthly for unlimited minutes

Each plan includes a toll-free number
Text messaging
Call queues

Companies that want toll-free numbers only–no regular numbers–with call queue functionality

Kall8

Over 12 toll-free number plans starting $5 monthly per user

Call analytics
Conference calls
Custom call forwarding
Texting

Those seeking basic toll-free phone functionality with a pay-as-you-go pricing structure
Toll-Free Number FAQs
Here, we've answered some of the most common questions about toll-free business phone numbers.
You can have as many toll-free numbers as you like, though keep in mind that adding more toll-free numbers with your current provider usually costs between $5.00-$10.00 monthly per user.
Many businesses have separate toll-free numbers for:
Branch locations
Departments
Specific marketing campaigns
Specific products
Standalone toll-free number services usually charge between $10.00-$20.00/month per user for their services, while complete business VoIP providers cost an average of $25.00-$50.00 monthly per user.
Number brokering is the illegal process (prohibited by the FCC) of buying up popular toll-free numbers and selling them at an enormous profit.
Number porting is the process of moving your current toll-free number to another business phone system/number provider.
It should not cost any money to port your toll-free number to a new provider, but the process can take anywhere from 5-21 business days after you submit a Responsible Organization Change Authorization Form.
If you want to completely change your number, you'll need to cancel your current subscription with your provider, or cancel the number itself, and choose a new one. Note that it may remain active for a while even after cancellation.