In November 2020, video conferencing software giant Zoom announced new HIPAA-compliant features designed to improve communication for healthcare providers using the platform.
The revision of the tool's Business Associate Agreement (BAA) means customers with a Zoom for Healthcare license can now enjoy Zoom Phone, Zoom Chat, and cloud video recording.
The updates also give providers greater customization options without compromising regulatory standards.
New Additions to Zoom for Healthcare 
Zoom for Healthcare's added features offer improved communication across multiple channels for those providing in-person care, virtual telehealth appointments, connecting with other medical professionals, or training medical staff.
Users have complete control over which updated or standard features will be allowed on their network, and can disable any they don't need. (Disabled features can be re-enabled at any time.)
Below, we explore the new Zoom for Healthcare features and updates.
Zoom Phone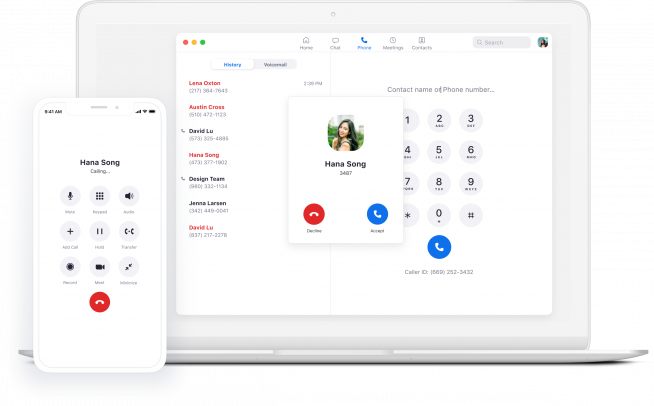 Zoom Phone is a VoIP telephone solution that helps healthcare providers keep pace with colleague and patient demands, which have grown exponentially during the Coronavirus pandemic.
The cloud PBX phone system and softphone work with Zoom for Healthcare's video conferencing and chat messaging capabilities for even more streamlined communication.
Advanced call routing with IVR auto-attendant features provides a higher level of patient self-service.
Callers are directed to relevant departments such as appointment scheduling/reception, prescription refills, nurses' stations, or their primary care physician's phone line. Simultaneous ringing, round-robin, and sequential call routing options are also available.
Zoom Phone users can transition to a Zoom web conference with a single click, while call flipping capabilities make it easy to switch between devices, including going from desktop to mobile, during a call.
Visual voicemail with automatic transcription means users can read their voice messages and save them to the EMR or HIT system. Voicemail transcriptions and notifications are delivered via email, as SMS text messaging for Zoom for Healthcare is currently still in Beta.
Additional Zoom Phone features include:
Android and Apple iOS smartphone apps
Number porting
Bring Your Own Carrier (BYOC)
Local or toll-free phone numbers
Automatic or manual audio call recording
Caller ID
Call history
Integrations with G Suite, Microsoft 365, and other third-party applications
Zoom Chat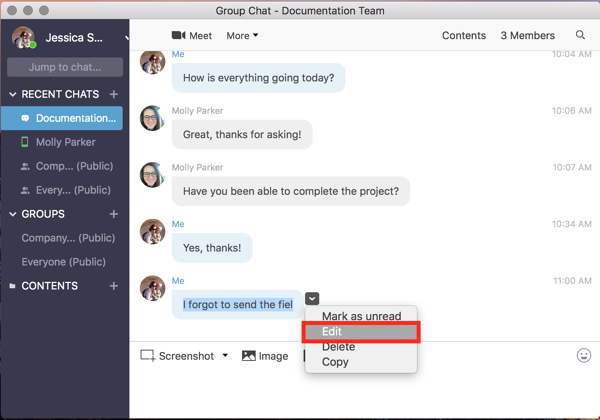 Zoom Chat is an instant messaging solution that works on desktop and mobile devices. It allows healthcare professionals to communicate with one another, the patient, or the patient's representatives in real-time during the appointment.
File sharing capabilities make sharing and reviewing medical charts, forms, uploaded x-rays, and more simple. The chat search bar helps users to locate any files uploaded earlier in the session quickly. Messages containing files or other essential information can be starred to make them easy to refer back to.
One-click video meetings mean patients and other healthcare professionals can review these files before a virtual appointment and receive an in-chat video call invitation.
Calendar integrations and user status updates let everyone know when attendees are all online and ready for the appointment to begin, and live customizable push notifications ensure no one misses important chat messages during the appointment.
Patients and any other external users do not need to have a paid Zoom account in order to attend a telehealth appointment and can access the appointment via an emailed meeting link.
Zoom Cloud Recording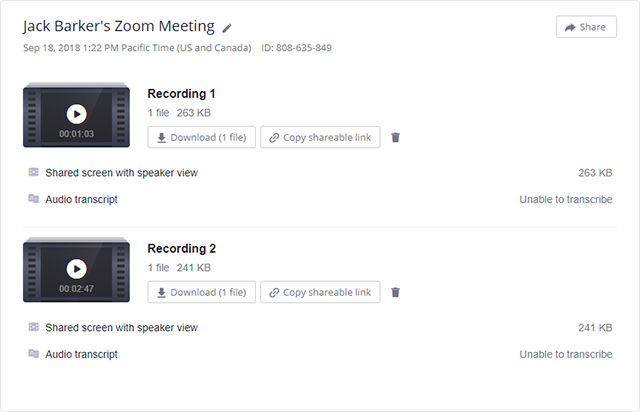 Though Zoom for Healthcare offered session recording in the past, clinical application recordings could be stored only on a local desktop, while non-clinical applications were stored in the cloud.
With the November 2020 update, however, clinical session recordings can now be stored in the cloud.
Instead of sending numerous files and back-and-forth emails, medical professionals can simply share complete session recordings with other members of a patient's care team. Doctors can also re-watch appointment highlights before future meetings or when re-evaluating treatment options.
Video, audio, and chat messages are included in the stored recordings, which can be either downloaded on a computer or streamed from an Internet browser. Up to 1 GB of cloud recording space is included in paid Zoom plans, and additional recording space can be purchased separately.
Privacy and Compliance
Zoom for Healthcare is PIPEDA, PHIPA, and HIPAA compliant.
Advanced chat encryption (AES) means that chat messages can only be read by the intended recipient.
Additional PHI protection and security features include:
Virtual patient waiting rooms
Meeting passcodes and meeting locks
Single Sign-On
Data archiving for up to 10 years
SOC 2 compliance
Multi-factor authentication
Get More Information On Zoom for Healthcare
In addition to the new features mentioned above, Zoom for Healthcare plans include:
Medical device integration
Far-end camera control
Integration with Epic EHR software, Haiku, Canto, MyChart, and more
Closed captioning and keyboard shortcuts
Screen sharing and screen annotation
As of this writing, complete Zoom for Healthcare pricing is not publicly listed on the website. However, Zoom states there are 1, 2, and 3-year HIPAA/PIPEDA compliant plans for up to 10 hosts starting at $200.00/month per account.
To learn more about Zoom video conferencing, and to read reviews written by current customers, click here.