To keep up with the rapidly-changing modern office, it's vital to be in constant communication with colleagues, clients and everyone in between. Traditional phone calls and emails don't always cut it anymore — vendors like OnSIP and Nextiva are the best way to meet these demands. 
Business VoIP is a modern phone service that utilizes an internet connection, as opposed to the traditional PSTN landline connection. This software allows users to achieve high-quality calls at a low cost. It elevates features offered by traditional phone providers. Users can expect benefits such as hosted PBX capabilities, softphone applications, auto attendant features, and more. 
This software can enhance the operations for businesses of any size. But before you make a purchase, it's vital to learn more about top providers, such as OnSIP and Nextiva.
Nextiva vs. OnSIP at a Glance:
Nextiva

OnSIP

Pricing

Plans start at $19.95/month/user

Plans start at

$18.95/month per user

Free Trial

30-day free trial

30-day free trial

Unlimited Calling and Messaging

✓

X

Video Conferencing

Available for up to 250 participants (only available between Nextiva users)

Available for up to 5 participants at a time

Toll-Free Numbers

✓

✓

Online Faxing

✓

X

Integrations

Integrates with more than 15 software platforms

Integrates with more than 5 software platforms

Voicemail Transcription

✓

✓

Support Options

Agents available to chat 7 days a week, with the ability to send a ticket after hours

Agents available to chat every week day, with the ability to send a ticket after hours

More Information

Nextiva.com

OnSIP.com
In this head-to-head showdown, we'll take a look at everything you need to know about OnSIP and Nextiva before making an informed decision.
Here are the sections we will cover in this article:
Nextiva Overview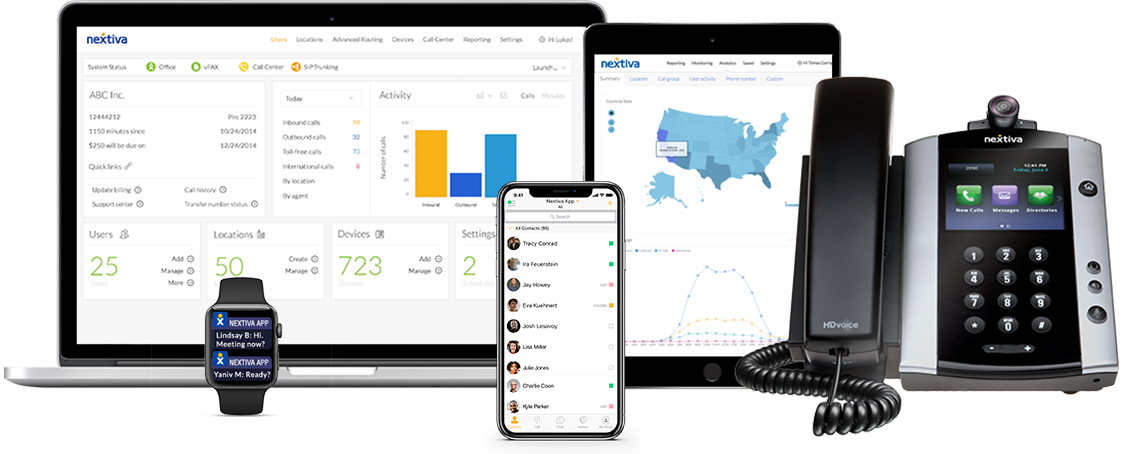 Nextiva is a unified communications solution that has been rated the best business phone in 2020 by U.S. News. The software solution is designed to ensure your phone system is as easy to use as possible. Their motto is that running a business is hard, but using your phone system shouldn't be. The platform boasts high-profile customers on their website, such as Taco Bell and YMCA.
The tool allows its customers to take their phone systems to the cloud. They offer solutions for VoIP, video, messaging, and fax capabilities. Its business communication suite provides everything users need for real-time communications with their customers and colleagues. The platform keeps its users organized and happy with a breadth of features that have customers up to 60% savings on their phone bills.
Top features include: 
Elevated business phone features with unlimited calling

Business analytics to reveal the insights necessary for growth 

Team video and messaging chat functionality to easily collaborate with colleagues

Multiple integrations to make the platform customizable for your specific use case

Call recording so you can look back on important calls
OnSIP Overview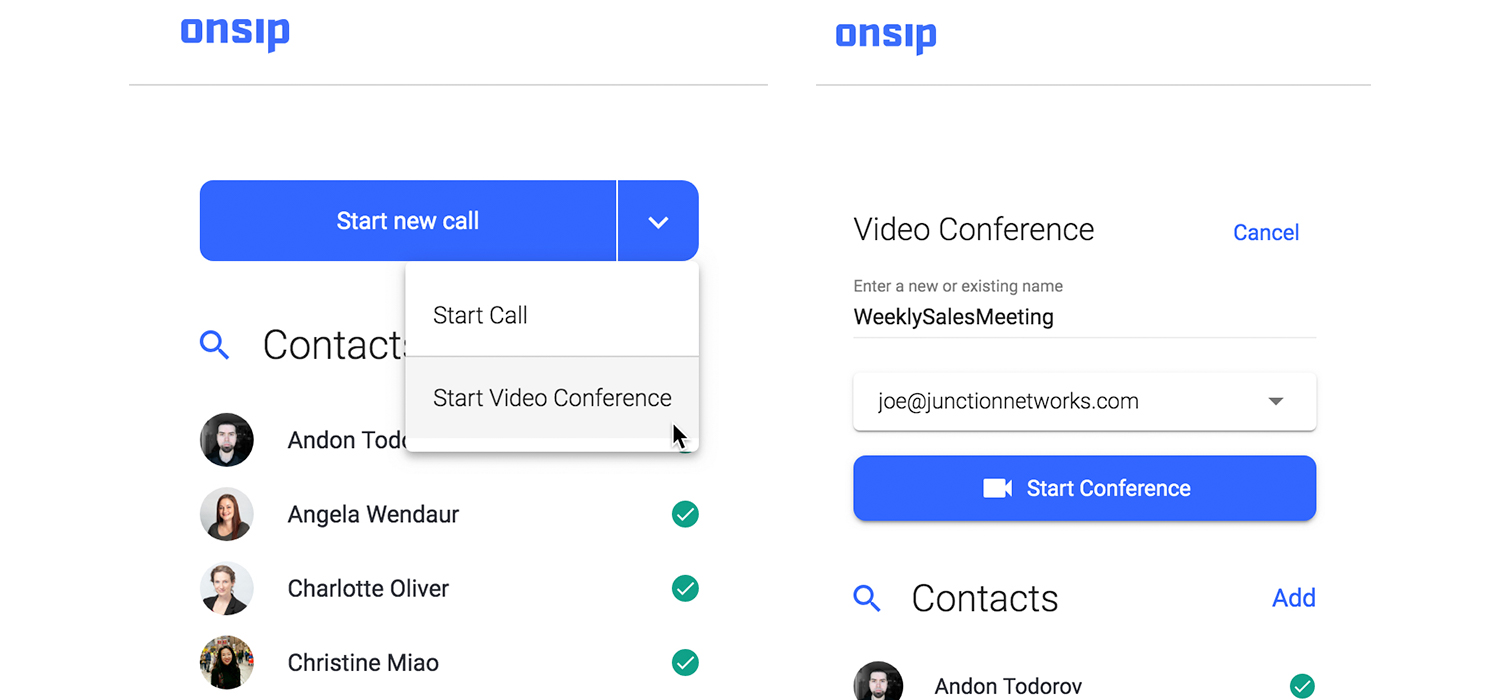 OnSIP is a software solution designed to replace your old phone system. As working from home continues to be more common for employees in 2020, the tool is designed to make working remotely easy and stress-free. The product ensures you can easily connect with customers and colleagues quickly for real-time communication services. 
The software solution's goal is to help its users communicate faster and more efficiently. This is offered through capabilities like calling on any device, video conferencing, and high-quality support. It brings users these capabilities under one unified product — a work phone anyone can take with them on the go. 
Top OnSIP features include:
Business phone basics like international calling and call groups 

Call center to provide the best support best for your customers

Collaboration tools such as video conferencing for up to five people

sayso website, voice and video chat

, to encourage and route inbound calls

Softphone apps to make and receive calls on your phone or laptop
PBX Feature Comparison 
OnSIP and Nextiva offer features similar to one another, but there are still notable differences in each. Here's a breakdown of what you can expect in each system.
Call Routing 
Nextiva and OnSIP handle calls routing in different ways. Nextiva offers multiple ways to route calls. The first is just the traditional routing option, in which a menu or a member of your team will simply direct customers to the right representative.
Nextiva also offers more advanced call routing options. The platform offers an auto attendant as a next step up from its basic phone routing option. This takes away the need for a live operator. Nextiva's auto attendant can work with multi-levels of your PBX system, which even includes sub-menus. 
If you're interested in a conversational AI-powered IVR, Nextiva will work with you to set this up as your call routing system. Instead of having your callers go through long menus, this software is intelligent enough to understand your customers' requests. 
OnSIP offers one option for call routing — auto attendants. Its general features are the same as Nextiva's offering. It's an impressive standard offering for call routing, as auto attendants provide more value to your customers than a basic call routing menu does.
Winner: With its conversational AI, Nextiva is once again the winner. This is a feature that can save your business money while offering human-level interactions. If it's within your budget, it's a must-have feature.
Call Management
If your company receives a high volume of calls each day, you'll need advanced call management features — Nextiva can offer that to you. This platform offers a breadth of features to ensure calls are handled smoothly and your customers don't have long wait times. 
Call queuing organizes your teams so they can handle calls accordingly as they come in. Thanks to Nextiva's call presence feature, operators can monitor the phone status of representatives to ensure that customers aren't sent to busy employees. You can also easily transfer calls with Nextiva's call transfer feature and utilize the call notify function to send notifications to employees when they have a specific type of call that comes in.
OnSIP provides basic features to manage your calls. The platform provides the option to put calls on hold and mute. You can also utilize functions like re-dial, speed dial, transfer, do not disturb, call waiting, call forwarding, and 3-way calling. OnSIP's feature set is ideal for smaller businesses that do not handle a lot of calls on a daily basis. 
Winner: Nextiva offers superior call management features. OnSIP can help you manage calls on a basic level, but Nextiva elevates that by offering features that also help to minimize customer wait time. 
Voicemail Transcription 
Since Nextiva and OnSIP's core functionalities are related to phone services, voicemail is an important complementary feature. Each offers its own version of a voicemail transcription tool.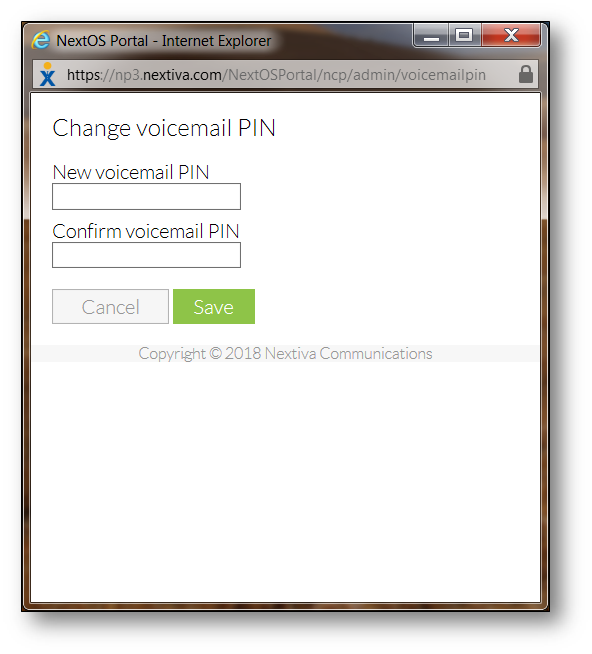 Nextiva offers voicemail-to-text for its users. Your voicemails are converted into SMS texts through natural language processing (NLP). NLP offers a high level of accuracy so that your messages are transcribed without error. This feature provides a number of benefits to its users, chief among them is the ability to transform your voicemails into a physical note. That way, you will be able to share messages and always have a record of important calls.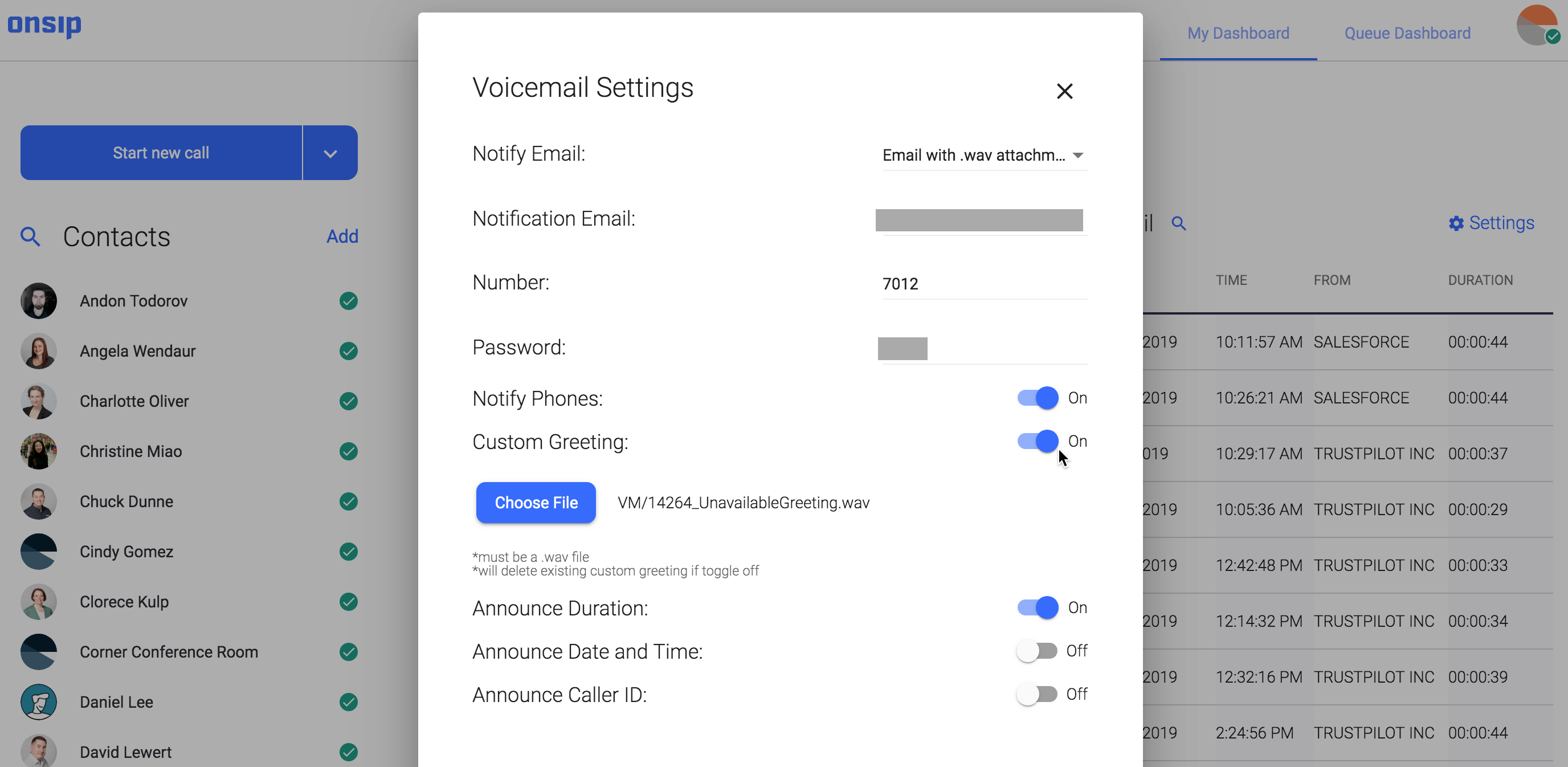 OnSIP also offers its own version of the same service. The platform sends your voicemails as .wav files to any email inbox you'd like. This is a function that can be configured in OnSIP's admin portal. OnSIP can also be integrated with PhoneTag, which has recently been acquired by YouMail, in order to offer voicemail transcription.
Winner: Nextiva just slightly edges out OnSIP here. Each platform's functionality is virtually similar, but Nextiva's NLP-powered voicemail-to-text makes it superior. 
Text Messaging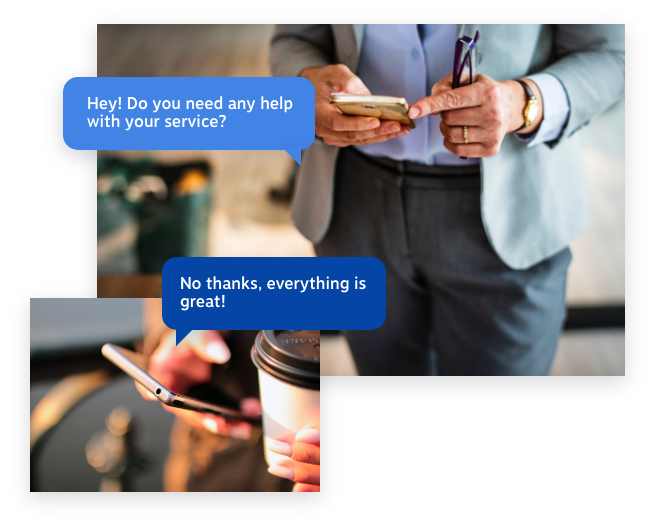 Phone calls aren't always the most viable and convenient way to get ahold of your customers and colleagues. Nextiva offers texting features in addition to their business phone, so you can reach customers through communication channels they feel comfortable with.
Nextiva's business text messaging capability allows you to send and receive unlimited text messages from your business phone number, as opposed to your personal cell phone. You even have the option to get a new local or toll-free number to use specifically for text messaging purposes. These messages are sent to and from the Nextiva app and can be done from the desktop or mobile app.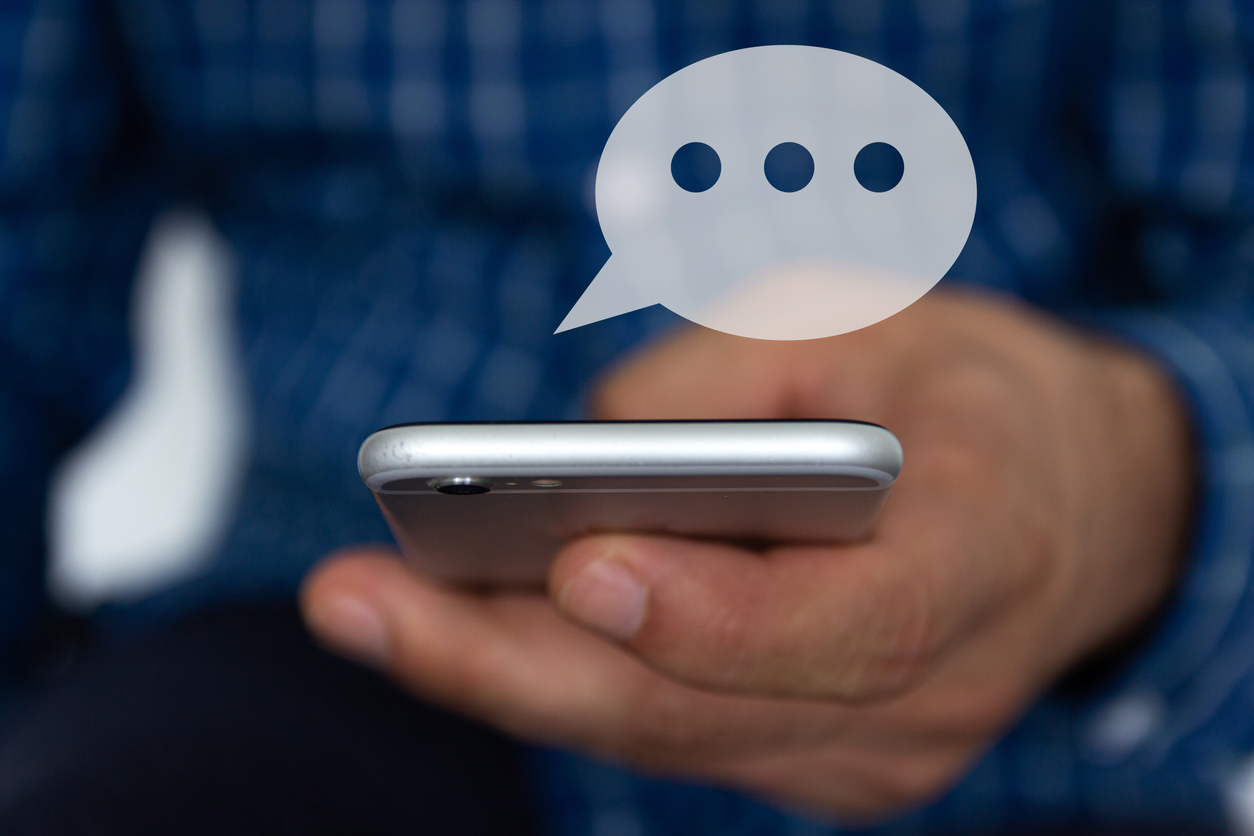 OnSIP doesn't offer its own SMS texting option, but you can integrate the platform with a third-party SMS carrier. The best bet for integrating a third-party SMS is to go with a VoIP-specific SMS app. 
Winner: While both platforms technically allow for business text messaging, Nextiva comes out on top here, since the feature doesn't require an additional integration. 
Mobile Application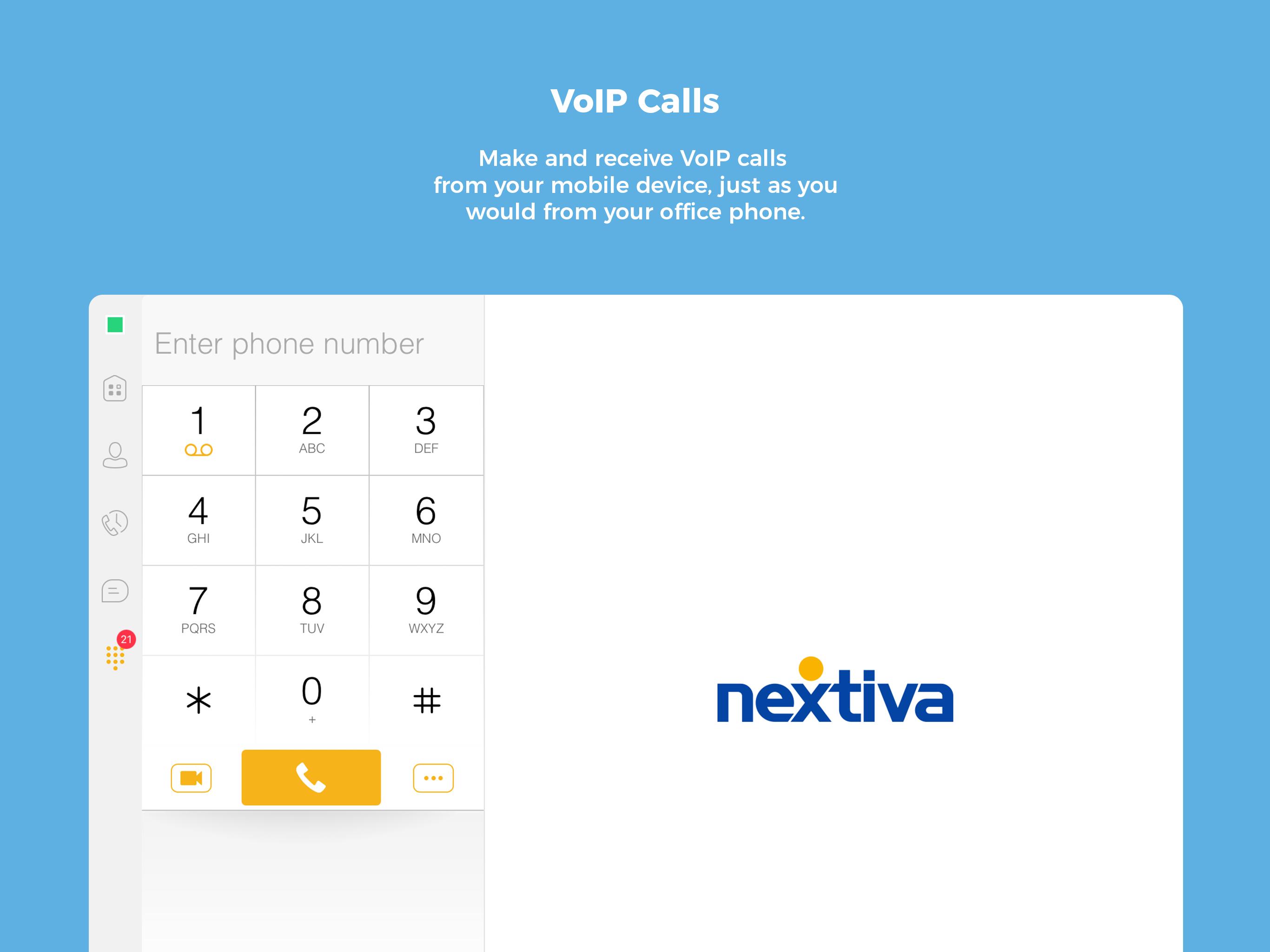 Many of Nextiva's core functions offered on its desktop app are also available on its mobile app. You can access all of your contacts and connect with them through a call, conference, chat or video. Users can even share screens during these conversations on the app. 
Nextiva's app allows you to seamlessly toggle between your desktop and mobile app. That connection means that your conversations live together in the same app. So if you begin a call on your mobile phone, you can easily pick it up on the desktop app.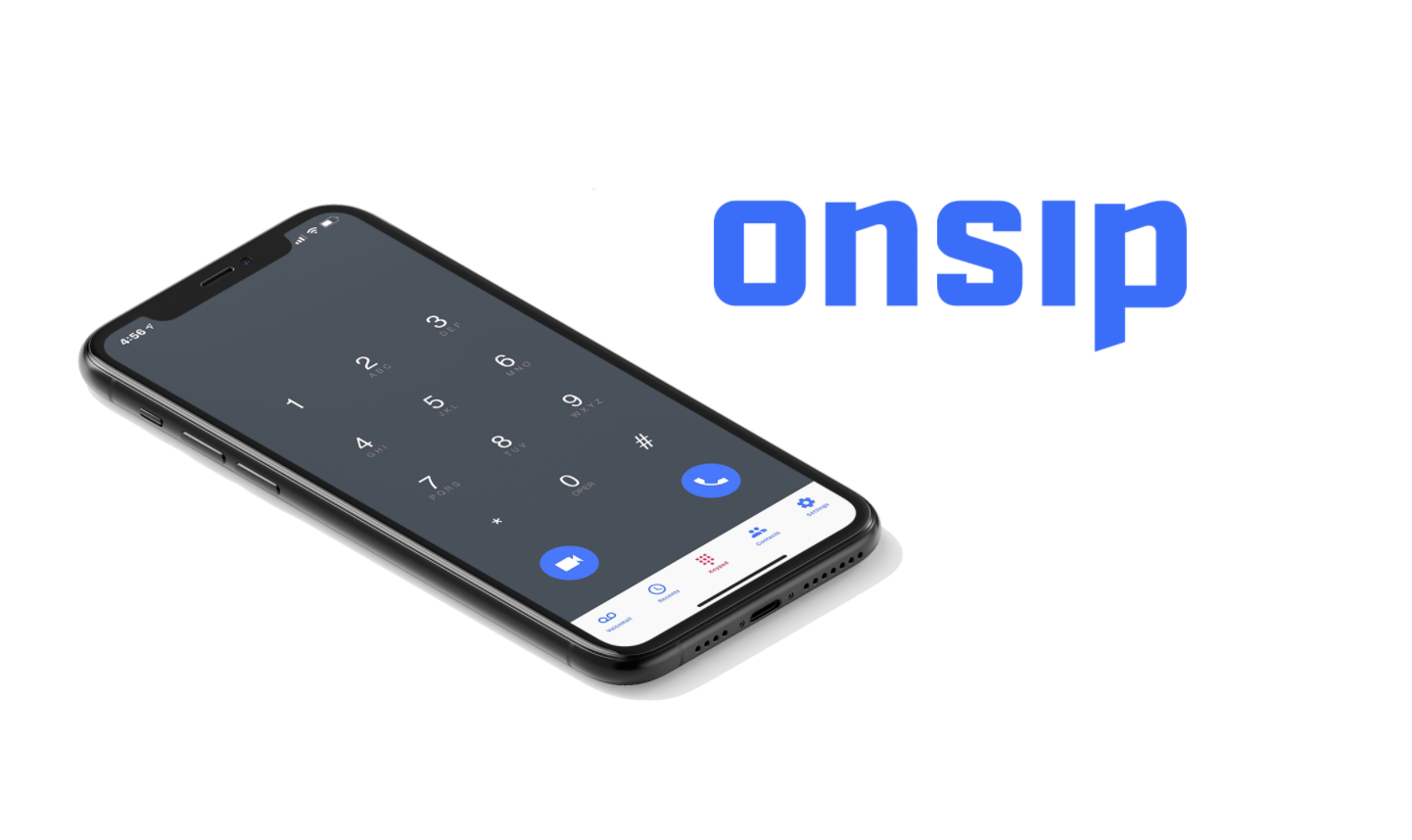 OnSIP's mobile app gives you access to your inbound and outbound calls, along with your voicemail. You can access your contacts through the app and mark those you frequently call as a favorite. Icons next to their name will indicate if they're logged onto the app and available for video calls.
The OnSIP app also allows you to easily manage your voicemails. You can receive voicemail-to-email attachments, along with being able to access information on previous calls and voicemails. 
Here's a brief recap of every major feature offered by each mobile app:
| | | |
| --- | --- | --- |
| Feature | Nextiva | OnSIP |
| Ability to Toggle Between Apps | ✓ | X |
| Group Messaging | ✓ | Yes, but only through its Slack integration |
| Unlimited Calling | ✓ | X |
| Video Calling | Yes, but only with other Nextiva users | ✓ |
| Business Texting | ✓ | Yes, but only through a third-party integration |
| Voicemail Management | ✓ | ✓ |
| Status Updates | ✓ | ✓ |
Winner: This one is a close call, but Nextiva edges out OnSIP, since it does not require an integration for its business texting feature.
Analytics and Reporting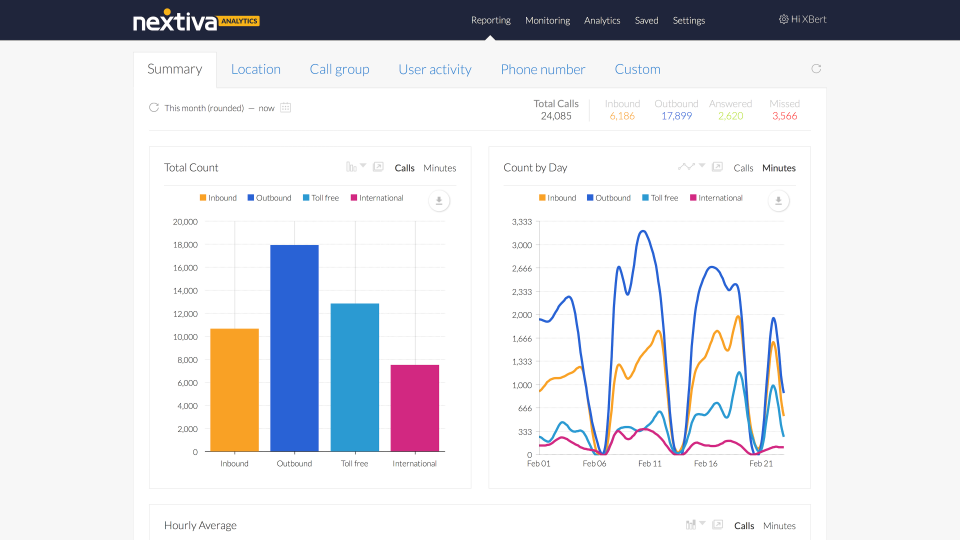 Nextiva provides a built-in business intelligence software to reveal insights necessary to your organization. Each available suite comes with analytics and reporting capabilities. Their solution enables you to turn data into information to help your business grow. With this tool, you can access historical data to predict future outcomes. 
The platform offers both standard and custom reports so you can view the activity for your entire organization. You can filter based on locations and users, along with building dashboards specific to what you need. Its reporting tool also comes with monitoring tools so you can keep an eye on your employees' performance. You can even gamify employees to improve their performance.

OnSIP offers an admin portal for unlimited users which provides reporting capabilities. This portal offers call detail records and a reporting dashboard. This tool doesn't readily offer details on what metrics are available through this portal, but users can expect basic reporting and analytics. 
However, the tool recently introduced an analytics dashboard through its sayso tool. Users can view thorough breakdowns of sayso call metrics with this dashboard. This feature is only available for users who pay for sayso. 
Winner: Nextiva offers more thorough analytics and reporting features built into its tool, making it the winner here.
Integrations
If you're looking for a VoIP service that will work seamlessly with a software tool that your organization already uses, it's important to note what that provider integrates with. Here's a breakdown of what solutions Nextiva and OnSIP integrate with. 
| | | |
| --- | --- | --- |
| | Nextiva | OnSIP |
| Microsoft | ✓ | X |
| Salesforce | ✓ | X |
| Zendesk | ✓ | ✓ |
| Google | ✓ | ✓ |
| Hubspot | ✓ | ✓ |
| Service Now | ✓ | X |
| Oracle | ✓ | X |
| PieSync | ✓ | X |
| ClickPoint | ✓ | X |
| ConnectWise Automate | ✓ | X |
| Okta | ✓ | X |
| Clio | ✓ | X |
| AbacusLaw | ✓ | X |
| Rippling | ✓ | X |
| AguTech | ✓ | X |
| Bitrix24 | ✓ | X |
| Tenfold | ✓ | X |
| Agency Matrix | ✓ | X |
| Highrise | X | ✓ |
| Slack | X | ✓ |
| Odoo | X | ✓ |
User Experience
We've pulled pros and cons from OnSIP and Nextiva user reviews to give you a transparent look at each option. Take a look below:
| | |
| --- | --- |
| Nextiva Pros | Nextiva Cons |
| Stellar customer support team | The platform comes with a steep learning curve |
| Nextiva is highly customizable | The messaging feature has room for improvement |
| The platform offers a wide variety of features | Software quality is dependent on your internet connection |
| Nextiva offers affordable plans | An occasionally long wait to hear back from the support team |
| | |
| --- | --- |
| OnSIP Pros | OnSIP Cons |
| Solid customer support team  | Can get expensive if you use a lot of minutes |
| Impressive HD sound  | The platform experiences occasional bugs |
| Reliable phone service | DIDs aren't available in every rate center |
| Easy onboarding  | |
Winner: Nextiva edges out OnSIP in its user reviews, as GetVoIP users rated it slightly higher in the areas of reliability, installation, features, support, and price.
Pricing Structure
For the purpose of this article, we will focus on the pricing structure of Nextiva's Business Phone Plan. Each plan is structured to charge customers per month per user, and potential customers have the option to pay on a monthly or annual basis. Users can take advantage of a 30-day free trial for any plan below. Here's a breakdown of its three Business Phone plans on a monthly basis:
| | | | |
| --- | --- | --- | --- |
| Features | Basic Plan | Pro Plan | Enterprise Plan |
| Price | $22/month/user | $25/month/user | $32/month/user |
| Free number porting | ✓ | ✓ | ✓ |
| Free local/toll-free numbers | ✓ | ✓ | ✓ |
| Unlimited calling | ✓ | ✓ | ✓ |
| Call recording | X | X | ✓ |
| SMS messaging | X | ✓ | ✓ |
| Unlimited conference calls | X | ✓ | ✓ |
| Voice analytics  | X | X | ✓ |
Here's a look at the annual plan, along with the options for the platform's other solutions.
OnSIP has an unorthodox pricing structure. Instead of the traditional option of a fixed price for a set of features, the platform offers two a la carte plans — Unlimited and Basic.
Feature
Unlimited

 

Basic

Pricing

$18.95/month per user

$49.95/month per account + 2.9¢/min

Announcements

Unlimited

1 included

($4.95/each add'l)

Auto attendants

Unlimited

3 included

($19.95/each add'l)

Call parking

Unlimited

0 included

($14.95/each add'l)

Call recording users

Unlimited

1 included

($4.95/each add'l)

Dial by name directory

Unlimited

1 included

($9.95/each add'l)

Ring groups

Unlimited

Unlimited3 included

($14.95/each add'l)

Standard calling minutes

Unlimited

2.9¢/min

Voicemail boxes + VM-to-email

Unlimited

5 included

($2.00/each add'l)

Busy lamp field

Included

Not included

($19.95 to enable)

Music on hold

Enhanced

Basic

($19.95 to upgrade)

Polycom phones

Included

Not included

sayso website chat

Starter ($49.99 to upgrade)

Starter ($49.99 to upgrade)

Inbound bridge

$1.95 + 0.5¢/min

$1.95 + 0.5¢/min

On net conference suite

$19.95

$19.95

($50.00 for 10)

Queues + reporting dashboard

$14.95/seat

$14.95/seat
Potential customers can try out these plans for free before committing to one option. Users can also add on the sayso voice and video chat product to their plan for anywhere between $0-$49.95/month. 
Winner: It's a close call, but OnSIP comes out on top for its unorthodox plan. Nextiva is the better option for businesses that need more robust features, but the platform's unique structure ensures you're only paying for features you truly need. 
OnSIP vs Nextiva: Is There a Clear Winner? 
When it comes to deciding between Nextiva and OnSIP, budgets and your business's size may influence your decision. Each tool comes with a wide array of features and plans for businesses of any size.
Nextiva is best for: 
Midsize to enterprise businesses

Companies looking for in-depth analysis 

Companies that rely heavily on customer support 

Companies looking to integrate their VoIP system with their existing software stack
OnSIP is best for: 
Small businesses 

Companies that are still unsure of the specific features needed in their  phone system

Companies that prioritize phone calls over video conferences 
Selecting a new software tool for your business is completely subjective — the winner is whoever provides the features and price tag that works best for your organization. But if you're looking to learn more about potential software solutions before making an informed decision, take a look at some of the other industry-leading business communication providers.