Five9's Predictive Dialer increases talk time by an average of 300% when compared with manual dialing — so it's no wonder it's one of today's most popular call center tools.
Unlike auto dialers, predictive ones begin calling the next name on a lead list while the agent is finishing up their previous call. This means no time is lost on busy signals or endless rings, and more time is spent speaking with customers.
Read on for a breakdown of the Five9 Outbound Call Center's top features, benefits, user experience, and available pricing and plans.
Five9 Dialer Features
The Five9 Dialer tool is a part of their cloud-based Outbound Call Center software solution.
It makes it much easier for call center agents to connect with a prospect or current client that is actively ready to speak with a representative.
On average, it increases talk time per hour from 15 minutes to 48 minutes — meaning an increased ROI and a higher level of agent productivity.
Its top features include:
Multiple Dialing Modes
Customizable Calling Features
Agent Scripting
CRM Integrations
Multiple Dialing Modes

Recent studies on the state of contact centers show that cloud-based call center software like Five9 decreases average office downtime by 35%.
The Five9 outgoing contact center's available modes of calling, which include Predictive, Progressive, Power and Preview Dialing, are largely responsible for eliminating much of that downtime.
Predictive Mode
Predictive Dialer mode is entirely automated, completely eliminating the need for manual outgoing dialing.
Through a complex algorithm, it anticipates agent availability by examining past data like average call length, the number of available phone lines and agents, and the time of day when a lead is most likely to answer a phone call.
It can also detect voice mailboxes, fax machine numbers, and busy signals. When these call filters are detected, it ends the current call and moves onto the next phone number on the campaign list.
Agents no longer need to waste their time waiting for a lead to answer the phone — and the tool can even make simultaneous phone calls.
The Predictive mode is ideal for companies with large numbers of both agents and leads and is usually the fastest way to go through call lists.
Most importantly, the Predictive mode automatically adjusts calling speeds according to current agent availability. When more agents are available, it begins making more calls, but when only a few agents are free, it will slow down the calling pace to prevent missed lead connections and improve overall lead management.
Though the Predictive mode is the most popular, Five9 offers additional calling modes to choose from.
Power Mode
The Power Dialer is ideal for companies with a limited number of agents but a high number of leads.
In this mode, agents manually control the calling speed, which allows them to set their own outgoing calling pace. Each sales representative is assigned a certain number of calls per day (or other set time period.)
The Power Dialer makes those calls automatically, allowing agents to quickly move through longer call lists.
Progressive Mode
The Progressive Dialer mode automatically calls one customer per available agent, so that if a connection is made, an agent will be ready to take the call.
Instead of relying on the algorithm to place calls (as the Predictive Dialer does) the Progressive Dialer mode only calls leads once the agent has indicated their availability.
This mode is most commonly used by B2B companies that want to avoid the potential of a dropped outgoing phone call.
Preview Dialer Mode
Preview Dialing mode allows agents to review a contact's details and call history before placing an outgoing call.
This way, the right agent will be able to tailor the conversation to the client's exact needs, improving the overall customer experience.
Admins can set a specific amount of time that each agent will have to review customer details before the call is initiated to prevent a loss in productivity. The Preview mode is ideal for follow-up calls or smaller virtual contact centers.
Customizable Dialing Features
Five9's robust list management capabilities prevent agents from working on the same call list from calling the same lead by automatically synching campaign list progress among active agents.
Most importantly, Five9 provides realtime Do Not Call List compliance. This ensures that any automated calls are in complete compliance with the Telephone Consumer Protection Act (TCPA.)
It also offers web callback capabilities so customers can select their preferred time to receive a call from an agent. Companies can integrate the web callback tool into their website, which also allows customers to provide more specific information about their inquiry.
This way, the follow-up can is completed by the agent who is the most qualified to provide the caller with the help they need.
The outgoing dialer offers numerous customizable calling rules and options, including:
Time Zone call rules
Outbound calling priority
Automatic voicemail laydown
Disposition timers and redials
Agent Scripting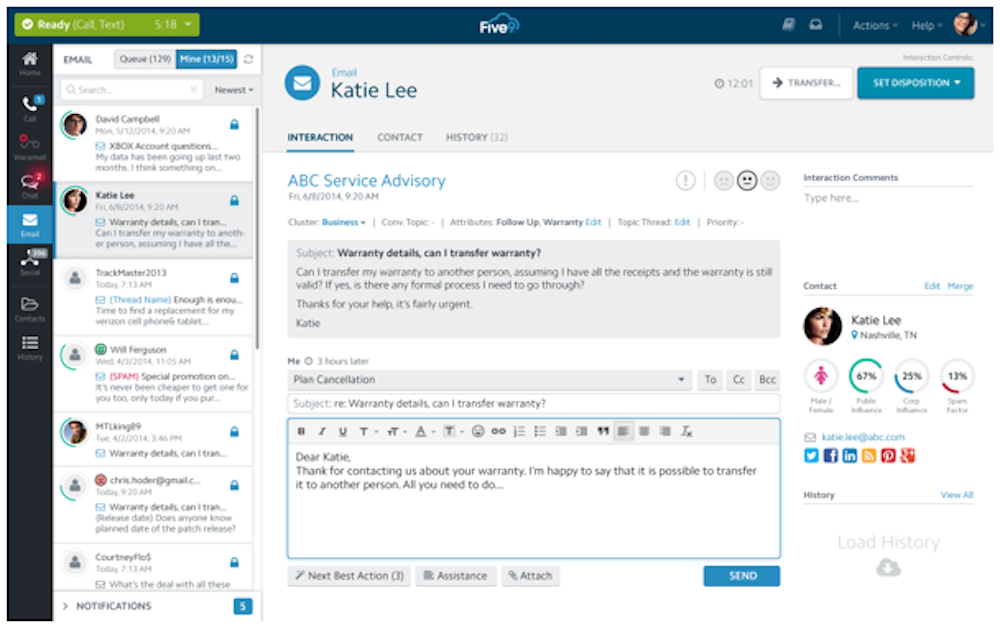 While many consider agent scripting to be a primary feature of inbound customer service centers, Five9's call scripting tool allows agents to select sales scripts for multiple products or cold calls.
Call scripting allows for less experienced agents to excel at selling while ensuring that branding is kept on top of mind. This leads to increased revenue, faster resolution times, and a higher overall level of customer satisfaction. Call scripting also lowers the overall cost of training agents.
Admins can design the ideal call flow through a simple drag-and-drop tool and create answers to common customer questions that agents can access during a call. Scripts can be created in both custom HTML format and in JavaScript.
Best of all, any information agents type into the call script window is automatically saved to their dashboard.
Integrations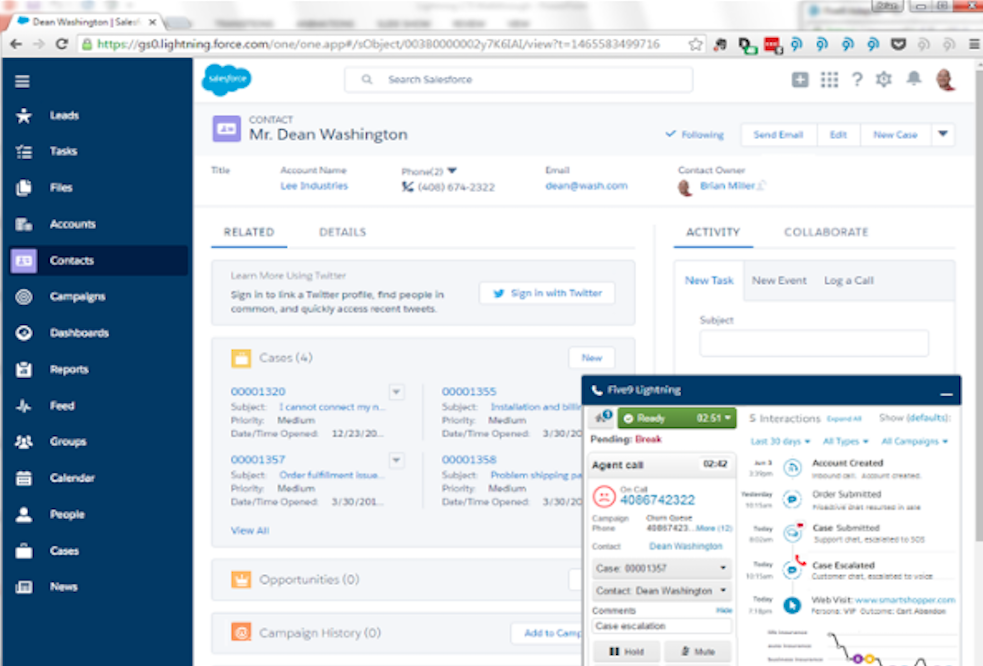 Five9's Predictive Dialer (and larger Outbound Contact Center) integrates with a number of third-party CRM and SaaS platforms to eliminate silos and improve the overall consumer experience.
The Five9 Dialer telephony controls are embedded into these CRM tools, so agents can continue to use the dashboard they're the most familiar with.
The most pertinent integration for those using the Predictive mode the Salesforce one. It synchronizes with call lists stored in Salesforce, meaning that agents can see which previously contracted leads need to be followed up with, which numbers need to be dialed again, and which numbers should be removed from the list.
This makes it easy for agents to pick up exactly where they left off on call lists regardless of the device they're using.
Additionally, the Salesforce integration provides "Screen Pops" for outgoing calls. These pop-up windows provide contact information, notes from prior agents, call history information, and click-to-call links.
Note that, while Five9 Dialer does provide limited CTI screen pop customer information for outgoing calls, the integration with customer management tools offers much more detailed customer information.
Additional Salesforce integration features include:
Lightning Experience support for Sales and Service Cloud users
Open CTI integration
Voicemail
Call Scripting
Single Sign-On
Call history and call recording
In addition to Salesforce, the Five9 Dialer also integrates with other CRM tools like:
Zendesk
Oracle
ServiceNow
Microsoft Dynamics
Five9 Dialer Pricing and Plans
Note that Predictive calling is not a standalone product. Instead, predictive dialing is an out of the box feature that users receive when they purchase licensing capabilities for Five9's Outbound Cloud Contact Center.
Though no pricing is listed on the Five9 website, in speaking directly with their sales department, we were able to find out more about how their pricing is structured.
There are three different licensing options: Agent, Supervisor, and Admin. The Agent license is the most affordable option, while the Supervisor and Admin licenses incur a higher cost. In addition to the license selected, the pricing is based on the number of concurrent (simultaneous) agents making calls at a contact center.
For example, if you have 50 full-time agents that all work at the same time, you'll need to purchase licenses for 50 agents. However, if your contact center operates based on shift work, and you have 50 total employees but only 25 working simultaneously, you'll only need to purchase 25 licenses.
Standard outgoing call features included with the purchase of a license are:
Several modes of dialing
CTI capabilities
CRM Integrations
Analytics and Reporting
Agent Scripting
Calling rules and list management
Some features, including local presence and data transfer, are not standard out-of-the-box features and will need to be purchased at an additional cost.
In our conversation with Five9 representatives, we were able to obtain the following basic pricing information:
| | |
| --- | --- |
| Number of Concurrent Users  | Pricing Per Agent, Per Month |
| 25 agents | $150.00-$200.00 |
| 50 agents | $100.00-$200.00  |
| 75 agents | $100.00-$200.00 |
Companies with 100+ agents will receive a customized SaaS subscription pricing model, as opposed to smaller contact centers, which are charged on a per-user basis.
Five9 Dialer User Experience
Five9 user experience is overwhelmingly positive, especially regarding overall ease of use and available modes of dialing. Its flexible pricing structure means it's also ideal for nearly any company size.
However, there are a few drawbacks — most notably, lackluster Five9 support.
We've studied user reviews to come up with the top Five9 pros and cons.
| | |
| --- | --- |
| Five9 Pros | Five9 Cons |
| High audio and voice quality | Lengthy implementation process without enough support training |
| Five9 management doesn't require an in-house IT department, can easily be handled via a single admin | First-tier customer support agents are unhelpful, meaning that support tickets are often transferred to multiple agents and can take several days to resolve |
| Superior monitoring and reporting features, including over 120 historical reports, real-time agent views, and multiple report formats including HTML, CSV, and PDF  | Integration with Salesforce is buggy, often resulting in lost call recordings.  |
| Little downtime thanks to servers in multiple locations  | The interface isn't intuitive, which is especially an issue given the high number of features Five9 offers |
| Scalable pricing structure allows you to use Five9 for multiple business phases, eliminating the need to bounce from one software to another | Lack of transparency regarding pricing structure makes it difficult to know if you're truly getting the best deal |
What are the Top Five9 Dialer Alternatives?
If Five9 isn't an ideal fit for your business, Genesys and Nice inContact are two of the most popular alternatives.
Both tools have essential contact center features such as:
Multiple calling modes
Integrated DNC Lists
CRM Integrations
Agent Call Scripting
Web Callback Capabilities
Customizable Dialing Rules
NiceinContact is best suited for nationwide corporations with a high daily call volume, while Genesys is a good fit for small to medium-sized businesses that focus more on customer self-service through speech recognition and IVR (Interactive Voice Response.)
Our detailed reviews of available Nice inContact pricing, as well as our direct comparison of Five9 vs Genesys, provide additional information on available features, plans, and overall user experience.
Additional VoIP Business Communication Solutions
Dialer tools are often a part of a larger business contact center software.
Popular VoIP providers like Nextiva, Dialpad, and Ringcentral allow for omnichannel communication, include ACD calling for inbound calls, offer advanced call routing capabilities, and integrate with popular workforce management software like Zoho.
Our research on the top contact center solutions will teach you more about what to look for in a provider, as well as information on which ones are the most user friendly.