RingCentral is one of the top VoIP business communication service providers with over 400,000 global customers and a five-year standing as a Gartner Magic Quadrant leader.
Although their UCaaS software can be operated on smartphones and laptops, they also offer RingCentral compatible desk phones from top providers like Cisco, Polycom, and Yealink.
Though rumors have swirled that desk phones will soon be a thing of the past, the truth is that 75% of employees still see desk phones as their main form of office communication.
Here, we'll help you decide whether you want to bring your own device, rely on the RingCentral softphone app, or purchase plug-and-go RingCentral telephones packed with advanced features.
RingCentral and BYOD
BYOD (Bring Your Own Device) from RingCentral allows users to connect their existing personal smartphones, desktop computers, tablets, and other devices to their office virtual phone system.
BYOD cuts down on hardware costs and makes mobile and remote work easier. However, there are a few downsides — especially when it comes to security. Studies show that about 70% of IT experts see BYOD as a top security threat. Potential regulatory/compliance issues, along with the fact that former employees still have access to company data stored on their smartphones, also make some companies wary of going the BYOD route.
Companies that want to use devices they didn't buy from RingCentral can use manual or assisted provisioning to connect their devices to the RingCentral cloud.
Note that only the device's manufacturer, not RingCentral, can offer product support. Additionally, non-SIP compliant phones are incompatible with RingCentral. The below table offers more information on third-party devices' compatibility with RingCentral.
| | |
| --- | --- |
| Phone Provider | Assisted/Manual Provisioning |
| Cisco | ✓ |
| Polycom | ✓ |
| Yealink | ✓ |
| Avaya | ✓ |
| Panasonic | ✓ |
| Snom | ✓ |
| Grandstream | ✓ |
Click here to check additional device compatibility.
RingCentral Softphone App
In lieu of purchasing new hardware, RingCentral's downloadable softphone app allows users to communicate on existing desktop computers as well as Android and Apple iOS mobile devices.
Users that opt for a hardphone will still have access to RingCentral's softphone app.
The softphone offers increased employee flexibility and combines team chat messaging, video conferencing, and business telephone communication within a single interface. The app can also be accessed in a web browser, so no download is needed. Users can seamlessly switch between mobile and desktop communications at any time.
RingCentral's softphone is not a standalone product, but it's available to all RingCentral subscribers on any plan.  Its best features include:
Audio and video conferencing
Team chat messaging
Call recording
Call presence
Call routing/forwarding
File/link sharing
Screen sharing
Buying Used Phones from Third-Party Sellers
It's also possible to purchase used RingCentral compatible phones from third-party vendors or individual sellers.
Refurbished phones are an excellent way to save money, especially when it comes to the up-front costs of a VoIP phone system and long-term contracts. Reputable sellers will test all the used phones before selling them, and in many cases, there is no obvious difference between used and new hardware.
But there are several downsides to buying used.
It's easy to get taken for a ride by disreputable vendors, so it's best to avoid purchasing used phones from sites like eBay, or private sellers. Instead, look for established refurbished phone sellers like VoIP Supply, Telecodepot, and CDW.
Additionally, used models don't come with any kind of manufacturer warranty or guarantee, and depending on the age of the used model, finding support or spare parts can be a chore.
Though used phones have much more of a limited lifespan than new hardware, they're still a good option for companies that are looking for easy ways to save on operating costs.
Buying Phones Directly From RingCentral
Buying new business telephones directly from RingCentral is your best option.
Not only will you receive a full warranty and better customer support, but you'll also eliminate a complicated setup process that sometimes still doesn't result in successful phone compatibility.
RingCentral has specifically selected these phones because of how well their features and quality match up with RingCentral's available virtual phone system plans. Features include LCD touchscreens, native Bluetooth, advanced call management features, and more.
RingCentral headphones include top models by Polycom, Cisco, and Yealink.
We've outlined their most popular phones below.
Polycom Phones From RingCentral
View available Polycom phones from RingCentral and learn about their top features, pros, and cons. Also, discover which phones would likely be the best fit for your current business needs.
Note that Polycom recently acquired Plantronics, and is transitioning their company name to "Poly."
Polycom VVX 601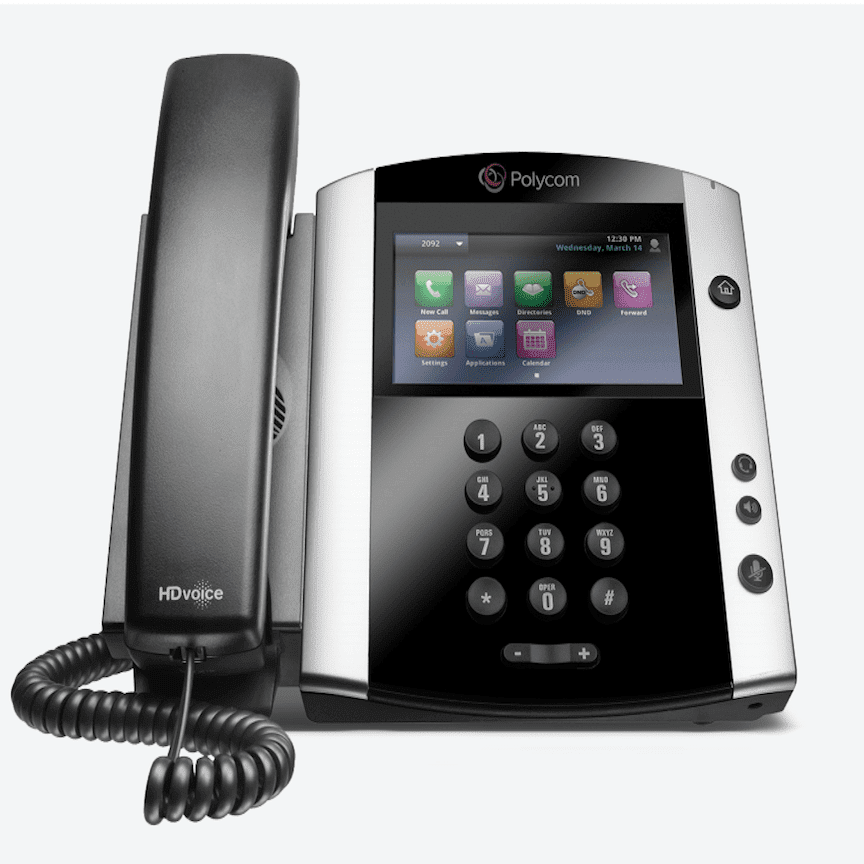 The Polycom VVX 600 is RingCentral's most popular hard phone. It is priced at $399.00 and can be paid for in monthly installments if needed. It comes with a one-year warranty and is one of the most feature-rich phones that RingCentral offers.
This phone has two user lines and shows the presence status for a maximum of 14 users. It includes HD Voice and Polycom Acoustic Clarity, which includes echo cancellation, background noise suppression, comfort noise generation, and full-duplex conversations.
It has native Bluetooth and USB connectivity, a 4.3" LCD touchscreen that displays caller ID, past call logs, and other features like call forwarding.
This phone also offers Skype for Business and Microsoft Office 365 cloud PBX integration.
| | | |
| --- | --- | --- |
| Features | Pros | Cons |
| Shared call/bridged line | Remote missed call notifications | Some trouble with successfully pairing wireless headsets |
| Call timing and call waiting | ADA compliant | No power adapter included |
| 1-touch speed dial and redial | Advanced call handling features | Small LCD screen size |
| Dual USB ports | Adjustable base height | |
Best For: High-level executives and managers that require premium features and spend a large amount of their workday on the telephone. Executives who need multiple phone lines, who rely on interoperability and those that make frequent internal video calls throughout the day will also benefit from this model.
Polycom VVX 501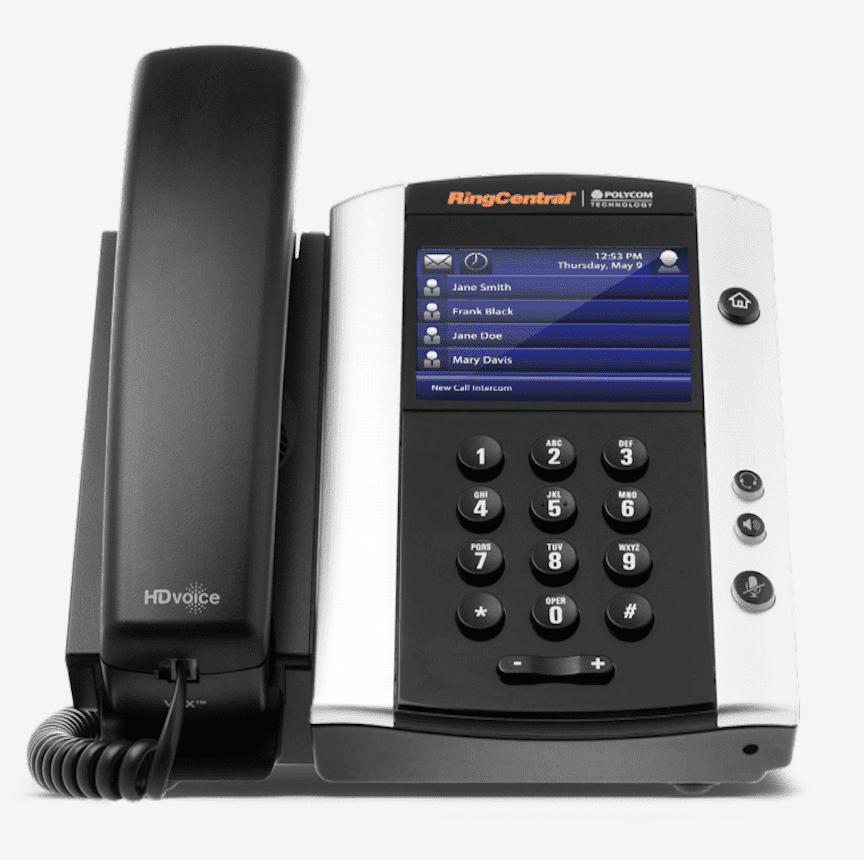 This model comes complete with 12 phone lines, echo-free HD voice, and presence monitoring for up to 50 users. It sells for $299.00 and allows for monthly installment payments.
Its best feature is its ability to integrate with desktop PC applications like Outlook calendar, allowing expansion module users to access web-based information using their computer's mouse.
It has an LCD color touchscreen with a screensaver, voice activity detection, comfort noise generation, and dual USB ports.
| | | |
| --- | --- | --- |
| Features | Pros | Cons |
| Local three-way audio conferencing | Can manage up to 24 simultaneous calls | Touchscreen buttons too small |
| Call hold, transfer, forwarding, pickup, waiting, timer | Screen smart motion detector to automate power-save mode | No Bluetooth connectivity |
| Onscreen virtual keyboard | Easy setup and installation process | Polycom camera for internal video calls sold separately |
| Background noise suppression | RJ-9 headset port | The call transfer process could be improved |
Best For: The Polycom VVX 501 is ideal for companies looking for future-proof headphones, as it includes software update capabilities and an extension module. The extension module boats more advanced attendant console options, programmable LED keys, and an augmented host phone interface.
Polycom VVX 450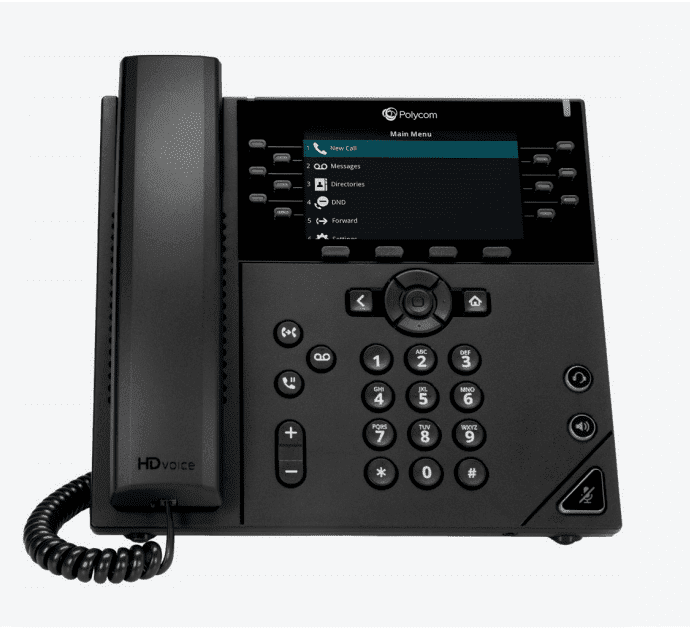 Building on the VVX 350 model, this phone comes with a one-year warranty and is priced at $239.00 with monthly payment installments available. It has two available expansion models that can support presence monitoring for up to 96 lines.
One of its top features is Polycom's "My Info Portal" which lets users access web-based information from the phone's LCD screen and integrates with basic PC applications.
It also offers group paging, which makes it easy to broadcast important messages to other users.
| | | |
| --- | --- | --- |
| Features | Pros | Cons |
| 12 programmable key lines with shared call appearance | Polycom Acoustic Clarity offers echo cancellation, background noise suppression, full-duplex conversations | No video calling capabilities |
| Call waiting, timer, hold, forwarding, DND | Two USB ports and an RJ-9 headset port | Bulky physical design |
| 4.3" color display | Remote missed call notifications | Some essential features require an expansion module |
| Two gigabit Ethernet ports | Open application platform supports SDK and API third-party apps | |
Best For: The Polycom VVX 450 is the ideal choice for small businesses that are on a tighter budget, but don't want to compromise on essential desk phone features. It's well-suited for a volume of daily calls, and its robust security features like HTTPS secure provisioning and TLS make it a good option for companies with strict compliance regulations.
Polycom Trio 8800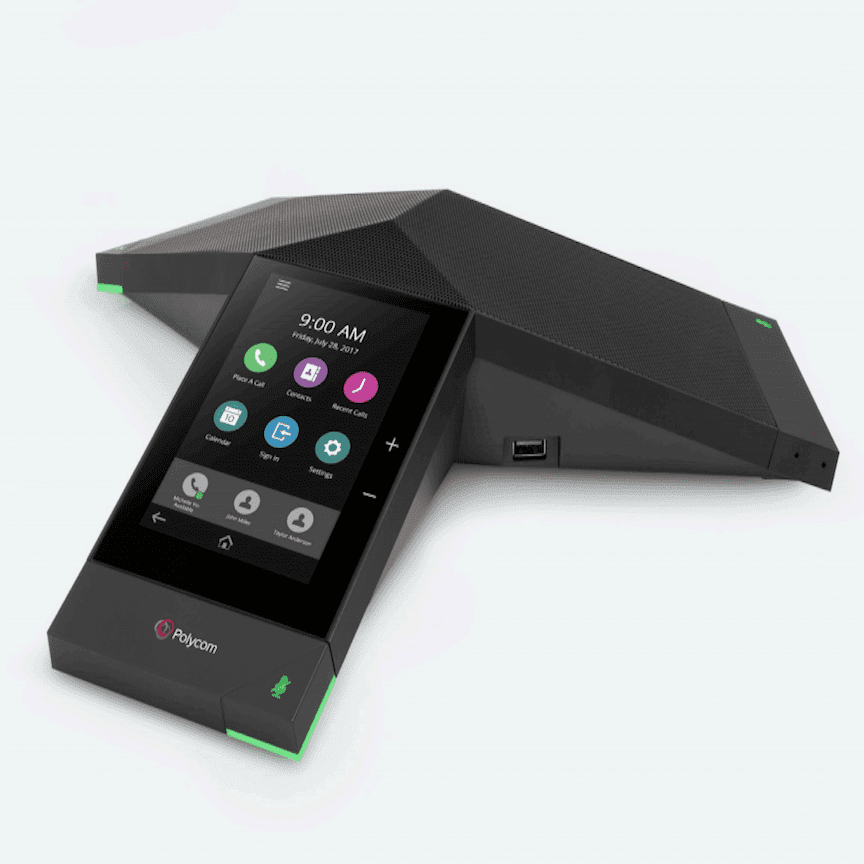 This conference phone has a one-year warranty and costs $997.00 with a monthly payment plan available.
It is best known for its 14-foot microphone range and 360-degree microphone coverage. It also has a five-inch LCD color touch-screen display, including a touch keypad. It comes with built-in PoE, 13 available language settings, and comfort noise generation.
| | | |
| --- | --- | --- |
| Features | Pros | Cons |
| Wired and wireless pairing via Bluetooth or USB | Real-time video conferencing | Visual+ video customer support not available for RingCentral meetings |
| Local 5-way audio conferencing | Automatic NoiseBlock and voice activity detection | Somewhat limited features compared to most video conference phones |
| 3 available mute buttons | Automatic screensavers | Screen lag is common |
| HTTPS central provisioning | Caller ID and detailed call history information | The setup process is complex |
Best For: The Polycom Trio 8800 is best for midsize conference rooms at startups or smaller businesses that don't need multiple simultaneous video screens. It's a good fit for companies that have conference calls only about once or twice a month and therefore won't need highly advanced features.
Polycom IP 6000
This SoundStation IP conference phone comes with a one-year warranty and costs $699.0 with monthly payment plans available. It's especially known for its use of patented Polycom HD voice technology and Acoustic Clarity technology. The package comes with a telephone console, Ethernet cable, Universal Power Supply, and Power Insertion cable. It also offers packet loss concealment, individual volume settings, and speed dialing.
This cordless device comes with a portable handset base station that is compatible with DECT standards.
| | | |
| --- | --- | --- |
| Features | Pros | Cons |
| Voice Activity Detection | Hardware diagnostics make solving problems easier | No Bluetooth connectivity |
| Acoustic echo cancellation | Comes with programmable contact directory | No video screen |
| Call waiting, transfer, hold, pickup, do not disturb | Provides contact details on current and past callers | No WiFi connectivity |
| High resolution, multilingual display | ROHS compliant | Monochrome display |
Best For: The Polycom IP 6000 is ideal for small to midsize conference rooms, as well as those concerned with preventing interference from other mobile and wireless devices in the room while on a call. The background noise suppression also means it's a good fit for rooms near the street or those frequently interrupted by daily office noise and distractions.
Cisco Phones From RingCentral
Cisco phones have come a long way from older line IP phone models like the SPA504G, Cisco SPA508G, and SPA303.
Below, we've outlined the top Cisco phone models available for purchase from RingCentral.
Though Analog Telephone Adapters (ATA) are not available through the RingCentral website, Cisco does have them for sale on their website for those who wish to connect existing standard telephones to the IP network.
Cisco 7841
This RingCentral compatible 3PCC IP phone from Cisco is an excellent choice for a basic office telephone. It's listed at $209.00 with the option to pay in monthly installments.
It comes with a monochrome display screen, dedicated fixed keys for increased productivity, and allows for hands-free communication. It has presence monitoring capabilities for two phone lines, voice activity detection, caller ID, and LED indicator lights.
| | | |
| --- | --- | --- |
| Features | Pros | Cons |
| Maximum of four lines | Excellent value | Display screen cuts off essential information |
| Integrated two-port gigabit Ethernet switch | User-friendly interface and easy setup process | Lack of speed dialing |
| Speakerphone and RJ-9 port for headset connectivity | Contact favorites list allows for faster dialing | No Bluetooth support |
| One-touch call control and directory access | Password-protected system | Limited features compared to many of today's desk phones |
Best For: The Cisco 7841 is best for smaller or newer businesses that have more basic desk phone needs and don't want to pay for features they aren't using. It's also a good fit for businesses that rely heavily on integrated Power over Ethernet (PoE) support.
Cisco CP8851
This SIP phone is best known for its ability to integrate some telephony features with mobile devices, including the fact that users can switch from mobile devices to the desk phone during a live call.
It has a one-year warranty and is available from RingCentral for $249.00 or in monthly payment installments.
Standard features include a high-resolution color display, intercom communication, illuminated keys, SSO access, and Cisco EnergyWise technology to keep energy costs low. Call control capabilities include caller ID mapping for incoming calls, call waiting, hold, attended and blind call transfers, and call back on busy. Corporate directories and automatic off-hook call placement are also possible.
| | | |
| --- | --- | --- |
| Features | Pros | Cons |
| Up to 10 phone lines and 8 presence status displays | Wall mountable | Time-consuming Wi-Fi configuration |
| One USB port | Speakerphone and voicemail waiting indicator light | Lack of multiple USB ports |
| Anonymous call blocking | Bluetooth enabled | Active caller information not always entirely displayed |
| Hosted and local conference calling | Class 2 integrated PoE support | |
Best For: The Cisco CP8851 is best for small to midsize businesses that still rely heavily on mobile communications. It's also ideal for companies that need access to WiFi calling.
Cisco IP8861
RingCentral's most advanced Cisco phone, the IP8861 is ideal for a high volume of daily calls and is a favorite among receptionists, secretaries, and other office phone attendants.
It retails for $329.00 with monthly installments available and comes with a 1-year warranty.
With its plug-and-ring technology, it's possible to start using the phone the same day it arrives. A dedicated hold key, 10 illuminated line buttons, anonymous call blocking, and dedicated voicemail and transfer keys make this one of the best selling RingCentral phones.
| | | |
| --- | --- | --- |
| Features | Pros | Cons |
| Maximum of 10 phone lines | Bluetooth enabled | Higher learning curve and longer setup process |
| 5" color backlit display screen | Integrated Class 4 PoE support | Required to manually clear missed calls |
| Integrated 2-port Gigabit Ethernet switch | Dedicated RJ-9 headset jack | Users report occasional clicking feedback sounds |
| Expansion modules support presence monitoring for 72 lines | 2 USB ports for charging mobile phones | A higher level of integrations needed |
Best For: The Cisco IP8861 will best suit the needs of a large, enterprise-scale company that needs a phone system that can grow with them. It is also ideal for companies that have a need for more advanced call control and handling features like hold music, caller ID blocking, and both attended and blind call transfers.
Yealink Phones From RingCentral
Below, we've outlined the features, pros, cons, and pricing options for the top RingCentral compatible Yealink phones.
Yealink T48S
This IP phone is designed to mimic the smartphone experience, and at seven inches, it has one of the largest color touchscreen displays of any other model.
With 29 touch keys, OPUS supported sound quality, and presence monitoring for a maximum of 27 users, the T48S offers robust features but is still affordable at $239.00.
| | | |
| --- | --- | --- |
| Features | Pros | Cons |
| Two-port Gigabit Ethernet switch | Wi-Fi USB support | Occasional dropped calls reported |
| Voice detection, comfort noise generation, packet loss detection | User-friendly | The clunky extension configuration process |
| Corporate directory | USB recording features | Speakerphone audio quality needs improvement |
| 7 features keys: headset, hold, mute, message, redial, transfer, speakerphone | Advanced Quality of Service support | No native Bluetooth support |
Best For: The Yealink T48S has been specifically designed for business executives with a moderate to high daily call volume. It is also a good fit for those who constantly switch back and forth between mobile and desktop phones throughout the day and need an intuitive interface that is similar to their smartphones.
Yealink T46S
The Yealink T46S is perfect for businesses that are on a bit of a budget but don't want to compromise when it comes to high call quality.
Yealink phones in particular are known for their lifelike voice quality and individual volume settings. Voice activity detection, comfort noise generation, and DTMF tone generation further boost the audio quality.
Call handling features include a busy lamp field, call timing and call waiting, call forwarding, and one-touch speed redial. Remote missed call notifications, Do Not Disturb, and caller ID are also available.
RingCentral lists the phone at $209.00, and it can be paid for in monthly installments.
| | | |
| --- | --- | --- |
| Features | Pros | Cons |
| 10 phone lines and presence monitoring for 14 lines | OPUS codec support offers superior HD voice | Bluetooth and Wi-Fi connectivity are not built-in |
| Backlit 4.3" inch color display | Gigabit Ethernet | No touchscreen |
| Local digit map and dial plan | USB and RJ-9 ports | No video calling capabilities |
| Local three-way audio conferencing | Scratch resistance material | |
Best For: This phone is designed for receptionists or employees with a high call volume that need to manage numerous simultaneous calls, like contact centers. It's also a good fit for those who need a high level of call handling customization.
Further Reading on RingCentral
Regardless of which RingCentral compatible phone you select, you'll still benefit from the platform's advanced features like chat messaging, file sharing, and employee productivity analytics and reporting.
Our detailed review of RingCentral app breaks down top features, available phone number types, integrations, pricing and available plans, and evaluates user experience.
You can also rely on our interactive table of top VoIP enterprise software providers like Nextiva and Vonage to see RingCentral alternatives and get answers to common FAQs.