We've all heard it before: "For English, press 1. Para español, oprima 2," or "Press 1 for sales." These are both examples of auto attendant, which are also sometimes referred to as digital receptionists or virtual attendants. 
Auto attendants are valuable for companies because they serve as a type of call management that ensures that callers get to the right department quickly. In the past, these used hardware and worked on traditional phone lines, but today, most business VoIP providers have some form of an automated receptionist.
Today, we'll show you what auto attendants are, how they work, and what makes them useful for a business that heavily relies on inbound calls.
What is an Auto Attendant?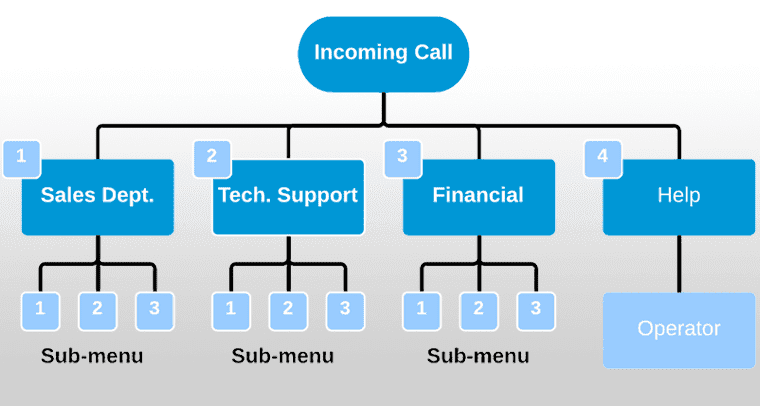 An auto attendant is a menu system that uses voice prompts to help callers navigate to the correct department. This type of VoIP phone system feature completely sidesteps the need for a human receptionist or answering service. You can also use one of these systems to help a receptionist to manage periods of high call volumes. This routing technology is available on hosted PBX or on-premise PBX phone systems.
Do you have a high volume of calls that would otherwise overwhelm your receptionist? The automated attendant picks up the slack so that calls are directed to the right people or are at least sent to the company voicemail.
While auto attendants aren't very complex, they fill a very important role: they ensure that your callers aren't kept on hold for overly-long periods of time. As we covered in our call center metrics guide, call abandonment rates should always be reduced, and keeping customers engaged is a smart way to do this.
These systems also help reduce the cost of customer contact. When used to handle incoming calls, there's a reduced need for a dedicated receptionist, and the system works around the clock without a need for coffee breaks or vacation time. The virtual receptionist also handles multiple calls to your phone number at once, so you don't need to add supplementary staff to handle busy periods.
What Does an Auto Attendant Do?
These call routing systems are designed to perform unique tasks that streamline customer contact on your business phone system. Here are four aspects of the system that make it useful for businesses.
It Greets Customers
One of the most overlooked attendant features is the greeting portion of the answering script. The attendant immediately provides the caller with confirmation that they've reached your company with a script that starts with, "Thanks for calling…" 
This is important for establishing a professional image for your company and immediately "conversing" with the caller. Remember, based on research done by Forbes, you have seven seconds to form an impression with your customers, so lead with a professional-sounding greeting.
Provides General Business Information
In addition to greeting the customer, the system provides critical information to the caller like business hours and any news about the company. An auto attendant script may have information such as, "Welcome to (Business Name). We are open Monday through Friday from (business hours). We'll have reduced hours on (holiday)." 
This provides the caller with several key points of information. In recent times, with hours being affected by COVID-19, it's common to hear adjusted hours in attendant scripts.
Transfers Calls
This is one of the most well-known features of an attendant system. Using a script, the attendant system provides the listener with information to help reach the person or department they need. Attendant systems only accept touch-tone dialing. 
Businesses that have multiple departments need submenus that direct customers efficiently. For example, rather than having a menu entry for software and hardware support, your business will have a simple customer support entry. When callers select that option, keys for both hardware and software support become available.
Establishing a menu flow that's convenient for callers is vital with a virtual receptionist – the last thing you want is for your customers to become frustrated and hang up while you're trying to direct them.
Provides Directory Assistance 
Besides helping callers get to the right person or department, these systems also help by providing directories. With a dial-by-name directory, the caller types in the first few letters of an agent's name or department, and the system routes the call appropriately based on this input. For example, if a caller wants to reach Peter Bristol, they would type in the extension number 274 on their touch-tone keypad. 
This is convenient for repeat callers because most systems will allow customers to enter directory assistance without listening to the entire script. According to Forbes, 86% of customers will continue to deal with an agent that they have developed an emotional connection to. Having this feature will make it easier to connect the callers with the agents they know.
Related:
The Difference Between Auto Attendants and IVRs
These cloud phone system features are designed to route calls to the appropriate location when a customer calls in. However, that is basically all that they are capable of doing, besides greeting the customers. There can be different modes on the auto attendant, but in the end, the call will be sent to a call queue or a voicemail. 
Having an auto attendant means that calls are routed without the customer experiencing long wait times. If there's a wait, hold music can be programmed for customers to listen to while they wait in queue. 
Interactive voice response systems (IVRs) are typically more advanced, so they have additional features that make them seem smarter when they route calls. One of the things that make an IVR stand out as different from an auto attendant is voice recognition. This feature allows customers to say what they need instead of pressing a button.
Pressing buttons on an auto attendant system limits what a customer can tell the system about the reason for their call, and it could direct the call to the wrong location if the incorrect button is pressed. Voice response allows the customer to state the reason for their call.
An IVR system is also capable of collecting information from the customer so that the agent has it on-hand when the interaction begins. This could include the account number, an address, a credit card number, or more. In fact, with data-driven routing, an IVR system gathers information from a caller ID to help inform the menu selections available to the customer.
There are self-help menu options as well that an IVR offers to customers so that they don't need to wait in a queue to speak with a representative for simple requests like paying a bill or scheduling an appointment. There are even visual IVR options that are used to communicate through additional channels, which is beneficial for an omnichannel contact center.  
Here's a quick chart comparing the two systems:
| | | |
| --- | --- | --- |
| | Auto Attendant | IVR |
| Routing using touch tone keys | ✔ | ✔ |
| Company Greeting | ✔ | ✔ |
| Directory Assistance | ✔ | ✔ |
| General Business Information | ✔ | ✔ |
| Automated Bill Pay | x | ✔ |
| Voice input | x | ✔ |
| Yes or no answers | x | ✔ |
| Data-driven routing | x | ✔ |
| Surveys after the call | x | ✔ |
The Pros of Using Auto Attendants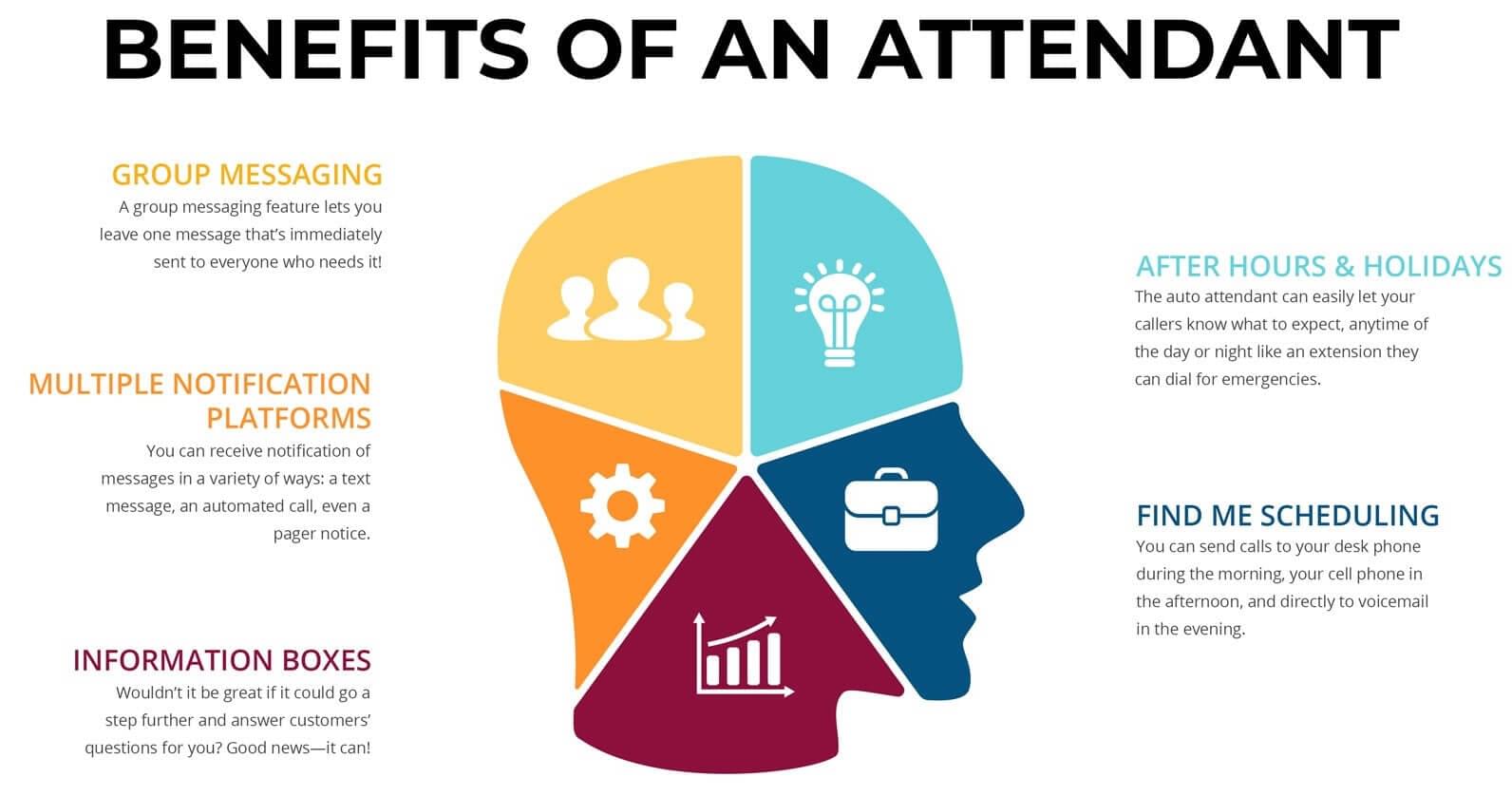 An auto attendant is a great way to improve the first impression that customers get when they reach your business, but there are other benefits associated with using this type of system as well.
The Cons of Using Auto Attendants
These systems are not perfect for every business. They do have their flaws and based on these, you may decide that you want a live person taking calls or a more complex routing system. Here are some of the areas where these systems fall behind.
Impersonal Initial Interactions – Based on research done by Usabilla,

55%

of customers prefer the comfort of speaking to an actual human being over interacting with a machine. With an attendant system, the customer does not use voice input to route callers properly, so some may hang up before they even get a chance to speak to an agent.

Poor Design Causes Abandonment – Organizing your menus takes a little finesse, and it's easy to create a poor customer experience. In general, you don't want long menus that could be confusing for the customer. Also, there should always be an option for the customer to reach an agent. Similarly to setting up

IVR call flows

, attendant menus must be easy to navigate to be effective.

Wrong Button Presses – When a customer is impatient, or they simply press the wrong button, they may be routed to the wrong agent. This means that rerouting the call to the proper department will cost more time and money that the attendant was designed to eliminate. It could also make the customer start back at the beginning of the menus, which is likely to cause annoyance before contact is made with an agent.
Auto Attendants Help SMBs Route Efficiently
Not every small business needs a complex system with numerous branches and self-service features. When you just need simple routing, an auto attendant is more than up to the task. These systems route quickly and provide a means for your customers to get where they need to be.
Not sure if a system like this is enough? Check out our guides on IVR systems – there's information about IVR providers like Five9, Nice inContact, and Plum|Voice. We tell you about all of the key features of each provider so that you find the advanced routing system for your business.