More than 46% of sales organizations are bringing their sales efforts to their own contact centers. Cloud call center software is quickly proving that businesses no longer need to make investments in expensive hardware or outsourced outbound and inbound centers to respond to customer needs or make outbound calls.
Of the available cloud contact center options, Talkdesk is the only one that has a 100% uptime guarantee, so it's easier for agents to have a high dialing rate when they aren't affected by service outages.
In this article, we will cover the following sections:
What is Talkdesk?
Talkdesk is a cloud-based contact center software solution designed for SMBs and provides multiple channels of contact beyond voice. The provider helps businesses who don't want to outsource to professional centers to bring their customer contact in-house.
With their cloud service model, adding features is done directly through the provider. That means changes that are implemented are done much faster. For example, while one plan may provide mood sentiment, an IVR studio, caller ID, and an ACD, your business might want real-time reporting for customer support. Instead of purchasing an expensive software license to meet your business needs, this provider lets you simply upgrade to the Professional Plus plan for a few dollars more per month.
This is a provider for businesses that need multiple ways to communicate with customers. The omnichannel add-on allows your agents to reach and be reached by customers through messaging apps, SMS, social media, CSAT surveys, and live chat chatbots. The modern consumer uses as many as six touchpoints to contact their favorite brands, opening up to various points of contact helps a business to stay in touch with its consumer base.
Talkdesk Pricing and Plans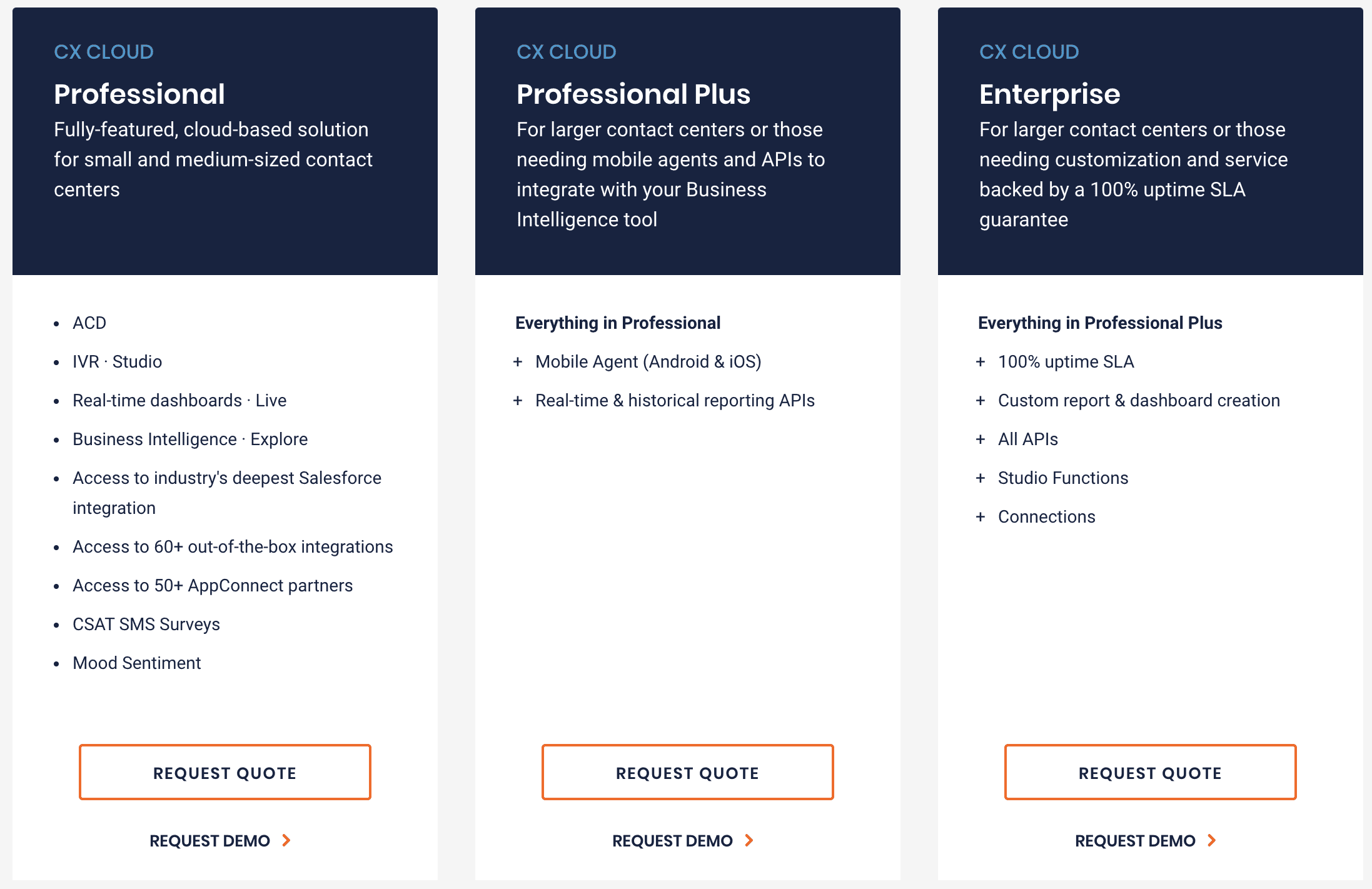 A common question that a business might ask is, "How much does Talkdesk cost?" For this provider, this varies, especially considering that they have several add-on features that some businesses might consider vital. These are easily added to an account via a call to the support team.
Pricing for this provider isn't published, but they do state that base plans with artificial intelligence start at $65 per month per agent. Let's take a look at some of what's included with each type of account.
Professional Plan
This plan offers a fully-featured solution for small and mid-sized contact centers. You can expect features like ACD, IVR, CSAT SMS surveys, and mood sentiment. This plan also offers access to a deep Salesforce integration and real-time dashboards. As each of TalkDesk's plans is powered by AI, you can expect your plan to be a great tool in making data-driven decisions.
Professional Plus Plan
Most plans add something vital to the already 60+ features available with Professional. For example, Professional Plus adds a mobile agent for Google Android and Apple iOS. This enables agents who are working remotely to continue with outbound and inbound calls. Teams that need agents to receive or make calls after business hours will find this particularly useful.
This plan also includes real-time and historical reporting APIs and SDKs that your team incorporates into any reporting system. It's important to note that this will take a development staff.
Enterprise Plan
The most critical aspect of the Enterprise Plan is the 100% uptime service level agreement (SLA). This is major because most cloud providers cap out at 99.99% or maybe 99.999% uptime guarantees. Internet connections may be lost due to problems with your ISP, but thanks to their geo-redundant server structure, you won't have connectivity issues at the service provider level.
But, what does 99.99% really mean? While these numbers may seem close, the difference in overall downtime per annum is significant. For example, with 99.99% uptime, you'll lose 52 minutes per year of dialing time. With 99.999%, you lose five minutes and 15 seconds. Having your agents dial consistently all-year without downtime is a major advantage.
Enterprise also includes some features that reduce the need for dedicated IT departments. They call this "clicks not code" functionality. With the Enterprise plan, studio functions are added that include a low-code editor for editing your call routing for a more streamlined experience for callers. Additionally, this tier makes it much easier to connect to external third-party platforms without much coding.
Available Add-ons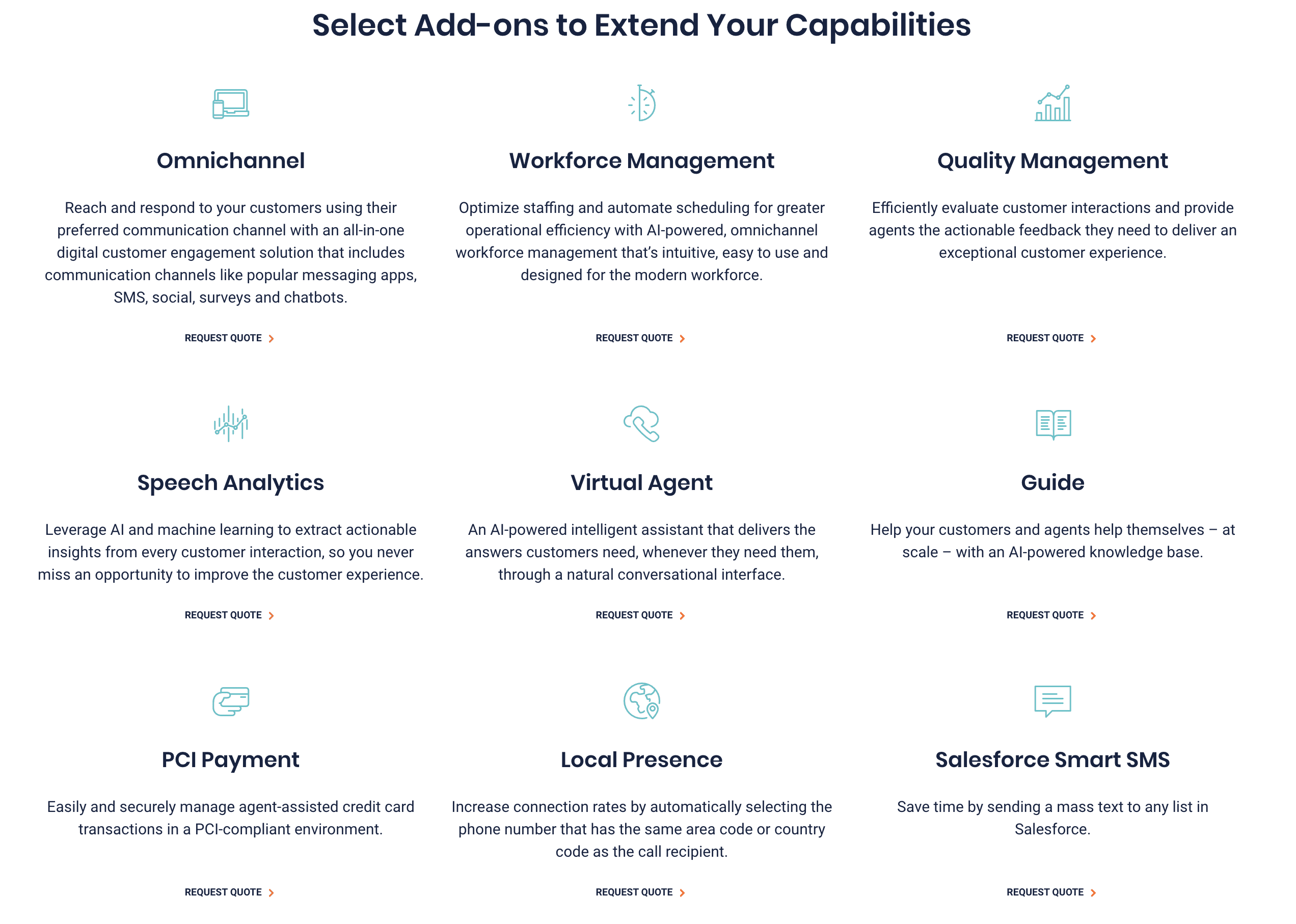 In addition to the plans, there is also a series of add-on features that contact center managers can use. One of the most noteworthy of these is the omnichannel add-on, which extends to the contact channel of your choice. With it, customers will be reachable through messaging apps, social media, and SMS.
Other add-ons include workforce management software to manage your agents' workflows better. Speech analytics is also a feature to consider since this uses AI to measure customer interactions and determine sentiment. As we covered in our call analytics software guide, 72% of companies believe speech analytics can help centers improve the customer experience. There's even a Virtual Agent feature that uses AI to converse with customers directly.
The Top Talkdesk Contact Center Features
Contact centers need features in their calling plan that other businesses won't necessarily need. The following are features available from this provider that businesses will appreciate for sales, surveys, and research.
Multiple Dialer Types
The predictive dialer calls from a list of contacts and connects agents to the caller when they are available. The agent also uses progressive dialing to indicate when they are ready to take another call. The provider utilizes both call center dialers to make agent time more efficient. There's also Autoreach, which is a power dialer phone system that's integrated into CRMs and works with Callbar. With Autoreach, drop-down menus also make it easy to add prospects to the do-not-call list.
IVR Support
When a customer calls into the business, the system recognizes their voice and determines where to route the calls based on what's been said or by touch-tone input. In a high call volume operation, optimizing IVR call flow minimizes the time a caller spends in the automated system.
Queue Management
During standard dialing times, there can be long call queues of callers who are looking to speak to an agent. This feature compiles the contacts into a list for agents. The queue provides the agent with previous call dispositions and notes to better handle the interaction. Also, since agents have detailed information, catching callers who tend to hang up when placed on hold is possible. This will notably reduce your business's average call center abandonment rate.
Auto Call Recording
Auto call recording means that all of the calls made and received in the center are recorded. This allows management to review the calls to get information or make sure that the call quality is maintained between agents.
Concurrency Support
Concurrency support is important for businesses to manage multiple points of contact simultaneously. This can make agents more efficient and allow them to handle helpdesk chat sessions along with their incoming calls from standard customer phone numbers.
Enterprise-Level Security
Talkdesk takes its security seriously, which includes privacy and keeping safeguards in the code. They hold a SOC2 Type II certification, a SOC3 certification, and more. The provider is also compliant with HIPAA, CCPA, and GDPR laws. In addition, the system undergoes audits to make sure it's secure regularly. VoIP security vulnerabilities present a unique challenge for businesses, but smaller organizations will have protection and encryption.
What is Callbar?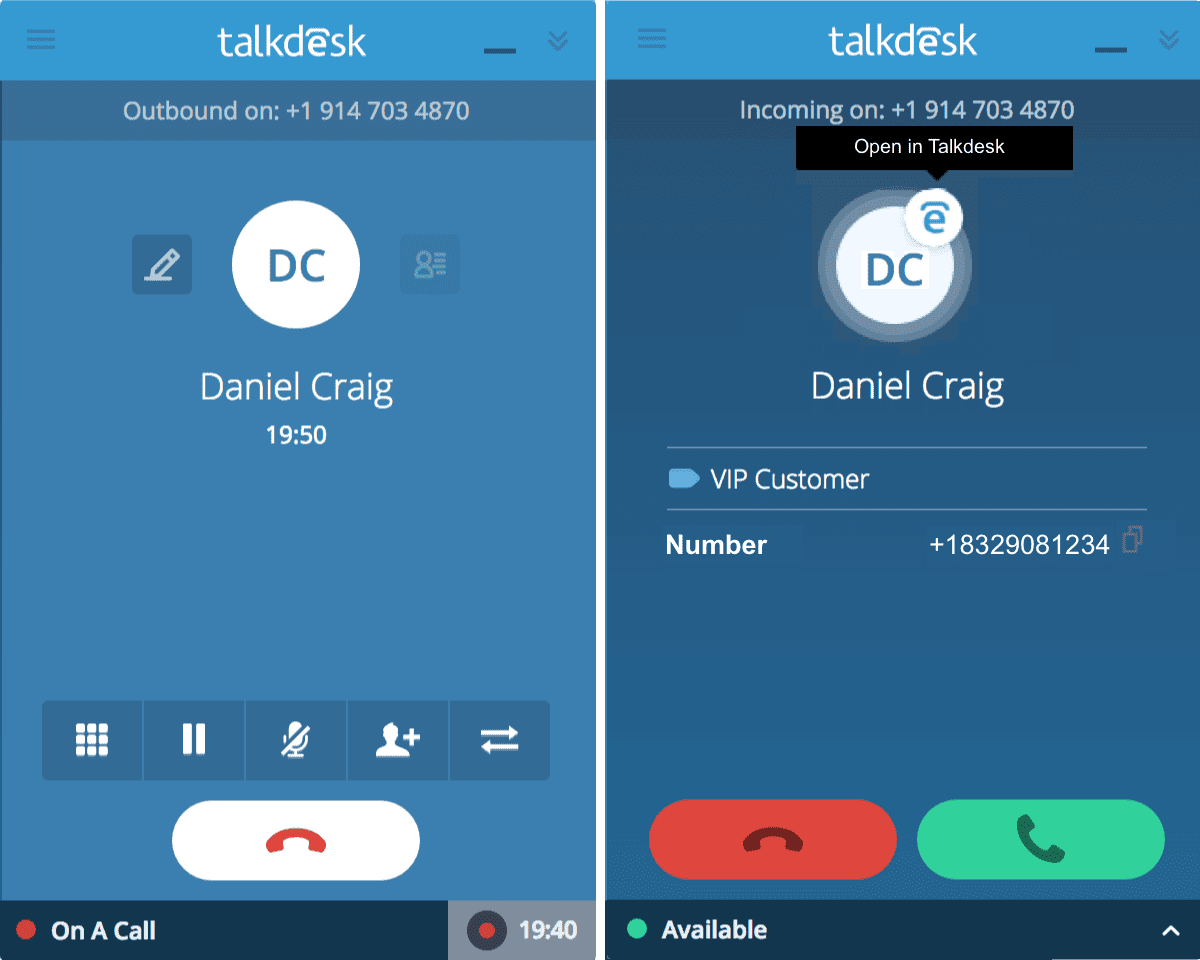 Callbar is designed to add convenience to an agent's workspace by presenting the agent with a desktop client and caller interface that fits anywhere on their desktop. The Callbar interface is small and customizable. With it, the agent can freely dial while keeping other applications open. Callbar is fully integrated with Salesforce, Zendesk, and Desk.com and uses the same click-to-call style of dialing that's available through CRM integration software.
The Callbar app provides a simple interface with high ease of use for agents that don't want to use the browser-based Callbar Chrome App. This makes browsing customer contact history more efficient, and it eliminates the need to tab over to another application.
What Benefits does Talkdesk Offer to Call Centers?
When a contact center uses this provider, there are benefits that they experience over time. With the right plan, these benefits add to the bottom line of a business with a high number of concurrent calls. Benefits to consider include:
Personalized interactions with customers result in higher customer satisfaction
Knowledgeable agents who help resolve issues on the first point of contact
Secure collaboration between agents and departments
Less time handling calls improves agent efficiency
Higher lead conversion rates with lower overall operational cost
Talkdesk Alternatives
Talkdesk is a powerful solution, but it's far from the market's only option in the United States. Several providers focus on call centers, and even a few VoIP services have tiers that are designed for high-volume calling. Here are a few important competitors and how they compare.
Five9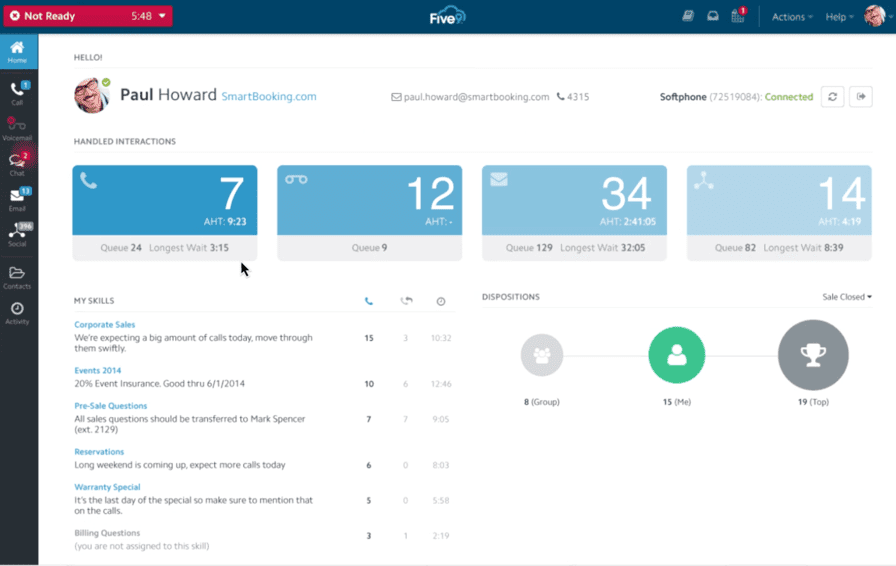 One of the selling points for Five9 is its continuous uptime. As the name suggests, Five9 has a 99.999% uptime guarantee, which is slightly lower than what's available for Enterprise Plan subscribers. Five9 specializes in this type of software, and they have a simple pricing schema that includes month-to-month or annual plans. With Five9 there are no long-term contracts, and Five9 pricing is based on the number of seats in your business.
Freshcaller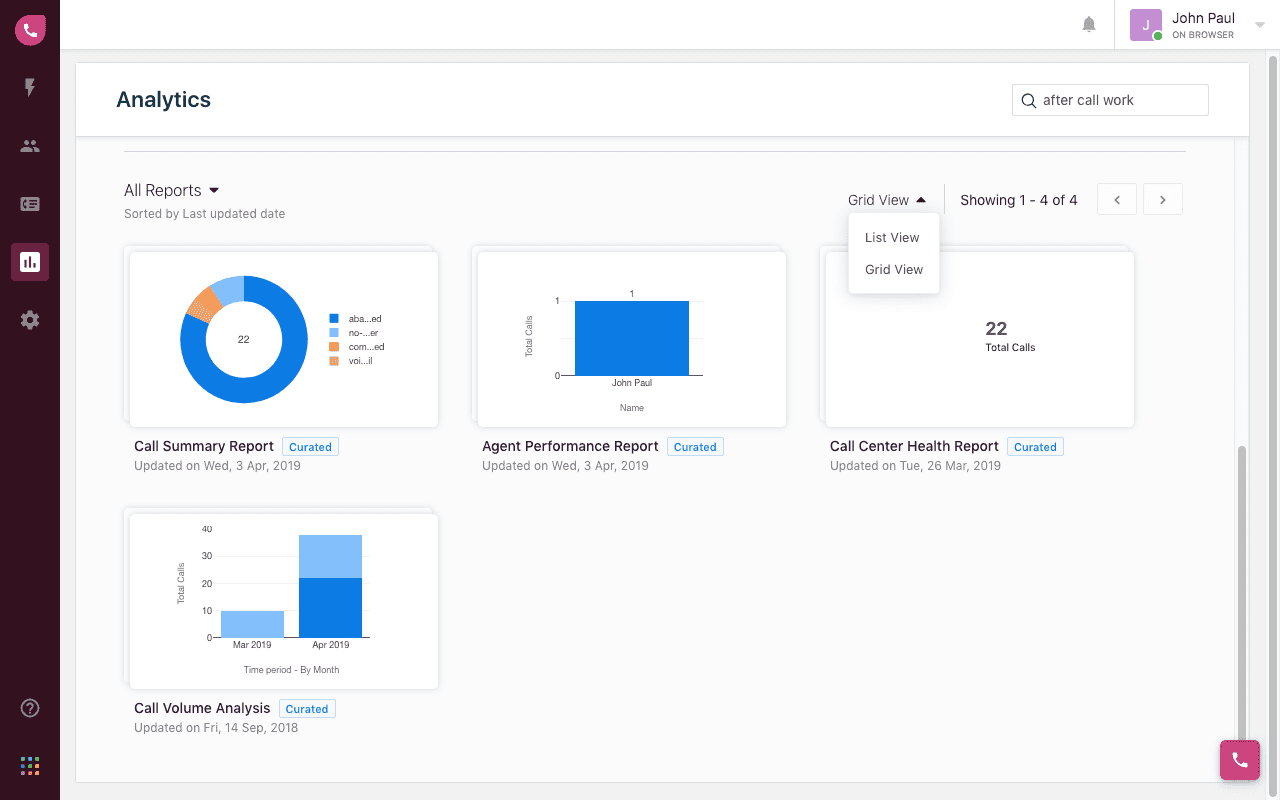 Like Talkdesk, Freshcaller is a provider that has AI features for centers looking to supplement the toolsets of their agents. The Freshcaller AI is called Freddy, and it's used to track intent and engagement levels with customers. This is useful for helping agents resolve issues and reduce the average handle time of calls. Freshcaller also has features like auto-voicemail routing that routes calls to voicemails after hours and a multi-level interactive voice response system with self-service options.
8×8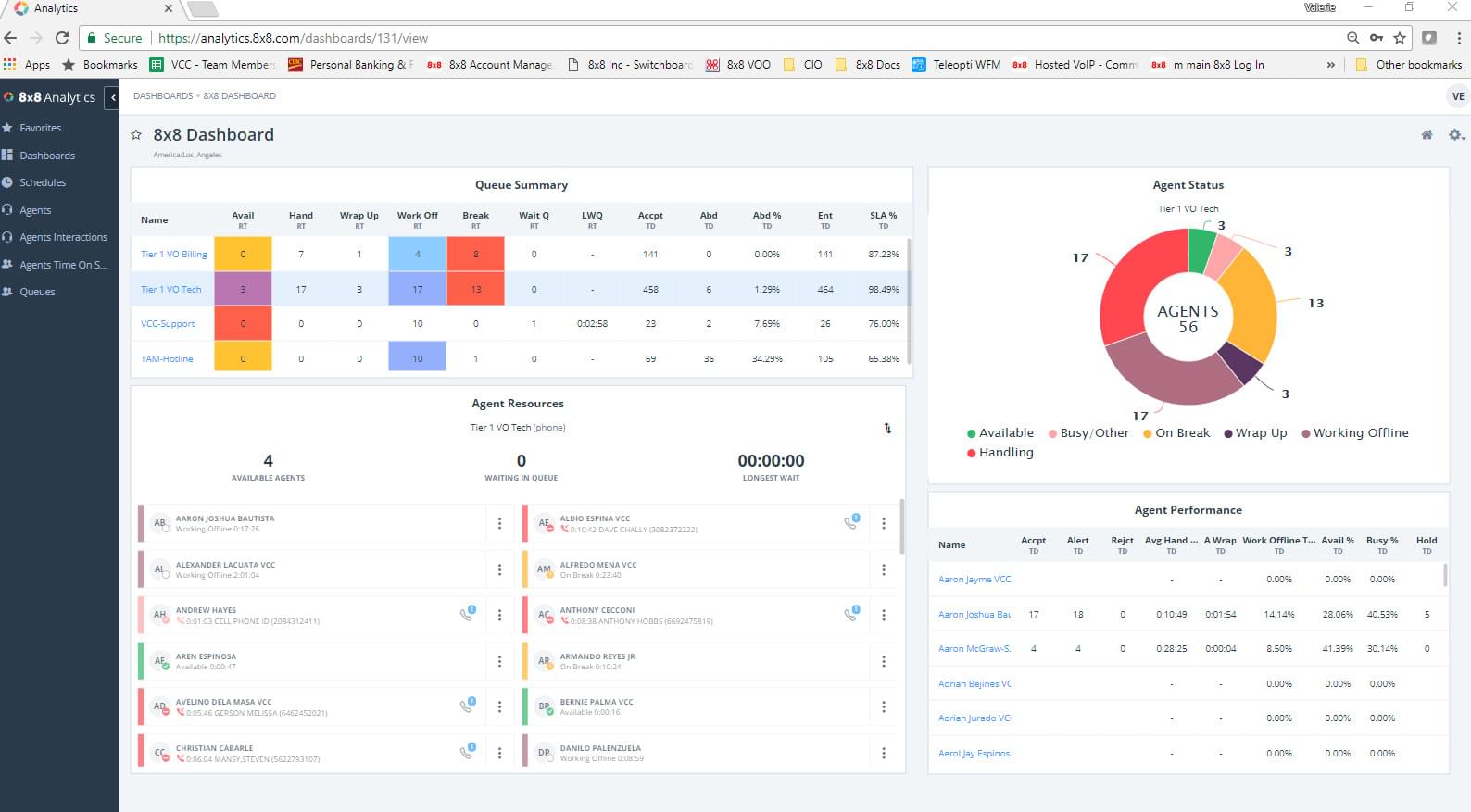 8×8 combines unified communications as a service (UCaaS) features with cloud contact center features. For example, when an agent runs into an issue with a customer, the 8×8 platform makes it easy for the agent to reach out to a specialist using chat and bring the specialist onto the call to help.
8×8 also has an included native CRM and supports several third-party CRM solutions like Zoho, Microsoft Dynamics, and Zendesk. 8×8 has a high quality of service (QoS) since they use a geo-routing system that finds the best path for each call. VoIP calling is done by sending audio packets, and when they aren't efficiently handled, packet loss occurs and you lose audio quality. While there are several ways to learn how to fix packet loss, having better routing means that you'll have higher quality calls with customers.
NICE inContact
Nice inContact loses some points with us thanks to only having a 99% guaranteed uptime. To put it into perspective, this amounts to a potential full three days of downtime per year. Still, NICE inContact has some useful features for someone looking for an alternative. These include a pay-for-what-you-use plan structure that's very small business-friendly.
Their software also has an all-in-one suite structure that is very intuitive and delivers managers agent insights for KPIs like occupancy rate and average handle time. It also has call monitoring features like call whisper and call barge. Nice inContact was named a leader in the Forrester Research for cloud contact center solutions.
Feature Comparison: Talkdesk vs Alternatives
Features
Talkdesk
Five9
Freshcaller
8×8
NICE inContact
Dialer Type
Predictive

Progressive

Predictive

Progressive

Preview

Predictive
Predictive
Predictive

Progressive

Omnichannel
✔
✔
✔
✔
✔
Auto Call Recordings
✔
?
?
✔
✔
HIPAA Compliant
✔
✔
✔
✔
✔
CRM Integration
Salesforce

Zendesk

Zoho

Microsoft Dynamics

Salesforce

Oracle

Netsuite

Freshsales

Salesforce

Zoho

Agile

Salesforce

Netsuite

Zendesk

Microsoft Dynamics

Salesforce

Oracle

Microsoft Dynamics

SugarCRM
Over 1,800 Enterprise Clients Rely on Talkdesk
Talkdesk implements multiple features into a single platform to make a difference in how a center performs. We also appreciate their blog, which works as a good online knowledge base for those looking for information on metrics and best practices. This is undoubtedly one of the more versatile cloud solutions currently on the market. Here are a few key points that support this:
Call features are consolidated to boost productivity
Multiple channel support through calls, SMS, live chat, and social messaging
Add-on capability for when the need for new features arise
AI-powered speech analytics to tailor customer interactions
Analytics to improve agent-customer relations
Callbar frees up agent workspace while incorporating CRM data for each customer
While this is a versatile option for most centers, they could be more transparent about their pricing. Also, providing their 100% uptime SLA shouldn't be limited to their enterprise-level clients.
Yes! You can access this information through the "Reporting" section in the administrator portal.
This happens when the call is transferred outside of Talkdesk or is received by an internal number.
Yes! Refer to articles in Talkdesk's support center or reach out to their customer service team for help.
No. You won't have access to emergency services through this platform. 
Premium Rate Service phone numbers, Shared Cost phone numbers, and a few other premium routes are unable to make outbound calls. 
Navigate to the top right hand corner of the page and switch the "Developer mode" toggle to the on position. Then, click the "Update" button.