Cloud and hosted PBX technologies, which use voice over internet protocol (VoIP), are experiencing steady growth in the SMB market and will continue to grow by more than 15% in the next five years. The industry is full of useful VoIP services that will help you save and deliver quality features, but which ones deliver the most value?
Is VoIP Right for Smaller Businesses?
VoIP is perfect for small-to-midsize businesses (SMBs). Bringing costs down is critical, and this technology extends your communications profile while bringing costs down. For example, businesses in the past were shackled to public switched telephone networks (PSTN), which require extensive hardware. PSTN landlines also require you to pay long-distance fees for simply dialing out of the area.
With VoIP systems, most providers have unlimited U.S. and Canada calling. This is major savings for your business and many plans have international calling plans that are far cheaper than traditional phone lines. It meets the business needs of small companies looking to establish a global presence.
With the use of local virtual numbers, you provide customers with digital numbers within their area code. Your offices and contact centers don't have to be physically located within these area codes, but for your customers, it'll appear that you're a local business. Some providers present this feature for overseas markets.
Conversely, you might want to present your company as a national brand. Providers do this by using the same virtual number feature to assign toll-free numbers. With these numbers, customers will be able to reach your business VoIP phone line without long-distance fees. Features like these enable competition with companies that are far larger and allows organizations to extend their reach into distant markets.
What are Essential Features for Growing Businesses?
Services provide a wide variety of standard features, so it's easy to get lost. Fortunately, some advanced features are more important for a smaller business than others, so let's take a look at some that stand out for someone that's switching from a PSTN service to one powered by VoIP.
Voicemail to Text
Also known as voicemail transcription, this feature transcribes mails and sends them to your devices via business SMS. This adds a layer of convenience because it forgoes the need to open up a mail app and listen to every message. Instead, you simply open up your standard texting application and read the transcribed text when it's convenient.
Visual Voicemail
Visual voicemail is a mail management technology that lists your mails so that you choose which ones you'll listen to or delete. Each mail has pertinent details associated with it so that you see the duration of the message, the sender, and the date and time of receipt. This is more convenient than standard mail because it allows you to skip past the automated messaging that takes up a lot of time. Instead of waiting through each message in succession, you select the messages that are more pertinent and delete the ones that you don't need.
Call Management
The management of calls is essential because it decides how incoming calls are handled when customers reach out to your business. For example, a management feature from a provider like GoToConnect has a dial plan editor that decides how many rings to allow before a customer is sent to either the receptionist or to your messaging system. This type of management is a nuanced process, but it's critical when you need to set things like company hours or away greetings. How each provider handles the management of calls varies, but it's a good idea to go with the provider that has the most easy-to-edit interface so that you can make changes on the fly in the event of a holiday where the office is closed or a disaster.
Mobile App/Softphone
Internet telephony is unique because it allows for you to eschew traditional calling hardware, which is why the best phone services offer support for mobile applications and softphones. Softphones are desktop-based applications that connect to the internet and provide a visual interface for dialing and managing calls. Built-in features include a graphical dial pad, options for holding and forwarding calls, and caller ID for inbound callers. In the case of softphone applications like Vonage's Callbar and 3CX's own softphone, the visual UI is compact and draggable, so you can move it around the screen while looking up information for a caller.
Similarly, mobile applications perform very similar tasks but on mobile platforms. Features like call flip also make it easy to send calls that are being handled on the softphone, desk phones, or browser-based applications to your smartphone. This is typically done without interrupting the call or even being noticeable by the customer/colleague.
Call Logging
Call logging software collects all information about calls being made and received by your business and analyzes the outcomes. In most cases, analytical data is provided so that you use them to make decisions about the dialing habits of your agents and so that you can gather data about call outcomes. Call logging provides a useful resource for relevant data and even provides details about voice quality and agent metrics. For example, are calls that are made to a particular area of the country frequently not making contact at certain hours? Call logging will provide this data so that you make changes to your calling practices in that area. There are several great call logging system features that you need to consider.
Popular Integrations
Everyone knows about software solutions for managing customers like Salesforce, but what about team collaboration solutions like Slack and Asana? Popular integrations are important for a business communications service because these add interconnectivity. For example, with popular integrations with CRM software, you can dial directly from the CRM dashboard with the right integrations so that the customer's information is always at hand. Similar features are available using calendar and collaboration software. If popular integrations are included, you can open up chats or make direct calls from applications such as GSuite or Microsoft Office 365. This adds convenience to communications, and the best providers will have long lists of integrations with popular third-party platforms.
Auto Attendants and IVR
Your business is going to need routing to better manage the customer experience. Auto attendants, which are sometimes called virtual receptionists, and interactive voice response systems (IVR) are integral for SMBs that are looking for quick customer service solutions. Neither of these is exclusive to cloud communications, but providers usually include at least one with their base plans.
The best auto attendant phone system quickly routes calls to the right department by providing extensions for your customers. Attendants have hold music and some allow users to dial in the extension without first needing to wait through menus.
IVR systems improve on the features of virtual receptionists by adding voice and more independent menus. Routing through an IVR includes unique functions that enable customers to pay bills and take surveys. IVRs have self-service features to ensure agents only engage customers that need help. This means that you'll need to edit menus to create an optimal IVR call flow for the convenience of customers.
What to Look for in Network & Reliability
The standard features are important, but having IVR, integrations, and call and audio message management will be useless if the network is down or there's a security breach. For this reason, any provider will need to pack in some important network and reliability features.
Real-Time Monitoring and Alerts
VoIP security is critical on your business phone line because vulnerabilities in your system will lead to vulnerabilities across your entire network. Fortunately, many providers have real-time VoIP phone system monitoring and alerts so that any potential attacks are quickly stopped. This allows your team to employ network and application monitoring on your networks to determine have been any attacks or if there are glaring network vulnerabilities. There are even security management features that detect a virus or spam attempts before they become an issue. When there is an attack, an alert will be generated so that the admin can take the appropriate action. Several providers also have 24/7 IT staff at the server level that monitors for technical issues, vulnerabilities, and apply patches when needed.
Quality of Service (QoS) Reporting
Call quality is probably the most important stat for a communications solution, especially if your business is going to be working in customer service, tech support, or telemarketing. Poor quality voice service is unacceptable, which is why many business phone service providers have quality of service (QoS) reporting tools. One of the more effective tools for this is a dashboard that has graphical representations of what's happening in real-time for your connection. Deep-dive details are also provided like voice quality over time and which audio codecs provided the highest level of call clarity. For a glimpse into the overall health of the calling system, multiple providers like RingCentral also have trend tracking so that you determine if certain times of the day or if specific agents are experiencing consistent audio and video quality interruptions.
Uptime
Growing businesses need calling ability throughout the day, especially call centers that need to receive or make calls globally. This means that your phone provider needs to have some form of service level agreement (SLA) or guarantee that states that service will be reliable. Most providers publish a guaranteed percentage. Some guarantee 99.9%, others offer 99.99% guarantees, and a few guarantee 99.999%, which is sometimes referred to as "five nines" uptime.
Make no mistake; service availability is one of the most critical aspects of a VoIP SMB phone service to consider. Almost no internet-based provider guarantees 100% service availability because things like updates and server maintenance will sometimes require that a network comes down. The higher number of 9s in the reliability guarantee truly makes a difference. Here's a breakdown that takes into account yearly downtime for those three percentages:
99.9% – Almost nine hours of yearly downtime

99.99% – 53 minutes of yearly downtime

99.999% – Five minutes of yearly downtime
That's a pretty large difference, right? Consider that with a 99.9% reliability guarantee, you run the possibility of losing an entire shift's worth of dialing and inbound call reception. With a five-nines solution, that's cut to a scant five minutes. When selecting a business phone service, definitely consider how much you need consistent dialing throughout the year.
Security
A phone service that transmits data packets in audio and other formats is going to need security so that data isn't stolen. Several security vulnerabilities need to be addressed so that information is not exposed during calls and conference calls. Fortunately, several providers take this into account by providing tech to protect users. Some security features to consider are:
HIPPA Compliance

Encryption

Transport Layer Security

Secure Passwords

Updated Firmware
Top 10 Small Business Phone Services
In this section of the guide, we've broken down 10 of the best business phone services currently on the market that use VoIP. Each has something unique to offer, and we've broken down each for the value it provides smaller scale customers.
Grasshopper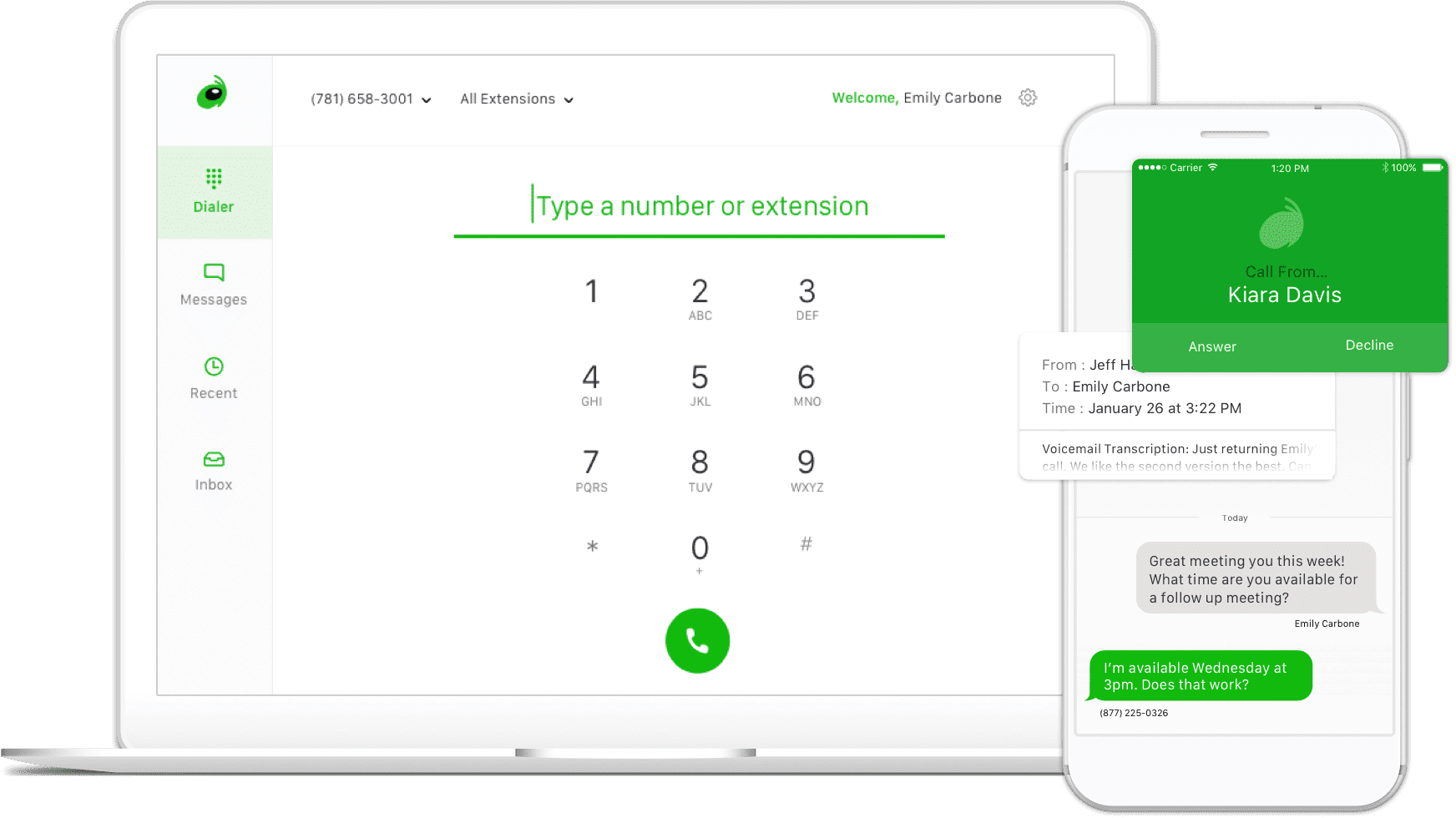 As a phone service designed for smaller companies, Grasshopper stands out because it scales down to the freelancer. It's part of LogMeIn's collection of voice and unified communications (UC) software, so it serves as a reliable virtual office phone system for business communications with strong backing.
Grasshopper has a 99.999% reliability guarantee, which small business owners need to have available for clients. Grasshopper stands out for their trial – while it's only seven days, you don't need a credit card to try out the service.
Best Grasshopper Features
Gmail integration

Mail transcription

Automated greetings

Business text messages over an internet connection

Virtual fax

Simultaneous call handling

Mobile applications for Google and Apple smartphones
Plans and Pricing
Basic Plan – $26 per month

Premium Plan – $44 per month

Platinum Plan – $80 per month
Network & Reliability
99.999% reliability guarantee
Freshcaller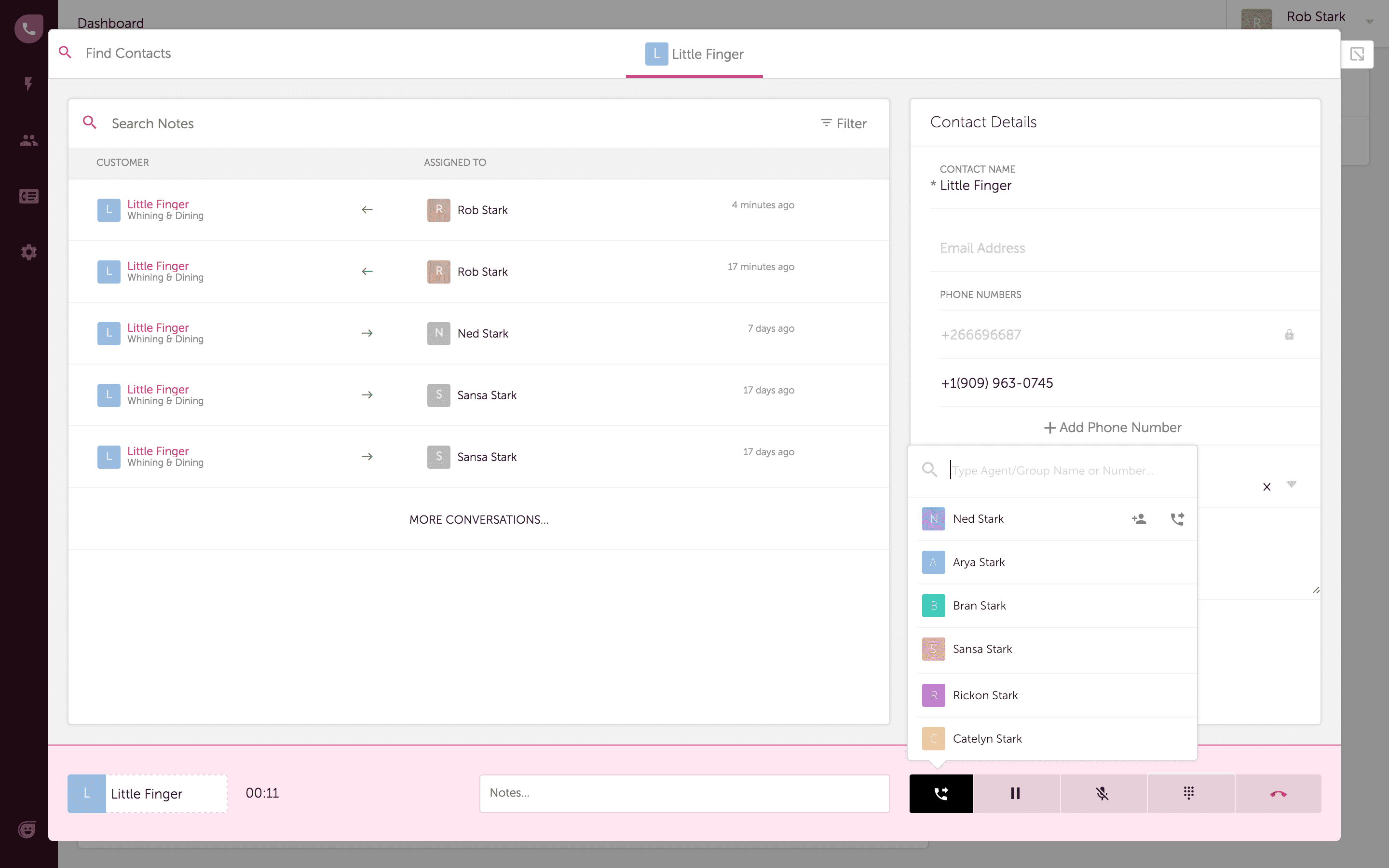 Freshcaller is known for its contact center-friendly features that include call barging, whisper, and service level tracking software. In addition to these, we discovered that the software has standard calling applications in our Freshcaller pricing and plans guide.
Freshcaller's virtual number system has options for vanity, toll-free, local, and international numbers in 90+ countries. Freshcaller also has IVR and auto-attendant routing systems, so businesses can determine the level of complexity for their first point of contact.
Best Freshcaller Features
Call masking for mobile phones

Extensive virtual number options

Quality of service monitoring

Integration with Freshsales CRM

Pay as you go options

Message transcription
Plans and Pricing
Sprout Plan – $0 per month with a pay-per-minute structure

Blossom Plan – $15 per month with a pay-per-minute structure

Garden Plan – $29 per month with a pay-per-minute structure

Estate Plan – $45 per month with a pay-per-minute structure

Forest Plan – $69 per month with a pay-per-minute structure
Network & Reliability
99.97% reliability guarantee

Voice Trace for QoS
Nextiva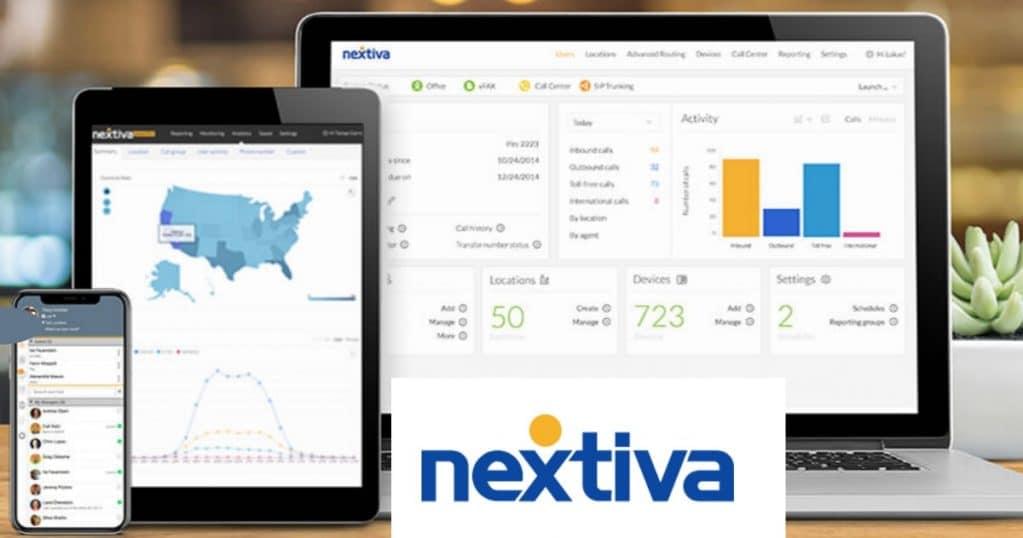 Nextiva has 99.999% reliability guarantee for its services. While other providers have similar reliability, Nextiva backs up its reliability. Nextiva subscribers can rest assured that Nextiva servers are well maintained – each location has a controlled climate, 24/7+365 monitoring, and biometric checkpoints.
Nextiva has its Next OS, which we covered in our State of Nextiva guide. The Next OS analysis engine allows users to track sentiment and determine how each customer feels about your brand. The platform also allows businesses to perform customer satisfaction surveys via website, email, or SMS.
Best Nextiva Features
Customer sentiment analysis

High service availability and server upkeep

Built-in workforce automation

Speech-enabled IVR

Call flow building via drag and drop interface

Routing based on customer experience and history

Omnichannel support
Plans and Pricing
Essential Plan – $19.95 per month

Professional Plan – $20.95 per month

Enterprise Plan – $27.95 per month
Network & Reliability
99.999% reliability guarantee

24/7 monitoring and security

Real-time network status updates
Ooma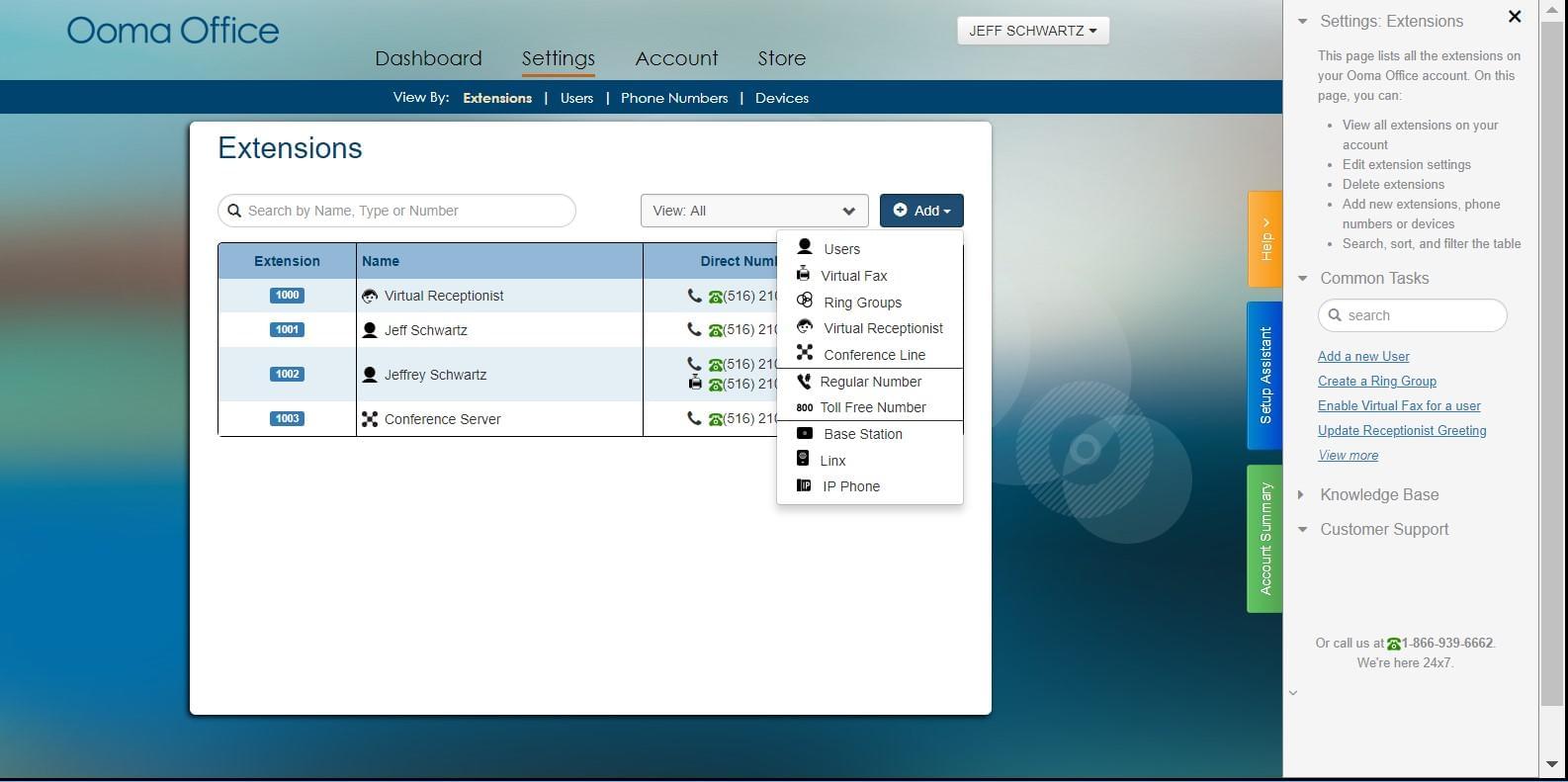 Ooma is a contractless provider, which helps align its services to smaller businesses looking for extra freedom. This is also a provider with international calling plans that help businesses contact foreign clients, customers, and colleagues.
Ooma has both a virtual receptionist and an IVR system. Their multi-ring feature sends calls to your Windows or Mac desktop apps while ringing your smartphone simultaneously. Office pricing plans include standard Office and Office Pro tiers.
Best Ooma Features
Enhanced management and blocking of calls

24/7 support

International calling

Advanced contact management

Call waiting

One-touch message access

Caller ID blocking
Plans and Pricing
Office Plan – $19.95 per month

Office Pro Plan – $24.95 per month
Network & Reliability
99.99% reliability guarantee

Traffic monitoring and white/blacklisting of websites

Extension monitoring
RingCentral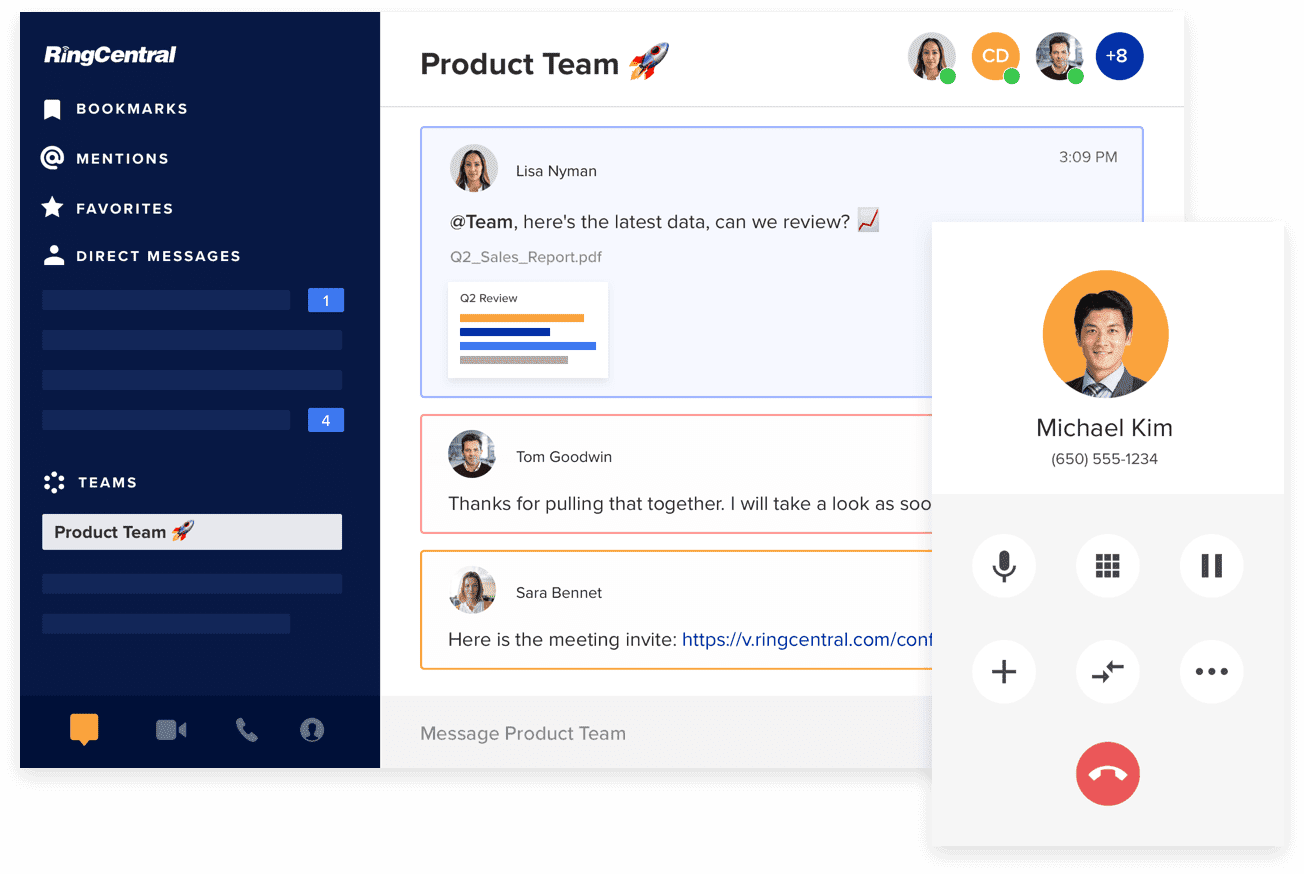 RingCentral has tiers well-suited for smaller companies, enterprises, and everything in between. At the base level, RingCentral Pricing for the Essentials Plan costs about $20 per month. The provider allows for 20 users on the first tier, and your business receives calls and SMS messages completely free within the U.S. and Canada.
RingCentral has web conference calling with built-in meeting scheduling that has HD video and sound. For those businesses looking for integrations, it integrates with multiple CRM packages as well as with several third-party platforms.
Best RingCentral Features
Integration with Zapier, Hubspot, Salesforce, and Slack

200 attendee maximum participant count for meetings

Unlimited phone calls and SMS

24/7 customer support

Remote call forwarding

Internet faxing
Plans and Pricing
Essentials Plan – $19.99 per month

Standard Plan – $24.99 per month

Premium Plan – $34.99 per month

Ultimate Plan – $49.99 per month
Network & Reliability
99.999% reliability guarantee

QoS reports and dashboards

Active security monitoring of accounts
8×8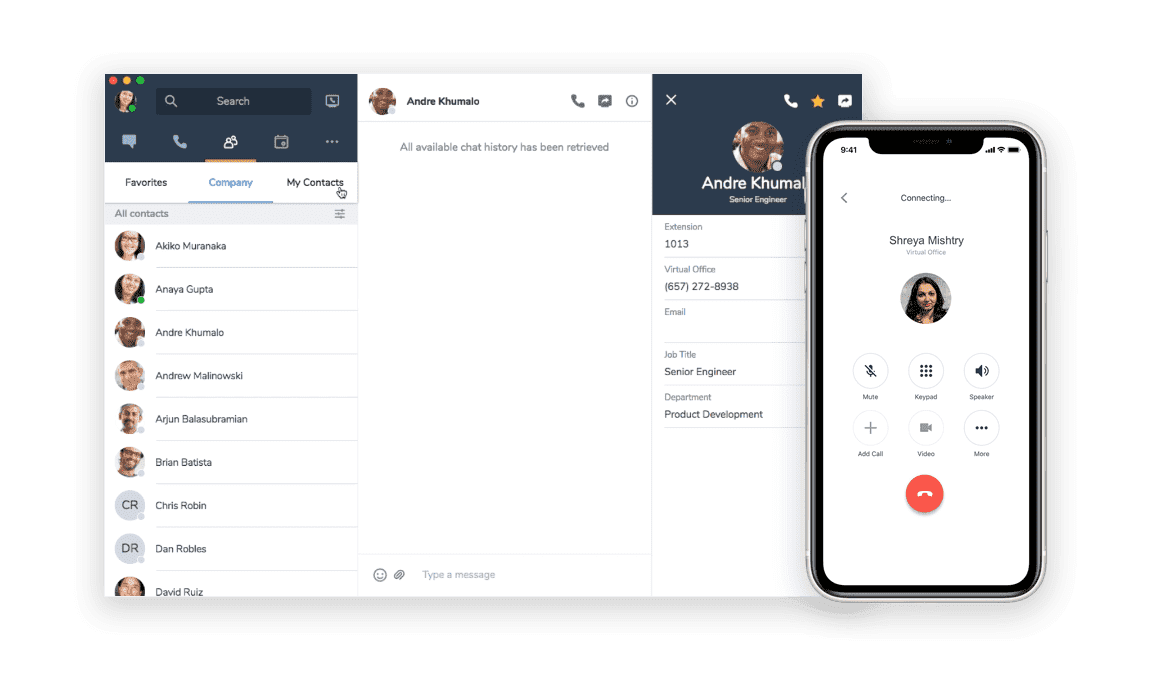 8×8 has integrations for CRMs such as Salesforce, Okta, 1CRM, Microsoft Dynamics 365, and Zoho. 8×8 has a free video meeting service, which is called 8×8 Meetings that is completely free and limitless with one-click conferencing. In addition to video conferencing and internet phone, 8×8 delivers team chat and contact center features for businesses that need them.
Best RingCentral Features
Free video conferencing

Detailed analytics

Several integrations

Intelligent call routing

Business text messaging
Plans and Pricing
Express Plan – $12 per month

X2 Plan – $25 per month

X4 Plan – $45 per month
Network & Reliability
99.9999% reliability guarantee

Network Utility that gives specific measurements of network performance
Dialpad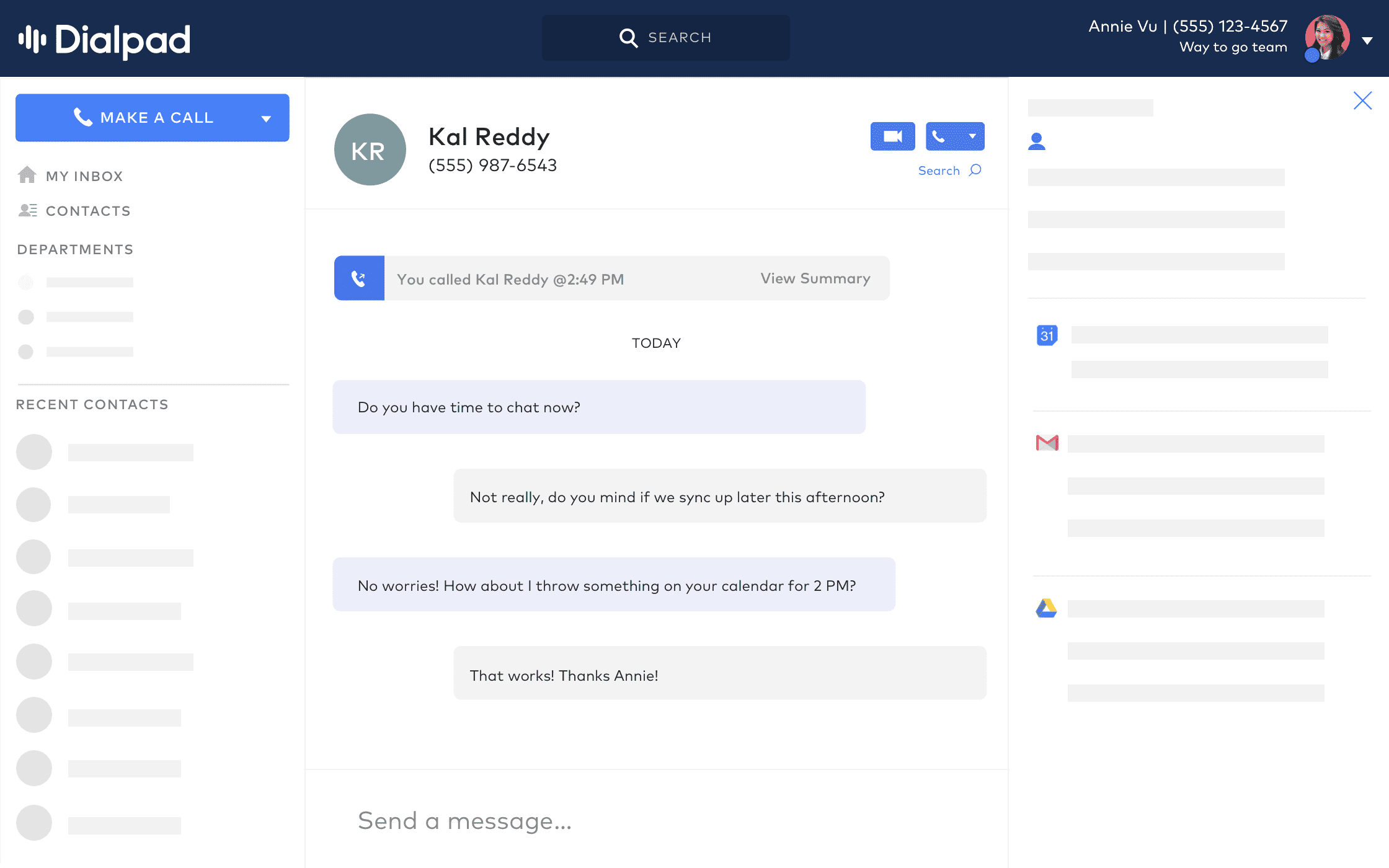 All Dialpad small business phone service plans include unlimited calling, SMS, MMS, and group texting in the U.S. and Canada. International calling with virtual numbers is available in 50 foreign countries for subscribers. Web conferencing on Dialpad uses very high definition codecs for both their video and audio calls for all Dialpad pricing plans.
Dialpad Video is available in WebRTC browsers like Chrome, so attending meetings is done on any desktop. Dialpad also has features for contact centers, extensive integrations, virtual fax, and voicemail.
Best Dialpad Features
HD quality in video conferences

User presence and custom status on the mobile application

Settings for recurring conference calls

Conversation analytics using Natural Language Processing

Message transcription

24/7 live chat
Plans and Pricing
Standard Plan – $15 per month

Pro Plan – $25 per month

Enterprise Plan – Contact Dialpad for pricing
Network & Reliability
99.99% reliability guarantee

Weak connection banners and warning messages
Vonage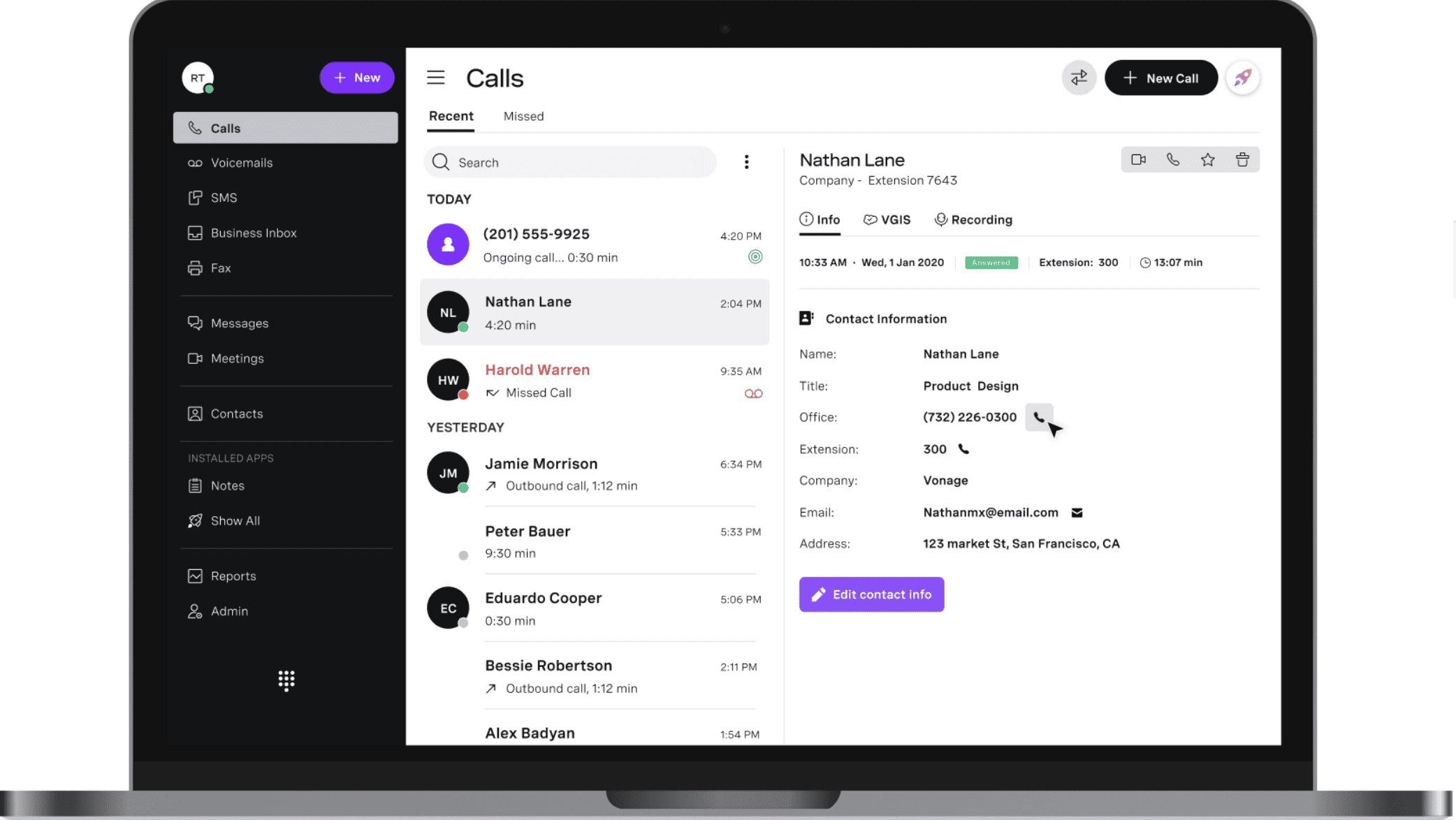 Vonage is a reliable solution that has a 99.999% guarantee. Vonage support is available 24/7 through chatbots and other means to improve the customer's overall experience. Their virtual phone system has a mobile application that works well for remote team members that need to collaborate. Calls received can also be picked up on any mobile device. With this provider, the more users you have, the lower the price per month will be per user, so it also works well for growing businesses.
Best Vonage Features
Cell phone integration

Call groups

Call monitoring

Simultaneous ringing

Admin and user portal

Virtual receptionist
Plans and Pricing
Mobile Plan – $19.99 per month

Premium Plan – $29.99 per month

Advanced Plan – $39.99 per month
Network & Reliability
99.999% reliability guarantee

Call quality and call signaling tool
Phone.com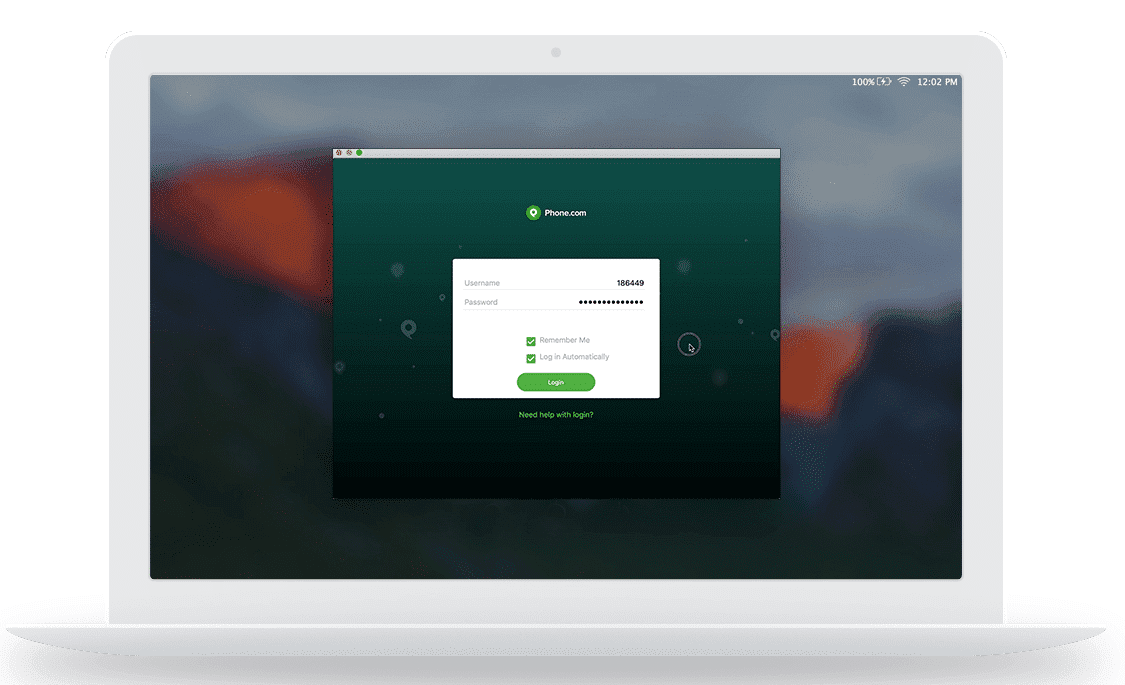 Phone.com is a communications solution that offers reasonable pricing to growing businesses. Nextiva is compatible with desk phones, softphones, and mobile phones, so calls can be made from anywhere. Organizations can customize the small business phone system and make it their own. The base plans included 100 minutes per month, which makes it ideal for small companies, but if more are needed they are available a la carte.
Best Phone.com Features
Call recording

CRM integration

Message transcription

IVR menus

Call blocking

Custom local and toll-free numbers
Plans and Pricing
Base Plan – $9.99 per month

Plus Plan – $14.99 per month

Pro Plan – $29.99 per month
Network & Reliability
99.999% reliability guarantee

Secure encryption and message authentication

Free VoIP Test Tool for QoS issues
GoToConnect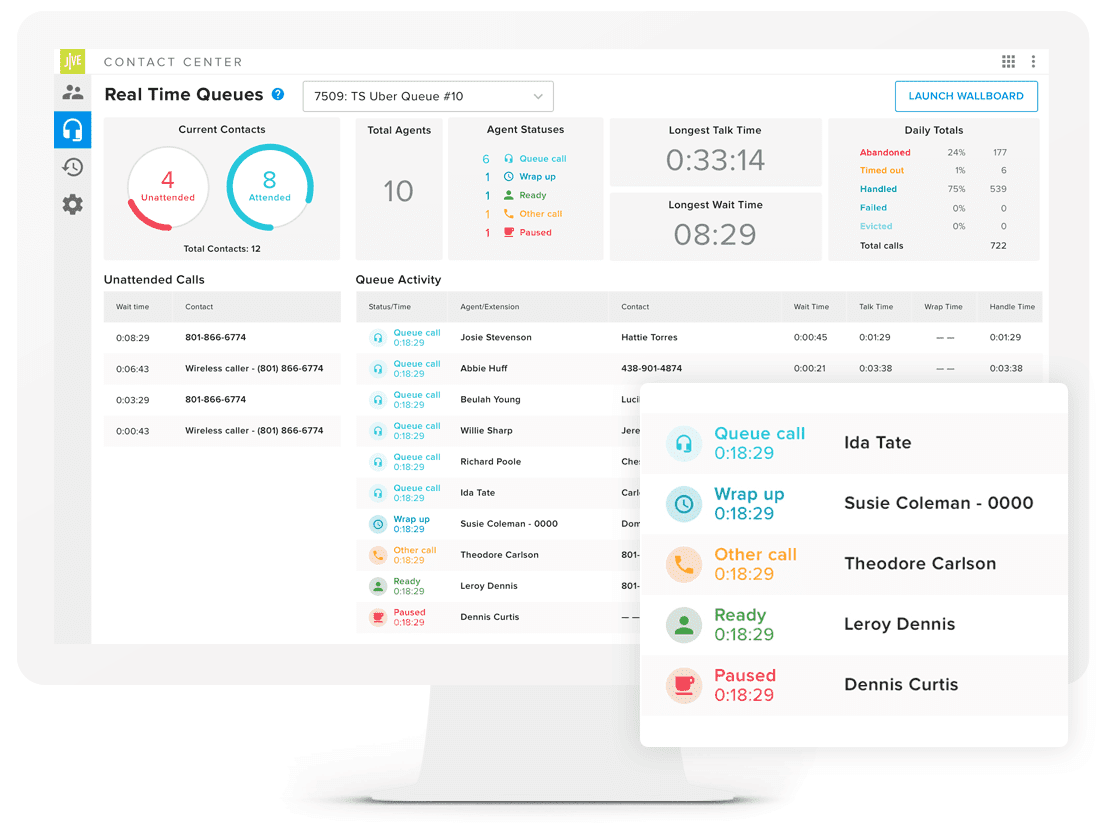 GoToConnect is a phone provider that is great for teams that have daily conferences. Instead of locking features behind tiers, GoToConnect has plans based on the number of users, and features like remote call forwarding, call routing, and call analytics are standard. Their dial plan editor uses drag-and-drop to ensure that callers are routed correctly and hold time is minimized. GoToConnect's PBX security features also make it a good choice for companies looking to protect sensitive information.
Best GoToConnect Features
Virtual receptionist with editable call flows

Voicemail to email

Intuitive screen sharing

Ring groups

local and toll-free virtual business phone numbers

Easy to forwarding calls remotely

Mobile integrations
Plans and Pricing
1 to 4 users – $29.95

5 to 9 users – $25.95

10 to 24 users – $23.95

25 to 49 users – $21.95

50 to 99 users – $19.95

100+ users – Call for custom pricing
Network & Reliability
99.99% reliability guarantee

Network reporting and monitoring
Business VoIP Phone Service Comparison Chart
Provider
Grasshopper
Freshcaller
Nextiva
Ooma
RingCentral
8×8
Dialpad
Vonage
Phone.com
GoToConnect
Plans
Basic

Premium

Platinum

Sprout

Blossom

Garden

Estate

Forest

Essential

Professional

Enterprise

Office

Office Pro

Essentials

Standard

Premium

Ultimate

Express

X2

X4

Standard

Pro

Enterprise

Mobile

Premium

Advanced

Base

Plus

Pro

N/A (priced by the number of users
Base-Level Pricing
$26/m
$0/m, pay/min
$19.95/m
$19.95/m
$19.99/m
$12/m
$15/m
$19.99/m
$9.99/m
$29.95/m (1-4 users)
Compatible Browsers
Chrome

Firefox

Safari

Edge

Chrome

Firefox

Internet Explorer

Firefox

Internet Explorer

Firefox

Safari

Chrome

Chrome

Internet Explorer

Firefox

Safari

Chrome

Internet Explorer

Firefox

Chrome

Internet Explorer

Firefox

Safari

Edge Opera

Chrome

Firefox

Safari

Chrome

Firefox

Opera

Internet Explorer

Chrome

Firefox

Opera

Safari

Internet Explorer

Edge

Compatible OS
Windows 7 – 10

Mac OS 10.9 – 10.13

iOS 10.0 or later

Android 5.0 or later

Windows

Mac OS

iOS

Android

Windows

Mac OS

iOS

Android

Windows

Mac OS

iOS

Android

Windows 2012 or later

RHEL 6.5 or later

CentOS 6.5 or later

SUSE Linux version 12 or later

Windows 7 or later

Mac OS 10.9 or later

Android 6.0 or later

iOS 11 or later

Windows 8 and 10

Mac OS 10.9 and later

iOS10 or later

Android 5.0 or later

Windows

Mac OS

iOS

Android

Windows 10 or later

Mac OS 10.14 or later

Windows 10

Mac OS 10.11 and later

Android

iOS

Windows Mobile

Conference Participants
10
3
4/40/ unlimited
10
0/100/200
50
10/ 100
30
10/25/100
20
Uptime
99.999%
99.97%
99.999%
99.99%
99.999%
99.9999%
99.99%
99.999%
99.999%
99.99%
Auto Attendant/IVR
Both
Both
Both
Both
Both
Both
Both
Both
Both
Both
HIPPA Compliant
No
Yes
Yes
No
Yes
Yes
Yes
Yes
Yes
No
Trial Duration
7 days
21 days
30 days
60 days
15 days
30 days
14 days
14 days
30 days
N/A
*All prices are based on annual billing.
Reach More Customers For Less Than You Think
60% of customers prefer to reach their favorite brands by phone, and having an internet-based business line adds important features to your most important point of contact. Each of the 10 providers we covered in our guide delivers features that benefit various types of SMBs.
Not sure where to start? Here are a few questions you can ask:
Will I be reaching distant markets?

Do I need local numbers?

What kind of routing system will I need?

How important is security?

Do I need a plan that scales as my business does, or is it better to get a short-term contractless phone solution?
Each of these questions helps you narrow down your choices for internet-based phone service. Finding the right business VoIP provider will greatly streamline business and provide you with the features that you need to grow.