Given the increasingly vital role that web conferencing software plays in team communication and collaboration, business owners should research video calling hardware with the same amount of vigor as they do software.
There is no piece of hardware as important as your video conference webcam — especially since close to 80% of companies rely on video communications to connect in-house and remote teams, communicate with clients and vendors, or host training webinars.
Learn which of 2020's top video conferencing webcams have the features you need to ensure your team connects and collaborates via video just as they would in your office's physical conference room.
Video Conference Webcam vs Laptop Cam
Why invest in a separate video calling webcam as opposed to simply using your laptop's built-in camera?
First, your laptop's camera offers a limited view and almost no flexibility — unless you want to spend half of your meeting adjusting your laptop, which would certainly be a distraction to attendees.
Even laptop stands, while they give extra height, don't offer a wider peripheral view of things like a branded background, presentation slides, or everyone in your conference room.
Once you've mastered how to create a webinar, you need to make sure you're using the right tools.
Webcams specifically designed for web conferencing have:
Auto-focus capabilities
Stronger microphones
HD video/higher image quality
Recording capabilities
Better functionality in low light
High frame rate per second
Integration with preferred video calling or online collaboration tools
Can Any Digital Camera Be a Webcam?
While you can use your DSLR digital camera as a webcam, most digital cameras don't have native streaming software included.
This means you have two options: either shell out for an expensive add-on software from the camera manufacturer, or rely on an integrated third-party software to turn your digital camera into a webcam.
However, your camera's streaming software won't have all of the features that a video conferencing webcam offers.
Additionally, longer periods of live streaming from your digital camera can end up damaging it.
So, while it's possible to rely on your digital camera as a webcam, doing so really only works for brief, one-on-one meetings. The better option is to make the investment in a webcam specifically designed for video conferencing.
What Webcam Features Should You Look For?
When shopping for a great webcam for video conferencing, there are a few standard features to look for.
These include:
A minimum resolution of 720p
HD audio and video
Autofocus
A minimum of 30fps
Recording capabilities
Built-in microphone
Light sensitivity
Also, consider if you'd like a webcam that you can clip on top of your laptop or PC, or if you would prefer an option that sits on your desk or in the middle of your conference table. Especially if you plan on using the webcam to stream webinars, you should also look for a webcam that attaches to a tripod.
The Best Video Conferencing Webcams of 2021
The below list of the top 9 best webcams of 2020 provides reviews of webcams right for a variety of budgets, use cases, industries, and more.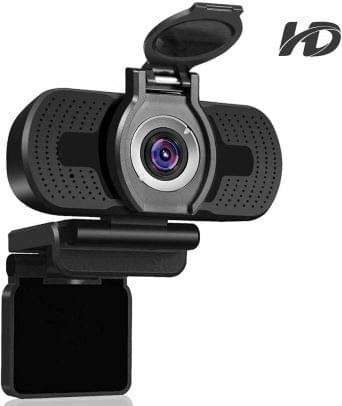 The Dericam 1080P video webcam is a USB live streaming and recording webcam with a wide 75-degree angle field of view and built-in noise reducing microphones.
Though it does not connect to Wi-Fi or Bluetooth, it's compatible with Windows and macOS as well as Android and iOS mobile devices. It also works with web conferencing software like Zoom but if you're afraid of Zoombombing, it works with Skype, Google Hangouts, and more.
This plug-and-play cam has ultra HD streaming and a privacy shutter. While it's celebrated for its user-friendliness, some users express frustration at the fact that the camera only swivels horizontally and not vertically.
The Dericam 1080P HD is a video conferencing webcam for remote teams or departments looking for higher image quality and wider angles.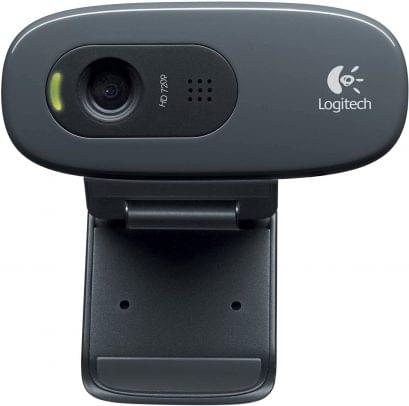 The Logitech C270 Webcam is affordable but doesn't compromise when it comes to features, including an adjustable swivel stand, a glass lens, and face tracking features that quickly focus on the active speaker.
You can click on an uploaded photo of team members in your dashboard and add anyone to your contacts list by entering their email address. The C270 also includes status updates and missed call notifications with one-click return button for missed conference calls. It's compatible with Skype and other Zoom alternatives, Google Hangouts, FaceTime, and both Android and iOS mobile devices.
The C270 webcam has Logitech's patented Fluid Crystal Technology for focus, tilting, and image control.
Other features include:
Compatible headset
200 MB hard drive space
Full HD 720p video calling and recording
16:9 widescreen view
Built-in noise-cancelling microphone
Ability to take snapshots
Automatic light correction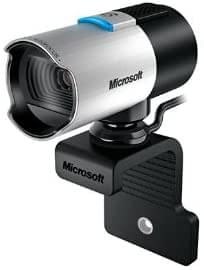 The Microsoft LifeCam Studio for Business is a USB webcam with an HD 1080p widescreen sensor and a high-precision lens that automatically adjusts color and exposure based on room lighting.
It offers 360-degree views of any conference room, meaning it's a great tool to use with your preferred webinar software for live broadcasting. Though specifically designed for Skype for Business compatibility, the LifeCam works with Microsoft Teams, Zoom, and more.
It also comes with a wideband microphone for clear, high-quality audio. If you're concerned about audience engagement during a webinar, the camera allows augmented reality and video effects while live streaming.
Unless you have a powerful, newer-model PC, the camera causes CPU usage to skyrocket — meaning that the quality of the video is compromised.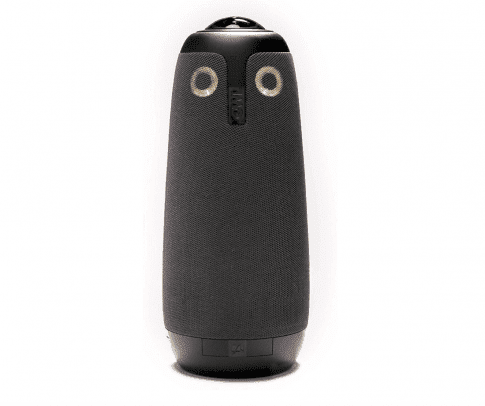 The Meeting Owl camera from Owl Labs is one of the sleekest video conferencing webcams for streamers and some of the best audio and video quality around.
It plugs directly into a computer via USB port and Wi-Fi and offers 360-degree views. It automatically adjusts to focus on the active speaker, and can be placed in the middle of a conference room table for large team meetings.
The Meeting Owl Camera has eight built-in microphones strong enough to pick up voices within 8 feet of the devices and is meant for "huddle groups" or small teams.
It works with Slack, GoToMeeting, BlueJeans Video Conferencing, and Zoom.
Other features include:
360-degree speaker
720p HDR
Mac, Linux, and Chrome compatibility
Works with Android and iOS mobile devices
Low-light performance
Echo cancellation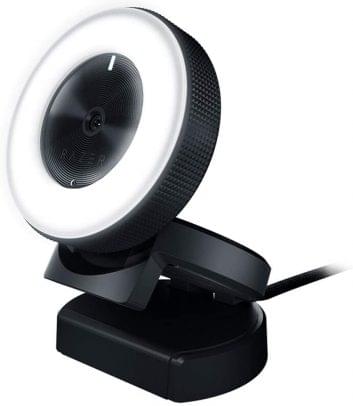 The Razer Kiyo is a top pick for mid-priced video conferencing cameras, and instantly differentiates itself from others on this list thanks to its built-in ring light.
The brightness setting allows much better video quality in dimmer areas. There's no need to bring other lighting equipment when you use this camera, and the fact that it's also entirely foldable makes it easy to stream or record from anywhere.
It can be attached to your desktop or laptop computers, or even onto a tripod. It's compatible with Skype and Skype for Business alternatives, Open Broadcaster Software, XSplit, and other streaming software making it ideal for those broadcasting live webinars.
The biggest complaint that users have with this webcam is its 5-foot USB cable, which is shorter and not detachable.
Top Razer Kiyo Webcam features include:
Variable auto/manual focus
Adjustable saturation, white balance, and contrast
Saved image and focal presets
HD 720p resolution at a 60 fps
Omnidirectional built-in microphone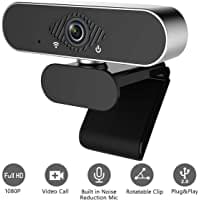 The Castries 1080P is a USB plug-and-play pro webcam compatible with Skype for Business, Zoom, YouTube Live, Facebook Live, and numerous other popular video conferencing software and content delivery networks.
It has a built-in noise reduction microphone and a 110-degree view angle capturing 30fps. It's top feature is its facial recognition and enhancement technology, which is somewhat similar to that of Windows Hello. It also automatically adjusts both lighting and focus to ensure the active speaker looks crystal clear. The Castries 1080 records videos and allows users to take photos with high picture quality during use.
It's ideal for small meetings or one-on-one use like virtual classrooms using Zoom for Educators.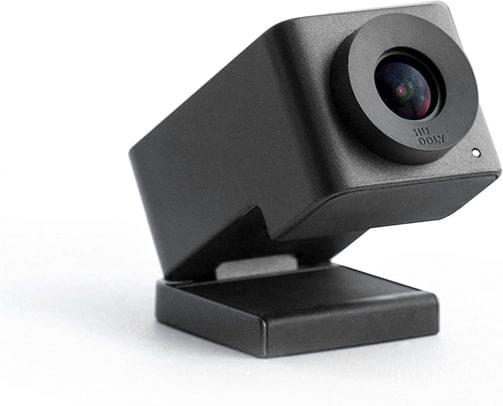 The Huddle Go is a platform-agnostic USB plug-and-play video conferencing webcam. What's especially unique about this camera is that it automatically adjusts based on where its 16MP sensor picks up movement, making it ideal for webinar-scale presentations as well as crowded conference rooms.
It's compatible with Skype for Business, Twitch, Webex, BlueJeans video conferencing, Google Hangouts, and more. Huddle frequently issues software updates that allow for new features and a higher level of image quality to cut down on jitter and latency.
Additional features include:
180-degree auto-flip
Real-time dewarping
4x HD zoom capabilities
150-degree wide-angle lens
Embedded noise reduction microphones
Genius Framing active speaker focus
API Huddle Meeting InSights
Tripod mount
Automatic white balance and color correction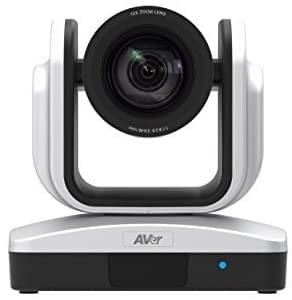 Businesses who have frequent small to mid-sized conference room meetings with in-house or those enjoying the benefits of remote work should consider the USB plug-and-play AVer Information CAM520.
It's compatible with Webex, GoToMeeting, Skype for Business, Zoom, BlueJeans, Google Hangouts, and many other video chat tools and streaming platforms. It also comes with a remote control, has automatic tilt and pan capabilities, and 82-degree wide-angle view.
Additional features include:
10 presets
12x optical zoom
Autofocus
Automatic white balance
Add-on USB microphone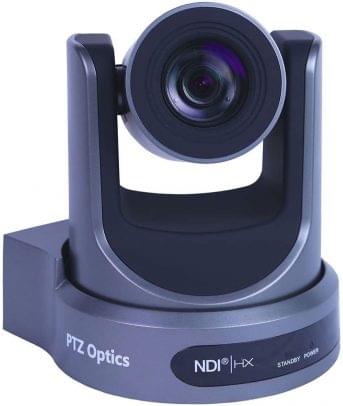 Companies that derive a large portion of their business from webinars need the PTZOptics 30X-NDI.
User reviews consistently rave about the high video quality of this pro stream tool, which makes sense given that this webcam has a 60.7-degree wide-angle lens, a 1920X11080 60fps HD resolution, and automatically adjusts to darker environments. Video output options include SDI, HDMI, USB, and additional video over Ethernet output options.
It allows seamless live streaming via YouTube Live, Facebook Live, and MimoLive, and more. The PTZOptics 30X-NDI has the most software and streaming platform integrations out of all the other options we've mentioned in this post. It offers 10 different focal presets and includes a microphone with built-in noise reduction.
iPhones or Android phones can control the camera remotely.
Is Your Conferencing Software Still the Best Option?
Deciding to stop relying on your computer's built-in camera and upgrade to an external video conferencing webcam provides you with the perfect opportunity to re-evaluate your current web conferencing tools.
Our comprehensive hands-on breakdown of top web conferencing software like join.me pricing and GoToMeeting pricing plans allow you to explore better options than outdated video calling tools that suit neither your business nor the overall state of remote work in 2020.
Disclosure – The GetVoIP team writes about stuff we hope you'll like and strives to offer the best recommendations we can. Our team has affiliate partnerships and may collect a referral commission from your purchase based on our recommendations. This does not influence the content we publish, but only supports our honest efforts to offer you the best and most transparent information. All recommendations are based on our independent research and hands-on experience.