In 2019, over 40% of employees worked from home at least once per week — and companies began reaping the benefits of remote work as a result.
Project managers need to consider how the team collaboration software they choose will improve internal and external communications.
Monday.com is one of the most popular work management tools, offering several different plans and a highly customizable interface.
Here, we'll break down both Monday.com pricing and the features included in the four tiers of  Monday.com plans.
How is Monday.com Different from Other Collaboration Tools?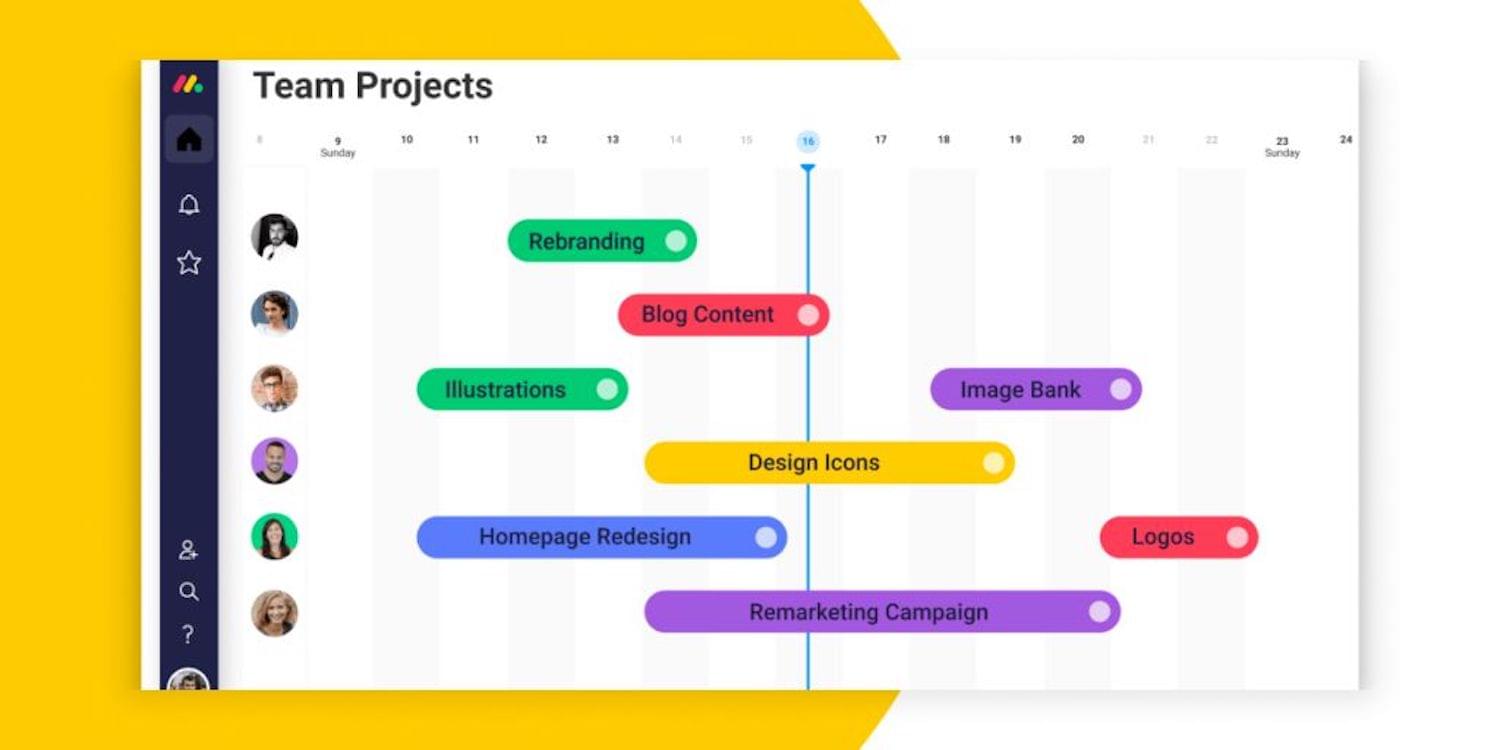 The biggest difference between Monday.com and other team collaboration software is its unique and highly customizable board-based interface.
Monday.com provides a bird's eye view of the progress of current tasks assigned to individual employees, teams, and departments.
Unlike many online collaboration tools, Monday.com is flexible enough to work for a wide variety of in-house departments and teams.
In addition to offering a superior system for organizing workers doing remote work, common Monday.com use cases include:
Managing and monitoring sales teams
Customer relations/CRM tool
HR, onboarding, and IT departments
Software development teams
Marketing creation, automation, and analysis
To add to Monday.com's flexibility, the software offers numerous pre-made templates for common workplace use cases and even social media posts, so there's often no need to design your board from scratch.
Monday.com's user base includes several well-known companies, such as:
Hulu
eBay
PayPal
Walmart
Uber
What are Monday.com Boards?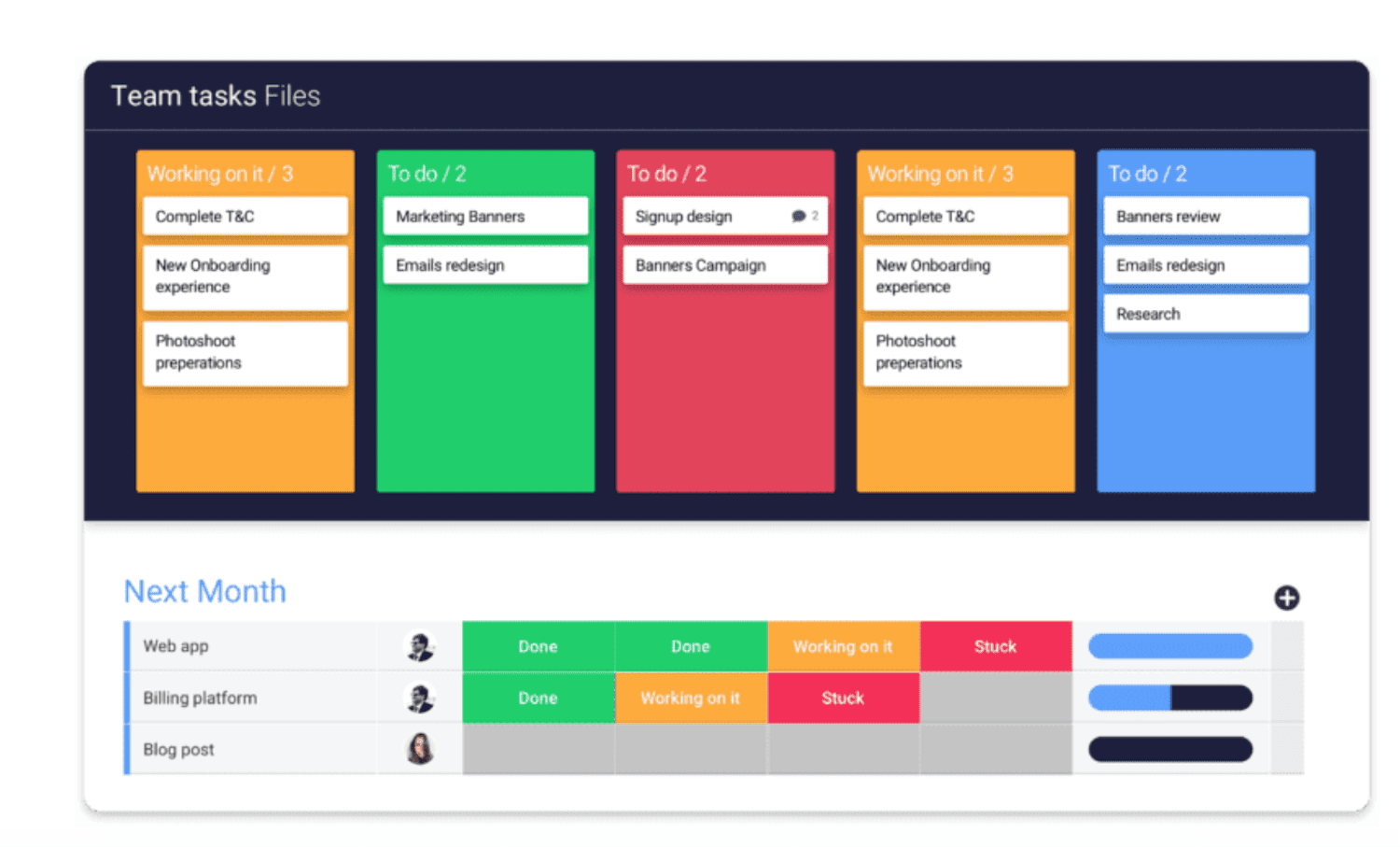 Monday.com organizes all company information in board format, providing several different visual options and access controls for these boards.
The software defines these boards as "virtual whiteboards," but we think that "a highly detailed series of virtual post-it notes" is a more accurate way to think of how Monday.com boards are organized.
These boards don't just show you which tasks your team needs to complete. They also allow you to create subtasks, upload files, assign employees, add notes, and more to give teams a visual roadmap for the process of finishing a project or task. Monday.com is designed to help users work on specific, smaller tasks without ever losing sight of the big picture.
Thanks to this level of detail, team members will have a clear understanding of not just how to get from point A to point B, but also who they'll collaborate with, what files and tools they'll use, and the date they need to get there.
Board Access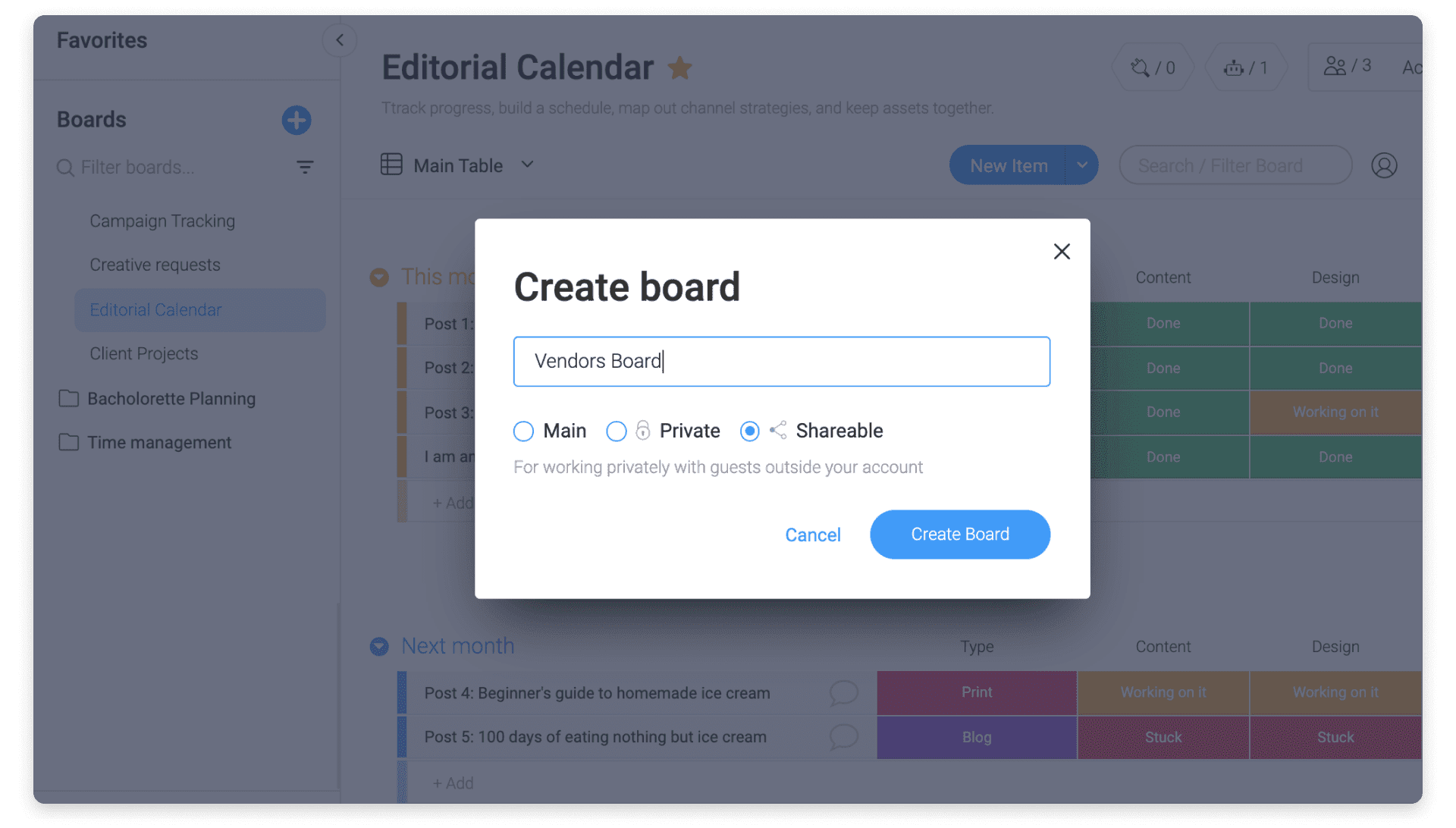 There are three main types of board access in Monday.com: Main, Shareable, and Private.
Main boards are public and can be seen and updated by everyone in your company that has access to your Monday.com account.
Shareable boards allow users to invite guests outside of the company to view and edit boards. They allow clients to understand your process and timeline, and are an excellent way to assign tasks to freelancers.
Private boards are accessible only to single users and the specific people they choose to share the private board with. These boards are a great way for employees to make to-do lists for themselves, work within specific teams, or to get feedback from another coworker or project manager before moving forward.
Board Views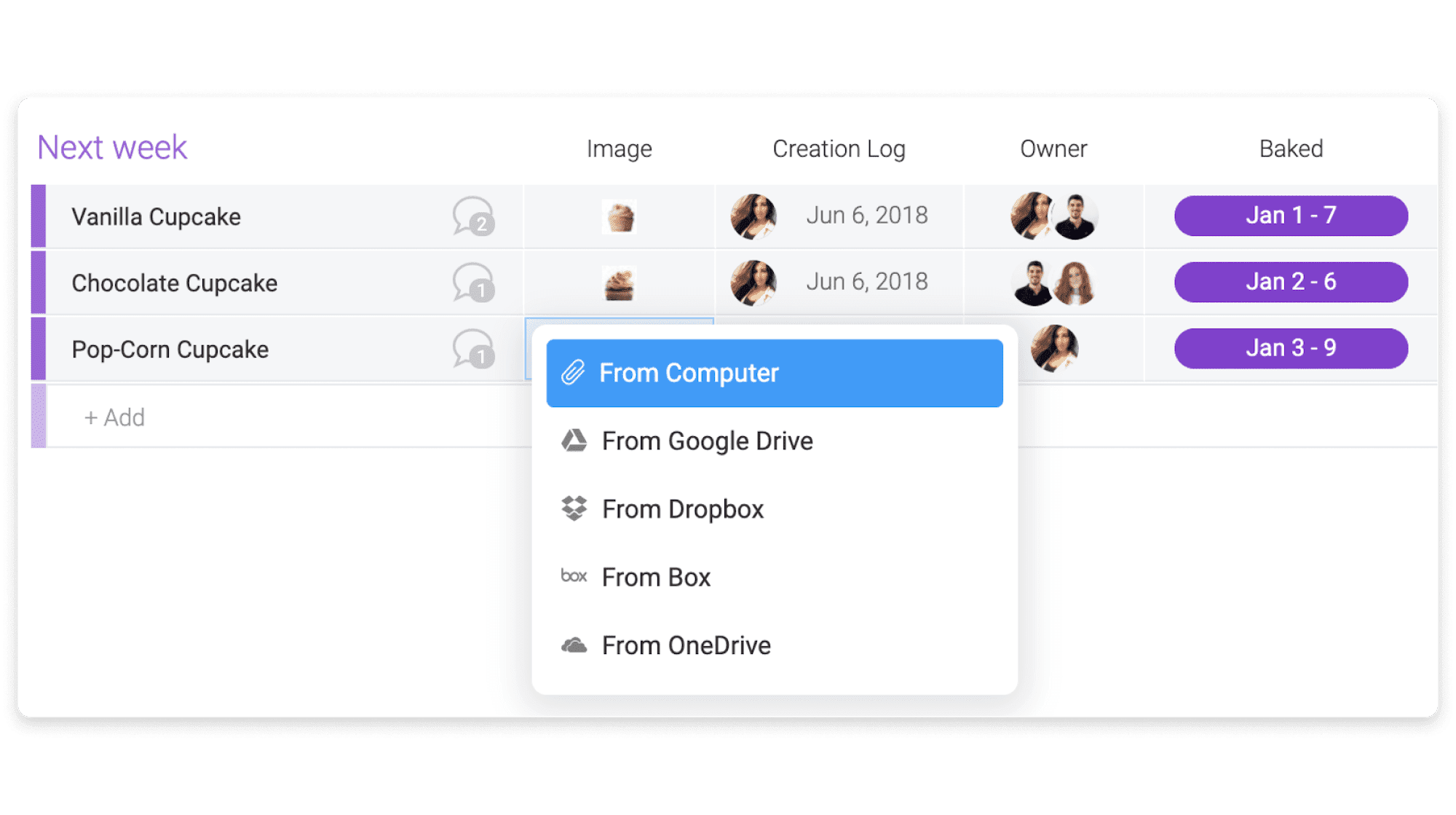 Monday.com understands the key role that visuals play in successful task management, and provides numerous types of board views to ensure that each team member can design their board in the way that's most effective for them.
Monday.com board views include:
Timeline/Gantt view: Shows project and task timeline view
Kanban view: Divides boards into several post-it like cards, allow to-do list format
Calendar view: Shows tasks/timelines in a month, week, or day calendar format
Chart view: Organize data into pie charts, bar, or line graphs
Map/location view: Shows customer or user location
File view: Shows all of a project's uploaded files
Users can select their preferred view in Monday.com's "View Center."
Column Views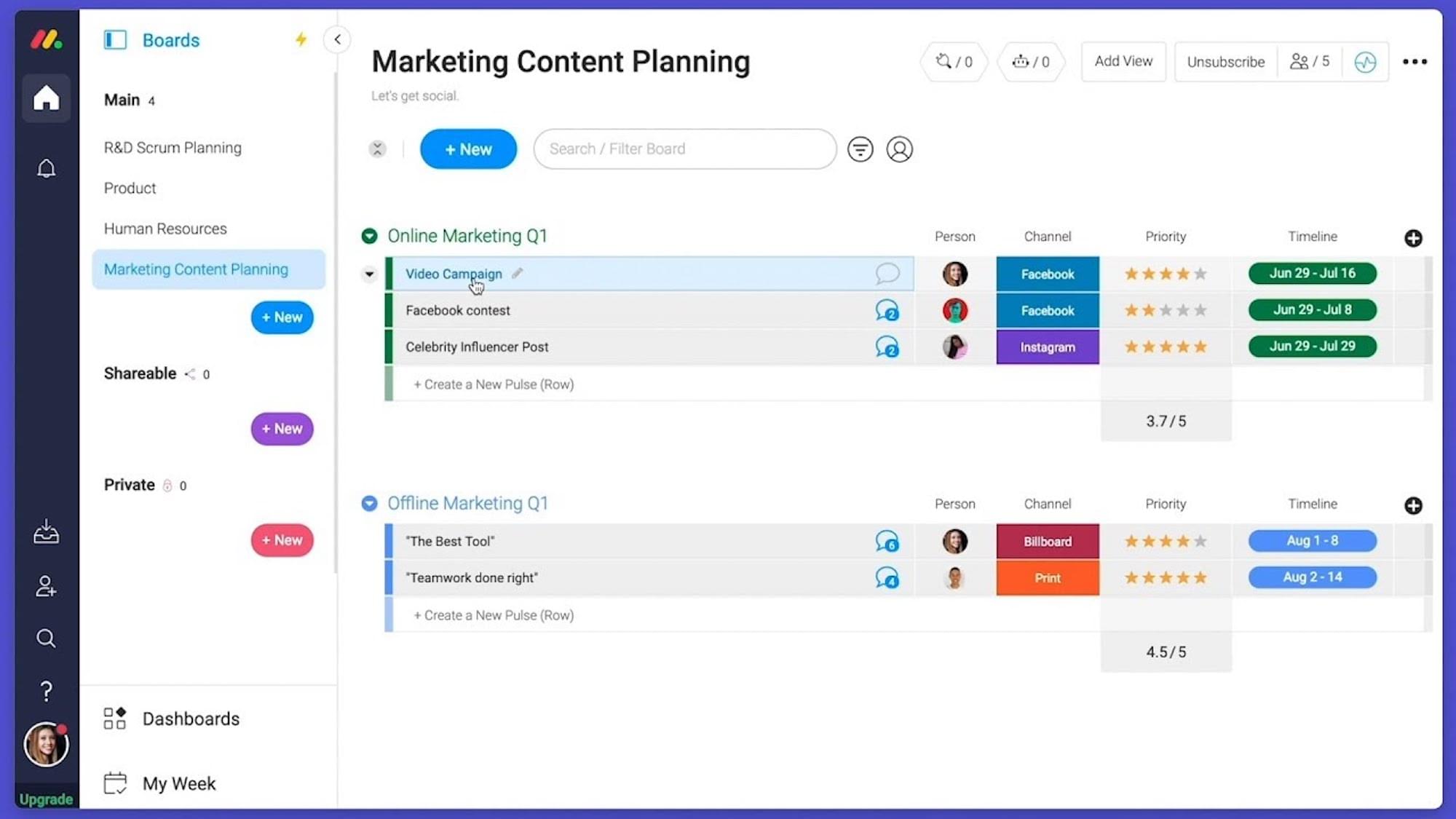 In addition to board view options, users can also select their preferred drag-and-drop column views in Monday.com.
The columns are meant to better organize the information on your specific boards.
Column views include:
Status column: Shows current task status
Text column: Shows notes and comments from users
Date column: Shows task due dates
Numbers column: Shows numeric data like budget/pricing, resource management, etc.
Timeline column: Gantt charts and timelines in column format
Tag column: Allows users to tag project keywords and group different boards by keyword
Rating column: Allows users to star rank tasks or rate task complexity
World Clock column: Organizes users by timezone
Checkbox column: Ability to check off tasks
Link column: Adds links and display text
Team column: Allows users to assign teams, not just individuals, to tasks
Additional Monday.com Features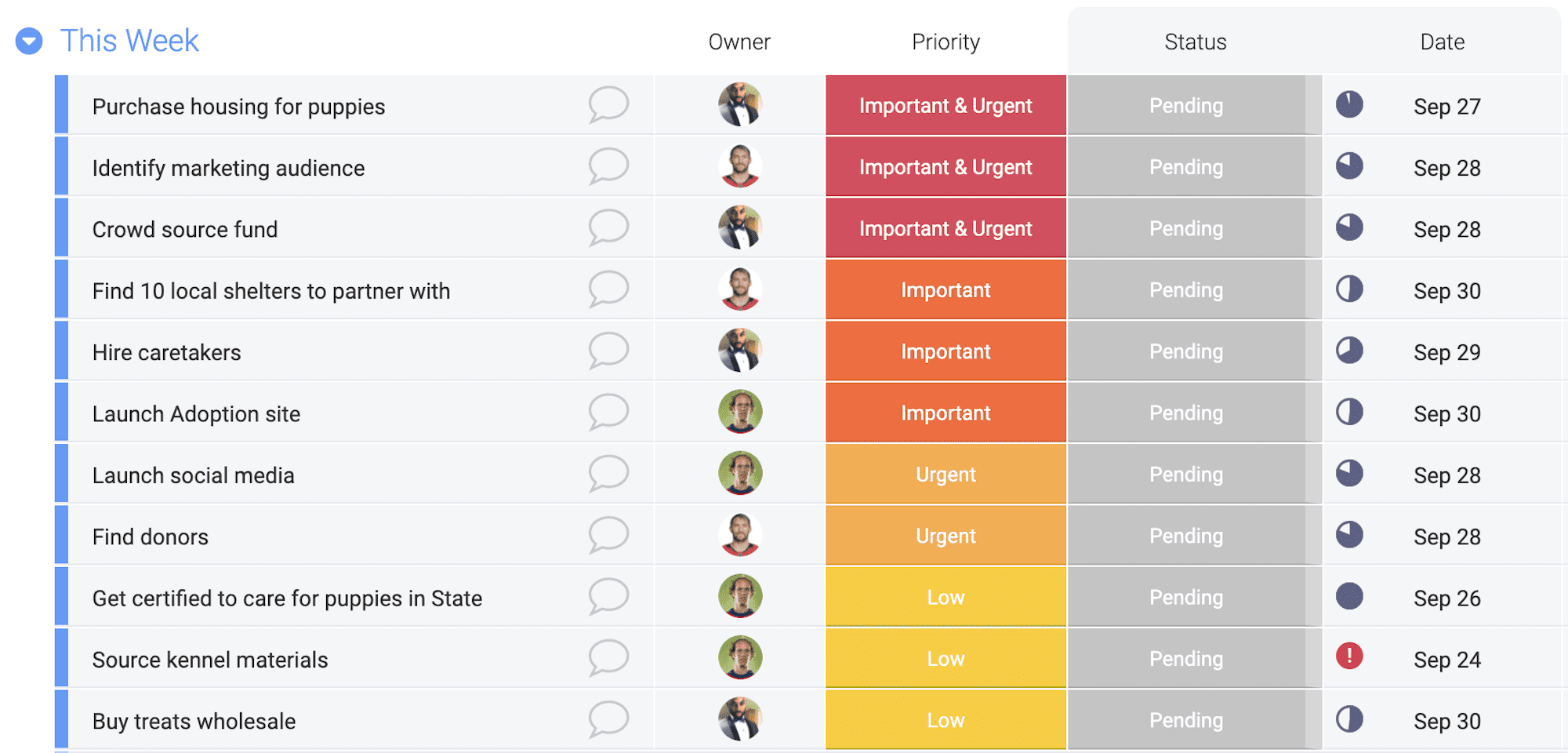 Though most of Monday.com's top features are outlined in the above view and column options, there are a few additional ones to take a look at in greater detail.
It's easy to get overwhelmed by the sheer volume of customization options that Monday.com offers, but Monday.com's features act as more of a buffet than anything else — take what you need, and leave the rest.
Team Collaboration Tools
Though Monday.com does not offer video calling features, (but integrates with Zoom) it still provides essential workflow management tools.
These include:
Real-time file editing and sharing
Chat messenger
Public discussion boards and threads
Activity feeds
Survey and polling tools
A Mobile app
Task Prioritization
Monday.com lets users prioritize projects and smaller tasks on boards using the status column.
Team leaders can mark certain tasks as high, medium, or low priority. They can also use the star rating feature as a way to prioritize tasks, although the status column in a clearer option.
Users can also prioritize tasks according to importance and urgency, labeling them as "Important," "Urgent," or "Important and Urgent."
Color-coding
Monday's color-coding system allows users to assign specific colors to statuses, channels, teams, or anything else.
The color-coding system takes Monday.com's already robust visualization tools a step further and makes it easier for team members to find their specific tasks on a timeline or Kanban board.
Task Reminders and Notifications
Monday.com offers both in-app and email notifications when team members are assigned a new task, when a task is updated, and if another user adds comments or edits to something they're working on.
In addition to these notifications, users can also opt to receive email alerts for deadline reminders.
Automation
To save even more time, Monday.com allows for a set number of automations, or "actions" per month based on the plan you choose.
Automations can include:
Recurring tasks
Automatic reminder emails
Automatic notifications
Automatic task status changes
Time Tracking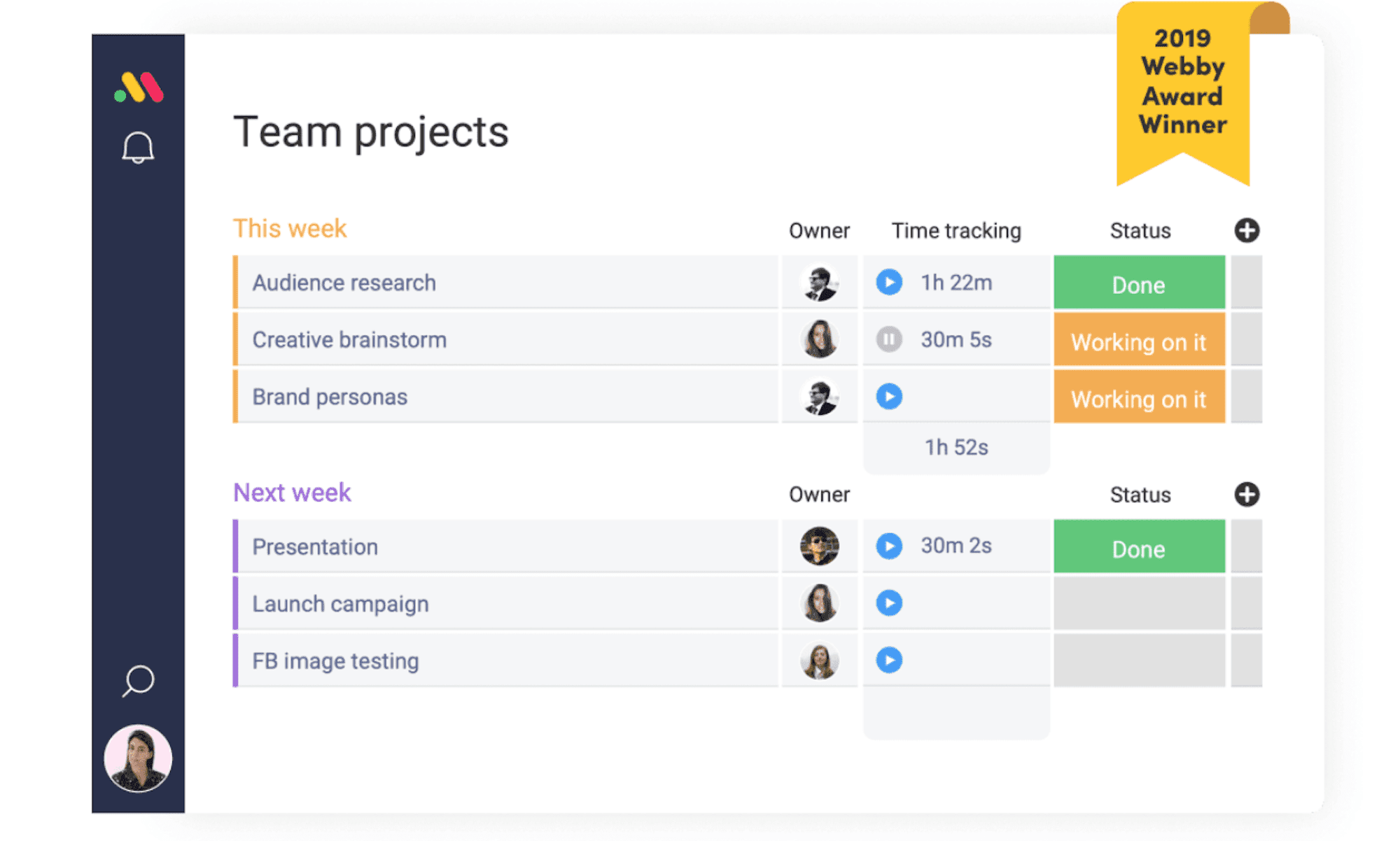 Monday.com's time tracking feature lets users start, pause, and stop a virtual stopwatch to accurately time how long specific tasks take. It then stores this data in the time tracking log, a knowledge base that is accessible at any time.
This way, when project managers study the current workflow to see who is available to work on specific tasks, they'll also be able to set more accurate deadlines and avoiding overloading employees using estimates from the time tracking feature.
Website Forms
In addition to allowing admins to upload boards directly to the company website, Monday.com also makes creating and embedding website forms easy.
Anyone who can access the website or who users email the form link to can complete a form. This is an excellent way to receive feedback from clients or employees, as well as to collect contact information to use in predictive lead scoring.
Monday.com Integrations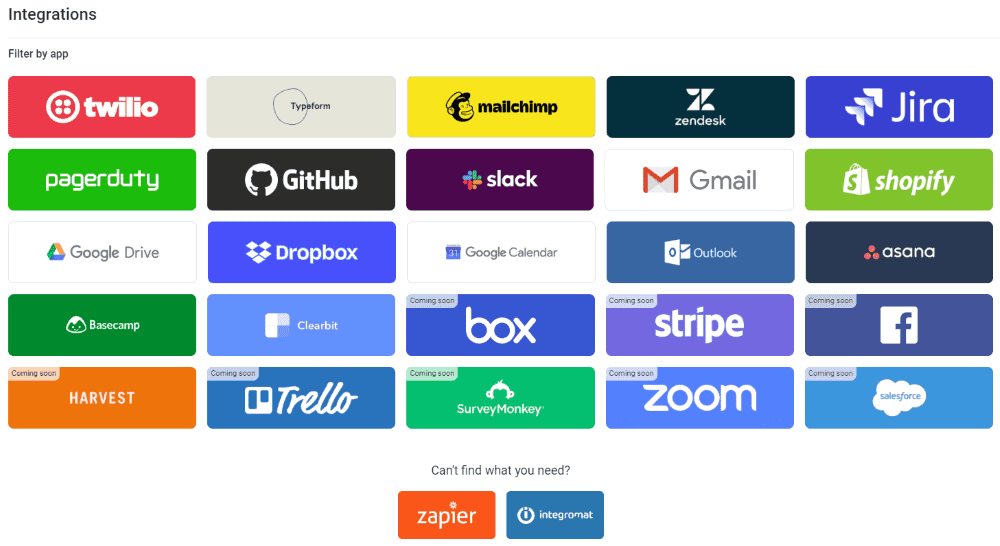 Though Monday.com can integrate with essential team communication tools and collaboration software, the downside is that any integration is not available on the Basic plan.
To integrate the platforms your team already uses and feels comfortable with, you will need to purchase one of the more expensive plans.
While this frustrates users, the upside is that Monday.com integrates with a high number of popular team communication and collaboration tools — more than many other agile project management platforms.
As of this writing, Monday.com's API and app marketplace are still in development, but the number of integrations the tool currently provides will suffice for most companies.
Top Monday.com integrations include:
G Suite
Zoom
Slack and top Slack alternatives
Salesforce
Excel
Microsoft Teams
Facebook Ads
Dropbox
Google Drive
Asana
Jira
Trello
Mailchimp
Shopify
Monday.com Pros and Cons
We've researched numerous user Monday.com review posts and have compiled the below list of the top Monday.com pros and cons based on consistent user feedback.
Pros
Monday.com's user base consistently mentions that its best feature is its ability to provide a centralized location for all files, uploads, notations, and additional documentation related to a project. This helps to prevent team members from working on incorrect versions of files, allows for clearer collaboration, and helps businesses to avoid the high cost of inefficient meetings.
Users also appreciate the fact that, due to Monday.com's easy integration process, they don't need to leave the app to use additional team collaboration tools like G Suite, Zoom for Educators, and Shopify. They're able to access the software they need within Monday.com.
Additional frequently-mentioned benefits of Monday.com plans include:
Pre-loaded templates save time
Customizable board views
Extensive team collaboration features
Clear project status updates
All users can edit tasks
Single sign-on
Color-coded system improves visual organization
Strong uptime
Excellent customer phone support
Can assign multiple users to one task
Email and app notifications when assigned a task
Cons
No free version
Basic plan lacks essential features
No integration on Basic Plan
Not especially user-friendly, large learning curve
Limited automation capabilities
Challenge to keep up with constant new features
Insufficient customization for tagging/notifications
Constant in-app ads and emails pushing users to upgrade
Over-crowded interface
Is Monday.com Worth It?
Users agree that Monday.com's biggest pro is also its biggest con:
While it offers an incredibly customizable user interface and numerous features and integrations, it often means that users lose lots of time setting up the software, using features that aren't necessary for a specific project, and constantly pinging and checking in with other team members.
While this level of detail is helpful for some, most users agree that the high level of virtual micromanagement Monday.com allows for often wastes more time than it saves.
Monday.com Pricing
The Monday.com pricing system is made up of four different plans: Basic, Standard, Pro, and Enterprise.
As of this writing, Monday.com does not offer a free version and is therefore not ideal for companies operating on a shoestring budget.
However, it does have a 14-day free trial and lets users choose between annual or monthly billing. Users can save 18% by selecting the annual billing option. The below pricing options are listed on a per-user basis, the price for a specific number of users varies.
Every plan includes Monday's "Essential" features, which are:
Unlimited free viewers
Unlimited number of boards
More than 20 column options for presenting data
Mac iOS and Android mobile apps
Kanban board view
Embeddable forms
Basic
Standard
Pro
Enterprise
$8/month

$39/year

$10/month

$49/year

$16/month

$79/year

Contact Monday.com for pricing
5GB storage
50GB storage
Unlimited storage
Unlimited storage
1-week activity log
Unlimited activity log
Unlimited activity log
Unlimited activity log
Cannot share boards with guests
Can share boards with 4 guests
Unlimited board sharing
Unlimited board sharing
No timeline, calendar, chart, or map views
Timeline, calendar, chart, and map views
Timeline, calendar, chart, and map views
Timeline, calendar, chart, and map views
No advanced search
Advanced search
Advanced search
Advanced search
No time tracking
No time tracking
Time tracking
Time Tracking
No integrations
250 monthly integrations
25,000 monthly integrations
250,000 monthly integrations
No automations
250 automations per month
25,000 automations per month
250,000 automations per month
Two-factor authentication
Two-factor authentication
Two-factor authentication and Google authentication
Two-factor authentication and Google authentication
No audit log
No audit log
No audit log
Audit log, HIPAA compliance, and session management
24/7 customer support
24/7 customer support
24/7 customer support
24/7 customer support
Evaluation of Monday.com Plans
The following overview of each of the strengths and weaknesses of Monday.com plans will help project managers decide which option suits their current phase of business and provides the features they need.
Basic
Because of its lack of features, Monday.com's basic plan simply isn't worth buying. It doesn't allow for integrations, automations, or time tracking. It also doesn't give users access to all board view formats and column types.
We recommend that companies just pay an additional $10 per year for the Standard Plan.
Standard
Companies who are new to team management tools and who are more concerned with improving their internal communications and as opposed to communications with clients should opt for the Standard Monday.com plan.
Monday.com pricing is reasonable, all of Monday.com's board views are available, and it offers an unlimited activity log.
However, if team leaders need account permissions for time tracking tools, more than 250 monthly automations or integrations, or require an audit log, they should upgrade to the Pro plan.
Pro
The Pro tier is, in our opinion, the most worthwhile option of the four Monday.com pricing plans.
It still costs under $100 annually but provides time tracking, unlimited board sharing, file storage, and activity logs, and 25,000 monthly automations and integrations.
It's a good fit for both small and mid-sized companies, and the customizations it offers mean it can be tailored to work within nearly any industry or specific in-house team.
Enterprise
Only companies who are required to use HITECH and HIPAA compliant collaboration tools and those who need audit logs should upgrade to the Enterprise plan. It's also ideal for large-scale, nationwide corporations that need more than 250,000 monthly integrations or automations.
Otherwise, there isn't much of a difference between the Pro and Enterprise plans.
The downside is that the cost of the Enterprise plan isn't listed on the Monday.com pricing page — so be prepared for a higher price tag.
Monday.com Mobile App
The Monday.com mobile app is compatible with both Android and Apple iOS mobile devices.
On the mobile app, users can subscribe to relevant boards and send/receive push notifications when updates are made. They can also access a Kanban board view of their tasks for the week, send/receive files, and build boards within the mobile app.
The mobile app offers many of the features and tools that are accessible within the desktop app, which for many is a positive.
The downside, however, is an overcrowded interface isn't known for its ease of use. The app also quickly drains battery life, and users complain that often, tasks they assign to other users through the mobile app don't appear within the desktop version.
The mobile version of Monday.com is ideal for quickly checking tasks and keeping up-to-date with notifications while on-the-go, but should not be the primary way team members utilize the tool.
Which Companies Should Use Monday.com?

Monday.com works best for companies that rely heavily on inter-departmental and team member collaboration. It's also a great option for companies that want to experience remote work benefits by increasing the number of team members who work from home while offering them essential remote work tools.
It's also ideal for workflows requiring a high level of customization, and businesses that are looking to shorten the amount of time it takes to complete a project. Companies that must work on numerous large and small-scale projects simultaneously will also benefit from Monday.com.
Finally, Monday.com should be the go-to-tool for businesses who need employees to be able to self-manage to free up team leaders and managers for more pressing tasks — as long as they can afford the price tag.
Which Companies Should Avoid Monday.com?
Monday.com isn't the right fit for small or newer businesses that don't need its numerous features nor the capital to pay for a comprehensive project management tool.
Companies interested in a work management tool that does offer a free plan should opt for Asana instead, or consider other alternatives to Monday.com.
Is Monday.com the Only Tool a Company Needs?
While Monday.com pricing offers is a robust project management and team collaboration plans, it's far from the only software that businesses — especially those transitioning to a primarily remote workforce — should use.
In addition to exploring popular Monday.com alternatives like Trello, Wrike, and Asana, also consider how tools like screen sharing apps, webinar software, and video calling apps can allow team members to connect face-to-face.
Web conferencing software like Cisco WebEx, 8×8, and Microsoft Teams offer communication features that Monday.com does not.
Learn more about the pricing, plans, and features of popular web conferencing software through our interactive table, and understand the web calling features that will improve collaboration and communication in both remote and in-office teams.