Ooma Office is a VoIP business phone provider specifically geared towards small businesses and remote/blended teams.
Competitive Ooma Office pricing helps its 2 million+ users save up to 60% on their current business communications costs without forcing them to compromise when it comes to features and call quality.
In fact, PCMag readers have voted Ooma Office as the number-one small business VoIP phone for eight consecutive years — due in no small part to the savings it offers.
In this post, we'll outline available Ooma Office pricing and plans, available communication channels and features, user experience, and more, so you can evaluate if it meets your business needs.
Table of Contents
Ooma Office Pricing and Plans
Ooma Office offers two paid plans geared towards businesses with more basic VoIP telephony needs. Since Ooma Office doesn't require a contract, it's especially popular with small businesses, startups, and entrepreneurs.
Ooma Enterprise, Ooma's UCaaS solution, requires a contract and is ideal for medium to large businesses that need more advanced VoIP communications features for contact centers.
Ooma also offers a lengthy 30-day free trial.
All Ooma Office plans come with:
HD Voice
Apple iOS and Android Mobile Applications
Call Park, Call Flip, Call Forwarding, Call Transfer, Call Blocking
Simultaneous Ringing
Virtual Receptionist
SMS Text Messaging
Online Faxing
Three-way Conference Calling
One Virtual Fax Number per User
Conference Bridge for up to 10 participants
Ring Groups
Sequential Ringing
Call Logs
Hold and Transfer Music
Extension-to-Extension Dialing
Voicemail
Voicemail-to-Email
Intercom
Encryption
The below table outlines the pricing and included features of Ooma Office, Ooma Office Pro, and Ooma Enterprise.
| | | | |
| --- | --- | --- | --- |
| Plan | Ooma Office | Ooma Office Pro | Ooma Enterprise  |
| Pricing | $19.95/user per month | $24.95/user per month | $27.99/user per month (Contract Required)  |
| Video Conferencing  | X | ✓ | ✓ |
| Desktop App With Softphone | X | ✓ | ✓ |
| Call Recording | X | ✓ | ✓ |
| Voicemail Transcription | X | ✓ | ✓ |
| Enhanced Call Blocking  | X | ✓ | ✓ |
| Caller Info Match | X | ✓ | ✓ |
| Advanced Custom Call Flow and Call Routing | X | X | ✓ |
| Hot Desking | X | X | ✓ |
| Shared Line Appearance | X | X | ✓ |
| Call Monitoring, Call Whisper, Call Barge  | X | X | ✓ |
| Customer APIs and CRM and Team Collaboration Integrations | X | Integrations Only | ✓ |
| Team Chat Messaging | X | X | ✓ |
| SIP Trunking | X | X | ✓ |
| Dedicated Customer Success Manager  | X | X | ✓ |
Additional toll-free numbers and local phone numbers can be purchased for $9.95/month per number. User extensions that include a direct phone number, extension number, voicemail, virtual faxing, and a conference bridge are also available for $19.95+/month. Note that number porting is free.
Finally, Ooma offers a variety of compatible hardware.
Businesses that want to add up to 20 analog phones need to purchase the Ooma Base Station for a one-time fee of $99.99.
The Ooma Linx, which lets users add wire-free analog phone extensions and adapters, is available for a one-time fee of $49.99. Yealink IP phones starting at $99.99 and Cisco IP Phones starting at $109.99 are also available for purchase.
Top Ooma Office Features
Though it's undeniable that Ooma Office provides major cost savings on VoIP service, what features and functionalities do users get for that price?
All Ooma Office plans include 35 standard business communications VoIP features — read about some of the best ones below.
Virtual Receptionist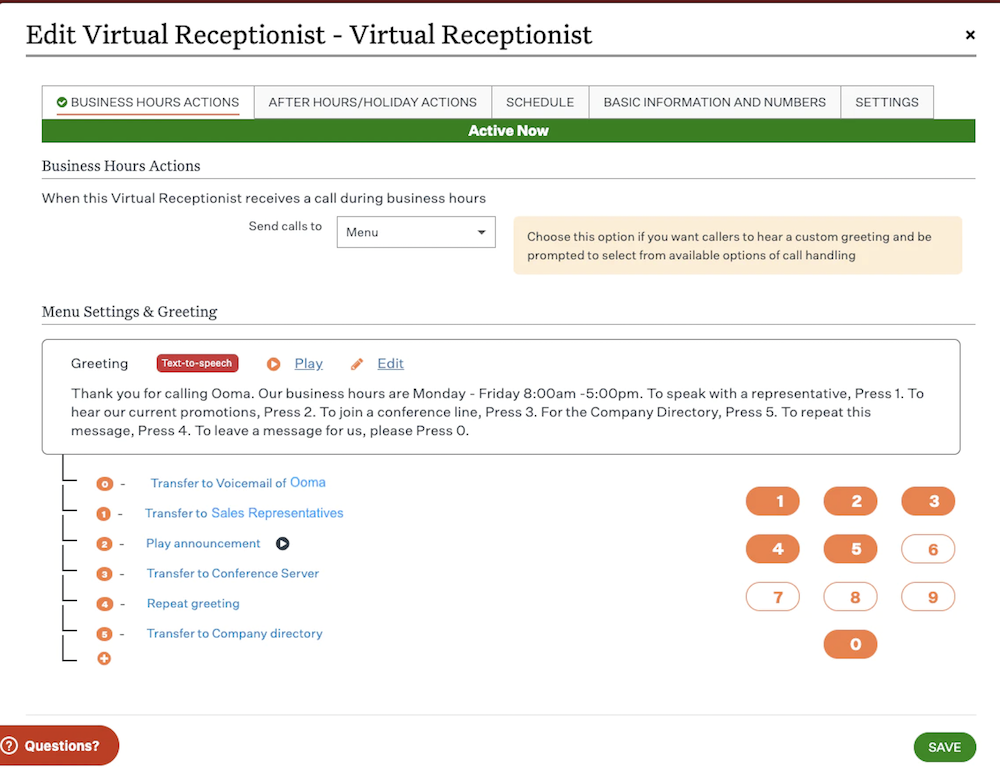 Ooma's Virtual Receptionist is an auto attendant tool that automatically directs inbound calls to the right department or agent via a pre-recorded menu option, eliminating the need for callers to speak with a live agent.
Callers can either speak their responses to multi-level IVR menu prompts and greetings into the phone to have their calls directed using Natural Language Processing, (NLP) or respond via touchtone.
The Ooma Virtual Receptionist assists callers with things like:
Directing calls to the proper agent, department, ring group, voice mailbox, or extension
Finding an agent via a dial by name directory
Getting information about business hours, locations, holiday schedules, and more via custom pre recorded messages
Selecting their preferred language (English, Spanish, French available)
After-hours assistance
Ooma Meetings

Ooma Meetings is Ooma's video conferencing tool, available only on Ooma Office Pro and Enterprise plans.
Users can invite up to 25 participants per meeting and take advantage of features like screen sharing, live chat messaging, meeting password protection, and the ability to mute one or all participants. Users can meet for a maximum of up to two hours per meeting.
Additional features include:
Ad hoc and pre-scheduled meetings
Meeting recording
Ooma Meeting dashboard with information on past and upcoming meetings
The ability to set one-time or recurring meetings
Ability to meet via web browser, iOS/Android phone app, or Ooma desktop app
Grid and active speaker view
Basic meeting logs (view participants, recordings from meetings in the past 30 days, meeting dates, etc.)
Invitation via URL link-sharing or via calendar invite for Google, Outlook, and iCalendar
Ability to remove participants from the meeting
Call Recording

Call recording, available only on Ooma Office Pro and Enterprise plans, gives you the ability to record calls to review or share them later.
Recording helps to improve employee training, evaluate customer service quality, and ensure the information contained in the call notes is correct.
Ooma automatically records all calls, but there is also an option for manual call recording. Recordings are stored for up to 30 days but can be deleted earlier than that if needed.
SMS Messaging and Chat

SMS messaging allows all Ooma Office users to send and receive text messages via the mobile app (Office Pro users can also text with the desktop app.) This provides an alternative multichannel method of contacting customers. Setting up appointments, confirming information from your customers, and answering questions is a much simpler process with texting.
As of this writing, Ooma Office text messages have a 2,048 character limit for outbound messages, but users can send and receive as many messages as they'd like. Additionally, Ooma Office does not offer SMS shortcodes, nor can users text to/from Ooma Office toll-free phone numbers.
Ooma Office Pro and Enterprise users can take advantage of the team chat feature for both public and private messaging,  improving team collaboration and internal communication.
The chat function also allows users to set a presence to let colleagues know if they're available to chat. A group directory lets users send the same information to the entire team without sending it multiple times.
Enhanced Call Blocking

Though all Ooma Office plans allow users to block specific phone numbers, the Pro and Enterprise plans offer Enhanced Call Blocking.
All users are able to block up to 100 numbers, and anyone on the blocked list will hear a busy signal when they attempt to reach the business. Users can add and remove blocked numbers at any time, and any calls from these numbers will not appear in the call log.
Pro and Enterprise users can automatically block calls from anonymous phone numbers, enable contacts-only calling, or automatically block numbers on the Community Blacklist (known spam numbers.)
Caller Info Match

Caller Info Match is an Ooma Office Pro and Enterprise plan feature best described as a combination between Caller ID and CRM Call Pops.
In addition to displaying caller names, users can opt to integrate their CRM systems into their business phone systems so that customer information will automatically pop up when communicating with customers.
Interestingly, Ooma Caller Info Match also lets users automatically set up pre-configured and custom websites like Facebook, LinkedIn, and Google that can display information that likely or possibly relates to the caller.
Multi-Ring

Since most small businesses need to be mobile, Ooma has multi-ring (akin to call forwarding) on all its plans. This lets users set more than one device to ring when receiving an incoming call.
This way, users can get phone calls on their office phone system, Android or iOS cell phone, and tablets through the Ooma Office mobile devices.
Adding new devices is easy — just log on as an administrator, go to the settings page, locate the user, add the device, and save the information.
Ring Groups

Ring groups, available on all Ooma Office plans, increase first call resolution rates by automatically ringing multiple agents' phones simultaneously when an inbound caller is directed to their department.
Admins can also create teams of users with similar skill sets, knowledge, or those working on the same project to give callers the highest possible chance of speaking with a "real person" upon the first contact.
Users can update, delete, or add ring groups at any time.
Ooma Office User Experience
The below pros and cons list, based on hands-on experience and current customer reviews, provides insight into the overall Ooma Office user experience and level of customer satisfaction.
| | |
| --- | --- |
| Ooma Office Pros | Ooma Office Cons |
| Plans available for under $20.00/user per month that don't require an annual contract  | Key features like call recording, call monitoring, video conferencing, and advanced call routing are only available on the more expensive Ooma Office Pro plan |
| Ooma Office Base Station ATA allows users to connect existing telephones and hardware to their new Ooma phone system | Hidden fees on toll-free calls, such as an additional charge of 3.4 cents per minute if users go above 500 toll-free minutes per month |
| Affordable international calling rates compared to other providers, unlimited calls to Mexico, not just the United States and Canada, are included in all plans  | Even though Ooma offers bundled hardware packages including handsets and desk phones, they're still expensive and require additional hardware purchases like the Base Station |
| Auto-configuration setup means that most users will be able to install and begin using Ooma Office in just 20 minutes or less, overall ease of use | Unlike most other VoIP solutions, Ooma Office does not have native team chat capabilities on its most basic plan, requiring integrations.  |
| Live chat support available 24/7, thriving user forum to get support, and phone support available 7 days a week | Lack of desktop softphone application on the most basic Ooma plan will require any SMBs needing softphone desktop access to upgrade to the Pro Plan |
Ooma Office Security and Support
Given that Ooma also offers a home security product, finding information on Ooma Office VoIP security is a bit of a challenge.
Additionally, while we were able to contact Ooma's live chat support team with our security questions, the answers we received were vague. This lack of information, especially in an age where the vast majority of VoIP phone service providers are exceptionally transparent about their security policies, is fairly troubling.
This article from the Ooma website states that although Ooma does offer SRTP encryption, end-to-end encryption is only possible if both parties are using Ooma's VoIP service.
However, our independent research found that Ooma does not, as of this writing, offer two-factor authentication, nor does it allow hosts to lock video calls (though video conferences can be password-protected.)
The positive here is that Ooma does offer enhanced call blocking capabilities, as described in the features section earlier in this post.
Ooma is much stronger (and much more transparent) when it comes to customer support than with security.
First, live chat with a live agent, not simply a chatbot, is available 24/7 for all Ooma customers.
Additionally, phone support is available for all Ooma customers Monday-Friday, 5:00 AM-5:00 PM, and Saturday-Sunday 8:00 AM-5:00 PM.
Ooma does offer customization and onboarding support for some specific business phone systems, such as their Business Phone for Insurance Agencies.
Standard VoIP customers can take advantage of the Ooma customer forums, detailed tutorials, and knowledge base, which in most cases provides enough information for new Ooma users to install and configure their systems on their own. Those needing more assistance can contact Ooma via phone or chat.
Ooma Office Pricing vs Other Top VoIP Providers
The table below briefly outlines Ooma's top competitors. Click the link on each provider to learn more about the features they offer and the overall user experience.
Provider
Ooma Office
RingCentral
Nextiva
8×8
Dialpad
GoToConnect
Pricing

Ooma Office Plans: $19.95-$24.95/user per month

Ooma UCaaS Plan: $49.99/user per month

4 plans from $19.99-$49.99/user per month

4 plans from $18.95-$57.95/user per month

2 plans for $12.00/user per month and $24.00/user per month

3 plans from $15.00-$25.00+/user per month

3 plans from $22.00-$39.00/user per month
As you can see, Ooma is a competitively-priced VoIP business phone system for small businesses. Once you begin to scale, consider implementing SIP trunking solutions to ensure you can handle the increased contact volume that expansion brings.
Ooma Office FAQs
Below, we've answered some of the top FAQs about the Ooma Office phone system.
If your company has more advanced business communication needs, especially when it comes to high call volume management, consider Ooma's UCaaS software Ooma Enterprise Call Center. 

With plans starting from $49.99/user per month, (contract required) the Enterprise Call Center offers features like: 
Graphic IVR and Call Flow Builder

Queue-based estimated wait times for inbound callers

Queue position information for inbound callers

Time-based routing

Abandoned Call Counter

Advanced Reporting 

Intelligent Call Routing
As of this writing, top available Ooma integrations include: 
Salesforce

Zoho CRM

Microsoft Teams

G Suite

Microsoft 365

Microsoft Dynamics

Zendesk

Service Now
Ooma Office use cases include: 

Retail Stores use Ooma Office to anticipate peak volume times, provide "always-on" communication to customers, send notifications to staff, allow customers to check on order status or pay bills, and to send out automated appointment reminders. 
Professional Service Providers use Ooma Office to communicate with customers and access key customer information from their mobile phones, provide a higher level of customer self-service for appointment booking and payments, assist with scheduling, and create a local business presence. 
Hospitality Services use Ooma Office to manage reservations, properly route guest calls to things like Room Service, Maid Service, or the Concierge Desk, streamline communication during the event planning process, provide wake-up calls, and more
Financial Services use Ooma Office to stay compliant with industry regulations, connect customers directly to their specific financial advisor with extension dialing, allow customers to check balances, send out account alerts, and more.
Ooma has E911 services, which automatically collect your company's address, phone number, and other key information and send it to emergency response teams if anyone in your office dials 911. Ooma also provides a landline backup so that, in the event of a power outage, 911 calls can still be made over a landline.