There's no question about the winner in the VoIP vs landline debate: modern business communication is steadily moving towards internet connection-based technologies and away from PSTN networks. The stats show that the demand for VoIP solutions is growing year after year. But how do you adopt business VoIP technology into your small business environment? Fortunately, you have options, and one of the more inexpensive on the market is described in our Ooma Office pricing review.
What is Ooma?
Ooma is a service provider that's uniquely designed for small businesses. The provider has been in business since 2004, and in the intervening time, has earned awards like the Internet Telephony Product of the year and the Best in Biz Awards.  An organization that's looking to enter the world of business VoIP without the need for many of the advanced features of RingCentral and 8×8 will find that Ooma brings inexpensive internet protocol (IP) telephony.
Ooma is a contractless provider, which means it provides an entry-level VoIP business phone system that your company can eventually shed as it scales upwards and needs more features. The provider charges a flat monthly fee for the service with free phone porting, but additional local, toll-free, and user extension dialing costs an extra monthly fee. Ooma even has international calling plans for customers expanding a business beyond national borders.
Ooma is famous for its Telo device, which is geared towards the home market and allows for unlimited calls in the U.S. with the Ooma Basic Plan that's easily upgradable for a $9.99 per month fee. This is extended via their additional Ooma Linx device which allows customers to wirelessly connect additional phone extensions to their Telo unit. Check out our coverage of the Ooma Telo to see if that's right for your business.
Ooma Office Pricing and Features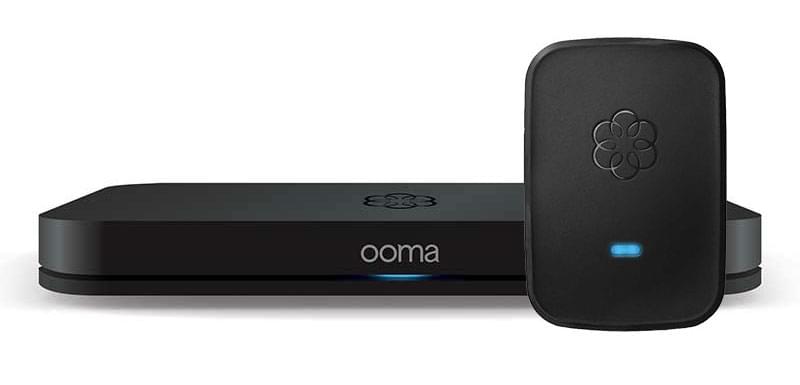 Any Ooma Office pricing review will start by mentioning that the low-cost VoIP solution is priced at $19.95 per month for each user. While there are not a lot of plans to select from, this is an accessible price point for any small business. Ooma Office Pro comes with a few additional features that benefit small businesses for just $24.95 per month for each user.
Since most businesses need a mobile solution, both of these options offer a free mobile application that works on all smart devices. This makes managing business calls simple on a personal device. Call transfer and call forwarding to coworkers is a relatively simple process with Ooma business plans. When agents are unavailable, phone calls can be sent to an automated voicemail. Ooma Office features also provide call logging, caller ID, call routing, and conferencing.
Here are just a few of the 35 standard features of the Ooma Office.
Virtual Receptionist
Ooma's auto attendant, which they call their Virtual Receptionist, is a tool that many companies use to direct their calls to the right location without the customer talking to a live agent. This is included with Ooma Office, so it's available for small businesses like yours to use as well. The virtual receptionist asks a caller their preferred language, the department that they would like to reach, and more. The caller will even have the option to use a dial by name directory to speak with a specific person.
With Ooma, the receptionist sends calls to a virtual extension, a ring group, or a recorded message about the business. The customer will have the option of using several different languages during the call. There are menus to set messages after business hours as well as custom messages for callers.
SMS Messaging and Chat
SMS messaging is a feature that allows users to send and receive text messages via the mobile app. This provides an alternative multichannel method of contacting customers. Setting up appointments, confirming information from your customers, and answering questions is a much simpler process with this type of messaging.
There is also a chat functionality that makes it easier for efficient team collaboration. The chat function allows you to set a presence that will let your colleagues know whether you are available to chat. A group directory allows you to send the same information to the entire team without sending it multiple times. Video chat is also available for Ooma users.
Multi-Ring
Since most small businesses need to be mobile, Ooma has multi-ring so that you have the option to set more than one device to ring with an incoming call. This way, you receive calls on the office phone system, your Android or iOS cell phone, and your tablet through the Ooma Office mobile app. Adding a new device to a user is simple. All you need to do is log into office.ooma.com as an administrator, go to the settings page, locate the user, add the device, and save the information.
Ring Groups
Ring groups are a group of extensions that a caller reaches through a single number. Sales teams and call centers will have these groups so that the caller reaches a representative that is answering calls for that specific project.
Ooma Office Pro Features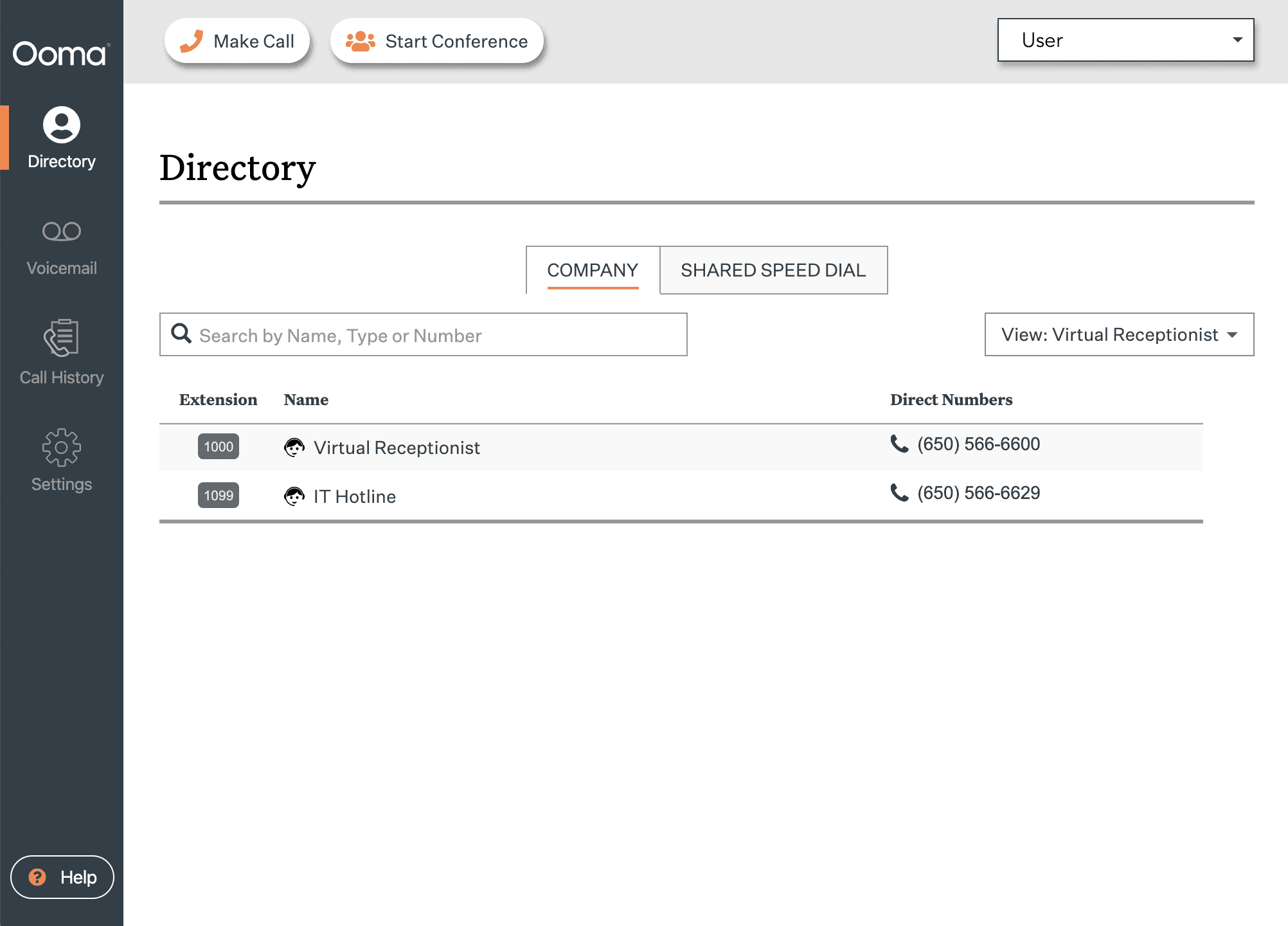 Ooma Office Pro is designed to give you more options to make your home feel more like an office during work hours. One of the ways that Ooma does this is by making a desktop app available so that making and receiving calls right from your computer is possible. This enables you to work more efficiently by returning missed calls and reading messages on the screen instead of listening to them.
With Ooma Office Pro, you get all of the standard features and more.
Call Recording
Call recording is a feature that gives you the ability to record calls to review them at a later time. This is beneficial for when you want to train an employee or listen to a call again to add notes to the account. All calls will be automatically recorded with this feature, and there is also a setting for manual call recordings. When the recordings are no longer needed, they can easily be deleted.
Enhanced Call Blocking
With any business, the battling robocalls leads to a huge waste of resources. Ooma Office Pro uses enhanced call blocking to screen all incoming calls to see if they match any verified robocall numbers. If there is a match, the number will be blocked. Anonymous calls can also be sent straight to a voicemail or blocked. When a suspicious number keeps calling, it's possible to block the number completely by adding it to your block list. This list holds up to 1,000 numbers.
How Does Ooma Help Small Business?
Ooma isn't ideal for the enterprise-level users, but it helps small businesses up their game. Here's how it stands out as a VoIP solution beyond just the accessibility of Ooma Office pricing.
24/7 Support
In the world of VoIP, customer support can be a funny thing. For example, providers like RingCentral have 24/7 support structures that include online chat and phone agents, but it's locked behind their second-tier subscription. With Ooma, 24/7 support is available to every subscriber. In addition to this, Ooma also has live chat that's available directly through the Ooma Office Manager under the "Questions" button in the lower left.
This is very useful for small businesses that need help with setup, provisioning numbers, or with just general tech questions. Ooma has dedicated call-in support numbers in both the US and Canada. For those that want a self-service option, Ooma also has more than adequate online documentation and a web forum that has threads for installation, calling and usage, and call quality.
Analog Phone Support
It's not uncommon for businesses that are switching to VoIP to still have standard analog phone lines and devices that they used via their previous carrier. Fortunately, this provider has their Ooma Office Base Station, which is an Analog Telephone Adapter (ATA) device that allows traditional phones to connect to Ooma's VoIP network.
While this is an additional hardware expense that businesses will have to take into account, it also provides an ease of use solution for those organizations that want to make the transition to internet calling.
International Calling
It's fairly standard for most VoIP providers to include calling in Canada and the US under their plans, but with Ooma, calls to Mexico are also included. This is fairly convenient for most businesses that may do business on either side of the US borders, but Ooma also has inexpensive calling options overseas. For example, calls to mainland China only cost about 2.5 cents per minute. If you compare this to providers like Nextiva, which charges six cents per minute, you'll see how Ooma provides significant savings on calls overseas.
What are Common Ooma Issues?
Since Ooma is designed for small companies, it lacks some of the features that larger service providers offer their customers.  It tends to lose traction in some regards. Here are a few to consider.
Dialing Limits
Ooma isn't designed for enterprise VoIP clients, and nowhere is this clearer than in their dialing features and available options.
Hidden Fees
While Ooma is only $19.99 for Office and $24.99 for Office Pro, these monthly charges aren't the only costs that you can associate with the service. For example, with Ooma's toll-free numbers, you're charged $9.95 per month, per line, and this only includes the first 500 minutes. After this, you're charged 3.4 cents per additional minute. You can upgrade this to a toll-free calling plan, but this adds $15 per month for 1,500 minutes and 2.9 cents per minute if you exceed your allotted minutes.
Additionally, after your first year of service, you'll be subject to regulatory fees from the FCC. This will be an extra $12 per month, and it's completely unavoidable thanks to the Communications Act of 1934.
Hardware Costs
Anyone that's been reading our blog here at GetVoIP will understand that one of the key selling points of most VoIP providers is the reduced dependence on physical hardware. With PSTN or hosted PBX solutions, you'll need things like copper wiring and IP-PBX servers that take up room in server/phone rooms. Not only do these things take up space, but they cost money to purchase/lease and you may need IT staff members to manage them.
This is where Ooma falls behind other VoIP providers – while Ooma offers bundle packs that include handsets, if you're going to be connecting analog telephony to Ooma, you're going to need their Base Station. You don't have to have one if you're using a VoIP phone and connecting to Ooma directly, but having this sort of hardware requirement adds a cost to the VoIP service that isn't there with other providers. The Base Station is a one-time cost of $99, but in a business communications world where the only hardware you might usually need is a desk phone, it's noteworthy.
Ooma Office Plans & Pricing Compared
Ooma isn't the only provider designed for smaller businesses. In recent months, we've also presented both Grasshopper pricing and Freshcaller pricing as small business VoIP solutions that grant inexpensive outbound and inbound calling options. How does Ooma compare to these? In the table below, we've compared plans, pricing structures, and provider features like vanity numbers and whether the service can link in analog phones via an Analog Telephone Adapter (ATA). Let's take a look.
Ooma
Grasshopper
Freshcaller
Plans
Office
Office Pro
Solo
Partner
Small Business
Sprout
Blossom
Garden
Estate
Pricing
$19.99
$24.99
$29
$49
$89
$0
$19
$40
$59
Vanity Numbers?
No
Yes
Yes
ATA?
Yes
No
Yes
International Calling
Yes
Yes
Yes
Call Recording
Yes
No
Yes
Contact Management
Yes
No
Yes
What are Customers Saying about Ooma Office?
Overall, customers tend to be very satisfied with Ooma's service. It's not the perfect calling solution, but most Ooma Office reviews seem to love its easy setup and strong support. Here are a few customer reviews about their service.
"Given that Ooma office is 1/4th the cost of my old Verizon business line I'm thrilled. I get a bunch of new features with Ooma plus the mobile app. It's a big win-win-win for me and I'm very satisfied. I'm also please how Ooma keeps adding new features or improving the business." – Stephanie S.
"Before finding the Ooma office I was using a popular phone service provider. I was paying three times the price I am now paying with Ooma, and I wasn't getting as many Innovative features. I especially love that I can get my office calls forwarded to my smartphone and voicemails received via email. I can be in the office without being in the office. That is a huge plus!" – Krystian M.
"I have my cell phone set in a ring group, so when a call comes into my business, it should ring my cell at the same time providing that I am logged into the app. However, if I have it set on wifi only, the call often doesn't completely connect and ring through." – Susan L.
"There is a function that allows you to have automated withdrawals to pay for account overages. Sometimes this service would not be working and they would cancel our conference bridge subscription without notice. We have used the conference bridge service for a while now and it is mostly reliable, but is most affected by this funding/billing defect." – Jessica M.
Ooma Office Pricing Offers Cheap Small Business VoIP
Ooma delivers an easy way to get into VoIP while providing your business with features that you might not expect for the price point like 24/7 support and call recording. To be clear, the provider is still missing some of the features like collaboration tools and HD voice at the Ooma Office level.
Ooma is also burdened with several hidden fees that you can avoid with some other providers, and if call volumes are high, you'll hit the minute restrictions of the company. Still, out of the box, our Ooma Office pricing shows an affordable and easy setup can even incorporate your traditional landline phones using their Ooma Base Station, which costs a one-time fee.
Ooma is a competitively-priced option for those looking to shift their calling to the internet. Once you begin to scale, consider implementing SIP trunking solutions to ensure you can handle the increased volume that expansion brings.