In December of 2019, roughly 10 million people used the video conferencing tool Zoom every day. By March of 2020, Zoom's number of daily users reached 200 million people.
This exponential level of growth was a direct result of social distancing and Coronavirus — but many say Zoom wasn't ready to become the go-to web conferencing tool overnight.
Zoombombing, questions over data privacy, and anxiety regarding Zoom's problematic security standards have caused many to turn to other options like join.me.
What is join.me?
join.me is a paid video communications platform owned by LogMeIn, offering competitive pricing, unique features, and strong security controls via desktop and mobile devices.
It has many of the same features of better-known web conferencing tools like Zoom and Microsoft Teams, but comes with a markedly different interface.
Instead of the standard square or rectangular user video screens, join.me uses circular "bubbles" to show live views of others in online meetings. You can elect to have the bubbles move around and bounce off one another throughout the meeting, or have them remain stationary in the place of your choosing.
When using the screen share feature, the bubbles will automatically resize and move away from the center of your screen, allowing you to see files, applications, and desktops.
What are the Top join.me Features?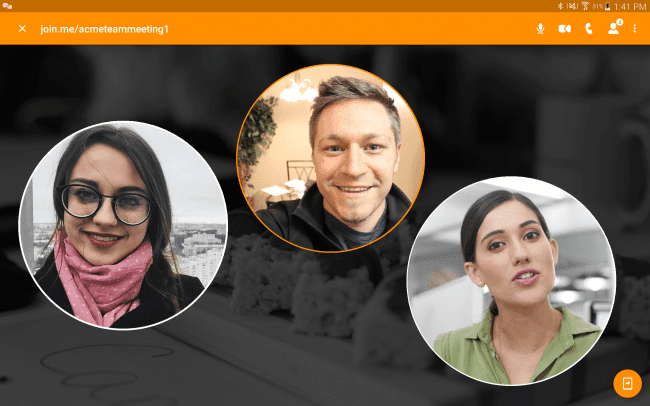 join.me's features may not be as advanced as other business communication software and online collaboration tools, but the basic meeting tools it does provide are more than enough for most companies.
Users can create their profile, upload a profile and background photo, and include basic information about their role within the company.
Video Conferencing
The biggest frustration with join.me's video conferencing tool is that it's only available with Pro or Business plans, meaning that users on the Lite plan don't have access to video calls. They can only make audio calls with a maximum of five users.
Though join.me's video conferencing feature page claims that up to three users can make and receive video calls for free, the free version has since been eliminated, meaning the information on the website is outdated.
To get a straight answer about whether or not video calling was included in the Lite plan, we called join.me's support line directly and spoke with a representative. Only then were we able to clarify the vague language on the pricing and video conference service pages, and were told that video calling was not a part of the Lite Plan at all.
Therefore, if your business needs to make video calls using join.me, you have no choice but to upgrade to the more expensive plans, which is frustrating. Pro and Business users can share up to 10 web cameras simultaneously, and can meet with up to 250 users at once.
The good news is that join.me offers one of the top video calling mobile apps, even allowing users to access and annotate the whiteboard feature on their (Mac iOS only) mobile devices. Users can join these meetings via a single-click link or by dialing in. The mobile app lets Android and iPhone users join video conferences on-the-go, and even lets mobile users start a meeting with a single click.
Hosts and users can also record video conferences on the Pro and Business plans, use file sharing and screen sharing features, and use the pass presenter tool.
As of this writing, the most important feature missing from video conference calls is virtual hand-raising. This means that users will need to either interrupt other speakers or type out their questions in the chat messenger system when they need clarification.
Audio Conference Calling
For those without access to a camera, or if video conferencing features aren't needed for a particular call, join.me provides unlimited audio conferencing tools via computer or phone.
These include mute/unmute buttons, active speaker, roll call, toll-free numbers and local dial-in phone number options, and an audio conference waiting room. VoIP audio conference line calling features are accessible on the mobile app or desktop version of join.me. As with video calls, all audio-only conferences can be recorded on the pro and business plans, and those recordings can be stored in the cloud and shared with selected users.
As with the video conferencing tool, scheduling or joining an audio conference can be done with one click. Users can also schedule audio calls on Outlook or Google Calendar.
Screen Sharing and File Sharing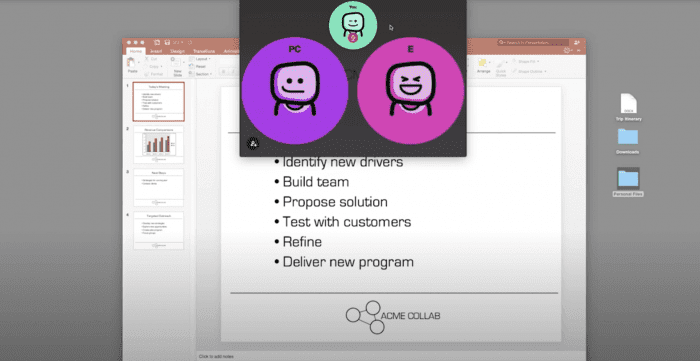 Users on all three plans can share their entire screens with other meeting attendees in real-time. Business and Pro users can also share single applications or files with others in the meeting.
The Pass Presenter tool (available only to Pro and Business plan users) allows the host to transfer screen sharing control to other meeting attendees. Pro and Business users can also make annotations when sharing screens, use a digital laser pointer or highlighter, and allow other users to make annotations to shared screens.
All users can share files within the chat messenger feature, but only Pro and Business users can both share and annotate files.
Whiteboard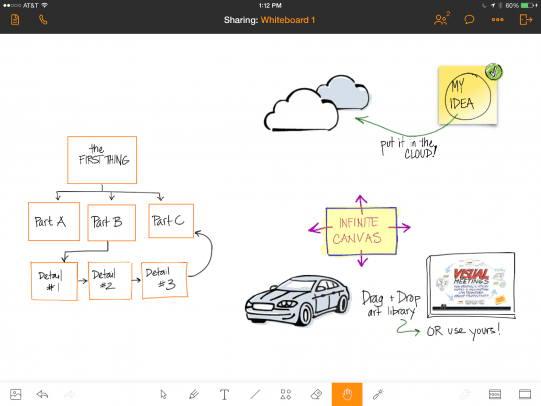 join.me's whiteboard feature allows users to share ideas, jot down notes, and create diagrams/illustrations on a digital whiteboard in real-time, just as they would in their standard conference rooms.
The whiteboard can be shared with both desktop and mobile users, and others in the meeting can make notes and add their ideas to the whiteboard.
The tool also comes with two types of preloaded icons that users can tap to add to the whiteboard. These icons include social media icons, folders, globes, error buttons, and much more, which helps to liven up presentations and save drawing time.
Users can add the company name and logo before sharing the whiteboard notes as a PDF or JPEG file. All whiteboards are editable even after a meeting ends, so you can streamline ideas and clean up anything you may not want the higher-ups to see.
As of this writing, only iOS users have access to the mobile whiteboard feature, meaning it is not accessible to those with Android devices.
Host Control and Admin Features
One of the join.me's most unique host control features is remote mouse control. In addition to being able to share your screen and files with meeting attendees, the remote control tool allows the host to share mouse control.
This means other users can quickly take over to solve a problem, help others use or open an application, or use the mouse as a kind of pointer tool when reviewing documents.
Hosts have complete control over which users are allowed to share their screens, transfer files, present, chat, speak, and show live video feeds. join.me controls also give hosts the option to mute all meeting attendees so only they can speak, as well as to unmute specific users.
Finally, hosts have the option to create a customized background for all users, allow users to choose their background image, or to lock attendee background selection.
join.me Integrations
All three join.me plans offer a variety of integrations with popular team communication tools, including:
Outlook
Chrome
Office 365
Trello
Slack
G Suite
Hubspot
Zapier
Salesforce (Pro plan only)
Data Reporting
Especially when it comes to evaluating employee engagement during a video or audio call, join.me's standard data reporting tools are a huge help. The data can be condensed into a compact report just 15 minutes after the meeting, and is available on the lite, pro, and business plans.
Reported data includes:
Meeting participant list
Meeting duration and start time
Presenter name and email addresses
Host IP address
Meeting subject
Conference ID
Information on connected devices like an iPad or smartphone
List of features used during meeting
Join.me allows admins to export this data to Excel or CSV, making generating reports for higher-ups a simple and quick process.
Customer Support
Users consistently rave about join.me's customer support, which is available 24/5 (not on Saturday and Sunday.)
The searchable online support manual is exceptionally thorough, and includes both written explanations and video tutorials on how to set up and use join.me and its features.
join.me has even put together several extensive webinar training videos that you can share with your team. The training videos are accessible on-demand and also allows you to opt for a living Q&A session at the end of the 45-minute training session if needed.
Webinar Hosting
Though join.me allows up to 250 users to attend a single video conference on its Pro and Business plans, if you're looking for specific webinar tools, you'll need to download the partner software GoToWebinar, which is also owned by LogMeIn.
There is no set "webinar" feature or add-on in join.me, although depending on the size and scope of your webinar, you may be able to get away with using the Pro or Business plan as your webinar tool.
Is join.me Secure?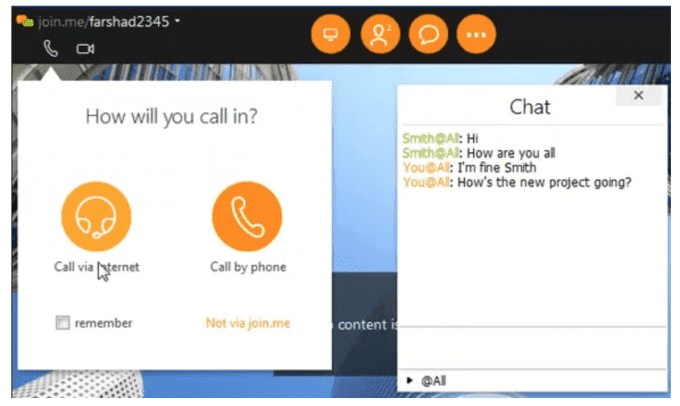 Join.me provides extra layers of security that other video conferencing tools do not, making it an ideal choice for companies that often share sensitive data and files over video or audio calls.
While most platforms offer only offer 128-but encryption, join.me has 256-bit TLS encryption. Additionally, it join.me does not store any data, images, or files that you or other attendees shared on its internal servers. Pro and Business plans take that level of security a step further, as they encrypt all shared information.
If users choose not to create their link, then join.me assigns a random code as the link every time you start a meeting.
Additionally, hosts can lock meetings to ensure that no one outside of the organization can access them. (The meeting lock is turned on by default in join.me.) Hosts can see who is requesting access to the meeting, then decide whether or not to let them in.  Admins and hosts can also delete users if necessary, and it is possible to enable two-step authentication.
join.me also provides a thorough audit log of a user's account actions, so if you do suspect suspicious activity, you can go through the activity log to check.
Though join.me doesn't state outright that it is HIPAA compliant, it does say that it's tools will work to fulfill HIPAA's privacy requirements.
The biggest security flaw with join.me is that it does not allow hosts or admins to password-protect meetings. The lock/unlock feature acts as the main barrier to meeting access. This makes many users a bit uneasy, as theoretically, anyone could pose as an employee or person known to the business.
Can I Use join.me for Free?
join.me used to offer a free plan, but switched to three paid-only options in May of 2019.
The company still offers a 14-day free trial with limited features, and often provides discounts on their Pro and Business plans.
A paid account is not required to be able to join a meeting, meaning that companies can communicate with people outside of their organization with ease. However, to be able to host a meeting, users must have a paid plan. Therefore, for the majority of internal communication via join.me, you'll need to upgrade employees to paid plans — especially if most of your team members need remote work tools due to COVID-19.
join.me Pricing
| | | |
| --- | --- | --- |
| Lite Plan | Pro Plan | Business Plan |
| $10/month | $20/month | $30/month |
Nonprofit organizations receive a slight discount on the Pro and Business plans at $13/month and $20/month, respectively.
All of join.me's plans are billed annually, and there is no way to choose monthly billing.
Though join.me offers competitive pricing, the number of users, features, and integrations are limited in the Lite plan. Most companies will need to invest in either the Pro or Business plans to truly get anything out of the software.
| | | |
| --- | --- | --- |
| Lite Plan  | Pro Plan | Business Plan |
| 5 meeting room participants | 250 meeting room participants | 250 meeting room participants |
| Unlimited meeting time | Unlimited meeting time | Unlimited meeting time |
| No webcam streams | 10 webcam streams | 10 webcam streams |
| Screen sharing only | Screen sharing/pass presenter | Screen sharing/pass presenter |
| No meeting recordings | Meeting recordings | Meeting recordings |
| Chat messenger | Chat messenger | Chat messenger |
| File sharing | File sharing | File sharing |
| No scheduling features | One-click scheduling | One-click scheduling |
| No annotation | Annotation | Annotation |
| No cloud storage | 50 GB cloud storage | 1 TB cloud storage |
join.me Pros and Cons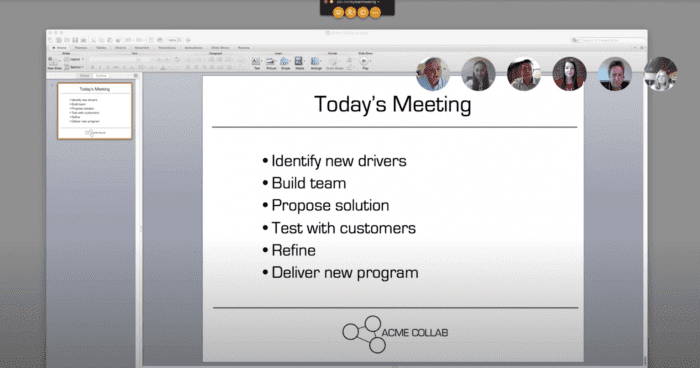 In reading through numerous join.me reviews, we developed a pros and cons list based on the most consistent user comments we saw.
Though the majority of users praised join.me's ease of use and intuitive interface, they also complained about frequent issues with dropped calls and lag time.
Pros
Large selection of team collaboration tools
Affordable paid plans
New customer onboarding/training
No downloads or installations required to join a meeting
One-click scheduling
Custom personal meeting link
Consistent customer mentions of user-friendliness
Local and international dial-in meeting access
Lower bandwidth requirements than other tools
Cons
Consistent user complaints of poor audio quality
Lack of free plan
Whiteboard feature cannot be used on Android devices
Limited features on basic Lite plan
Consistent user mentions of problems with Windows plugin
Some users find video bubble view distracting
Consistent user mentions of lag time during high volume calls/conferences
Users must have paid account to share screens
Is join.me Worth The Cost?
Join.me is one of the top Zoom alternatives on the market today thanks especially to its competitive pricing, user-friendliness, and high level of integration with other team collaboration tools.
Companies that rely heavily on mobile devices over desktop computers, smaller or new businesses made up of mostly remote employees, or teams that need to be able to hop on a video call at a moment's notice will benefit the most from using join.me.
However, join.me is not a good fit for companies that need to host high-volume meetings or webinars, and most users agree that join.me is only worth it if you opt for the Pro or Business plans.
Still unsure about which video conferencing tool is the best choice for your company?
GetVoIP provides pricing and feature breakdowns of other popular web conferencing software like GoToMeeting, as well as head-to-head comparisons of tools such as Zoom vs Webex.
In addition to our in-depth analysis of web conferencing programs, our interactive tables allow you to evaluate team collaboration software, call center tools, SIP trunking, and much more.