In a world where video conferencing is essential to business continuity, simplified solutions like Skype and Hangouts are useful. Unfortunately, they are hardly business-ready unless you're opting for Skype for Business or Hangouts Meet. Recently, we covered BlueJeans as a Cisco WebEx alternative, because it competes with the top names in the market thanks to features and pricing. During that BlueJeans video conferencing review, we noted It also stood out because it has some of the best audio capabilities on the market for video conferencing thanks to Dolby Voice.
Why Choose BlueJeans Video Conferencing?
BlueJeans is a video conferencing provider that customers choose based on call quality – Dolby Voice is a major contributor to this. Sound is crystal-clear on the conferencing platform, so industries in the need of stark audio detail will select this platform over competitors that have a standard level of audio quality.
Secure Video Conferencing
When you're conferencing, you need security so that none of the packets of information you send are accessible to cybercriminals. BlueJeans video conferencing packs in several security features that include randomized meeting IDs and passcodes as well as fraud detection. Each meeting is protected by AES 256-bit encryption. This securely encrypts any text being exchanged during the meeting by using a complex cipher.
The BlueJeans launcher is very secure. Only BlueJeans authorized websites can directly launch the desktop app, so malicious sites can't simply join ongoing meetings and steal information or mess with meeting controls. BlueJeans meetings cannot be embedded as iframes on domains that are unauthorized by BlueJeans. Both iframes and extended launcher opening options have been major issues with other services, so not having these features is very important for businesses looking to maintain secure communications.
Strong Customer Support
BlueJeans' support system is 24/7 and is available via both phone and chat. Their live support experience is available via a "chat now" button at the bottom of their page. Chat is very responsive and requires the user to input their information and case number before being connected to the support staff. To request information about open tickets, BlueJeans video conferencing has email and chat updates.
They also have a relatively comprehensive self-service support system that supplies information via a few guided prompts like, "Getting Started with BlueJeans" and "Resource Guide for Remote Work." They also have a gridded solutions center with options like:
Scheduling
Joining
Participating
Events
Rooms (for BlueJeans Rooms)
Integrations
Account and Billing
Admin Tools
Help and Resources
Having 24/7 phone support is valuable for those that don't want to navigate through the self-service or communicate via live chat. BlueJeans has worldwide numbers as well as a number for U.S. residents to use. For complex and ongoing issues, BlueJeans has case numbers to expedite the resolution.
Unlimited Meetings
Even at the base level, BlueJeans doesn't enforce time limits on meetings. Compare this to services like Zoom Basic, which imposes 40-minute meeting limits, and you'll see where this can be very useful. Additionally, the provider also has unlimited group meetings, so if your business has several teams that need to meet concurrently, then BlueJeans video conferencing might be an option to consider.
How Does BlueJeans Video Conferencing Compare?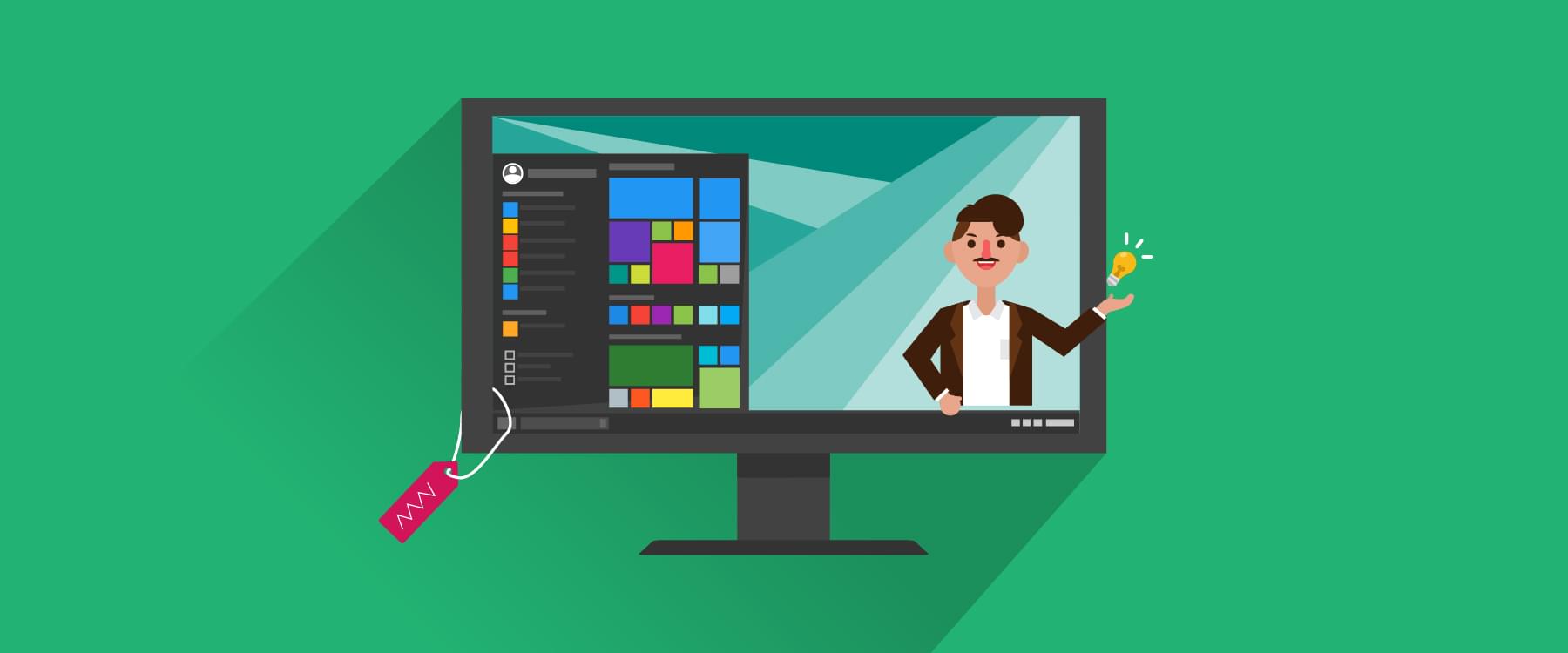 BlueJeans vs 8×8
One of the most popular features of 8×8 Video Meetings is its freemium pricing; you can use it immediately to create free video conferences. Still, with free use, there are some limitations like the 50-person limit on meetings. Unlike 8×8, meeting recordings are folded into each plan of BlueJeans, and Enterprise has unlimited recording. Additionally, BlueJeans has smart meetings features that permit the user to tag action items and create intelligent recaps and highlights of the meeting.
BlueJeans vs Zoom
When comparing BlueJeans and Zoom, BlueJeans has a better audio experience. The Dolby Voice Audio has a high-definition sound that has noise cancelation features. The calendar integrations of BlueJeans is also straightforward to use, so creating a meeting takes only seconds. Recurring meetings can be scheduled for weekly meetings on BlueJeans with ease.  For training, BlueJeans has a program that is designed to teach users how to utilize the tool; Zoom does not have this feature.
BlueJeans vs GoToMeeting
BlueJeans is a much cheaper option than GoToMeeting; at the base level, it's only about $10 a month, per host, whereas GoToMeeting starts at $18 per host. BlueJeans also has a 50-participant limit compared to GoToMeeting's limit of 10 participants. LogMeIn's product does scale better with its Enterprise Edition hosting 2,000 participants in single meetings. Overall, SMBs will find BlueJeans a more economical solution but may not be as well served if they need meetings with over 100 participants.
BlueJeans Video Conferencing Plans and Pricing
BlueJeans has three plans. Each grants competitive base-level features and unique offerings for each tier of the service. Take a look at each so that you can get an idea of what each one offers and the price that you can expect to pay for having the service.
| | | |
| --- | --- | --- |
| Standard | Pro | Enterprise |
| 50 participants | 75 participants | 100 participants |
| Unlimited 1:1 and group meetings | Command center analytics | H.323/SIP interoperability included (for conference rooms) |
| 5 hours of meeting recording | 25 hours of meeting recording | Unlimited recordings |
| $9.99/month | $13.99/month | Get a quote from BlueJeans |
All plans include:
Smart Features for Meetings
Features for HD Video Conferencing
Personal IDs for Meetings
Feature for Web Conferencing
Breakout Sessions
Application Sharing
Admin Management Features
Scheduling and Meeting History
High-End Security Features
24/7 support
BlueJeans Video Conferencing Review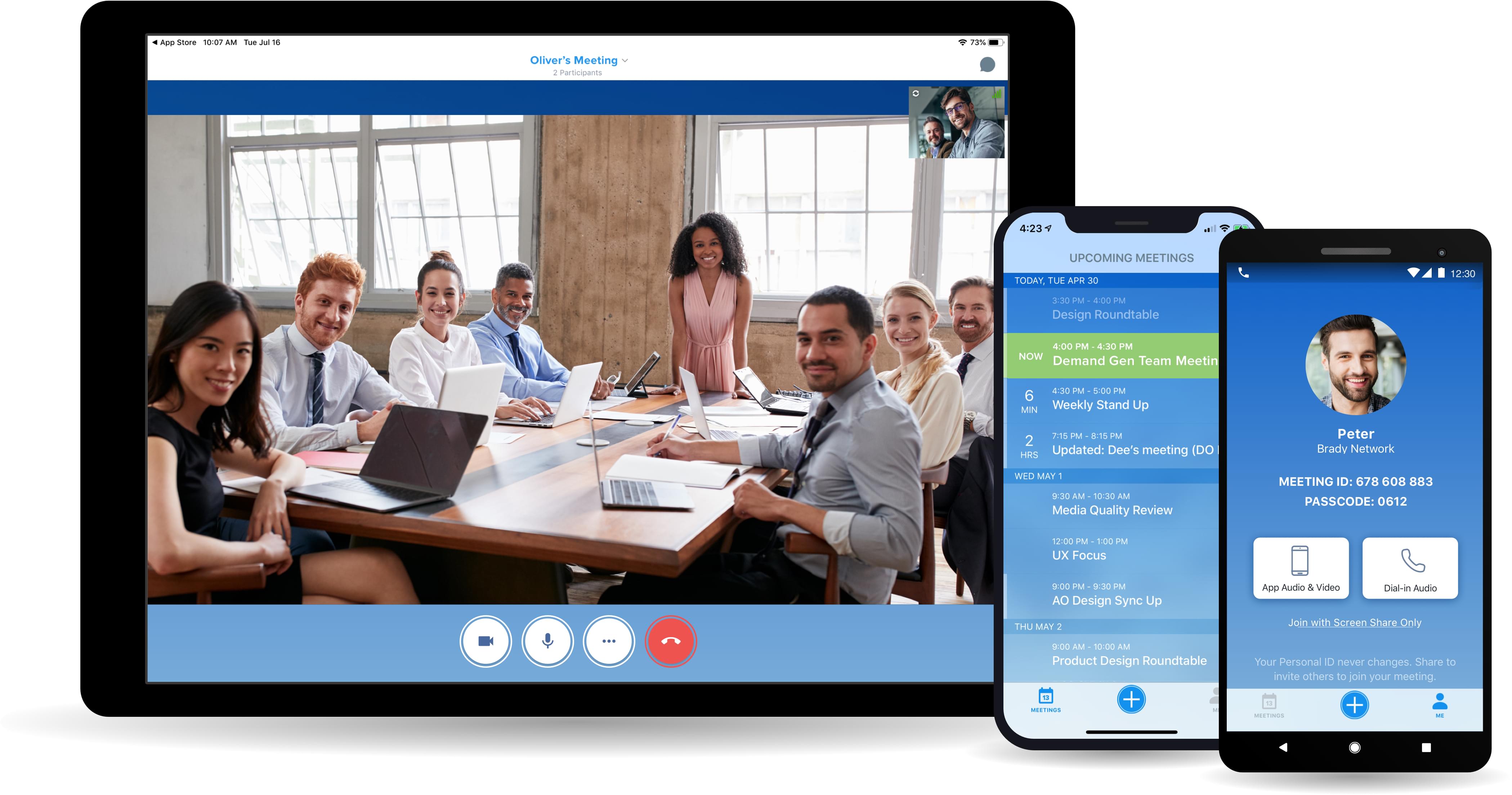 We wanted to take an in-depth look at how BlueJeans works, so I decided to try the 14-day trial of the basic-level service. BlueJeans makes it easy to trial their software; you don't need a credit card, and you can schedule your first meeting immediately. Like most providers, you get a meeting ID that is folded into the company's URL that fellow attendees can use to connect. Here's a rundown of my in-depth testing of the platform.
What are BlueJeans Setup Options?
Once I clicked "My BlueJeans" I was immediately sent to the BlueJeans schedule meeting page. On this page, you're presented with several options for setting up a meeting, including downloading BlueJeans video conferencing for my preferred platform. BlueJeans has download options for desktop, which includes Mac, Windows, Linux (RPM), and Linux (DEB). There are also mobile tablet and smartphone installs via the BlueJeans App on the Google Play and Apple App Store.
How Does BlueJeans Video Conferencing Work?
Setting up a meeting is very easy; you create a title, add a meeting description, and set a date and time. Once this is done, it's a matter of inviting participants via email addresses. BlueJeans limits you to the first 25 participants in this part of the setup. Once the email is sent, there's automatic Google Calendar integration so that the meeting appears on the recipient's calendar. The software sends four dial-in numbers, and the recipient can opt to use their room system and test out their connection before the video call.
There's an "edit my meeting settings" section that entails the default video layout. Your options are:
People View – This displays the primary speaker with other attendees appearing in-line.
Speaker View – This only displays the speaker, even if other attendees have video connections.
Gallery View – This populates the screen with every attendee's video feed.
This section has a series of pre-configured, default phone numbers. This section also has an area where you can configure the meeting background wallpaper. BlueJeans gives you 24 options for this. If you're going to be using the same meeting for multiple gatherings, you can fine-tune the meeting's features.
Best Features of BlueJeans Video Conferencing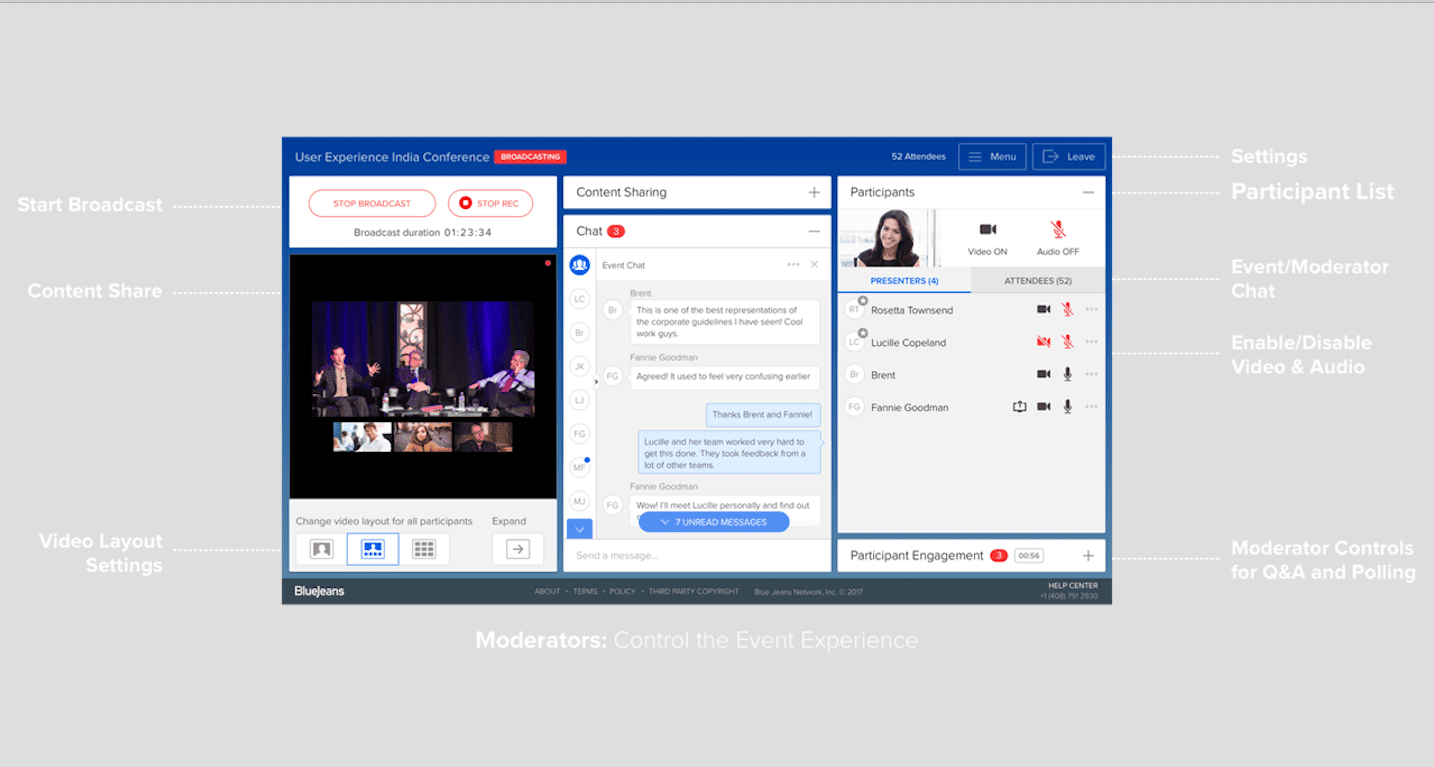 The admin page has an option to extend meetings past 50, but this costs extra. Once in the meeting, audio is very clear thanks to BlueJeans' Dolby Voice audio. The video is adjustable, and features like screen share and meeting records are featured in very prominent buttons. Chat also has its section. Muting video and audio is easy, and if your device detects that you're talking when muted, a text prompt alerts you that the attendees cannot hear you.
Screen Sharing
BlueJeans video conferencing's screen sharing is done on the application level, so if you're presenting from a web browser like Chrome or presentation software like PowerPoint, your viewers won't have to see all of your other programs. The viewer can quickly and easily scale the size of the screen being shared via a slider.
During my testing, I was taking notes in Notepad, and Chrome remained on top, but my fellow meeting-goer saw a gray, blank rectangle on the screen where the notepad window was on my screen. This may be annoying to a viewer, but it also protects what could be sensitive information.
Meeting Recording
Meeting recording is essential, especially in industries where maintaining patient or customer records is critical. BlueJeans makes it easy to record meetings, but if you're going to need advanced recording without a maximum capacity, you're going to have to invest in the Enterprise Plan. Still, I liked the recording experience during my initial BlueJeans video conferencing review – the recordings were very clear thanks to Dolby Voice, and the software very clearly states, "Recording has started" or "Recording has stopped," at the beginning and end of the session.
The meeting recording feature is enabled or disabled from the recording configuration options. BlueJeans allows meetings to be auto-recorded, which is under the Enhanced Recording selection. Auto-recording is done in two-hour intervals called chapters. During recording, a red light blinks in the upper right-hand corner of the screen. Chat wasn't recorded when I recorded the video.
Mobile Integration
For my BlueJeans app review, I scheduled a 15-minute meeting where I tested out the mobile device features of the platform. I use a Samsung Galaxy 9+, and the process of downloading the app from the Google Play store was standard. Like the desktop, Windows-based app that I used, the UI is very intuitive and the buttons are enlarged to make them easier to use on a smartphone. In the upper right-hand corner, BlueJeans alerts you to your connection strength by way of a connection meter.
The deeper-dive features are folded down into a submenu that you can access by clicking the ellipsis. From here, you can share screens, select an audio device, or see who is in the meeting with the "People View" selection. You can record from the smartphone app, and there's a commute option that automatically mutes both audio and video.
Downsides of BlueJeans Video Conferencing
During my BlueJeans review, I noticed a bit of lag during my screen sharing session, and my meeting partner (my wife) noticed that there was a slight bit of slowdown when I used the whiteboard feature, but I don't think that would be a major or even noticeable issue in meetings.
I also noticed that the Windows app doesn't work with a touchscreen, which was very off-putting. I can touch and interface with the window, but the internal functions like chat, people, and call control all had to be controlled via mouse. This was a bit odd considering how well touch controls worked on Android. Still, not everyone has a touchscreen laptop, so maybe this was just overlooked.
What are Users Saying About BlueJeans Video Conferencing?
Business users seem to like the BlueJeans platform. Many mentioned that the platform makes the creation of video conference calls and remote work convenient. Features like the easy screen sharing and crisp audio and video are also very popular. BlueJeans reviews show that users are happy with what they get from the video conferencing provider.
"Easy to use, always reliable, clear sound and pictures! I love that this integrates with Google Calendar and we can add a Blue Jeans link to a meeting invite when creating it. The technology of this software is super impressive." – Christi B.

"Coming directly from a company that uses JoinMe, BlueJeans was a refreshing alternative as it provides a ton more functionality like application sharing, presentation streaming, record and playback ability, et al." – Frank H.
Who Are BlueJeans Video Conferencing Plans Right For?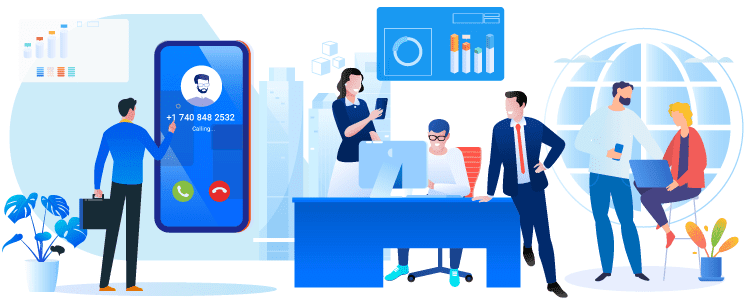 BlueJeans is a solution that has three different plans for your organization. Each plan is designed for different scales of business, so knowing about each one can help you find the best option for your needs.
BlueJeans Standard
The standard BlueJeans video conferencing plan is an ideal small business option. It will be useful for businesses that are looking to have their employees working remotely more often, even if it is for the short term as a response to the need for social distancing during the COVID-19 outbreak.
BlueJeans Standard offers unlimited 1:1 meetings, which will make for a useful collaboration tool for small teams.  The 50-participant feature will also allow for group stand-ups that will accommodate all or at least most of the critical individuals in any team.
This plan allows businesses to hold the meetings for an unlimited amount of time, so your planning and group work sessions won't be cut short. Companies with virtual offices will be able to use this plan to stay abreast of what's going on, which makes these tools the right solution for small marketing teams and salespeople that are in the field. BlueJeans events are also useful for NGOs that want to create webinars or town halls without the need for attendees to travel.
BlueJeans Standard Fits:
Small mobile-first marketing firms
Nonprofits looking for a quick means to collaborate
Teams who need a tool for conducting standups
BlueJeans Pro
The Pro version of BlueJeans has several tools for medium-sized businesses and small enterprises that work in sales. This is an adequate option for slightly larger businesses because the meeting can host up to 75 people.  It has integrations for Slack, Microsoft Teams, Zoho, and Gong, which are tools that are often used to control workflows in sales teams.
The Pro plan also comes with BlueJeans Command Center analytics that can help a business more effectively manage their meetings. These are useful for managers looking for a 360-degree view of daily usage, meetings, rooms, and events. There are live meeting analytics, real-time alerts, and even details of network conditions for those that want to monitor the quality of service (QoS).
BlueJeans Pro Fits:
Mid-sized businesses and small enterprises
Teams in need of workflow integration
Managers looking for deep-dive metrics about their meetings
BlueJeans Enterprise
The BlueJeans Enterprise plan is designed to host up to 100 individuals, and it has unlimited recordings with no predetermined deletion date. The Enterprise plan works well for industries managing protected health information (PHI) since this information must be warehoused indefinitely.
BlueJeans also offers BAAs for clients. These are business associate agreements that allow an individual to do business as a partner of the company. BAAs are required by federal agencies so that associate businesses are considered liable for HIPAA/HITECH violations.
The Enterprise plan packs in customization options, including adding your brand logo into the meeting UI.
BlueJeans Enterprise Fits:
Enterprises that require a video conferencing solution that is compatible with meeting rooms
Healthcare-aligned businesses that need robust recording
Businesses that want to customize their meetings to match their brand
Can BlueJeans Video Conferencing Boost Productivity?
When the novel coronavirus COVID-19 hit in early 2020, BlueJeans video conferencing was one of the providers that stepped up to help businesses stay in communication. During this period, they experienced a severe spike in the number of users on the BlueJeans network, and still, they managed to keep up quality of service. They even delivered their service for free to medical organizations during this time.
If you're looking for a flexible video conferencing solution for your business, BlueJeans has several pricing plans that should provide you with what you need. During our test, we appreciated the clarity of audio and video quality and intuitiveness of meeting recording.
BlueJeans can certainly enhance productivity; it has all of the tools to create a viable form of communication between remote teams that are located in different offices or just working from home. The fact that there are no duration limits will allow you to set up virtual office sessions with flowing communication between colleagues.
As a web conferencing provider, BlueJeans video conferencing has features that fit SMBs thanks to a relatively low cost and easy to set up meetings.