Phonewagon is a call tracking solution with a unique set of features to complement call center software. The cloud-based company was founded in 2016 and is based in New York City.  Call tracking, business intelligence, and the generation of actionable analytics are quickly accessible via any device and even in browsers.
What is Phonewagon?
Phonewagon is call tracking software with calling features that integrate with your VoIP phone service to enhance marketing performance. Phonewagon has several call center software integrations that are designed to help agencies track marketing spend, determine sentiment, and accurately track how inbound calls are being converted. It also allows users to create unique numbers on a customer-by-customer basis. Effectively, Phonewagon produces heatmapping for communications efforts.
Phonewagon Features
Like other call tracking solutions, Phonewagon provides basic calling features to enhance digital marketing efforts.
Call Recording
Call recording data provides insight to improve its customer experience and the skillsets of its agents. Phonewagon allows its users to record their outbound and inbound calls so that managers can address issues and bolster training practices. The service has an option to play an alert message to let leads and customers know that the calls are being recorded.
Call Porting
Phonewagon prides itself on never "holding your number hostage." Their number porting process is relatively easy compared to some other providers. The process of porting over old numbers from a previous carrier will take up to a week depending on their policies. This usually depends on whether the carrier puts up roadblocks or makes the process easier for their former customers. Porting away from Phonewagon is also easy – they have no problem with customers taking their numbers with them.
Whisper Messages
Managers can coach agents during calls using Phonewagon. This feature allows the manager to "whisper" directly into call center headsets agents are using, helping them through the conversion process. The customer on the other line will not be able to hear this interaction. This can help the agent be more prepared during difficult customer support calls.
Marketing and Tracking Tools
Phonewagon's true value rests in its ability to provide clear call tracking and call center analytics data. Phonewagon has several integrations for several CRM suites, and there are Google Analytics and Ad compatibility. Here's a deeper dive into these tools.
Google Analytics and Google Ads
Typically used by digital marketing agencies, Google Analytics and Google Adwords (now renamed Ads) are tools that are seldom used by many providers. Phonewagon has implemented integrations that will allow marketers to track phone calls and determine the keyword that was searched by the lead.
Google Adwords integration allows company data collected in Phonewagon to be accessed in one click.   This creates a new conversation action named PhoneCalls on the platform.
Google Analytics has similar integration with Phonewagon. When using Google Analytics, phone calls are pushed from Phonewagon's records as events. This information will be compiled so that reports generated on the platform will be able to determine the kinds of conversations being driven from any keywords being used in a campaign.
Dynamic Numbers
Dynamic phone numbers are a technology used by some providers that allow organizations to gather analytics on inbound calls. Phonewagon provides its customers with a unique code to place on their website, which will then generate a banner. Once clicked, the banner will generate a unique phone number for the visitor to use.
This feature is similar to how sites track web form conversions but instead using telephone numbers. Relevant data on which site the customer visited, where they are geographically located, and which ad they clicked will all be provided. Information like this will influence the practices of a company since it provides detailed and actionable info about leads visiting the site.
Businesses should be using virtual phone numbers to enhance campaign performance. Pairing this with predictive lead scoring can set your business on a path toward pushing more customers down your sales funnel in the next quarter and beyond the fiscal year.
This feature allows for keyword-level tracking – organizations will have data on which keywords were used in a search. This provides a level of deep-dive data that is rare in solutions provided by Phonewagon competitors.
Email Call Summaries and Alerts
The creation of detailed dashboards helps streamline processes significantly by illustrating important data points that can help managers streamline campaigns. Phonewagon has detailed dashboards, but they also offer a tool that will help save time by allowing users to gather this information almost at a glance.
This tool allows business owners and stakeholders access to campaign metrics via a daily email. This tool can also be configured to send these kinds of reports weekly or monthly from the company's domain.
Alerts are generated in addition to these summaries. These provide more than just data insights since these can be configured to send notifications when there's a new call from a campaign.
CRM Integrations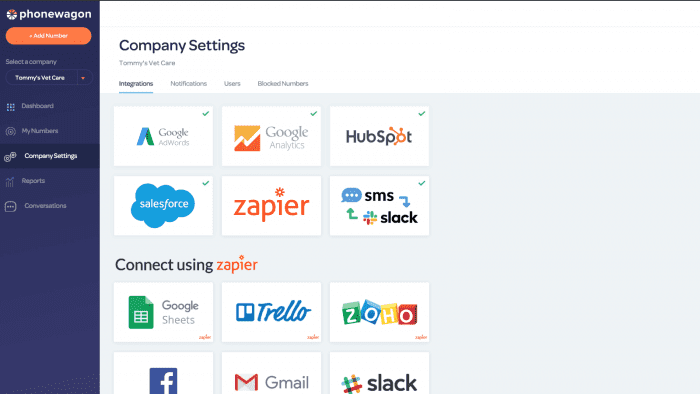 Phonewagon also seamlessly integrates with several customer relationship management tools to leverage customer data. Phonewagon integrates with the market leaders, Salesforce, HubSpot, Slack, Pipedrive, Infusionsoft, and Zoho.
Call Tagging
By default, Phonewagon has call-tagging functionality that will allow organizations to tag inbound or outbound calls as new leads, existing customers, or wrong numbers. This data will help agents understand where drop-offs occur in your sales funnel. Phonewagon also provides the ability to color-code customers and create custom tags that are unique to the business. Tagged calls are then usable in a report, which is run from the dashboard.
Phonewagon Pricing and Plans
Phonewagon's trial version of their software is useful for small businesses to use to track the performance of their campaigns. This trial is for 14 days and includes one tracking number and up to a half-hour of usage. This trial period doesn't require a credit card. Phonewagon also offers a demo through their website to walk prospective clients through some of the critical features of their business offering.
During your demo, ensure that it works with your other call center software solutions. With call tracking software combined with predictive behavioral routing, you might find that you trim the fat from your call list and make the most of your agents' time.
Other providers make advanced features exclusive to higher plans, but Phonewagon provides all features on all plans. They charge more for each plan based on phone numbers and minutes. The company also makes it cheaper when organizations pay annually.
Phonewagon has a three-tiered plan structure:
| | | | |
| --- | --- | --- | --- |
| Plan Name | Starter | Pro | Agency |
| # of Phone Numbers | Five Numbers | 20 Numbers | 50 Numbers |
| # of Minutes | 500 Minutes | 2,000 Minutes | 6,000 Minutes |
Phonewagon has a preset set of features for all plan levels:
| | |
| --- | --- |
| Instant setup | Greeting messages |
| International phone numbers | Unlimited user accounts |
| Local numbers | Visitor and keyword-level tracking |
| Toll-free numbers | Advanced reporting |
| Number porting | Google Ads and Analytics Integration |
| Whisper messages | CRM  integration |
| Call recording | Automated text message replies |
Number Generation Enhances Campaign Performance
Businesses generate numbers to provide a path of accessibility for their customers. No customer wants to have to pay long-distance rates to reach an organization, so companies use VoIP phone service providers like Phonewagon to create local, international, and toll-free phone numbers so that they can be reached with ease.
Brands with international customers can create international numbers that are routed to local call centers and desks. Routing will send an international customer's call to a number that's local to them but still reaches a brand based in another country. This makes the company easy to access and broadens the reach of the brand significantly.
As you've undoubtedly noticed, there are several features for multiple subscriber types with Phonewagon. Number generation through Phonewagon is a relatively simple process with short set up times. Customer contact statistics say that customers prefer direct calling to interact with businesses, so creating numbers to improve this experience is critical.
Dynamic Numbers functionality draws essential data from websites such as where the customer came from, what ad they clicked, and which landing page they visited. Phonewagon supplies organizations with three types of numbers. Each of these is configured within a minute via the dashboard.
Toll-free numbers: These are primarily used for national marketing campaigns. It's relatively straightforward to get a toll-free number instantly, and with Phonewagon, the process takes around 30 seconds. These numbers add legitimacy to a company by giving the impression that a brand is national rather than just local.
Local numbers: Local number generation is advantageous because some leads prefer to reach out to an organization with a local presence. This helps leads avoid long-distance calling to a contact center based in a remote location. Local numbers are useful when a marketing campaign is designed for local populations.
International numbers: Phonewagon does business in 80 countries. As a result, the company can generate numbers in each of these territories, which gives local populations easy reach to your brand. The dashboard also allows users to search for customers by phone number.
Which Companies Should Use Phonewagon?
Phonewagon prides itself on ease of use for its customers. Phonewagon's CEO, Ryan Shank, when asked about their competitors that specialize in call tracking software said, "Their pricing and the difficulty of setup puts them out of reach for many small businesses." To get new numbers with Phonewagon, most businesses will be on the line or in the dashboard for less than a minute.
The company is aligned well with small businesses. Tools that allow for the easy generation of toll-free and international numbers help a business scale upwards. Tech-savvy business owners can add  Phonewagon to their site with just a few lines of JavaScript. There's no need for a massive IT organization to get things set up.
Despite how easy it is to use and implement, small businesses and their marketers will be able to gather actionable metrics using Phonewagon. For example, where are customers entering the sales funnel? Which campaigns are proving to be more effective? What are the keywords being used to find the company?
These are important questions to ask so that organizations can optimize their practices, and Phonewagon provides answers to each. The platform has detailed analytical capability and integrations that help create insightful and actionable reports with well-illustrated data points.
Since Phonewagon is completely SaaS-based, it's also an easy platform to use on the go. Stakeholders view data while they are between meetings on a computer browser and make changes on the fly. This doesn't take any specialized training since the UI is so user-friendly. Upgrading a plan is also a call away, and Phonewagon has 24/7 technical support.
On the other hand, is this a large enterprise solution? Probably not – those businesses looking to open their contact centers may find Phonewagon lacking important call center software features. Features like interactive voice response (IVR), automatic call distribution (ACD), and call monitoring are all missing from the solution. Also, it could get expensive for those businesses looking to spend more than 6,000 minutes a month on outbound or inbound calling.
Phonewagon Provides Powerful Businesses Analytics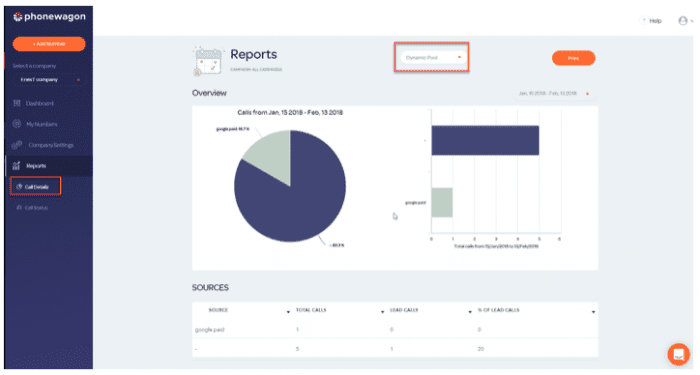 There are few providers on the market that deliver as many actionable analytics as Phonewagon. Google Analytics and Ads bring an internet-ready means of measuring important KPIs that not every provider values. It also integrates well with many of the top CRM solutions.
Phonewagon has even raised millions to determine ideal methods to turn marketing campaigns into phone calls. It's also noteworthy that the company provides the same set of features for all VoIP phone service plans. The plans only differ in pricing and the allotted minutes, which is a great feature for small businesses that want to make outbound and inbound calls.
Remember, call center analytics are important and can deliver some truly valuable insights for a business, and Phonewagon's platform can certainly bring results.