In the past few years, LogMeIn, Inc has been the company to follow. They acquired the GoToMeeting UCaaS solution from Citrix back in 2016, and have since built out the platform significantly. They've even recently bought big name brands like Jive and Grasshopper, and just three weeks ago, they announced their own acquisition by Francisco Partners and Evergreen, which means that they are soon going private.
It's been a major time of growth and change for the Boston-based company. They currently have three business units that deal with UCaaS, identity access management, and customer support. Since the company has purchased companies like Jive, GoToMeeting, and Join.me, it shouldn't be too surprising that the company is deeply rooted in the unified communications world.
Recently, we had a chance to sit down with LogMeIn's Steve Weinstock, and he was kind enough to tell us all about a series of new integrations and software offerings that the company is announcing. We'll be going deeper into that call with Steve in the coming days.
LogMeIn's Most Important UC Offerings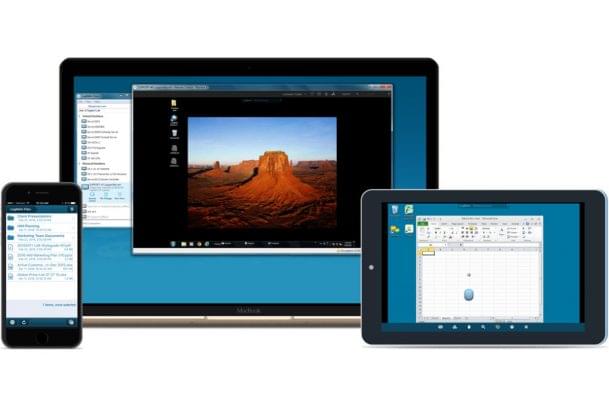 Before we get into the details of LogMeIn's new announcements, it's a good idea to get to know a few of the solutions that the company offers. This company has a pretty large suite of software, such as LogMeIn Rescue and Bold 360, but here are a few solutions that have proven to be critical to unified communications.
GoToMeeting: GoToMeeting is definitely the flagship product of LogMeIn. This software solution helps teams collaborate by providing web, audio, and video conferencing. The software is robust and allows for chat and linking to external pages for attendees. It is also available via software download or can be used in a browser.
GoToWebinar: Webinars are important for organizations that are trying to market to larger groups and position themselves as experts in a space. GoToWebinar is a great alternative to software like WebEx and has tools that make viewing webinars on mobile devices easy.
Jive: Jive is a major corporate communication tool that utilizes VoIP to connect teams. Thanks to its hosted PBX model, customers can easily open up their own contact centers and foster easy corporate communications.
Join.me: Join.me is another meeting and collaboration software solution offered by the company. Join.me stands out because it has free options for up to 10 participants.
Grasshopper: Grasshopper, which is a recent acquisition from the company, is very useful for smaller organizations in fields like real estate. This allows for very inexpensive VoIP-powered calling and has apps for both Android and iOS.
Enhancing Product Offerings for Clients
For clients of the company, having multiple options for UCaaS and SaaS can certainly streamline business processes. For example, some business owners may use a solution like Grasshopper when they have a relatively small business, while others might work with Jive instead, which has a more enterprise-level unified communications and contact center level of functionality.
All of these UC solutions fall under the GoTo suite of products, which is why this announcement will certainly interest users of LogMeIn's products. End users will have an easy way to find additional software that integrates with the GoTo suite of products. This single point of access solution is called the GoToMarketplace, and with it, organizations will be able to find software from third-party vendors like Salesforce, Zoho, Clio, Prezi, and ThetaLake.
Better Client Management for Law Firms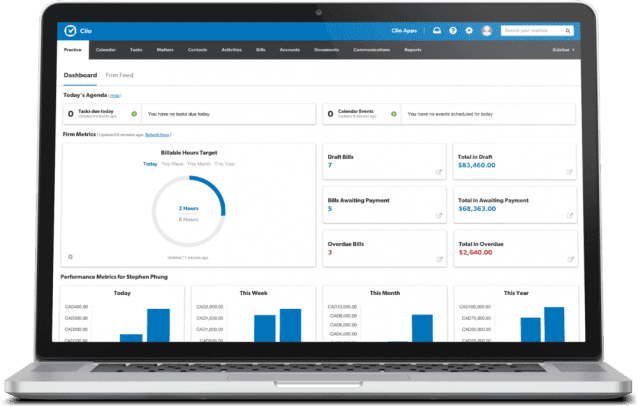 Not only will software like this be available on the platform, but users will also find new LogMeIn integrations built into the GoTo suite. For example, software like Clio, which is a cloud-based solution for law firms, will integrate with GoToConnect. GoToConnect is LogMeIn's solution that combines GoToMeeting and Jive, and with the integration with Clio, users will be able to receive alerts when clients call and utilize tracking software that will make billable hour tracking much more streamlined.
Enhanced Webinars
As we mentioned in our guide to creating great webinars, GoToWebinar is already a very agile tool with some great functionality. This new wave of integrations will let Prezi, which is a partner solution for webinars, integrate with GoToWebinar so that multiple video feeds can be incorporated into a single presentation. This will increase the visual appeal of the webinar because the presenter won't have the need to switch between screens when showing content.
Support for Customer Relationship Management Tools
Salesforce is undoubtedly the global leader when it comes to CRM, and many businesses depend on its ability to help manage customer data, which can include callback information and recordings.
With the launch of the Marketplace, click-to-call functionality will become readily available for those that use Salesforce with GoToConnect. When going through leads on the Salesforce platform, users can dial these leads directly using Jive Voice and GoToMeeting. Detailed information about each lead will remain available via Salesforce's software, so users will have information like call records at their fingertips in real-time while conversing with the potential customer.
This sort of integration is very useful for marketers, help desk teams, and businesses looking to bolster their customer experience since conversation histories, chat logs, and session details will be accessible, and customers will feel more heard. The click-to-call feature also makes the outbound call experience much more streamlined, which can boost calling efficiency and outbound call rates.
Another integration that's being presented with the GoToMarketplace support solution is compatibility with Zoho's CRM. With this GoToConnect integration, teams can utilize click-to-call, call records, and customer notifications. There's even compatibility with Zoho's Intelligent Assistant (ZIA), which has call priority routing features that are powered by AI.
Minimizing Compliance Risks
Adherence to the rules of compliance is critical. One of the better compliance tools to come out in the last few years is Theta Lake, which is an AI-based solution that can review video, chat, and audio for compliance risks. One of the new integrations being offered by LogMeIn will allow Theta Lake to be used with GoToMeeting. With the new functionality, users can use the software to both detect compliance issues in video session data and determine if extra information has been unintentionally shared.
So Why Develop a Marketplace?
According to Steve Weinstock, this kind of app marketplace isn't that new, but the driving mindset behind it is to make the process of integration easier. Weinstock said that the intent was to "Bring all the integrations together into a single location, a single place where customers can get applications to enhance their workflow. To enhance how their employees do their own business."
This increased ease is clearly at the center of LogMeIn's reasoning for developing the GoToMarketplace, and it's great to see that the company is trying to bring more power into the hands of users. Also, with so many UC solutions under the LogMeIn umbrella, there's ample choice for organizations of various types and scales to select the solution that best fits their needs without the need to sacrifice integration and functionality.
LogMeIn is Changing the Industry
Clearly, this company is making some great moves, and it'll be a very exciting few months as more information becomes available about their upcoming acquisitions and partnerships. For the time being, the development of the GoToMarketplace is certainly a step in the right direction for improving the user experience and helping companies bolster their customer engagement.
All of this functionality is available for users to access by remote computers and via smartphones. They're even making their platforms like GoToMeeting more enticing by updating them and cutting prices, so it's a great time to check them out as a solution.