Microsoft Skype continues to be one of the most popular platforms for video conferencing and business phone calls as a result of its ease of use and accessibility. Skype is also used as a popular video interviewing platform. As a result, it's widely supported on the hardware front by several manufacturers like Sennheiser and Plantronics. There are quite a few devices out there to check out, so it will be useful to our readers to have a guide that you can use to narrow down the best of the best.
We want you to have the highest quality calls and conferences possible, so we've aggregated 10 of the best headset models for Skype. Some of these models are even certified for the service by Microsoft, they're all optimized for call quality. In the guide, we feature headsets with charging bases, single-ear models, and even one with an above-ear design. Products that are Bluetooth-enabled, wired, and NFC-enabled are also included.
Most of the products we've reviewed provide active or passive noise cancelling features, which are the types of call center headsets agents need to operate efficiently in a noisy environment, these will all do the job. Keep in mind that while these are our favorites, not all will be usable from a smart device like a phone or tablet.
Logitech H800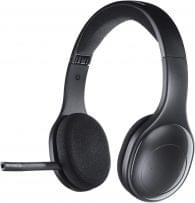 The best headphones and headsets for Skype conferencing and business calling have noise cancelation. This Logitech product utilizes its microphone to create an anaphase wave that cancels out noise from the external environment. This active noise cancelation is very useful because it will effectively mute the sound from active call centers or noisy offices. Logitech also designed the H800 to be compatible with PC desktops or smartphones that have a Bluetooth transmitter.
It is a good option for clarity because of its reasonably wide-range frequency response which spans the 30Hz to 15,000Hz range. This means that agents will be able to hear every nuance of a Skype call. This headset has a six-hour battery life that can be charged via USB while the headset is in use or while the agent goes about other activities. This is also a good option for reps that spend long shifts on the phone; it has highly padded ear cups and the headband is padded as well.
The average price for this headset is around $69.99.
This headset is available for purchase on Amazon here.
Jabra Evolve 80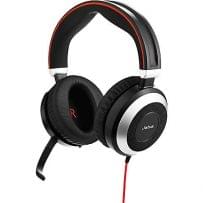 When we gave a comprehensive overview of the Jabra 75, we thought the headset producers had outdone themselves. It turns out they've continued to develop powerful hardware to perfectly complement your cloud-based software for call centers.
Comfort, call quality, and premium design make this Jabra headset a well-rounded option for Skype calls. The large ear cups surround the ear and provide quality cushioning. Added to the plush leather material and the padding around the headband, and this is a headset that can be worn for hours without discomfort. This is an entirely wired headset that uses a 3.5 jack that can connect to a USB dongle, so it's easily usable on both smartphones and desktop/laptop PCs.
The Jabra Evolve 80 is also designed to be plug-and-play, so there's no software to install when setting up for unified communications. Coworkers will also be able to see the busy light, which is an indicator that the wearer is on a call. The headset also has active and passive noise cancelation – the headset creates an anaphase wave and the cushioning provides a barrier to muffle disruptive background noise. The Jabra Evolve 80 is certified by Microsoft for Skype for Business.
The average price for this headset is around $229.00.
This headset is available for purchase on Amazon here.
Plantronics Voyager Focus UC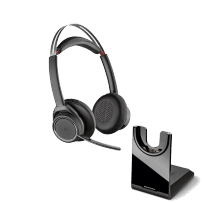 This Plantronics wireless headset has a professional design that utilizes Bluetooth to connect to various business devices. The Bluetooth has a 98-foot wireless range that will allow some office roaming without loss of connection to the customer. The device also has a dedicated mute button affixed to the earphone cups that's very convenient when an agent needs to consult a colleague or a supervisor. The headband is also very expandable and fits easily over glasses so that no user will feel uncomfortable during use.
In terms of workplace performance, voice capture is managed by an extended arm that houses three mics. These manage noise cancelation and capture and the integrated digital signal processing (DSP) keeps the agent's voice sounding natural and static-free. The device is chargeable while it's in use via micro-USB, and it has a battery that will provide six-plus hours of use. It also supports charging via an included cradle – simply place the slot on the headset atop the pins.
The average price for this headset is around $162.84.
This headset is available for purchase on Amazon here.
Logitech H650e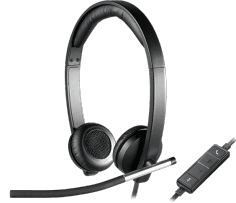 This product stands out because it has relatively inexpensive pricing without sacrificing the functionality that a business might need for Skype and standard conferencing communication. The headband is designed with a wide range of adjustability options so that wearers with glasses or larger heads can call comfortably. Additionally, the front-mounted microphone has a long arm that is sensitive enough to make the user sound natural while on the call.
This is a corded model, so there's no need to keep up with headset charge, and there's enough cabling to make it pretty easy to roam around the desk area. The wire has a remote control that can allow the user to hang up or mute the call, and the end uses a USB connector. For this reason, this isn't a product that can be used with most smartphones – unless you have an adapter. In addition to its compatibility with Microsoft business VoIP products, the H650e also is optimized for Cisco UC platforms.
The average price for this headset is around $95.26.
This headset is available for purchase on Amazon here.
Sennheiser SC 60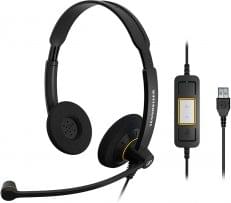 While the Sennheiser SC 60 has a very low price point, it still has a great design that utilizes the company's world-famous audio technology. This purely wired headset utilizes a USB wire to connect to desktop and laptop PCs, and it has a plug-and-play design that makes it a cinch to deploy. The ear cups utilize a traditional foam covering that's relatively comfortable, and the boom arm is bendable so that the agent can find the most comfortable positioning.
This is a headset that has noise cancelation, and thanks to the Sennheiser speakers, it's capable of HD voice with a noise cancelling microphone. This is a product that was designed with Skype in mind. This makes it an almost no-brainer option for businesses. The wire has a remote control in its center that makes muting calls, volume control, and hanging up and moving to another call quick and easy. This headset also earns some points for being fairly durable.
The average price for this headset is around $36.99
This headset is available for purchase on Amazon here.
Sennheiser MB Pro 1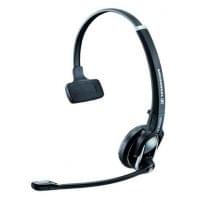 On the other side of the spectrum, there's this Sennheiser headset, which is in their Pro Series. Like the previous models, these use Sennheiser's HD sound drivers to generate some excellent sound quality. These also have a neodymium magnet that delivers better bass response and clearer highs while on calls. This is a headset that uses anaphase-generating active noise cancellation, so this can serve as a useful option for organizations with call centers or noisy sales environments.
Unlike the previous products that we've featured here, there's only a single ear cup on the MB Pro 1. This is a purely mono experience, but this is seldom needed in business environments. The headset also has the capability of quickly switching between Bluetooth devices, so both smartphone and softphone calls can be quickly addressed with a button press. The boom arm is very easy to adjust so that the agent can find an easy-wearing profile during outbound calls. Finally, the life on this Bluetooth headset is exceptional; on a single charge, it'll last for a full 15 hours.
The average price for this headset is around $125.30
This headset is available for purchase on Amazon here.
BlueParrott B350-XT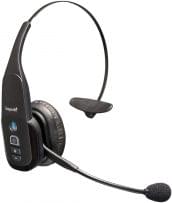 The BlueParrott B350-XT is another single-ear headset product that sacrifices stereo functionality for a bevy of useful calling features. For example, the over-ear hardware also allows for NFC pairing. This means that you can utilize the NFC strip by tapping a compatible device. This will pair the two so that you can begin calling wirelessly. Two devices can be paired this way or with Bluetooth, simultaneously.
BlueParrott boasts an impressive 24 hours' worth of talk time with this headset. If the headset is going unused, its standby time between charges extends up to 500 hours. The headset also has extensive noise cancellation. When it comes to bass performance, this headset only has a bottom end of 100Hz, but the deepest tones aren't usually needed in Skype calls.
This BlueParrott headset also allows users to transfer audio to and from their smartphone using the BlueParrott app, which is available through iPhone and Android. The app also grants programmability functions for the device.
The average price for this headset is around $97.31.
This headset is available for purchase on Amazon here.
Plantronics Savi Office W730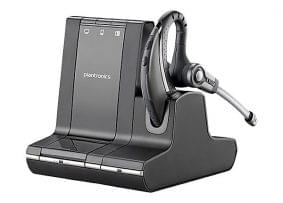 The Plantronics Savi W730 has a svelte design that looks very professional. This is the only above-ear headset that GetVoIP will be featuring in this guide, and it's also the lightest. In total, the W730 headset weighs about 0.8 ounces. This lightweight design makes it a pretty comfortable headset to wear for hours. This is also a Skype headset with a reasonably extensive base; the base allows the caller to have call answer/call end functionality as well as control functions like the volume and muting.
The headset also boasts 64-bit encryption, and the battery is swappable, which can boost talk time significantly. Compared to the other product with a base in our guide, the Plantronics Voyager Focus UC, the W730 has a larger desk footprint thanks to the controls. It also has the highest degree of mobility; calls won't be interrupted, even if the user travels 350 feet away from the base.
The average price for this headset is around $220.13
This headset is available for purchase on Amazon here.
Jabra Evolve 40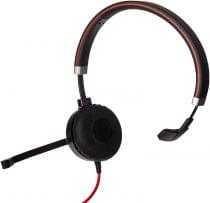 The Jabra Evolve 40 is a good option for organizations that want their agents to experience the high sound quality of the Evolve 80 without the cost. The Evolve 40 has a professional design that is comfortable for long hours dialing. The headband is padded, and the ear cup fits comfortably atop the ear. This is a single-ear product that has a boom arm that is fixed and unbendable. The Evolve 40 can connect via a 3.5mm jack or it can connect via USB, so the headset is usable on any device.
The Jabra Evolve 40 also offers excellent noise cancellation via a noise-canceling microphone. When a dialer is on a call, the Jabra automatically activates a busy light. This is a model that's certified for Skype for Business, and as such, the controller will allow users to quickly end calls, adjust the volume, and mute. The controller is circular and is designed to be easy to control as you are on a call.
The average price for this headset is around $99.99
This headset is available for purchase on Amazon here.
Microsoft LifeChat LX-6000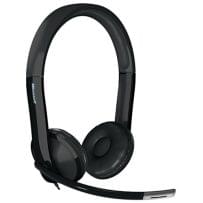 It shouldn't surprise that a Microsoft headset would be a serviceable option for those that will be making calls through Skype for Business. This headset has a unique design that's made to boost ergonomics; the sides will cup the head comfortably, and there's padding around the ear cups and the headband to make extended usage easy. The boom mic is also designed to be rotated 270 degrees so that users can find a comfortable positioning.
The controller is positioned along the wire. It has easy-to-reach controls for muting the call, answering and hanging up, and raising and lowering the volume. There's also a noise cancelation microphone, and the quality of the audio output ensures natural-sounding calls for agents. The frequency response on this headset ranges from 50Hz to 20,000Hz. Finally, there's a busy light to indicate when the dialer is on a call with a lead or an existing customer.
There's even a variation with a single earpiece if that's what your organization prefers.
The average price for this headset is around $34
This headset is available for purchase on Amazon here.
Disclosure – The GetVoIP team writes about products we hope you'll like and strives to offer the best recommendations we can. Our team has affiliate partnerships and may collect a referral commission from your purchase based on our recommendations. This does not influence the content we publish, but only supports our honest efforts to offer you the best and most transparent information. All recommendations are based on our independent research and hands-on experience.