NetFortris has been providing modern SD-WAN for business since 1994. The company has been the winner of several awards including the Internet Telephony Product of the Year in 2011 and the Cloud Computing award in 2016. Their communications solution is designed to be applicable in many industries including retail and in multi-location enterprises.
NetFortris's core business communication product is its hosted, cloud-based VoIP solution, which is designed to provide communications ability anywhere there is an internet connection. In this NetFortris review, we will explore some of the core offerings of this platform so that you can decide if it's a good fit for your organization.
What is NetFortris?
NetFortris is a network solutions company with offices in Seattle and San Francisco that specializes in providing secure cloud solutions to businesses of all sizes. Already a solution for unified communications, the partnership between NetFortris and Fonality helped solidify the company's business communications offerings.
Currently, the company offers its customers enhanced stability thanks to the cloud PBX structure of its communications services and the fact that it has 4G backup services. The platform was also deemed to be a PCMAG.com Editors' Choice. Here's what they had to say about the solution:
"NetFortris Fonality receives a well-earned Editors' Choice among enterprise VoIP competitors because this business-oriented offering has it all. From solid performance to an excellent selection of hardware options, Fonality is a great selection."
Acquisition of Fonality

Back in 2017, NetFortris announced that it was purchasing Fonality, which was a leader in unified communications as a service (UCaaS) solutions. The acquisition was designed to provide business-level customers with a cloud-based solution that could help them more efficiently manage their communications profiles for both their in-office teams and their customers.
According to Grant Evans of NetFortris, "Bringing Fonality into the NetFortris family was a natural fit that will benefit our customers immensely through the expansion of our cloud services offering—providing customers with a complete set of cloud communications, networking, security and software-defined solutions." He went on to say that, "This expanded solution suite will enable us to further partner with our existing customers … to provide connectivity, security, mobility and dynamic UCaaS software solutions for communications."
NetFortris Plans and Pricing
NetFortris has a straightforward plan setup that ranges from its baseline Essentials Plan to its contact center-friendly Ultimate Plan. For these plans, pricing is based on per user, per month, and all plans include unlimited calling and auto-attendant features.
NetFortris also allows enterprise VoIP users to customize their plans to better suit the needs of their organizations. For example, Professional and Enterprise clients can add on "Record All" functionality to their plan for an addition $20 per month. Additionally, desk and conference phones can be rented for $5 per month, per user.
Available Features
Essentials $19.99

Per-User/Per-Month

Professional $24.99

Per-User/Per-Month

Ultimate $34.99

Per-User/Per-Month

Unlimited Calls
Yes
Yes
Yes
Auto Attendant
Yes
Yes
Yes
Softphone
No
Yes
Yes
Click-to-Dial Browser Extension
No
Yes
Yes
Voicemail Transcription
No
No
Yes
HD Video Collaboration
No
No
Yes
Advanced Call Center Agent License
No
No
Yes
NetFortris Features
Understanding that NetFortris is a viable communications option is impossible without understanding some of the solution's features. Fortunately, this is a feature-rich product that has some great features, especially for companies that depend on stability.
Cloud PBX is an increasingly useful because of the cloud-based server structure. Any business that has had traditional PBX service understands that this service requires the use of on-premise PBX boxes, which are servers that manage your calls. With cloud PBX, the servers are managed by NetFortris and are dispersed around the globe.
With this kind of architecture, if a server goes down, then the other servers will pick up the slack, which means less of an incidence of dropped calls. There's no need for you to have an IT professional performing upgrades and maintenance, and there's no need for additional office space to accommodate them.
With a cloud-based architecture, there's a very simple and easy installation process. For the most part, a company switching to NetFortris cloud PBX will have to switch over numbers to the new internet system.
4G Backup Service
One of the biggest draws for the aforementioned cloud PBX is its reliability – you can fall back on the multi-location nature of the cloud architecture to avoid service outings. Redundant systems, in certain situations, can still encounter downtime, and this is where NetFortris stands out.
With NetFortris, subscribers get 4G backup service that automatically kicks in when the business phone system can no longer access the internet. When the internet dies in one or more offices, NetFortris will connect via cellular networks. While 4G may not be quite as fast as the internet provided by your service provider, it'll prevent dropped calls so that you can avoid losing business.
Office 365 and Skype for Business Integration
The best unified communication solutions ensure that many of the best functions are available at your fingertips. NetFortris has partnered with Microsoft to provide this kind of easy-to-access functionality by offering Office 365 and Skype for Business integration.
With this integration, users are granted "Click-to-Call" functionality. With it, numbers that appear in emails and chats will be clickable so that you can use the software to reach out to the number. The call will be made through a browser, so this serves as a softphone-style solution.
HIPAA Compliance and Encryption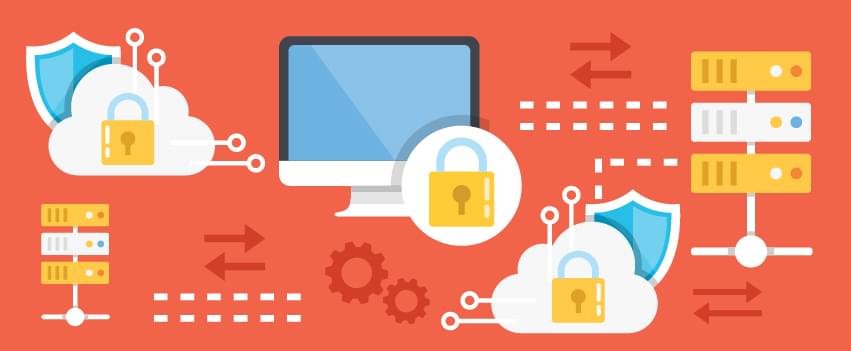 NetFortris is a communication provider that is fully HIPAA-compliant, so users can rely on the solution's ability to keep data encrypted and safe from hackers. This is critical for healthcare companies that deal with medical records . Medical data is more valuable on the dark web than credit card information in many cases, making hacks very costly.
With HIPAA compliance for stored data, there's a significant level of security with NetFortris, but what about when data is in transit? In addition to its standard encryption functionality, NetFortris also has Multi-Protocol Label Switching (MPLS) networking, which protects data as it travels. This is important when users access information over the cloud PBX network on their smartphones.
Finally, for another stable layer of protection, the NetFortris communications platform has a function that monitors data spikes and irregularities. This allows network management for admins to determine if there has been unsolicited access to data.
Conference Calling
When it comes to the business standard, the conference call, there are a plethora of providers out there, so it can be a bit daunting to find one that will work for your company. NetFortris can handle both audio and video conferencing with its unified communications options, and call quality is very clear.
Some of the features that cause NetFortris to stand out are its Heads Up Display, which has been ported over from Finality, and its simple drag and drop system. With the Heads Up Display, the software uses "employee presence" to alert meeting attendees about who is entering the call, so new participants won't feel the need to announce themselves.
The drag and drop system of NetFortris allows meeting participants to drag and drop their colleagues into the conference. This is a much simpler method of bringing attendees into the conference, and it means that they won't have to type in multi-digit conference access codes to enter.
Screen Sharing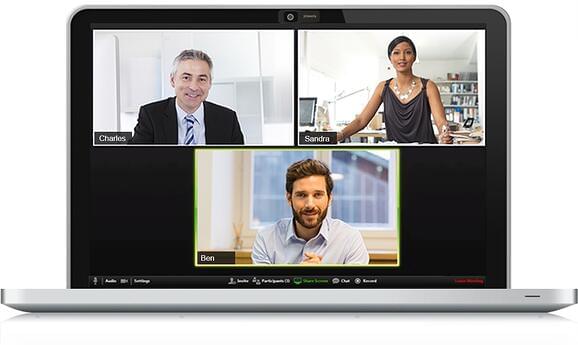 During a meeting, screen sharing technology tends to cause trouble, especially when attendees are using different operating systems. NetFortris sidesteps this by creating a unified screen sharing system that works independently of the operating system so that all users of the unified communications system can see other users' screens when it comes time to share.
NetFortris also helps attendees avoid the annoyance of needing to download third-party software. With their platform, the screen sharing is built-in so that everyone in the organization can share what's on their display. This is made more accessible by the cloud-based nature of NetFortris, and the screen sharing is available right on the dashboard of the unified communications client.
Call Recording
When it comes to the call recording functionality of NetFortris, there are a few options for configuration. During business calls, an administrator can set the software to "auto-record" or the recording can be set to "on-demand".
Once recorded, users can get access to the recordings via the web interface. This is useful for many organizations because call recording can help provide protection against legal disputes and will ensure compliance. This also ensures that outbound and inbound customers are receiving a good customer service experience.
Also, there are multiple user controls that allow managers and supervisors to tag specific calls with comments, flag them, and record the most recently ended call. Once the recording is complete, NetFortris also allows for the emailing and storage of recorded calls. NetFortris charges $9.99 per hour of recorded content and each file is recorded in aa .wav format for later use.
Calls may be stored up to 12 months with NetFortris, so for those contact centers that require long-term storage for their customers' medical history, another solution may be needed. With that said, all recorded calls can be downloaded, and administrators can also opt to enable automatic deletion for recordings.
Call Mentoring
For businesses that depend on the contact center to push potential customers through the sales funnel, call monitoring is a crucial tool. This feature allows supervisors and managers to silently "sit in" on calls so that they can be sure that the customer is getting the right information.
With the Call Mentoring feature available from NetFortris, managers or supervisors can have access to this type of functionality and also coach the agent using whisper functionality exclusively when there's a tough lead on the line. While coaching, the lead won't be able to hear the mentor, which can help the agent convert.
Business-Grade Analytics
When it comes to performance analytics, NetFortris has analytical insights for both network performance and quality of service (QoS). This is definitely unique because it allows users to tweak their settings in order to optimize their UCaaS performance.
Network Performance
Keeping up with the performance level of a business network is critical because spikes in download/upload can mean that there is a vulnerability that is being exploited. To ensure network quality and security, NetFortris offers their LiveWatch monitoring suite, which is capable of recognizing unauthorized use of peer-to-peer file sharing and network vulnerabilities.
Their LiveWatch solution can also provide continuous, automated network monitoring, and the interface is designed to provide valuable information via CPE connectivity monitoring.
Quality of Service (QoS) Monitoring
With a unified communications solution like NetFortris, the quality of calls is essential. To ensure that the organization is receiving optimal performance on both audio and video calls, NetFortis provides its QoS monitoring features. These features use deep network analytics to provide data so that managers can use to ensure that call audio and video are in HD quality.
Typically, this is done using bandwidth utilized, throughput, transmission delay, jitter, packet loss, availability, and error rate. Administrators can customize which stats are most important to the organization, and these parameters also work well when trying to analyze the performance of file sharing as well over the NetFortris communications network.
Four-Digit Dialing
This is a feature that can be useful for companies that have a disparate global presence. With four-digit dialing, an office in Lisbon can easily use a four-digit code to reach the New York office.
This is a significant unifier when it comes to the communications processes of a business; it makes teams seem more close-knit and easily accessed. This also saves on calling costs since team members won't have to reach out to their colleagues using traditional, more expensive dialing methods.
NetFortris Support
Over the years, Fonality had developed a strong reputation for providing quality support, and NetFortris has made every effort to continue this legacy. NetFortris support offers the standard live support, which is provided by most cloud PBX providers, but in addition to this, they also provide assisted installation so that SMBs can get up and running faster.
The site is also very helpful; NetFortris has training videos for users looking to understand features, so working through the HUD, which is Fonality's dashboard system, is easy. The site walks users through from merely logging in to the call management features of the platform. The Control Panel Video Series is particularly helpful for those that want to understand the contact center features of the software.
NetFortris also offers monthly and quarterly webinars with their "NetFortris Academy." The webinars are broken up with college course-like numbering from  100-level course 300 level webinars for more experienced users.
If an organization needs more specified training, NetFortris also has dedicated remote training. The content covered in these will vary based on the organization. These NetFortris trainings are designed for smaller groups of only 25 attendees.
Overall, NetFortris has one of the strongest support structures in unified communications. Not only will they assist you when things go wrong, but they also provide a good amount of training and coaching so that users can more adeptly navigate the platform. In addition to this baseline support, NetFortris also offers a platinum support customization that costs $2 a month per user for Business and Enterprise users.
Unified Communications Through the Cloud
NetFortris is a platform for companies that require stability. The cloud-based nature of the platform, as well as its 4G backup feature, will ensure that your company's communications go uninterrupted.
In addition to this, the variable structure of its plans also provides additional features like fax services and enhanced "record all" functionality. NetFortris has top-notch support staff with various webinars and training tools at netfortris.com to boost your teams' mastery of the solution. Organizations with the Business and Enterprise plans can even opt to pay more for enhanced support.
These all stack up well for those needing a reliable option for UCaaS, but this doesn't mean that the solution is perfect. NetFortris stumbles when it comes to ease of use; the platform is complex, which may explain why the NetFortris offers such a sturdy support experience.
If your customer outreach entails automated SMS or calls, consider integrating NetFortris with Twilio or one of the many Twilio alternatives.
Additionally, when using the click to call feature with programs like Office 365 and Skype for Business, the software will add extra characters. This doesn't necessarily hinder the ability to call contacts, but it's a bug that should be worked out.
NetFortris Offers Communications for Growing Businesses
NetFortris is a reliable option for just about any business that needs good uptime and a robust support experience. The recording functionality of the platform is also very useful, despite having a 12-month limitation on recordings. Overall, the decision to acquire Fonality, which was already an industry leader, has really helped make NetFortris one of the better UCaaS services out there.
Businesses that work with sensitive data may also find NetFortris to be a great option thanks to its security analytics and its protection of data even when it's in transit. Its HIPAA compliance, financial services compliance, and MPLS network provide powerful security solutions for NetFortris clients. Using their enterprise solution also along with call center tools provides excellent monitoring options and analytics to improve agent performance and customer service.
To see how NetFortris compares with some of the other VoIP providers, take a look at our coverage of PanTerra Networks or our interactive enterprise VoIP comparison table.