Zendesk and Nice inContact announced a strategic partnership that is bound to deliver value to all of Nice inContact's global customers. Nice inContact is already one of the world's leading cloud contact center solutions, and the cloud customer experience platform, which is called CXone, has become quite popular thanks to its enterprise-grade ability to deliver analytics, automation, omnichannel routing, and artificial intelligence.
Partnering Brings Improved CRM Integrations
Similarly to companies like Salesforce, Zendesk is a market leader in the world of CRM, and this joint partnership agreement will bring valuable customer experience improvements to Nice inContact CXone users. This combined solution will utilize an open cloud foundation, which will help streamline processes by incorporating AI and workforce management into the daily routines of contact centers worldwide.
Quality management in a contact center requires that agents are agile and able to meet customer needs and demands, and for this to happen, customer needs must be met in real-time. With this combined contact center solution, CRM integrations are possible that will deliver a 360-degree view of all customers so that agents understand consumer expectations based on vocal cues and past history.
Each customer that comes in contact with the company will experience personalized interactions, which are known to improve customer satisfaction. Agents will be prompted to refer to previous calls and use context from those calls, which makes customers feel valued. This better customer service experience will also increase the rate of first call resolution.
Since both of these combined solutions work off of cloud-native platforms, any contact center using the combined solution will have no need for hardware on-premises. Functionality like Interactive Voice Response (IVR) and Automatic Call Distribution (ACD) are also available to ensure that calls are received and routed correctly for customers using the Zendesk and Nice inContact combined contact center solution.
Improve Call Center Agent Productivity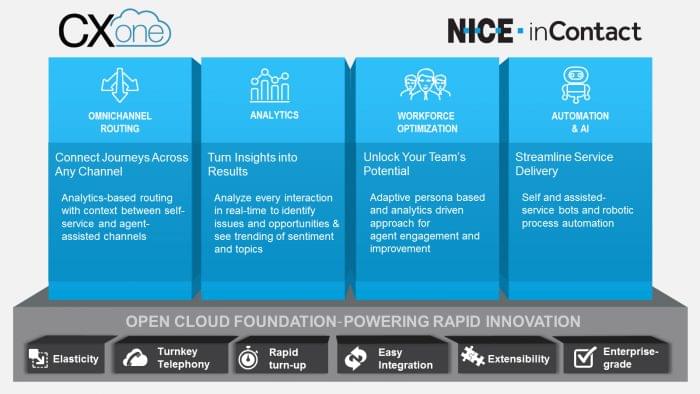 Through workforce optimization (WFO) and workforce management (WFM) functionality, this new CXone integration will also help increase customer satisfaction by increasing agent productivity. This is accomplished by integrating CXone controls into Zendesk, which means that actionable data is generated and employee self-improvement is possible.
For example, real-time data with advanced analytics are not just provided to managers, but to the agents as well. What's their dial rate? What percentage of favorable resolutions are they achieving? Analytics like these are provided through the contact center solution so that they can course-correct if need be.
The combined solution will be available on both the Zendesk and CXExchange Marketplace, so incorporating the contact center software into an organization's cloud contact center platform can be done in minutes.
According to David Williams, who is the VP and GM of the Zendesk Suite, "We're thrilled to partner with NICE inContact to provide contact center agents with an easy to use workspace integrating the tools needed to create more personalized customer experiences."
Customer Experience Improves With Expanded Data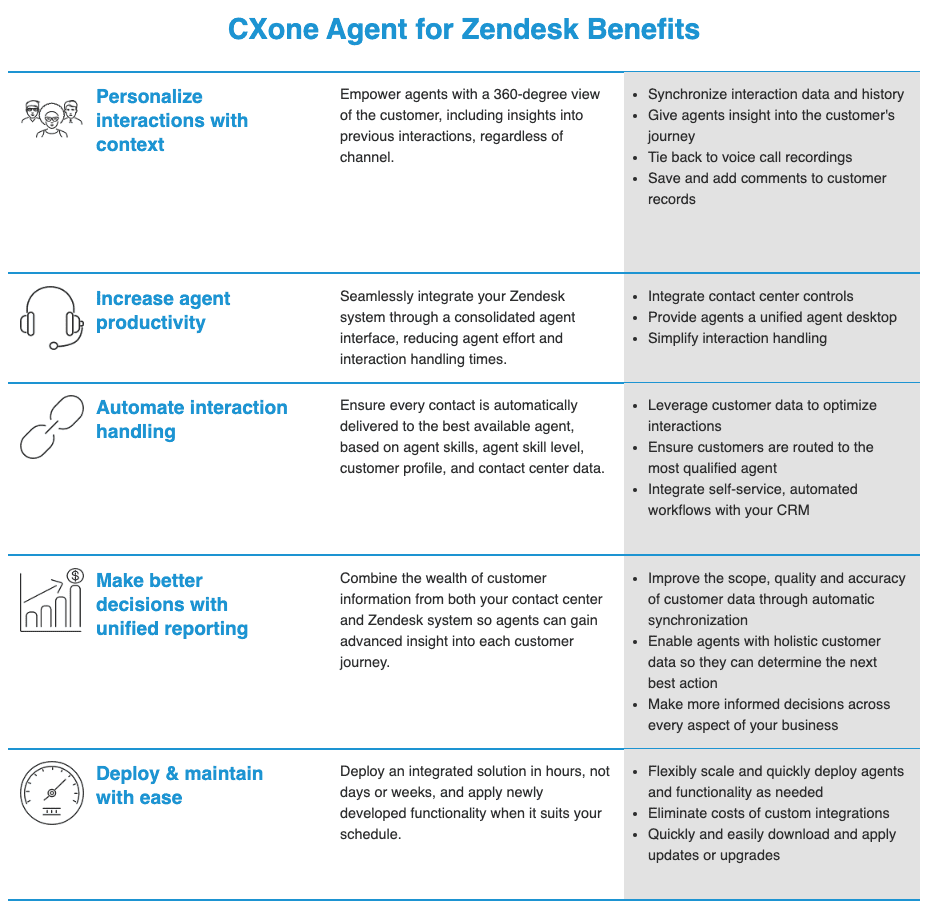 When using these contact center software solutions, the data will automatically synchronize, so information from the customer base that's held independently on each platform will combine for a better picture. Gartner calls this a "more holistic customer view," and this is an apt description since having two sources of advanced analytics can often help improve the customer journey.
It's essential to note that this is a significant win for both of these companies; Nice inContact has a massive install base, which includes usage by 85 companies on the Fortune 100 list, and industry analysts have named Zendesk one of the best tools to measure customer satisfaction. Combined, this may just be the cloud contact center platform that businesses need to garner better first-call resolution rates and higher customer satisfaction.
Wondering how to provide exceptional customer experiences? Check out GetVoIP's published article on the 75 customer service statistics that you need to know.