When properly integrated into a business' infrastructure, AI delivers innovative benefits that relieve both business-operational strain and provide near-instant gratification for customers in need. AI-backed tools assist with things like meeting scheduling, note-taking, and providing analytics quickly to help boost productivity.
According to Diane Chaleff of Google Cloud Suite, Google's future is heavily influenced by machine learning, an advanced AI algorithm function. Using it to streamline communications is simply the way of the future for most businesses. She notes in last year's Industry Vision Address that average US office workers spend over an hour each week scheduling meetings.
By introducing one AI-backed app to your team, each worker could have a more productive week without taking any action whatsoever, beyond learning how to use it.
Artificial Intelligence Has Grown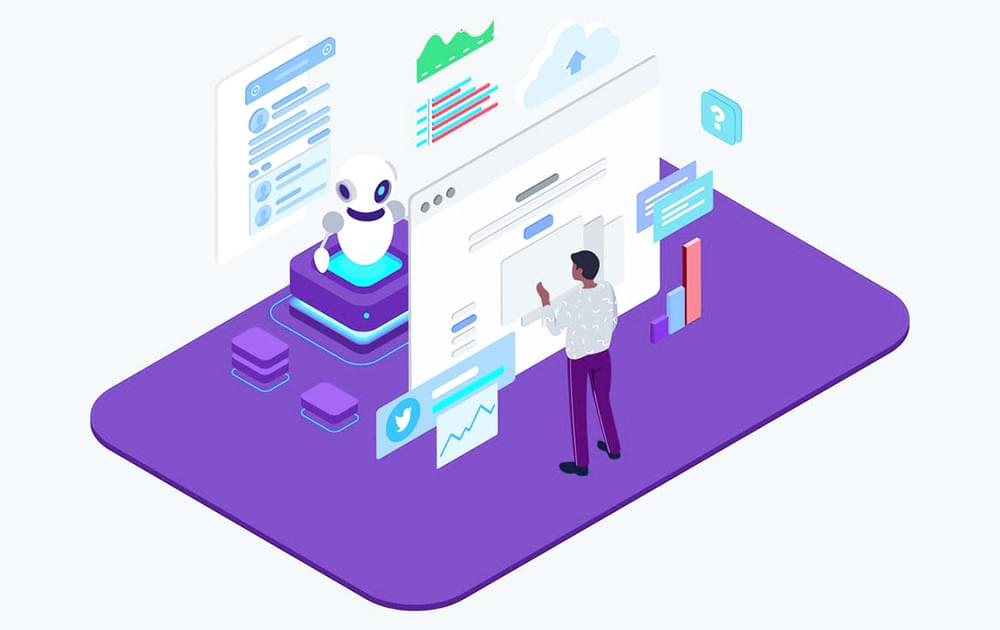 While some may not recognize the name "ActiveBuddy," the moniker "SmarterChild" delivers most a nostalgic blast from the late nineties. When ActiveBuddy Inc. developed its early chatbot technology for AOL's Instant Messenger program, its use was limited. One could easily request upcoming movie times or the weather, but most daily active users were teenagers and were likely navigating their first chatrooms and typing swear words for the first time- a capability we've since learned not to teach the bot itself.
Today, the best chatbots have evolved far beyond what ActiveBuddy imagined for its product in the nineties. Some companies were quick to implement this innovative technology as early as 2003, already seeing its merits and remaining early pioneers of the AI revolution. Companies such as Nike, Comcast Corporation, the Kellogg Company, Reuters Group, and Verizon Communications, Inc. integrated the tools in hopes of improving their customer service inquiry flow and improving response time.
As human-computer interactions (HCI) increase in volume, these basic self-learning chatbots work to improve the type of data received and offer valuable insights to the brands using them. Now has never been a better time to jump on the bandwagon; experts have predicted that by 2025, AI with chatbots will drive up to 95% of customer interactions and be included in 40% of all new enterprise products.
More and more firms have embraced the technology for social media channels, offering an instant response to shoppers with questions or issues about an order. Where companies of all sizes struggle to compete, bots help smooth things over.
What is Conversational AI?
Conversational AI is one piece of a larger project of implementing AI in business communications. It fosters improved response time and issue resolution rate, accompanied in turn by improvement in morale, both internally and externally. Customer service representatives are no longer expected to respond promptly in the middle of the night or on a holiday to deliver tracking numbers for missing orders.
Conversational AI provides the kind of seamless accessibility many users need. It can enhance the overall experience while offering the first new shopping benefits of its kind to a more diverse customer base of different abilities. This has a chain reaction, too: more users of a wider psychographic and age range are able to shop where they weren't able to before.
What Future Forward AI Offers Businesses
Conversational AI drastically improves the company perception to the public and, upon seeing this change, encourages other companies to do the same. This trend is just like the rising focus in company sustainability: one leading to an overall healthier, more customer-centric competitive landscape that actually lives its values.
The major hurdles of implementing natural language processing and natural language understanding in these tools have been mastered. As AI platforms and voice assistants improve customer engagement, AI systems will be implemented by industries that seem deeply tied to human agents.
Here are some future-forward tactics businesses are already using to boost productivity and deliver a more customer-centric experience.
AI Adds Cost Efficiency
One of the more obvious benefits of implementing conversational AI is that of cost savings. Once executed, AI can be used to save money across all sectors and isn't limited to industry-specific needs. Analysis firm Juniper Research reported that chatbots and similar conversational AI technology are expected to reduce business costs by over $8 billion annually by 2022.
From retail to oil, AI has practical use across all sectors and can be used to save organizations money no matter their size. Oil and gas companies have also recently utilized the technology, which helps predict equipment glitches, increase output and manage workers.
AI helps companies leverage the data of their customer base, immediately identifying a shopper's demographic, psychographic, and more. These tools can help save consultant fees and any allocated for outsourcing analytics. McKinsey reports that up to 29% of customer service positions could be replaced by chatbots and similar technology, thanks to their advantage in reducing operational costs and labor expenses.
Moreover, with the inevitable increase of in-app presence in recent years, chatbots can be used from anywhere with an Internet connection by anyone with a smartphone. This kind of user acquisition is virtually free to the company since no human interactions were necessary to complete an action.
Expect this set of technologies to expand to user experiences across a variety of devices. Smart speakers like Amazon Alexa and Google Home will improve conversation rates for businesses as users become more comfortable with AI bots and conversational artificial intelligence.
AI Improves Customer Service
One of the biggest challenges in conversational AI development is making a bot sound more human and less like a machine. So far, no brand has perfected it entirely. Bots make interactions more enjoyable with humor, but mostly just stick to prompts and programmed inquiry responses.
This presents an interesting hurdle, creating structured information from unstructured content. Since conversations with a live agent vs a chatbot don't have to stick to a specific format, phrasing can occur in any number of ways to convey the same message.
Conversational interfaces are now able to implement AI solutions because of the speed of deep learning allowing for real-time engagement. Customer support chats and IVR systems can quickly route calls using a virtual assistant or chatbot. Integrating these systems with CRM can allow for a level fo personalization never before imagined.
In a similar process to instant messaging, the bot recognizes questions and prompts, looking out for certain keywords or phrases that a customer might use to report a problem (such as "damaged item" or "track package"). The bot begins to recognize familiar situations and provide a solution to the best of its ability.
These bots can be deployed on mobile apps and social media interfaces like Facebook messenger to create conversational experiences without clogging your support center with phone calls. These conversational platforms will be as useful to as human conversations thanks to the implementation of NLP and NLU.
AI Offers Adaptability
In theory, the best chatbots should be able to learn a customer's inquiry based on keywords, automatically look up the information, and respond to a multitude of commands, leaving yet another happy customer. Without human-to-human interaction, the conversation takes place without emotions that cloud judgment, provide distractions, or slow the response speed by misinterpreting an exchange or its intention.
Advanced chatbot developers accomplish a more refined interaction by utilizing content intelligence, OCR, and machine learning to artificially replicate human interaction patterns. With advanced machine learning, which focuses on the improvement of the capabilities of machines, data is constantly revised to reflect the solutions of different prompts, oftentimes unfamiliar ones.
These special chatbots were designed to alter their algorithms as necessary; they essentially change the nature of their operation to enhance results and prevent future hiccups. Considering that humans, while the absolute best in empathizing, forget things, it shows a significant advantage: once this chatbot successfully accomplishes a task, it will never forget the process.
AI Increases Speed
One edge computers will always have on humans is speed. As IBM points out, automation delivers a caliber of responsiveness that humans simply can't. By learning how customers tend to interact with the brand on social media, a near-infinite amount of activity can be monitored for distress indicators pointing to an unresolved issue.
For example, someone spending long periods on an FAQ page might indicate an opportunity for a chatbot to interject. This kind of proactive customer interaction is always more effective than passively waiting for a customer, who might not be all that tech-savvy, to find the customer service contact form.
This provides relief for the business owner, who receives data reports reflecting excellent resolution data in turn. It also provides relief for the customer, who is satisfied knowing their problem has been resolved without them having to leave home. AI uses skill-based routing to skip long, winding menus and instead to put customers in front of someone with the knowledge to help.
Another advantage inherent to computers is accuracy. A chatbot, integrated with a store's inventory and logistics system, will never provide inaccurate tracking numbers or order statuses. A chatbot uses empirical data and logic as the basis for every decision made, which humans strive for, but aren't capable of doing strictly.
AI Offers Messaging Platform Visibility
Audiences like to think the brands they use represent a culture they can relate to on a personal level, and part of that includes keeping an active presence on social platforms. Out of all the time spent online, according to a Perficient Digital study analyzing internet usage, 42% of users spend their time browsing on mobile devices instead of desktop.
The majority of smartphone users stick to a select few apps kept in circulation for months at a time. Their main social media apps might be the preferred method of communication instead of emailing or calling.
Creating a presence on apps users already own allows effortless communication without extra steps or downloads.
AI Makes Businesses Accessible and Inclusive
In a world where operating remotely means you might not need a car and can always increase the font size, many find little incentive to shop in stores anymore.
Particularly for those with difficulty hearing or seeing, physical disabilities, or learning disabilities, getting to the store was hassle enough before Amazon penetrated the market. Business owners should recognize that without tools to assure a seamless customer experience- no matter the time of day- they are alienating a portion of their customer base.
Improving accessibility also improves public perception and social reputation, a key factor in determining success with younger audiences today.
Now, we'll meet the players competing to keep this technology relevant and learn what they're working on.
New Tech to Expect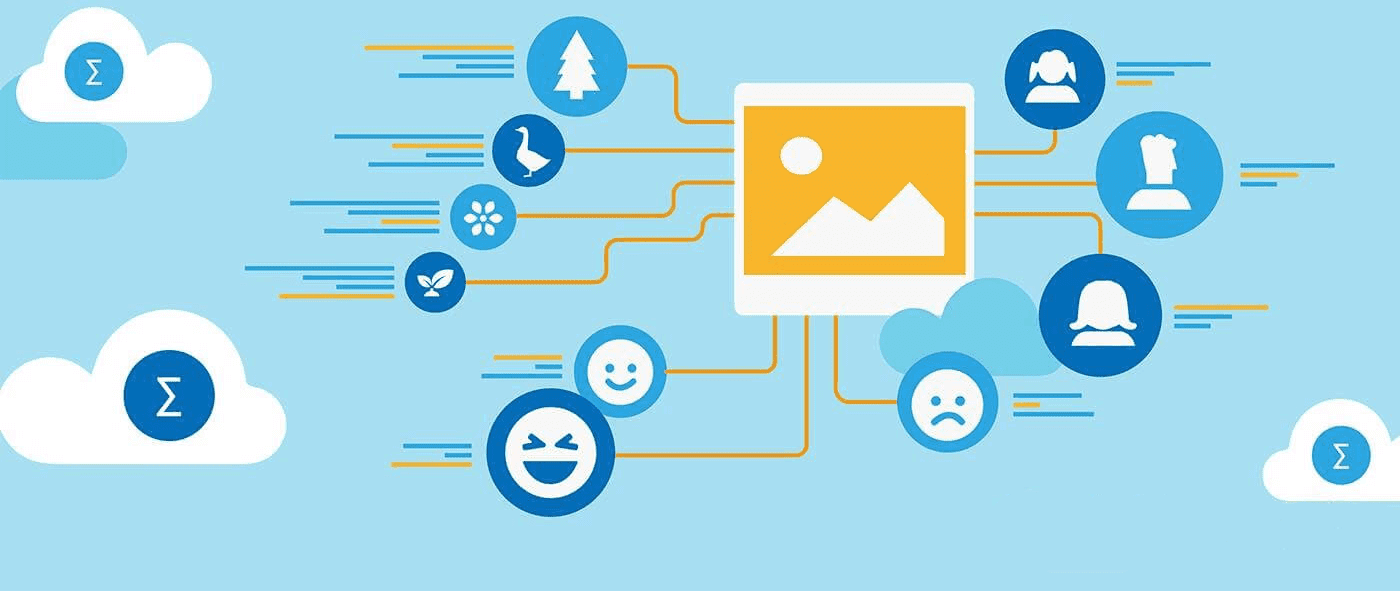 From multilingual capabilities to contextual guidance, your business will need the tools to both assess and make sense of captured information for consumers the world over. Below are some key players with advanced conversational AI features to look for.
Brand/Developer
Product
Noteworthy Features
LivePerson
LiveEngange
•  Code-free Development
•  Contextual Guidance
•  For Developers
•  Intent Recognition
•  Multi-Language
•  Omni-Channel
•  On-Screen Chats
•  Pre-configured Bot
•  Reusable Components
•  Sentiment Analysis
LogMeIn
Bold360
•  Code-free Development
•  Contextual Guidance
•  Intent Recognition
•  Multi-Language
•  Omni-Channel
•  On-Screen Chats
•  Speech Recognition
•  Virtual Assistant
Cognigy
Cognigy.AI
•  For Developers
•  Intent Recognition
•  Omni-Channel
MobileMonkey
MobileMonkey
• Multi-User Management
• Multi-Bot Dashboard
• Q&A Triggers
• Custom Variables
• Chatbot Templates
• Clone & Share Bots
• Live Chat Takeover
• Lead Magnets
• Website Chat Widget
• Checkbox Plugin
• Custom Landing Pages
• Post Comment Guard
• Send to Messenger Ads
More and more shoppers are getting used to employing AI in their daily lives, starting with the smart home. App-based lighting and temperature controls have paved the way for other innovative smart devices and IoT, like Siri and Alexa assistants.
The subsequent comfort many feel from having their toilet paper automatically reordered normalizes daily interactions across the board. These interactions build comfort with using conversational AI tools and an inherent ability to use them with ease.
Here are some other ways established brands are using innovation to boost sales and customer confidence:
Sephora has been using facial recognition since 2017 in its Virtual Artist app to help shoppers test new makeup looks.
Apple uses facial recognition to allow users to unlock their iPhone without a password.
Wayfair can help furnish your home using pictures and data, and Ikea's Place app uses AR to help make interior design decisions by viewing at-scale furniture models.
Warby Parker's app uses AR and facial mapping to let shoppers test different eyeglasses and sunglasses, virtually eliminating the need to try the products on in-person.
By enabling this kind of remote shopping convenience, customers are no longer limited by things like time of day, accessibility, stock or floor sample availability. Customers can do all their grocery and clothes-shopping and even redesign their home furniture from the comfort of their soon-to-be-replaced couch.
These exciting developments in the world of AI get more press than the newly re-appreciated chatbots, but the technology is still too young to tell how long until we perfect it. For that reason, AI- conversational or not- is still vulnerable.
The Dangers of Cybersecurity Threats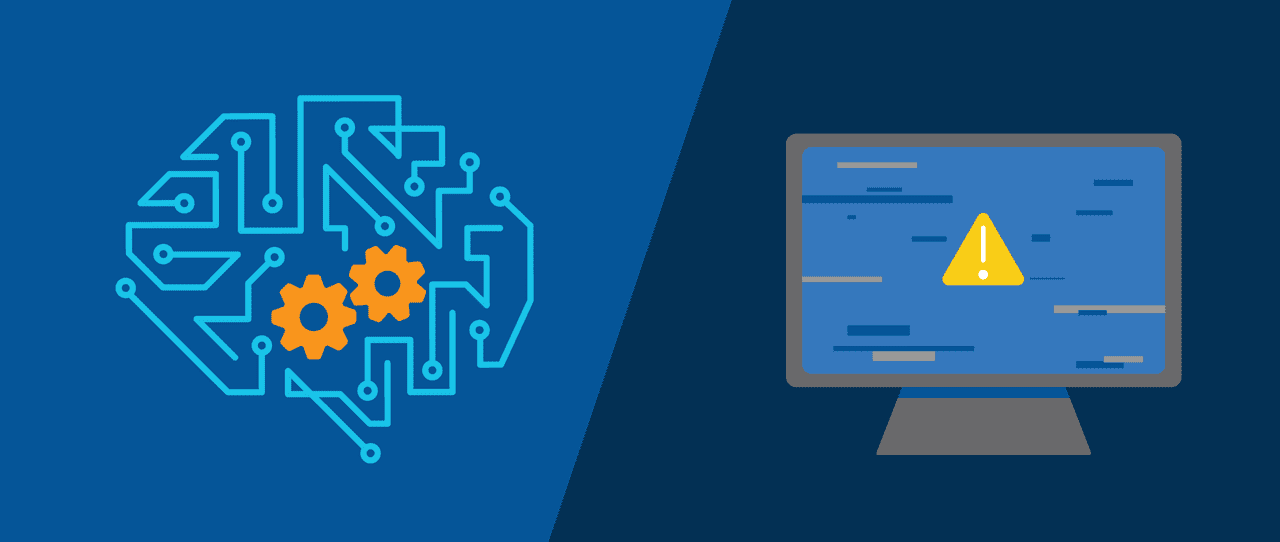 Like any other life-changing technology, AI is not without its pitfalls. The main risk to firms utilizing AI is external threats caused by pooling employee data, potentially exposing it to hackers. According to Forbes, 61% of enterprises say they cannot detect breach attempts today without the use of AI technologies.
With such an immediate need for cybersecurity defense, companies like Absolute, Centrify, and even Blackberry are delivering cloud-based predictive security software and implementing privilege access to protect data and reduce breach risk.
Here are a few of the biggest threats AI faces for businesses today:
Malware & Fraud
If you've used a computer, you've likely encountered at least one debilitating virus or malware notification. A report by digital consulting firm Capgemini states that the detection of fraud, malware, intrusion, network risk score, and user/machine behavioral analysis are the five AI use cases for improving cybersecurity.
Worse yet, Verizon reported that about 43% of all yearly data breaches are targeted at small and medium-sized businesses. Many cybercriminals view small business owners as particularly vulnerable, making them easy victims.
Despite this discouraging number, even large corporations have their weaknesses. Between 2018 and this year, major data breaches affected customers at Macy's, Bloomingdale's, Facebook, Capital One, and more. The clear takeaway is that size won't save a business; preparedness will.
Cloud Abuse
Thanks in part to the rising popularity of cloud-based data storage, hackers can gain access to any data hosted on third-party platforms. This is called Cloud Abuse.
Cisco also lists several leading trends that point to the cause in the rising popularity of small-business cybersecurity risks. They include eCommerce, the increase in worldwide mobile payments, cloud computing, Big Data and analytics across all sectors, IoT, machine learning, and social media.
This essentially implies that, simply by keeping up with the times, your business and associated data could be at risk.
Lack of Secure Infrastructure
United States Cybersecurity Magazine also points out the risk in Infrastructure as a Service (IaaS), which is responsible for functionality, having no secure registration process yet. Provided shoppers attempt to make purchases with a credit card, this information can be automatically cloud-stored when the transaction is finished. That kind of simplicity, while streamlining the buying process for online shoppers, also makes the cloud vulnerable to spam mail and malicious hacker attacks.
Luckily, companies using AI can also provide an increased security presence when dealing with things like spam calls and emails. For example, Cisco reported blocking seven trillion threats, or 20 billion a day, on behalf of their customers in 2018. This kind of everyday defense presents an obvious boost to productivity and with it, morale.
Working to eliminate cybersecurity threats won't be an easy task, or a fast one. As with any other developing technology, establishing and resolving weaknesses can only be accomplished with company participation, both large and small.
AI-Powered Productivity is Here
Whether you're afraid or excited, it's undeniable that the future of tech, finance, medicine, and virtually every other sector lies in artificial intelligence. Those accepting of the recent developments in AI should also accept that the industry is still in its early stages of everyday use.
Finding practical- and inexpensive- use can be one of the main challenges. Luckily, developers have already near-perfected HCI tools for improving small business productivity, and the benefits vastly outweigh the cost, even for small operations. TIME Magazine released its annual list of the year's best inventions, and among of the most innovative are a robot that adapts while teaching children and a prosthetic arm that adapts to its user's preferences. These applications, while life-changing for some, are still very new, and therefore much more expensive than everyday shoppers could afford. But conversational AI is now at a stage of wide accessibility to the public, meaning any small business owner can take advantage and improve customer service and productivity.
One of the best ways that brand owners can establish their own HCI needs is by testing the tools other brands use and determining how "human" the interaction feels. If it's the kind of on-brand response you'd want your own customers to see, just imagine using a similar tool to improve productivity and boost your brand image in the name of innovation.
Follow our latest list of tips for implementing live website chat to ensure you get the interaction you're looking for from your customers.