Vonage is known for its long history as the provider of residential VoIP services, and since 2006, the company also worked hard to attract a business following. With a vast experience in providing enterprise VoIP telephony combined with cloud computing, Vonage tools have become one of the leading business communication providers for SMB and enterprise clients.
Vonage's core business communication product is the Vonage Business Cloud app and we are here to explore everything the platform has to offer.
What is Vonage Business Cloud?
Vonage Business Cloud is the company's latest mid-market cloud offering serving as a unified communications platform. With Vonage's business tools, the company provides business VoIP, UCaaS and business integrations that stack up well against the competition.
During the past few years, the company saw a lot of movement — a partnership with Amazon Chime, the acquisition of Nexmo, NewVoiceMedia, and most recently Over.ai, and the list of features for the app continues to grow.
Vonage managed to build a powerful cloud-based enterprise communication platform with many great features such as CRM integrations, team collaboration, and conferencing software. The app is accessible to users on all devices, whether they are using their desktop computers or mobile phones.
The plans also include 40+ powerful business phone features, unlimited messaging & SMS through VonageFlow, as well as the option for monthly contracts. As of recently, the app also received a design update, further improving the overall user experience.
Vonage's business tool certainly has a lot to offer for small to mid-sized businesses, so we're going to take a closer look at their pricing, plans, and features.
Vonage Business Cloud Pricing and Plans
Vonage Cloud pricing comes in three tiers, with scalable plans that are based on the number of phone lines. Here, we're covering pricing for 1-4 lines but do keep in mind that you can get up to $5 off per month if you opt for 20 or more lines.
Plans (high-speed internet required)
Mobile
Premium
Advanced
Rates
$19.99/month/line plus taxes & fees
$29.99/month/line plus taxes & fees
$39.99/month/line plus taxes & fees
Why this plan?
Communicate through your mobile device and desktop. Great for remote teams—and any business that doesn't need desk phones.
Communicate and collaborate on any device, including your desk phones. Best for traditional office environments.
Unify your business communications with our most popular add-on features, and get a dedicated team for setup and onboarding.
Unlimited Calling and SMS Messages*
Yes
Yes
Yes
Mobile App

(iPhone, iPad, Android)

Yes
Yes
Yes
Desktop App
Yes
Yes
Yes
VonageFlow
Yes
Yes
Yes
Multi-level Auto Attendant
No
Yes
Yes
Video Conferencing, Chat & File Sharing (by Amazon Chime)
No
Up to 100 people
Up to 100 people
CRM Integrations
No
Yes
Yes
Call Recording: On-Demand
No
No
15 hours/month
Call Group
No
No
Yes
Vonage Visual Voicemail
No
No
Yes
Orange-Glove Setup
No
No
Yes
*Unlimited calling in the continental U.S. & Canada, reasonable and acceptable use policies apply.
**Mobile data charges may apply, reasonable and acceptable use policy applies.
All of Vonage's Business VoIP plans include phone service via high-speed internet, free numbers, 40+ business phone features, 24/7 US-based tech support, and a 99.999% uptime reliability, a claim that is based on an average of Vonage's call availability.
As we can see, all three plans also include unlimited calling and messaging through Vonage's apps, starting at $19.99 per month/line. As mentioned earlier, the plans start at $14.99 if you opt for 20 or more lines, with even better discounts for 100+ lines, and they're available on monthly contracts.
More advanced features such as team collaboration, integrations, and call recording are available as add-ons or plan upgrades to premium and advanced plans. One important drawback with Vonage is that some standard features require upgraded plans, which is not the case with all providers. A good example of that is call recording, which is available only on the Advanced plan, with a maximum limit of 15 hours per month.
Still, Vonage offers a lot of great features at a different price range, so there's a lot to choose from. We're now going to take a closer look at Vonage's Business UCaaS offering, to determine exactly what each individual product is offering.
Vonage Unified Communications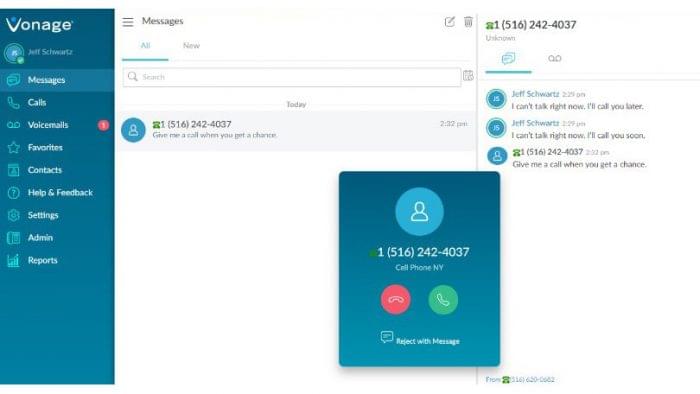 Vonage's cloud app offers a high-quality UCaaS platform where all your communication apps are consolidated within a single platform. With this platform, all of your messaging, team collaboration, conferencing, contact centers, and other business apps are integrated into one platform and accessible on all of your devices at once. Businesses can leverage unified communication solutions to offer better services for their customers, improve workflow, boost productivity, connect on any device, and have total control of communication.
It's an all-in-one solution built to ensure perfect business communication.
Vonage Business Cloud offers the following unified communications suite:
Business Phone System
Office Phone Systems
Contact Center
Mobility
Conferencing
Marketing Automation
Phones & Accessories
Business Phone System Features
As we mentioned before, the Vonage VoIP phone system for businesses is powered by 40+ phone features. While most of these features are included in the basic plan, some are available only as add-ons. Phone features that come with Vonage Business:
Control Your Privacy
Give Great Customer Service
Personalize Your Business
Save Time and Money
Work on the Go
Collaborate With Colleagues

Call Announce
Caller ID Block
Call Screening
Do Not Disturb
Set Caller ID
*Spam Shield

Busy Lamp Field
Call Continuity
Call Hold
Call Logs
Call Park
*Call Queue
*Call Recording: Company-Wide
*Call Recording: On-Demand
Call Waiting
Click-To-Call Me
Dashboard
HD Voice
Shared Line Appearance (SLA)
Simultaneous Ring

Admin Portal
Caller ID
Custom Call Tagging
Dynamic Caller ID
Follow Me
*Local Or Geographic Number
*Main Company Number
Music On Hold
* Toll-Free Numbers
User Portal
*Virtual Mailbox
Virtual Receptionist
Voicemail

Call Blocking
Call Conference
Click-To-Dial
Directory Assistance (411)
*Vonage Support PLUS
Powered By Soluto™

*Business Inbox
Call Forwarding
Call Flip
Cell Phone Integration
Desktop App
Mobile App
Multiple Devices On One Extension
"Never Miss A Call"
*Paperless Fax
Text Messaging
Voicemail To Email
*Vonage Visual Voicemail
Work From Anywhere

*Call Group
*Call Monitoring
Chat
File Sharing

Online Meetings
*Paging Group
Video Conferencing
VonageFlow
*Indicates that the feature is an add-on/paid feature
Vonage phone systems provide all of the standard features that are popular within the industry. Additionally, users can also enjoy unique add-on features such as:
Spam Shield — which protects you from phone spam at $2.99/month
Virtual Mailbox — for storing voicemail files at $4.99/month
Business Inbox — allows multichannel capabilities at $9.99/month
Visual Voicemail — transcribes voicemail to text and sends it to your email at $4.99/mo
Call Monitoring — an excellent tool for administrators at $49.99/mo per account
* Add-on pricing does not include taxes and fees.
As part of the basic plan, Vonage app users will have access to all of the standard call or admin features such as simultaneous ring, call screening, logs, caller ID, call flip, admin portal, and more. Additionally, the app will be available on both desktop and mobile devices, with built-in team collaboration software powered by VonageFlow and Amazon Chime.
There's a lot of great features to explore in the business platform by Vonage along with a support team there to help you. Once you sign up for the service, there's a usual two-week delay so that you can learn how to configure the new phone system on your network.
Office Phone Systems
Vonage Business is built to enable a powerful modern office phone system where users can talk, chat, fax, conference, and collaborate all at once place.
It's worth emphasizing that businesses can indeed make a quick and easy switch to cloud-hosted business VoIP phone systems if they choose to do so. If you are setting up an office phone system for the first time or opening a new location, Vonage agents are there to help you get your phone system up and running as quickly as possible.
Contact Center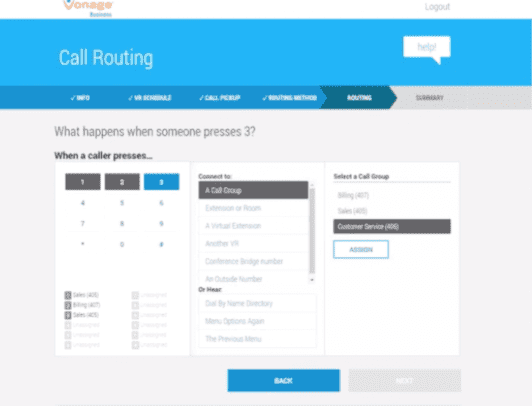 In late 2018, Vonage spent $350 million to acquire NewVoiceMedia, a Contact Center as a Service (CCaaS) company. As of 2019, the company began offering Vonage CX Cloud Express, a contact center add-on that integrates with the Vonage platform. Designed specifically for the contact-center needs of mid-market businesses, Vonage CX Cloud Express is a CRM integrated solution built to deliver a seamless customer experience.
If you're looking for a contact center with great capabilities, CX Cloud Express has a lot to offer. Some of the features include advanced call routing, IVR capabilities, supervisor dashboard, reporting, analytics, and there are a lot more customizations available through the Vonage App Center. CX Cloud Express offers:
Advanced ACD Capabilities
Interactive Voice Response (IVR)
Supervisor Interface
Reporting and Analytics
Call Forwarding to a Third Party
Call Recording
Manual Outbound Dialing
Agent Status Configuration
Agent Interface With Call Controls
Vonage CX Cloud Express enables a singular experience through VBC where you can control everything from your web browser, and you can sync all of the data into your CRM and other business applications that you may be using.
Mobility
Mobility is one of the key selling points when it comes to Vonage's business app. The app gives businesses additional flexibility to catch up with work at any place, any time.
With a cloud-hosted unified communications platform like this one, users can access their business phones virtually, with the ability to create and connect remote offices. With this Vonage tool, you can turn your business into a mobile office.
Mobility is supported by over a third of Vonage's business phone system features which means that a lot of work can get done over the phone. Call receiving, text messages, call flipping, conferencing, and integrations are all available through the mobile app.
All of these features will allow businesses to manage their workforce via mobile devices, and although a fully remote office seems improbable at the moment, it might as well become a possibility as we move forward.
The app seems to be in a good spot for now, and it's a great option for businesses that put emphasis on mobility and flexibility.
Conferencing
Over the past few years, we've seen a lot of companies starting to develop sophisticated web conferencing and team collaboration software. Conferencing as a standard UCaaS feature is getting more and more common, and Vonage is up to the task.
Amazon Chime is a conferencing software included with Premium and Advanced Vonage plans, and it's a real time saver. Amazon Chime offers a robust suite of collaboration capabilities:
Online Meetings
Video Conferencing
High-quality Video & Audio
Chat Rooms
Drag, Drop and Share Files
Recording
Switch Between Devices
Scheduling & Hosting
Additional Enterprise-grade Features
And more
As mentioned, you get full access to Amazon Chime with the premium pricing plan, and the cost remains the same at $29.99/month. Keeping team communication and collaboration all on one platform has its advantages, and it's certainly a nice feature to have.
With the addition of Amazon Chime, this platform is building up to be a solid option for unified business communication.
Marketing Automation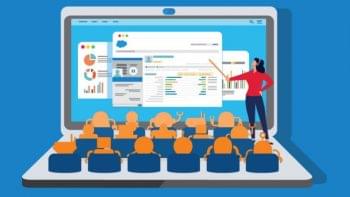 VonageReach is a marketing automation platform built for businesses that are looking to automate and improve communication campaigns. Leveraging Vonage's existing UCaaS product stack and Nexmo API platform, VonageReach offers better ways to reach out and stay in touch with your customers.
With VonageReach, businesses can develop customized automated drip campaigns, send personalized messages at multiple stages of the sales journey, and interact with customers across all channels.
The product will help you take care of cross channel marketing, email marketing, social media integration, and CRM integrations for better data management. VonageReach also supports a 24/7/365 technical support team, and Orange Glove Service with a dedicated support team to help you take full advantage of the platform.
Here are some of the most exciting marketing automation features VonageReach offers.
Smart Targeting — messages catered to the recipient's behavior
Mobile Keywords — text to join keywords
Auto Responder — auto opt-in messages for new subscribers
Rules and Triggers — automated and perfectly timed individual messages
Picture Messaging — send SMS or MMS messages that include pictures and videos
Cross-Selling Capabilities — built into a single user interface
Short Codes — send up to 300 messages with shortcodes
VonageReach is an interesting addition with lots of features, but it's hard to tell how well it performs. It seems to be highly customizable, so it's up to each and every business to take full advantage of what this platform has to offer.
One thing worth noting is that more and more companies are moving to automated campaigns, bots, and autoresponders. This is certainly the right step if you're looking to build a powerful modern communication platform.
Phones & Accessories
Vonage Business Cloud is a powerful platform that supports quick switching, however, it may not be compatible with your existing phones. For a phone to work with Vonage VoIP services, it must be an SIP (session initiated protocol) capable phone.
Vonage does offer setup for existing phones, but it doesn't guarantee compatibility or functionality of phones not purchased through Vonage. You can find a full list of preferred and compatible phones here.
If your existing phone system is compatible with Vonage's system, the company offers a quick setup and transition. However, if your current equipment is incompatible, Vonage offers a list of business phones & accessories that are fully compatible with the platform.
Not all phones are compatible with all plans, so make sure you select the right filters when searching for a new business phone.
Vonage Business Cloud Continues to Grow
Overall, the new and improved Vonage Business Cloud platform is strongly positioned to compete in the field of cloud unified business VoIP communication, and with its large array of available features, the company has a lot of great things to offer. Customers can utilize the monthly payment plants to leap into the Vonage system without large repercussions.
The product is designed to meet the needs of growing businesses with quality phone services, 40+ phone system features, inexpensive rates, and a lot of add-ons to work with. With a lot of options to work with and the robustness of the app, customers should not feel like anything's lacking.
However, customers should be careful with all the additional options they'll cause the Vonage pricing to look a bit less attractive compared to other business VoIP providers. Moreover, the exact pricing structure for all products remains unclear, which is, unfortunately, a common tactic used by similar companies. That's why you should always call to receive the exact quote for your configuration.
This is a powerful unified communications platform with tons of features, and it's definitely an option that every business decision maker should explore. If you're curious about the growth in this field, feel free to check out our guide to unified communications services. For more information about what's available for small business, check out our regularly updated VoIP reviews.