Maintaining a robust wide area network (WAN) is among the more expensive and challenging aspects of managing an enterprise network. SD-WAN or software-defined networking is being rapidly adopted among organizations with a desire to optimize network traffic across multiple locations while helping to reduce costs and increase reliability.
Corporate data coming from branch locations is no longer simply just being piped back to central data centers and is increasingly sent to remote locations in the cloud. This is true from several angles: Business software is moving toward cloud-based software as a service (SaaS) such as Office 365 and Salesforce, while companies have become more dependent on remote cloud infrastructure as a service (IaaS) such as AWS and Azure. This has made choosing an SD-WAN vendor a necessity in the modern office.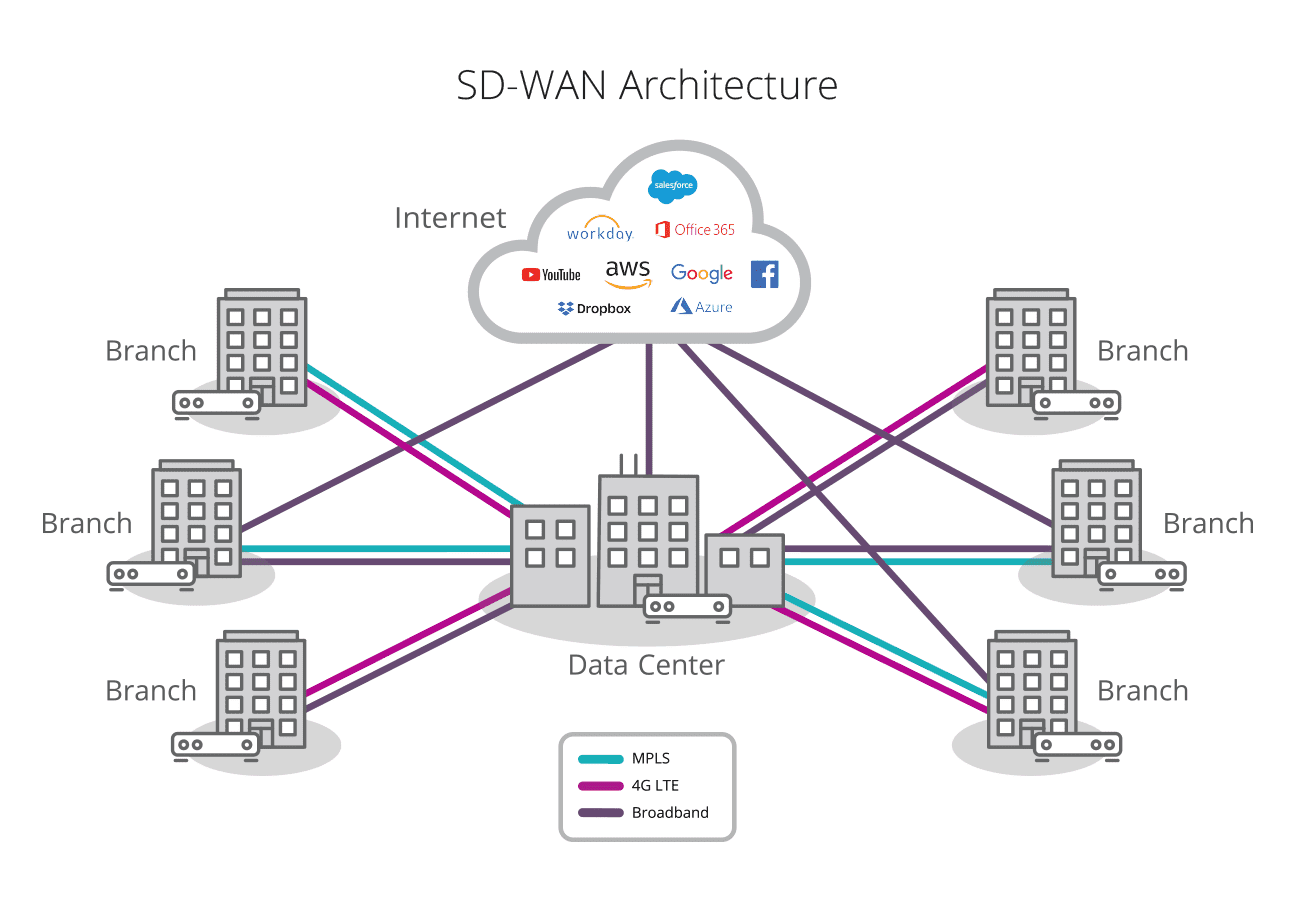 Companies are making the transition to SD-WAN technology as they enhance business processes with cloud productivity applications, unified communications, and omnichannel engagement. Likewise, there's a rising demand for bandwidth on across the board and an ever-pressing desire to reduce spending, limit oversubscription, and improve WAN performance.
Traditional traffic patterns are being disrupted in a way that previous approaches to networking are no longer efficient enough to address modern needs and the SD-WAN market is quickly becoming the powerhouse in traditional branch routing solutions.
According to Gartner, the market spending on SD-WAN products equaled or exceeded more traditional solutions in 2018. By 2021, the market for SD-WAN service providers is expected to reach $9 billion while antiquated alternatives will dip to around $1 billion.
"By year-end 2023, more than 90% of WAN edge infrastructure refresh initiatives will be based on virtualized customer premises equipment (vCPE) platforms or software-defined WAN (SD-WAN) software/appliances versus traditional routers (up from less than 40% today)." – Gartner Magic Quadrant for WAN Edge Infrastrucutre
What is a WAN (Wide Area Network)?
Whereas local area networks (LANs) connect devices such as computers and smartphones to a network in a small area like your home or office, wide area networks or WANs connect these different locations across great geographical distances – such as with the Internet as a whole. In the context of an enterprise organization, WANs expand on SDNs and involve the interconnection of each company location so that every base of operation such as branches or headquarters is networked together and traffic can flow between all points.
While this can be accomplished using regular old broadband Internet connections, this places a company's data flows at the mercy of the public Internet. Business traffic is often sensitive, containing critical information about a company that often needs to be transmitted in a timely fashion with a high priority for quality of service.  This is why VoIP services like Mitel will always boast a private connection to their network to eliminate the negative impact Internet traffic can have on voice quality and QoS.
Because of these requirements, enterprises often opt to establish WANs that can provide a greater level of traffic priority, as is offered by T1/T3 as well as MPLS connections and now SD-WAN companies.
What is MPLS (Multiprotocol Label Switching)?
MPLS has become the standard technology for creating enterprise WANs. It establishes a private connection between two or more company locations and is essentially a private cloud that can cost upwards of 10x more than conventional broadband Internet connection while not offering the same amount of bandwidth.
MPLS offers a series of priority queues or tiers into which application traffic can be tagged and mapped for quality of service. This allows MPLS connections to provide greater performance guarantees than if an enterprise were to pipe all of its traffic over the public Internet.
Looking back further than MPLS, older T1 connections are still used by some organizations today but have become largely insufficient for high demand scenarios such as those that involve lots of voice, video and multimedia traffic, as well as a large number of guest or customer Wi-Fi connections such as in a hotel or hospital.
Some companies even rely on local ISP broadband connections at each site but then use VPNs (virtual private networks) to establish a connection between those sites. While this approach is used by some organizations, it offers less performance, particularly for real-time applications such as a VoIP call, not least because VPNs add extra header information on each packet for encryption.
Although MPLS connections provide a quality of service guarantee that can't be matched by public broadband or other approaches to establishing enterprise WANs, MPLS technology has its shortcomings.

Again, the amount of bandwidth provided on MPLS is less than standard broadband Internet connections and yet MPLS lines can cost upwards of 10 times more. It's also expensive and time-consuming to expand an MPLS network, which doesn't have the same level of traffic prioritization capabilities as SD-WAN and may not be as reliable or resilient in the face of an outage.
MPLS networks are less adaptable and flexible when it comes to managing and optimizing traffic flows, and given their limited bandwidth, companies will often over-provision the capacity required to ensure performance levels. In the event of an outage, backup connections are often in place but infrequently tested and may not work as expected. Failover to the alternative circuit may not be immediate, in which case session-based instances such as VoIP calls will be interrupted.
This is a key area where SD-WAN vendors shine. In the presence of multiple network circuits, such as MPLS, wired broadband Internet and wireless 4G LTE, SD-WAN companies can route traffic across the best circuit in real-time based on the status and capability of a given connection. Traffic can be provisioned and optimized in real-time depending on the specific needs of individual applications and thousands of devices can be managed from a single virtual interface.
What is SD-WAN (Software-Defined WAN)?
Amid the rapid adoption of cloud-based applications and services, a significant portion of corporate traffic is already moving over the public Internet instead of remaining inside a company's WAN – whether based on MPLS or otherwise. SD-WAN can interface with many Internet and WAN circuits at once to dynamically route traffic across the best circuit. It monitors the quality of connections and the speed at which a specific type of traffic will reach its destination when traveling over a given route.
By being aware of the performance between all connection points, SD-WAN can send traffic over the most efficient route possible, whether that's your enterprise MPLS line or a 4G LTE connection. If one of these connections is lost, SD-WAN will automatically and instantly reroute traffic over an alternative circuit so that session-based applications such as VoIP calls won't be interrupted.
Compared to the handful of options for tagging and mapping MPLS traffic, SD-WAN may offer dozens or hundreds of ways to map application prioritization. SD-WAN typically comes with the capability of identifying hundreds or thousands of applications and the ability to map those applications into traffic queues.
So for example, a company might choose to route all internal unified communications and other internal traffic over MPLS while piping cloud application traffic, file transfers, and other latency-insensitive instances to business or consumer Internet services.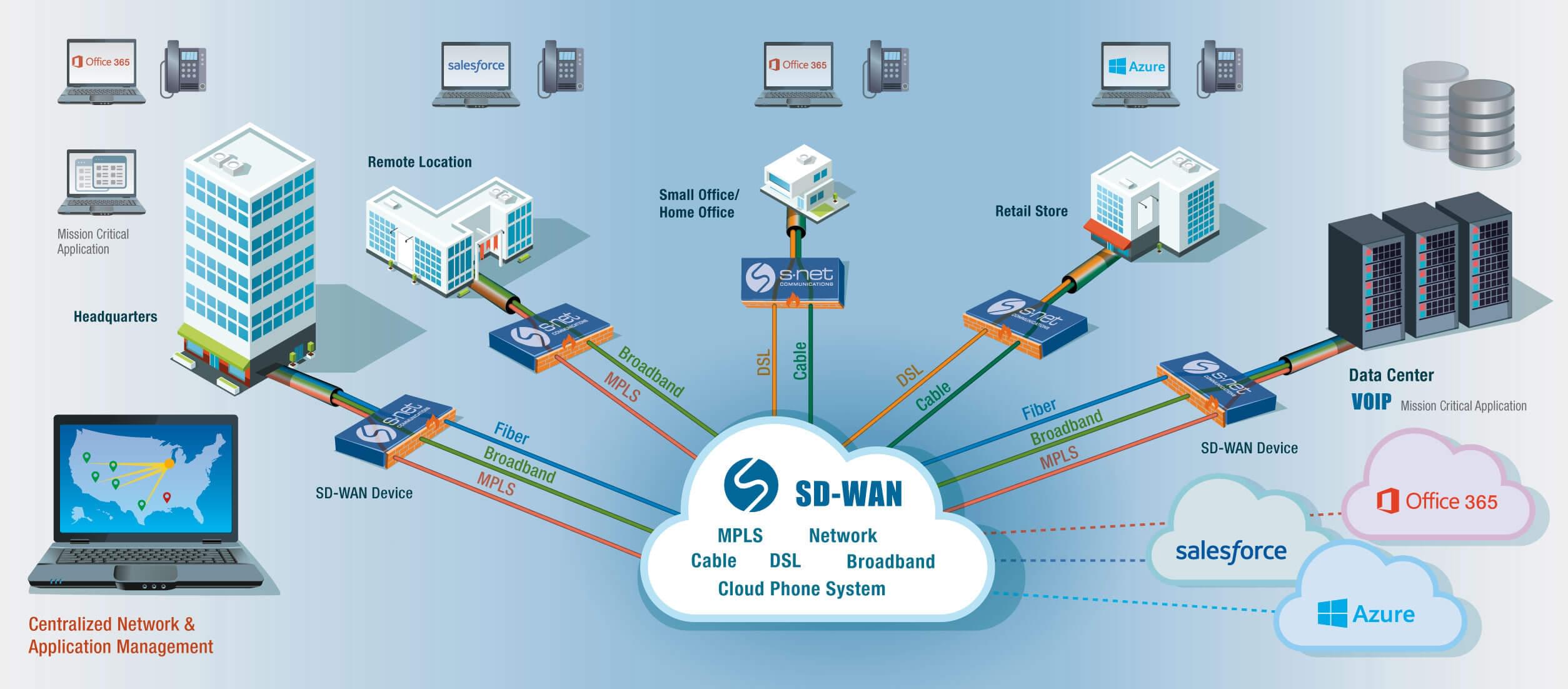 SD-WAN vendors provide visibility into both legacy and cloud applications, allowing organizations to monitor every Internet and WAN link including the quality that is being provided in terms of latency, packet loss, and throughput. SD-WAN addresses common issues that enterprise organizations face with networks: cost, complexity, performance, and flexibility.
While SD-WAN sends traffic over broadband Internet, MPLS may or may not be in the equation and is not necessary for launching a new office location. A new branch can get up and running with a simple broadband connection and SD-WAN can ultimately help reduce the networking footprint of a branch, bring branches closer to cloud and SaaS applications, and provide a single view over an entire network.
Because locations no longer require expensive MPLS lines, SD-WAN can often lead to savings by leveraging lower-cost Internet bandwidth. While SD-WAN packet delivery not quite as reliable sending packets over the Internet compared to MPLS because traffic must be shared on the public Internet, overall performance and bandwidth availability tend to be greater.
Core benefits of SD-WAN:
More bandwidth at a lower cost than MPLS when paired with public Internet connections.
More options when choosing connection types as SD-WAN works MPLS, cable or fiber Internet, DSL, and wireless Internet.
Centralized network management across branch networks, which are connected to a single interface and managed from a single overlay.
Greater insight into network performance with detailed reports and statistics that enable a more granular view of a network.
Better performance via intelligent routing. SD-WAN companies choose the optimal network circuit for a given application or traffic type.
Improved reliability with nearly immediate failover. If one connection fails, traffic can be re-routed over an alternative network in less than a second.
Highly flexible and scalable as bandwidth can be allocated where and when it's needed, such as during peak loads or the roll-out of a new application.
Quick deployment since the launch of a new office location can be accomplished with a standard Internet connection instead of MPLS, which is slower to deploy.
Secure connectivity by providing encrypted tunnels and next-generation firewall tech.
Common Misconceptions About SD-WAN Vendors
SD-WAN will always improve network performance
While SD-WAN can improve the performance of your Internet traffic, simply plugging broadband circuits into an SD-WAN device won't improve performance without ample configuration and oversight. And in the case of traffic that is routed over the shared public Internet, the pace at which it reaches its destination ultimately depends on current congestion levels and delivery capabilities.
SD-WAN will drastically reduce your IT spending and network expenses
SD-WAN does save money by allowing the use of inexpensive broadband Internet versus private MPLS connections, and SD-WAN will help replace hardware infrastructure such as routers and firewalls at the network edge, however, IT budgets don't always shrink overall because organizations often reallocate the cost savings toward cheaper Internet services, etc. toward cloud providers and networking technologies such as SD-WAN itself.
SD-WAN is easy to deploy and maintain, just plug in the box!
This isn't exactly true and SD-WAN implementations will still require networking experts to design, configure and integrate an SD-WAN solution with a legacy network. Even if you have an older Microsoft based system, this managed service can be integrated to offer a stateful firewall and advanced network functions. Likewise, organizations considering SD-WAN should anticipate a requirement for staff who are knowledgeable in SD-WAN for ongoing configuration, maintenance, and performance monitoring.
SD-WAN is competing with and will replace MPLS connections
While often viewed as a competitor to MPLS, SD-WAN complements that technology and isn't necessarily going to replace it. As a private, dedicated line, MPLS offers a better performance guarantee whereas SD-WAN with a broadband Internet connection must route traffic over the public Internet. MPLS will remain in use by companies who require guaranteed performance and such organizations should be rightly hesitant to rip and replace MPLS with SD-WAN paired with standard Internet.
A Quick List of SD-WAN Vendors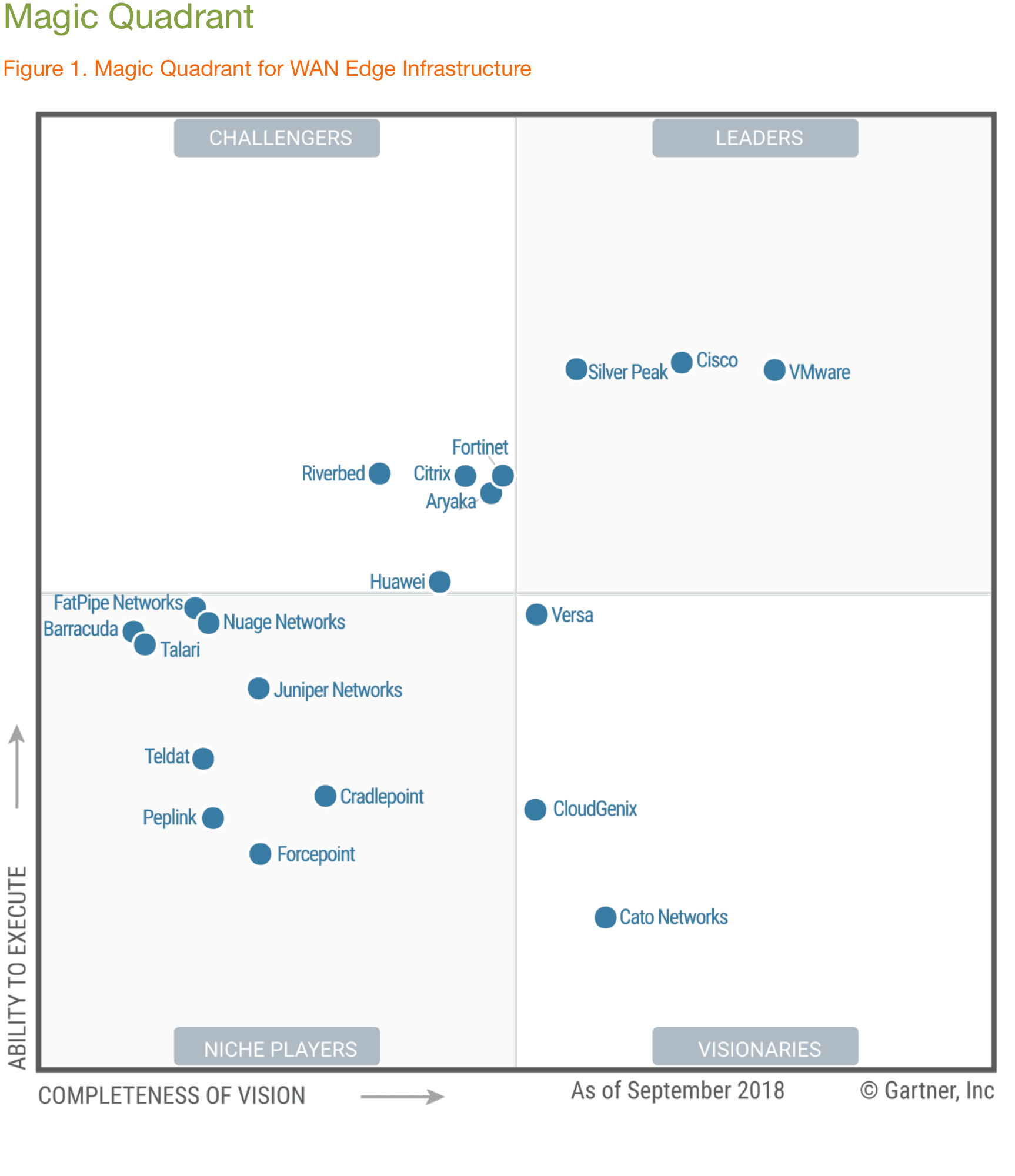 SD-WAN Provider:
Highlights:
Best for:
Notable Clients:
More Details:

Fully managed SD-WAN as a Service. Aryaka deploys in hours.
WAN Optimization via private Layer 2 network.
North-south firewalling at the SD-WAN branch.

Global Enterprises
Fitbit, Cigna, Standard life
aryaka.com

Automatically Mitigates VoIP Issues.
Intelligent Load Balancing.
Identifies your traffic flows in real-time.

Retailers with multiple locations
Telarus, Array Health
bigleaf.net

Cato Networks has managed SD-WAN
Instantly connects all your locations, and users into an optimized and secure network.
Full visibility and control of all policies, real-time network activity, and security events.

Global and Regional Enterprises
BIOIVT, Picanol Group, ADB Safegate
catonetworks.com

Real-time analytics, visibility, and control with Cisco.
Deploy embedded or cloud security faster with threat intelligence.
Cisco SD-WAN has cloud-first architecture to connect any user, application, or any cloud.

Enterprises
Verizon, Vodafone, Datacom
cisco.com

Choice of deployment options with automated connectivity to the cloud
Integrated visibility and control over all aspects of the WAN
Over 150 cloud and internet exchanges with Citrix SD-WAN Cloud Direct service

Organizations of any size
Malux, LeasePlan, Burbank Homes
citrix.com

Virtualization via an application that can run on a commercial off-the-shelf x86 server.
CloudGenix incorporates any type of WAN into your branch office—including MPLS, broadband Internet, and cellular.
Automatically establish secure connectivity amongst your sites and continually monitor the health and performance of WAN links.

Organizations of any size
Bank of Marin, Columbia Sportswear, JAX Federal Credit Union
cloudgenix.com

Rapidly deploy Day-1 networks that can route traffic based on bandwidth usage, application content, or preferred link.
NetCloud Manager enables you to see usage by client, by application, or by WAN connection.
Numerous advanced features for pervasive connectivity.

Enterprises
Sacramento County, Life Storage, FOX Sports
cradlepoint.com

Uptime guaranteed by deploying automatic failover and leveraging up to 25 communication links.
Customized technology with opportunities to scale.
Firewall built into every Ecessa device,

Organizations of any size
Woodstream, Maurice Sporting Goods, St. Joseph's Academy
ecessa.com

Mixes public cloud and private links for added flexibility and seamless failover.
All-inclusive cloud platform allows users to control all their Elfiq Networks (now Martello Tech) devices.
Zero-touch provisioning and API ready.

Organizations of any size
Phytel, Taylor Porter, Banco Daycoval
martellotech.com

Zero-touch installation.
Advanced policy management.
Patented multi-path security services, or MPSec manages application flows, and load balances them across the multiple paths.

Organizations of any size
Financial institutions, law firms, call centers
Fatpipe.com

Simply and easily automates network services.
Rapidly automate as many, or as few, network features as needed on existing hardware.
Single platform to perform network configuration automation and configuration monitoring.

Enterprises
Mastercard
Gluware.com

Centralized management and security.
Juniper requires no local IT expertise.
Runs on a flexible, open platform.

Communications Service Providers and Enterprises
IcelandAir, BlackBerry, The Ricoh Group
Juniper Networks

Smart, adaptive and blazingly fast application acceleration
Comes with advanced features.
Includes Monitoring Portal, application-centric VNFs, network coding for video and self-healing VoIP tunnels.

Enterprises
Albertina Kerr, Ascend Clinical, ModCloth
Mushroom Networks

Unrivaled performance and connectivity options.
Multi-dimensional visualization with replay functionality of application performance, network security, utilization, and end-user experience.
Secure Web Gateways located at 75+ globally distributed Local Cloud Centers (LCCs)

Organizations of any size
Honda, Hitachi, Asics
NTTGlobal.net

Single, cohesive cloud environment
Deployment options for cloud integration and branch VPN services with NuAge.
Seamlessly links all your locations – regardless of size or geography – while reducing your need for customized networking.

Enterprises
IDC, Kordia, ACG Research
Nuage Networks

World-class Customer Experience
Assured Security
from Edge to Cloud
Comprehensive
Visibility and Control
Advanced SOC-based
Detection and Response

Enterprises
UBS, Sulzer, Der Spiegel
Open Systems

Simplifies the design, implementation, and administration of enterprise networks.
Remotely deploy and manage the application and data services needed.
Unify connectivity across WANs, the Cloud, and local networks with Riverbed.

Enterprises
Michelin, Hilton Grand Vacations, Northwest Pipe
Riverbed Technology

Business-first Networking Model
End-users enjoy always-consistent, always-available application performance from Silver Peak
Applies advancements in automation and machine learning to power a self-driving wide area network that gets smarter every day

Enterprises
Las Vegas Harley-Davidson, Nuffield Health, J-U-B
Silver Peak

Talari Controller – centrally manages and distributes services and application policies
Talari Reporting – Aware provides real-time analytics, visibility for troubleshooting, and capacity planning
Talari Cloud Connect – platform available to service provider partners to enable failsafe, multi-link- multi-path access to cloud services and SaaS for Talari SD-WAN customers.

Enterprises
SI Group, Driscolls, Equity Office
Talari.com

A flexible and scalable foundation to evolve the whole corporate network at your own pace.
Automatic Configuration (ZTP)
Global and Detailed View

Organizations of any size
Mexican pharmacy chain, banks, transportation companies
Teldat.com

An economical replacement for MPLS networks with comparable SLAs for performance and reliability.
Improved SaaS application performance (up to 20x) and ensures reliability comparable to on-premises applications.
The lowest possible latency, packet loss, and jitter metrics for video and UCaaS applications.

Enterprises
Merrill Corporation, Northeast Georgia Medical Center, Cohesity
Teridion.com

Simplify Branch Network with VeloCloud
Deliver Branch Agility with VMware integration
Optimize Application Performance
Reduce Costs with NSX

Organizations of any size
Brooks Brothers, CafeRio, Northgate Market
VeloCloud.com

Versa reduces cost through WAN flexibility.
Simplifies operations with centralized provisioning, management, policy control, and application visibility.
Multiple layers of security.

Enterprises
Virgin Media Business, Capital One, Comcast Business
Versa Networks
Optimize & Hybridize WANs With SD-WAN For Business
While not ideal for the needs of every organization or the solution to every networking problem, SD-WAN can help maximize application performance across networks, particularly when it comes to traffic from cloud-based and media-rich applications and services. SD-WAN for business enterprises can enable hybrid WAN network functions comprised of both pricier dedicated MPLS circuits and less expensive broadband Internet connections at certain branch locations in a network.

By combining the capabilities of various network types, SD-WAN vendors allow enterprise organizations to create a single network infrastructure that is more optimized, flexible, adaptable, reliable and affordable. Much of this is thanks to the path selection and dynamic multi-path approach SD-WAN takes to routing network traffic over a conventional Internet connection, as well as the greater number of policies available for traffic prioritization and load balancing.
Although SD-WAN is being rapidly adopted, it's not necessarily a replacement for MPLS in organizations who need guaranteed service quality and many companies reportedly plan to keep at least some of their MPLS connections, albeit in an increasingly limited capacity.
Overall, SD-WAN vendors are poised to disrupt the relationship that enterprises and their IT departments have with WANs over the coming years.