In coordination with this year's Enterprise Connect, Vonage has announced a new feature that will significantly enhance the capabilities for its business services without affecting Vonage Business pricing.
Customers who subscribe to the company's Vonage Business Cloud platform can look forward to the addition of "Number Programmability," which taps into API-based features and enables a range of new capabilities that can automate and simplify various aspects of common business communications.
Number Programmability relies on API technologies provided by Nexmo, a communications platform-as-a-service (CPaaS) that Vonage acquired for $230 million back in 2016 amid the company's pivot toward the enterprise segment, having once been better recognized for its residential VoIP offerings.
Now a few years later, the potential behind that purchase is coming to fruition. The marriage of Nexmo and Vonage Business Cloud will allow any Vonage Business Cloud phone number to have layers of automation that can route and respond to incoming calls in unique ways.
How Number Programmability Works
In short, Vonage Business phone numbers can be configured to take advantage of various Nexmo API technologies that are already available for aiding all sorts of business processes based on the custom needs of a specific employee or company line.
To borrow a scenario from Vonage's video introducing Number Programmability, you might set your Vonage Business line up with an API which automatically informs a caller that you're busy, checks your calendar to see when your next opening is, and then allows the caller to schedule a callback time in this slot. All of this would occur without you answering the phone.
Vonage says the possibilities here are "infinite" and offers some examples for how businesses might leverage Nexmo APIs:
Automated receptionists who route calls according to attributes such as the time of day or the priority of the caller based on their number.
Automated transcriptions that begin at the start of a call and automatically upload to a specific destination such as the customer's account.
Real-time translation APIs that use artificial intelligence (AI) to determine if a caller is speaking a different language and then provide a translation in your language.
Other potential use cases gleaned from the demo video include enabling chatbots, holiday scheduling, validating numbers, two-factor authentication, smart home integration, broadcast voice alerts, launching conferences, dynamic call routing, listing users and extensions, fetching and playing audio clips, sending Slack messages and checking or updating data in customer relationship management (CRM) software.
A quick check of Nexmo's website shows communication APIs for anything from sending or receiving text messages to integrating live interactive video, so while "infinite" possibilities might be a stretch, there's certainly a broad array of functionality already available from Nexmo's existing services and this is likely to expand pending some initial feedback from Vonage Business customers.
Emphasizing Ease of Use
Perhaps more interesting than the flexibility that Vonage Business's Number Programmability provides is the ease at which the feature can be implemented.
GetVoIP hasn't tested the platform in-house yet, but reports indicate that you will be able to enable Number Programmability with a single button from your management console. Further, judging from images currently available online, businesses will be able to arrange a series of events for a given number by using a graphical user interface (GUI).
This interface will seemingly allow you to drag and drop different Nexmo APIs in your desired configuration, and/or work with small snippets of code associated with each event.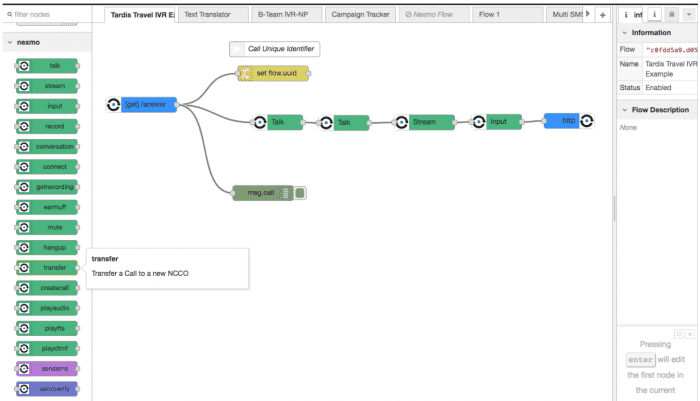 Vonage says that its small and mid-sized business customers are often seeking these types of capabilities but don't know how to implement the features they need because they're not engineers and lack a development staff. Taking that into consideration, the company is aiming to reduce the barrier of entry for building intricate flows of call automation.
Integrating this feature also eliminates the need for third-party API solutions that companies might be relying on to enable some of these functionalities. In its press release, Vonage notes that it's the first company of its kind to provide this degree of extensibility in a complete business communications platform.
"Vonage is blurring the boundaries between business communications applications by leveraging cloud unified communications and contact center capabilities with communications APIs, all built from a single stack."
Launching This Year
Number Programmability is currently undergoing beta testing and is expected to launch for all Vonage Business Cloud customers in the second quarter of 2019.
For those attending Enterprise Connect 2019 in Orlando, Florida this week, Vonage is providing hands-on demonstrations of the feature at its booth (#1907).