With Enterprise Connect 2019 right around the corner, we wanted to take a step back and prepare for the massive wave of announcements that will inevitably overwhelming us.
With our latest analysis on industry trends, news on recent acquisitions, and a focus on new technologies, there will be a lot to try to keep up on.
So, to help break through all of the information overload, and really pay attention to what we think might be the most prominent discussions surrounding the conference, we collected our thoughts to better understand why we should be keeping our eye on.
What to Expect at Enterprise Connect 2019
Conference tracks are focusing on obviously Unified Communications, Contact Center and Customer Experience, Team Collaboration and Workspaces tools — so the umbrella of Cloud Communications — while focusing on related tech and solutions including management and security, AI and speech technologies, embedded communications and APIs.
For the first time this year, Enterprise Connect is adding a "Strategic Leadership" focus in order to learn how business transformation will affect the role of a technology decision-maker, and how to apply this understanding to the management issues teams face daily.
We can fully expect to see some really interesting innovations, especially with a strong focus being placed on Artificial Intelligence, and the Customer Experience, within the last year or so. In fact, there has been quite a bit of a trend among different vendors snatching up these capabilities to expand their portfolio.
For example, the major Keynotes are being hosted by the biggest names we expect to see the most exciting news from: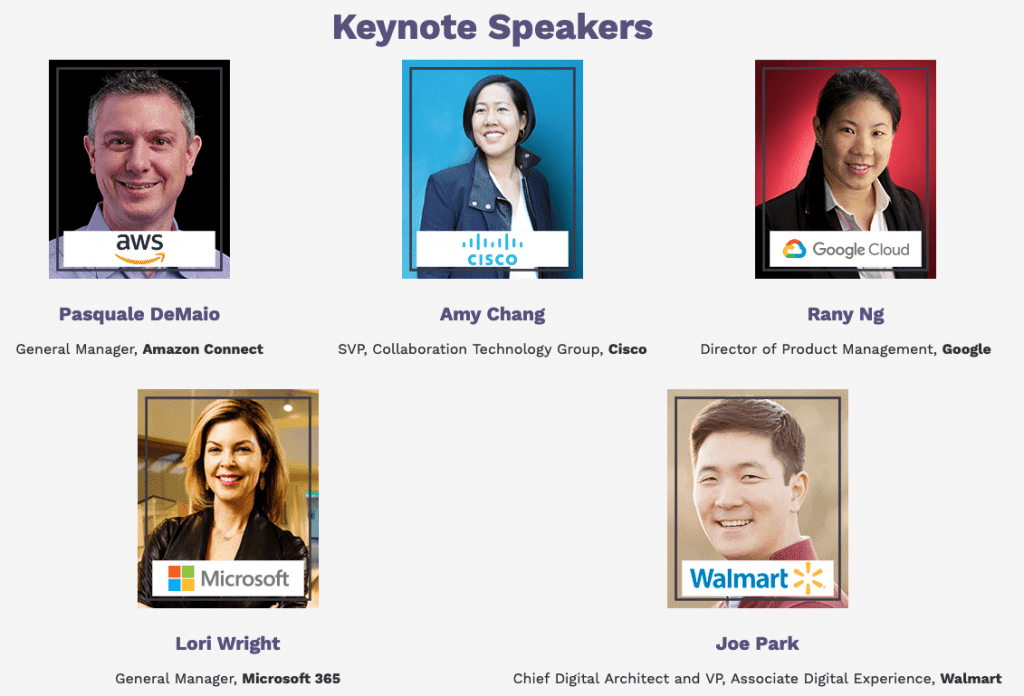 Just from our recent coverage of the last few months, we have seen Vonage expand their Customer Experience platform, RingCentral absorb an entire Customer Engagement platform, Twilio officially launch their own Contact Center solution, and even providers like Dialpad have begun injecting AI into their platforms.
So without a doubt, this year's Enterprise Connect should be an interesting discussion surrounding the latest UCaaS shifts, and the latest technologies like AI and machine learning.
The Current UCaaS Landscape
I think it will be very interesting to keep an eye out for what might be considered some of the largest growing pains the industry will face within 2019. Back when I had compiled this information, I did a lot of research to better understand where UCaaS was at the time, and where it looks like it will be moving.
Of course, trends take time: and one of the first trends I ever picked up on was the concept of integrated communications. I don't mean just having a Live Chat bubble on your website or in your app, but rather that deep integration between internal and external communications.
The concept is that bridging the gap between integral collaboration and the customer experience will help benefit both, greatly. And it is only just now that we are finally beginning to really see a lot of that take hold — as I previously mentioned, a large number of vendors have been expanding their Customer Experience footprint more recently, something we will take a closer look at later on.
But as we aim to combine these platforms, and the industry focus begins to shift more towards the importance of Customer Engagement, a number of growing pains are rising from the new technologies being leveraged.
Realistic AI Expectations are a must, and I for one will be keeping my skeptic cap on during discussions at Enterprise Connect. We are very quick to hail these latest technologies as the best of the best, and the biggest problem solvers. But as my recent breakdown of Chatbot statistics and research shows, sometimes putting all your eggs in one basket isn't the best move. So, it will be particularly interesting to see how AI is being addressed.
Seamless integration removing the need for multiple vendors and solutions might be another interesting concept to keep our ears open towards. With a history of market consolidation through acquisitions and mergers, UCaaS is no stranger to a shrinking number of choices. So as stand alone platforms continue to grow, organizations have to recognize that individual tools could soon be absorbed into an existing platform.
And of course, this isn't based off of thin air — we are keeping a close eye on some of the bigger moves that are being made within the industry by some of the more prominent names. It almost goes without saying that the last few years have seen quite an industry shake up, with 2018 and even the beginning of 2019 so far in particular, being particularly exciting.
As I had begun to mention, there is a large focus clearly being placed on the improving the Customer Experience and growing overall Customer Engagement.
The Big Names We Will be Watching
Without a doubt, there will be a lot to pay attention to and attempt to catch up on. It would be near impossible to follow every single announcement, attend every single keynote, and experience every single product demonstration. That's why we are looking to keep a close eye on not only these most recent industry pain points, and how vendors might address them, but very specific vendors as well.
Based on the latest industry updates that we have been closely watching, we are really curious to see what some of following vendors will be up to during Enterprise Connect 2019:
It goes without saying that Twilio is also known as an innovator, and is quickly making waves within the Enterprise Communications, and now Customer Engagement and Contact Center industry as well. With the official launch of Twilio Flex just behind them, it will be particularly interesting to see what the vendor has next up their sleeves.


As customer experience and customer engagement solutions will be a large focus at Enterprise Connect, we fully expect to see Twilio not only out there showing off Flex has hard as they can, but hopefully showing off some of the latest features and capabilities, or at least providing us with an understanding of how successful the platform has been so far.
In fact, Twilio will be hosting their own EC Theater Session, Customizing Your Contact Center with Twilio Flex, on Tuesday, March 19 at 1:40pm. Hosted by Justin Pirie, this should hopefully help provide us with the context we need to better understand exactly what Flex does, how it works, and how an organization can truly leverage its capabilities.
Beating a dead horse here, Nextiva is really known for their innovation within the UCaaS Scene. NextOS was an interesting announcement, and is continuing to evolve over time. More recently, however Nextiva also launched their newest Nextiva Contact Center solution back in January of 2019.

We will be particularly curious to see if and how Nextiva will continue to push this new focus on customer engagement, and of course any related technologies or innovations that will come along with this. One keynote presentation involving Nextiva I am particularly curious to see is the UCaaS Bells & Whistles vs Nuts & Bolts discussion, being held on Tuesday, March 19 at 8am.
No stranger to lists or big announcements, Amazon is a name we want to keep a close eye on as well. I went really hands-on with the Amazon Connect platform when it was originally launched back in 2017, as well as their Amazon Chime meeting solution. While we haven't heard much about the platform since, we are very curious to see how Amazon will continue to push their focus on Unified and Enterprise Communications.

In fact, the General Manager of Amazon Connect, Pasquale DeMaio, will be hosting one of the major Keynote presentations at the conference. According to their description, Enterprise Connect writes that Pasquale "led the effort" to bring Amazon Connect from being only available Amazon-wide to being a publicly available service from AWS.  The affordable Amazon Connect pricing structure makes it even more accessible to businesses of all sizes.
The insight that Pasquale can provide from is 20 years of experience "in delivering world-class b2b and b2c products," as well as insight into machine learning and augmented reality, and a focus on customer experience, user experience and technology innovation, should surely lead to a truly informative discussion.
Sticking with the theme of customer experience and engagement, RingCentral in particular has made a lot of news recently on this front specifically — along with a big interest being placed on new Artificial Intelligence capabilities as well. For example, back last year in October, we had reported that RingCentral acquired AI-focused Customer Interaction platform Dimelo.


And RingCentral isn't slowing down, just in January of this year we also reported that RingCentral went ahead and acquired Connect First to boost their Customer Engagement capabilities even further. RingCentral's Curtis Peterson will be joining Nextiva and other vendors in their "Bells & Whistles vs Nuts & Bolts" presentation, but is also placing an interesting focus on simplicity, hosting their own EC Theater session on "Why Simplicity Matters In The New Age of Communications."
But what will be really interesting to see is how RingCentral makes their case in the "Cloud Contact Center Faceoff" presentation, which will be featuring minds from 8×8, Genesys, RingCentral, Serenova and Talkdesk.
And since we expect to see a major focus being placed on Contact Center solutions, as well as Customer Engagement functionality, we absolutely expect to see TalkDesk making some waves at Enterprise Connect 2019. Looking back just a little bit towards last year, in November when Jon Arnold attended Opentalk18, he had written a breakdown featured on GetVoIP.

During this analyst briefing, Jon Arnold noted that "Talkdesk is one of several relatively young companies making inroads as the contact centers software space goes through a major transformation to the cloud." In fact, he had noted that TalkDesk announced a "freshly-minted $1100 million Series B financing," as well as a $10 Million Innovation Fund.
We're hoping to see some of the fruits of these labors being to show their head at Enterprise Connect, and hopefully TalkDesk will have something interesting to share. We're hoping to possibly see some new details specifically on Talkdesk iQ, a portfolio of AI-driven applications also announced during Opentalk18.
It will be interesting to hear Nextiva's take in particular on how the vendor looks to differentiate between the standard included functionalities, and what can be seen as extra add-on "bells and whistles" as they put it, especially as Nextiva is known for innovating with new features and capabilities.
And of course if we're talking about recent news, Vonage has been popping our radar quite a bit as well — and for good reason. Again, focusing on the concept of customer engagement heavily, Vonage has made a few acquisitions to truly boost their capabilities. Back in September of 2018, we saw Vonage acquired NewVoiceMedia, which was seen as a really powerful move.

On top of that, we saw Vonage acquired TokBox, which added a new video API into their Customer Experience portfolio — so clearly the vendor is not only trying to compete, but innovate at the same time. So when it comes to Enterprise Connect specifically, we are very curious to see if and how the vendor will be moving from here.
A truly interesting presentation that we will see Bryan Stokes from Vonage, along with Jose De Castro from Twilio among others, is a discussion on The New Role of The Developer in the Contact Center. This falls a bit in line with their recent acquisitions, which grew not only contact center capabilities, but development capabilities as well. This can also be seen with Nexmo's addition of new Messaging and Dispatch APIs — so I'm really curious to see how Vonage puts all of this together.
I, for one, am particularly curious to see what Five9 will be up to, as well. In fact, I think Five9 will truly be one of the biggest names to watch not only at Enterprise Connect, but also within the near future. I had briefly touched on it previously, but Five9 recently had a leadership change, bringing in former head of Collab at Cisco Rowan Trollope to lead the provider as their latest CEO.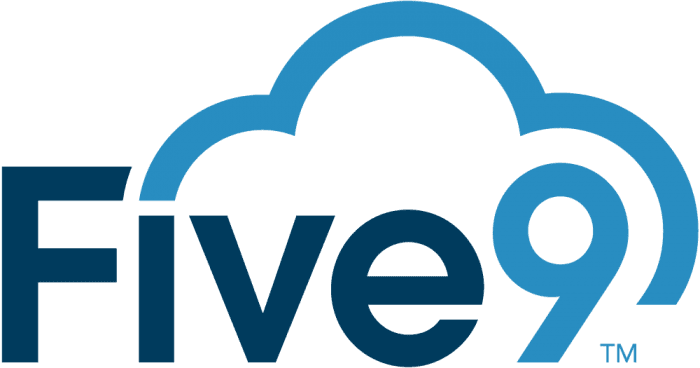 Along with him, Rowan brought a few friends from Cisco, including Jonathan Rosenberg, the father of the SIP protocol. From here, things get really interesting, with a strong focus being placed on AI. In fact, Jonathan, and the team at Five9, feel that contact centers offer some of the best and most realistic opportunities to truly leverage AI capabilities in real-time.
In fact, after we saw Rowan take over, one of the provider's first announcements was the introduction of new practical AI capabilities into the contact center. Jonathan Rosenberg will be hosting a sponsored session on "Five Surprising Reasons Why You Need to Move Your Contact Center to the Cloud," and what is perhaps even more exciting, Darryl Addington will be hosting an EC Theater session on how to "Turn your Call Center into an Intelligent Contact Center."
Another interesting name to follow will be Jive, which is now apart of the LogMeIn platform. I think this was truly an interesting acquisition, and one that positions Jive's platform a really competitive position. LogMeIn already had a very strong focus being placed on meetings and collaboration, with Jive's UCaaS platform equally standing as a strong choice for businesses. Combining these platforms together is of course a win-win all around.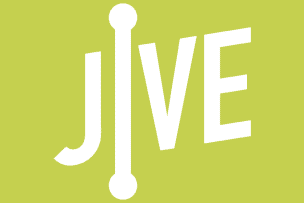 LogMeIn, of course, has a strong focus on video and collaboration as well, so it will be very interesting to see how  this — or other technologies and capabilities — will be pushed from the platform. I am curious to gain some deeper insight hopefully into the future of this new combined force, and where Jive can come from here.
In fact, during the conference, we will see a presentation from Ryan Lester of LogMeIn titled "Customer Feedback: Do Everything Differently," but what will be even more interesting is the session by Marc Van Zadelhoff from LogMeIn, titled "First Class For All: Bringing Enterprise-class AI and Collaboration to Everyone."
Again, despite remaining a little bit on the quiet side in the news lately, we are curious to also keep a close eye on what NICE inContact will be doing. As these really big newcomers like Twilio and Amazon, along with existing players like Five9, truly ratcheting up the pressure in the Contact Center space, it will be very interesting to see how this relatively new pair of providers and platforms will respond.

We've been hearing through the grape-vine that there might be an announcement on the way, and it will be interesting to see what NICE inContact has been working on. In terms of past news, we had highlighted their Salesforce integration, and more recently the provider has been awarded twice for their platform, including being chosen as a leader for Gartner's 2019 Workforce Engagement Management.
What I am really interested to see is if there will be any discussion surrounding any new advancements or inclusions of AI within the platform, however. And only time will tell.  Our inContact Reviews will be a great place to keep an eye on customer reactions to any advancements.
Logitech probably isn't one of the names you would have initially expected to see on our list, but we are actually very curious to see how the hardware giant will push even further into the meetings and collaboration world. We all know Logitech for not only their consumer products, but even their headsets — routinely a top choice for many of our best call center headset comparisons — and the provider had even begun to push further into huddle rooms.

Way back in 2017 we saw Logitech release a new 4k camera designed with huddle rooms and small meeting spaces in mind. What is interesting is that Video will be quite a major focus at Enterprise Connect — the idea being we are finally seeing video hitting a level of realistic usage and implementation, with increasing performance and decreasing cost.
What will be interesting to see is not only what kind of hardware and technologies Logitech has to share, hopefully with some AI baked in, but also how Logitech plans to potentially shake up this seemingly stagnant aspect of communications hardware.
Cisco vs Microsoft: Enterprise Teams Battleground
The battleground of Enterprise Communications is continuing to shift, and a new rift has opened up with the launch and rise of both Microsoft Teams, as well as Cisco's rebranding and stronger push on Webex Teams.
These two platforms have kind of redefined how we can look at Enterprise Communications, and I took quite a bit of time to go really deep not only into both Microsoft Teams and Webex teams individually, but compared them side by side as well. This is by no means a new comparison at all, Microsoft and Cisco have been battling for the top slot of Enterprise Communications and platforms in general for a long time now, and this recent Teams battle is just one of the latest battlegrounds.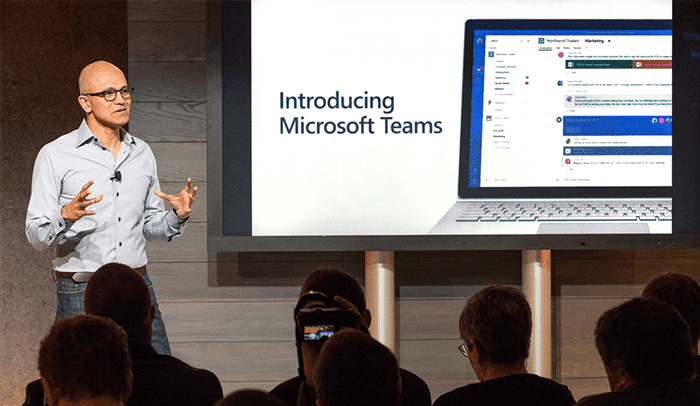 And of course, two of the largest names we will see presenting at Enterprise Connect will be the minds behind both of these platforms, Amy Chang the current SVP of the Collaboration Technology Group at Cisco, as well as Lori Wright, the General Manager of Microsoft 365.
In fact, there will even be an in-depth session hosted by Brent Kelly of KelCor and Phil Edholm of PKE Consulting titled "Microsoft vs Cisco: Pains, Promise, and Transition," in which the pair will focus on heavily comparing "the two companies' solutions, including their calling, meetings and team capabilities."
This comparison, as well as both individual stacks and portfolios, will be something critical to keep an eye on throughout the conference. Andrew Gross from Creston Electronics, Inc. will be hosting an EC Theater Session, "Implementing Microsoft Teams From The Desktop to The Board Room," and there will be a joint session with presenters from 8×8, Cisco and Microsoft focusing on "keeping your UCaaS Migration on Track," in which we can hopefully learn more about the true, real world details of these platforms.
The Bottom Line
It of course goes without saying that Enterprise Connect will be busting at the seams with the latest announcements and discussions on the current cutting edge technologies that we are finally seeing make their way into our communications platforms. I fully expected AI to be a heavy focus, not only because of a conference track dedicated to the subject specifically, but because of its prominence in the news and latest industry shifts recently.
With so much going on, it will be difficult to keep our heads straight — but its important to remember to focus on what can be truly proven. We will hear a lot of interesting promises being made, along with a lot of exciting announcements and recent innovation. But, just as I have mentioned in the past like with Artificial Intelligence specifically, we need to keep our minds open but be willing to question the truth behind claims.
At the end of the day, after the dust settles, we should have a much more clear indication of where the industry will be headed following the latest announcements and presentations from Enterprise Connect 2019.