Intermedia just announced yesterday the latest addition to their rapidly growing Unite UCaaS platform, this time adding intense data analytics. No UcaaS platform is complete without not only the tools to communicate, but also the tools to better understand how, when and why we are communicating.
Through the use of powerful data and call center analytics tools, organizations can uncover some really insightful information, and transform those uncoverings into actionable plans and strategies on how to even further improve collaboration and communication.
Included for free with all Intermedia Unite subscriptions and service, Unite Envision is available to the more than 120,000 businesses that rely on Intermedia already.
What Is It?
At the end of the day, we could simply say that Unite Envision is just an analytics platform, and call it a day, but that's not doing anyone any justice. We already know that Unite is Intermedia's more SMB focused UCaaS approach, differentiating the platform from their SIP Trunking or standard virtual PBX solutions.
Unite Envision is all about bringing those powerful analytic tools and functionalities generally found in the more complex solutions down into their UCaaS focused platform — and making it as accessible as possible at the same time. For example, Intermedia explains within their release that, unlike other UCaaS providers, "this level of actionable analytics [is delivered] in a completely turn-key solution."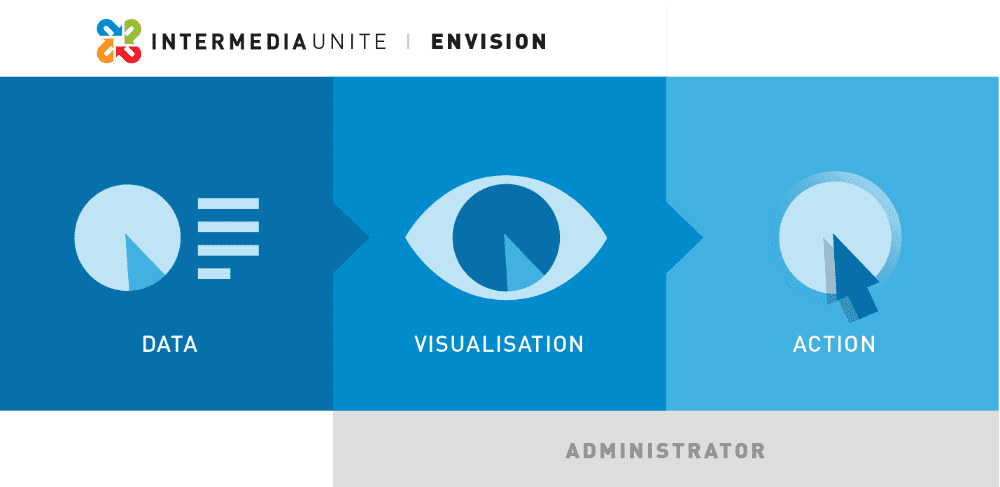 Now that's nice and all, but of course what's really important is just exactly what you can do with the platform, and how that will benefit different organizations. With more room to expand, Intermedia launched Envision with two specific applications built on top of this new platform:
QoS Dashboard – This useful dashboard aggregates Intermedia Unite phone call and video meeting quality metrics, transforming the information "into easy-to-understand, actionable insights that identify issues or trends which may cause less-than-ideal voice or video performance." These rich visualization tools transform customer phone call and video meeting data into easy-to-understand charts and graphs.
Partner Dashboard – Provides partners with "a convenient, single screen view into all of their customers' performance data with the ability to create customizable alerts and notifications."
The QoS dashboard is more along the lines of what we would expect to see as a new addition to standard UCaaS solutions, enabling users of the platform to look into some useful metrics, like the number of calls being made, or the number of dropped calls.
The overall idea in general is that by providing both users and managers with an intense and close look at into the performance of their system, and how it is being used, this data can be utilized to drive a much more informed and educated decision.
"Intermedia prides itself on delivering superior experiences for its customers and partners," said Mark Sher, VP – UC Product and Marketing at Intermedia. "Businesses should not have to focus on their IT. They should be able to focus on operating and growing their business. Unite Envision was developed to help ensure that is exactly what happens."
Yet, on the flipside, the new Partner Dashboard is a really interesting focus for Intermedia to push, and a bit bigger of an announcement than the general QoS dashboard.
Committing to "Making UCaaS Easy for Partners"
According to their latest announcement specifically, "channel partners are the primary conduit to small and medium-sized businesses (SMBs,) and Intermedia is committed to making sure that partners are able to meet the needs of their customers with the products and support that create lasting relationships."
In short, Intermedia recognizes the importance of providing partners specifically with the tools they need to ensure that the solutions they are delivering to end-users stay online, stay consistent, and stay reliable. This is exactly where the new Partner Dashboard comes in to play.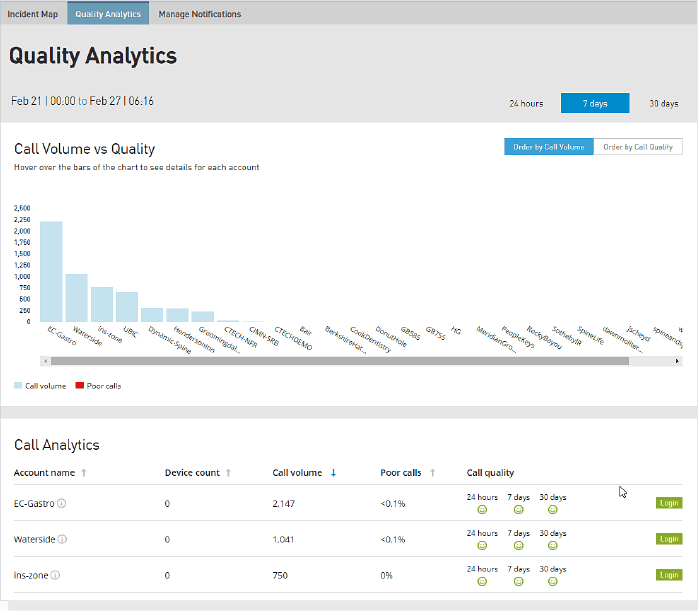 According to the announcement, Intermedia explained that "the first tool we've launched within the Envision platform is our Partner Dashboard, an interactive tool that gives Intermedia partners real-time visualizations of call quality issues for their entire customer base — from a single view." Users are given access to new capabilities and tools, including:
A single, intuitive, dashboard.With one login, partners can view all customer performance data to uncover trends, or drill down to see specific data around a particular customer or groups of customers. All metrics are presented via easy-to-manipulate, intuitive charts.
Get to the root cause of performance issues. Partners can examine individual calls to see what specific quality issue (such as jitter, latency, or packet loss) affected a call, and where the problem originated.
Active versus reactive. Partners can easily set up thresholds for call quality and possible outages, and then create custom notifications so they are instantly alerted when issues (as defined by them) arise.

Yet again, Mark Sher, VP of UC Product and Marketing, added, "With Intermedia Unite Envision we are just getting started. We will continue to enhance Unite Envision and its sister platforms to help our partners and customers receive the most reliable, dependable, and efficient communications experience possible."
The Bottom Line
Intermedia is a really interesting player in this space, and with their acquisition of AnyMeeting back in 2017 we've seen them pushing harder and harder with their Unite platform. To me, it is a bit interesting to look back and think they had a UCaaS platform out there, and one being used by a large population, without having some essential functions — like the ability to not only capture, but more specifically analyze call and video data.
However, it is also important to recognize that Unite is not Intermedia's only solution or platform, and that those capabilities have most likely existed in other aspects of the platform for some time now. Either way, this is of course a welcome addition to the Unite platform, and will only help further push the functionality and usability of solution.
When it comes to Partners specifically, it is important for Intermedia to provide these intense capabilities, offering Partners the ability to truly gain control over their system's reliability and functionality. Without such a dashboard, Partners are just as lost as the end-user in certain cases, and this helps further bridge that gap in service.
In the end this is a win-win-win, Intermedia bolsters its partner platform, partners gain tools and capabilities to offer better service, and the end-user should ultimately receive better service and support.