Video conferencing has existed for quite a while now, both in the enterprise and consumer worlds. And, as the story goes, as our technology has improved so has the accessibility and ease of use of video conferencing. When we look at today's technological landscape, in fact, we seem to be in a position to leverage video chat and video meetings far more than ever before.  There are even a number of free video conferencing options available.
But, that of course, really begs the question: are we actually using video conferencing? What is the the current state of video conferencing, at least in terms of usage and adoption? In the past I've taken a close look at Gartner's Meeting Solutions Magic Quadrant, and there is a direct tie in with a number of themes I've touched upon back then that are coming around here, as well.
In reality, Video Conferencing probably isn't going through a "renaissance," but there definitely is a noticeable uptick in accessibility, ease of usage, and actual usage. But before we settle on a sweeping claim that video conferencing is in any kind of shape, one way or the other, we need to take a close look at the statistics in front of us — what exactly is the current response to video conferencing, and is there room to grow?
Along with Gartner's close look at their Magic Quadrant, I wanted to highlight some research that was recently put together by Tokbox, who was actually acquired by Vonage and Nexmo just last year. With a key focus on video chatting in their portfolio, Tokbox clearly has a stake, and is really curious to learn more about the current trends of state of video conferencing — their data will be critical in helping us frame some context around this discussion.
Shifting from VC to Meeting Solutions
I recently have pointed out what is happening within UC in general: a bit of a distinction being made in solutions with Enterprise communications beginning to poke its head in the form of complete platforms like Microsoft Teams. Something similar is happening within video as well.
The Video Conferencing industry is no joke, according to a "market report published by Transparency Market Research in 2018, the global video conferencing market was valued at US$ 5,039.8 Mn in 2016 and is expected to expand at a CAGR of 7.9% from 2018 to 2026 to reach US$ 10,520.6 Mn by the end of the forecast period. "
And, in a thorough breakdown of done by Comercialintegrator.com, we can see some pretty interesting insights — particularly how large organizations are much more open to purchasing what we can consider stand-alone, hardware based "video collaboration" solutions.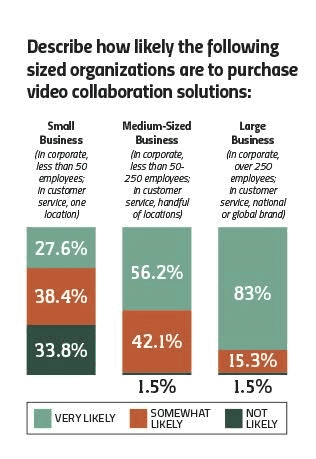 Meanwhile, we can see small businesses are hesitant to invest in hardware-based solutions. As those familiar with complete UC platforms will recognize, video has become just another function and feature of these platforms that already enable and provide comprehensive meeting experiences.
And this is a good thing. Just like with Business VoIP, as we shift into the cloud and SaaS solutions continue to grow and expand in not only accessibility (like with the sheer number of options), but also within capability.
There has always been a demand for something like web conferencing, the benefits are quite powerful and I won't waste time listing them out — but there was always a roadblock of adoption, often times in terms of cost but also usability.  Last year when I took a look at Gartner's Meeting Solution Magic Quadrant I mentioned this distinction; which Gartner had originally pointed out.
The Use of Video Is Growing with a New Focus
Part of what is making Video rise to the top a bit more than before, as noted by both the Transparency Market Research and TokBox reports, is these solutions finally meeting the expectations and demands of end-users.
According to Gartner, as video conferencing tools have shifted from expensive, hard-ware based large-scale solutions and further into light-weight, simple and agile cloud-based tools, users have grown to embrace these platforms even further.
What we have now is a shift away from what we could consider Video Conferencing or Collaboration solutions, and further into what can be defined as Meeting Solutions. Again, according to Gartner, these Meeting Solutions consist of:
An expectation for ease of use. Tools need to be simple and easy to use, but more importantly host controls, quick joining to meetings, and integration of conference room systems are a key priority
The blending of asynchronous (messaging, content, scheduling, tasks, recording) and synchronous (voice, audio, screen sharing) collaboration across a consistent work space
The integration and utilization of virtual personal assistants, like the Cisco Spark assistant we looked at a while ago, that can automate tasks to enhance and simplify the overall experience
Consistency through both mobile and desktop applications, as well as room systems that will allow both hosting and participation for any location
Consistent and equal capability from "group video system codecs" across desktops, laptops, smartphones and tablets
The capability to deliver large enterprise webinars for "town-hall meetings and quarterly business reviews"
Integration with existing and related cloud collaboration tools, including UCC
A focus on meeting and huddle rooms**
However, Gartner makes some very interesting observations and strategic planning assumptions within their Magic Quadrant when it comes to the pervasiveness of Meeting Solutions and Video Conferencing as a whole — something I pointed out back in my MQ breakdown. Based on their research:
"By 2022, 65% of meeting solutions users will take advantage of SIP/VoIP-based audio conferencing options embedded in those meeting platforms, up from 20% in 2017," clearly indication of a shift from towards these cloud-based solutions and platforms.
"By 2022, 40% of meetings will be facilitated by virtual concierges and advanced analytics," meaning that these tools will not only become much more popular, but advanced as well.
Video Conferencing is morphing, and growing into complete Meeting Solutions — and there is a clear indication of both markets shifting towards each other.
For example, we saw LogMeIn snatch up Jive Communications: a meeting solution grabbing UC capabilities. We also saw Vonage grab TokBox, a UC solution grabbing meeting capabilities. Unified Communications platforms are gaining intense capabilities, and we are seeing the marriage of features and functions together instead of forcing organizations to invest in otherwise standalone tools.
Cisco Webex, for example with the Webex Board, combines that specialty of hardware along with intense capabilities of software. In particular, users gain access to whiteboarding tools, among others, live during video conferencing.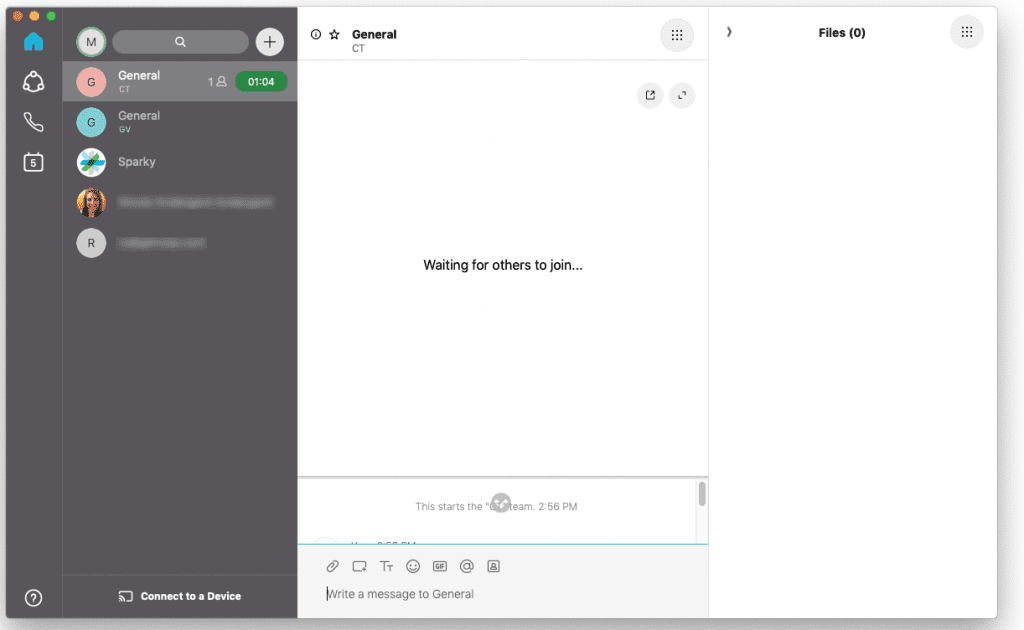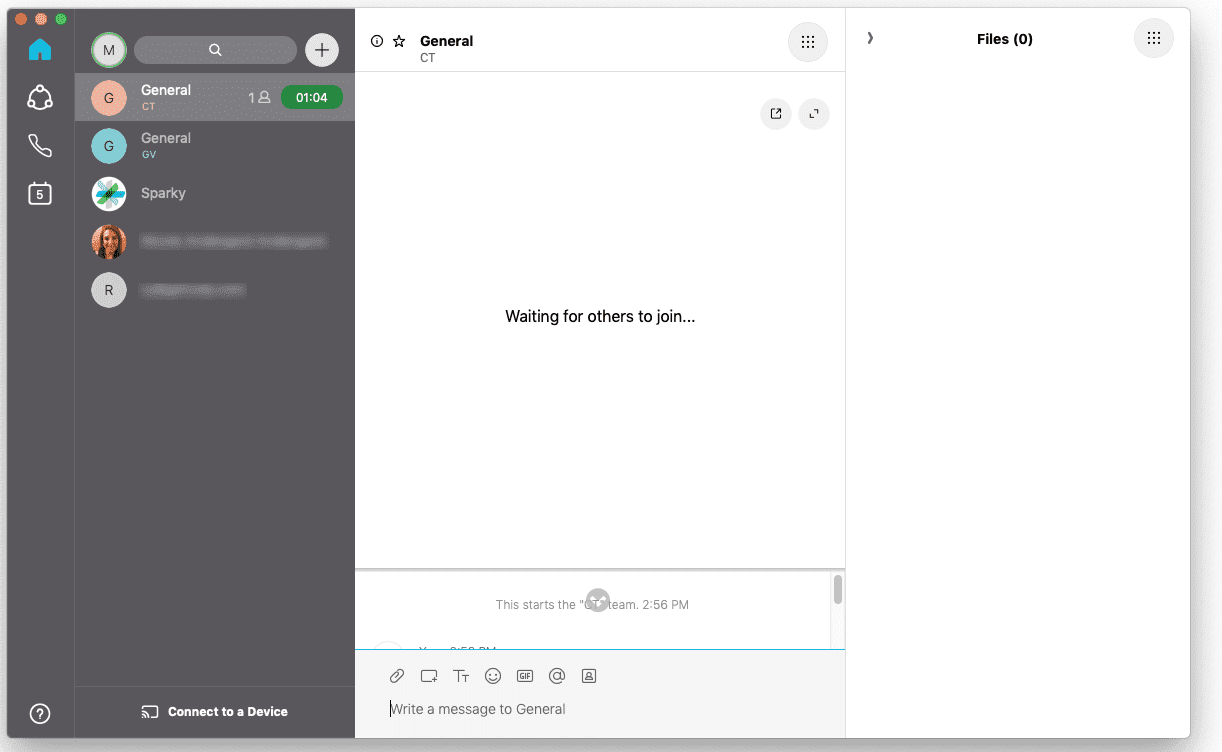 As I noted within my Webex breakdown, users can customize their screen to highlight the content and context they need. This is taking video beyond just holding in-person meetings in different locations, but instead provides deep and rich collaboration. There is an actual reason to use video, and leverage the capabilities.
TokBox's Major Findings
So, throughout the last few years, TokBox has been running a national study "into how Americans were using video communications," starting back in 2012. According to their results, "less than half of the country were regularly video chatting, and this was almost entirely with friends and family."
TokBox went ahead and repeated the study in 2015, 2017, and of course most recently just in June of 2018, in order to "provide a deep insight into the transition of video form social to commercial use, and its pervasiveness."  I think it is interesting to pair these results, and highlight some key points, alongside the distinction being made by Gartner, and the conclusions other research has been pointing too — more accessibility means more adoption.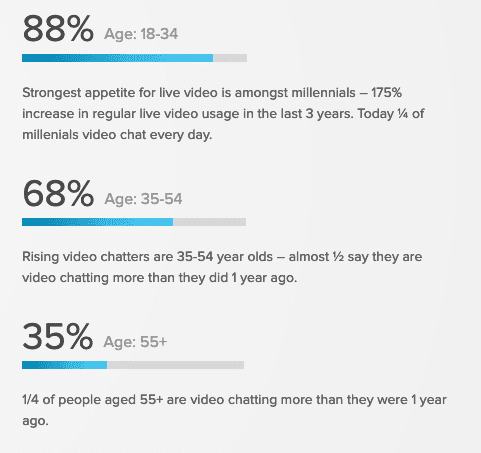 And according to TokBox, that is absolutely true. In fact, "the numbers show that all generations and age groups are video chatting more than they previously have been," and more specifically, "millennials have had a 175% increase in regular live video usage in just the last 3 years." In fact, "one quarter of today's millennials video chat every day."
To sum things up really quickly, TokBox's research has uncovered some pretty interesting insights. According to their report, we are within the "age of live video."
Universal Adoption – Live video is reaching almost universal adoption for social use with friends and family
Equal Channel – Video calls are fast becoming an equal channel to voice phone calls
Mobile – Mobile has risen above desktop and laptop to be the primary device for video calling
Personal Experience – Key motivation for video calling is that it creates a more personal experience than other channels
Tipping Point – Consumers want to video chat not just with friends and family, but with businesses and brands too
Adoption – As video calling becomes more mainstream, industries are adopting it at different rates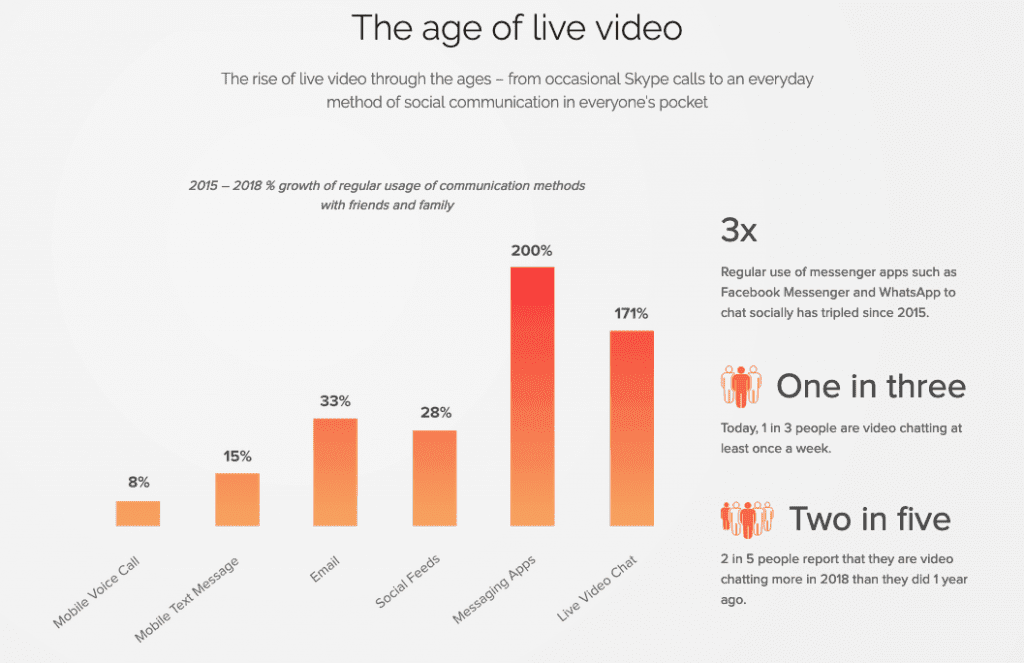 But also looking a little bit closer into the actual usage of video chatting itself:
Mobile on top: Mobile has risen above desktop and laptop to become the primary device for video calling, with 68 percent of video calling taking place on mobile devices.
"All the feels": Respondents report a key motivation for video calling is that it creates a more personal experience compared to other channels.
Work and play: Consumers want to video chat not just with friends and family, but with businesses and brands as well. According to the study, nearly one-third of respondents are using live video to chat with a business, brand or service provider – three times more than three years ago – and almost one in five Americans video chat with businesses once a week or more.
Going to Millennials briefly, this age group represents "the largest group of live video users, and one-fourth of young people video chat on a daily basis."
And what is particularly interesting to note here, as many have already recognized, millennials are on the cusp of surpassing Baby Boomers as the nation's largest living adult generation, which consequently means millennials are the next big buying power.
This all ties together — within the report, as well, TokBox highlighted some insights on specific industry adoption, recognizing that "it is inevitable that consumer appetites evolve at different rates for different types of services."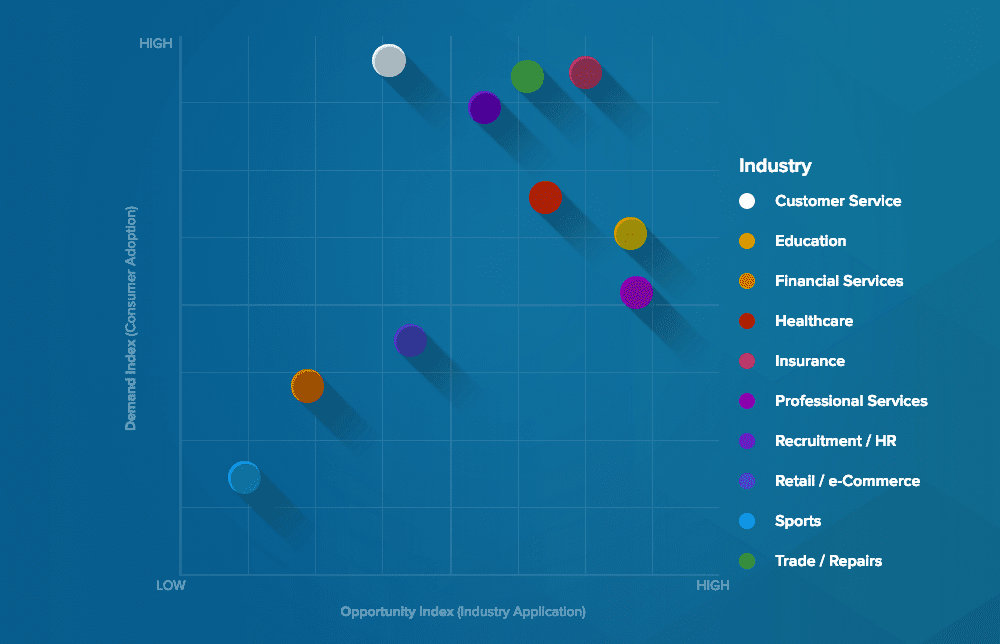 This can make it difficult for companies to decide if and when they want to invest in video communication services." Without getting bogged down too much in the details, I do want to however point out where the highest demand is seen:
Customer Service
Recruitment/HR
Trade/Repairs
Insurance
Healthcare
Education
Which, to me, all of these are a bit self-explanatory, and have clear cut cases of gaining a massive collaboration benefit through the use of video conferencing and video meetings. What is particularly interesting, however, is that white Customer Service dot being so far off on its own — high in the demand, but not so high within the opportunity.
As TokBox has noted, "consumers want to video chat not just with friends and family, but with businesses and brands as well." Which I think is a very interesting, but also kind of iffy, statement to make. I'll touch on this a bit further down the road.
However, there are a few clear-cut conclusions we can come to from this combined research:
Video conferencing is undergoing a shift towards SaaS Meeting Solutions, which is increasing not only accessibility but also capability
Businesses are much more willing to utilize SaaS software, and Gartner predicts these tools will only continue to grow in their usage for online meetings
Everyone is video chatting more than even, but millennials in particular are video chatting far more than ever before. Millennials are also quickly becoming the biggest buying demographic.
Video Conferencing: From Friends to Businesses
It almost goes without saying that video conferencing and video chatting solutions have existed for a while now, and have seen a number of different iterations. Of course, I'm not trying to look really far back into early hardware, but rather around the early 2000's, when the technology finally began to boom in accessibility and usability.
We saw a number of free tools pop up especially on the consumer end, like Skype. Hardware was becoming much more mainstream as well, with new video enabled mobile devices and the popularity of laptops really growing. As our tech expanded even further, to really focus on digital communication with the current age of smart phones and constant connectivity, video chatting only became even easier.
We now have Apple's Facetime and other consumer-based video chatting apps, as well as truly powerful business platforms like Skype For Business or Cisco Webex — but as we'll touch on in a little bit, even those are beginning to show their age. But this is exactly why millennials, and those younger, are video chatting even more. It's just easy, and right there for us to use with the touch of a button.
The same rings true with SaaS applications, as well. Meetings need to be simple and easy, and included in the tools we already use: once they are, we will use them if we feel necessary. And speaking of, if we feel the need for video, I want to touch on TokBox's conclusion a bit more — the idea of consumer using video conferencing to get in touch with businesses, enabling for a new form and level of omnichannel support.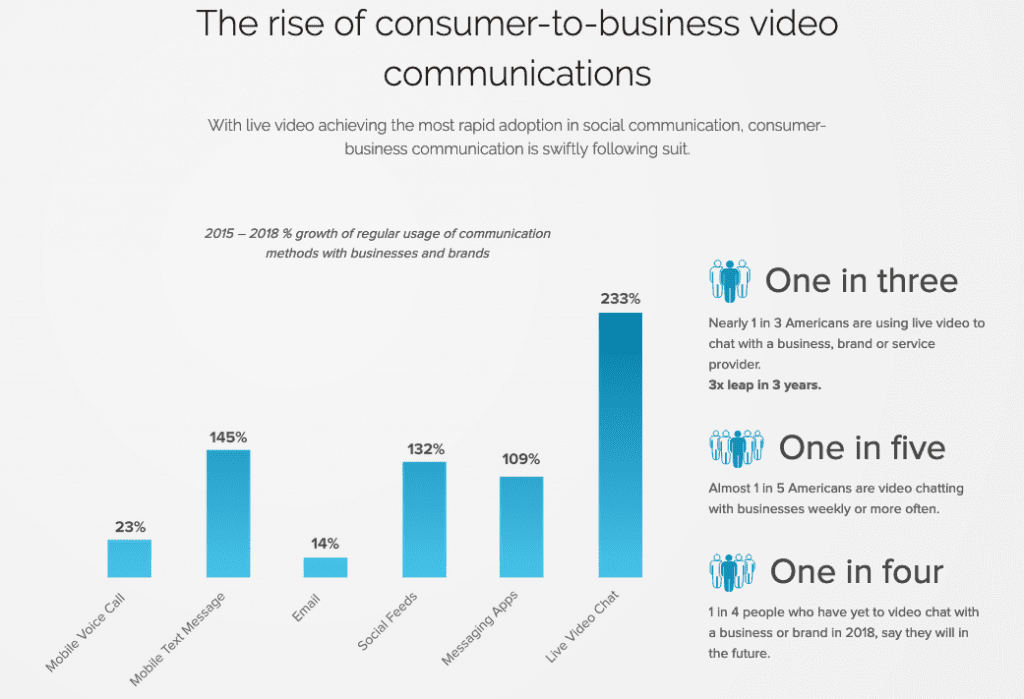 In reality, I'm not quite sure that's going to be so quickly accepted. Many of us do prefer the level of personalization that comes with a phone call, hence why chat bot adoption isn't quite what we hoped it would be at this point, but I'm not sure that the proper alternative is a video.
In fact, I think there is quite a clear limitation on video conferencing adoption for a very legitimate usage: we just don't want to bother. Clearly, as the technology and accessibility has improved, we see adoption rates improving as well. For example, just about everyone has the hardware capable of video conferencing, with most of us walking around with fully capable smartphones everywhere we go.
And because of this, we have seen a rise in the use of video conferencing in the likes of Facetime, and other consumer-based applications. But, does that really mean we want to use them with businesses? Do we really want to *see* who is helping us, or have them see us? Wouldn't it just be a million times easier to pick up the phone, or even easier than that just start a live chat online?
There needs to be a very specific and powerful use-case for this sort of interaction, and it has been tried before. I've discussed it a few times in the past, and unfortunately the program's time has come to an end (as of June 2018). But, at one point, Amazon did in fact provide video-based support for Fire Tablet users. The real beauty here wasn't so much the focus on the video conferencing aspect, however, but rather the screen sharing capabilities.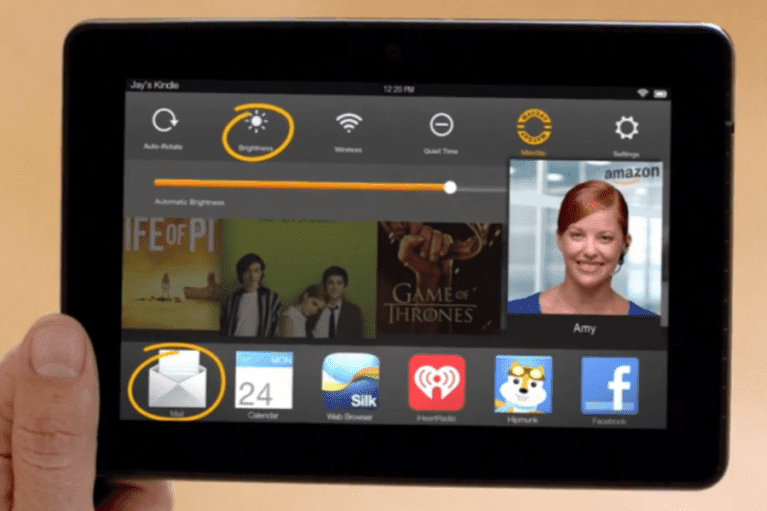 Amazon Mayday actually only utilized one-way video chat, so the representative wouldn't even see the consumer at all, there was only a video feed of the representative. The end-user would simply talk to the representative using the mic built into their Fire Tablet.
But, clearly, with Amazon bringing the capability and program to an end, we have a real weird example of this sort of support not faring well in the real world. I just feel like it's not something that will happily be used, we're already having that sort of a struggle when it comes to chat bots. In theory the idea is so simple to us
The Bottom Line: Video Will Grow, But Where?

It pretty much goes without saying that video conferencing, in some way or another, is here to stay. For many of us, we don't want to hop on the video — but turns out a lot more of us actually do want to, and are doing so. Both in our personal lives, and within our daily work, millennials are reaching to video chatting for more than before.
But I also do think we need to try to scale back and better understand how, why and when users are reaching for video specifically. While the opportunity for video within the customer service industry is huge, we need to truly attempt to understand if it will even be used, and then we need to understand how to leverage it. Right now, collaboration is the clear leader for video — and as we further enable teams to collaborate in new ways, and expand UC capabilities, we will see the permeation of video conferencing continue to grow.