Call recording is high on the list of necessities for any business that communicates over the phone (we even included it on our list of cold calling tips). Email provides us a written paper-trail of communications, and persistent messaging has taken over the collaboration world for the simplicity it brings.
So why shouldn't our phone calls be saved for later reference, as well? In many industries, recording live calls isn't only for quality assurance, but also a legal requirement. Thankfully, most Business VoIP and even Contact Center solutions will include their form of call recording as a built-in feature.
But, of course, there might be a better option audio recording option for your business, as there always tends to be. Stand-alone call recording software is an interesting option that might fit the bill better than a limited feature included in your hosted PBX platform.
Cloud Call Recording Replaced Legacy Solutions
Before we jump straight to a direct comparison, I want to provide some quick context: call recording systems haven't changed that much, but there has been a recent shift toward storing call data on the cloud. Like most processes, moving to the cloud simply brings a host of benefits to call recorders — the service becomes cheaper and more accessible, with even greater quality management and customer experiences.
Before the introduction and main-stream usage of Business VoIP services, call recording was typically done through on-premise hardware. Of course, there is always the simple act of putting your phone on loudspeaker to record calls with another device, but that doesn't account for storage, management, and analysis.
At the end of the day, legacy recording solutions had their fair share of hiccups:
On-site hardware was required to not only record inbound and outbound calls, but store audio files and manage them as well
Access is much more limited, as recordings can be accessed online through a cloud portal
The extra cost of installing and maintaining the hardware
Legacy hardware has limited call recording features when compared to modern solutions, and lacks recent tech developments like AI in VoIP
On the flip side, Call Recording as a Service hosted solutions enable vendors to directly integrate the tool with other services and tools, offer extreme flexibility and scalability, provide constant global access to recordings including features like natural language processing and sentiment analysis.
Call Recording Software vs. As a Bundled VoIP Feature
However, moving beyond standard legacy call recording, and more modern hosted solutions, businesses now have the option of utilizing a stand-alone Call Recording as a Service platform, or utilize the functionality that is generally included with their Business VoIP service.
To put it simply, as Business VoIP, and similar Contact Center solutions, have continued to be embraced by more and more organizations and providers have only continued to expand their platforms and business phone systems.
Call Recording was one such feature that Virtual PBX providers felt would be a strong addition to their platforms. But, instead of building their call recording solution — as it is just an extra feature, not a stand-alone platform — these providers were willing to integrate existing tools.
But, stand-alone call recording hasn't gone away, and still stands as a strong option for organizations that require the extra recording capabilities provided through these more dedicated platforms. Neither is an out-right better option, but rather one will be the better option depending on the needs of your business.
Call Recording as a Feature
Hosted VoIP solutions, that range from SMB friendly players up to Enterprise ready service providers, have a wide range of built-in features. For one reoccurring cost, organizations can gain access to more advanced features without having to pay extra, with tools like IVRs and call routing when call volumes spike.
Call Recording is another popular function offered by most existing Business VoIP providers, usually included in the package as an extra feature, or offered as an add-on to the platform. Chances are that if your organization is already utilizing a popular platform, like those from Nextiva, RingCentral, Vonage or Five9, your organization already has access to call recording.
Why Use Included Call Recording Features?
The biggest thing here is that your organization is already paying for call recording if it is included. It would almost seem like a no-brainer to save money and just utilize the recording offered by your existing VoIP service — after all this would bring with it the biggest benefit of simplicity.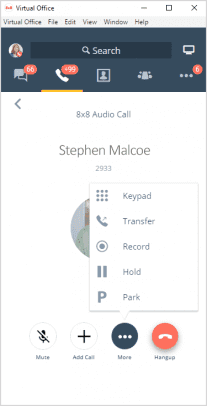 Unified Communications is all about integrating multiple tools into the same platform, and call recording is another example of that: instead of requiring users to manage and juggle another platform or application, call recording built right into the solution can save time and money with ease of use. Standalone solutions might require training or a more complicated integration process but will come in handy for future training purposes.
Most feature-provided call recording will not be their standalone platform, but rather white-labeled or integrated solutions. This means your team gains proven functionality, without having to worry about compatibility or internal integration.
The major benefits behind utilizing a built-in call recording feature would include:
The absolute simplicity this offers. By implying relying on just one cloud communication platform, users don't have to deal with the extra clutter, organization, management and even cost associated with utilizing multiple platforms.
As the call recording is an included feature, or added on to your existing service, organizations do not have to worry about any compatibility issues. Due to the nature of cloud solutions, the implementation and integration is handled through the provider. It's built directly into your existing PBX platform so everything works seamlessly.
Setup and management are handled through the same portals and analytical dashboards as any other aspect of your Business VoIP system, really driving home that simplicity aspect of a Unified Communications and collaboration platform.
Where Does The Feature Fall Short?
When a vendor aims to cover a large number of processes and functions, these individual solutions can be weaker than stand-alone tools that are dedicated to solving the issue at hand.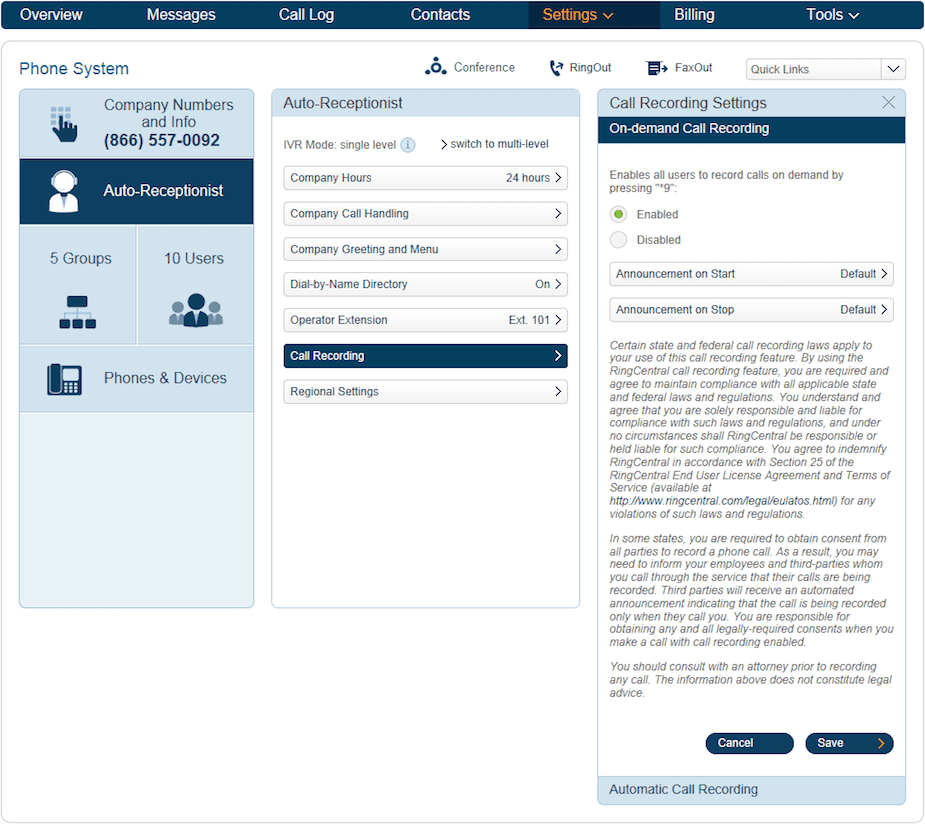 This is particularly true for call recording software. While the nature of built-in call recording solutions can lead to a simpler experience for the end-users, the sheer functionality might be limited in scope. Dedicated call recording providers are building their entire platforms around this concept, and will expand their solutions into related functionality.
Meanwhile, since VoIP providers are simply including an existing call recording functionality within their platforms, it is seen as an add-on, not a feature worth investing more R&D into. This means that the integration and functionality will be fairly simple, and cut out more complex features or extensions to the service.  Judging by inContact Reviews, the consumer has come to expect this functionality.
Some of the larger downfalls of built-in call recording functionality would include:
Overall call recording will be a bit more limited in scope, potentially missing out on more in-depth features — for example, Dubber has their own AI analysis platform that coincides with their solution, but may not be offered by the vendors they partner with.
Your organization is most likely not paying extra for the call recording, its more of an added-on feature. While this removes the additional cost, it limits the overall scope of the solution — for example, this might not include transcription and call center analytics.
VoIP providers may place heavier restrictions on call recordings, as well. This would come in the form of call recording storage limits, for example only 100,000 hours or 1000 recorded calls. Some providers will also only store the recordings for a limited time, say up to 90 days.
Included Call Recording as a Feature is Best For:
SMB organizations that simply want hassle-free call recording
Organizations that are looking to stay within a limited budget and do not need to stretch for a stand-alone tool — why pay for two tools when you already have one that includes it?
Teams dedicated to a specific provider's ecosystem. For example, Nextiva offers its powerful NextOS system, which includes call recording and speech analytics. For organizations already utilizing these services, it might make more sense to stay dedicated and focused on that ecosystem, instead of complicating the mess with even more platforms
| | | | | |
| --- | --- | --- | --- | --- |
|  Provider | On-Demand Recording | Always Recording | AI Analytics | Storage Limits |
| | Yes | Yes | Yes | N/A |
| | Yes | Yes | No | 100k Calls, 90 Days |
| | Yes | Yes | No | 35hr or 1GB |
| | Yes | No | No | 15hr |
| | Yes | Yes | Yes | N/A |
| | Yes | Yes | Yes | N/A |
Call Recording as a Service
As mentioned above, chances are that your Business VoIP provider's call recording function will be a prebuilt solution from a dedicated vendor. But these stand-alone offerings will generally include far more capabilities than a simple feature added onto your business phone service.
These solutions are billed as their own unique, stand-alone platforms, and will fit under the umbrella as Call Recording as a Service. Dedicated providers offer this software generally to large scale Enterprise organizations, as most smaller businesses do not need the added functionality.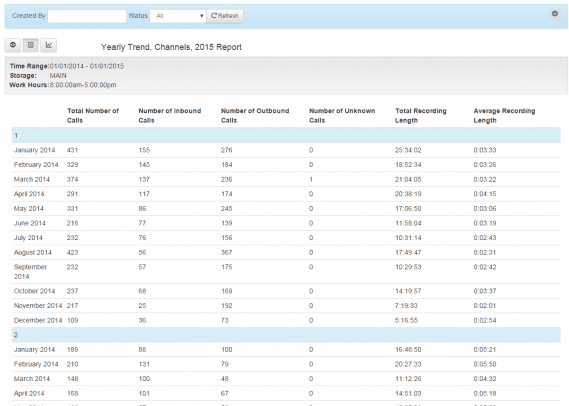 These stand-alone platforms are accessed just like other cloud solutions, and can be utilized on-the-go and on multiple devices. What is important, however, is to ensure compatibility or integration availability with existing communication solutions.
Why Use Included Stand-Alone Call Recording Software?
Stand-alone call recording software has pushed the concept and technology even further, moving it from a simple feature into a fully-fledged platform as a service. Hosted call recording has, of course, made the entire technology much more accessible, and vendors have begun to offer their platform in a much more accessible manner as well.

Combine accessibility, along with increased functionality, and dedicated call recording software packs quite a punch that included recording functionality isn't able to match in most cases. These stand-alone platforms can include their dashboards as well, providing greater control over the management and analysis of saved recordings.
A lot of the time, call recording software can also make it easier for your organization to store, save and manage recorded calls and voicemails as well. These providers generally include storage with their product without additional cost, or organizations can utilize their storage methods to circumvent any restrictions altogether.
The major benefits behind utilizing a stand-alone call recording software solution would include:
Hosted, stand-alone solutions can introduce some really powerful and unique functionality that might be left out of standard hosted PBX call recording. Vendors have expanded platforms to include AI, analytics, and more to fully leverage the insight recorded calls can provide.
These solutions can be incredibly versatile and flexible, providing users the ability to record multiple liens simultaneously, and even run the recorder within a virtual environment.
Stand-alone platforms can include their dashboards for more advance management and analysis of recordings. These tools will go deeper than just organizing recordings, and offering playback. Users can generally segment recordings, make notes, and even have a transcript produced in real-time.
Since a provider is more "hyper-focused" on call recording, they can expand functionality as well with other services and solutions, for example, workforce management and AI-powered call recording analytics. This will generally be lacking from Hosted VoIP providers as call recording is seen as an add-on to those platforms, not its service to be expanded upon.
Stand-alone call recording software solutions, like OrecX, can be open source which enables users to further expand capability and integration into their existing solutions and platforms without changing your system or phone numbers.
Where Does The Stand-Alone Call Recording Software Fall Short?
While it might seem as if stand-alone call recording software is the strongest choice, the solutions simply tend to be priced out of the range of smaller organizations. Some call recording software vendors only offer their platforms to Enterprise organizations, and instead routing SMB offerings through providers like Nextiva and Mitel.
So, while cloud delivery has pushed these costly solutions further into the mainstream, your business still has to decide to determine if the capital should be invested in that specific solution. At the end of the day, of your small business is already utilizing a UC or Contact Center platform that has call recording, it might not make sense at all to pay for two solutions simultaneously.
Then again, depending on the unique needs of your organization, there might be a high priority placed on recording calls. Either way, your business should be able to recognize that a stand-alone option might not be the strongest choice for every scenario.
Some of the larger downfalls of stand-alone call recording software would include:
These solutions are overall a bit more geared towards large Contact Centers and Enterprise users. While smaller players do exist, the functionality of these services and the complexity a new platform adds can be overwhelming to an organization lacking a dedicated IT department.
While the solution is cloud-delivered, it will require proper implementation, especially integration with existing solutions. This, again, can be overwhelming and add further costs, making the solutions less appealing to SMBs that are looking for simplicity.
Stand Alone Call Recording Software is Best For
Large Enterprise organizations and Contact Centers that primarily interact with clients and customers through phone calls, this is especially true for organizations that need to adhere to strict regulatory guidelines.
Sales operations that receive credit card info over phone lines and process payments are required to abide by PCI Compliance regulations
Organizations that are looking to gain the most out of their calls and data will want to utilize an advanced solution — the organizations that can best leverage this call data are those that collect the most data (meaning large organizations).
| | | | | | | | | | |
| --- | --- | --- | --- | --- | --- | --- | --- | --- | --- |
| | Recording Editing – Silence, extract or tag | Call History and Recording Search | Access Recordings Online | In-depth call and quality control reports | Live Call Monitoring | AI Analytics | PCI Compliance | Speech Analytics | Granular Permissions |
| | Yes | Yes | Yes | Yes | Yes | Yes | Yes | Yes | Yes |
| | Yes | Yes | Yes | Yes | Yes | Yes | Yes | Yes | Yes |
| | Yes | Yes | Yes | Yes | Yes | Yes | Yes | Yes | Yes |
| | Yes | N/A | Yes | Yes | Yes | Yes | Yes | Yes | Yes |
| | Yes | Yes | Yes | Yes | Yes | No | Yes | N/A | Yes |
| | Yes | Yes | Yes | Yes | Yes | Yes | Yes | Yes | Yes |
Call Recording Software Offers Robust Data Collection
Just like with any other business tool or solution, your organization must determine if which is the right fit for your unique needs. Each business must analyze their budget, their own needs, and the potential downfalls of adopting a new platform before diving right in — and even though call recording seems less intrusive than a full communications platform, no one feature should be overlooked.
For industries that need to maintain HIPAA and HITECH compliance, consider screen recording for chat sessions and SMS software. Seek out tools from companies like Aircall and TalkDesk that integrate with CRM software like Salesforce. Sales teams and support teams will appreciate the relationship between client data and the tools they use to improve customer satisfaction.
Stand-alone call recording solutions enable organizations to gain an advantage by leveraging the massive data and information collected during phone calls. Recorded telephone conversations can be a lifeline for organizations that deal with regulatory compliance, or even those simply looking to find out how to better optimize service.
And while call recording is included with the vast majority of Business VoIP and even call center software, these feature sets might not deliver what your team was hoping for. As with any other platform, there is a trade-off between these two, and each solution will play a unique roll in enabling organizations to leverage their data in the best way possible.